BACKGROUND

DEFINITION OF TERMS

MELCHIZEDEK
MELCHIZEDEK
PRIEST
PRIESTS AND LEVITES
I. The biblical data
II. Wellhausen's reconstruction
III. Some reactions to Wellhausen's reconstruction
IV. Priesthood in the New Testament

The full background to this teaching is available online at this link
DEFINITIONS - For serious students
Online links to scriptures (New International Version [NIV] unless otherwise stated) are shown in blue
THE PRIESTHOOD OF MELCHIZEDEK
INTRODUCTION
Melchizedek reigned, as king/priest, in (Jeru)Salem

during the time of Abraham, 3,000+ years ago.

Abraham was born in Ur, in modern day Iraq, which many regard as being the oldest city in the world. More like a settlement in modern terms. Basically though, the family were nomads. Eventually, Abraham travelled to Canaan, at the Lord's command.

He lived there for approximately 100 years.

Salem was in Canaan.

While living there, his nephew Lot was captured by some local raiders. Abraham took his 318 trained fighting men and recaptured Lot and his family.

It was at this point that he met with Melchizedek.

WHO WAS MELCHIZEDEK?

The identity of Melchizedek is shrouded in mystery. Was he human? Was he divine?

There are arguments both ways, none of which we are going to get involved in here.

Jewish tradition identifies him as Shem, the son of Noah, who could possibly still have been living at the time. However, this verse in Hebrews would appear to contradict this tradition.
What is of importance though, is that he did not die in a conventional sense, for his ministry was a continuing one, right through the ages.

For the purposes of this study, his ongoing priesthood is the key factor in our understanding of his life and ministry.

THE MEETING WITH ABRAHAM
There was a battle between 2 groups of local 'kings', four against five.

The group including the Kings of Sodom (where Lot, Abraham's nephew, and his family were living) and Gomorrah, were defeated and the family captured, along with others, and all their possessions.

Abraham set out on a rescue mission. By employing clever tactics Abraham and his 318 men rescued all those who had been captured.


A very grateful King of Sodom came out to meet Abraham at the Valley of Shaveh, which is just north of Jerusalem.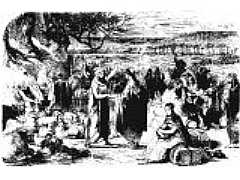 At that time, Melchizedek came out from (Jeru)Salem and blessed Abraham with bread and wine, so establishing what was to become the ongoing symbol of priesthood.

In return for the blessing Abraham gave a tithe of 10% of his own possessions that he had recovered during the battle and those of the others that he had also recaptured.

The remaining possessions belonging to others were returned, in spite of protestations. For Abraham did not want his future to be associated with theirs. Which was really good sense, as it turned out later, in the case of the King of Sodom!
THE ROLE OF MELCHIZEDEK

Melchizedek had a dual role in life, being that of a 'king' combined with that of a 'priest'.

The common religion of the time was the worship of a multiplicity of Gods, so both Melchizedek and Abraham were unusual in their era.

Additionally, society was primarily organized on the basis of extended families, most of whom were nomadic. Townships were very small, and most likely, family based.

This makes the both the person and the role of Melchizedek most unusual, for he had no family tree. Therefore he would not have been aligned to a particular family group, such as Abraham's.

Who lived in Salem, we do not know. Whoever they were, and it would have only been a very small number, Melchizedek had temporal, kingly authority over them. Whether these people followed the one true God, we also do not know.

However, Abraham did. And so Melchizedek was able to bless Abraham in his position as the priest of the Most High God.

A priest always has two functions – to bless and to sacrifice.

We don't know what the sacrificial role of Melchizedek was. If we did, it would resolve once and for all the argument over whether he was God or man. However God, in His wisdom, has not chosen to reveal that to us.

Melchizedek blessed Abraham with a literal meal including bread and wine, for he and his men were hungry after the battle they had been in, giving thanks to God for their victory.

As we will see as we continue this study, bread and wine are symbols of the priesthood and therefore, in a spiritual sense, can only be dispensed by priests.
<i>NEXT WEEK:</i> A REVELATON OF....... THE 3 PRIESTHOODS continues

We continue and conclude our look at the priesthood of Melchizedec.
A NOTE FROM DAVID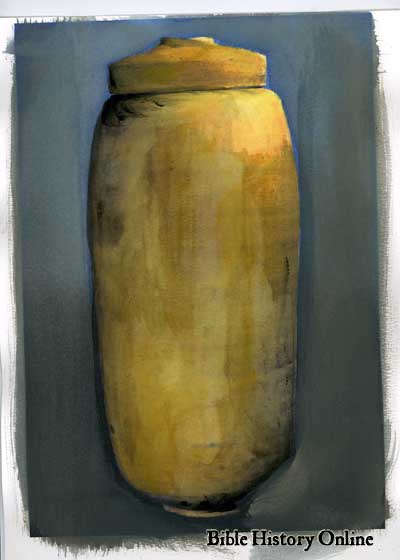 The priesthood of Melchizedec is shrouded in mystery, yet from what is written, we can get what God wants us to know.

For this priesthood forms part of a progression which we are part of today.

Let's keep reading!

BIBLE ARCHAEOLOGY

Qumran Jar (Dead Sea Scrolls)

This painting is of the Qumran Jar which contained the Scroll of Isaiah, one of the hundreds of scrolls discovered in caves around the area of Qumran, on the northwest shore of the Dead Sea in Israel. The most important fact is that there were copies of the Books of the Bible dating back a hundred years before Jesus was born. This means that hundreds of prophecies about Jesus were amazingly accurate. In fact the Old Testament Book that testifies most to the life and death of the Messiah is the Book of Isaiah, which an entire scroll was discovered.

The discovery began in 1948 and became known as the Dead Sea Scrolls. What is most significant about these scrolls is that they contain many of the Jewish documents known to Christians as the Old Testament. Before this discovery the oldest copies of Biblical documents of the Old Testament were from the Masoretic time, around the 9th century A.D., because the Jewish scribes took careful measures in copying documents, numbering them, and destroying the originals. The Dead Sea Scrolls date back to at least the 2nd century B.C. making them important in the study of Biblical Archaeology. This is especially important to Christians because it puts hundreds of Old Testament prophecies about Jesus, at least 2 centuries before the events took place.

Isaiah 53:5-7 "But he was wounded for our transgressions, he was bruised for our iniquities: the chastisement of our peace was upon him; and with his stripes we are healed. All we like sheep have gone astray; we have turned every one to his own way; and the LORD hath laid on him the iniquity of us all. He was oppressed, and he was afflicted, yet he opened not his mouth: he is brought as a lamb to the slaughter, and as a sheep before her shearers is dumb, so he openeth not his mouth."

Matthew 21:42 - "Jesus saith unto them, Did ye never read in the scriptures, The stone which the builders rejected, the same is become the head of the corner: this is the Lord's doing, and it is marvellous in our eyes? "

John 10:35 "the Scripture cannot be broken"

John 10:34 "Jesus answered them, "Is it not written in your law.."

2 Tim 3:16-17 "All Scripture is given by inspiration of God, and is profitable for doctrine, for reproof, for correction, for instruction in righteousness, that the man of God may be complete, thoroughly equipped for every good work."


Dead Sea Scrolls Discovery Dates

Cave 1 - 1947
Cave 2 - 1952
Cave 3 - 1952
Cave 4 - 1952
Cave 5 - 1952
Cave 6 - 1952
Cave 7 - 1956
Cave 8 - 1956
Cave 9 - 1956
Cave 10 - 1956
Cave 11 - 1956
So until next week.......
MAY GOD BLESS YOU AND YOU BLESS GOD!
His servant and yours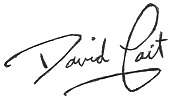 Learn more about us at...
A DAVID'S DOODLING
9. The foolish are satisfied with reading the Word, the wise follow the Word, while the godly are as one with the Word.
David Tait
Check out the WWJ website for….
More David's Doodlings: www.wwj.org.nz/dd.php
Eagles Fly High! (Pastors, Teachers and Students): http://www.wwj.org.nz/eaglepts.php
God Facts (A mine of information): http://www.wwj.org.nz/gfacts.php
Facts for Fun: http://www.wwj.org.nz/facts.php
Marriage and Family Facts: http://www.wwj.org.nz/maffacts.php