BACKGROUND

DAVID - Easton's Bible Dictionary

DAVID, CITY OF - Easton's Bible Dictionary

DAVID - The new Bible Dictionary

JERUSALEM - Easton's Bible Dictionary

JERUSALEM. - The new Bible Dictionary

The full background to this teaching is available online at this link
Full Background Information on David's Tabernacle here
Online links to scriptures (New International Version [NIV] unless otherwise stated) are shown in blue
REJOICING IN GOD'S GOODNESS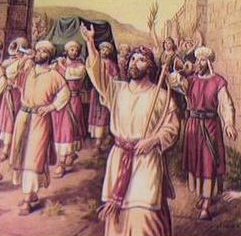 12 Now King David was told, "The LORD has blessed the household of Obed-Edom and everything he has, because of the ark of God." So David went down and brought up the ark of God from the house of Obed-Edom to the City of David with rejoicing. (2 Samuel 6:12)

David was pleased that his faithful servant Obed-Edom and his house, was blessed. But he was even happier, that through this blessing, the Lord showed him he had done the right thing in leaving the Ark with his friend, while repenting of organizing the Ark's return His own way. Of being obedient to, and following the ways of the Lord. He was then able to return to Obed-Edom's house in the outlying area of Jerusalem, and following the Lord's pattern and instruction, confidently return with the Ark, rejoicing all the way.
THE PROBLEM

Godly rejoicing grows out of obedience. Generally though, we rejoice in doing things our own way.
THE LESSON

As I write I am reminded of the old hymn that goes, "Rejoice in the Lord always, again I say rejoice", which is taken from.....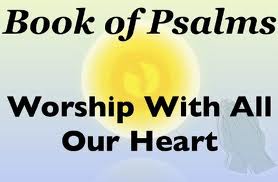 Godly rejoicing however, doesn't come from 'celebrating', as David found out during his first attempt to bring the Ark to Jerusalem. True rejoicing comes out of righteousness, out of being obedient to God. Three confirmations, all from Psalms, that great repository of life experience, follow.....



Psalm 97:10-12, Psalm 64:9-10, Psalm 32:11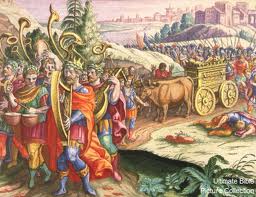 Rejoicing, and its associated 'fruit of the Spirit', joy, are God given, not human driven. Rejoicing is so much more than celebrating. It is found in knowing that we are doing things God's way, doing them in His will.

Now David could confidently approach the Ark with rejoicing as he knew he was in God's will and way. For this time, the Levites carried the Ark on their shoulders, as per the instructions first given to Moses.

It is the same for those of us today who desperately seek everything of the Lord. When we are prepared to do things His way, as He instructs, we can truly rejoice in His goodness.
<i>NEXT WEEK</i> A REVELATION OF... THE TABERNACLE OF DAVID - Part 6

The question God continually asks us, one way or another is, "How much are we prepared to sacrifice for Him?"

Next week we are looking at the sacrifice He desires, indeed requires!
A NOTE FROM DAVID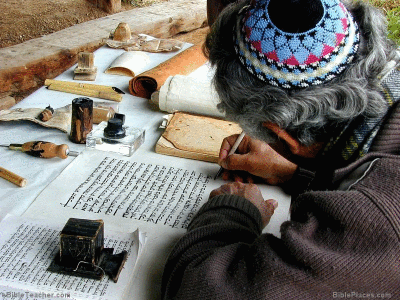 Everything we have and are comes from God. While we often try to modify our own behaviour and attitudes, unless the change is God based, it is unlikely to last.

The more we submit our lives to our Lord, the more room we give Him to change us into the image of Jesus. And the greater ability we will have to be joyful in the Lord, irrespective of what difficult situation we find ourselves in.

New Testament Scribe
A scribe's job was to copy the scriptures. As a result, they became known as the knowledgeable people of the Jewish Bible and law. Courtesy of BiblePlaces.com

Source: http://www.ebibleteacher.com
So until next week.......
MAY GOD BLESS YOU AND YOU BLESS GOD!
His servant and yours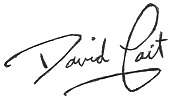 Learn more about us at...
A DAVID'S DOODLING
615. Joy is much like eating prunes. You may not like them but you are joyful because of the good effect they have at the other end.
David Tait
Check out the WWJ website for….
More David's Doodlings: www.wwj.org.nz/dd.php
Marriage and Family Facts: http://www.wwj.org.nz/maffacts.php
Just jokes: http://www.wwj.org.nz/jokes.php
Waxing Lyrical: http://www.wwj.org.nz/waxing.php
If Only I'd Thought of it: http://www.wwj.org.nz/thought.php