BACKGROUND

DEFINITION OF TERMS
TYPE

TYPOLOGY
I. In the Old Testament
II. In the New Testament
III. Post-biblical developments

MIRACLE

MIRACLES
I. Miracles and the natural order
II. Miracles and revelation
III. Miracles in the New Testament

The full background to this teaching is available online at this link
DETAILED DEFINITION OF TERMS
Online links to scriptures (New International Version [NIV] unless otherwise stated) are shown in blue
ZECHARIAH, ELIZABETH AND JOHN THE BAPTIST
THE BIRTH OF JOHN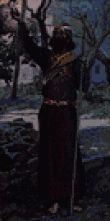 Shortly before BC was to turn into AD, there lived in Jerusalem, a godly priest Zechariah, with his upright wife, Elizabeth. They were both getting on in years, and had been unable to have a family, as Elizabeth was barren.

Unexpectedly one day, as Zechariah was on duty at the Temple, standing beside the Incense Altar getting ready top burn the incense, an angel appeared and told him that he and Elizabeth were going to have their long desired family. Naturally, he was scared when the angel appeared.

Zechariah had the usual human reaction of disbelief, as had happened in our previous stories.

And he paid for it.
But Elizabeth became pregnant (a voice not required for this!) and culturally fulfilled.

After a visit from her cousin Mary, the mother of Jesus, Elizabeth had her baby. When it came to naming him on the eighth, circumcision day, an unusual situation developed where Elizabeth wanted to break with tradition by not naming the baby after it's father.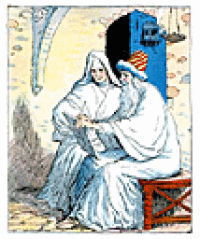 Zechariah had to answer his wife's request to use another name, in writing.
It was obviously the right decision in God!

And the news quickly spread

John was special, for his ministry fulfilled that of the promised return of Elijah, the introduction of the promised Messiah.
THE MINISTRY OF JOHN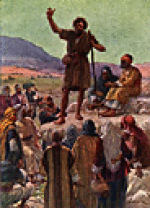 John prepared the way for Jesus, proclaiming key principles of the ministry to follow.

1. Proclaimed repentance for the forgiveness of sins and baptism.

2. Proclaimed the Lord's imminent arrival.
3. Proclaimed godly living.
A PICTURE OF JESUS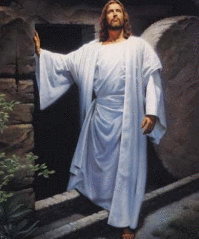 THE TYPES:

The Father
…….Gabriel
Jesus
…………..John
Holy Spirit
…….Holy Spirit
1. Gabriel announced the coming of a special messenger to proclaim salvation through repentance.
The Father sent His son Jesus, as the means of obtaining salvation through repentance.

2. John was to bring back people to God.
Jesus was the means of bringing back people to God.
3. The Holy Spirit was to be in John from birth.
The Holy Spirit was in Jesus from birth.
4. Zechariah believed the miracle birth impossible, even when told by Gabriel.
Many people still disbelieve the Gospel message of reconciliation to the Father through the sacrifice of Jesus.
<i>NEXT WEEK</i>

Jesus, Jesus, Jesus! That is what the Bible is all about. Pictures and plans for His coming, His life experience, His death and resurrection, our response to it and finally, His return.

An amazing story, so improbable from a human perspective, yet impossible to be just chance!
A NOTE FROM DAVID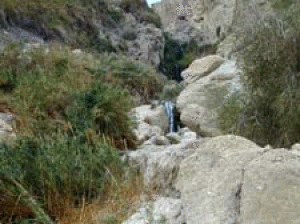 Can you imagine having to declare your cousin as the 'Lamb of God'! He could be anyone else other than one of our relations - surely! A real lesson for us when looking at our own families! God can, and does, use anyone for His work. Maybe even you and me?

We now continue our brief look at the desert areas of Israel.

WATER FROM ROCK
In the wilderness, water always comes from rock. The miracle was that it came when and where the Israelites needed it. Even today there are small oases in the desert where fresh, life-giving water bubbles up from solid rock. The Israelites learned to know God as living water.
So until next week.......
MAY GOD BLESS YOU AND YOU BLESS GOD!
His servant and yours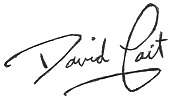 Learn more about us at...
A DAVID'S DOODLING
276. God creates a mountain of faith out of a molehill of obedience.
David Tait
Check out the WWJ website for….
More David's Doodlings: www.wwj.org.nz/dd.php
Just jokes: http://www.wwj.org.nz/jokes.php
Waxing Lyrical: http://www.wwj.org.nz/waxing.php
If Only I'd Thought of it: http://www.wwj.org.nz/thought.php
Laughing at Ourselves: http://www.wwj.org.nz/laugh.php