Online links to scriptures (New International Version [NIV] unless otherwise stated) are shown in blue
More testimony than teaching this week but I hope you still find it helpful.

This was written 12 years ago. So the present tense is now the past tense.
TRIP TO AFRICA AND ITS AFTERMATH

The ultimate test (so far) of my willingness to trust God to provide came in late 2006 when I embarked on another trip to Africa.

I had to pay for the tickets 1 month before departure and, as I have come to expect, the Lord provided the money to pay for them.

Now, my prayer changed from provision for the tickets to provision for spending money, not for myself, but so that I could help the people I was to visit. Three weeks passed - no money. Four weeks - no money. Surely someone will help at the airport - for you always hear of that happening to others. Napier airport - nothing. Auckland airport - nothing.

We had a little money left until Kathy's next pay. So I drew out $US30 from our personal account, leaving the balance for Kathy to live on. 'Well Lord, I have 50c a day to spend. This is new territory for me!'

I arrived in South Africa. I needed to buy a bus fare to Stanger, where I was to minister. $12 gone! Over the next few days I put more into the collection plates than I received (ie nothing!) until I had but $2 left. I didn't have enough faith to give that away too! And I still had to buy a bus ticket back to Pretoria. Maybe I would be stuck in Stanger forever!

Then the Lord started providing! We went to churches with an open heart for the teaching - and deeper pockets! The situation was relieved!

In summary I left Africa after 2 months with no money in my pocket, but having travelled through 4 countries, 2 of which were very poor. No, I wasn't able to bless the people financially, but imparted both the Word and the Spirit to those who weren't simply looking for a handout from the white man.

I really was then able to understand how the seventy-two must have felt when Jesus sent them out to spread the Gospel message.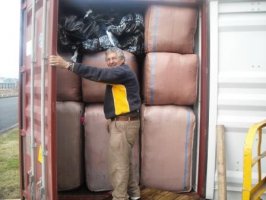 While I was away I was introduced to the concept of sending second hand clothing to Africa. I would need a book to tell the full story of how! God works in amazing, and sometimes strange, ways!

Coming back to New Zealand, in February 2007 we started, without a cent of capital, to collect clothing. In 18 months we have built up an organisation processing 3 tonnes of clothing a week. It is now earning sufficient money so that we are able to support development projects in Africa.

This project is being operated, to the best of our ability, in kingdom fashion. I still work for nothing. We continue to live on my wife Kathy's income. We have a mixture of paid staff, partially paid staff and volunteers. The Lord has blessed it tremendously as there is no way it could be where it now is without His help and blessing.

The basis of our doing business has changed from the 'kingly' approach of our former mail order business (which the Lord blessed) where the profits were ours although we gave away a lot for the Lord's work.

Under the 'kingdom' approach we now adopt, the business and all moneys earned are His. Instead of operating as a private company, of which Kathy and I were the shareholders, the owners, we now operate as a charitable trust, purely and simply on His behalf. Nothing belongs to us - everything belongs to the Lord.

Upon returning from Africa, I asked the Lord why He should want me to change tack and set up a recycled clothing business. For I had spent 9 years, at His leading, seeking His Word and sharing it with you, and others, as He led and provided. I worked hard, as I have always done, but obviously in a different way to that of running a business.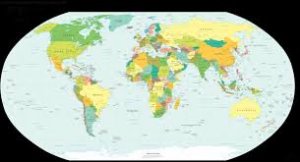 Several months before travelling, He had started to prepare me for a change by indicating that He had now given me the basic teaching He wanted me to share, and my focus was to change from receiving to getting it out. I had no knowledge of how that was to happen.

Under the 'kingly' church system, the highest calling is seen as being in fulltime pastoral, preaching and teaching ministry. Ministers are placed on a pedestal by the people - and all too rapidly pulled down when their human failings are exposed.

Effectively, a new priesthood has been created. No matter how humble the leader, it is almost impossible to avoid being affected by this, for it is encouraged by both leadership and people alike.

I am saying this from the foundations of experience in travelling the world and seeing its reality in many countries and different church situations, as well as from being a non denominationally aligned ministry, accepted by some and rejected by others.

However Jesus came and died to eliminate the professional Aaronic priesthood of that time and establish a new, universal priesthood of all believers, to take its place.

When I sought the Lord over this, He showed me two things.

Firstly, while it is an honour to share the Word, we are also required to 'walk the talk', as the saying goes. For the call upon all our lives is to become the 'living word'. This is a 'kingdom' principle. James was particularly strong on this.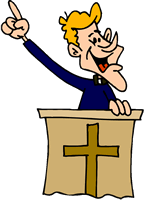 Preaching, teaching, evangelizing, prophesying, is of limited value, if we do not 'practice what we preach', to quote another saying.
NEXT WEEK: TRANSFORMATION OF THE CHURCH: 3. FROM KINGS TO KINGDOM continues
The second thing the Lord pointed out, and the more controversial to many leaders, is that we rely too heavily upon our followers' provision for our needs. We will have a look at this next week.
A NOTE FROM DAVID

Stepping out in faith is never easy. It is not meant to be! But we need to do just this when the Lord asks us too, if we are to do what He has for us to do in this life.

Chief Priests, Priests, and Levites

THE LEVITES

The lowest-ranking temple officials were the Levites. These men were descendants of Levi, the father of the priestly tribe. Aaron and all Israel's priests had been members of this tribe. There were some 9600 Levites in the first century BC. Like the majority of priests, they comprised 24 families or courses, each course serving one week at a time as guards, policemen, doorkeepers, singers, musicians and servants of the temple. They were forbidden, resulting in death, to enter the holy sanctuary or approach the altar of sacrifice. The daily temple ritual required the services of nearly 1,000 chief priests, priests and Levites. On feast days all 24 courses were required to come to Jerusalem to participate in the elaborate ceremonies and sacrificial rites. This meant that there were nearly 18,000 temple personnel on hand during each of the three great pilgrim festivals: Passover, Weeks and Booths.
So until next week.......
MAY GOD BLESS YOU AND YOU BLESS GOD!
His servant and yours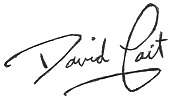 Learn more about us at...
A DAVID'S DOODLING
256. As we build our faith, so faith builds in us.
David Tait
Check out the WWJ website for….
More David's Doodlings: www.wwj.org.nz/dd.php
Waxing Lyrical: http://www.wwj.org.nz/waxing.php
If Only I'd Thought of it: http://www.wwj.org.nz/thought.php
Laughing at Ourselves: http://www.wwj.org.nz/laugh.php
A look at some of lifes curious questions: http://www.wwj.org.nz/why.php