Walking With Jesus Course
'WALKING WITH JESUS' COURSE
A 3-part course of understanding based on Revelation 12:11. An easily understood, practical series on living the Christian life today. Compiled in 1993-4, the 3 studies, each accompanied by 6 hours of tapes, have been used by over 10,000 New Zealanders plus many overseas, to gain an increased understanding of what 'walking with Jesus' is all about. Is useful for enquirers, new Christians and particularly, those seeking an extra dimension to their faith. Ideal for home groups and church teaching sessions too. A non-denominational course, it is supported by Christians from diverse backgrounds. The 3 parts cover
The Way of Salvation: Finding Jesus as your personal Saviour.
Life Through the Spirit: Christian living through the teaching of Jesus and in the power of the Holy Spirit.
Jesus is Lord: Living our lives for Jesus.
So if you desire a deeper relationship with your God, this can help point you in the right direction. You still have to make the effort though! Can't do that for you!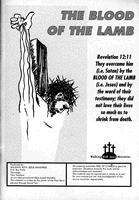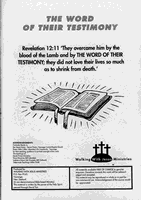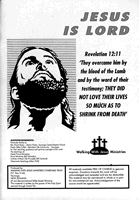 WHAT OTHERS SAY ABOUT IT
"……. Thankyou for sending the 'Walking With Jesus' material to us. Your material has been a great challenge and blessing to us, as we begin to really focus on why the Lord has me in this particular "tent-making" business. I am so excited to to be going about the Lord's business of making disciples FIRST, having Accounting as the "front" to the world. I will be including "A Very Special Offer" in my next newsletter to clients……." (PA Auckland, NZ)
"I love your Jesus tapes…….." (AH Timaru, NZ)
"………I thank God for this special offer being offered to a youth like me in Papua New Guinea….." (CS Rabaul, PNG)
"………We have a small Home group which meets in our home every Wed. morning and although we all know and love the Lord we found your tapes and the books helpful & interesting. It's always good to hear someone else's experience and teaching…….." (RT Nelson, NZ)
"…….I actually found this very comprehensive, although I have been a Christian for many years. I had been interested to enable me to learn, hopefully, to pass on to others the way of salvation…….." (JH Taupo, NZ)
"When I initially responded to the invitation in the Catalogue from 'Your Garden', it was with the idea of maybe receiving material suitable to pass on to those questing for answers. At the time I myself was going through a time of testing & what I can only term a 'wilderness walk.' However, after receiving the second lot of teaching tapes I can no longer contain my excitement & simply felt that now I must write you……. (VS Sarina, Australia)
"…….. I wonder if you would allow our church to make use of these tapes as we are setting up a library and I am sure they would make a very valuable addition….." (KA Whangarei, NZ)
"……. Thankyou for the 'Lord Be With Me' music sheet. I enjoy playing it. Also thanks again for the time, effort and money you've spent on the 'Walking With Jesus' course. I think you've done a wonderful job & I've found working through it truly worthwhile, and I have learnt a lot about a practical life of submission to our Saviour, Lord Jesus Christ……." (ST Christchurch, NZ)
DOWNLOAD: BOOKLETS
THE WAY OF SALVATION
LIFE THROUGH THE SPIRIT
JESUS IS LORD
DOWNLOAD: MP3 files
THE WAY OF SALVATION
Part 1, Part 2, Part 3, Part 4, Part 5, Part 6, Part 7, Part 8
LIFE THROUGH THE SPIRIT
Part 1, Part 2, Part 3, Part 4, Part 5, Part 6, Part 7, Part 8
JESUS IS LORD
Part 1, Part 2, Part 3, Part 4, Part 5, Part 6, Part 7, Part 8
(All available free of charge)