A trilogy by David Tait. The Man, The Word, The Vision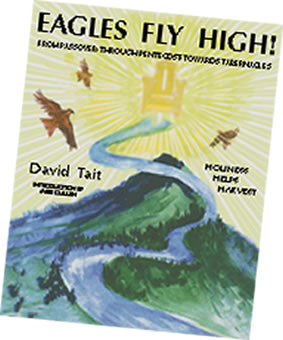 From Passover
Through Pentecost
Towards Tabernacles
A trilogy by David Tait
The Man
The Word
The Vision
Click here if you would like the "Pastors, Teachers & Students" Version
PART WON
The Inner Man
A unique, no holds barred look at the life and faith of David Tait. Told in story, verse and in testimony of 'David's Musings'. An honest look at both the upside and cost of seeking a deeper relationship with God.
WE OVERCOME SATAN THROUGH BELIEF IN JESUS, who is
"THE BLOOD OF THE LAMB" (From Revelation 12:11)
"Words are cheap, dreams are free,
'Tis our heart that God does see." (DT)
FAR FROM PERFECT – BUT ALLOWING GOD TO WORK ON IT! (DT)
Download Part Won 'The Inner Man' (.pdf format)
PART TOO
The First and Last Word
A journey of discovery through God's Word, where He reveals His past, present and future plans for both individuals and His Church. On Mount Sinai, God the Father gave Moses detailed design specifications for His first church, Moses Tabernacle. This was accompanied by principles for Godly living as set out in the 'Feasts of the Lord.' These patterns were again confirmed 1500 years later in the New Testament teachings of Jesus, who died as the final Passover Lamb. The modern church was birthed in Holy Spirit power on the Day of Pentecost. Now the final stage of God's eternal plan is about to be fulfilled by the 'Tabernacle (or Apostolic) Church', before Jesus returns as the Fathers representative to rule and reign upon the earth.
WE OVERCOME SATAN THROUGH THE POWER OF THE HOLY SPIRIT who is
"THE WORD OF OUR TESTIMONY" (From Revelation 12:11)
"Wise men's words illuminate the moment,
But God's Word is an eternal flame." (DT)
THE HIGHEST CALL – TO BE THE LIVING WORD (DT)
Download Part Too 'The First & Last Word"(.pdf format)
PART FREE
The Eternal Vision
One man's vision for the Church and the Christian of the future. Firmly based upon scripture, this vision in prose, allegory and poetry will challenge you to seek out God's plan for you as an individual and for the Tabernacle (Apostolic) Church Movement in these exciting times. Truly inspirational, for those hungry for more of God.
WE OVERCOME SATAN BY OBEDIENCE TO THE WILL OF THE FATHER as we
"LOVE NOT OUR LIVES SO MUCH AS TO SHRINK FROM DEATH" (From Revelation 12:11)
"Reach for a light bulb and God provides the ladder.
Reach for the stars and He designs you a spaceship." (DT)
DEPENDENT UPON GOD,
INTERDEPENDENT AMONGST EACH OTHER,
INDEPENDENT OF THE OLD NATURE. (DT)
Download Part Free 'The Eternal Vision' (.pdf format)
A BOOK REVUE……
David Tait has written an exciting and challenging book of 'three halves' revealing God's desires for both His followers and His Church in the 21st Century. Firmly based upon Scripture, its unique, down to earth style will appeal to a wide range of readers from the ordinary Christian to the Biblical student.
David built Kaydees Gardens to become the largest mail order garden company in New Zealand before selling it to devote his time fully to the Lord. The 'Walking With Jesus' course promoted through Kaydees catalogues has helped many thousands of New Zealanders to better understand and further their walk with Jesus.
In David's unique terms, 'Eagles Fly High!' is a "book of three halves."
The 'first half' of the book is a selection of 'David's Musings' in both poetry and prose; some thoughtful, others wistful or humorous – an entertaining insight into the man behind the words!
The 'middle half' deals with God's Word, revealing His master plan for both and Church. God the Father gave Moses detailed design specifications for the first church, Moses Tabernacle, on Mount Sinai, accompanied by principles of Godly living as set out in the 'Feasts of the Lord.' These patterns were confirmed 1500 years later in the New Testament teachings of Jesus, with the modern Church being birthed in Holy Spirit power on the Day of Pentecost, now finally to be fulfilled by the 'Tabernacle (Apostolic) Church' before Jesus returns as the Father's representative to rule and reign on Earth.
The 'third half' of the book reveals a challenging, God-given vision of the future, both of Christian living and Church maturity. A necessary read for all who desire a deeper understanding of God's purpose for their life, as well as Church leaders seeking an understanding of God's direction for their Church in these difficult yet exciting times.
This is something you cannot afford to miss out on! And yes – it's free – well almost!
(ITT Newsletter, 2000)
INTRODUCTION
I became acquainted with David Tait when he did the Word of Life Bible and Discipleship Training Course in our church in 1991. His wife Kathy had completed the study the previous year.
Our association grew into friendship and then in 1994 David and Kathy joined our church (Abundant Life Community Church, Tauranga). Since then they have continued to grow in the grace and knowledge of our Lord Jesus Christ. They have learned to be content, regardless of the state they are in, whether having much or little.
During this time David has experienced remarkable business success and then seen a complete reversal of those fortunes. However his giving nature has not been affected by his circumstances. His desire to bless others through what he has experienced is reflected in this book, 'Eagles Fly High!'
David has set out this book as a journey of his discovery of truth. He weaves this truth into practical illustration to help the reader identify with his walk in God. He has a unique ability to write about his relationship with God as seen in his everyday observations of himself and the environment around him. David's pragmatic approach to life is shown in the way he presents his stories in parable form (and for those who may struggle with the interpretation, he gives the meanings of the key symbols at the end of the story).
The central theme of 'Eagles Fly High!' is the scripture from Revelation 12:11 – "and they overcame him (Satan) by the blood of the Lamb and the word of their testimony, and they did not love their lives to the death". This is a three-part process leading to full maturity in the believer's life and can be paralleled with the three Feasts of the Lord – Passover, Pentecost and Tabernacles, as well as the three areas of Moses' Tabernacle – the Outer Court, the Holy Place and the Most Holy Place.
David's desire is that all Christians understand and progress toward full salvation in Christ as revealed through these Old Testament pictures of New Testament truth.
I commend this book to you as a means of helping you to understand the journey in Christ that is before each one of us. May you be enthused and encouraged as you travel along the pathway that David maps out before you.
Mike Cullen
Senior Pastor

RECOMENDATIONS
FAITH BIBLE COLLEGE
Welcome Bay Tauranga
4th March 2001
Dear David
I do want to thank you for sending a copy of your manual
'EAGLES FLY HIGH'. It is obvious that you have done tremendous
research on the subject you cover and I want you to know that I think
it is a great work.
I trust that there will be a real demand and that many people will be
blessed by reading and studying the same. It is most wonderful subject
and very dear to my heart as it is the subject that I have ministered
on also for a number of years now.
I do pray that the Lord will continue to inspire you to produce manuals
like this as the material is so beneficial for the people of God. Thank
you so much for sending me a copy. I trust that we will have the
opportunity to meet together. If you are ever out and about our way
do call at the College, we would love to fellowship with you.
May this be the greatest year of your life thus far in the purpose of God
David and may you find Him granting you the very real desire of your
heart this year.
Sincerely in Christ
Des Short
PRINCIPAL
CHRISTIAN LIFE CENTRE
AUCKLAND
12th June 2001
Hi David
Pastor Paul de Jong has asked me to write on his behalf a big thank you for the complimentary
manuscript of 'Eagles Fly High'. It is so valuable to get our teaching notes into print.
You have turned out a fantastic job.
I trust the second half of this year to be the best to date in your Christian ministry.
Keep writing.
Yours in Christ,
Dave Beaumont
Discipleship & Development
Christian Life Centre Auckland
Reference Bruce Patrick Auckland Baptist Tabernacle
for Eagles Fly High
Dear David,
My apologies. I suffer from a previously undiagnosed rare disease known
as Occupational Orientation Preoccupation Syndrome, or OOPS!!! Because
of this I omitted to write to thank you for the copy of Eagles Fly High
sent last December. It's a great effort, full of interest. I hope you find
it useful in making disciples. There's a vacuum of discipling in many
churches, and every effort is an advance!
Thanks again,
Bruce Patrick
Senior Pastor
Auckland Baptist Tabernacle
DOWNLOAD
Part Won 'The Inner Man'
Part Too 'The First & Last Word"
Part Free 'The Eternal Vision'
All files are in .PDF format
Click here if you would like the "Pastors, Teachers & Students" Version