A Weekly World Wide Word of Encouragement to those in the Ministry
PRAISE GOD IT'S MONDAY!
A WEEKLY 'WWW (world-wide word) OF ENCOURAGEMENT'
TO THOSE IN MINISTRY
A FREE service, currently connecting with Christian leaders from 3,000 denominations and ministries, in 70 countries.

Issue No: 981 Published: 03 Aug 2020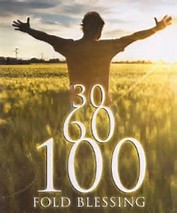 A REVELATION OF……. THE PARABLE OF THE SOWER - The Call of the Kingdom
NOT ALL CHRISTIANS ARE THE SAME
In a world seduced by a veneer of democracy, where all are supposedly equal, if only on Election Day, the concept of a heaven where everyone is the 'same' has natural appeal.
We all know that we receive the same salvation, whether we have lived for God for 40 years or 40 minutes. The parable of the workers in the vineyard reveals that aspect of the Kingdom to us. The entry price is the same for all - acceptance of, and obedience to, Jesus.
However this equality of entry principle so easily leads to the popular misconception that there is also an equal reward for all, once entry is gained. Trying to put heaven into a human perspective is impossible, but the best example I can think of right now, is going to the theatre. All the seats to the performance are the one price of salvation through grace. But once you are inside, the ushers direct you to your individual seat, reserved in advance of your arrival. And the location of our seat is determined by our actions before we enter. For it is obvious that not everyone can sit in the middle, 5 rows from the front, in the very best seat in the house. While we all will see the play, some will inevitably see it from one side or the other, others from further back or even from the 'gods'! (That is, the seats upstairs at the very top and back of the house.) Please excuse the terrible pun!
This ticketing process, such an important truth, Jesus was revealing through this parable. (For reward details see 'A Revelation of… The Overcomers of Revelation) His parables are indeed designed to show Christians the deeper truths of His Kingdom. It's very good to hear about, perhaps with a smug sense of satisfaction, the three types of seed that haven't made it to the stage of fruiting. But the emphasis and real point of the parable is on the fourth group, those who grow to harvest, who produce fruit.
While you can easily get bogged down and side tracked as to whether any of the first three groups made it into Heaven, this is not the real reason Jesus spoke. Briefly, the Calvinist school of theology would surely say some of these people did get there, because of their 'once saved, always saved' beliefs. The Armenians on the other hand, would argue none of these first three groups made it, as faith is to be ongoing and reflected in continuing works, which obviously wasn't the case with any of these groups.
But the main point Jesus was making in the parable was this. Although all the seeds sown in the good soil are of a similar high quality and fertility, some will produce a 30-fold crop, some a 60-fold crop and the remainder, a stupendous, 100-fold harvest. So the real question is, "What causes or determines the differences in the harvest?" Jesus is saying that not all Christians are the same, but that some bear more fruit, or grain in this case, than others. This is the 'Kingdom' truth He was truly revealing.
Returning to our explanation of crop growing in the natural, we can see that of the four elements going towards making a crop successful, two can be immediately ruled out. Both the seed and the soil are of the same quality for all the 'Christian Harvest.' So that leaves the two remaining requirements of 'Crop Care' and 'Acts of God.'
Acts of God, or circumstances beyond our control, or God making some of us more fruitful than others, has a certain appeal as an explanation. Personal responsibility for our actions, or rather, the lack of them, is absolved. It's always convenient to blame our lack of performance in life and God, on someone or something else, isn't it? Although it is true that the 'Gifts of the Spirit' are given out in differing quantities and type as God pleases, we all have equal opportunity to develop the 'Fruit of the Spirit' in our lives. To produce a 30 fold, 60 fold or 100 fold harvest. Yes, the harvest in this parable is about fruit, not gifts.
Gifts are given and gifts will end, as the scripture tells us:
"Love never fails. But where there are prophecies, they will cease; where there are tongues, they will be stilled; where there is knowledge, it will pass away." (1 Corinthians 13:8)
The gifts pass away, marked 'return to sender', our God, for they were His to give in the first place. So when we get to heaven, the greatest evangelist, prophet or healer will no longer be able to exhibit the gifts that made them such heroes of the faith while on earth. All will be stripped away, and their spiritual fruit, the ultimate of which is love, will be all they will have to show. So we can now truly understand the Kingdom truth Jesus was speaking of when He said,
"But many who are first will be last, and many who are last will be first." (Matthew 19:30)
It's so easy to say, "If only I had their gifts, my Christian walk would be much better than it is." Another excuse - for it's simply not true. Those with great gifts are often remarkably ordinary people, with many human failings, just like you and I – me anyway! Most often it is harder for the gifted person to build fruit in their lives, as the 'gifts' they have been given make it look as if their fruit has developed, when, in reality, it's the fruit of the gifts, and not their own fruit at all.
So this leaves us with the one remaining element of 'Crop Care.' Here the analogy with the natural breaks down a little. For instead of the farmer in the natural looking after the crop to achieve an even result overall, in the spiritual we, the seed, are individually responsible for the production of our own fruit. We must fertilize and water, that is nurture, the spiritual seed implanted in us at the time of our salvation, to produce the 30, 60 or 100 fold crop referred to.
"Consider it pure joy, my brothers, whenever you face trials of many kinds,because you know that the testing of your faith develops perseverance. Perseverance must finish its work so that you may be mature and complete, not lacking anything." (James 1:2-4)
Yes, it is the development of the Fruit of the Spirit in our life that brings us to maturity, that determines of the size of our spiritual harvest.
THE DIFFERENCES BETWEEN HARVESTS
As we will see shortly, it is not by chance that Jesus quotes 3 levels of Harvest. What is particularly interesting though, are the differences in production levels. The first group, the 30-fold harvest, obviously produces thirty times the amount of seed that was sown. (30 - 0 = 30) The second group doubles the first group's harvest at the 60-fold level. (60 - 30 = 30) The final 100-fold harvest level however, shows the greater incremental increase of 40 fold over the second group. (100 - 60 = 40) This is significant in that those who show the greatest level of commitment produce not only the largest crop, as would be expected, but one that is also greater relatively, than those of their less committed counterparts. This is a hugely important truth, as we will see.
GOD WORKS IN THREES
There are many patterns of 'three' found right throughout the Bible. Of course, we must start with the most important and difficult to understand of all - God himself. For God is three, Father, Son and Holy Spirit, yet He is also one. A mystery we do not yet, but one day will, fully understand.
However, God clearly works in patterns of three, in most important matters of history and revelation. (See A Revelation of… The Power of Three.) And generally, each of the three parts of the pattern emphasizes one aspect or person, of the Godhead. While the three are always present, there will be a particular emphasis on the one, either Jesus, the Holy Spirit, or the Father. As we look at each member or aspect of the Godhead, we see a reflection of the other two. For the three are inseparable, which of course leads to the vigorous arguments between 'Trinitarians' and those of the 'Oneness' movement. Like most theological arguments, there are truths on both sides. So let's not attempt to limit God by putting Him in a box of our limited human understanding. Rather, embracing the truths revealed in both approaches, leaving room for our understanding to become complete on that glorious day when we meet Him. (Or is it them?!)
Leaving aside that which sadly separates, we can see that there are patterns of three, both in our individual lives and that of the church, reflecting the 30, 60 and 100 fold crops that Jesus taught about in the Parable of the Sower. Indeed, this is the real revelation the Lord was teaching through the parable.
(Continued next week)
See more about us at.....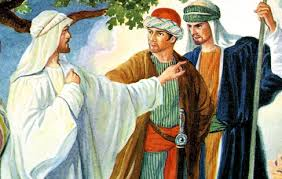 FROM THE WORD
THE WORDS OF JESUS
May we hear what the Lord is saying to us.....
The Good Shepherd (John 10:1-18)
Jesus continued as the Pharisees would not accept what He was saying.
"I tell you the truth, anyone who doesn't come in through the gate of the sheepfold but climbs in some other way is a thief and a robber. The one who comes in through the gate is the shepherd of the sheep. The gatekeeper opens it for him, and the sheep respond to his voice. He calls his own sheep by name, and leads them out. After bringing them out, he walks ahead of them, and the sheep follow him because they recognize his voice. They won't follow strangers. In fact they run away from a stranger because they don't recognize the voice of strangers."
"I tell you the truth: I am the gate of the sheepfold. All those who came before me were thieves and robbers, but the sheep didn't listen to them. I am the gate. Anyone who comes in through me will be healed. They will be able to come and go, and find the food they need. The thief comes only to steal, kill, and destroy. I've come to bring you life, life full to overflowing. I am the good shepherd. The good shepherd lays down his life for the sheep. The man paid to look after the sheep is not the shepherd and he runs away when he sees the wolf coming. He abandons the sheep because they're not his, and the wolf attacks and scatters the flock for the man is only working for pay and doesn't care about the sheep. I am the good shepherd. I know who are mine, and they know me, just as the Father knows me and I know him. I lay down my life for the sheep. I have other sheep that are not in this sheepfold. I must bring them too. They will listen to my voice and there will be one flock with one shepherd.
"This is why the Father loves me, because I lay down my life so I may take it up again. No one takes it rom me; I choose to lay it down. I have the right to give it up, and I have the right to take it back. This is the command my Father gave me."
Seventy (or 72) Sent Out (Luke 10:1-16)
Ahead of Jesus.
"The harvest is large, but the number of workers is small," "Pray to the Lord of the harvest to send workers to his harvest fields. So get on your way: I'm sending you like sheep among wolves. Don't take any money or a bag or extra sandals, and don't spend time chatting with people you meet. Whatever house you enter, first of all say, 'May this house have peace.' If there's a peaceful person living there, then your peace will rest on them; of not, it will return to you. Stay in that house, eating and drinking whatever they give you, for a worker deserves to be paid. Don't go from house to house. If you enter a town and the people there welcome you, then eat what's set before you 9and heal those who are sick. Tell them, 'God's kingdom has come to you.' But if you enter a town and the people there don't welcome you, go through their streets telling them, 'We are wiping off even the dust from your town that clings to our feet to show you our disapproval. But you should recognize this: God's kingdom has come.'
"I tell you, in the Day of Judgment it will be better for Sodom than for such a town. Shame on you Korazin! Shame on you Bethsaida! For if the miracles you saw happen had happened in Tyre and Sidon they would have repented a long time ago, and they would be sitting in sackcloth and ashes. That's why in the judgment it will be better for Tyre and Sidon than for you. And you, Capernaum, you won't be exalted to eaven; you will go down to Hades.
"Anyone who hears you hears me, and anyone who rejects you rejects me. But anyone who rejects merejects the one who sent me."
Seventy (or 72) Return (Luke 10:17-24)
Jesus praises God for their good report.
"I saw Satan fall like lightning from heaven. Yes, I have given you power to tread on snakes and scorpions, and to overcome all the enemy's strength, and nothing will harm you. But don't take delight that the spirits do what you tell them—just be glad that your names are written in heaven."
"I thank you Father, Lord of heaven and earth, for you hid these things from the wise and clever people and revealed them to children! Yes, Father, you were pleased to do it in this way.
"My Father has handed over everything to me. No one understands the Son except the Father, and no one understands the Father except the Son, and those to whom the Son chooses to reveal him."
When they were by themselves Jesus turned to the disciples and told them, "Those who see what you're seeing should be really happy! I tell you, many prophets and kings have wanted to see what you're seeing, but they didn't see, and wanted to hear the things you're hearing, but didn't hear."
(Continued next week)
Download the complete 'Words of Jesus' here.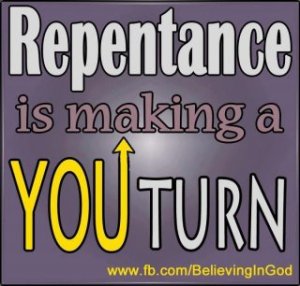 A MUZUNGU'S (White Man's) THOUGHT – Issue 41
REPENTANCE & OBEDIENCE TO GOD – THE MISSING LINKS
THIS WEEK - REPENTANCE
It is no wonder that Christianity today, particularly in the West, is struggling to survive, let alone thrive, for they have lost their, lost our, first love, as had the church in Laodicea, and for the same reasons.
It is a simple reality of human existence. As people get wealth they become self-sufficient and move away from God. King Solomon, even though he was so wise, fell away through a surplus of riches and of wives, and most likely, wine also! Girls, gold and glory –have been the downfall of men throughout the ages!
The faith of those who remain is lukewarm – and God spits us out of His mouth, as He warned the Laodiceans!
So what are we missing? What has changed from the church of earlier days?
While there are a number of things, the two most important, the two that need to return to the Western church if it is to survive are firstly, repentance of both individuals and the church as a whole for straying from God, as well as for unforgiven sins. Secondly, of obedience to God, which we will look at next time.
Sadly, the church has taught that God is like Father Christmas! Believe in Him by saying the (unbiblical) sinner's prayer, and you can then live how you like and God will continue to forgive and bless you, giving you a free ticket to heaven as a bonus!
This is so far from the truth, that God will 'spit you out of His mouth' as He promised to do to the Laodiceans if they did not repent!
Survival of the church in the West, and in other churches worldwide where this is taught is essential in order to rebuild a relationship with God.
What is repentance?
Most Christians think it is a one - profession for life. This is so wrong. Repentance is not only seeking forgiveness but also an undertaking not to commit this sin again. If repeated, it must be repented of again. And then to stop doing it!
True repentance is a practical thing. It must be lived. Good signs are seeking forgiveness from those you have wronged (even if it is not reciprocated) and what you do with your wallet.
As we reduce physical sin, such as that typified in the 10 Commandments, called 'sins of commission' we then move onto another stage. This sinning is called 'sins of omission', where we don't do the things the Lord desires us to do. Loving our neighbour is a simple example. Not following the guidance of the Holy Spirit, is at a deeper level.
The walk with Jesus is not simply one step but a walk of spiritual growth that lasts a lifetime. It is not about attending church but internal change that develops your character to become like Jesus. It is not an easy walk. But the results are eternal.
Until the church comes back to basics, it will be no more than Christian entertainment, which is 'Churchianity'.
As Jesus said, the house built on the sand will crash as the waves of humanism collapse it.
May we change our focus while there is still a little time.
Shurakini
(Thank You)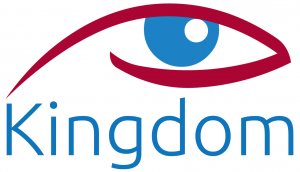 OUR AFRICAN EXPERIENCE
FOR MORE DETAILED AND REGULAR UPDATES, VISIT OUR FACEBOOK PAGE
AN EYE 4 Africa - https://www.facebook.com/aneye4africa/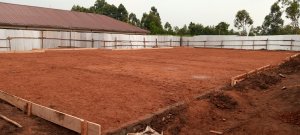 FOUNDATION COMPLETED AND READY FOR THE SLAB
THe foundation took 6 working days to complete! People and machine power.
Now we have to wait for further funds to proceed.
A BIG THANK YOU TO CBM AND ALL OUR DONORS!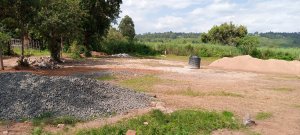 PILES OF MATERIAL HAVE VANISHED!
Many truckloads and tractor trailer loads of materials arrived and just as quickly disappeared into the foundations.
To the left you will notice a pile of sand. This is for the foundations.
There is a good story behind this. Our Laboratory Tech Dan, is a bit of an entrepreneur! He rented some land beside the river and hired a lady to take sand out of the river, bucket load by bucket load, until he had over 300 tons of sand piled up over a period of some months.
However, the spring rains are starting and the track to the river is very bad. so he is now bringing more sand to complete the foundations by tractor and trailer before the road becomes impassable, and maybe, if the river floods, it could wash the sand back into it!
Well done Dan!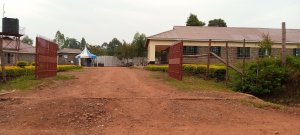 VIEW COMING IN OUR GATE
The Eye Hospital (currently being used for all our clinics) is to the right, and the temporary General Wards and Theatre to the left.
Some progress is being made.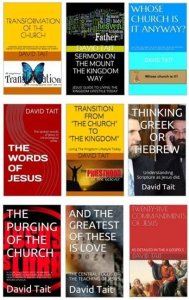 ***NOW***NINE BOOKS ARE AVAILABLE ON AMAZON!!!
9 BOOKS are now available on Amazon (Kindle)!

All are available worldwide for electronic download on Amazon (Kindle) for $US0.99c . Unfortunately there has to be a charge in order to list.

Your support would be appreciated and they could well change your life!

They are all found at this link.....
http://www.amazon.com/s/ref=nb_sb_noss?url=search-alias%3Daps&field-keywords=david+tait+books/
***DAILY EZINE!*** 'DAVID'S DAILY DOODLINGS' Subscribe Today
Receive one of David's sayings in your mailbox each day to inspire, challenge or maybe, amuse. To register today, go down to the bottom of the page link below, click on the subscribe link dd-on@wwj.org.nz (or paste the address in an email yourself and send) Then it's done! If you have an Irish heritage, you will love the background coloring!
Subscription and back issue link is.....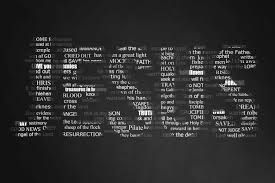 'THE WORDS OF JESUS' REMAIN AVAILABLE FOR PDF DOWNLOAD
Join the many who have downloaded the 'The Words of Jesus'. I am sure you will be blessed by it, as I have been.

One key element here is the setting out in chronological order (as far as it is possible to do so) our Lord's words drawn from all the Gospels, and the elimination of repetition between Gospels.

You may be surprised by the different perspective this presentation gives you both in understanding of His life and ministry, and in achieving a closer relationship with Him.

Download the free PDF here.....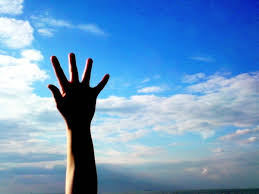 DAVID'S DOODLINGS
REACH FOR THE SKY!
82. Sparrows can only twitter in the foothills while eagles soar to the mountaintops. Why then, are there so many more sparrows than eagles?
83. Nobody told the bumblebee that he cannot fly ' so he does!
84. If the bumblebee can fly, so can you and I.
85. Only eagles fly high!
341. Unfortunately, there are many more people in life who would rather see you fly low than high. They want company!
342. The higher the mountain, the fewer who are prepared to climb, but the greater the rewards.
343. It's a lot less crowded on the mountaintops!
344. It's only the unsuccessful who have the secret of 'easy success'!
345. You can only get to the top of the mountain by starting from the bottom.
346. If you don't start, you will never finish!
Please feel free to quote these quotes. Acknowledgment of David Tait as the author would be appreciated. There are now over 1300 David sayings for you to view at ...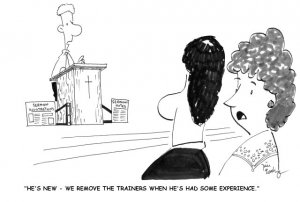 CARTOONS FROM TOON FEVER
Visit the Toon Fever website for more cartoon fun..... http://www.toonfever.com

Check it out at...

TUESDAY TEACHINGS
THIS WEEK: TRANSFORMATION OF THE CHURCH: 4. CHARACTERISTICS OF KINGDOM PEOPLE contcludes,,,,
..... with a look at 'the seemingly impossible' unity of Spirit!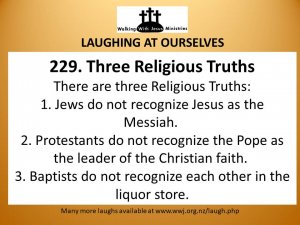 *** ANOTHER DAILY EZINE FROM WWJ!*** 'LAUGHING AT OURSELVES' Subscribe Today
As Christians, if we can't laugh at ourselves, others will! A fun way to start your day. To register today, go down to the bottom of the page link below, click on the subscribe link lao--on@wwj.org.nz (or paste the address in an email yourself and send) Then it's done!

LAUGHING AT OURSELVES
***Blessed are those who can laugh at themselves for they shall never cease to be amused***
*** Those who can't laugh at themselves leave the job to others. ***
QWIK QWIP: "Criticism is like dynamite. It has its place but should be handled only by experts."
447. Being Prudent
A little boy walked down the beach, and as he did, he spied a woman sitting under a beach umbrella on the sand.
He walked up to her and asked, "Are you a Christian?" She said, "Yes."
"Do you read your Bible every day?" She nodded her head, "Yes."
Do you pray often?" the boy asked next, and again she answered, "Yes."
With that he asked his final question, "Will you hold my quarter while I go swimming?"
448. God's Way?
 And God populated the earth with broccoli and cauliflower and spinach and green and yellow vegetables of all kinds, so man and woman would live long and healthy lives. And Satan developed the fast foods industry. And fast foods brought forth the 99 cent double cheeseburger. And Satan said to man, "You want fries with that?" And man said, "Supersize them." And man gained pounds.
 And God created the healthful yoghurt, that woman might keep her figure that man found so fair. And Satan froze the yoghurt, and he brought forth chocolate, nuts and brightly coloured sprinkle candy to put on the yoghurt. And woman gained pounds.
 And God said, "Try my crispy fresh salad." And Satan brought forth creamy dressings, bacon bits, and shredded cheese. And there was ice cream for dessert. And woman gained pounds.
 And God said, "I have sent your heart healthy vegetables and olive oil with which to cook them." And Satan brought forth chicken-fried steak so big it needed its own platter. And man gained pounds, and his bad cholesterol went through the roof.
 And God brought forth running shoes, and man resolved to lose those extra pounds. And Satan brought forth cable TV with remote control so man would not have to toil to change channels between ESPN and ESPN2. And man gained pounds.
 And God brought forth the potato, a vegetable naturally low in fat and brimming with nutrition. And Satan peeled off the healthful skin and sliced the starchy centre into chips and deep-fried them. And he created sour cream dip also. And man clutched his remote control and ate the potato chips swaddled in cholesterol. And Satan saw and said, "It is good." And man went into cardiac arrest.
 And God sighed, and created quadruple bypass surgery, angioplastys, and stents. And Satan established HMOs...
Download the book 'Laughing At Ourselves' in PDF format at LAUGHING AT OURSELVES One of the most comprehensive sources of Christian Humour on the Net with 800 sermon fillers for your entertainment and use at ..... https://www.wwj.org.nz/content/wwj18p47.pdf
Or read them all online at.....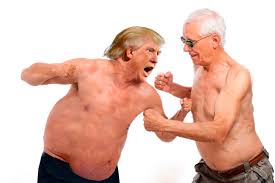 A DAVID MUSING
ELECTIONS! They are the bane of our lives!
Here in Kenya, where the President is elected on a 5 year cycle, electioneering starts again the day after the results of the last election are declared. There is much intrigue, as politicians and parties change their loyalties throughout the election cycle, in order to better place themselves for the next one.
In America, as we know, the situation is simpler, just between Republicans and Democrats. The level of vitriol and even hatred between them defies the imagination of reasonable people elsewhere.
In New Zealand, where we come from, the 3 yearly election is in 65 odd days. Compared to Kenya and the USA, our elections are mild. And once they are over, the country gets down to governing itself for 2 1/2 years, until the next election arrives.
This behaviour in elections truly reflects the nature of the countries quoted, and many others we haven't looked at.
In God's kingdom, He is the chief, to be obeyed by His followers. Unfortunatally, humanness too often comes in splits the church, and causes disruption among His people.
May we seek forgiveness for the times we have followed man rather than our Saviour and Lord.
Until next time.....
MAY GOD BLESS YOU AND YOU BLESS GOD
His servant and yours
David Tait

Visit us here.....
REPRODUCTION OF NEWSLETTER CONTENT
Most weeks we get enquiries about reproducing, in electronic or print form, articles contained in 'PGIM!' We welcome and encourage you to utilize this material. Freely received, freely given. We would ask though, that the source be acknowledged as an encouragement to others to subscribe to this newsletter also.
CHANGING YOUR EMAIL ADDRESS? NEWSLETTER STOPS COMING?
Each week we can lose up to 2% of our readers when they change email addresses without letting us know. Or sometimes, by your server acting strangely and just cutting us off! If you are about to change your address, please advise us of both your old and new addresses here at
enquiries@wwj.org.nz
and we will happily change our records to ensure ongoing delivery. Thanks.
Please also keep our address in your address book, as sometimes servers will automatically delete your address if there is even a one off problem in delivery. If your newsletter doesn't arrive, please let us know and we will reinstate you.
LINKS
If you would like to link your web site to ours, and ours to yours, please advise us on
links@wwj.org.nz
ABOUT US
WALKING WITH JESUS MINISTRIES is a non-profit, non-denominational, Bible based ministry located in Hastings, New Zealand. A ministry dedicated to developing discipleship, fostering unity amongst God's people to achieve the Great Commission, and in doing so, preparing for Christ's return. It is securely based upon the foundational principles of the Apostles Creed while recognising the wide and rich diversity of beliefs amongst Christians in other areas. In accordance with the Lord's direction, materials produced by the ministry are available, free of charge, to genuine enquirers upon request. The ministry is solely funded by donations, as the Lord provides. A list of materials available (plus some fun!) is obtainable and freely downloadable from our website
wwj.org.nz
or by contacting us as follows.
Walking With Jesus Ministries
7 Bull Street
Ahuriri
Napier
New Zealand
Phone: (06) 835 0567 International (+64) 6 835 0567
Email:
enquiries@wwj.org.nz
Web:
wwj.org.nz
Our role is to bless and encourage those in ministry while promoting co-operation and unity of direction amongst the body of Christ, as emphasised 3 times by Jesus in His longest prayer, immediately prior to His arrest and crucifixion. "... so that they may be one as we are one." (John 17:12, 21, 23-4) Our website is currently being developed to encourage your participation one with another, to share resources, and to enable you to promote events and items of interest to the body as a whole - and have a smile while doing it!
For comments upon and contributions to this service, please contact
david@wwj.org.nz
SUBSCRIPTION MANAGEMENT
We would encourage you to share this free service with your friends in ministry. To subscribe yourself please email pgim-on@wwj.org.nz.
If your name has been referred to us by a friend or supporting Ministry or has been obtained from a public Christian Directory or Website, it isn't our wish to burden you with information in which you aren't interested. To remove yourself from this list, please email pgim-off@wwj.org.nz.