A Weekly World Wide Word of Encouragement to those in the Ministry
PRAISE GOD IT'S MONDAY!
A WEEKLY 'WWW (world-wide word) OF ENCOURAGEMENT'
TO THOSE IN MINISTRY
A FREE service, currently connecting with Christian leaders from 3,000 denominations and ministries, in 70 countries.

Issue No: 856 Published: 19 Mar 2018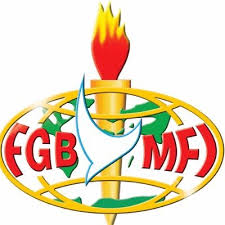 WHOSE CHURCH IS IT ANYWAY? Part 34
THE CHARISMATIC MOVEMENT
ECUMENISM AND SCHISMS
When this movement became widespread, there was much cross pollination between denominations. Conferences multiplied and their participants encompassed a broad spectrum of Christianity. I belong to the Full Gospel Businessman's Association whose purpose was to provide fellowship to Spirit filled businessmen at a time when they were not able to find spiritual fellowship within their churches. We have members from a wide variety of churches, Roman Catholic, Traditional, Evangelical and Pentecostal.

Catholic priest and scholar Peter Hocken referred to the Charismatic movement as "an ecumenical gift of grace poured out on all the churches."

In the United States, at the peak of the renewal in 1977, 52,000 Pentecostals/Charismatics met in the Arrowhead Stadium, in Kansas City. Quoting Hyatt.....

Truly ecumenical, it was indeed a work of the Holy Spirit. Half of the registrants were Roman Catholic, while the other half consisted mostly of Lutherans, Presbyterians, Episcopalians, denominational Pentecostals, Baptists, Methodists and Messianic Jews. Great rejoicing filled the stands as the multitude sang in tongues and danced before the Lord.

While Charismatics were encouraged to remain in their churches in order to spread the renewal, many found this too hard, either because they felt they were withering spiritually, or they encountered varying degrees of opposition within their denominations.

Some joined traditional Pentecostal denominations while many more formed new, independent Charismatic churches and fellowships. There are now many thousands of these throughout the world. Having ministered in many of these, particularly in Africa, it is again noticeable that Holy Spirit anointing is fast becoming in short supply here also.

THE ISSUE OF AUTHORITY IN CHARISMATA
Throughout history, as we have seen, there is inevitably it seems, a tension that occurs between the Christian establishment, the institutional church and charismatic ministry. The challenge always is whether people should submit to denominational authority, or the 'charismata'.

For example, the Protestant Reformation, under Luther, was largely a result of the intransigence of the bishops of the Roman Catholic Church over the previous century, the previous 10 years in particular. Similarly, while John Wesley remained attached to the Anglican Church throughout his life, the church did not want him. Reluctantly, he appointed and ordained his own ministers based on their obvious charismatic gifts and callings. Naturally, against what would have been his personal desires, the Methodist Church was inevitably formed shortly after his death, from the seed he had sown.

Again, the Pentecostal movement of the early 20th Century was rejected by the traditional church who would not accept legitimacy of spiritual gifts. So believers formed new relationships amongst themselves and Pentecostal denominations were spawned.

This principle, which is true from the time of the Montanists of the 2nd century, still applies today. Now the Pentecostal denominations have become institutionalized, replacing spiritual giftings and anointing with formal structure, appointment by theological qualification, church buildings and ........

The cycle continues. We will discuss this further as we proceed towards the present day.
(Continued next week)
Find out more about us here.....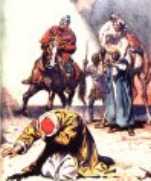 FROM THE WORD
THE WORDS OF JESUS
May we hear what the Lord is saying to us.....
The Conversion of Saul (Acts 9:1-19, 26:12-18)
Where Jesus spoke supernaturally to Him.
"Saul, Saul, why are you persecuting me? It's hard for you to fight against me!"
"'I am Jesus, the one you're persecuting,' 'But pick yourself up and get to your feet. The reason why I've appeared to you is to appoint you as my servant, to be a witness for me, telling others how you have seen me and everything I will reveal to you. I will save you from you own people and from the foreigners. I am sending you to them to open their eyes so they can turn from darkness to light, from the power of Satan to
God, and so that they can receive forgiveness for their sins and a place with those who are set right as they trust in me.'
And to Ananias.
"Ananias!"
"Get up, and go to Straight Street," the Lord told him. "Ask at Judas' house for someone called Saul, from
Tarsus. He's praying. He's seen in vision a man called Ananias come and place his hands on him so he can regain his sight."
Who protested.
"Get on your way, because he is the person I have chosen to take my name to foreigners and kings, as well as to Israel. I will show him what he'll have to suffer for my name's sake."
Paul's Vision and Thorn (2 Corinthians 12:1-10)
Paul asks for his 'thorn' to be taken away.
"My grace is all you will need, for my power is effective in weakness."
(Continued next week)
You can download the complete 'Words of Jesus' here.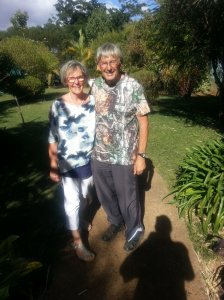 OUR AFRICAN EXPERIENCE
WE ARE OPEN!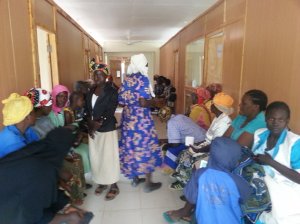 OUR FIRST DAY!
And we were overwhelmed with people!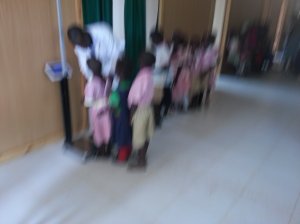 THE LOCAL SCHOOL ATTENDED
And since we have return visits with parents when someone in the family was sick.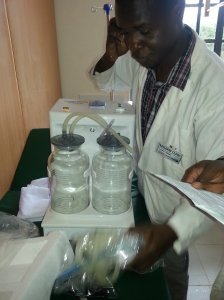 MUCH NEW EQUIPMENT WELCOMED
We welcomed our suction machine (shown) and Autoclave (Sterilizer) along with other new equipment.
The reality is we are now a hybrid between a Clinic and an Accident and Emergency Unit.
Good but expensive!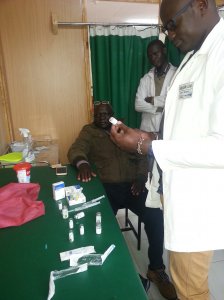 WATCH OUT- THE NEEDLE WILL GET YOU!
Jonah, our contractor, has been feeling ill for ages! Takes some antimalarials and gets a little better for a while. But has now decided to get a full lab analysis showing it had developed into typhoid! Look at the mixture of vials that go to make up a single injection! This has to be done twice a day! OUCH! and OUCH again!
Actually, the people here like jabs rather than pills, as they can feel the medicine going in!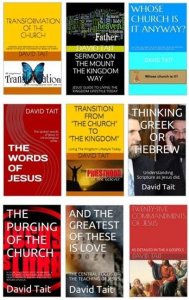 ***NOW***NINE BOOKS ARE AVAILABLE ON AMAZON!!!
9 BOOKS are now available on Amazon (Kindle)!

All are available worldwide for electronic download on Amazon (Kindle) for $US0.99c . Unfortunately there has to be a charge in order to list.

Your support would be appreciated and they could well change your life!

They are all found at this link.....
http://www.amazon.com/s/ref=nb_sb_noss?url=search-alias%3Daps&field-keywords=david+tait+books/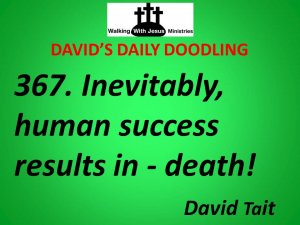 ***DAILY EZINE!*** 'DAVID'S DAILY DOODLINGS' Subscribe Today
Receive one of David's sayings in your mailbox each day to inspire, challenge or maybe, amuse. To register today, go down to the bottom of the page link below, click on the subscribe link dd-on@wwj.org.nz (or paste the address in an email yourself and send) Then it's done! If you have an Irish heritage, you will love the background coloring!
Subscription and back issue link is.....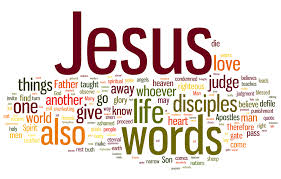 'THE WORDS OF JESUS' REMAIN AVAILABLE FOR PDF DOWNLOAD
Join the many who have downloaded the 'The Words of Jesus'. I am sure you will be blessed by it, as I have been.

One key element here is the setting out in chronological order (as far as it is possible to do so) our Lord's words drawn from all the Gospels, and the elimination of repetition between Gospels.

You may be surprised by the different perspective this presentation gives you both in understanding of His life and ministry, and in achieving a closer relationship with Him.

Download the free PDF here.....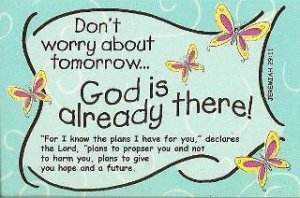 DAVID'S DOODLINGS
100. An apple a day keeps the Doctor away, but a worry a day keeps him fully employed.

101. Repentance is when you change a 'worry' into a 'sorry.'

102. Laughter is the only medicine I know where the side effects are even more beneficial than the medicine itself.

103. After birth on earth, a dearth of mirth reduces self-worth, leading to an increased girth.

208. The ultimate worrier does not have the time to concern themselves with today or tomorrow for they are still too busy worrying about what happened yesterday.

356. An optimist tackles a problem while the worrier lets the problem tackle them.

357. Magicians and worriers both create illusions. Magicians entertain others, while worriers entertain themselves.

358. Worry is like the fast breeder nuclear reactor, which feeds upon itself. Unsurprisingly, neither has proved to be of lasting benefit to mankind.

359. Somehow, it seems easier to build a mountain of worry than a molehill of achievement.

360. A worry a day keeps the psychiatrist in business.
Please feel free to quote these quotes. Acknowledgement of David Tait as the author would be appreciated. There are now over 1300 David sayings for you to view at ...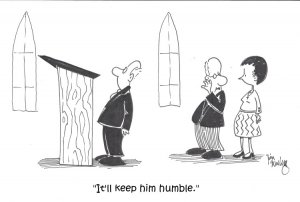 CARTOONS FROM TOON FEVER
Visit the Toon Fever website for more cartoon fun..... http://www.toonfever.com

Check it out at...

TUESDAY TEACHINGS
THIS WEEK: A REVELATION OF....... 3 KINGDOM AGES - THE KINGDOM FULFILLED
Now is the time to look at the final fulfillment of the kingdom that all fully committed believers are looking forward to.

Let's seek it out!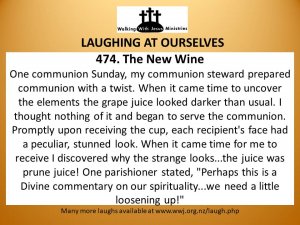 *** ANOTHER DAILY EZINE FROM WWJ!*** 'LAUGHING AT OURSELVES' Subscribe Today
As Christians, if we can't laugh at ourselves, others will! A fun way to start your day. To register today, go down to the bottom of the page link below, click on the subscribe link lao--on@wwj.org.nz (or paste the address in an email yourself and send) Then it's done!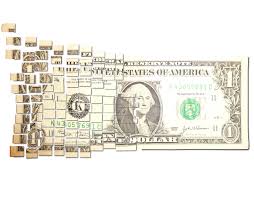 LAUGHING AT OURSELVES
***Blessed are those who can laugh at themselves for they shall never cease to be amused***
*** Those who can't laugh at themselves leave the job to others. ***
120. Perfection
An evangelist had a great revival camp going. One night he was up in front of a large audience, speaking on imperfection. He asked his audience towards the end, "Has anyone ever known anyone who has come CLOSE to the perfection of our lord, Jesus Christ?" Nobody, of course raised their hand. So he issued the question again. "Anybody! Has ANYONE ever known that kind of perfection?"
Finally a guy in the back raised his hand, so of course he was asked to stand up. "Tell us. Tell us who you knew who was so close to perfection."
The man responded, "My wife's first husband."
QWIK QWIP: "Opportunity may knock once, but temptation bangs on your door for years."
121. Visiting Church - Again!
A one-dollar note met a twenty-dollar note and said, "Hey, where have you been? I haven't seen you around here much."
The twenty answered, "I've been hanging out at the casinos, went on a cruise and did the rounds on the ship, back to the United States for a while, went to a couple of baseball games, to the mall, that kind of stuff. How about you?"
The one-dollar note said, "You know, same old stuff - church, church, church."
122. The Word
Our five-year-old son went to a church conference with my wife and me. He got restless, so my wife handed him a pad and pencil and suggested he mark down every time the speaker said the word "and." After a while, he grew bored, and I asked,
"Would you like to listen for a different word?"
"Yes," he whispered. "I'd like to listen for 'Amen'."
FREE DOWNLOAD: You can now download the book 'Laughing At Ourselves' in PDF format at LAUGHING AT OURSELVES One of the most comprehensive sources of Christian Humour on the Net with 800 sermon fillers for your entertainment and use at ..... https://www.wwj.org.nz/content/wwj18p47.pdf
Or read them all online at.....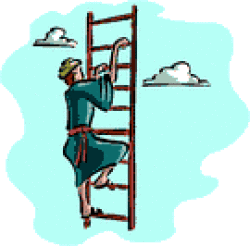 A DAVID MUSING
It was a huge and wonderful day to see our Clinic open on Monday, after months of hard work and effort by so many people. Thank you Lord.
Then, on Tuesday, new challenges arose, for building is one thing, but running a Clinic is another! Moving from managing rocks on stones to people. An entirely different challenge, particularly as I know nothing about medicine!
Faith is like this too. One step achieved and satisfaction gained. But tomorrow, the next step on the ladder of faith beckons. It is all part of our growing process in our God.
Too many believers however, seem happy to rest on past glories, or maybe are even afraid to take that first step.
God is urging us all to grow in Him, in order to become more like Jesus.
Until next week.......

MAY GOD BLESS YOU AND YOU BLESS GOD.


His servant and yours
David Tait

Visit us here.....
REPRODUCTION OF NEWSLETTER CONTENT
Most weeks we get enquiries about reproducing, in electronic or print form, articles contained in 'PGIM!' We welcome and encourage you to utilize this material. Freely received, freely given. We would ask though, that the source be acknowledged as an encouragement to others to subscribe to this newsletter also.
CHANGING YOUR EMAIL ADDRESS? NEWSLETTER STOPS COMING?
Each week we can lose up to 2% of our readers when they change email addresses without letting us know. Or sometimes, by your server acting strangely and just cutting us off! If you are about to change your address, please advise us of both your old and new addresses here at
enquiries@wwj.org.nz
and we will happily change our records to ensure ongoing delivery. Thanks.
Please also keep our address in your address book, as sometimes servers will automatically delete your address if there is even a one off problem in delivery. If your newsletter doesn't arrive, please let us know and we will reinstate you.
LINKS
If you would like to link your web site to ours, and ours to yours, please advise us on
links@wwj.org.nz
ABOUT US
WALKING WITH JESUS MINISTRIES is a non-profit, non-denominational, Bible based ministry located in Hastings, New Zealand. A ministry dedicated to developing discipleship, fostering unity amongst God's people to achieve the Great Commission, and in doing so, preparing for Christ's return. It is securely based upon the foundational principles of the Apostles Creed while recognising the wide and rich diversity of beliefs amongst Christians in other areas. In accordance with the Lord's direction, materials produced by the ministry are available, free of charge, to genuine enquirers upon request. The ministry is solely funded by donations, as the Lord provides. A list of materials available (plus some fun!) is obtainable and freely downloadable from our website
wwj.org.nz
or by contacting us as follows.
Walking With Jesus Ministries
7 Bull Street
Ahuriri
Napier
New Zealand
Phone: (06) 835 0567 International (+64) 6 835 0567
Email:
enquiries@wwj.org.nz
Web:
wwj.org.nz
Our role is to bless and encourage those in ministry while promoting co-operation and unity of direction amongst the body of Christ, as emphasised 3 times by Jesus in His longest prayer, immediately prior to His arrest and crucifixion. "... so that they may be one as we are one." (John 17:12, 21, 23-4) Our website is currently being developed to encourage your participation one with another, to share resources, and to enable you to promote events and items of interest to the body as a whole - and have a smile while doing it!
For comments upon and contributions to this service, please contact
david@wwj.org.nz
SUBSCRIPTION MANAGEMENT
We would encourage you to share this free service with your friends in ministry. To subscribe yourself please email pgim-on@wwj.org.nz.
If your name has been referred to us by a friend or supporting Ministry or has been obtained from a public Christian Directory or Website, it isn't our wish to burden you with information in which you aren't interested. To remove yourself from this list, please email pgim-off@wwj.org.nz.