A Weekly World Wide Word of Encouragement to those in the Ministry
PRAISE GOD IT'S MONDAY!
A WEEKLY 'WWW (world-wide word) OF ENCOURAGEMENT'
TO THOSE IN MINISTRY
A FREE service, currently connecting with Christian leaders from 3,000 denominations and ministries, in 70 countries.

Issue No: 974 Published: 22 Jun 2020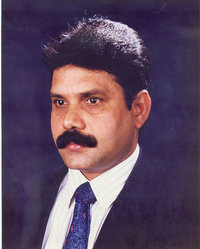 THINKING GREEK OR HEBREW?
SUMMARY Pt. 2
2. WHOLE OF LIFE - THE CALL TO DISCIPLESHIP
The first and foremost principle that I have learned through this study is the need for a 'whole of life' approach to my walk with Jesus.
Jesus meant it when He said.....
34 "Do not suppose that I have come to bring peace to the earth. I did not come to bring peace, but a sword. 35 For I have come to turn "a man against his father, a daughter against her mother, a daughter-in-law against her mother-in-law— 36 a man's enemies will be the members of his own household.' 37 "Anyone who loves his father or mother more than me is not worthy of me; anyone who loves his son or daughter more than me is not worthy of me; 38 and anyone who does not take his cross and follow me is not worthy of me. (Matthew 10:34-8)
Summarised in the next verse.....
39 Whoever finds his life will lose it, and whoever loses his life for my sake will find it. (Matthew 10:39)
My friend Asher in photo), in India, was rejected and separated from his Hindu family for many years, when he gave his life to Jesus.
Over the years, since committing to Jesus, I have endeavoured to take discipleship seriously, having tried, not always successfully, to 'walk the walk', not just 'talk the talk'.
Laying down our life is not easy, as Peter discovered.....
37 Peter asked, "Lord, why can't I follow you now? I will lay down my life for you." 38 Then Jesus answered, "Will you really lay down your life for me? I tell you the truth, before the rooster crows, you will disown me three times! (John 13:37-8)
But eventually he did, both spiritually and literally, finally choosing crucifixion, at the Lord's request.....
IX. Peter
Among many other saints, the blessed apostle Peter was condemned to death, and crucified, as some do write, at Rome; albeit some others, and not without cause, do doubt thereof. Hegesippus saith that Nero sought matter against Peter to put him to death; which, when the people perceived, they entreated Peter with much ado that he would fly the city. Peter, through their importunity at length persuaded, prepared himself to avoid. But, coming to the gate, he saw the Lord Christ come to meet him, to whom he, worshipping, said, "Lord, whither dost Thou go?" To whom He answered and said, "I am come again to be crucified." By this, Peter, perceiving his suffering to be understood, returned into the city. Jerome saith that he was crucified, his head being down and his feet upward, himself so requiring, because he was (he said) unworthy to be crucified after the same form and manner as the Lord was.
(Foxe's Book of Martyrs, by John Foxe, [1848] Chapter 1)
We too are called to walk in the example of Jesus, at least spiritually, if not literally.....
4 "I am the good shepherd; I know my sheep and my sheep know me— 15 just as the Father knows me and I know the Father—and I lay down my life for the sheep. (John 10:24)
Each and every one of us is called to a life of discipleship, of giving Jesus our all. If we are ever going to impress the Jews (or the Muslims) of the Saviour-ship of Jesus, we will have to witness with our lives, not just our words.
Muslims, for example, see the Western world as 'Christian', with our church, government, moral behaviour, etc., viewed as all being parts of the one whole-of-life entity. Naturally, they are not impressed with what they see!
Western society takes an opposite viewpoint, with the separation of the various elements of life. This has infiltrated our church thinking, so we promote the mental assent of the 'Sinners Prayer' as being sufficient to obtain salvation.
Looking at Jesus' life and culture, this is patently wrong. Unless our life reflects our verbal commitment, we are not truly Jesus followers. Believing may or may not get us into heaven by the 'skin of our teeth', but it certainly is not the 100% sold out commitment that Jesus requires.
Sets one thinking, doesn't it?
See more about us at.....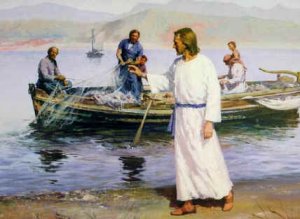 FROM THE WORD
THE WORDS OF JESUS
May we hear what the Lord is saying to us.....
Jesus heals Boy With Evil Spirit and Gives Explanation to Disciples
(Matthew 17:14-21, Mark 9:14-29, Luke 9:37-43)
A boy brought out of the crowd to Jesus by his father.
"You unbelieving people!"
"How long must I remain here with you? How long do I have to put up with you? Bring him over here to me!"
"How long has he had this?"
"Why do you say, 'if you can?' "Whoever trusts has every power!"
"Spirit that causes deafness and dumbness, I order you to come out of him and never return."
The disciples asked how he did it, as they had not been able to.
"Because you don't trust enough," "I tell you, even if your trust was as small as a mustard seed, you could say to this mountain, 'Move from here to there,' and it would move. Nothing would be impossible for you."
Jesus Discusses His Death (Matthew 17:22-3, Mark 9:14-29, Luke 9:37-43)
With the Disciples.
"The Son of man is going to be betrayed and people will have power over him. They will kill him, but on the third day he will rise again."
Paying the Temple Tax (Matthew 17:24-7)
By Peter, to be paid to the taxman
"What do you think, Simon?"
"Do the kings of this world collect their taxes and duties from their own sons or from others?"
"In that case the sons are exempt. But to avoid giving offense to anyone, go to the lake, and throw out a fishing line with a hook. Pull in the first fish you catch, and when you open its mouth there you'll find a stater coin. Take the coin and give it to them for both me and you."
(Continued next week)
Download the complete 'Words of Jesus' here.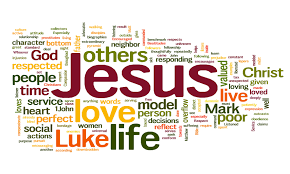 A MUZUNGU'S (White Man's) THOUGHT – Issue 39
LOVE 4 LOVE
There is a story I once heard, that the chapters and verses of the Bible were created by a man who travelled a lot, and often did this work when riding on a horse. It has stuck in my mind, but I can't find any mention of it on Mr Google, so at this stage, a good story it remains! LOL!
Originally the Bible was in a script format, such as we have in a book, but in one long page. Therefore we shouldn't take a verse and quote it out of context, without considering the whole passage of which it is a part.
This is particularly so with God's promises to us. Invariably each promise comes with a condition. If we quote the promise without the condition, which normally means, something we have to do in order to receive the promise, we only get half the story. Then we can't understand why we don't receive the result of the promise!
CHRISTIANITY IS, OR SHOULD BE, A VERY SIMPLE RELIGION!
Let us consider consider the best known Bible verse, which undoubtedly, is John 3:16. It talks about God's love for us. And of course, Jesus' obedient participation in that! To enact that love we must believe that Jesus died for us. In this case the promise and condition are in the same verse, which makes it extra powerful.
Very simple, isn't it!
But there also is a consequence which, by co-incidence or not, is found in 1 John 3:16! Hence the talk of Bible verses earlier. This verse is worth quoting though, as unfortunately, it is not so well known. The Amplified Bible has a detailed explanation of the verse……
16 By this we know [and have come to understand the depth and essence of His precious] love: that He [willingly] laid down His life for us [because He loved us]. And we ought to lay down our lives for the believers. (1 John 3:16)
This verse, added to the instruction of Jesus…….
And Jesus replied to him, "'You shall love the Lord your God with all your heart, and with all your soul, and with all your mind.' (Matthew 22:37AMP)
So this is all there is to it, the simple foundation of what believing in and following Jesus is all about.
LOVE 4 LOVE
God loved us and sent his son to die for us. Our response is to be…..
1. Believe in Jesus for His sacrifice for us. (expressed through repentance)
2. Love God with all we are and all we have and do.
3. Love others completely, especially believers.
This is all there is to it - following Jesus in a NUTSHELL!
Christianity today is built on theology through Bible Colleges (of which no two agree), building churches (which are all different) and centred on pastors (with whom we may or may not agree)!
Please, let us get back to basics, and make a difference to the world we live in.
Shurakini
(Thank You)
Xxx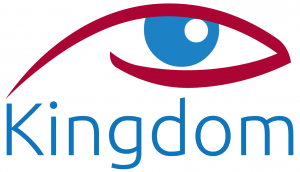 OUR AFRICAN EXPERIENCE
FOR MORE DETAILED AND REGULAR UPDATES, VISIT OUR FACEBOOK PAGE
AN EYE 4 Africa - https://www.facebook.com/aneye4africa/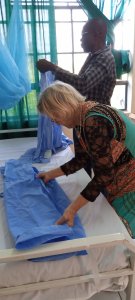 OUR FIRST CATARACT SURGERIES SINCE FEBRUARY
Although Covid is still around, but not in our area, we are now able to restart surgeries.
These will start on Wednesday, but there is a lot of preparation work to do.
We hope to do 10-15 cataract operations on the day.
Kathy and Emmanuel are folding Theatre Gowns ready to be put in the sterilizer.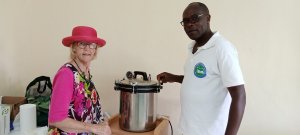 Said sterilizer, which is doing a lot of work prior to the day!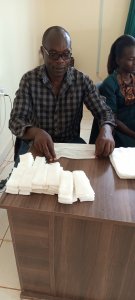 Emmanuel folding swabs ready for sterilization.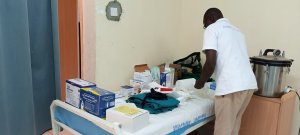 Our 'bed table' on which all the many items required for the surergies are being set out.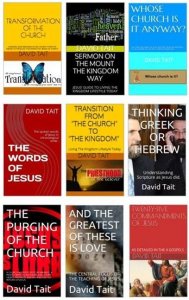 ***NOW***NINE BOOKS ARE AVAILABLE ON AMAZON!!!
9 BOOKS are now available on Amazon (Kindle)!

All are available worldwide for electronic download on Amazon (Kindle) for $US0.99c . Unfortunately there has to be a charge in order to list.

Your support would be appreciated and they could well change your life!

They are all found at this link.....
http://www.amazon.com/s/ref=nb_sb_noss?url=search-alias%3Daps&field-keywords=david+tait+books/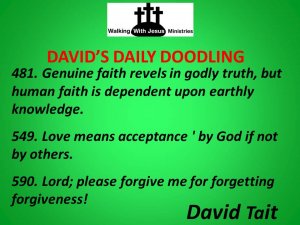 ***DAILY EZINE!*** 'DAVID'S DAILY DOODLINGS' Subscribe Today
Receive one of David's sayings in your mailbox each day to inspire, challenge or maybe, amuse. To register today, go down to the bottom of the page link below, click on the subscribe link dd-on@wwj.org.nz (or paste the address in an email yourself and send) Then it's done! If you have an Irish heritage, you will love the background coloring!
Subscription and back issue link is.....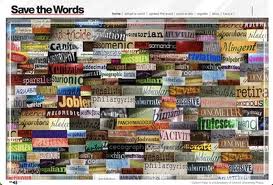 'THE WORDS OF JESUS' REMAIN AVAILABLE FOR PDF DOWNLOAD
Join the many who have downloaded the 'The Words of Jesus'. I am sure you will be blessed by it, as I have been.

One key element here is the setting out in chronological order (as far as it is possible to do so) our Lord's words drawn from all the Gospels, and the elimination of repetition between Gospels.

You may be surprised by the different perspective this presentation gives you both in understanding of His life and ministry, and in achieving a closer relationship with Him.

Download the free PDF here.....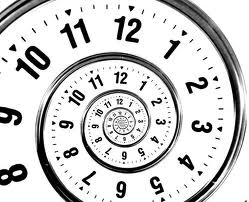 DAVID'S DOODLINGS
A MATTER OF TIME
64. The most precious gift I can give is my time.
65. In youth, time is measured as the grains of sand on the beach;
In middle age, by the thinning hairs on our head;
But in old age, each day is as precious as they all really were.
66. Be honoured when one gives you of their time, for it is an irreplaceable gift.
67. Time is more precious than gold, for it cannot be bought at any price.
69. Time is not valued until it is running out.
70. Time is like any other commodity. When you have plenty of it, it is valueless but when it is short, it is priceless.

71. Time is an illusion. At first it appears plentiful, but suddenly disappears into thin air.
Please feel free to quote these quotes. Acknowledgment of David Tait as the author would be appreciated. There are now over 1300 David sayings for you to view at ...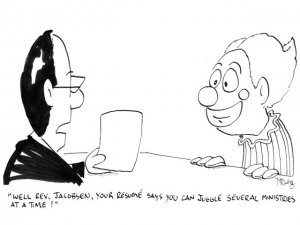 CARTOONS FROM TOON FEVER
Visit the Toon Fever website for more cartoon fun..... http://www.toonfever.com

Check it out at...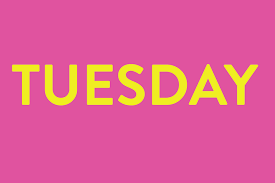 TUESDAY TEACHINGS
THIS WEEK: TRANSFORMATION OF THE CHURCH: 4. CHARACTERISTICS OF KINGDOM PEOPLE
Continuing the final part of our study on the Transformation of the Church, looking at the characteristics of kingdom people.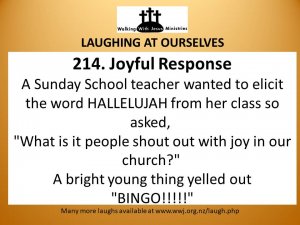 *** ANOTHER DAILY EZINE FROM WWJ!*** 'LAUGHING AT OURSELVES' Subscribe Today
As Christians, if we can't laugh at ourselves, others will! A fun way to start your day. To register today, go down to the bottom of the page link below, click on the subscribe link lao--on@wwj.org.nz (or paste the address in an email yourself and send) Then it's done!

LAUGHING AT OURSELVES
***Blessed are those who can laugh at themselves for they shall never cease to be amused***
*** Those who can't laugh at themselves leave the job to others. ***
426. Think First
My Protestant clergy friend was speaking with a Catholic Priest and wanted to make a solid friendship. He spoke of many things and felt it was going well, but when he asked if his Father had been a Priest, the conversation was over.
427. The New Wine
One communion Sunday, my communion steward prepared communion with a twist. When it came time to uncover the elements the grape juice looked darker than usual. I thought nothing of it and began to serve the communion. Promptly upon receiving the cup, each recipient's face had a peculiar, stunned look. When it came time for me to receive I discovered why the strange looks...the juice was prune juice! One parishioner stated, "Perhaps this is a Divine commentary on our spirituality...we need a little loosening up!"
QWIK QUIP: "1 (Cross) + 3 (Nails) = 4 (Given)"
428. Empathy
Jesus made a quick return to earth for a visit. He came upon a lame man, had compassion on him, and healed his leg. Further down the road, Our Lord came upon a blind man, had compassion on him, and healed him. A little further down the road, Jesus came upon a man sitting on the curb sobbing his heart out. Jesus asked him what was wrong. The man cried out in agony, "I'm a pastor!"
Jesus sat down beside him, put his arm around him.............. and cried too.
Download the book 'Laughing At Ourselves' in PDF format at LAUGHING AT OURSELVES One of the most comprehensive sources of Christian Humour on the Net with 800 sermon fillers for your entertainment and use at ..... https://www.wwj.org.nz/content/wwj18p47.pdf
Or read them all online at.....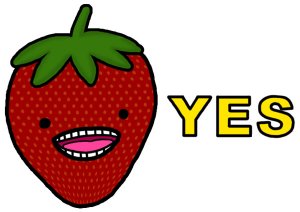 A DAVID MUSING
During the week Kathy and I went shopping at a new supermarket in the town of Kakamega, which is 1 hours drive away (about 70km). It has a population of 92,000 with a similar number in the rest of the county.
There are 3 other quite large supermarkets there, but the one we went for is as good as you would find anywhere in New Zealand and would many other places in the West.
It had only been open for 2 weeks and basically sells anything you would want to buy in the food line and has a wide range of non food products also.
Of course, it make living life here in the village much easier and more pleasant, for like it or not, food plays an important part in our lives! So it is excellent to be able to buy anything we would like to have.
The purpose of writing this is not about my stomach, but to show you that Africa is not all mud huts and grass skirts! Yes, we have many mud huts round here, but I have yet to see a grass skirt!
Kenya has huge problems, but gradually, development is happening and little by little, living standards are being raised.
One interesting by product of the growth is that due to changing diets, High Blood Pressure, Diabetes and Cancer are sadly, becoming far more common. The cost of modernisation. Chips and deep fried cooking are taking their toll!
May we learn to look after our bodies responsibly to improve our health outcomes over the years ahead
Until next time.....
MAY GOD BLESS YOU AND YOU BLESS GOD
His servant and yours
David Tait

Visit us here.....
REPRODUCTION OF NEWSLETTER CONTENT
Most weeks we get enquiries about reproducing, in electronic or print form, articles contained in 'PGIM!' We welcome and encourage you to utilize this material. Freely received, freely given. We would ask though, that the source be acknowledged as an encouragement to others to subscribe to this newsletter also.
CHANGING YOUR EMAIL ADDRESS? NEWSLETTER STOPS COMING?
Each week we can lose up to 2% of our readers when they change email addresses without letting us know. Or sometimes, by your server acting strangely and just cutting us off! If you are about to change your address, please advise us of both your old and new addresses here at
enquiries@wwj.org.nz
and we will happily change our records to ensure ongoing delivery. Thanks.
Please also keep our address in your address book, as sometimes servers will automatically delete your address if there is even a one off problem in delivery. If your newsletter doesn't arrive, please let us know and we will reinstate you.
LINKS
If you would like to link your web site to ours, and ours to yours, please advise us on
links@wwj.org.nz
ABOUT US
WALKING WITH JESUS MINISTRIES is a non-profit, non-denominational, Bible based ministry located in Hastings, New Zealand. A ministry dedicated to developing discipleship, fostering unity amongst God's people to achieve the Great Commission, and in doing so, preparing for Christ's return. It is securely based upon the foundational principles of the Apostles Creed while recognising the wide and rich diversity of beliefs amongst Christians in other areas. In accordance with the Lord's direction, materials produced by the ministry are available, free of charge, to genuine enquirers upon request. The ministry is solely funded by donations, as the Lord provides. A list of materials available (plus some fun!) is obtainable and freely downloadable from our website
wwj.org.nz
or by contacting us as follows.
Walking With Jesus Ministries
7 Bull Street
Ahuriri
Napier
New Zealand
Phone: (06) 835 0567 International (+64) 6 835 0567
Email:
enquiries@wwj.org.nz
Web:
wwj.org.nz
Our role is to bless and encourage those in ministry while promoting co-operation and unity of direction amongst the body of Christ, as emphasised 3 times by Jesus in His longest prayer, immediately prior to His arrest and crucifixion. "... so that they may be one as we are one." (John 17:12, 21, 23-4) Our website is currently being developed to encourage your participation one with another, to share resources, and to enable you to promote events and items of interest to the body as a whole - and have a smile while doing it!
For comments upon and contributions to this service, please contact
david@wwj.org.nz
SUBSCRIPTION MANAGEMENT
We would encourage you to share this free service with your friends in ministry. To subscribe yourself please email pgim-on@wwj.org.nz.
If your name has been referred to us by a friend or supporting Ministry or has been obtained from a public Christian Directory or Website, it isn't our wish to burden you with information in which you aren't interested. To remove yourself from this list, please email pgim-off@wwj.org.nz.