A Weekly World Wide Word of Encouragement to those in the Ministry
PRAISE GOD IT'S MONDAY!
A WEEKLY 'WWW (world-wide word) OF ENCOURAGEMENT'
TO THOSE IN MINISTRY
A FREE service, currently connecting with Christian leaders from 3,000 denominations and ministries, in 70 countries.

Issue No: 992 Published: 19 Oct 2020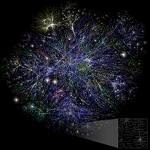 REGRET THE DELAY.....
..... due to both lack of power and also loss of internet connection!
Some things, you just have to chill out about, even though you are frustrated! For you can't change them.
Enjoy
David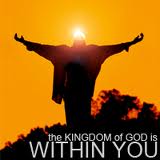 THINKING GREEK OR HEBREW
KINGDOM OF GOD (ETERNAL LIFE)

Greek (Western)
We view the kingdom of God (eternal life) as being separated from this world, a place to go to when earthly life ends. Hence, particularly amongst Pentecostal Christians, there is an (unbiblical) preoccupation with the (unbiblical) rapture. 'Zap me out of here before the Tribulation Lord!' is a common prayer. Much heated discussion arises in theological circles about whether the rapture will be 'pre', 'mid' or 'post-trib' (tribulation). This even splits churches and denominations, causing division in the body. How sad! Jesus weeps! All because we are bound up by our Greek understanding, through which we separate the natural from the spiritual.
The Rapture Doctrine originated in 1830, the result of a vision experienced by a Scottish lady, Miss Margaret Macdonald, who was ill at the time. It was unknown in the church before then. This 'feel good' idea of people being rescued from end time tribulation was promoted by Rev Edward Irving of the Catholic Apostolic Church before being theologically developed by John Darby, founder of the Plymouth Brethren. It has now spread to become widely accepted in many areas of the church.
Again, the foundation of the rapture is based on the Greek thought premise that eternal life, the kingdom of God, is separate from the natural world and is inherited only upon death.

Eastern (Hebrew)
Hebrew thought however, sees eternal life and God's kingdom as beginning in this life. Eternal life therefore, is a life lived in harmony with God during our present, earthly existence.
24 "I tell you the truth, whoever hears my word and believes him who sent me has eternal life and will not be condemned; he has crossed over from death to life. (John 5:24)
Eternal life is knowing God and believing in Jesus. Jesus prayed at Gethsemane.....
3 Now this is eternal life: that they may know you, the only true God, and Jesus Christ, whom you have sent. (John 17:3)
And Paul to Timothy.....
12 Fight the good fight of the faith. Take hold of the eternal life to which you were called when you made your good confession in the presence of many witnesses. (1 Timothy 6:12)
For Jesus is eternal life! The eternal life of Jesus lives in us!
20 We know also that the Son of God has come and has given us understanding, so that we may know him who is true. And we are in him who is true—even in his Son Jesus Christ. He is the true God and eternal life. (1 John 5:20)
Our Greek based translations do not convey this present oneness with God adequately. For the Jews, this just comes naturally, for thoughts, beliefs and actions are intertwined as one. We are to become one with Him - now.
17 But he who unites himself with the Lord is one with him in spirit. (1 Corinthians 6:17)
This understanding adds new meaning to the Lord's Prayer, which has been spoken billions of times, but rarely understood.
10 your kingdom come, your will be done on earth as it is in heaven. (Matthew 6:10)
God's kingdom is being built on earth - now! What a revelation. Thank you Lord!

SOME SPIRITUAL IMPLICATIONS FOR TODAY
1. The understanding of this 'kingdom now' principle is the basis of the apostolic/kingdom movement that is arising throughout the world today. Unlike previous movements of God, which have moved out from one place, person or group, the revelation of the kingdom is now being given through the Holy Spirit to people all round the world. It is essentially a personal revelation, for personal conviction is necessary to live the kingdom lifestyle in a generally disbelieving church, and secular, world.
2. We are being called to live and work out our faith in practical ways, to demonstrate the kingdom to others. Indeed, to be His kingdom representatives in the world!
3. To be kingdom, present as well as future, centred.
4. To desire holiness and righteousness, allowing Jesus to change us, in order to become a member of the 'bride of Christ' for whom Jesus is returning.....
9 Then the angel said to me, "Write: 'Blessed are those who are invited to the wedding supper of the Lamb!'" And he added, "These are the true words of God." (Revelation 19:9)
Acknowledgements: http://www.followtherabbi.com and http://hethathasanear.com and http://www.wildbranch.org
See more about us at.....
FROM THE WORD
THE WORDS OF JESUS
May we hear what the Lord is saying to us.....
Bringing Division, Not Peace (Luke 12:49-53)
I have come to set the earth on fire, and I really wish it was already burning! But I have a baptism to go through, and I'm in agony, wishing it was over! Do you think that I came to bring peace on earth? No, I tell you, I bring division. From now on, if there are five in a family, they will be divided against each other: three against two, and two against three. They will be divided against each other—father against son, son against father, mother against daughter, daughter against mother, mother-in-law against daughter-in-law, and daughter-in-law against mother-in-law."
The Times Interpreted (Luke 12:54-59)
Now speaking to the crowd.
"When you see a cloud rising in the west, you immediately say, 'a rainshower's coming,' and it happens. When a south wind blows, you say 'it's going to be hot,' and it is. You hypocrites, how is it that you know how to rightly interpret the weather but you don't know how to interpret the present time? Why don't you think for yourselves and judge what's right? As you go with your accuser to the magistrate, on the way you should be working on a settlement. Otherwise you may be dragged before the judge, and the judge hand you over to the officer, and the officer throw you into prison. I tell you, you won't get out until you've paid the last penny."
Repentance Required (Luke 13:1-5)
Jesus asked about sinful Galileans who were killed while offering sacrifices in the Temple.
"Do you think that these Galileans were worse sinners than any other Galileans because they suffered like this?" "No, I tell you. But unless you repent, you will all perish as well.
What about those eighteen people that were killed when the tower in Siloam fell on them? Do you think they were the worst people in the whole of Jerusalem? No, I tell you. But unless you repent, you will all perish as well."
(Continued next week)
Download the complete 'Words of Jesus' here.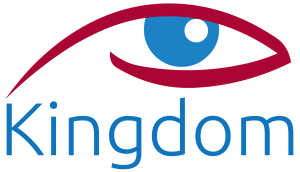 OUR AFRICAN EXPERIENCE
FOR MORE DETAILED AND REGULAR UPDATES, VISIT OUR FACEBOOK PAGE
AN EYE 4 Africa - https://www.facebook.com/aneye4africa/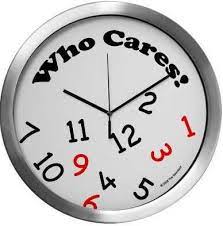 ANOTHER DAY,ANOTHER WEEK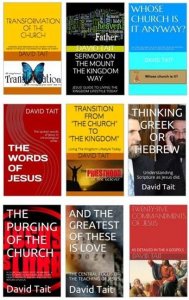 ***NOW***NINE BOOKS ARE AVAILABLE ON AMAZON!!!
9 BOOKS are now available on Amazon (Kindle)!

All are available worldwide for electronic download on Amazon (Kindle) for $US0.99c . Unfortunately there has to be a charge in order to list.

Your support would be appreciated and they could well change your life!

They are all found at this link.....
http://www.amazon.com/s/ref=nb_sb_noss?url=search-alias%3Daps&field-keywords=david+tait+books/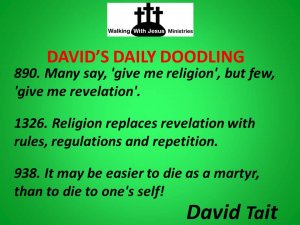 ***DAILY EZINE!*** 'DAVID'S DAILY DOODLINGS' Subscribe Today
Receive one of David's sayings in your mailbox each day to inspire, challenge or maybe, amuse. To register today, go down to the bottom of the page link below, click on the subscribe link dd-on@wwj.org.nz (or paste the address in an email yourself and send) Then it's done! If you have an Irish heritage, you will love the background coloring!
Subscription and back issue link is.....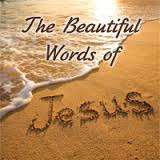 'THE WORDS OF JESUS' REMAIN AVAILABLE FOR PDF DOWNLOAD
Join the many who have downloaded the 'The Words of Jesus'. I am sure you will be blessed by it, as I have been.

One key element here is the setting out in chronological order (as far as it is possible to do so) our Lord's words drawn from all the Gospels, and the elimination of repetition between Gospels.

You may be surprised by the different perspective this presentation gives you both in understanding of His life and ministry, and in achieving a closer relationship with Him.

Download the free PDF here.....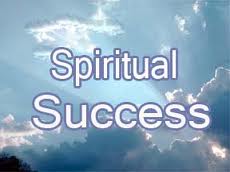 DAVID'S DOODLINGS
SUCCESS
209. On God's 'Order of Merit' a Z+ far exceeds an A- as effort outranks ability every time.
361. Earthly success is an aphrodisiac, while heavenly success requires fertilisation, labour pains and new birth.

362. We live in an instant society where sadly, momentary success is preferred to eternal glory.

363. Earthly success is like instant coffee. Quick and easy to make but lacking the aroma, taste and satisfaction of the real thing.

364. Earthly success is elusive and fleeting, heavenly glory, certain and everlasting.

365. Success in life after death has more appeal than success in life, for tombstones tell me it is longer lasting!

366. Death is the greatest leveller of human achievement.

367. Inevitably, human success results in - death!

871. Life experience has taught me that success is found by looking outwards and upwards, rather than inwards.

976. In order to find the way, we need to know where we want to go.

977. Every end has first had a beginning.

978. To arrive, we must first leave.

979. To win the race we must first respond to the starter's gun.

980. A race isn't won at the starting gun, but at the finishing tape.

981. The reward of training is found in the result of the race.

982. In the race of life, 'ability' is easily outrun by 'stick-ability'.
Please feel free to quote these quotes. Acknowledgment of David Tait as the author would be appreciated. There are now over 1300 David sayings for you to view at ...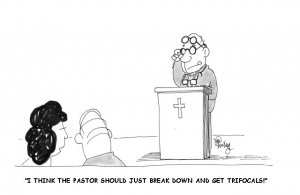 CARTOONS FROM TOON FEVER
Visit the Toon Fever website for more cartoon fun..... http://www.toonfever.com

Check it out at...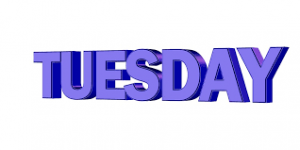 TUESDAY TEACHINGS
THIS WEEK:GOD AND MAN continues.....
With a look at the essence of our being, the human soul.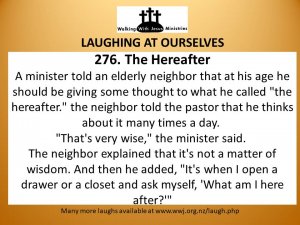 *** ANOTHER DAILY EZINE FROM WWJ!*** 'LAUGHING AT OURSELVES' Subscribe Today
As Christians, if we can't laugh at ourselves, others will! A fun way to start your day. To register today, go down to the bottom of the page link below, click on the subscribe link lao--on@wwj.org.nz (or paste the address in an email yourself and send) Then it's done!
https://www.wwj.org.nz/laughing-at-ourselves-ezine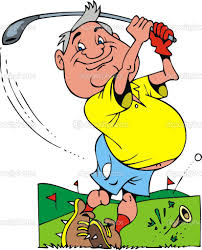 LAUGHING AT OURSELVES
***Blessed are those who can laugh at themselves for they shall never cease to be amused***
*** Those who can't laugh at themselves leave the job to others. ***
464. Dial - a ?
They have Dial-a-Prayer for atheists now. You can call up and it rings and rings but nobody answers.
465. Misplaced Advertising
A little church in the suburbs had suddenly stopped buying from its regular office supply dealer. So, the dealer telephoned Deacon Brown to ask why.
"I'll tell you why," shouted Deacon Brown. "Our church ordered some pencils from you to be used in the pews for visitors to register."
"Well, interrupted the dealer, "didn't you receive them yet?"
"Oh, we received them all right," replied Deacon Brown. "However, you sent us some golf pencils...each stamped with the words, 'Play Golf Next Sunday.' "
QWIK QWIP: "Life is better when you open meals with a prayer instead of a can opener."
466. You And Me Both, Sister
A pastor was in a discussion with an elderly church member about a relative of hers who had seen the light and joined the church after a lifetime of riotous living. "Will my converted cousin's sins be forgiven?" she asked.
"Oh, certainly," replied the pastor, "Remember, the greater the sin, the greater the saint."
The woman thought silently for a time. Then she said, "Oh, Pastor, how I wish I'd known this fifty years ago."
(Not worth the risk - not the same blessings!)
Download the book 'Laughing At Ourselves' in PDF format at LAUGHING AT OURSELVES One of the most comprehensive sources of Christian Humour on the Net with 800 sermon fillers for your entertainment and use at ..... https://www.wwj.org.nz/content/wwj18p47.pdf
Or read even more online at.....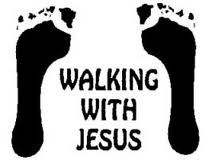 A DAVID MUSING
As I write this, the election results are coming in from our hame country of New Zealand.
New Zealand has been one of the top countries in the world in dealing with Covid, helped greatly by the fact that we are 2 islands in the middle of a large sea, 2,000km way from Australia, our nearest neighbour. When we close our borders, they are really closed!
New Zealand has been led for the past 3 years by a young lady Prime Minister, Jacinda Adern. She relates to people very well, particularly in difficult circumstances.
New Zealand have had two of these during her term. Firstly, in March 2019, a gunman went on a rampage through 2 mosques in Christchurch, killing 51 people and injuring 40. This does not happen New Zealand - but it did! Secondly, of course, Covid. She got the nation behind her on both occasions.
Otherwise, the record of her Government has been abysmal. However, these two tragedies have ensured her of a second term with a huge majority.
Jacinda is someone who has been in the right place at the right time.
Moving away from politics, this is true for all of us. Being in the right place at the right time does play a role in all our lives. Some people seem lucky, others do not. Everything seems to go well for some and not for others.
Many people think becoming a Christian will make everything well. For that is what they have been told.
This simply, is not true! But what Jesus does do, is support us through both the good times and the bad. Life is not fair. But for dedicated disciples of Jesus, we have Jesus walking beside us, throughout our life, to comfort and celebrate with with us as required.
I am so blessed to have Jesus by my side. How about you?
Until next time.....
MAY GOD BLESS YOU AND YOU BLESS GOD
His servant and yours
David Tait

Visit us here.....
CHANGING YOUR EMAIL ADDRESS? NEWSLETTER STOPS COMING?
Each week we can lose up to 2% of our readers when they change email addresses without letting us know. Or sometimes, by your server acting strangely and just cutting us off! If you are about to change your address, please advise us of both your old and new addresses here at
enquiries@wwj.org.nz
and we will happily change our records to ensure ongoing delivery. Thanks.
Please also keep our address in your address book, as sometimes servers will automatically delete your address if there is even a one off problem in delivery. If your newsletter doesn't arrive, please let us know and we will reinstate you.
REPRODUCTION OF NEWSLETTER CONTENT
Most weeks we get enquiries about reproducing, in electronic or print form, articles contained in 'PGIM!' We welcome and encourage you to utilize this material. Freely received, freely given. We would ask though, that the source be acknowledged as an encouragement to others to subscribe to this newsletter also.
LINKS
If you would like to link your web site to ours, and ours to yours, please advise us on
links@wwj.org.nz
ABOUT US
WALKING WITH JESUS MINISTRIES is a non-profit, non-denominational, Bible based ministry located in Hastings, New Zealand. A ministry dedicated to developing discipleship, fostering unity amongst God's people to achieve the Great Commission, and in doing so, preparing for Christ's return. It is securely based upon the foundational principles of the Apostles Creed while recognising the wide and rich diversity of beliefs amongst Christians in other areas. In accordance with the Lord's direction, materials produced by the ministry are available, free of charge, to genuine enquirers upon request. The ministry is solely funded by donations, as the Lord provides. A list of materials available (plus some fun!) is obtainable and freely downloadable from our website
wwj.org.nz
or by contacting us as follows.
Walking With Jesus Ministries
7 Bull Street
Ahuriri
Napier
New Zealand
Phone: (06) 835 0567 International (+64) 6 835 0567
Email:
enquiries@wwj.org.nz
Web:
wwj.org.nz
Our role is to bless and encourage those in ministry while promoting co-operation and unity of direction amongst the body of Christ, as emphasised 3 times by Jesus in His longest prayer, immediately prior to His arrest and crucifixion. "... so that they may be one as we are one." (John 17:12, 21, 23-4) Our website is currently being developed to encourage your participation one with another, to share resources, and to enable you to promote events and items of interest to the body as a whole - and have a smile while doing it!
For comments upon and contributions to this service, please contact
david@wwj.org.nz
SUBSCRIPTION MANAGEMENT
We would encourage you to share this free service with your friends in ministry. To subscribe yourself please email pgim-on@wwj.org.nz.
If your name has been referred to us by a friend or supporting Ministry or has been obtained from a public Christian Directory or Website, it isn't our wish to burden you with information in which you aren't interested. To remove yourself from this list, please email pgim-off@wwj.org.nz.