A Weekly World Wide Word of Encouragement to those in the Ministry
PRAISE GOD IT'S MONDAY!
A WEEKLY 'WWW (world-wide word) OF ENCOURAGEMENT'
TO THOSE IN MINISTRY
A FREE service, currently connecting with Christian leaders from 3,000 denominations and ministries, in 70 countries.

Issue No: 1062 Published: 21 Feb 2022
TRANSITION FROM 'THE CHURCH' TO 'THE KINGOM'
FROM "RECEIVING" TO "GIVING"
During the Christmas season there is a focus on both the giving and receiving of gifts. It is possibly one time of year when we may be motivated to give to others without thought of return to ourselves. Although we would likely be pretty miserable if we didn't receive anything! (Yes, the joys of being a grown man – receiving socks and handkerchiefs aplenty! LOL!)
Joking and Christmas aside, there is a basic principle in Jesus that is generally ignored today, both in the world, and sadly, all too often, in the church.....
remembering the words the Lord Jesus himself said: 'It is more blessed to give than to receive.'" (Acts 20:35b)
While this focus on receiving is to be expected in a humanist, self-focused world, it should not be the focus of the church! Yet it is, in many ways, not all financial.
How often do we hear people complain of a service, or indeed a church, "I got/get nothing out if it!" The worship was too loud/not loud enough! The sermon was too long/too short! (Not too many complain about the 'too short' option though! LOL!) Nobody spoke to me. Nobody cares about my problems, etc., etc….
The focus of our church attendance then, is upon what we want to receive. Yet we call our services 'Worship Services'? Whom then, are we worshipping? Is it God - or self?
True worship is us giving both the glory and ourselves to our God. This is beautifully illustrated by the angels worshipping before the very throne of God.....
8 Each of the four living creatures had six wings and was covered with eyes all around, even under his wings. Day and night they never stop saying: "Holy, holy, holy is the Lord God Almighty, who was, and is, and is to come." 9 Whenever the living creatures give glory, honor and thanks to him who sits on the throne and who lives for ever and ever, 10 the twenty-four elders fall down before him who sits on the throne, and worship him who lives for ever and ever. They lay their crowns before the throne and say: 11 "You are worthy, our Lord and God, to receive glory and honor and power, for you created all things, and by your will they were created and have their being." (Revelation 4:8-11)
How might our attitude and services change if we copied the example of the angels!
This brings us back to the primary commandment of God the Father in the physically based Old Testament, to love Him and others.....
These are the commands, decrees and laws the LORD your God directed me to teach you to observe in the land that you are crossing the Jordan to possess, 2 so that you, your children and their children after them may fear the LORD your God as long as you live by keeping all his decrees and commands that I give you, and so that you may enjoy long life. 3 Hear, O Israel, and be careful to obey so that it may go well with you and that you may increase greatly in a land flowing with milk and honey, just as the LORD, the God of your fathers, promised you. 4 Hear, O Israel: The LORD our God, the LORD is one. 5 Love the LORD your God with all your heart and with all your soul and with all your strength. (Deuteronomy 6:1-5)
.....and of Jesus in the spiritually based New.....
36 "Teacher, which is the greatest commandment in the Law?" 37 Jesus replied: "'Love the Lord your God with all your heart and with all your soul and with all your mind.' 38 This is the first and greatest commandment. 39 And the second is like it: 'Love your neighbor as yourself.' 40 All the Law and the Prophets hang on these two commandments." (Matthew 22:26-9)
Loving God and loving others is a function of 'giving'. It is also what separates the kingdom from the world. For the kingdom is based upon obedience, of giving ourselves completely to the will of God. Again, both in the Old Testament.....
22 But Samuel replied: "Does the LORD delight in burnt offerings and sacrifices as much as in obeying the voice of the LORD? To obey is better than sacrifice, and to heed is better than the fat of rams. (1 Samuel 15:22)
.....and in the New.....
5 And now, dear lady, I am not writing you a new command but one we have had from the beginning. I ask that we love one another. 6 And this is love: that we walk in obedience to his commands. As you have heard from the beginning, his command is that you walk in love. (2 John 4-6)
Yes, the giving of our whole life to our Lord is the very heart of kingdom living.
Are we prepared to make the sacrifice of obedience today?
Find out more about us at.....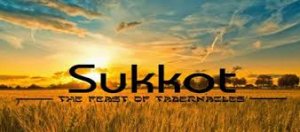 FROM THE WORD
THE WORDS OF JESUS
May we hear what the Lord is saying to us.....
The Feast of Tabernacles (John 7:1-13)
Jesus initially stays away in fear of His life.
"This is not my time to go, not yet; but you can go whenever you want, for any time's the right time for you. 7The world has no reason to hate you, but it does hate me, because I make it clear that its ways are evil. 8You go on to the festival. I'm not going to this festival because this is not the right time for me, not yet."
Cost of Following Jesus (Matthew 8:18-22, Luke 9:57-62)
People make excuses to delay following Jesus.
"Foxes have their dens, and wild birds have their nests, but the Son of man doesn't even have a place to rest his head."
"Let the dead bury their own dead," "You go and proclaim God's kingdom."
"Nobody once they've started plowing and then looks back is fit for God's kingdom."
Teaching at the Feast (John 7:14-24)
Ignoring danger, Jesus arrives half way through to teach, surprising the Pharisees with His learning.
"My teaching is not from me but from the One who sent me. Anyone who chooses to follow what God wants will know if my teaching comes from God or if I'm only speaking for myself. Those who speak for themselves want to glorify themselves, but someone who glorifies the one who sent him is truthful and not deceitful. Moses gave you the law, didn't he? Yet none of you keeps the law! Why are you trying to kill me?"
"I did one miracle and you're all shocked by it," "However because Moses told you to circumcise—not that it really came from Moses, but from your forefathers before him—you perform circumcision on the Sabbath. If you circumcise on the Sabbath to make sure that the law of Moses isn't broken, why are you angry with me for healing someone on the Sabbath? Don't judge by appearances; decide what's right!"
Download the complete 'Words of Jesus' here.
OUR AFRICAN EXPERIENCE
FOR MORE DETAILED AND REGULAR UPDATES, VISIT OUR FACEBOOK PAGE
AN EYE 4 Africa - https://www.facebook.com/aneye4africa/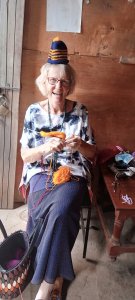 THE KNITTER WEARING A HAT!
Kathy is an avid knitter anytime, but now she has undertaken on a big and growing challenge!
The challenge is making a hat for every baby born at Kingdom!
Here she is sitting in the kitchen knitting, while waiting to cut the cabbage for lunch!
As our delivery numbers increase, so do the hats required! One day soon, we hoe to have more deliveries than hat making speed LOL!
Go for it Kathy! The 'hat on the head' is stylish!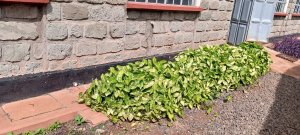 FROM A POT PLANT TO THE GARDEN!
In New Zealand, and all non-tropical countries, inside pot plants add a bit of nature to the ambience of the house.
But here in Malaha Village, only 60km from the Equator nearly 5,000fy above sea level, our previous pot plants grow, almost like weeds, in the garden!
Actually we grow them in pots also, where they are easy care.
You might recognize this one from our hospital garden. A few small cuttings and they take off!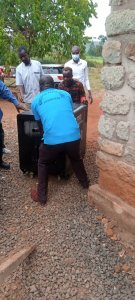 OUR GENERATOR IS BACK
After a time away trying to fix the alternator which was damaged mistakenly fed the power back into the generator instead of to the hospital! An expensive mistake! Of course no-one takes any liability here! So it costs the hospital!
Now we will have to see if the alternator is working properly, or we will have to get a very expensive new one. Monday should tell.
Of course manpower is used to shift it from the pickup to the shed. Much discussion in the normal African way, but finally, it got back into its little house! It is heavy.
Sleep well until Monday when you have work to do! LOL!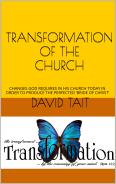 BOOK OF THE WEEK
TRANSFORMATION OF THE CHURCH
CHANGES GOD REQUIRES IN HIS CHURCH TODAY IN ORDER TO PRODUCE THE PERFECTED 'BRIDE OF CHRIST'
INTRODUCTION
One day, while in the shower, (that is, from a bucket) in Nairobi, Kenya, the
Lord gave me a revelation.
I had just seen the amazing new TBN broadcasting auditorium on TV, filled
with beautiful people (it seems compulsory for preachers to have glamorous
wives, generally much younger than themselves!), fantastic choirs, singers
and setting, all broadcast over 47 satellites.
In the shower the Lord showed me a picture of the Pentecostal church. How
it started in storefronts and homes, of how rejected these first weird 'pentes'
were. But these early pentecostals remained fully committed to the cause,
staying close to God, for they were then at the forefront of God's revelation
and indeed, presence.
Gradually however, Pentecostalism (now with a capital 'P',) has become
mainstream. Pastors (and now Bishops) have become elevated beyond a job
description or a calling, to positions above the people – a new priesthood. In
the west, new pastors must be seminary trained, and are likely receive a
reasonable salary from the beginning of their ministry. No longer is their real
sacrifice in being 'called' to ministry.
In our services, the emphasis has changed from listening to the Holy Spirit
and following His desires, to a concentration on excellence and good order, to
the near exclusion of the Holy Spirit leading us. Worship times, unlike the
days of the storefront believers, are based on a proven formula of
thanksgiving, praise, then worship, followed by (maybe) a prophecy, then the
Word and finally ministry – until we all go home after exactly 2 hours.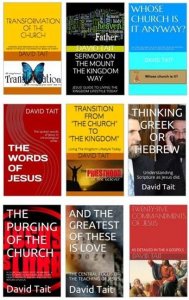 ***NOW***NINE BOOKS ARE AVAILABLE ON AMAZON!!!
9 BOOKS are now available on Amazon (Kindle)!

All are available worldwide for electronic download on Amazon (Kindle) for $US0.99c . Unfortunately there has to be a charge in order to list.

Your support would be appreciated and they could well change your life!

They are all found at this link.....
http://www.amazon.com/s/ref=nb_sb_noss?url=search-alias%3Daps&field-keywords=david+tait+books/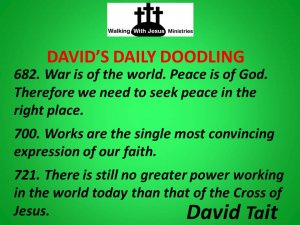 ***DAILY EZINE!*** 'DAVID'S DAILY DOODLINGS' Subscribe Today
Receive one or more of David's sayings in your mailbox each day to inspire, challenge or maybe, amuse. To register today, go down to the bottom of the page link below, click on the subscribe link dd-on@wwj.org.nz (or paste the address in an email yourself and send) Then it's done! If you have an Irish heritage, you will love the background coloring!
Subscription and back issue link is.....
'THE WORDS OF JESUS' REMAIN AVAILABLE FOR PDF DOWNLOAD
Join the many who have downloaded the 'The Words of Jesus'. I am sure you will be blessed by it, as I have been.

One key element here is the setting out in chronological order (as far as it is possible to do so) our Lord's words drawn from all the Gospels, and the elimination of repetition between Gospels.

You may be surprised by the different perspective this presentation gives you both in understanding of His life and ministry, and in achieving a closer relationship with Him.

Download the free PDF here.....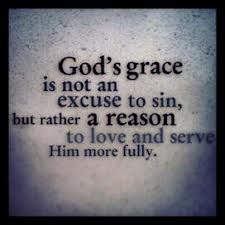 DAVID'S DOODLINGS
GRACE

829. When grace abounds, love thrives.

830. Grace is God's power overcoming our weakness.

831. Without grace, love will soon fail.

832. Love and grace are like bread and butter. The one complements the other.

833. When grace abounds, love resounds.

835. Grace builds, unforgiveness destroys.

836. The rain of grace waters the garden of love.

838. As grace grows, heartache goes.

839. The light at the end of the tunnel is called grace.

840. Grace given away is likely to return as love.
Please feel free to quote these quotes. Acknowledgment of David Tait as the author would be appreciated. There are now over 1300 David sayings for you to view at ...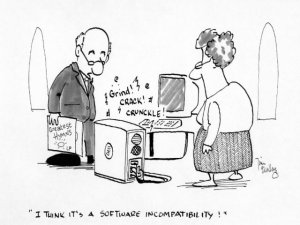 CARTOONS FROM TOON FEVER
Visit the Toon Fever website for more cartoon fun..... http://www.toonfever.com
Check it out at...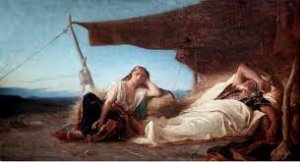 TUESDAY TEACHINGS
NEXT WEEK: A REVELATION OF…….THE BOOK OF RUTH
Discover the reward for boldness and commitment contained in Chapter 3.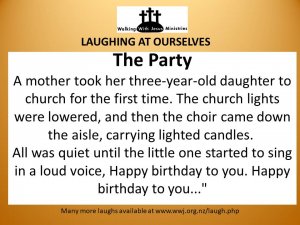 *** ANOTHER DAILY EZINE FROM WWJ!*** 'LAUGHING AT OURSELVES' Subscribe Today
As Christians, if we can't laugh at ourselves, others will! A fun way to start your day. To register today, go down to the bottom of the page link below, click on the subscribe link lao--on@wwj.org.nz (or paste the address in an email yourself and send) Then it's done!

LAUGHING AT OURSELVES
***Blessed are those who can laugh at themselves for they shall never cease to be amused***
*** Those who can't laugh at themselves leave the job to others. ***
160. Ouch!
A man had a habit of grumbling at the food his wife placed before him at family meals. Then he would ask the blessing.
One day after his usual combination complaint-prayer, his little girl asked, "Daddy, does God hear us when we pray?"
"Why, of course," he replied. "He hears us every time we pray."
She thought on this a moment, and asked, "Does he hear everything we say the rest of the time?"
"Yes, dear, every word," he replied, encouraged that he had inspired his daughter to be curious about spiritual matters.
Then his daughter asked, "Then which does God believe?"
161. Kids Are Funny People
A father was reading Bible stories to his young son. He read, "The man named Lot was warned to take his wife and flee out of the city, but his wife looked back and was turned to salt." His son asked, "What happened to the flea?"
162. Lateral Thinking
A mother was preparing pancakes for her sons, Kevin, 5, and Ryan, 3. The boys began to argue over who would get the first pancake. Their mother saw the opportunity for a moral lesson. "If Jesus were sitting here, He would say, 'Let my brother have the first pancake. I can wait." Kevin turned to his younger brother and said, "Ryan, you be Jesus!"
Download the book 'Laughing At Ourselves' in PDF format at LAUGHING AT OURSELVES One of the most comprehensive sources of Christian Humour on the Net with 800 sermon fillers for your entertainment and use at ..... https://www.wwj.org.nz/content/wwj18p47.pdf
Or read even more online at.....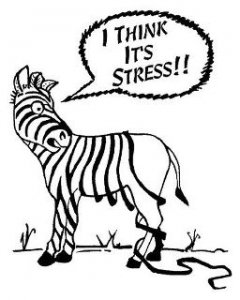 A DAVID MUSING
Streeeeeeess is something we all have in our lives!
Stress can be motivating, while too much stress, can adversly affect our health!
Currently, with Omicron racing round the world and causing both stress and health problems as we all feel the stressful affect it is having upon our lives.
However, in the terrible and hopefully unlikely situation of World War 3 breaking out over Ukraine, we would suddenly see that our stress would change targets. Omicron would quickly go onto the back burner.
Stress and worry are intertwined. Jesus said not to worry about tomorrow and that worry doesn't change anything. It is true, but hard for us to put into action in our lives.
Jesus also said to rest and trust in Him. The only option we truly have.
Until next time.
His servant and yours
David Tait

Visit us here.....
CHANGING YOUR EMAIL ADDRESS? NEWSLETTER STOPS COMING?
Each week we can lose up to 2% of our readers when they change email addresses without letting us know. Or sometimes, by your server acting strangely and just cutting us off! If you are about to change your address, please advise us of both your old and new addresses here at
enquiries@wwj.org.nz
and we will happily change our records to ensure ongoing delivery. Thanks.
Please also keep our address in your address book, as sometimes servers will automatically delete your address if there is even a one off problem in delivery. If your newsletter doesn't arrive, please let us know and we will reinstate you.
REPRODUCTION OF NEWSLETTER CONTENT
Most weeks we get enquiries about reproducing, in electronic or print form, articles contained in 'PGIM!' We welcome and encourage you to utilize this material. Freely received, freely given. We would ask though, that the source be acknowledged as an encouragement to others to subscribe to this newsletter also.
LINKS
If you would like to link your web site to ours, and ours to yours, please advise us on
links@wwj.org.nz
ABOUT US
WALKING WITH JESUS MINISTRIES is a non-profit, non-denominational, Bible based ministry located in Hastings, New Zealand. A ministry dedicated to developing discipleship, fostering unity amongst God's people to achieve the Great Commission, and in doing so, preparing for Christ's return. It is securely based upon the foundational principles of the Apostles Creed while recognising the wide and rich diversity of beliefs amongst Christians in other areas. In accordance with the Lord's direction, materials produced by the ministry are available, free of charge, to genuine enquirers upon request. The ministry is solely funded by donations, as the Lord provides. A list of materials available (plus some fun!) is obtainable and freely downloadable from our website
wwj.org.nz or by contacting us as follows.

Walking With Jesus Ministries
P O Box 2
Webuye 50205
Kenya

Email: enquiries@wwj.org.nz
Web: wwj.org.nz

Our role is to bless and encourage those in ministry while promoting co-operation and unity of direction amongst the body of Christ, as emphasised 3 times by Jesus in His longest prayer, immediately prior to His arrest and crucifixion. "... so that they may be one as we are one." (John 17:12, 21, 23-4) Our website is currently being developed to encourage your participation one with another, to share resources, and to enable you to promote events and items of interest to the body as a whole - and have a smile while doing it!

For comments upon and contributions to this service, please contact
david@wwj.org.nz
SUBSCRIPTION MANAGEMENT
We would encourage you to share this free service with your friends in ministry. To subscribe yourself please email pgim-on@wwj.org.nz.
If your name has been referred to us by a friend or supporting Ministry or has been obtained from a public Christian Directory or Website, it isn't our wish to burden you with information in which you aren't interested. To remove yourself from this list, please email pgim-off@wwj.org.nz.