A Weekly World Wide Word of Encouragement to those in the Ministry
PRAISE GOD IT'S MONDAY!
A WEEKLY 'WWW (world-wide word) OF ENCOURAGEMENT'
TO THOSE IN MINISTRY
A FREE service, currently connecting with Christian leaders from 3,000 denominations and ministries, in 70 countries.

Issue No: 848 Published: 22 Jan 2018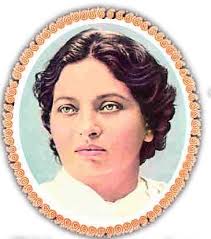 WHOSE CHURCH IS IT ANYWAY? Part 27
SPIRITUAL OUTBREAKS SPREAD AROUND THE WORLD
We have already looked at the 'Welsh Revival' that preceded the 'pentecostal revivals' in North America.

Following these, spiritual outbreaks took place, all round the globe. We will now look at some of these. Throughout the world, believers considered they were seeing the latter rain outpouring of the Holy Spirit promised before the return of Christ.

The Day of the Lord

28 "And afterward, I will pour out my Spirit on all people. Your sons and daughters will prophesy, your old men will dream dreams, your young men will see visions. 29 Even on my servants, both men and women, I will pour out my Spirit in those days. (Joel 2:28-9)

INDIA

PANDITA RAMABAI: (1858-1920) Pandita was an upper caste woman of amazing intellect, organizational skills and spiritual understanding. Sandskrit scholars at Calcutta University conferred on her titles of 'Sarawati' and 'Pandita'. A master of seven languages, she translated the Bible from the original Hebrew and Greek into Marathi, her mother tongue. She wrote 'The High-Caste Hindu Woman' and 'A life of Christ', plus numerous tracts that were widely distributed throughout India. In honour of her social impact on the nation the Indian Government issued a stamp in her honour in 1989.

During a famine in her area, Ramabai opened a home for girls, being totally dependent upon the Lord for provision, with prayer her lifeline. In January 1905 she began to speak about the need to seek God for revival. Soon, 550 people, mainly women and girls, met twice daily, praying for revival presence and power.

On 30 June, as Ramabai was teaching the girls from John 8, the Holy Spirit fell, as in the Book of Acts. Everybody in the room began to weep and pray out loud. Ramabai suspended school, so giving the Holy Spirit free reign in their midst. Early on confession of sin and repentance predominated, but this then turned into joyful singing, wonderful praise and spontaneous dancing. Many experienced Holy Spirit baptism, experiencing visions and supernatural dreams and speaking in tongues.

A visitor at the time, a missionary by the name of Albert Norton, wrote.....

One week ago I visited the Mukti Mission. Miss Abrams asked me if I should like to go into a room where about twenty girls were praying. After entering, I knelt with closed eyes by a table on one side. Presently I heard someone praying near me very distinctly in English. Among the petitions were "O Lord, open the mouth; O Lord, open the mouth; O Lord, open the heart; O Lord, open the heart; O Lord, open the eyes! O Lord, open the eyes! Oh, the blood of Jesus, the blood of Jesus! Oh, give complete victory! Oh, such a blessing! Oh, such glory!"

I was struck with astonishment, as I knew that there was no one in the room who could speak English, besides Miss Abrams. I opened my eyes and within three feet of me, on her knees, with closed eyes and raised hands was a woman whom I had baptized at Kedgaon in 1899, and whom my wife and I had known intimately since as a devoted Christian worker. Her mother tongue was Marathi, and she could speak a little Hindustani. But she was unable to speak or understand English such as she was using. But when I heard her speak English idiomatically, distinctly and fluently, I was impressed as I should have been had I seen one, whom I knew to be dead, raised to life. A few other illiterate Marathi women and girls were speaking in English and some were speaking in other languages which none at Kedgaon understood. This was not gibberish, but it closely resembled the speaking of foreign languages to which I had listened but did not understand.

As Norton saw others being receiving Holy Spirit baptism, he was amazed to hear so many speaking in English rather than one of the many Indian languages. He didn't know why, but offered a possible explanation.....

I have an idea that it is in mercy to us poor missionaries from Europe and America who, as a class, seem to be Doubting Thomases, in regard to gifts and workings of the Spirit, and not receiving the power of the Holy Spirit as we ought.

An ironic comment, as 'Doubting Thomas' himself overcame his doubts and travelled as far as India, arriving in Kerala (I have been to the place where he first ministered. There is a beautiful presence of the Holy Spirit there) on the West Coast, finally being martyred for his beliefs, outside Chennai, on the eastern seaboard of South India.
(Continued next week)
Find out more about us here.....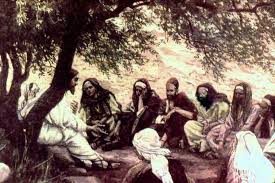 FROM THE WORD
THE WORDS OF JESUS
May we hear what the Lord is saying to us.....
Jesus Comforts the Disciples (John:14:1-31)
In general.
"Don't let your minds be anxious. Trust in God, trust in me as well. In my Father's house there are many rooms. If this wasn't so I would have told you. I'm going to prepare a place for you. Once I've gone and prepared a place for you, I will come again and take you with me, so that you can be there with me too. You know the way to where I'm going."
To Thomas.
"I am the way and the truth and the life. No one comes to the Father except through me. If you had known me, you would know my Father as well. From now on, you do know him and you have seen him."
To Philip
"Have I been with you such a long time, Philip, and yet you still don't know me? Anyone who has seen me has seen the Father. How can you say, 'Show us the Father'? Don't you believe that I live in the Father and the Father lives in me? The words I speak are not mine; it's the Father living in me who is doing his work. Believe me when I tell you that I live in the Father, and the Father lives in me, or at least believe because of the evidence of all that I've done.
"I tell you the truth, anyone who trusts in me will do the same things I am doing. In fact they will do even greater things because I am going to the Father. I'll do whatever you ask in my name, so that the Father may be glorified through the Son. Whatever you ask for in my name, I will do it.
If you love me, you will keep my commands. I will ask the Father, and he will give you another Comforter, the Spirit of truth, who will always be with you. The world cannot accept him because it isn't looking for him and does not know him. But you know him because he lives with you and will be in you.
"I will not abandon you like orphans: I will come back to you. Soon the world will not see me anymore, but you will see me. Because I live, you will live too. On that day you will know that I live in the Father, you live in me, and I live in you. Those who keep my commands are the ones who love me, those who love me will be loved by my Father. I will love them too, and will reveal myself to them."
To Judas (not Iscariot)
"Those who love me will do as I say. My Father will love them, and we will come and make our home with them. Those who don't love me don't do what I say. These words don't come from me, they come from the Father who sent me.
"I'm explaining this to you while I'm still here with you. But when the Father sends the Comforter, the Holy Spirit, in my place, he will teach you everything and remind you of all that I told you.
"Peace I leave you; my peace I'm giving you. The peace I give you is nothing like what the world gives.
Don't let your minds be anxious, and don't be afraid.
"You've heard me tell you, 'I am going away, but I will come back to you.' If you really loved me, you would be happy because I'm going to the Father, for the Father is greater than I. I've explained this to you now before it happens so that when it does happen you will be convinced. I can't talk to you much longer, for the prince of this world is coming. He has no power to control me, but I'm doing what my Father told me to do so that the world will know that I love the Father.
Now get up. Let's go."
(Continued next week)
You can download the complete 'Words of Jesus' here.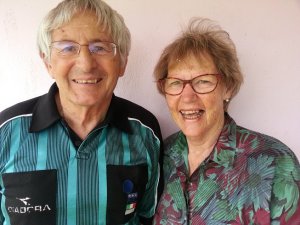 OUR AFRICAN EXPERIENCE
Experience life here with us in Kenya.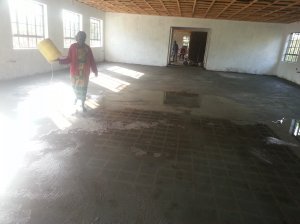 THE FLOOR IS FINISHED READY FOR TILING
Another milestone! The clinic floor has had its coating of plaster (cement, sand and water), prior to plastering this week.
We can finally see the finish line.
The ladies water the floor (ceiling reflected) to slow and so strengthen the curing process.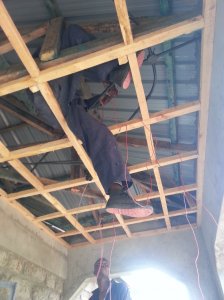 ELECTRICIANS ON THE JOB
The place will be lit up like a Christmas tree after the electricians finish the seemingly endless wiring programme they have now embarked upon.
Should be able to brew a cuppa too! And, more importantly, run all our lab equipment.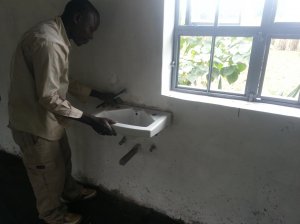 LET'S NOT LEAVE OUT THE PLUMBERS.
Plumbing is well underway, both inside and out.
Here installing one of the Clinic's numerous hand basins. It is a hospital, after all! Not just dirty people!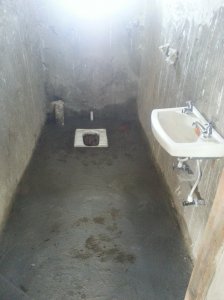 AN 'OOPS' MOMENT!!!
I go out to the building this morning and what do I see!!!!!
Maybe my eyes are deceiving me!
I will have to practise squats!
Our anticipated Western Loos had morphed into African ones!
Ooooooooohhhhhhhhhhhhhhh dear!
Needless to say, after some discussion the situation will be rectified!
We are very RELIEVED!!! LOL!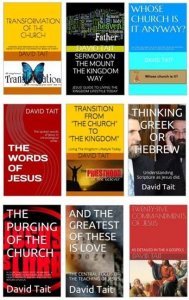 ***NOW***NINE BOOKS ARE AVAILABLE ON AMAZON!!!
9 BOOKS are now available on Amazon (Kindle)!

All are available worldwide for electronic download on Amazon (Kindle) for $US0.99c . Unfortunately there has to be a charge in order to list.

Your support would be appreciated and they could well change your life!

They are all found at this link.....
http://www.amazon.com/s/ref=nb_sb_noss?url=search-alias%3Daps&field-keywords=david+tait+books/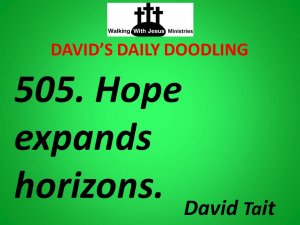 ***DAILY EZINE!*** 'DAVID'S DAILY DOODLINGS' Subscribe Today
Receive one of David's sayings in your mailbox each day to inspire, challenge or maybe, amuse. To register today, go down to the bottom of the page link below, click on the subscribe link dd-on@wwj.org.nz (or paste the address in an email yourself and send) Then it's done! If you have an Irish heritage, you will love the background coloring!
Subscription and back issue link is.....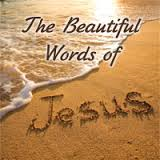 'THE WORDS OF JESUS' REMAIN AVAILABLE FOR PDF DOWNLOAD
Join the many who have downloaded the 'The Words of Jesus'. I am sure you will be blessed by it, as I have been.

One key element here is the setting out in chronological order (as far as it is possible to do so) our Lord's words drawn from all the Gospels, and the elimination of repetition between Gospels.

You may be surprised by the different perspective this presentation gives you both in understanding of His life and ministry, and in achieving a closer relationship with Him.

Download the free PDF here.....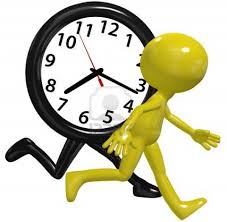 DAVID'S DOODLINGS
A MATTER OF TIME
64. The most precious gift I can give is my time.

65. In youth, time is measured as the grains of sand on the beach;
In middle age, by the thinning hairs on our head;
But in old age, each day is as precious as they all really were.

66. Be honoured when one gives you of their time, for it is an irreplaceable gift.

67. Time is more precious than gold, for it cannot be bought at any price.

206. We must remember that the past is gone, the future is yet to come, but what I am doing now is the reality of today.

207. The only stride in the race of life that we can instantly change, is the one we are now taking.

68. If I was given a dollar for every minute I have wasted in my life, I would be able to waste the rest of it in absolute luxury.

69. Time is not valued until it is running out.

70. Time is like any other commodity. When you have plenty of it, it is valueless but when it is short, it is priceless.

71. Time is an illusion. At first it appears plentiful, but suddenly disappears into thin air.

72. Let's not think, 'if only I had time,' but rather how best to use, 'the only time I have.'
Please feel free to quote these quotes. Acknowledgement of David Tait as the author would be appreciated. There are now over 1300 David sayings for you to view at ...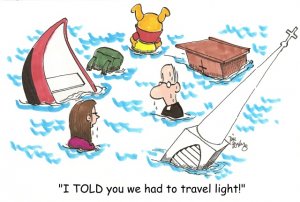 CARTOONS FROM TOON FEVER
Visit the Toon Fever website for more cartoon fun..... http://www.toonfever.com

Check it out at...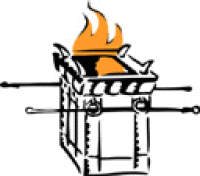 TUESDAY TEACHINGS
NEXT WEEK: REVELATION OF....... 3 KINGDOM AGES: THE PRINCIPLE OF SACRIFICE
The core of our relationship with God centres round 'sacrifice'. This week we will see how the methods of sacrifice changed through the 3 kingdom ages.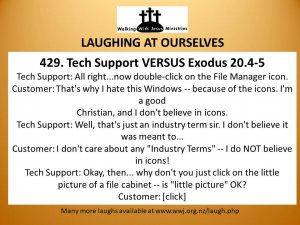 *** ANOTHER DAILY EZINE FROM WWJ!*** 'LAUGHING AT OURSELVES' Subscribe Today
As Christians, if we can't laugh at ourselves, others will! A fun way to start your day. To register today, go down to the bottom of the page link below, click on the subscribe link lao--on@wwj.org.nz (or paste the address in an email yourself and send) Then it's done!

LAUGHING AT OURSELVES
***Blessed are those who can laugh at themselves for they shall never cease to be amused***
*** Those who can't laugh at themselves leave the job to others. ***
101. Smiles From The Bible
Q. What kind of man was Boaz before he married?
A. Ruthless.
Q. What do they call pastors in Germany?
A. German Shepherds.
Q. Who was the greatest financier in the Bible?
A. Noah. He was floating his stock while everyone else was in liquidation.
Q. What was the greatest female financier in the Bible?
A. Pharaoh's daughter. She went down to the bank of the Nile and drew out a little prophet.
Q. What kind of motor vehicles are in the Bible?
A. Jehovah drove Adam and Eve out of the Garden in a Fury. David's Triumph was heard throughout the land. Honda, because the apostles were all in one Accord.
Q. Who was the greatest comedian in the Bible?
A. Samson. He brought the house down.
Q. What excuse did Adam give to his children as to why he no longer lived in Eden?
A. Your mother ate us out of house and home.
Q. Which servant of God was the most flagrant lawbreaker in the Bible?
A. Moses. He broke all 10 commandments at once.
Q. Which area of Palestine was especially wealthy?
A. The area around Jordan. The banks were always overflowing.
Q. Who is the greatest baby sitter mentioned in the Bible?
A. David. He rocked Goliath to a very deep sleep.
Q. Which Bible character had no parents?
A. Joshua, son of Nun.
QWIK QWIP: "Some people are kind, polite, and sweet-spirited until you try to get into their pews or their favourite church parking spot.
102. I Baptise you?!
The young son of a Baptist minister was in church one morning when he saw for the first time baptism by immersion. He was greatly interested in it, and the next morning proceeded to baptise... you guessed it... his three cats in the bathtub.
The youngest kitten bore it very well, and so did the younger cat, but the old family tomcat rebelled.
The old feline struggled with the boy, clawed and tore his skin, and finally got away. With considerable effort the boy caught the old tom again and proceeded with the "ceremony."
But the cat acted worse than ever, clawing and spitting, and scratching the boy's face.
Finally, after barely getting the cat splattered with water, he dropped him on the floor in disgust and said:
"Fine, be a Methodist if you want to!"
QWIK QWIP:"Many folks want to serve God, but only as advisers."
FREE DOWNLOAD: You can now download the book 'Laughing At Ourselves' in PDF format at LAUGHING AT OURSELVES One of the most comprehensive sources of Christian Humour on the Net with 800 sermon fillers for your entertainment and use at ..... https://www.wwj.org.nz/content/wwj18p47.pdf
Or read them all online at.....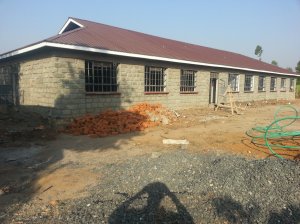 A DAVID MUSING
You have hope, you have faith, and you work and work, but don't seem to get very far ....... until suddenly, things start to fall into place.
Our hospital building is a lot like that. Lots of work over many months, but this week things are coming together and we can see the finishing line ahead! Thank you Lord. All the glory is yours.
For He has provided when we have not seen a way. Our initial project of KES4,000,000 (Kenyan Shillings - $NZ 60,000, $US40,000) has grown to KES12,000,000, which the Lord has provided, through people of course. Again, thank you Lord, and thank you donors.
Had we known the costs and challenges before we started, would we have gone ahead?
Stepping out in faith is done one step at a time. Are you prepared to take that first step today?
Until next week.......

MAY GOD BLESS YOU AND YOU BLESS GOD.

His servant and yours

David Tait

Visit us here.....
REPRODUCTION OF NEWSLETTER CONTENT
Most weeks we get enquiries about reproducing, in electronic or print form, articles contained in 'PGIM!' We welcome and encourage you to utilize this material. Freely received, freely given. We would ask though, that the source be acknowledged as an encouragement to others to subscribe to this newsletter also.
CHANGING YOUR EMAIL ADDRESS? NEWSLETTER STOPS COMING?
Each week we can lose up to 2% of our readers when they change email addresses without letting us know. Or sometimes, by your server acting strangely and just cutting us off! If you are about to change your address, please advise us of both your old and new addresses here at
enquiries@wwj.org.nz
and we will happily change our records to ensure ongoing delivery. Thanks.
Please also keep our address in your address book, as sometimes servers will automatically delete your address if there is even a one off problem in delivery. If your newsletter doesn't arrive, please let us know and we will reinstate you.
LINKS
If you would like to link your web site to ours, and ours to yours, please advise us on
links@wwj.org.nz
ABOUT US
WALKING WITH JESUS MINISTRIES is a non-profit, non-denominational, Bible based ministry located in Hastings, New Zealand. A ministry dedicated to developing discipleship, fostering unity amongst God's people to achieve the Great Commission, and in doing so, preparing for Christ's return. It is securely based upon the foundational principles of the Apostles Creed while recognising the wide and rich diversity of beliefs amongst Christians in other areas. In accordance with the Lord's direction, materials produced by the ministry are available, free of charge, to genuine enquirers upon request. The ministry is solely funded by donations, as the Lord provides. A list of materials available (plus some fun!) is obtainable and freely downloadable from our website
wwj.org.nz
or by contacting us as follows.
Walking With Jesus Ministries
7 Bull Street
Ahuriri
Napier
New Zealand
Phone: (06) 835 0567 International (+64) 6 835 0567
Email:
enquiries@wwj.org.nz
Web:
wwj.org.nz
Our role is to bless and encourage those in ministry while promoting co-operation and unity of direction amongst the body of Christ, as emphasised 3 times by Jesus in His longest prayer, immediately prior to His arrest and crucifixion. "... so that they may be one as we are one." (John 17:12, 21, 23-4) Our website is currently being developed to encourage your participation one with another, to share resources, and to enable you to promote events and items of interest to the body as a whole - and have a smile while doing it!
For comments upon and contributions to this service, please contact
david@wwj.org.nz
SUBSCRIPTION MANAGEMENT
We would encourage you to share this free service with your friends in ministry. To subscribe yourself please email pgim-on@wwj.org.nz.
If your name has been referred to us by a friend or supporting Ministry or has been obtained from a public Christian Directory or Website, it isn't our wish to burden you with information in which you aren't interested. To remove yourself from this list, please email pgim-off@wwj.org.nz.