A Weekly World Wide Word of Encouragement to those in the Ministry
PRAISE GOD IT'S MONDAY!
A WEEKLY 'WWW (world-wide word) OF ENCOURAGEMENT'
TO THOSE IN MINISTRY
A FREE service, currently connecting with Christian leaders from 3,000 denominations and ministries, in 70 countries.

Issue No: 1104 Published: 12 Dec 2022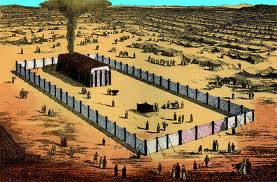 THINKING GREEK OR HEBREW
CATHEDRAL v TABERNACLE/TEMPLE

Greek (Western)
A cathedral is built to be a glimpse of the heaven we are to escape to when we die.
A cathedral was built in such an ornate fashion so as to give attendees a glimpse of what heaven, to which we are to escape to when we die will, in human understanding, be like. This was and is illustrated through the architecture, music, artworks, sculptures, furniture and religious ceremonies, drawing a worldly picture of a perfect heaven, a spiritual nirvana, free of all the suffering and pain we experience here on earth.
While many churches today are not so ornate, the principle remains the same. The church is a temporary refuge where we gather with others of like mind to experience God, before dying or being zapped off this wicked earth in the rapture, to escape this evil world.
This is called a 'dualistic theology', as it teaches the separation of a perfect heaven from an imperfect earth. Verses interpreted to justify this conclusion include.....
36 Jesus said, "My kingdom is not of this world. If it were, my servants would fight to prevent my arrest by the Jews. But now my kingdom is from another place." (John 18:36)
and.....
18 The Lord will rescue me from every evil attack and will bring me safely to his heavenly kingdom. To him be glory for ever and ever. Amen. (2 Timothy 4:18)
Eastern (Hebrew)
The Tabernacle/Temple was the dwelling place of God, here upon the earth.
The Jewish perspective however, is entirely different. God was and is to dwell with them, here upon the earth. Their responsibility was to prepare a place for Him to live, as seen in the Tabernacle of Moses and the Temple of Solomon.....
8 "Then have them make a sanctuary for me, and I will dwell among them. 9 Make this tabernacle and all its furnishings exactly like the pattern I will show you. (Exodus 25:8-9)
God's presence literally filled the Holy Place of the Tabernacle and then the Temple..
10 When the priests withdrew from the Holy Place, the cloud filled the temple of the LORD. 11 And the priests could not perform their service because of the cloud, for the glory of the LORD filled his temple. (1 Kings 8:10-11)
The everlasting nature of this, dependent upon the people's obedience, was confirmed by the prophets......
26 I will make a covenant of peace with them; it will be an everlasting covenant. I will establish them and increase their numbers, and I will put my sanctuary among them forever. 27 My dwelling place will be with them; I will be their God, and they will be my people. 28 Then the nations will know that I the LORD make Israel holy, when my sanctuary is among them forever.'" (Ezekiel 37:26-28)
Even after the Ark of the Covenant, where the presence of God dwelt between the 2 cherubim's, had disappeared, Jesus still referred to Herod's, far less grand Temple, as being His Father's house.....
16 To those who sold doves he said, "Get these out of here! How dare you turn my Father's house into a market!" (John 2:16)
And again, Jesus referred to end times when He said.....
2 In my Father's house are many rooms; if it were not so, I would have told you. I am going there to prepare a place for you. (John 14:2)
The analogy was of a Jewish wedding where the husband to be, upon the engagement, went back to his father's house and built a room onto it for his bride to be.
Of course we are to be the bride.....
For the wedding of the Lamb has come, and his bride has made herself ready. (Revelation 19:7b)
And we are to come down from heaven to live on the earth.....
2 I saw the Holy City, the new Jerusalem, coming down out of heaven from God, prepared as a bride beautifully dressed for her husband. 3 And I heard a loud voice from the throne saying, "Now the dwelling of God is with men, and he will live with them. They will be his people, and God himself will be with them and be their God. 4 He will wipe every tear from their eyes. There will be no more death or mourning or crying or pain, for the old order of things has passed away." (Revelation 21:2-4)
The Jewish understanding is that they are to prepare, to help build, the Lord's kingdom upon the earth, now. That is not just an Old Testament concept, but is carried forward into the New, when we are called to pray.....
9 "This, then, is how you should pray: "Our Father in heaven, hallowed be your name, 10 your kingdom come, your will be done on earth as it is in heaven." (Matthew 6:9-10)
To finish today we will compare the differences between the Western Cathedral and Eastern Tabernacle/Temple mentalities in their differing understandings of salvation...
1. THE GOAL OF SALVATION:
Cathedral Mentality: To escape this world and go to God's dwelling place in heaven.
Tabernacle/Temple Mentality: To prepare a place fit for God's dwelling here, among His people.
2. THE KINGDOM OF HEAVEN:
Cathedral Mentality: Exists in heaven, not upon the earth.
Tabernacle/Temple Mentality: Is God's reign among people here upon the earth.
3. THE MESSIAH IS COMING:
Cathedral Mentality: In order to take us away from this world.
Tabernacle/Temple Mentality: In order to reign over us in this world.
4. MESSAGE:
Cathedral Mentality: Get your ticket now or you might miss the train.
Tabernacle/Temple Mentality: The kingdom of heaven is coming! Get ready to receive and serve the king.

CONCLUSION
Upon grasping this truth, both our lives and the church will be transformed! For 'walking with Jesus' is not simply a matter of mental acceptance, but requires a lifestyle totally dedicated to fulfilling the will of the Father so that the kingdom may be prepared for the return of Jesus to rule and reign upon the earth.
Are we willing to pay the price?
FROM THE WORD
THE WORDS OF JESUS
To the Church in Smyrna
"Write this to the angel of the Smyrna church: This is what the first and last says, the One who was dead and came back to life: I know the troubles you are going through, and how poor you are (but you are rich), and the abuse from those who say they are Jews but are not, but belong to Satan's synagogue. Don't be afraid about what you are going to suffer. Yes, the devil will throw some of you into prison to test you, and you will suffer persecution for ten days. Just remain faithful, even if it means death, and I will give you the crown of life! If you have ears, listen to what the Spirit is telling the churches. The second death will not harm those who are victorious.
To the Church in Pergamum
"Write this to the angel of the Pergamum church: This is what the One holding the sharp two-edged sword says: 13I know you're living where Satan has his throne, and that you have stayed true to me. You have not denied your trust in me, even when my faithful witness Antipas was killed right among you there where Satan lives!
"But I have a few things against you: There are some among you who hold to the teaching of Balaam, who taught Balak how to entrap the children of Israel by means of eating food sacrificed to idols and committing sexual sins. Similarly you also have some who hold to the teaching of the Nicolaitans. So repent, or soon I will come to you and fight against them using the sword of my mouth. If you have ears, listen to what the Spirit is telling the churches. I will give the hidden manna to those who are victorious. I will give them a white stone with a new name written on it that nobody knows except those who receive it.
To the Church in Thyatira
"Write this to the angel of the Thyatira church: This is what the Son of God says, the One who has eyes like flaming fire and feet like polished brass. I know what you have accomplished, your love and faithfulness and service and perseverance, and that you are doing more now than when you first believed. But I have something against you: you are allowing the woman called Jezebel who calls herself a prophetess to teach my followers, leading them astray into sexual sins, and to eat food sacrificed to idols. I gave her time to repent of her sexual sins, but she's not willing to repent. So I'm throwing her into a bed together with her adulterous partners and they will suffer terribly unless they repent of what they have done with her. I will put her children to death. Then all the churches will know that I am the one who examines thoughts and motives. I will repay each of you according to what you've done.
"For the rest of you there in Thyatira who don't follow this teaching, who have not learned Satan's "deep depravities" as they are called, I don't place on you any other burden. I say to you, 'Just hold on to what you have until I come.' I will give authority over the nations to those who are victorious and who do what I say until the end. He will rule the nations with an iron rod, breaking them into pieces like clay pots. In the same way that I received authority from my Father, I will give them the morning star. If you have ears, listen to what the Spirit is telling the churches.
(Continued next week)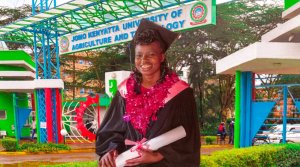 OUR AFRICAN EXPERIENCE IN NEW ZEALAND
A big moment for the lovely Leah as she receives her Degree of Ophthalmology!
She has 1 more year to go as an intern in a hospital, before she is fully qualified to carry out Cataract and other Eye Operations and to treat general eye conditions.
Leah started out as a Clinical Officer with us at the Hospital. Through a generous New Zealand Trust headed by Niall, we were able to sponsor her through her course.
Thanks so much Niall and your team.
This is a big day for Kingdom and we trust she will return after her internship to serve our eye clients for many years ahead,
Well done Leah!!!
***NOW***NINE BOOKS ARE AVAILABLE ON AMAZON!!!
9 BOOKS are now available on Amazon (Kindle)!

All are available worldwide for electronic download on Amazon (Kindle) for $US0.99c . Unfortunately there has to be a charge in order to list.

Your support would be appreciated and they could well change your life!
Many more online at https://www.wwj.org.nz/more-free-downloads

They are all found at this link.....
http://www.amazon.com/s/ref=nb_sb_noss?url=search-alias%3Daps&field-keywords=david+tait+books/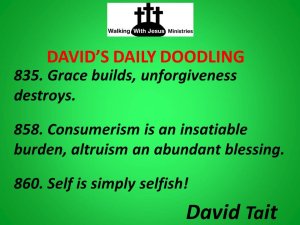 ***DAILY EZINE!*** 'DAVID'S DAILY DOODLINGS' Subscribe Today
Receive one or more of David's sayings in your mailbox each day to inspire, challenge or maybe, amuse. To register today, go down to the bottom of the page link below, click on the subscribe link dd-on@wwj.org.nz (or paste the address in an email yourself and send) Then it's done! If you have an Irish heritage, you will love the background coloring!
Subscription and back issue link is.....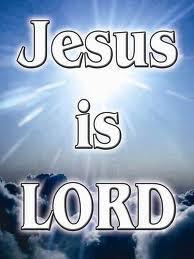 'THE WORDS OF JESUS' REMAIN AVAILABLE FOR PDF DOWNLOAD
Join the many who have downloaded the 'The Words of Jesus'. I am sure you will be blessed by it, as I have been.
One key element here is the setting out in chronological order (as far as it is possible to do so) our Lord's words drawn from all the Gospels, and the elimination of repetition between Gospels.
You may be surprised by the different perspective this presentation gives you both in understanding of His life and ministry, and in achieving a closer relationship with Him.

Download the free PDF here.....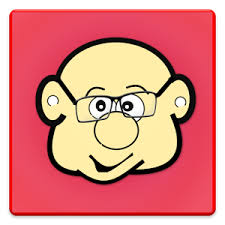 DAVID'S DOODLINGS
THE FOOLISH, THE WISE AND THE GODLY ('Kingdom' Thoughts)
206. The foolish that go astray remain foolish, the wise become foolish, while the godly seek God's forgiveness.
207. David was a godly man who sinned but remained godly. His son Solomon, a wise man who sinned and became foolish. His son Rehoboam, a foolish man who sinned and remained foolish.
305. The foolish can seek wisdom, the wise godliness, while the godly grow into the image of Christ.
306. The foolish rest content in hope, the wise find faith, while the godly unreservedly love both God and others.
427. The foolish seek nothing, the wise, 'to do', while the godly desire 'to be'.
484. The foolish lust after instant pleasure, the wise seeks knowledge, while the godly yearn for God's truth.
485. Laziness begets foolishness, knowledge wisdom, but the truth, godliness.
870. The foolish one looks inwards, the wise outwards, but the godly, upwards.
1273. The foolish give seeking earthly return, the wise, to build up treasures in heaven, while the godly give their all out of love for God, with no need of reward.
Please feel free to quote these quotes. Acknowledgment of David Tait as the author would be appreciated. There are now over 1300 David sayings for yo1204. Ministry is the call upon us all!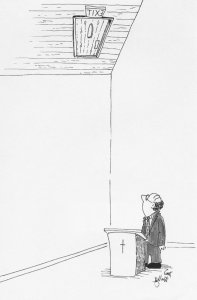 CARTOONS FROM TOON FEVER
Visit the Toon Fever website for more cartoon fun..... http://www.toonfever.com
Check it out at...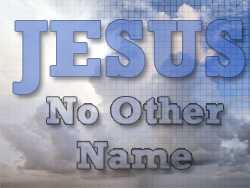 TUESDAY TEACHINGS
A REVELATON OF....... THE 3 PRIESTHOODS continues
...... ....as we see the Book of Hebrews reveals about the priesthood of Jesus.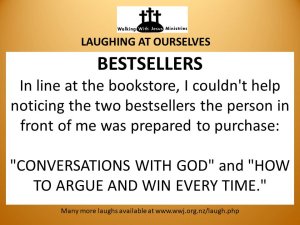 *** ANOTHER DAILY EZINE FROM WWJ!*** 'LAUGHING AT OURSELVES' Subscribe Today
As Christians, if we can't laugh at ourselves, others will! A fun way to start your day. To register today, go down to the bottom of the page link below, click on the subscribe link lao--on@wwj.org.nz (or paste the address in an email yourself and send) Then it's done!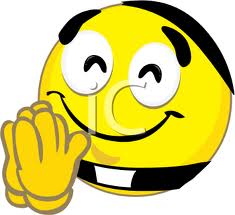 LAUGHING AT OURSELVES
***Blessed are those who can laugh at themselves for they shall never cease to be amused***
QWIK QWIP: "Adam and Eve had many advantages, but the principal one was that they escaped teething."
281. Jonah and the Whale
After telling the story of Jonah and the whale to her Sunday school class, the teacher decided to quiz them. She asked, "Timmy, what is the moral of the story?"
Timmy thought for a minute, then said, "People make whales throw up."
282. Long Sermon
A man got up to leave during a long sermon. The minister said, "Where are you going?"
The man replied, "To get a haircut."
The minister said, "You should have gotten one before you came."
The man replied, "When I came in, I didn't need one!"
QWIK QWIP: "If you are willing to admit you are wrong when you are wrong, you are all right."
283. Pastoral Candidates
The following is a confidential report on several candidates being considered for a pastorate.
ADAM: Good man but problems with his wife. Also one reference told of how his wife and he enjoy walking nude in the woods.
NOAH: Former pastorate of 120 years with not even one convert. Prone to unrealistic building projects.
ABRAHAM: Though the references reported wife-swapping, the facts seem to show he never slept with another man's wife, but did offer to share his own wife with another man.
JOSEPH: A big thinker, but a braggart, believes in dream-interpreting, and has a prison record.
MOSES: A modest and meek man, but poor communicator, even stuttering at times. Sometimes blows his stack and acts rashly. Some say he left an earlier church over a murder charge.
DAVID: The most promising leader of all until we discovered the affair he had with his neighbour's wife.
SOLOMON: Great preacher but our parsonage would never hold all those wives.
ELIJAH: Prone to depression. Collapses under pressure.
ELISHA: Reported to have lived with a single widow while at his former church.
HOSEA: A tender and loving pastor but our people could never handle his wife's occupation.
DEBORAH: Strong leader and seems to be anointed, but she is female.
JEREMIAH: Emotionally unstable, alarmist, negative, always lamenting things, reported to have taken a long trip to bury his underwear on the bank of a foreign river.
JONAH: Refused God's call into ministry until he was forced to obey by getting swallowed up by a great fish. He told us the fish later spit him out on the shore near here. We hung up.
AMOS: Too backward and unpolished. With some seminary training he might have promise, but has a hang-up against wealthy people--might fit in better in a poor congregation.
Download the book 'Laughing At Ourselves' in PDF format at LAUGHING AT OURSELVES One of the most comprehensive sources of Christian Humour on the Net with 800 sermon fillers for your entertainment and use at ..... https://www.wwj.org.nz/content/wwj18p47.pdf
Or read even more online at.....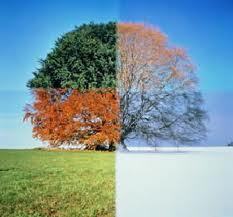 A DAVID MUSING
Here in New Zealand, it is the start of Summer. The only problem is that the weather doesn't know it!
Climate change, whatever the cause, is turning our once stable seasons upside down.
This is the same with our spiritual lives at this time.
God is shaking us up and taking us through trials and testings like we have not known before.
Why?
God is preparing us for the more difficult days ahead.
We can all see that challenges to our faith are coming from all directions in society today.
Will we let God deal with us so that our faith stands firm, or will we be like many who are falling away?
The choice is ours.
Until next time
His servant and yours
David Tait

Visit us here.....
CHANGING YOUR EMAIL ADDRESS? NEWSLETTER STOPS COMING?
Each week we can lose up to 2% of our readers when they change email addresses without letting us know. Or sometimes, by your server acting strangely and just cutting us off! If you are about to change your address, please advise us of both your old and new addresses here at
enquiries@wwj.org.nz
and we will happily change our records to ensure ongoing delivery. Thanks.
Please also keep our address in your address book, as sometimes servers will automatically delete your address if there is even a one off problem in delivery. If your newsletter doesn't arrive, please let us know and we will reinstate you.
REPRODUCTION OF NEWSLETTER CONTENT
Most weeks we get enquiries about reproducing, in electronic or print form, articles contained in 'PGIM!' We welcome and encourage you to utilize this material. Freely received, freely given. We would ask though, that the source be acknowledged as an encouragement to others to subscribe to this newsletter also.
LINKS
If you would like to link your web site to ours, and ours to yours, please advise us on
links@wwj.org.nz
ABOUT US
WALKING WITH JESUS MINISTRIES is a non-profit, non-denominational, Bible based ministry located in Hastings, New Zealand. A ministry dedicated to developing discipleship, fostering unity amongst God's people to achieve the Great Commission, and in doing so, preparing for Christ's return. It is securely based upon the foundational principles of the Apostles Creed while recognising the wide and rich diversity of beliefs amongst Christians in other areas. In accordance with the Lord's direction, materials produced by the ministry are available, free of charge, to genuine enquirers upon request. The ministry is solely funded by donations, as the Lord provides. A list of materials available (plus some fun!) is obtainable and freely downloadable from our website
wwj.org.nz or by contacting us as follows.

Walking With Jesus Ministries
P O Box 2
Webuye 50205
Kenya

Email: enquiries@wwj.org.nz
Web: wwj.org.nz

Our role is to bless and encourage those in ministry while promoting co-operation and unity of direction amongst the body of Christ, as emphasised 3 times by Jesus in His longest prayer, immediately prior to His arrest and crucifixion. "... so that they may be one as we are one." (John 17:12, 21, 23-4) Our website is currently being developed to encourage your participation one with another, to share resources, and to enable you to promote events and items of interest to the body as a whole - and have a smile while doing it!

For comments upon and contributions to this service, please contact
david@wwj.org.nz
SUBSCRIPTION MANAGEMENT
We would encourage you to share this free service with your friends in ministry. To subscribe yourself please email pgim-on@wwj.org.nz.
If your name has been referred to us by a friend or supporting Ministry or has been obtained from a public Christian Directory or Website, it isn't our wish to burden you with information in which you aren't interested. To remove yourself from this list, please email pgim-off@wwj.org.nz.