A Weekly World Wide Word of Encouragement to those in the Ministry
PRAISE GOD IT'S MONDAY!
A WEEKLY 'WWW (world-wide word) OF ENCOURAGEMENT'
TO THOSE IN MINISTRY
A FREE service, currently connecting with Christian leaders from 3,000 denominations and ministries, in 70 countries.

Issue No: 1032 Published: 26 Jul 2021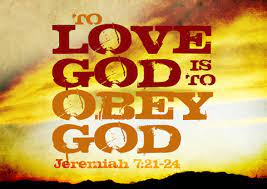 THINKING GREEK OR HEBREW
CONCLUSION
We now come to the end of our discussion about the differences between Greek (Western) and Hebrew (Eastern) thinking. I trust it has made you think about some of your 'sacred cows', as it has me. Perhaps we may have sacrificed some upon the altar of ignorance and misunderstanding!
Over the past 20 years or so, the Lord has graciously given me certain inspirations and revelations of His Word. These I have had the privilege of sharing with many of you through 'Tuesday Teachings' and the free downloads available on the website, www.wwj.org.nz
Yet I have always been conscious that teachings, in themselves, can titillate the mind, but do not necessarily lead to changes in behaviour. Hence I have always tried to give accompanying practical applications and look to the Holy Spirit to reveal His will to you.
Over the years, I've wondered why I have done this. Have put it down to being a practical person who believes in 'walking the talk' in life. James rings a bell deep within me.....
22 Do not merely listen to the word, and so deceive yourselves. Do what it says. (James 1:22)
However, as we have looked at this East v West thought conundrum, I have had my mind and life challenged as I have seen more clearly what 'walking with Jesus' is truly about. It is my hope and prayer that some of this discussion will have rubbed off onto you too!
James goes on to say.....
23 Anyone who listens to the word but does not do what it says is like a man who looks at his face in a mirror 24 and, after looking at himself, goes away and immediately forgets what he looks like. 25 But the man who looks intently into the perfect law that gives freedom, and continues to do this, not forgetting what he has heard, but doing it—he will be blessed in what he does. (James 1:23-5)
In the end, true Christianity is a lifestyle of love and obedience to God's will, not merely an intellectual exercise. It is about relationship, with Jesus and others, not mere academic knowledge.
Paul sums it up succinctly.....
Knowledge puffs up, but love builds up. (1 Corinthians 8:1b)
It was true of physical blessings in the Old Testament....
13 So if you faithfully obey the commands I am giving you today—to love the LORD your God and to serve him with all your heart and with all your soul— 14 then I will send rain on your land in its season, both autumn and spring rains, so that you may gather in your grain, new wine and oil. 15 I will provide grass in the fields for your cattle, and you will eat and be satisfied. (Deuteronomy 11:13-15)
and spiritual blessings in the New.
As decreed by Jesus.....
28 He replied, "Blessed rather are those who hear the word of God and obey it." (Luke 11:28)
and again.....
23 Jesus replied, "If anyone loves me, he will obey my teaching. My Father will love him, and we will come to him and make our home with him. 24 He who does not love me will not obey my teaching. These words you hear are not my own; they belong to the Father who sent me. (John 14:23-4)
Johns sums it up.....
3 We know that we have come to know him if we obey his commands. 4 The man who says, "I know him," but does not do what he commands is a liar, and the truth is not in him. 5 But if anyone obeys his word, God's love is truly made complete in him. This is how we know we are in him: 6 Whoever claims to live in him must walk as Jesus did. (1 John 2:3-6)
Amen.
ww.followtherabbi.com and http://hethathasanear.com and http://www.wildbranch.org
See more about us at.....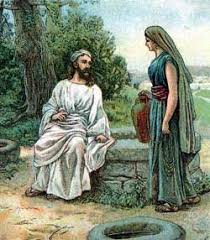 FROM THE WORD
THE WORDS OF JESUS
May we hear what the Lord is saying to us.....
Jesus Begins to Preach in Capernaum(Matthew 4:12-17, Mark 1:14-15)
Giving the message of salvation after the arrest of John the Baptist.
"The time predicted has come," "God's kingdom is near. Repent and believe in the good news."
Jesus Talks With a Samaritan Woman (John 4:1-26)
At Jacob's well.
"Please could you give me a drink?"
"If you only recognized God's gift, and who is asking you, 'Please could you give me a drink?' you would have asked him and he would have given you the water of life."
"Everyone who drinks water from this well will become thirsty again. But those who drink the water I give won't ever be thirsty again. The water I give becomes a bubbling spring of water inside them, bringing them eternal life."
Upon requesting the water of life.
"Go and call your husband, and come back here,"
"You're right in saying you don't have a husband," Jesus told her. You've had five husbands, and the one you're living with now is not your husband. So what you say is true!"
About worshipping in Jerusalem.
"Believe me the time is coming when you won't worship the Father either on this mountain or in Jerusalem. You really don't know the God you're worshiping, while we worship the God we know, for salvation comes from the Jews. But the time is coming—and in fact it's here already—when true worshipers will worship the Father in spirit and in truth, for these are the kind of worshipers the Father wants. 24God is Spirit, so worshipers must worship in spirit and in truth."
Talking about the Messiah.
"I AM—the one who is speaking to you."
The Disciples Question Jesus (John 4:27-42)
About whether he has had food to eat.
"I have food to eat that you know nothing about."
"My food is to do the will of the One who sent me, and to complete his work. Don't you have a saying, 'four more months until harvest?' Open your eyes and look around! The crops in the fields are ripe, ready for harvest. The reaper is being paid and harvesting a crop for eternal life so that both the sower and the reaper can celebrate. So the proverb 'one sows, another reaps,' is true. I sent you to reap what you didn't work for. Others did the hard work and you have reaped the benefits of what they did."
(Continues next week)
Download the complete 'Words of Jesus' here.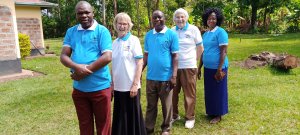 OUR AFRICAN EXPERIENCE
FOR MORE DETAILED AND REGULAR UPDATES, VISIT OUR FACEBOOK PAGE
AN EYE 4 Africa - https://www.facebook.com/aneye4africa/
The 'Engine Room' of Kingdom
David - Our Chairman aand Host
David - Founder
Tatwa - Administrator
Kathy - Founder
Selina - Hostess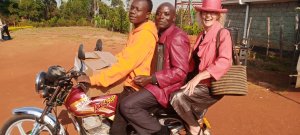 KATHY GOING OUT TO VISIT OUR SECURITY MAN'S MOTHER.
Kathy is having a day of today (Sunday), taking a trip with Alex to visit his mother and daughter in Malaba, on the Ugandan border.
They took a 'boda boda' from the hospital to the 'Matatu' stop and caught a (a 15 seater van) to Malaba. Then they will take another boda boda to their village destination.
The carton on the front of the bike, holds another of Kathy's world famous in Webuye, banana cakes!
Enjoy sweetheart. You deserve it!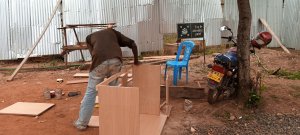 WHAT IS HAPPENING HERE?
1 large desk is being converted into 4 small ones.
Little wastage here!
What for?
Have to wait and see next week!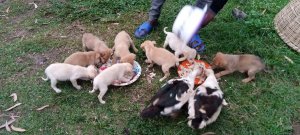 DUCK INVASION!
The latest edition to our hosts' David and Selinas' family is 9 puppies, born to their dog 'Girl', as I named her.
A highly adventurous name.
Now a few weeks old they have been introduced to Ugali, the local standard, much loved food, made from maize flour and water, boiled until it all sticks together in a big cake.
The local dogs are primarily vegetarian, through no choice of their own. They eat the scraps!
Always in for a free feed!
And the ducks too, invade the party!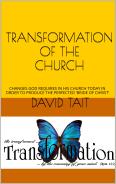 BOOK OF THE WEEK
TRANSFORMATION OF THE CHURCH
One day, while in the shower, (that is, from a bucket) in Nairobi, Kenya, the Lord gave me a revelation.

I had just seen the amazing new TBN broadcasting auditorium on TV, filled with beautiful people (it seems compulsory for preachers to have glamorous wives, generally much younger than themselves!), fantastic choirs, singers and setting, all broadcast over 47 satellites.

In the shower the Lord showed me a picture of the Pentecostal church. How it started in storefronts and homes, of how rejected these first weird 'pentes' were. But these early pentecostals remained fully committed to the cause, staying close to God, for they were then at the forefront of God's revelation and indeed, presence.

Gradually however, Pentecostalism (now with a capital 'P',) has become mainstream. Pastors (and now Bishops) have become elevated beyond a job description or a calling, to positions above the people ' a new priesthood. In the west, new pastors must be seminary trained, and are likely receive a reasonable salary from the beginning of their ministry. No longer is their real sacrifice in being 'called' to ministry.

In our services, the emphasis has changed from listening to the Holy Spirit and following His desires, to a concentration on excellence and good order, to the near exclusion of the Holy Spirit leading us. Worship times, unlike the days of the storefront believers, are based on a proven formula of thanksgiving, praise, then worship, followed by (maybe) a prophecy, then the Word and finally ministry ' until we all go home after exactly 2 hours.

Next comes an emphasis on building buildings 'for the glory of God', as so grandiosely epitomized by TBN. I have been involved in three different pentecostal churches over the years and have seen this process in practice. All churches that started meeting in homes, then storefronts or halls, before being 'called' to build or buy a church. The church then has to be rebuilt to be bigger, or ancillary buildings added, so that a 'church complex' is created.

Often too, we hear the statement, 'God is in the house'. Wow! Fantastic! But is it true? Is God really in these beautiful structures man has created? Or rather, is He in the hearts of the people who inhabit the house? Or again, has He departed altogether, to allow us to 'play church' in the beautiful temples we have built.

The process of 'monument building' that started in the fourth century AD with the Roman Catholic Church, and which continued after the Reformation once those churches became mainstream, continues today as Pentecostalism enters the mainstream also. This seems to be the process of a 'maturing church'.

The Lord showed me that the people He calls on to impart the next revelation are those with the kingdom within, those dissatisfied with the established status quo, those hungering for more of Him. Those whose emphasis remains on the spiritual, who have not been seduced by the inevitable physical emphasis of the 'maturing' church.

Today God is calling out another new generation, as He has in times past. It is a new generation desiring to move forward into the new (but old!) truths of submission and obedience to the Father's will, of servanthood and sacrifice, a simple people with hearts sold out to God, those who will finally fulfil the Great Commission. A Church not of Pastors, Programmes and Property, but of 'kingdom people', who, through their sacrifice, will usher in the return of Jesus.
Let us begin.....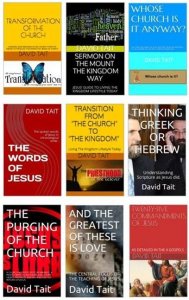 ***NOW***NINE BOOKS ARE AVAILABLE ON AMAZON!!!
9 BOOKS are now available on Amazon (Kindle)!

All are available worldwide for electronic download on Amazon (Kindle) for $US0.99c . Unfortunately there has to be a charge in order to list.

Your support would be appreciated and they could well change your life!

They are all found at this link.....
http://www.amazon.com/s/ref=nb_sb_noss?url=search-alias%3Daps&field-keywords=david+tait+books/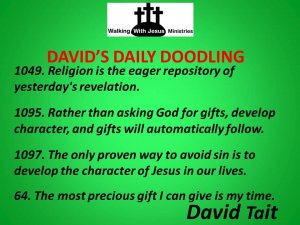 ***DAILY EZINE!*** 'DAVID'S DAILY DOODLINGS' Subscribe Today
Receive one of David's sayings in your mailbox each day to inspire, challenge or maybe, amuse. To register today, go down to the bottom of the page link below, click on the subscribe link dd-on@wwj.org.nz (or paste the address in an email yourself and send) Then it's done! If you have an Irish heritage, you will love the background coloring!
Subscription and back issue link is.....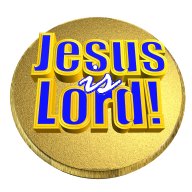 'THE WORDS OF JESUS' REMAIN AVAILABLE FOR PDF DOWNLOAD
Join the many who have downloaded the 'The Words of Jesus'. I am sure you will be blessed by it, as I have been.

One key element here is the setting out in chronological order (as far as it is possible to do so) our Lord's words drawn from all the Gospels, and the elimination of repetition between Gospels.

You may be surprised by the different perspective this presentation gives you both in understanding of His life and ministry, and in achieving a closer relationship with Him.

Download the free PDF here.....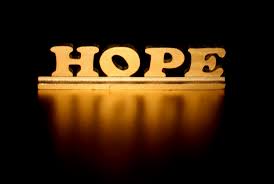 DAVID'S DOODLINGS
HOPE
486. The one thing history teaches is the futility of placing our hope in the goodness of man. Could the world rely upon me - or you?

487. Hope in mankind is hopeless, but hope in God springs eternal.

488. Without hope we perish. Without God we perish. So our hope is to be found in God.

489. In mankind there is only futility, but in God we have hope.

490. Faith turns the hope of our salvation into the experience of God's love.

491. God's hopefulness gives the hopeless, hope.

492. Godly hope transforms human hopelessness - if we will allow it!

493. Life without hope is short, but with God's hope, eternal.

494. God's hope can help transform tragedy into triumph.

495. It is often said that 'without hope we perish.' This is as true literally as it is figuratively.
Please feel free to quote these quotes. Acknowledgment of David Tait as the author would be appreciated. There are now over 1300 David sayings for you to view at ...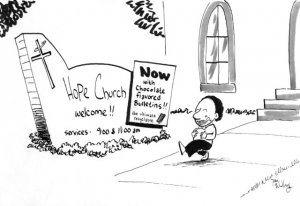 CARTOONS FROM TOON FEVER
Visit the Toon Fever website for more cartoon fun..... http://www.toonfever.com
Check it out at...
TUESDAY TEACHINGS
THIS WEEK: THE PARABLE OF THE SOWER concludes.....
..... as we see the application of the parable to the church.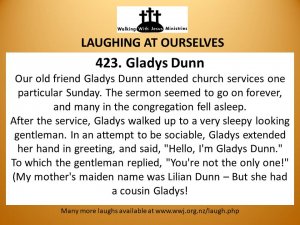 *** ANOTHER DAILY EZINE FROM WWJ!*** 'LAUGHING AT OURSELVES' Subscribe Today
As Christians, if we can't laugh at ourselves, others will! A fun way to start your day. To register today, go down to the bottom of the page link below, click on the subscribe link lao--on@wwj.org.nz (or paste the address in an email yourself and send) Then it's done!
https://www.wwj.org.nz/laughing-at-ourselves-ezine

LAUGHING AT OURSELVES
***Blessed are those who can laugh at themselves for they shall never cease to be amused***
*** Those who can't laugh at themselves leave the job to others. ***
79. Many a True Word.....
It has to be confessed that the minister was rather long-winded.
During his sermon a young wife of the congregation remembered that she had left the Sunday dinner in the gas range without regulating the flame.
She hastily wrote a note and slipped it to her husband, who was an usher.
He, thinking it was for the minister, calmly walked up and laid it on the pulpit.
The minister paused, took the note with a smile, which turned into a terrific frown as he read.....
"Please hurry home and shut off the gas."
80. Sales vs. Management
A passenger jet was suffering through a severe thunderstorm. As the passengers were being bounced around by the turbulence a young woman turned to a minister sitting next to her and with a nervous laugh asks, "Reverend, you're a man of God, can't you do something about this storm?"
To which he replies, "Lady, I'm in sales, not management."
QWIK QWIP: "Now is the most interesting time of all."
81. Mistaken Identity
"Recently we got a call from that big white church at 11th and Walnut," the paramedic said. "A frantic usher was very concerned that during the sermon an elderly man passed out in a pew and appeared to be dead. The usher could find no pulse and there was no noticeable breathing."
"What was so unusual and demanding about this particular call?" the interviewer asked.
"Well," the paramedic said, "we carried out four guys before we found the one who was dead."
Download the book 'Laughing At Ourselves' in PDF format at LAUGHING AT OURSELVES One of the most comprehensive sources of Christian Humour on the Net with 800 sermon fillers for your entertainment and use at ..... https://www.wwj.org.nz/content/wwj18p47.pdf
Or read even more online at.....

A DAVID MUSING
The Olympics have arrived, amid ongoing controversy.
Touted as the greatest sporting event in the world, it brings people together from all nations, united in a 2 week festival of sporting endeavour.
Just what if the other 3 years and 50 weeks, plus an extra year this time, could be the same?
What brings people together is a united goal, firstly to compete, and the to compete for medals.
Sadly it doesn't happen. We soon go back to self-interest replacing the unity.
What now about the church? Our church is divided as people seek their own objectives, and personal desires!
What can bring the church together? In my view there is only one thing. And that is persecution!
When the church is persecuted, as is promised in the final days, differences will be put aside, in order to survive. And then the church will grow.
Look at China. as the church has been persecuted, it has grown underground. It is likely now, that there are as many Believers in China as there in in the USA, Or possibly more.
As the soft underbelly of the prosperous church in America and all the West continues to be exposed, with people leaving at an ever increasing rate, persecution is needed to rescue it.
And it looks like it is coming, as the ways of the world divide themselves further and further from the values of the church. Laws and life are changing so much that in the not too distant future, it will become harder and harder to be a Christian.
This is sad for us all, but the good thing will be is that it will bring all who remain together into a united body for survival.
May it be Lord, may ii be.
His servant and yours
David Tait

Visit us here.....
CHANGING YOUR EMAIL ADDRESS? NEWSLETTER STOPS COMING?
Each week we can lose up to 2% of our readers when they change email addresses without letting us know. Or sometimes, by your server acting strangely and just cutting us off! If you are about to change your address, please advise us of both your old and new addresses here at
enquiries@wwj.org.nz
and we will happily change our records to ensure ongoing delivery. Thanks.
Please also keep our address in your address book, as sometimes servers will automatically delete your address if there is even a one off problem in delivery. If your newsletter doesn't arrive, please let us know and we will reinstate you.
REPRODUCTION OF NEWSLETTER CONTENT
Most weeks we get enquiries about reproducing, in electronic or print form, articles contained in 'PGIM!' We welcome and encourage you to utilize this material. Freely received, freely given. We would ask though, that the source be acknowledged as an encouragement to others to subscribe to this newsletter also.
LINKS
If you would like to link your web site to ours, and ours to yours, please advise us on
links@wwj.org.nz
ABOUT US
WALKING WITH JESUS MINISTRIES is a non-profit, non-denominational, Bible based ministry located in Hastings, New Zealand. A ministry dedicated to developing discipleship, fostering unity amongst God's people to achieve the Great Commission, and in doing so, preparing for Christ's return. It is securely based upon the foundational principles of the Apostles Creed while recognising the wide and rich diversity of beliefs amongst Christians in other areas. In accordance with the Lord's direction, materials produced by the ministry are available, free of charge, to genuine enquirers upon request. The ministry is solely funded by donations, as the Lord provides. A list of materials available (plus some fun!) is obtainable and freely downloadable from our website
wwj.org.nz or by contacting us as follows.

Walking With Jesus Ministries
P O Box 2
Webuye 50205
Kenya

Email: enquiries@wwj.org.nz
Web: wwj.org.nz

Our role is to bless and encourage those in ministry while promoting co-operation and unity of direction amongst the body of Christ, as emphasised 3 times by Jesus in His longest prayer, immediately prior to His arrest and crucifixion. "... so that they may be one as we are one." (John 17:12, 21, 23-4) Our website is currently being developed to encourage your participation one with another, to share resources, and to enable you to promote events and items of interest to the body as a whole - and have a smile while doing it!

For comments upon and contributions to this service, please contact
david@wwj.org.nz
SUBSCRIPTION MANAGEMENT
We would encourage you to share this free service with your friends in ministry. To subscribe yourself please email pgim-on@wwj.org.nz.
If your name has been referred to us by a friend or supporting Ministry or has been obtained from a public Christian Directory or Website, it isn't our wish to burden you with information in which you aren't interested. To remove yourself from this list, please email pgim-off@wwj.org.nz.