A Weekly World Wide Word of Encouragement to those in the Ministry
PRAISE GOD IT'S MONDAY!
A WEEKLY 'WWW (world-wide word) OF ENCOURAGEMENT'
TO THOSE IN MINISTRY
A FREE service, currently connecting with Christian leaders from 3,000 denominations and ministries, in 70 countries.

Issue No: 998 Published: 30 Nov 2020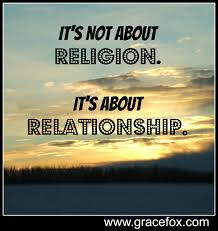 THINKING GREEK OR HEBREW
FAITH

Greek (Western)
We see faith as being intellectual. We express faith in creeds and doctrine, using support texts to support and prove our beliefs.
This speaks particularly of men, especially those with a theological interest or training, who primarily happen to be the ones in ministry and those of major influence in churches and denominations. Unfortunately creeds and doctrines differ, depending upon the supporting texts used and human interpretation of them. This gives rise to division in the church. These people concentrate on the Epistles, for the foundations of doctrine are found there
Women, on the other hand, both in the natural and the spiritual, are much more relational. We will see shortly, that this is more akin to the Hebrew approach to faith. This helps explain why 2/3 of the church is women and that they are more ecumenical than men, for they look at things from a different perspective.
While theology, organisation and order have their place, they are currently given too much focus over and above a genuine relationship with Jesus.

Eastern (Hebrew)
Hebrews see faith as relational and personal. They express faith in terms of their relationship with God rather than as a rationalisation.
There are two occasions recorded in the Gospels, interestingly both involving Gentiles, which Jesus used to show the Jews who had lost faith, what faith is all about. These are.....
The Faith of the Centurion
5 When Jesus had entered Capernaum, a centurion came to him, asking for help. 6 "Lord," he said, "my servant lies at home paralyzed and in terrible suffering." 7 Jesus said to him, "I will go and heal him." 8 The centurion replied, "Lord, I do not deserve to have you come under my roof. But just say the word, and my servant will be healed. 9 For I myself am a man under authority, with soldiers under me. I tell this one, 'Go,' and he goes; and that one, 'Come,' and he comes. I say to my servant, 'Do this,' and he does it." 10 When Jesus heard this, he was astonished and said to those following him, "I tell you the truth, I have not found anyone in Israel with such great faith. 11 I say to you that many will come from the east and the west, and will take their places at the feast with Abraham, Isaac and Jacob in the kingdom of heaven. 12 But the subjects of the kingdom will be thrown outside, into the darkness, where there will be weeping and gnashing of teeth." 13 Then Jesus said to the centurion, "Go! It will be done just as you believed it would." And his servant was healed at that very hour. (Matthew 8:5-13)
And.....
The Faith of the Canaanite Woman
21 Leaving that place, Jesus withdrew to the region of Tyre and Sidon. 22 A Canaanite woman from that vicinity came to him, crying out, "Lord, Son of David, have mercy on me! My daughter is suffering terribly from demon-possession." 23 Jesus did not answer a word. So his disciples came to him and urged him, "Send her away, for she keeps crying out after us." 24 He answered, "I was sent only to the lost sheep of Israel." 25 The woman came and knelt before him. "Lord, help me!" she said. 26 He replied, "It is not right to take the children's bread and toss it to their dogs." 27 "Yes, Lord," she said, "but even the dogs eat the crumbs that fall from their masters' table." 28 Then Jesus answered, "Woman, you have great faith! Your request is granted." And her daughter was healed from that very hour. (Matthew 15:21-28)
Faith comes through relationship with Jesus, through the Holy Spirit, not by observance of the Law (or having 'correct' theology).
10 All who rely on observing the law are under a curse, for it is written: "Cursed is everyone who does not continue to do everything written in the Book of the Law." 11 Clearly no one is justified before God by the law, because, "The righteous will live by faith." 12 The law is not based on faith; on the contrary, "The man who does these things will live by them." 13 Christ redeemed us from the curse of the law by becoming a curse for us, for it is written: "Cursed is everyone who is hung on a tree." 14 He redeemed us in order that the blessing given to Abraham might come to the Gentiles through Christ Jesus, so that by faith we might receive the promise of the Spirit. (Galatians 3:10-14)
A TESTIMONY FROM DAVID My faith has been built upon experiences where I have had to trust the Lord, not upon theological learning. The most memorable one for me, which has carried me through more recent difficult times, was when I went to Africa for 2 months on 50 cents a day! Had I thought about it rationally, I wouldn't have gone! I spent all but $2 of my $30 during the first week, then the Lord starting providing. I left Africa 7 weeks later 'cent-less' but having been provided for, for the time I was there. My faith was increased dramatically through this amazing experiential relationship with Jesus!
SOME SPIRITUAL IMPLICATIONS FOR TODAY
1. We talk about being 'born again', about developing a personal relationship with Jesus, then argue about a pre, mid or post-trib rapture! No wonder so many quickly lose faith! We need a new emphasis on discipleship, a sharing of day to day life experience, to build up personal faith experiences in new believers.
2. The church needs to understand that relationship - with Jesus and each other - is more important than fine points of theology, about which there will always be disagreement.
3. Individually, we need to spend time with Jesus, being prepared to listen to Him, letting Him change our life, and be prepared to take risks, to step out in faith, as He guides us.
4. To understand that trust, not logic, is the true foundation of faith.
(Continues next week)
Acknowledgements: http://www.followtherabbi.com and http://hethathasanear.com and http://www.wildbranch.org
See more about us at.....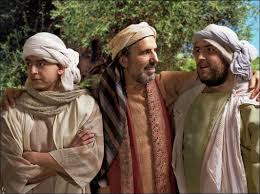 FROM THE WORD
THE WORDS OF JESUS
May we hear what the Lord is saying to us.....
Parable of the Coin (Luke 15:1-7)
"Imagine a woman who has ten silver coins, and loses one of them. Wouldn't she light a lamp and sweep the house, carefully searching until she finds it? When she finds it, she calls her friends and neighbors together, saying, 'Come and celebrate with me! I've found the silver coin that I lost.' I tell you there is joy in the presence of God's angels over one sinner that repents.
Parable of the Son (Luke 15:11.32)
"Once there was a man who had two sons," "The younger one told his father, 'Father, give me my inheritance now.' So the man divided his property between them. A few days later the younger son packed up what he had and left for a distant country. Here he wasted all his money living a reckless life. "After he'd spent everything, the country was hit by a severe famine and he was starving. So he went and took a job with one of the farmers there who sent him to his fields to feed pigs. He was so hungry that he would have eaten even the pig food, but no one gave him anything. When he came to his senses, he said to himself, 'All of my father's workers have more than enough to eat—why am I dying from hunger here? I'm going home to my father! I'll tell him, "Father, I've sinned against heaven and against you. I'm no longer worthy to be called your son. Please treat me as one of your hired workers."' So he left and went home to his father.
"Even though he was still far away in the distance, his father saw him coming, and his heart went out to his son. The father ran to his son, hugging and kissing him. The son said to him, 'Father, I've sinned against heaven and against you. I'm no longer worthy to be called your son.'
"But the father told his servants, 'Quick—bring the best robe and put it on him. Put a ring on his finger and sandals on his feet. Bring the calf we've been fattening and kill it. Let's have a feast to celebrate because this is my son who was dead, but who has returned alive; he was lost but now he's found.' So they started celebrating.
"Now the older son was working out in the fields. As he walked towards the house, he heard music and dancing. So he called one of the servants and asked what was going on.
"Your brother is back," he replied, "and your father has killed the fattened calf, because he's come home safe and sound."
"The brother became angry. He refused to go in. So his father came out to plead with him.
"He told his father, 'Look, all these years I've served you, and never disobeyed you, but you never once gave me even a young goat so I could have a party with my friends. Now this son of yours comes back, having spent your money on prostitutes, and you kill the fattened calf for him!'
"'Son,' the father replied, 'you are always here with me. Everything I have is yours. But we should be happy and celebrate! This is your brother who was dead, but who has returned alive; he was lost but now he's found!'"
(Continued next week)
Download the complete 'Words of Jesus' here.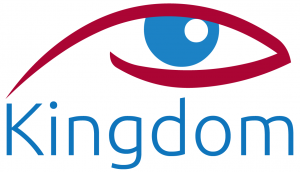 OUR AFRICAN EXPERIENCE
FOR MORE DETAILED AND REGULAR UPDATES, VISIT OUR FACEBOOK PAGE
AN EYE 4 Africa - https://www.facebook.com/aneye4africa/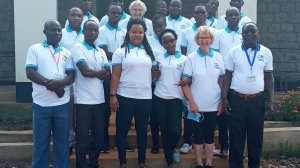 THE KINGDOM TEAM LOOKING SMART!
Showing off our new flash new Kingdom Sweatshirts!
Can you pick out the pair of grey haired Kiwis! If not, come to Kingdom for a new pair of glasses! Very good prices!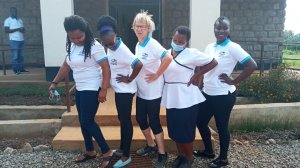 The ladies! Please don't tell on us for our male/female balance! It will change once we have NHIF and get more nursing staff, in particular!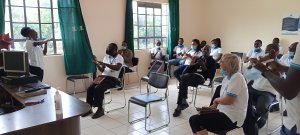 At our morning worship time, Nancy is leading a special clap of thanks to the muzingus for the new gear - and for all of us for getting this far. It has been a challenge!
But we are looking forward to receiving NHIF shortly, when things will really take off and we won't have to live on bread and water only! LOL! Of course, if you are a Kenyan, that is ugali (a mixture of maize flour and water cooked up) and water.
PS: A whisper of more bad news though! Delay! Wait and see!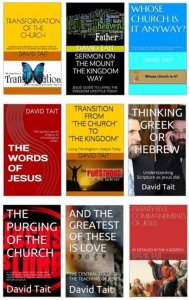 ***NOW***NINE BOOKS ARE AVAILABLE ON AMAZON!!!
9 BOOKS are now available on Amazon (Kindle)!

All are available worldwide for electronic download on Amazon (Kindle) for $US0.99c . Unfortunately there has to be a charge in order to list.

Your support would be appreciated and they could well change your life!

They are all found at this link.....
http://www.amazon.com/s/ref=nb_sb_noss?url=search-alias%3Daps&field-keywords=david+tait+books/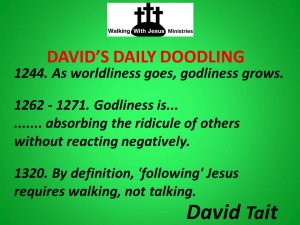 ***DAILY EZINE!*** 'DAVID'S DAILY DOODLINGS' Subscribe Today
Receive one of David's sayings in your mailbox each day to inspire, challenge or maybe, amuse. To register today, go down to the bottom of the page link below, click on the subscribe link dd-on@wwj.org.nz (or paste the address in an email yourself and send) Then it's done! If you have an Irish heritage, you will love the background coloring!
Subscription and back issue link is.....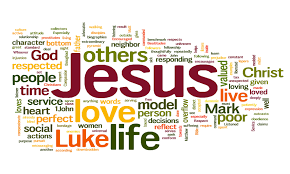 'THE WORDS OF JESUS' REMAIN AVAILABLE FOR PDF DOWNLOAD
Join the many who have downloaded the 'The Words of Jesus'. I am sure you will be blessed by it, as I have been.

One key element here is the setting out in chronological order (as far as it is possible to do so) our Lord's words drawn from all the Gospels, and the elimination of repetition between Gospels.

You may be surprised by the different perspective this presentation gives you both in understanding of His life and ministry, and in achieving a closer relationship with Him.

Download the free PDF here.....

DAVID'S DOODLINGS
FAITH
263. Faith is one of the few things in life where the more you take, the more you get given.
264. If faith was easy, it would be of little value.
265. Faith to God is like breathing to life. Without it we are spiritually dead.
266. To believe in the essential goodness of man is perfectly normal. But to believe in God takes too much faith. Something is basically wrong here!
267. We all hope for a better future. But few are prepared to exercise the faith required to guarantee it!
268. Hope gives you but a shovel to dig, while faith removes the mountain itself.
269. Faith is the means God uses to move the mountain. Beats a bulldozer every time!
270. The one who continues to build their faith will be blessed beyond measure.
271. Faith breeds faith.
272. True faith is exercised to attain God's desires, not our own.
Please feel free to quote these quotes. Acknowledgment of David Tait as the author would be appreciated. There are now over 1300 David sayings for you to view at ...
CARTOONS FROM TOON FEVER
Visit the Toon Fever website for more cartoon fun..... http://www.toonfever.com

Check it out at...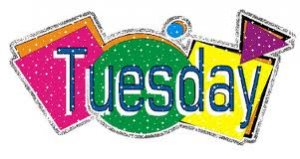 TUESDAY TEACHINGS
THIS WEEK:GOD AND MAN continues.....
We look at 'being filled' with the Holy Spirit- hopefully avoiding theological issues, as much as is possible!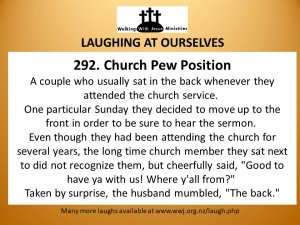 *** ANOTHER DAILY EZINE FROM WWJ!*** 'LAUGHING AT OURSELVES' Subscribe Today
As Christians, if we can't laugh at ourselves, others will! A fun way to start your day. To register today, go down to the bottom of the page link below, click on the subscribe link lao--on@wwj.org.nz (or paste the address in an email yourself and send) Then it's done!
https://www.wwj.org.nz/laughing-at-ourselves-ezine

LAUGHING AT OURSELVES
***Blessed are those who can laugh at themselves for they shall never cease to be amused***
*** Those who can't laugh at themselves leave the job to others. ***
479. Gladly
A child came home from Sunday School and told his mother that he had learned a new song about a cross-eyed bear named Gladly.
It took his mother a while before she realised that the hymn was really "Gladly The Cross I'd Bear."
480. The New Preacher
There was a new preacher who wanted to rent a house in the country. The only house available was rumoured to be haunted. Since the preacher didn't believe in such things, he rented it.
It wasn't long before the ghost made its appearance. The preacher told his friends about the ghost, but they didn't believe him. They told him the only way they would believe was if he would take a picture of the ghost.
The preacher went home and called for the ghost. When it appeared, the preacher explained the situation and asked the ghost if it would mind having its picture taken. The ghost agreed.
When the picture was developed, the ghost wasn't visible. Feeling very disappointed, the preacher called again for the ghost. When it appeared, the preacher showed it the picture and wanted to know why the ghost wasn't in it.
The ghost thought a minute and replied, "Well, I guess the spirit was willing, but the flash was weak."
QWIK QWIP: "Our faith is like the air that we breathe. It is only the current breath that gives life."
481. Cowboy Joe
Cowboy Joe was telling his fellow cowboys back on the ranch about his first visit to a big-city church.
"When I got there, they had me park my old truck in the corral," Joe began.
"You mean the parking lot," interrupted Charlie, a worldlier fellow.
"I walked up the trail to the door," Joe continued.
"The sidewalk to the door," Charlie corrected him.
"Inside the door, I was met by this dude," Joe went on.
"That would be the usher," Charlie explained.
"Well, the usher led me down the chute," Joe said.
"You mean the aisle," Charlie said.
"Then, he led me to a stall and told me to sit there," Joe continued.
"Pew," Charlie retorted.
"Yeah," recalled Joe. "That's what that pretty lady said when I sat down beside her."
Download the book 'Laughing At Ourselves' in PDF format at LAUGHING AT OURSELVES One of the most comprehensive sources of Christian Humour on the Net with 800 sermon fillers for your entertainment and use at ..... https://www.wwj.org.nz/content/wwj18p47.pdf
Or read even more online at.....
A DAVID MUSING
Disappointment is difficult to deal with.
This week our saga of receiving provider status for the National Health Insurance Fund (NHIF) for our Kingdom Faith Based Hospital here in Kenya, has hit another snag! NHIF would and will sometime, have assured the future of the hospital, making us self-sufficient financially.
This month, after 2 1/2 years of waiting, the light had been getting really bright at the end of the tunnel. Suddenly a landslide has fallen over the tunnel exit and we are waiting, once again, for the opening to be cleared.
We all have to deal with disappointments at times during our lives. It is part of life.
Living here in Africa, the disappointments are many, for the system is neither predictable, nor reliable. Patience is a a very necessary commodity here.
Whatever area of life disappointment enters into, we finally have to accept that life is not fair, and start again. If we don't, our lives will become miserable, which doesn't help others, nor those to whom we relate.
Jesus said that life in Him will not be easy, but He will be walking along side us to get us through our disappointments.
May we trust Him today to see us through. He will not let you down.
Until next time.....
MAY GOD BLESS YOU AND YOU BLESS GOD
His servant and yours
David Tait

Visit us here.....
CHANGING YOUR EMAIL ADDRESS? NEWSLETTER STOPS COMING?
Each week we can lose up to 2% of our readers when they change email addresses without letting us know. Or sometimes, by your server acting strangely and just cutting us off! If you are about to change your address, please advise us of both your old and new addresses here at
enquiries@wwj.org.nz
and we will happily change our records to ensure ongoing delivery. Thanks.
Please also keep our address in your address book, as sometimes servers will automatically delete your address if there is even a one off problem in delivery. If your newsletter doesn't arrive, please let us know and we will reinstate you.
REPRODUCTION OF NEWSLETTER CONTENT
Most weeks we get enquiries about reproducing, in electronic or print form, articles contained in 'PGIM!' We welcome and encourage you to utilize this material. Freely received, freely given. We would ask though, that the source be acknowledged as an encouragement to others to subscribe to this newsletter also.
LINKS
If you would like to link your web site to ours, and ours to yours, please advise us on
links@wwj.org.nz
ABOUT US
WALKING WITH JESUS MINISTRIES is a non-profit, non-denominational, Bible based ministry located in Hastings, New Zealand. A ministry dedicated to developing discipleship, fostering unity amongst God's people to achieve the Great Commission, and in doing so, preparing for Christ's return. It is securely based upon the foundational principles of the Apostles Creed while recognising the wide and rich diversity of beliefs amongst Christians in other areas. In accordance with the Lord's direction, materials produced by the ministry are available, free of charge, to genuine enquirers upon request. The ministry is solely funded by donations, as the Lord provides. A list of materials available (plus some fun!) is obtainable and freely downloadable from our website
wwj.org.nz
or by contacting us as follows.
Walking With Jesus Ministries
7 Bull Street
Ahuriri
Napier
New Zealand
Phone: (06) 835 0567 International (+64) 6 835 0567
Email:
enquiries@wwj.org.nz
Web:
wwj.org.nz
Our role is to bless and encourage those in ministry while promoting co-operation and unity of direction amongst the body of Christ, as emphasised 3 times by Jesus in His longest prayer, immediately prior to His arrest and crucifixion. "... so that they may be one as we are one." (John 17:12, 21, 23-4) Our website is currently being developed to encourage your participation one with another, to share resources, and to enable you to promote events and items of interest to the body as a whole - and have a smile while doing it!
For comments upon and contributions to this service, please contact
david@wwj.org.nz
SUBSCRIPTION MANAGEMENT
We would encourage you to share this free service with your friends in ministry. To subscribe yourself please email pgim-on@wwj.org.nz.
If your name has been referred to us by a friend or supporting Ministry or has been obtained from a public Christian Directory or Website, it isn't our wish to burden you with information in which you aren't interested. To remove yourself from this list, please email pgim-off@wwj.org.nz.