A Weekly World Wide Word of Encouragement to those in the Ministry
PRAISE GOD IT'S MONDAY!
A WEEKLY 'WWW (world-wide word) OF ENCOURAGEMENT'
TO THOSE IN MINISTRY
A FREE service, currently connecting with Christian leaders from 3,000 denominations and ministries, in 70 countries.

Issue No: 975 Published: 29 Jun 2020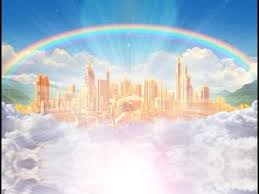 THINKING GREEK OR HEBREW?
SUMMARY Pt. 4
4. LEARNING BY EXAMPLE - THE CALL TO CHRIST LIKENESS
The importance of following in the footsteps of godly ancestors is readily apparent throughout Jewish culture. Hence the importance placed on genealogy. In the Gospel primarily written for the Jews, it is the first thing discussed, indicating its huge importance.....
The Genealogy of Jesus
1 A record of the genealogy of Jesus Christ the son of David, the son of Abraham:2 Abraham was the father of Isaac, Isaac the father of Jacob, Jacob the father of Judah and his brothers, 3 Judah the father of Perez and Zerah, whose mother was Tamar, Perez the father of Hezron, Hezron the father of Ram, 4 Ram the father of Amminadab, Amminadab the father of Nahshon, Nahshon the father of Salmon, 5 Salmon the father of Boaz, whose mother was Rahab, Boaz the father of Obed, whose mother was Ruth, Obed the father of Jesse, 6 and Jesse the father of King David...... (and so on - Matthew 1:1-17)
With our different cultural understanding, we tend to skip over these verses, as our ancestry is of far less significance to us.
The importance of the example of those who went before is seen in Hebrews, where the writer, when talking about the key element of faith, quoted the Patriarchs and forefathers as examples of faith in action to be admired, followed and improved upon, through the sacrifice of Jesus for us.....
By Faith
Now faith is being sure of what we hope for and certain of what we do not see. 2 This is what the ancients were commended for. 3 By faith we understand that the universe was formed at God's command, so that what is seen was not made out of what was visible. 4 By faith Abel offered God a better sacrifice than Cain did. By faith he was commended as a righteous man, when God spoke well of his offerings. And by faith he still speaks, even though he is dead. 5 By faith Enoch was taken from this life, so that he did not experience death; he could not be found, because God had taken him away. For before he was taken, he was commended as one who pleased God. 6 And without faith it is impossible to please God, because anyone who comes to him must believe that he exists and that he rewards those who earnestly seek him. 7 By faith Noah, when warned about things not yet seen, in holy fear built an ark to save his family. By his faith he condemned the world and became heir of the righteousness that comes by faith. (and so on - Hebrews 11:1-40)
Jewish rabbinical training, at the time of Jesus, was based on an extreme form of this principle. The student of the Rabbi would follow the behaviour of his Rabbi totally. If the Rabbi stood up, walked, and then sat down, so would his student. He would mimic the Rabbi's actions in their entirety. Of course, this was a 'religious behaviour', but the principle of 'following the Rabbi' was entrenched in their culture.
So, who is our Rabbi? Jesus, of course. And where is His behaviour modelled? It is found throughout all the New Testament, but specifically in the 4 Gospels.
Through the history of the church, a greater emphasis has been placed upon the Epistles of Paul and others, for it is primarily upon these that the theology of the church has been built. Our divided church is based upon the development of theological principles that are academic, are of the mind. Hence the importance placed on Seminaries, theological training and degrees, which are presumed to bring people closer to Jesus. Unfortunately, it has resulted in much knowledge about Jesus, but so often, a much reduced relationship with Him. Sad but true.
In the church today, a greater emphasis needs to be placed upon the Gospels, through which we can learn to become more like Jesus. It is a truism that married people eventually get to look like each other. (Sorry Kathy!) For we spend time together, meld our thoughts and ways, to become one, rather than two.
This is what Jesus wants of His Bride too. He wants us to become one with Him. How do we do that? By interacting with Him until we are moulded into His image. By copying His behaviour. By basing our lives on love of God and others, as Jesus did. Theology divides, love unites.
As Paul, the consummate theologian, witnessed.....
13 And now these three remain: faith, hope and love. But the greatest of these is love. (1 Corinthians 13:13)
May it be so in our lives too, as we grow, through marriage to the Lamb, to become more like Him.
Then we can look forward with confidence to this glorious day.....
The New Jerusalem
Then I saw a new heaven and a new earth, for the first heaven and the first earth had passed away, and there was no longer any sea. 2 I saw the Holy City, the new Jerusalem, coming down out of heaven from God, prepared as a bride beautifully dressed for her husband. 3 And I heard a loud voice from the throne saying, "Now the dwelling of God is with men, and he will live with them. They will be his people, and God himself will be with them and be their God. 4 He will wipe every tear from their eyes. There will be no more death or mourning or crying or pain, for the old order of things has passed away." (Revelation 21:1-4)
See more about us at.....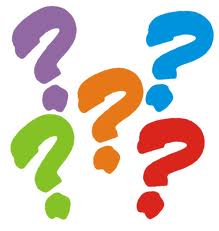 FROM THE WORD
THE WORDS OF JESUS
May we hear what the Lord is saying to us.....
Who is Greatest in the Kingdom? (Matthew 18:1-6, Mark 9:33-7, Luke 9:46-8)
An argument between the Disciples.
"What were you talking about on the way?"
"I tell you the truth, unless you change the way you think and become like little children, you won't ever enter the kingdom of heaven. 4But whoever humbles themselves and becomes like this little child is the greatest in the kingdom of heaven. 5Whoever accepts a little child like this in my name accepts me. 6But anyone who makes one of these little ones who trust in me sin, it would be better for them to have a large millstonea tied around their neck and be drowned in the depths of the sea.
"What disaster is coming on the world for all its temptations to sin! Temptations will surely come, but it will be a disaster for the person through whom the temptation comes! 8If your hand or your foot causes you to sin, cut it off and throw it away. It's better for you to enter eternal life crippled or lame rather than to have two hands or two feet and to be thrown into eternal fire. 9If your eye causes you to sin, pull it out and throw it away. It's better for you to enter eternal life with one eye than to have two eyes and to be thrown into the fire of judgment.
Zeal Without Understanding (, Mark 9:38-41, Luke 9:49-50)
John asking about an unknown man healing in the name of Jesus.
"Don't stop him," "For no one who is doing miracles in my name can curse me at the same moment. Anyone who is not against us is for us. Anyone who gives a cup of water to you in my name, because you belong to Christ, won't lose their reward, believe me.
Causing Others to Sin (Matthew 18:7-11, Mark 9:42-7)
The cost of sin.
"But if anyone leads one of these little ones who trust in me into sin, it would be better for them if they ere thrown into the sea with a large millstone tied around their neck. If your hand leads you to sin, cut it off! It's better to enter eternal life as a cripple than to go with both hands into Gehenna, into the fire that can't be put out. If your foot causes you to sin, cut it off! It's better to enter eternal life lame than to be thrown into Gehenna still having two feet. If your eye causes you to sin, gouge it out! It's better to enter the kingdom of God with one eye than to be thrown into Gehenna still having both eyes, where the worm doesn't die and the fire never goes out. Everybody will be 'salted' by fire. Salt is good, but if it loses its taste, how could you make it salty again? You need to be like salt, and live in peace with one another."
(Continued next week)
Download the complete 'Words of Jesus' here.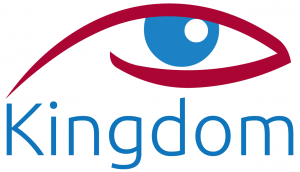 OUR AFRICAN EXPERIENCE
FOR MORE DETAILED AND REGULAR UPDATES, VISIT OUR FACEBOOK PAGE
AN EYE 4 Africa - https://www.facebook.com/aneye4africa/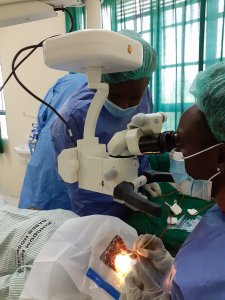 BACK INTO CATARACT SURGERY!
On Wednesday we conducted 9 surgeries. Two others were rejected for various reasons. So we are starting to build up numbers!
A close up view!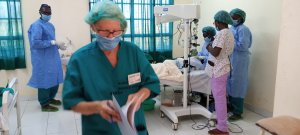 The team is at it! (Glamorous!) Kathy, in the green in the foreground, is the RUNNER, fetching things for the surgical team. She is checking notes here.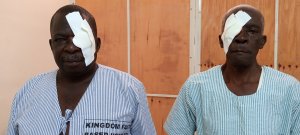 All done! The man on the left is 91 years strong! Except for his eyes!
Our thanks to all involved, particularly Lily, our Surgeon.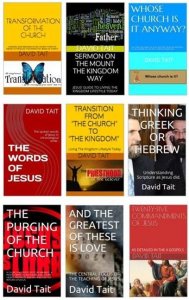 ***NOW***NINE BOOKS ARE AVAILABLE ON AMAZON!!!
9 BOOKS are now available on Amazon (Kindle)!

All are available worldwide for electronic download on Amazon (Kindle) for $US0.99c . Unfortunately there has to be a charge in order to list.

Your support would be appreciated and they could well change your life!

They are all found at this link.....
http://www.amazon.com/s/ref=nb_sb_noss?url=search-alias%3Daps&field-keywords=david+tait+books/
***DAILY EZINE!*** 'DAVID'S DAILY DOODLINGS' Subscribe Today
Receive one of David's sayings in your mailbox each day to inspire, challenge or maybe, amuse. To register today, go down to the bottom of the page link below, click on the subscribe link dd-on@wwj.org.nz (or paste the address in an email yourself and send) Then it's done! If you have an Irish heritage, you will love the background coloring!
Subscription and back issue link is.....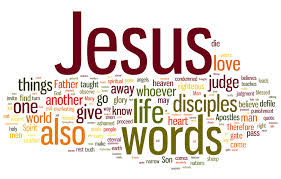 'THE WORDS OF JESUS' REMAIN AVAILABLE FOR PDF DOWNLOAD
Join the many who have downloaded the 'The Words of Jesus'. I am sure you will be blessed by it, as I have been.

One key element here is the setting out in chronological order (as far as it is possible to do so) our Lord's words drawn from all the Gospels, and the elimination of repetition between Gospels.

You may be surprised by the different perspective this presentation gives you both in understanding of His life and ministry, and in achieving a closer relationship with Him.

Download the free PDF here.....

DAVID'S DOODLINGS
A MATTER OF TIME
72. Let's not think, 'if only I had time,' but rather how best to use, 'the only time I have.'

73. The most precious gift we can give is often the least appreciated ' our time.

74. 'If only I had time' is more often an excuse than a reason.

75. Life is like a one-foot rule. We inch our way along it until inevitably falling off the far end.

76. Life and time are inversely proportional. The older and slower we get, the faster time goes.

77. What is the one thing that cannot be stored for future use? Time.

78. There is nothing on earth as perishable as time.

79. The difficult takes time, the impossible a little longer.

80. Time is a fine servant but a harsh master.

81. Love and time walk hand in hand.
Please feel free to quote these quotes. Acknowledgment of David Tait as the author would be appreciated. There are now over 1300 David sayings for you to view at ...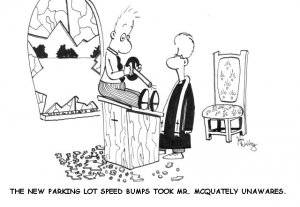 CARTOONS FROM TOON FEVER
Visit the Toon Fever website for more cartoon fun..... http://www.toonfever.com

Check it out at...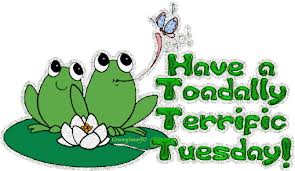 TUESDAY TEACHINGS
THIS WEEK: TRANSFORMATION OF THE CHURCH: 4. CHARACTERISTICS OF KINGDOM PEOPLE
Looking at the 3rd and 4th characteristics of kingdom people.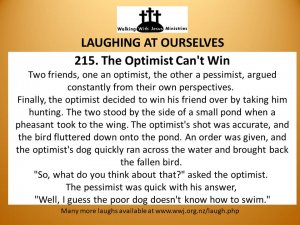 *** ANOTHER DAILY EZINE FROM WWJ!*** 'LAUGHING AT OURSELVES' Subscribe Today
As Christians, if we can't laugh at ourselves, others will! A fun way to start your day. To register today, go down to the bottom of the page link below, click on the subscribe link lao--on@wwj.org.nz (or paste the address in an email yourself and send) Then it's done!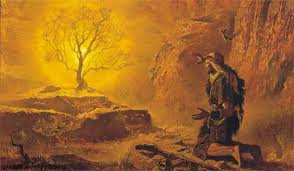 LAUGHING AT OURSELVES
***Blessed are those who can laugh at themselves for they shall never cease to be amused***
*** Those who can't laugh at themselves leave the job to others. ***
429. Not Her Choice
A pastor was serving communion in a multicultural church. He was using "Pitta Bread" for the loaf. When he got to serve to an Hispanic young girl, she said to him aloud: "I don't like flour tortilla, I like corn tortilla, Sir."
QWIK QWIP: "We are responsible for the effort, not the outcome."
430. You Can't Win
When you prepare you sermons on paper, they say that you are just reading off the paper and not hearing from God. But when you DON'T have paper, they say that you were not prepared!
431. Think About It
Two ministers met in the after life. One said, "Isn't heaven wonderful after the parish ministry?" The other said, "This isn't heaven!"
432. Eternal Rest
A pastor thought that the reason he had no one coming to the altar week after week was because his sermons were too short. The next week he decided to preach for an hour and a half. Sure enough, 18 people came down the aisle to the altar to lay down after the first hour of preaching. He thought it was odd, though, that none of them got up after he was done.
433. Burning Faith
Nearing the parish church during his daily walk, a young man saw that some shrubbery was on fire. He banged on the rectory door and told the woman who opened it to call the fire department. She ran to the phone, and he heard her place the call. She identified herself, gave the location, and explained the situation.
"You mean to tell me," said the emergency dispatcher, "that there's a burning bush on the church lawn, and you want to put it out?"
Download the book 'Laughing At Ourselves' in PDF format at LAUGHING AT OURSELVES One of the most comprehensive sources of Christian Humour on the Net with 800 sermon fillers for your entertainment and use at ..... https://www.wwj.org.nz/content/wwj18p47.pdf
Or read them all online at.....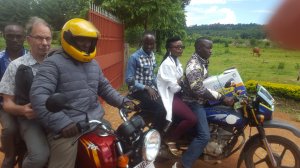 A DAVID MUSING
We have been in Kenya for 3 years now -well in a couple of weeks time - and during this time we have had no transport of our own.
Locally we ride on 'Boda Bodas', that is on the back of motorbikes. For the motorbike fans among you these are brandless, made in India, having a 100cc engine. They are extremely reliable, and easy and cheap to repair. They are very tough and go well over the rough dirt roads and tracks that are common here. The other big attraction is the price at $US800! If you cannot afford one you can borrow some money from a co-operative, called a Sacco, and repay it out of your earnings. A journey of 3-4km costs only 50 cents US!
Unfortunately though, for the riders, there are too many bikes for the demand and the incomes are very low. This is because there are very few jobs available.
On longer journeys we travel in a Matatu, or 16-18 seater van - squashed in.
We have wished for a vehicle of our own, and this week we will have one, that is lent to us for almost nothing. Eventually, when funds allow, we will buy it. We are thrilled! Particularly as most hospitals have a ward solely for motorbike accident cases!
Patience is a virtue - and a spiritual gift! You certainly need that here, where life moves slowly.
We have been through our apprenticeship and the Lord has provided. Thank you Lord! He can do the same for you, if you are obedient to Him - in His time.
A friend from New Zealand going out with a team to video for us.
Until next time.....
MAY GOD BLESS YOU AND YOU BLESS GOD
His servant and yours
David Tait

Visit us here.....
REPRODUCTION OF NEWSLETTER CONTENT
Most weeks we get enquiries about reproducing, in electronic or print form, articles contained in 'PGIM!' We welcome and encourage you to utilize this material. Freely received, freely given. We would ask though, that the source be acknowledged as an encouragement to others to subscribe to this newsletter also.
CHANGING YOUR EMAIL ADDRESS? NEWSLETTER STOPS COMING?
Each week we can lose up to 2% of our readers when they change email addresses without letting us know. Or sometimes, by your server acting strangely and just cutting us off! If you are about to change your address, please advise us of both your old and new addresses here at
enquiries@wwj.org.nz
and we will happily change our records to ensure ongoing delivery. Thanks.
Please also keep our address in your address book, as sometimes servers will automatically delete your address if there is even a one off problem in delivery. If your newsletter doesn't arrive, please let us know and we will reinstate you.
LINKS
If you would like to link your web site to ours, and ours to yours, please advise us on
links@wwj.org.nz
ABOUT US
WALKING WITH JESUS MINISTRIES is a non-profit, non-denominational, Bible based ministry located in Hastings, New Zealand. A ministry dedicated to developing discipleship, fostering unity amongst God's people to achieve the Great Commission, and in doing so, preparing for Christ's return. It is securely based upon the foundational principles of the Apostles Creed while recognising the wide and rich diversity of beliefs amongst Christians in other areas. In accordance with the Lord's direction, materials produced by the ministry are available, free of charge, to genuine enquirers upon request. The ministry is solely funded by donations, as the Lord provides. A list of materials available (plus some fun!) is obtainable and freely downloadable from our website
wwj.org.nz
or by contacting us as follows.
Walking With Jesus Ministries
7 Bull Street
Ahuriri
Napier
New Zealand
Phone: (06) 835 0567 International (+64) 6 835 0567
Email:
enquiries@wwj.org.nz
Web:
wwj.org.nz
Our role is to bless and encourage those in ministry while promoting co-operation and unity of direction amongst the body of Christ, as emphasised 3 times by Jesus in His longest prayer, immediately prior to His arrest and crucifixion. "... so that they may be one as we are one." (John 17:12, 21, 23-4) Our website is currently being developed to encourage your participation one with another, to share resources, and to enable you to promote events and items of interest to the body as a whole - and have a smile while doing it!
For comments upon and contributions to this service, please contact
david@wwj.org.nz
SUBSCRIPTION MANAGEMENT
We would encourage you to share this free service with your friends in ministry. To subscribe yourself please email pgim-on@wwj.org.nz.
If your name has been referred to us by a friend or supporting Ministry or has been obtained from a public Christian Directory or Website, it isn't our wish to burden you with information in which you aren't interested. To remove yourself from this list, please email pgim-off@wwj.org.nz.