A Weekly World Wide Word of Encouragement to those in the Ministry
PRAISE GOD IT'S MONDAY!
A WEEKLY 'WWW (world-wide word) OF ENCOURAGEMENT'
TO THOSE IN MINISTRY
A FREE service, currently connecting with Christian leaders from 3,000 denominations and ministries, in 70 countries.

Issue No: 931 Published: 26 Aug 2019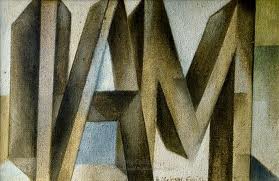 THINKING GREEK OR HEBREW?
EXISTENCE OF GOD
Greek (Western)
We try to prove the existence of God. How does one prove that God exists? Theologians put forward the following arguments.....

The arguments generally adduced by theologians in proof of the being of God are:
(1.) The a priori argument, which is the testimony afforded by reason.
(2.) The a posteriori argument, by which we proceed logically from the facts of experience to causes. These arguments are,
(a) The cosmological, by which it is proved that there must be a First Cause of all things, for every effect must have a cause.
(b) The teleological, or the argument from design. We see everywhere the operations of an intelligent Cause in nature.
(c) The moral argument, called also the anthropological argument, based on the moral consciousness and the history of mankind, which exhibits a moral order and purpose which can only be explained on the supposition of the existence of God. Conscience and human history testify that "verily there is a God that judgeth in the earth."
Easton, M. G., M. A. D. D., Easton's Bible Dictionary, (Oak Harbor, WA: Logos Research Systems, Inc.) 1996.
Western thought makes us very sceptical of anything but the physical world.

Eastern (Hebrew)
The Hebrew assumes the existence of God. From Eaton again.....
The existence of God is taken for granted in the Bible. There is nowhere any argument to prove it. He who disbelieves this truth is spoken of as one devoid of understanding (Ps. 14:1).
Easton, M. G., M. A. D. D., Easton's Bible Dictionary, (Oak Harbor, WA: Logos Research Systems, Inc.) 1996.
In Psalm 14:1 it says.....
1 The fool says in his heart, "There is no God." They are corrupt, their deeds are vile; there is no one who does good. (Psalm 14:1)
The attributes of God are summarised in the Old Testament by Moses.....
5 Then the LORD came down in the cloud and stood there with him and proclaimed his name, the LORD. 6 And he passed in front of Moses, proclaiming, "The LORD, the LORD, the compassionate and gracious God, slow to anger, abounding in love and faithfulness, 7 maintaining love to thousands, and forgiving wickedness, rebellion and sin. Yet he does not leave the guilty unpunished; he punishes the children and their children for the sin of the fathers to the third and fourth generation." 8 Moses bowed to the ground at once and worshiped. (Exodus 34:5-8)
….. and in the New.....
11 All the angels were standing around the throne and around the elders and the four living creatures. They fell down on their faces before the throne and worshiped God, 12 saying: "Amen! Praise and glory and wisdom and thanks and honor and power and strength be to our God for ever and ever. Amen!" (Revelation 7:11-12)
…which confirms that Jesus too is God bestowing on Him similar attributes.....
11 Then I looked and heard the voice of many angels, numbering thousands upon thousands, and ten thousand times ten thousand. They encircled the throne and the living creatures and the elders. 12 In a loud voice they sang: "Worthy is the Lamb, who was slain, to receive power and wealth and wisdom and strength and honor and glory and praise!" ((Revelation 5:11-12)
What a place of privilege the Jews come from! For God has been God for them from time immemorial!

SOME SPIRITUAL IMPLICATIONS FOR TODAY
1. We need to understand and take confidence from the fact that we are grafted in to the spiritual root of the Jewish experience of 1000's of years of knowing God.
17 If some of the branches have been broken off, and you, though a wild olive shoot, have been grafted in among the others and now share in the nourishing sap from the olive root, (Romans 11:17)
2. We can enjoy the benefits of our 'new ancestry'!
16 If the part of the dough offered as firstfruits is holy, then the whole batch is holy; if the root is holy, so are the branches. (Romans 11:16)
3. We must witness to the Jews and encourage them to be re-grafted into the roots they have been removed from, heeding the warning that we can be removed from the holy root again also.
22 Consider therefore the kindness and sternness of God: sternness to those who fell, but kindness to you, provided that you continue in his kindness. Otherwise, you also will be cut off. 23 And if they do not persist in unbelief, they will be grafted in, for God is able to graft them in again. 24 After all, if you were cut out of an olive tree that is wild by nature, and contrary to nature were grafted into a cultivated olive tree, how much more readily will these, the natural branches, be grafted into their own olive tree! (Romans 11:22-4)
(To be continued next week.)
Acknowledgement: http://www.followtherabbi.com
Find out more about us at.....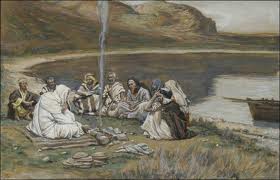 FROM THE WORD
THE WORDS OF JESUS
May we hear what the Lord is saying to us.....
THE RESSURECTION
Jesus Appears to the Disciples Including Thomas (Mark16:14, John:20:25-9)
A week later.
"May you have peace!"
To Thomas.
"Put your finger here, and look at my hands. Put your hand into the wound on my side. Stop doubting and trust in me!
"You trust in me because you've seen me," "Happy are those that haven't seen me yet still trust in me."
Jesus Appears to the Fisherman Disciples (John:21:1-14)
By the Sea of Tiberius.
"My friends, haven't you caught anything?"
"Throw the net out on the right side of the boat, and you'll find some,"
Now recognizing Him.
"Bring some of the fish you've just caught."
"Come and eat some breakfast,"
Jesus Questions Peter Three Times ( John:21:15-23)
And reinstates him
"Simon, son of John, do you love me more than these others?"
"Take care of my lambs,"
"Simon, son of John, do you love me?"
"Look after my sheep,"
"Simon, son of John, do you love me?"
"Take care of my sheep,"
"I tell you the truth," said Jesus, "when you were young, you dressed yourself and went wherever you wanted. But when you're old, you'll hold out your hands and someone will dress you and take you where you don't want to go."
"Follow me."
Peter asks about John's future.
"If I want him to remain alive here until I return, why is that your concern? You follow me!"
(Continued next week)
Download the complete 'Words of Jesus' here.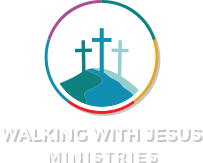 A MUZUNGU'S (White Man's) THOUGHT - Issue 6
The principles of the kingdom of God were given to me round 25 years ago as I was weeding freesias on our flower farm in Tauranga, New Zealand. We had 5 acres of flowers. Great environment, but lots of hard work too!
As I was bending down the Lord stopped me and talked to me audibly. "David, I want you to start a ministry for me called walking with Jesus Ministries, based on Revelation 12:11, particularly emphasizing the last part of the verse. It reads…..
They overcame him (talking about satan) through the blood of the Lamb (Jesus) and the word of their testimony (speaking of the Holy Spirit); they loved not their lives so much as to shrink from death. (obedience to the Father's will).
Over the time ahead he revealed more and more about what I called the 'Tabernacle church' after the Feast of Tabernacles to which it is closely related. Today it is known as the kingdom of God.
For 15 years or so I battled, for no one was interested. Thought I was either a nutter or an idealist! However, over the past 10 years more people have started to understand and have had similar revelation.
However, just like 'Apostles' (incorrectly with a capital A), people have jumped on the now capitalized 'Kingdom of God' (KOG) without having any idea what it is all about, let alone applying its principles of sacrifice of self and obedience to God's personal will for them, to their lives.
It has become an all-encompassing catch phrase, for it sounds good! We are doing this, and that, all for the 'Kingdom of God'.
In reality though, God's kingdom is formed within the sold out believer, for obedience to God is an individual choice, known only by you and God. As the kingdom grows inside, so it will start to be reflected in one's actions, thereby affecting the physical world.
For Kathy and me, the Kingdom Faith Based Hospital here in Kenya is an example. God asked us to relocate from the comfort of New Zealand, after 70 years, to the completely new and different society in which we now live.
We are not special, but simply acting in accordance to Scripture.
As more and more believers become disciples so the kingdom of God will grow upon the earth. It is simply up to each one of us to seek and obey.
Shukrani
(Thank You)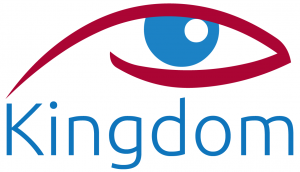 OUR AFRICAN EXPERIENCE
FOR MORE DETAILED AND REGULAR UPDATES, VISIT OUR FACEBOOK PAGE
AN EYE 4 Africa - https://www.facebook.com/aneye4africa/
HELPING OUT THE KENYAN PRESIDENT'S WIFE!
On Thursday we got a call to help out an Outreach for Fistula patients being run in the County by the Presidents wife, Her Excellency, First Lady, Caroline Wangamati, who has a real heart for Maternal Health. We were happy to supply 6 beds, mattresses, linen and blankets plus an operating lamp for the Outreach.
We received a thank you from her.....
"This is beautiful work..... well done Sister Florence. And pass our heartfelt message of gratitude to the team from Kingdom Hospital."
The Outreach starts on Monday and more photos will follow.
The team from District Hospital and Ministry of Heath, flanked by Kingdom staff, having loaded the gear into the vehicle for delivery.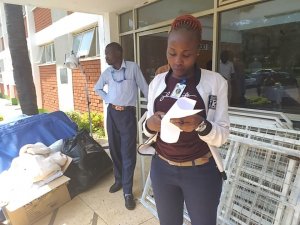 Checking the gear once it had arrived at the District Hospital.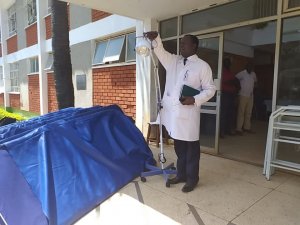 A special inspection of the Theatre Lamp by the Bramwell, the Hospital's Chief Nurse.


Delivered in a combination Ambulance/Staff Transport Vehicle (Maybe they could leave it here at Kingdom! LOL!)
Blessed to be a blessing.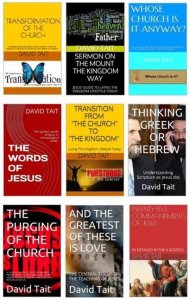 ***NOW***NINE BOOKS ARE AVAILABLE ON AMAZON!!!
9 BOOKS are now available on Amazon (Kindle)!

All are available worldwide for electronic download on Amazon (Kindle) for $US0.99c . Unfortunately there has to be a charge in order to list.

Your support would be appreciated and they could well change your life!

They are all found at this link.....
http://www.amazon.com/s/ref=nb_sb_noss?url=search-alias%3Daps&field-keywords=david+tait+books/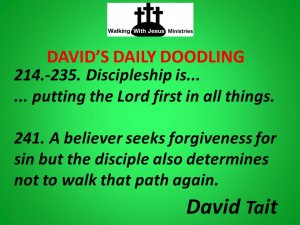 ***DAILY EZINE!*** 'DAVID'S DAILY DOODLINGS' Subscribe Today
Receive one of David's sayings in your mailbox each day to inspire, challenge or maybe, amuse. To register today, go down to the bottom of the page link below, click on the subscribe link dd-on@wwj.org.nz (or paste the address in an email yourself and send) Then it's done! If you have an Irish heritage, you will love the background coloring!
Subscription and back issue link is.....

'THE WORDS OF JESUS' REMAIN AVAILABLE FOR PDF DOWNLOAD
Join the many who have downloaded the 'The Words of Jesus'. I am sure you will be blessed by it, as I have been.

One key element here is the setting out in chronological order (as far as it is possible to do so) our Lord's words drawn from all the Gospels, and the elimination of repetition between Gospels.

You may be surprised by the different perspective this presentation gives you both in understanding of His life and ministry, and in achieving a closer relationship with Him.

Download the free PDF here.....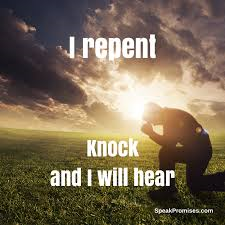 DAVID'S DOODLINGS
REVELATION v RELIGION
881. Religion is learned, revelation received.

882. Religion stems from the mind of man, revelation from the heart of God.

883. Revelation is revolutionary, religion, counter-revolutionary.

884. Religion is the opiate of the masses, while revelation reveals the heart of God.

885. One man's revelation quickly becomes another's religion.

886. Religion suffocates revelation.

887. Religion is centered upon man's needs, revelation upon the will of God.

888. When religion embraces a revelation, it's time for new revelation!

889. Revelation builds, religion stifles.

890. Many say, 'give me religion', but few, 'give me revelation'.
Please feel free to quote these quotes. Acknowledgement of David Tait as the author would be appreciated. There are now over 1300 David sayings for you to view at ...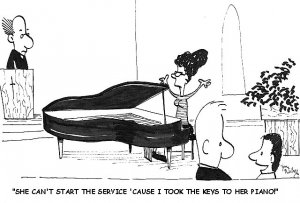 CARTOONS FROM TOON FEVER
Visit the Toon Fever website for more cartoon fun..... http://www.toonfever.com

Check it out at...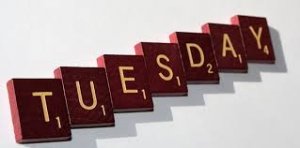 TUESDAY TEACHINGS
THIS WEEK: A REVELATION OF... GOD'S CALL TO HIS CHURCH continues
as we look at the next 2 principles.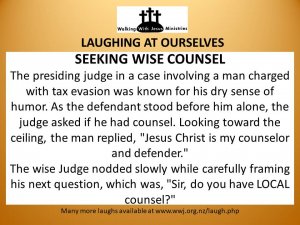 *** ANOTHER DAILY EZINE FROM WWJ!*** 'LAUGHING AT OURSELVES' Subscribe Today
As Christians, if we can't laugh at ourselves, others will! A fun way to start your day. To register today, go down to the bottom of the page link below, click on the subscribe link lao--on@wwj.org.nz (or paste the address in an email yourself and send) Then it's done!
LAUGHING AT OURSELVES
***Blessed are those who can laugh at themselves for they shall never cease to be amused***
*** Those who can't laugh at themselves leave the job to others. ***
QWIK QWIP: "Too much of the Christian faith has become trimming on the dress of life instead of part of the fabric."
306. The Cannibal and the Priest
A cannibal ate a priest and got very sick. Upon visiting the witch doctor and telling of his symptoms, the witch doctor asked how he had cooked the priest. The cannibal replied that he had broiled him.
Hearing this the witch doctor exclaimed, "Well no wonder you're sick! He was a Friar!"
307. One For You, One For Me
There was a huge pecan tree in the cemetery, just a short ways from the fence. One day two boys sneaked into the cemetery and filled up a bucket with pecans. The bucket was so full that several pecans rolled away and came to a rest against the cemetery fence.
The two boys then sat down by the tree, out of sight, and began dividing the nuts between them.
"One for you, one for me. One for you, one for me," said one boy.
Cycling down the road near the cemetery came a third boy named Joey. As Joey passed the graveyard, he thought he heard voices from inside the cemetery and slowed down to investigate. Sure enough, Joey heard, "One for you, one for me. One for you, one for me."
Joey immediately knew what was going on. "Oh wow!" he shuddered. "It's Satan and St. Peter dividing the souls at the cemetery!"
Joey sped down the road and found old Mr. Finch with a cane, limping slowly along.
"Come quick!" Joey shouted. "You won't believe what I heard! Satan and St. Peter are down at the cemetery dividing up the souls!"
Mr. Finch scowled and yelled, "Shoo you brat! Can't ya see I'm finding it hard to walk as it is?"
After Joey made several more urgent pleas, Mr. Finch reluctantly hobbled to the cemetery and heard, "One for you, one for me. One for you, one for me."
"Boy, you've been tellin' the truth!" Mr. Finch exclaimed in a whisper. "Let's get closer and maybe we'll get to see the Devil himself.
Shivering with fear, Joey and Mr. Finch edged toward the fence, still unable to see the source of the voices.
Then they heard, "One for you, one for me. And here's another for you and another for me. There, that's the last of them. Now, let's go get those nuts by the fence, and we'll be done."
QWIK QWIP: "A lot of kneeling will keep you in good standing."
308. A Matter of Priority
The Catholic Church's air conditioning broke down, so they hired a fellow named Higgins to crawl around in the ducts and figure out what was wrong. As Higgins peeked down through one of the vents in the sanctuary, he saw little old Mrs. Murphy kneeling by the altar, saying her rosary.
Being a bit of a rascal, Higgins decided it would be funny to try and mess with Mrs. Murphy's mind. In his most authoritative voice, Higgins said, "This is Jesus. Your prayers will be answered."
Mrs. Murphy didn't even blink; just kept on saying her rosary. Higgins tried again. "This is Jesus, the Son of God!" Higgins boomed. "Your prayers will be answered!"
At this, Mrs. Murphy looks up and yells, "Wait your turn, Lord. I'm talking to your Mother!"
Download the book 'Laughing At Ourselves' in PDF format at LAUGHING AT OURSELVES One of the most comprehensive sources of Christian Humour on the Net with 800 sermon fillers for your entertainment and use at ..... https://www.wwj.org.nz/content/wwj18p47.pdf
Or read them all online at.....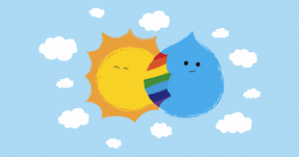 A DAVID MUSING
'To be or not to be' – raining!
This must be God's most difficult decision to make! For 1 persons desire and prayer is so often another in the same areas, worst scenario! Farmers want rain. Beachgoers want the sun– and ne'er the twain shall meet!
Actually, here in Kingdom Village, the farmers are wishing the rain would go away, for they are trying to dry their maize. Too much rain now and the corn will rot.
There is certainly an added complication now with climate change. Whatever your view on future effects, there is no doubt that the seasons are a-changing.
Whether it be here near the equator or in New Zealand, at the end of the world from where we come, the seasons are more unreliable than they used to be.
Spiritually too, God is shaking up the world, and the old comfortable, predictable ways are being shaken to the core.
We need to adjust to the change He is requiring of us in these turbulent times.
Until next week.....
MAY GOD BLESS YOU AND YOU BLESS GOD
His servant and yours
David Tait

Visit us here.....
REPRODUCTION OF NEWSLETTER CONTENT
Most weeks we get enquiries about reproducing, in electronic or print form, articles contained in 'PGIM!' We welcome and encourage you to utilize this material. Freely received, freely given. We would ask though, that the source be acknowledged as an encouragement to others to subscribe to this newsletter also.
CHANGING YOUR EMAIL ADDRESS? NEWSLETTER STOPS COMING?
Each week we can lose up to 2% of our readers when they change email addresses without letting us know. Or sometimes, by your server acting strangely and just cutting us off! If you are about to change your address, please advise us of both your old and new addresses here at
enquiries@wwj.org.nz
and we will happily change our records to ensure ongoing delivery. Thanks.
Please also keep our address in your address book, as sometimes servers will automatically delete your address if there is even a one off problem in delivery. If your newsletter doesn't arrive, please let us know and we will reinstate you.
LINKS
If you would like to link your web site to ours, and ours to yours, please advise us on
links@wwj.org.nz
ABOUT US
WALKING WITH JESUS MINISTRIES is a non-profit, non-denominational, Bible based ministry located in Hastings, New Zealand. A ministry dedicated to developing discipleship, fostering unity amongst God's people to achieve the Great Commission, and in doing so, preparing for Christ's return. It is securely based upon the foundational principles of the Apostles Creed while recognising the wide and rich diversity of beliefs amongst Christians in other areas. In accordance with the Lord's direction, materials produced by the ministry are available, free of charge, to genuine enquirers upon request. The ministry is solely funded by donations, as the Lord provides. A list of materials available (plus some fun!) is obtainable and freely downloadable from our website
wwj.org.nz
or by contacting us as follows.
Walking With Jesus Ministries
7 Bull Street
Ahuriri
Napier
New Zealand
Phone: (06) 835 0567 International (+64) 6 835 0567
Email:
enquiries@wwj.org.nz
Web:
wwj.org.nz
Our role is to bless and encourage those in ministry while promoting co-operation and unity of direction amongst the body of Christ, as emphasised 3 times by Jesus in His longest prayer, immediately prior to His arrest and crucifixion. "... so that they may be one as we are one." (John 17:12, 21, 23-4) Our website is currently being developed to encourage your participation one with another, to share resources, and to enable you to promote events and items of interest to the body as a whole - and have a smile while doing it!
For comments upon and contributions to this service, please contact
david@wwj.org.nz
SUBSCRIPTION MANAGEMENT
We would encourage you to share this free service with your friends in ministry. To subscribe yourself please email pgim-on@wwj.org.nz.
If your name has been referred to us by a friend or supporting Ministry or has been obtained from a public Christian Directory or Website, it isn't our wish to burden you with information in which you aren't interested. To remove yourself from this list, please email pgim-off@wwj.org.nz.