A Weekly World Wide Word of Encouragement to those in the Ministry
PRAISE GOD IT'S MONDAY!
A WEEKLY 'WWW (world-wide word) OF ENCOURAGEMENT'
TO THOSE IN MINISTRY
A FREE service, currently connecting with Christian leaders from 3,000 denominations and ministries, in 70 countries.

Issue No: 935 Published: 23 Sep 2019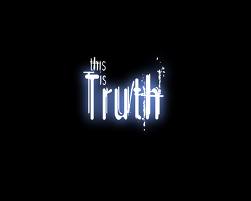 THINKING GREEK OR HEBREW?
ULTIMATE TRUTH

Greek (Western)
We view the ultimate in truth as being scientific and rational. We focus on how things are done, both in Scripture and in life. We come to believe in truth as we think things logically through.

In the natural, arguments such as creation versus evolution are hugely important to us. Logic and reason are generally the foundation of our faith.

We also analyse revival. When it occurs we work out what God is doing and proceed do it for Him! The revival dies.

Men are particularly susceptible to the tyranny of logic.

Eastern (Hebrew)
Hebrews see the ultimate in truth as being religious and experiential. When looking at Scripture they focus on what was done and who did it. They come to believe truth as they experience it.

Hence the great interest and importance the Jewish people place on history and inheritance, on genealogy. Matthew, as a Jew understood this and included the genealogy of Jesus in his Epistle, which was primarily targeted to the Jewish people. It was so important that it was the first thing he wrote about.....

The Genealogy of Jesus

1 A record of the genealogy of Jesus Christ the son of David, the son of Abraham: 2 Abraham was the father of Isaac, Isaac the father of Jacob, Jacob the father of Judah and his brothers, 3 Judah the father of Perez and Zerah, whose mother was Tamar, Perez the father of Hezron, Hezron the father of Ram, 4 Ram the father of Amminadab, Amminadab the father of Nahshon, Nahshon the father of Salmon, 5 Salmon the father of Boaz, whose mother was Rahab, Boaz the father of Obed, whose mother was Ruth, Obed the father of Jesse, 6 and Jesse the father of King David. David was the father of Solomon, whose mother had been Uriah's wife, 7 Solomon the father of Rehoboam, Rehoboam the father of Abijah, Abijah the father of Asa, 8 Asa the father of Jehoshaphat, Jehoshaphat the father of Jehoram, Jehoram the father of Uzziah, 9 Uzziah the father of Jotham, Jotham the father of Ahaz, Ahaz the father of Hezekiah, 10 Hezekiah the father of Manasseh, Manasseh the father of Amon, Amon the father of Josiah, 11 and Josiah the father of Jeconiah and his brothers at the time of the exile to Babylon. 12 After the exile to Babylon: Jeconiah was the father of Shealtiel, Shealtiel the father of Zerubbabel, 13 Zerubbabel the father of Abiud, Abiud the father of Eliakim, Eliakim the father of Azor, 14 Azor the father of Zadok, Zadok the father of Akim, Akim the father of Eliud, 15 Eliud the father of Eleazar, Eleazar the father of Matthan, Matthan the father of Jacob, 16 and Jacob the father of Joseph, the husband of Mary, of whom was born Jesus, who is called Christ. (Matthew 1:1-16)

Jesus quoted the sins and unrighteous deeds of their forefathers in His teachings. For example.....

45 One of the experts in the law answered him, "Teacher, when you say these things, you insult us also." 46 Jesus replied, "And you experts in the law, woe to you, because you load people down with burdens they can hardly carry, and you yourselves will not lift one finger to help them. 47 "Woe to you, because you build tombs for the prophets, and it was your forefathers who killed them. 48 So you testify that you approve of what your forefathers did; they killed the prophets, and you build their tombs. 49 Because of this, God in his wisdom said, 'I will send them prophets and apostles, some of whom they will kill and others they will persecute.' 50 Therefore this generation will be held responsible for the blood of all the prophets that has been shed since the beginning of the world, 51 from the blood of Abel to the blood of Zechariah, who was killed between the altar and the sanctuary. Yes, I tell you, this generation will be held responsible for it all. (Luke 11:45-51)

Faith is enhanced by the experience of the great men of yesteryear.....

17 By faith Abraham, when God tested him, offered Isaac as a sacrifice. He who had received the promises was about to sacrifice his one and only son, 18 even though God had said to him, "It is through Isaac that your offspring will be reckoned." 19 Abraham reasoned that God could raise the dead, and figuratively speaking, he did receive Isaac back from death. 20 By faith Isaac blessed Jacob and Esau in regard to their future.
21 By faith Jacob, when he was dying, blessed each of Joseph's sons, and worshiped as he leaned on the top of his staff. 22 By faith Joseph, when his end was near, spoke about the exodus of the Israelites from Egypt and gave instructions about his bones. 23 By faith Moses' parents hid him for three months after he was born, because they saw he was no ordinary child, and they were not afraid of the king's edict. 24 By faith Moses, when he had grown up, refused to be known as the son of Pharaoh's daughter. (Hebrews 11:17-24)

And events that occurred in the past.....

29 By faith the people passed through the Red Sea as on dry land; but when the Egyptians tried to do so, they were drowned. 30 By faith the walls of Jericho fell, after the people had marched around them for seven days. (Hebrews 11:29-30)

A TESTIMONY FROM DAVID As the people experience truth, so their faith is built up. I remember a time in Uganda when a lame man got up his bed and walked. I can't understand it logically. But I did experience God's power moving through my hands and into him. It certainly increased my faith in a greater way than any than any theological belief I have ever had!

SOME SPIRITUAL IMPLICATIONS FOR TODAY
1. Just do it! We can spend a lot of time learning about Jesus but real faith is built through experiencing the power of Jesus in our lives.

2. We are not to get so entranced by minor points of theology that we miss the point of truly 'walking with Jesus'.

3. We must let Jesus, through the Holy Spirit, lead and guide us in our daily walk, growing in faith as we experience more of Him in our life.

4. Do not try to outthink God!
Find out more about us at.....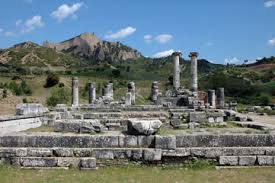 FROM THE WORD
THE WORDS OF JESUS
May we hear what the Lord is saying to us.....
To the Church in Pergamum
"Write this to the angel of the Pergamum church: This is what the One holding the sharp two-edged sword says: 13I know you're living where Satan has his throne, and that you have stayed true to me. You have not denied your trust in me, even when my faithful witness Antipas was killed right among you there where Satan lives!
"But I have a few things against you: There are some among you who hold to the teaching of Balaam, who taught Balak how to entrap the children of Israel by means of eating food sacrificed to idols and committing sexual sins. Similarly you also have some who hold to the teaching of the Nicolaitans. So repent, or soon I will come to you and fight against them using the sword of my mouth. If you have ears, listen to what the Spirit is telling the churches. I will give the hidden manna to those who are victorious. I will give them a white stone with a new name written on it that nobody knows except those who receive it.
To the Church in Thyatira
"Write this to the angel of the Thyatira church: This is what the Son of God says, the One who has eyes like flaming fire and feet like polished brass. I know what you have accomplished, your love and faithfulness and service and perseverance, and that you are doing more now than when you first believed. But I have something against you: you are allowing the woman called Jezebel who calls herself a prophetess to teach my followers, leading them astray into sexual sins, and to eat food sacrificed to idols. I gave her time to repent of her sexual sins, but she's not willing to repent. So I'm throwing her into a bed together with her adulterous partners and they will suffer terribly unless they repent of what they have done with her. I will put her children to death. Then all the churches will know that I am the one who examines thoughts and motives. I will repay each of you according to what you've done.
"For the rest of you there in Thyatira who don't follow this teaching, who have not learned Satan's "deep depravities" as they are called, I don't place on you any other burden. I say to you, 'Just hold on to what you have until I come.' I will give authority over the nations to those who are victorious and who do what I say until the end. He will rule the nations with an iron rod, breaking them into pieces like clay pots. In the same way that I received authority from my Father, I will give them the morning star. If you have ears, listen to what the Spirit is telling the churches.
To the Church in Sardis (Pictured)
"Write this to the angel of the Sardis church: This is what the One who has the seven Spirits of God and the seven stars says: I know what you have accomplished, and that you give the appearance of being alive—but in reality you are dead. Wake up, and try to revive what is left that's about to die! For I have discovered that from the perspective of my God, nothing you've done has been finished.
"So remind yourselves of how this message came to you, and what you heard. Observe what you were told to do, and repent. If you don't watch out, I'll come unexpectedly like a thief, and you won't know at what time I'll come to you!
"But there are some among you in Sardis who have not ruined their clothes, and they will walk with me dressed in white, for they deserve to do so. Those who are victorious will be dressed in white like this. Their names will not be removed from the book of life, and I will speak for them in the presence of my Father and his angels. If you have ears, listen to what the Spirit is telling the churches.
(Continued next week)
Download the complete 'Words of Jesus' here.
A MUZUNGU'S (White Man's) THOUGHT - Issue 10
A MUZUNGU'S (White Man's) THOUGHT – Issue 11
Another huge problem in Christianity has been the introduction, from the late 1800's, of the unbiblical 'Sinners Prayer' for 'salvation'. The practice grew more and more common through the 20th century and onwards until today.
Early Evangelists were seeking seekers, ones who would earnestly seek the Lord over a period of time and come to a true repentance, likely with counselling and guidance, before such a person would truly be considered to be 'saved'.
Repentance and lifestyle change were keys to this.
As the 20th century developed, evangelism became commercialized and the 'easy salvation' of saying the magic 'Sinners Prayer' and earning ones 'Ticket to Heaven' became the accepted entry into Christianity.
It is just so wrong!
Biblical salvation must come within, from a truly repentant heart, and a turnaround in behaviour, from the old person of the world to the new person of God. The Bible tells us to support each other, to share our experiences and to encourage one another in the faith.
We need to carry our own cross and be His disciples, seeking out the narrow path or way which few are prepared to travel.
Christianity is not a pop culture which you simply enjoy and take and leave as you wish with no consequences. Rather it is a lifetime commitment to follow Jesus wherever He may lead, through good and bad, through popularity and persecution, as per the example of our Saviour and Lord Jesus.
Are we prepared to pay the price?
Shukrani
(Thank You)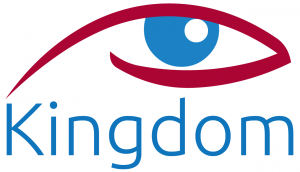 OUR AFRICAN EXPERIENCE
FOR MORE DETAILED AND REGULAR UPDATES, VISIT OUR FACEBOOK PAGE
AN EYE 4 Africa - https://www.facebook.com/aneye4africa/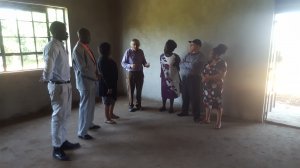 OUR PARTNER CBM VISITS FOR A DISABILITIES SEMINAR
And of course to have a look at the Eye Hospital they are partnering with us in.
The Seminar was primarily run by Michael, a person with Albinism. You are not allowed now to describe a person by their disability. eg, Albino, as that is their condition, not who the person is. Michael has had much personal experience of people's reactions to disability.
Showing the CBM visitors through the Eye Hospital.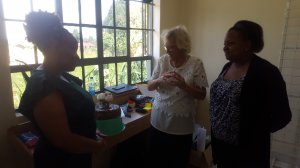 Kathy has to bake a cake, of course! Vicky and Emily from CBM are with her.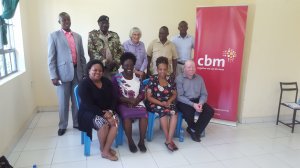 The CBM people also had a meeting with some of our Management Board members.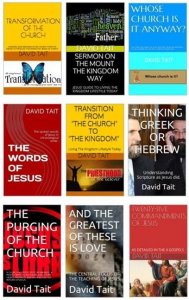 ***NOW***NINE BOOKS ARE AVAILABLE ON AMAZON!!!
9 BOOKS are now available on Amazon (Kindle)!

All are available worldwide for electronic download on Amazon (Kindle) for $US0.99c . Unfortunately there has to be a charge in order to list.

Your support would be appreciated and they could well change your life!

They are all found at this link.....
http://www.amazon.com/s/ref=nb_sb_noss?url=search-alias%3Daps&field-keywords=david+tait+books/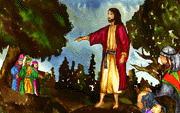 'THE WORDS OF JESUS' REMAIN AVAILABLE FOR PDF DOWNLOAD
Join the many who have downloaded the 'The Words of Jesus'. I am sure you will be blessed by it, as I have been.

One key element here is the setting out in chronological order (as far as it is possible to do so) our Lord's words drawn from all the Gospels, and the elimination of repetition between Gospels.

You may be surprised by the different perspective this presentation gives you both in understanding of His life and ministry, and in achieving a closer relationship with Him.

Download the free PDF here.....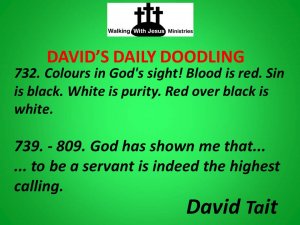 ***DAILY EZINE!*** 'DAVID'S DAILY DOODLINGS' Subscribe Today
Receive one of David's sayings in your mailbox each day to inspire, challenge or maybe, amuse. To register today, go down to the bottom of the page link below, click on the subscribe link dd-on@wwj.org.nz (or paste the address in an email yourself and send) Then it's done! If you have an Irish heritage, you will love the background coloring!
Subscription and back issue link is.....

DAVID'S DOODLINGS
SUBMISSION AND OBEDIENCE
915. Obedience to God's will for our life is the highest call.

916. Belief is of the mind, worship of the heart, but obedience is of the will.

917. The greatest change we can make is from gratifying our own will to obeying God's will for our life.

918. Obedience to God's will and ways is the very core of the Gospel.

919. Christian maturity develops as we submit to the will of God for our life.

920. In the world, submission is weakness, in God, strength.

921. In the world, submission comes from without, in God, from within.

922. I obey my master. The question is, "who is my master?"

923. Disobedience comes from Adam and Eve. Obedience is modelled by Jesus. Whom will we follow?

924. Disobedience is selfish, Godly obedience, selfless!
Please feel free to quote these quotes. Acknowledgement of David Tait as the author would be appreciated. There are now over 1300 David sayings for you to view at ...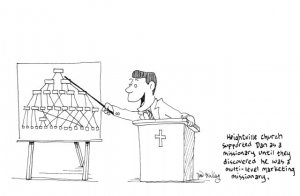 CARTOONS FROM TOON FEVER
Visit the Toon Fever website for more cartoon fun..... http://www.toonfever.com

Check it out at...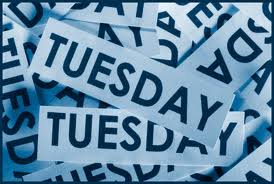 TUESDAY TEACHINGS
THIS WEEK: A REVELATION OF... GOD'S CALL TO HIS CHURCH concludes
as we look at two remaining barriers to the progress of the church.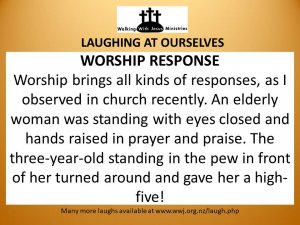 *** ANOTHER DAILY EZINE FROM WWJ!*** 'LAUGHING AT OURSELVES' Subscribe Today
As Christians, if we can't laugh at ourselves, others will! A fun way to start your day. To register today, go down to the bottom of the page link below, click on the subscribe link lao--on@wwj.org.nz (or paste the address in an email yourself and send) Then it's done!

LAUGHING AT OURSELVES
***Blessed are those who can laugh at themselves for they shall never cease to be amused***
*** Those who can't laugh at themselves leave the job to others. ***
QWIK QWIP: "Today is the Tomorrow you worried about Yesterday. Was it worth it?
314. Favourite Hymns, by Profession
Dentist - "Crown Him with Many Crowns"
Weatherman - "There Shall be Showers of Blessing"
Building contractor - "The Church's One Foundation"
Tailor - "Holy, Holy, Holy"
Golfer - "There is a Green Hill Far Away"
Politician - "Standing on the Promises"
Optometrist - "Open Mine Eyes that I Might See"
Internal Revenue Service - "All to Thee"
Gossip - "Pass It On"
Electrician - "Send the Light"
Shopper - "Sweet By and By"
QWIK QWIP: "Blessed are the flexible, for they can tie themselves into knots."
315. Observant
A Sunday school teacher asked the children, "Why should you be quiet in church?"
Little Johnny promptly answered, "Because people are sleeping!"
316. For the Preacher - Good News & Bad News
Good News: You baptised seven people today in the river.
Bad News: You lost two of them in the swift current.
Good News: The Women's Guild voted to send you a get-well card.
Bad News: The vote passed by 31-30.
Good News: The Elder Board accepted your job description the way you wrote it.
Bad News: They were so inspired by it, they also formed a search committee to find somebody capable of filling the position.
Good News: You finally found a choir director who approaches things exactly the same way you do.
Bad News: The choir mutinied.
Good News: Mrs. Jones is wild about your sermons.
Bad News: Mrs. Jones is also wild about the "Jerry Springer show," "Beavis and Butthead" and "Texas Chain Saw Massacre."
Good News: Your women's softball team finally won a game.
Bad News: They beat your men's softball team.
Good News: The trustees finally voted to add more church parking.
Bad News: They're going to pave the front lawn of your parsonage.
Good News: Church attendance rose dramatically the last three weeks.
Bad News: You were on vacation.
Good News: Your deacons want to send you to the Holy Land.
Bad News: They are waiting until the next war.
Good News: The youth in your church have come to your home to pay a surprise visit.
Bad News: It's midnight and they are armed with toilet paper & shaving cream to "decorate" your house.
Download the book 'Laughing At Ourselves' in PDF format at LAUGHING AT OURSELVES One of the most comprehensive sources of Christian Humour on the Net with 800 sermon fillers for your entertainment and use at ..... https://www.wwj.org.nz/content/wwj18p47.pdf
Or read them all online at.....
A DAVID MUSING
Through technology, the world is becoming a smaller and smaller place.
Friday, here in Kenya, saw the start of the Rugby World Cup which, as a lifelong Kiwi (New Zealander), is of big interest, as we naturally expect to win it! A bit like Brazil in the Football World Cup. Of course, a number of other countries have the same winning idea! Which makes it both intense and fun.
But the purpose of writing this, is that we, in back country Kenya, through the wonder of satellite TV, Can see the games in superb clarity on a HDTV connection! Amazing!(Provided we don't have a power cut, of course!)
Hardly David Livingstone territory any longer!
Technology has its benefits and challenges. It is amazing for sharing the Word of God, but also has the distraction of broadcasting Satans wiles as well.
We live in an amazing world, but good comes along with evil.
You and I, we both need to ensure we protect ourselves from the temptations it brings, if we are to develop our relationship with God.
Until next week.....
MAY GOD BLESS YOU AND YOU BLESS GOD
His servant and yours
David Tait

Visit us here.....
REPRODUCTION OF NEWSLETTER CONTENT
Most weeks we get enquiries about reproducing, in electronic or print form, articles contained in 'PGIM!' We welcome and encourage you to utilize this material. Freely received, freely given. We would ask though, that the source be acknowledged as an encouragement to others to subscribe to this newsletter also.
CHANGING YOUR EMAIL ADDRESS? NEWSLETTER STOPS COMING?
Each week we can lose up to 2% of our readers when they change email addresses without letting us know. Or sometimes, by your server acting strangely and just cutting us off! If you are about to change your address, please advise us of both your old and new addresses here at
enquiries@wwj.org.nz
and we will happily change our records to ensure ongoing delivery. Thanks.
Please also keep our address in your address book, as sometimes servers will automatically delete your address if there is even a one off problem in delivery. If your newsletter doesn't arrive, please let us know and we will reinstate you.
LINKS
If you would like to link your web site to ours, and ours to yours, please advise us on
links@wwj.org.nz
ABOUT US
WALKING WITH JESUS MINISTRIES is a non-profit, non-denominational, Bible based ministry located in Hastings, New Zealand. A ministry dedicated to developing discipleship, fostering unity amongst God's people to achieve the Great Commission, and in doing so, preparing for Christ's return. It is securely based upon the foundational principles of the Apostles Creed while recognising the wide and rich diversity of beliefs amongst Christians in other areas. In accordance with the Lord's direction, materials produced by the ministry are available, free of charge, to genuine enquirers upon request. The ministry is solely funded by donations, as the Lord provides. A list of materials available (plus some fun!) is obtainable and freely downloadable from our website
wwj.org.nz
or by contacting us as follows.
Walking With Jesus Ministries
7 Bull Street
Ahuriri
Napier
New Zealand
Phone: (06) 835 0567 International (+64) 6 835 0567
Email:
enquiries@wwj.org.nz
Web:
wwj.org.nz
Our role is to bless and encourage those in ministry while promoting co-operation and unity of direction amongst the body of Christ, as emphasised 3 times by Jesus in His longest prayer, immediately prior to His arrest and crucifixion. "... so that they may be one as we are one." (John 17:12, 21, 23-4) Our website is currently being developed to encourage your participation one with another, to share resources, and to enable you to promote events and items of interest to the body as a whole - and have a smile while doing it!
For comments upon and contributions to this service, please contact
david@wwj.org.nz
SUBSCRIPTION MANAGEMENT
We would encourage you to share this free service with your friends in ministry. To subscribe yourself please email pgim-on@wwj.org.nz.
If your name has been referred to us by a friend or supporting Ministry or has been obtained from a public Christian Directory or Website, it isn't our wish to burden you with information in which you aren't interested. To remove yourself from this list, please email pgim-off@wwj.org.nz.