A Weekly World Wide Word of Encouragement to those in the Ministry
PRAISE GOD IT'S MONDAY!
A WEEKLY 'WWW (world-wide word) OF ENCOURAGEMENT'
TO THOSE IN MINISTRY
A FREE service, currently connecting with Christian leaders from 3,000 denominations and ministries, in 70 countries.

Issue No: 989 Published: 28 Sep 2020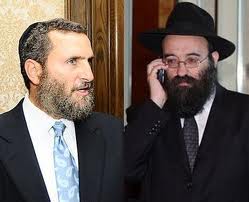 THINKING GREEK OR HEBREW
About 6 years ago we ran this series on THINKING GREEK OR HEBREW. It was very well received, and with the state of the world today, well worth repeating. So, here it is.
David
INTRODUCTION
One of the major causes of the church not truly walking in the ways of Jesus is that we don't truly understand what the ways of Jesus were, and are!
How can you say that, David? Surely we have learned theologians to research and teach, pastors who diligently study and preach the Word, day after day, week after week, year after year. We can have knowledge coming out of our ears from spending time hearing, reading or watching the gospel being expounded in so many different ways.
Yet we continue to miss the point, to misinterpret, to misunderstand, what the walk with Jesus is truly all about. How terrible. How sad. For me, and for you.
How do our misunderstandings arise then?
It is because we come from a Greek rather than a Jewish mindset. And the two are poles apart. In reality, for 2000 years now we have assumed Abraham, Moses, Jesus, Peter, Paul and all, thought in the same way, but with different conclusions, to the many famous Greek philosophers such as Socrates and Plato, those who are responsible for the thought processes underpinning our educational system, and Hippocrates, the father of modern medicine, to name but a very few. The Old Testament was translated into Greek in the 3rd century before Jesus, while the New Testament was written in Greek. Unfortunately, much of the intrinsic meaning and understanding of the Jewish culture in which Jesus lived and ministered, was lost in the Greek translation, in the way of thinking of those of us in a Greek thought pattern, dominated world.
Put simply, if we start out on the wrong road, we are most likely to arrive at the wrong destination.
Over the centuries, some people have had truths revealed through revelation from the Holy Spirit, but generally, these ones have been rejected by the established church, which has preferred to continue in intellectual, religious ways, leading to division and even hatred between believers through different, man-made, interpretations of Scripture. "Jesus still weeps!"
In more recent times however, in particular since the re-establishment of the State of Israel, a greater understanding of historical Jewish ways is starting to emerge, being available to those with a desire to seek out truths that have been lost or ignored for the past 2 millennia of the Christian church.
Here, we will look at some of these cultural differences and see how they impact our understanding of what Jesus really was all about. It should be life changing!
We need to learn to understand and think in an Eastern (Hebrew), rather than in our traditional and typical Greek (Western), way. The Gospels, being about the life of Jesus, are written from an Eastern, Jewish perspective while the writings, particularly of Paul, have much more of a Western perspective, as he was writing to a primarily European audience of Gentiles.
Let us begin.....
Acknowledgements: http://www.followtherabbi.com and http://hethathasanear.com and http://www.wildbranch.org
See more about us at.....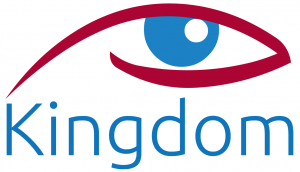 OUR AFRICAN EXPERIENCE
FOR MORE DETAILED AND REGULAR UPDATES, VISIT OUR FACEBOOK PAGE
AN EYE 4 Africa - https://www.facebook.com/aneye4africa/
It has been along and tough week! So will have a break from posting.
We hope to have good news to share with you next week.
Shurakini
(Thank You)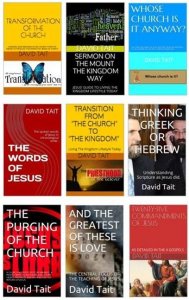 ***NOW***NINE BOOKS ARE AVAILABLE ON AMAZON!!!
9 BOOKS are now available on Amazon (Kindle)!

All are available worldwide for electronic download on Amazon (Kindle) for $US0.99c . Unfortunately there has to be a charge in order to list.

Your support would be appreciated and they could well change your life!

They are all found at this link.....
http://www.amazon.com/s/ref=nb_sb_noss?url=search-alias%3Daps&field-keywords=david+tait+books/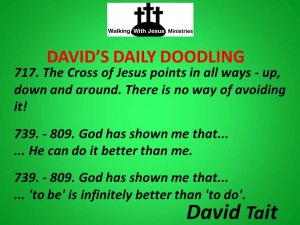 ***DAILY EZINE!*** 'DAVID'S DAILY DOODLINGS' Subscribe Today
Receive one of David's sayings in your mailbox each day to inspire, challenge or maybe, amuse. To register today, go down to the bottom of the page link below, click on the subscribe link dd-on@wwj.org.nz (or paste the address in an email yourself and send) Then it's done! If you have an Irish heritage, you will love the background coloring!
Subscription and back issue link is.....

'THE WORDS OF JESUS' REMAIN AVAILABLE FOR PDF DOWNLOAD
Join the many who have downloaded the 'The Words of Jesus'. I am sure you will be blessed by it, as I have been.

One key element here is the setting out in chronological order (as far as it is possible to do so) our Lord's words drawn from all the Gospels, and the elimination of repetition between Gospels.

You may be surprised by the different perspective this presentation gives you both in understanding of His life and ministry, and in achieving a closer relationship with Him.

Download the free PDF here.....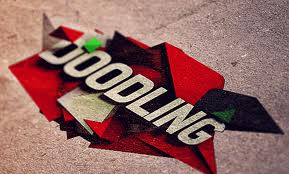 DAVID'S DOODLINGS
SUCCESS
104. 'Earthly Success' is based upon achievement, 'Godly Success' upon relationship.

105. 'To be, not to do, that is the answer.' (with apologies to Shakespeare)

106. God desires our 'being' much more than our 'doing'.

107. God prefers 'ones self' to 'ones works'.

108. In God's order 'works' should proceed, not precede, relationship.

109. On earth favours lead to friendship, while with God, friendship leads to blessings.

110. Money is slippery ' hard to grasp and even harder to hold on to.

111. Earthly achievement's are fleeting, a heavenly investment eternal.

112. Being a Christian is both to give and to for-give.

113. Nothing is less conspicuous than a famous man's grave.
Please feel free to quote these quotes. Acknowledgment of David Tait as the author would be appreciated. There are now over 1300 David sayings for you to view at ...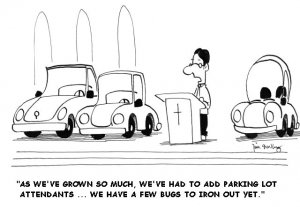 CARTOONS FROM TOON FEVER
Visit the Toon Fever website for more cartoon fun..... http://www.toonfever.com

Check it out at...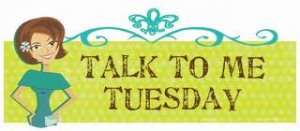 TUESDAY TEACHINGS
THIS WEEK:GOD AND MAN - The Relationship Between God and Mankind
We will start a new series on us - men and women! Drawn primarily from the Walking With Jesus discipleship course, the series will cover practical subjects such as who and what is man and how God desires us to live.

Something for everyone!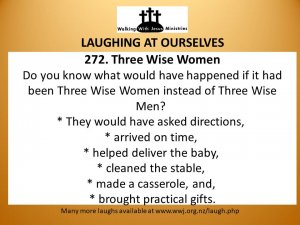 *** ANOTHER DAILY EZINE FROM WWJ!*** 'LAUGHING AT OURSELVES' Subscribe Today
Receive one of David's sayings in your mailbox each day to inspire, challenge or maybe, amuse. To register today, go down to the bottom of the page link below, click on the subscribe link dd-on@wwj.org.nz (or paste the address in an email yourself and send) Then it's done! If you have an Irish heritage, you will love the background coloring!
Subscription and back issue link is.....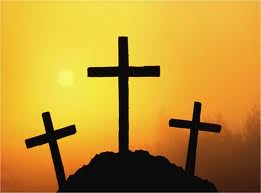 LAUGHING AT OURSELVES
***Blessed are those who can laugh at themselves for they shall never cease to be amused***
*** Those who can't laugh at themselves leave the job to others. ***
QWIK QUIP: "If passion drives you, let reason hold the reins."
454. As Jesus Did
Old Pastor McTavish was dying. He sent a message for an IRS agent and his lawyer, both church members, to come to his home. When they arrived they were ushered up to his bedroom.
As they entered the room, Pastor McTavish motioned for them to sit on each side of the bed. Then he grasped their hands, sighed contentedly, smiled and stared at the ceiling.
For a time, no one said anything. Both the IRS agent and Lawyer were touched and flattered that the old preacher would ask them to be with him during his final moments. But they were also puzzled because Pastor McTavish had never given them any indication that he particularly liked either of them.
They both remembered how his many long, uncomfortable sermons about greed and covetousness had made them squirm in their seats.
Finally, the lawyer said, "Preacher, why did you ask the two of us to come?"
Pastor McTavish smiled weakly and said, "Jesus died between two thieves, and that's how I want to go, too."
455. Hot Air
My pastor friend put sanitary hot air hand dryers in the rest rooms at his church and after two weeks took them out. I asked him why and he confessed that they worked fine but when he went in there he saw a sign that read, "For a sample of this week's sermon, push the button."
456. My Mother
A little boy forgot his lines in a Sunday School presentation.
His mother, sitting in the front row to prompt him, gestured and formed the words silently with her lips, but it didn't help. Her son's memory was blank.
Finally she leaned forward and whispered the cue, "I am the light of the world."
The child beamed and with great feeling and a loud, clear voice said, "My mother is the light of the world."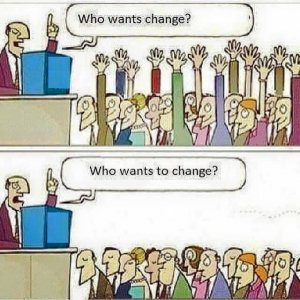 A DAVID MUSING
In the middle of a crazy, mixed up world, life goes on.in spite of the many of the problems of the world.
Currently, Africa is doing relatively well in the control of Covid, and the majority of the continent is peaceful.
The other night Kathy and I were talking and saying we are in the safest place at the present time! How things can change!
The days of stability in life are gone. Gone are the days of working in the same job for 40 years and then retiring.
Interestingly, God desires change in our lives also. Too often we are 'stuck in the mud', as the saying goes, spiritually. We can faithfully go to church for 40 years, and at the end, be no different than we were at the beginning.
God is rattling both the world and Christians today. Unless we respond to the changes for our life that He desires, to make each one of us more like Jesus, we will fail in our Christian adventure.
Remember, the Bible says, "without holiness no-one will see the Lord"
It is a frightening statement isn't it?
Let us not sit back then, but listen to what the Lord is telling us today, and implement it. .
Until next time.....
MAY GOD BLESS YOU AND YOU BLESS GOD
His servant and yours
David Tait

Visit us here.....
CHANGING YOUR EMAIL ADDRESS? NEWSLETTER STOPS COMING?
Each week we can lose up to 2% of our readers when they change email addresses without letting us know. Or sometimes, by your server acting strangely and just cutting us off! If you are about to change your address, please advise us of both your old and new addresses here at
enquiries@wwj.org.nz
and we will happily change our records to ensure ongoing delivery. Thanks.
Please also keep our address in your address book, as sometimes servers will automatically delete your address if there is even a one off problem in delivery. If your newsletter doesn't arrive, please let us know and we will reinstate you.
REPRODUCTION OF NEWSLETTER CONTENT
Most weeks we get enquiries about reproducing, in electronic or print form, articles contained in 'PGIM!' We welcome and encourage you to utilize this material. Freely received, freely given. We would ask though, that the source be acknowledged as an encouragement to others to subscribe to this newsletter also.
LINKS
If you would like to link your web site to ours, and ours to yours, please advise us on
links@wwj.org.nz
ABOUT US
WALKING WITH JESUS MINISTRIES is a non-profit, non-denominational, Bible based ministry located in Hastings, New Zealand. A ministry dedicated to developing discipleship, fostering unity amongst God's people to achieve the Great Commission, and in doing so, preparing for Christ's return. It is securely based upon the foundational principles of the Apostles Creed while recognising the wide and rich diversity of beliefs amongst Christians in other areas. In accordance with the Lord's direction, materials produced by the ministry are available, free of charge, to genuine enquirers upon request. The ministry is solely funded by donations, as the Lord provides. A list of materials available (plus some fun!) is obtainable and freely downloadable from our website
wwj.org.nz
or by contacting us as follows.
Walking With Jesus Ministries
7 Bull Street
Ahuriri
Napier
New Zealand
Phone: (06) 835 0567 International (+64) 6 835 0567
Email:
enquiries@wwj.org.nz
Web:
wwj.org.nz
Our role is to bless and encourage those in ministry while promoting co-operation and unity of direction amongst the body of Christ, as emphasised 3 times by Jesus in His longest prayer, immediately prior to His arrest and crucifixion. "... so that they may be one as we are one." (John 17:12, 21, 23-4) Our website is currently being developed to encourage your participation one with another, to share resources, and to enable you to promote events and items of interest to the body as a whole - and have a smile while doing it!
For comments upon and contributions to this service, please contact
david@wwj.org.nz
SUBSCRIPTION MANAGEMENT
We would encourage you to share this free service with your friends in ministry. To subscribe yourself please email pgim-on@wwj.org.nz.
If your name has been referred to us by a friend or supporting Ministry or has been obtained from a public Christian Directory or Website, it isn't our wish to burden you with information in which you aren't interested. To remove yourself from this list, please email pgim-off@wwj.org.nz.