A Weekly World Wide Word of Encouragement to those in the Ministry
PRAISE GOD IT'S MONDAY!
A WEEKLY 'WWW (world-wide word) OF ENCOURAGEMENT'
TO THOSE IN MINISTRY
A FREE service, currently connecting with Christian leaders from 3,000 denominations and ministries, in 70 countries.

Issue No: 969 Published: 18 May 2020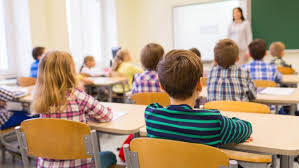 THINKING GREEK OR HEBREW?
EDUCATION METHODS
Greek (Western) In Western ways, education is the responsibility of teachers and pupils are streamed according to their abilities.
Our education system has been inherited directly from Greek culture. In Greece, large gymnasiums (from 'gymnos', meaning naked) were built in which to teach the elite. Professional teachers were employed to strip intelligent students of the information they had gathered at home and replace it with instruction on every conceivable subject. Knowledge was the key both to excellence and power.
Children from poor families were dissuaded from studying science or the arts and encouraged to learn a trade from their parents instead.

Eastern (Hebrew) In the original Hebrew, before the development of the more modern Rabbinical system, fathers and mothers were responsible for their children's education, imparting knowledge from the creator, including His moral values and judgments.
The Lord is to be the teacher. He taught Moses.....
10 Moses said to the LORD, "O Lord, I have never been eloquent, neither in the past nor since you have spoken to your servant. I am slow of speech and tongue." 11 The LORD said to him, "Who gave man his mouth? Who makes him deaf or mute? Who gives him sight or makes him blind? Is it not I, the LORD? 12 Now go; I will help you speak and will teach you what to say." (Exodus 4:10-12)
What Moses taught the people, the people were to teach to their children.....
9 Only be careful, and watch yourselves closely so that you do not forget the things your eyes have seen or let them slip from your heart as long as you live. Teach them to your children and to their children after them. 10 Remember the day you stood before the LORD your God at Horeb, when he said to me, "Assemble the people before me to hear my words so that they may learn to revere me as long as they live in the land and may teach them to their children." (Deuteronomy 4:9-10)
Before Samson was born his mother asked for him to be taught by God's representative....
8 Then Manoah prayed to the LORD: "O Lord, I beg you, let the man of God you sent to us come again to teach us how to bring up the boy who is to be born." (Judges 13:8)
Arts and science was taught, but it was all based on scriptural principles. Some knowledge was not included, even if it was the truth. The classic example, which still causes controversy today, is sex education. It was not held to be healthy for children to learn at an early age.
The Law set out the limitations on sexual relations.....
6 "'No one is to approach any close relative to have sexual relations. I am the LORD..... (Leviticus 18:6)
But the mechanisms of bodily function were not taught at an early age. Birth control was facilitated by keeping the women separate from the men!
Unlike today, moral values were also taught. As fathers and mothers had a stake in their children's future, they had the child's entire life in mind in what they taught, and were not simply conduits for the acquisition of knowledge.

SOME SPIRITUAL IMPLICATIONS FOR TODAY
1. We must understand that our education system teaches knowledge but is limited in other areas.
2. We cannot abdicate the teaching of our children entirely to the system. Moral values need to be taught in the home.
3. We need to control what our children hear, see and read, for not all information is good and helpful in the healthy development of our family.
See more about us at.....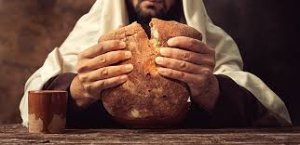 FROM THE WORD
THE WORDS OF JESUS
May we hear what the Lord is saying to us.....
Jesus Feeds the 5000 (Matthew 14:15-21, Mark 6:35-44, Luke 9:12-17, John 6:3-14)
Near Bethsaida, where a crowd had gathered.
"Where can we buy enough bread to feed all these people?"
"Sit them down in groups of about fifty,"
"Collect what's left over so nothing is wasted."
Jesus (and Peter) Walking on Water (Matthew 14:24-33, Mark 6:48-52, John 6:16-21)
In the storm. The disciples see Jesus.
"Don't worry, it's me! Don't be afraid!"
Peter walks - then sinks.
"Come on then,"
"You have such little trust in me. Why did you doubt?"
Jesus - The Bread of Life(John 6:22-59)
When the boat reached the other side the crowd asked how He got there. Jesus replied.
"I tell you the truth," "you're looking because you ate as much bread as you wanted, not because you understood the miracles. Don't be preoccupied about food that doesn't last, but concentrate on the lasting food of eternal life which the Son of man will give you, for God the Father has placed his seal of approval on him."
"What God wants you to do is to trust in the one he sent."
"I tell you the truth, it wasn't Moses who gave you bread from heaven," "It's my Father who gives you the true bread of heaven. For the bread of God is the one who comes from heaven and gives life to the world."
"I am the bread of life," "Anyone who comes to me will never be hungry again, and anyone who trusts in me will never be thirsty again. But as I explained to you before, you have seen me, but you still don't trust me. All those the Father gives me will come to me, and I won't reject any of them. For I came down from heaven not to do what I want, but to do what the One who sent me wants. What he wants is for me not to lose anyone he has given to me, but for me to raise them up at the last day. What my Father wants is for everyone who sees the Son and trusts in him to have eternal life, and for me to raise them up at the last day."
Then they disagreed with Him.
"Stop grumbling to each other," "No one can come to me unless the Father who sent me attracts them, and I will raise them up at the last day. As is written in Scripture by the prophets, 'Everyone will be taught by God.' Everyone who listens to and learns from the Father comes to me. Not that anyone has seen God, except he who is from God; he has seen the Father. I tell you the truth: anyone who trusts in him has eternal life. I am the bread of life. Your forefathers ate manna in the desert but they still died. But this is the bread that comes down from heaven, and anyone who eats it won't ever die. I am the life-giving bread from heaven, and anyone who eats this bread will live forever. The bread is my flesh that I give so that the world may live.
"I tell you the truth, unless you eat the flesh of the Son of man and drink his blood, you cannot truly live. Those who eat my flesh and drink my blood have eternal life, and I will raise them up at the last day. For my flesh is true food, and my blood is true drink. Those who eat my flesh and drink my blood remain in me, and I remain in them. Just as the life-giving Father sent me and I live because of the Father, so anyone who feeds on me will live because of me. Now this is the bread that came down from heaven, not the kind your forefathers ate and still died. Anyone who eats this bread will live forever."
(Continued next week)
Download the complete 'Words of Jesus' here.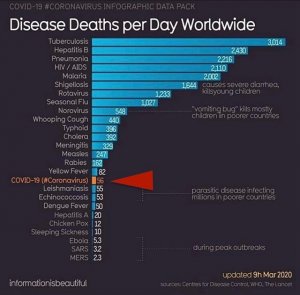 A MUZUNGU'S (White Man's) THOUGHT – Issue 36
CORONA IN AFRICA
The WHO has publicized that if nothing is done there could be 190,000 deaths in Africa in the next year! This was big news round the world!
This has now been increased to between 300,000 and 3,300,000, in the different scenarios. One million deaths would appear to be on the high side.
The number of infection projected in the high projection is 1.2 billion out of a population of 1.3 billion! This is patently ridiculous and has not been seen anywhere else in the world, even in countries where there are no controls.
Currently Kenya, with a population of close to 50 million, has had as at today, Friday 15 May, is 781 cases and 45 deaths.
The number of tests per day has recently become hard to access but is likely to be around 1000. Mass testing is about to start.
Currently the virus has been restricted to Eastern and Coastal Kenya, which is quarantined off from the rest of the Country.
Considering Kenya only, there are far more serious threats than Corona! For instance we are in the midst of a very wet, wet season and flooding this week only has killed 194 people with 233,000 others being displaced!
The wet weather is bringing with it ideal breeding conditions for locusts that will now be laying eggs from the last infestation earlier in the year. Many more people will likely suffer starvation and death from these.
Add the ongoing political problems and starvation caused through the partial lock down for Corona plus crop failure, and you will see that Corona itself does not top the list of issues we face here.
Africa has faced many challenges over the years but has proved remarkably resilient in overcoming them. Ebola and AIDS are but 2 of the recent examples.
Living here gives you a very different perspective on life.
In the humanist West, people think they can overcome all their problems, for the number of challenges are few and wealth is greater.
But here in Africa, the challenges are great, and the funds available to meet them are very limited.
Let's be real. Each year, in Africa…..
1,000,000 die of hunger.
800,000 die of Tuberculosis
700,000 die of Pneumonia
500,000 of HIV/AIDS
500,000 of Malaria
1,000,000 of Other Diseases
That is a total of 4,500,000 people!
I hope this puts Covid – 19 into perspective for you!
A huge event in the West is just another ongoing challenge in Africa among many others.
The Governments are taking it seriously, but there are severe limitations as to what they can do, both financial and the cure, through locked down starvation, being worse that the disease.
May we obtain from this, an understanding that the world is different, not all the same.
Shurakini
(Thank You)
Xxx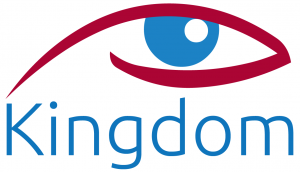 OUR AFRICAN EXPERIENCE
FOR MORE DETAILED AND REGULAR UPDATES, VISIT OUR FACEBOOK PAGE
AN EYE 4 Africa - https://www.facebook.com/aneye4africa/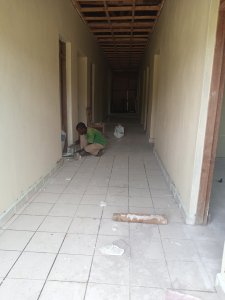 WORK TOWARDS COMPLETING THE EYE HOSPITAL
Tiling is near completion.in the rear 2/3 of the building.
You can also see the dwangs in the roof, ready for the installation of the ceiling tiles.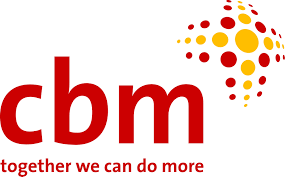 THANK YOU CBM!
A huge thank you to CBM New Zealand and Kenya for funding this amazing building.
Many will have their sight healed because of your amazing work.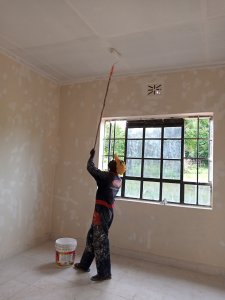 Painting the ceiling in one of the consultation rooms.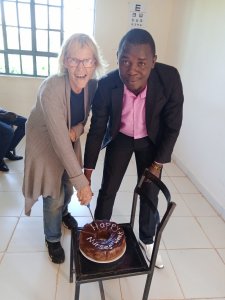 NURSES WEEK IN KENYA
Isaac our nurse, along with Kathy, a nurse forever, and cakemaker for nearly as long, cut the cake which we all got to share in!
Beautiful banana cake - again!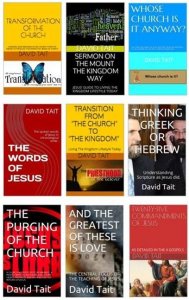 ***NOW***NINE BOOKS ARE AVAILABLE ON AMAZON!!!
9 BOOKS are now available on Amazon (Kindle)!

All are available worldwide for electronic download on Amazon (Kindle) for $US0.99c . Unfortunately there has to be a charge in order to list.

Your support would be appreciated and they could well change your life!

They are all found at this link.....
http://www.amazon.com/s/ref=nb_sb_noss?url=search-alias%3Daps&field-keywords=david+tait+books/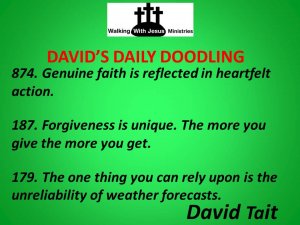 ***DAILY EZINE!*** 'DAVID'S DAILY DOODLINGS' Subscribe Today
Receive one of David's sayings in your mailbox each day to inspire, challenge or maybe, amuse. To register today, go down to the bottom of the page link below, click on the subscribe link dd-on@wwj.org.nz (or paste the address in an email yourself and send) Then it's done! If you have an Irish heritage, you will love the background coloring!
Subscription and back issue link is.....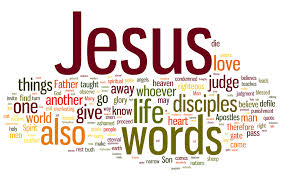 'THE WORDS OF JESUS' REMAIN AVAILABLE FOR PDF DOWNLOAD
Join the many who have downloaded the 'The Words of Jesus'. I am sure you will be blessed by it, as I have been.

One key element here is the setting out in chronological order (as far as it is possible to do so) our Lord's words drawn from all the Gospels, and the elimination of repetition between Gospels.

You may be surprised by the different perspective this presentation gives you both in understanding of His life and ministry, and in achieving a closer relationship with Him.

Download the free PDF here.....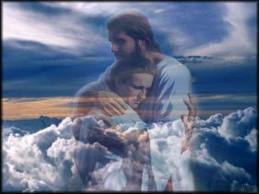 DAVID'S DOODLINGS
GOD'S REST
20. God's rest is a gift, but resting in God a way of life.

21. God's rest is learned, not earned.

22. God's rest is free, not earned. Rest in God is also free, but learned.

23. Gods rest is freely given, but rest in God must be freely learned.

24. A believer receives God's rest, but a disciple rests in God.

309. Man seeks to strive for God. God wants us to rest in Him. Couldn't be easier, couldn't be harder!

310. God's rest is to be sought not only in death, but firstly in life!

311. Lord, teach me not to strive!

312. At work we seek rest. In God we strive to work. Something is wrong here!

313. Resting in God seems too easy to be religious. It is! And it isn't!

1304. The more we work on ourselves, the less opportunity God has to work in us.
Please feel free to quote these quotes. Acknowledgment of David Tait as the author would be appreciated. There are now over 1300 David sayings for you to view at ...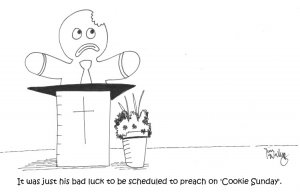 CARTOONS FROM TOON FEVER
Visit the Toon Fever website for more cartoon fun..... http://www.toonfever.com

Check it out at...

TUESDAY TEACHINGS
NEXT WEEK: TRANSFORMATION OF THE CHURCH: 3. FROM KINGS TO KINGDOM continues.....
....... as we look at an unexpected turn in our lives.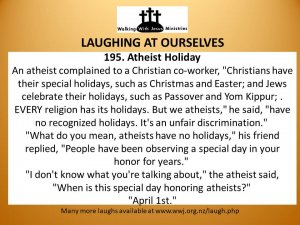 *** ANOTHER DAILY EZINE FROM WWJ!*** 'LAUGHING AT OURSELVES' Subscribe Today
As Christians, if we can't laugh at ourselves, others will! A fun way to start your day. To register today, go down to the bottom of the page link below, click on the subscribe link lao--on@wwj.org.nz (or paste the address in an email yourself and send) Then it's done!

LAUGHING AT OURSELVES
***Blessed are those who can laugh at themselves for they shall never cease to be amused***
*** Those who can't laugh at themselves leave the job to others. ***
410. Sink or Walk ?
A church had to hire a new pastor. Over the protests of one vocal male member a woman was hired as the new senior pastor.
After the new pastor had been there a few weeks, a member of the congregation offered to take then new pastor fishing. The vocal objector reluctantly agreed to allow them to use his boat and to go along.
The trio got into the boat and motored out on the lake. When they got ready to fish, they realised that all their tackle had been left on the dock. One of the men commented that he guess they would just have to go back and get it.
The pastor said that wouldn't be necessary, and she got out of the boat and started walking across the water toward the dock.
The old grouch said, "See I told you we never should have hired that woman. She can't even swim."
411. I'll Help
Burglar: "One move and you're dead. I'm looking for your money".
Vicar: "Hang on, let me get a light and I'll help you".
412. Steady Progress
The pastor told the search committee, "If I am voted in as pastor of this church, I will work hard to bring us into the 19th century." Someone spoke up, " Uh, Preacher, don't you mean the 20th century?" The pastor replied, " Let's take it one century at a time."
413. The Dream
A young curate went to a conference at which most of the gathering consisted of bishops, archdeacons and high officials of the Church. The weather was very cold and it was natural perhaps that the older clergy should cluster around the cheerful fire in the dining room as often as possible.
The curate thought that it was about time he did something about this, so next morning he said in a loud voice: "I had a strange dream last night, I dreamt I had died and gone to hell". After a few moments of dead silence one of the number said "and what did you find there?"
"Just the same as here" was the reply, "I couldn't get near the fire for bishops".
.QWIK QWIP: "Happiness comes through doors you didn't even know you left open"
Download the book 'Laughing At Ourselves' in PDF format at LAUGHING AT OURSELVES One of the most comprehensive sources of Christian Humour on the Net with 800 sermon fillers for your entertainment and use at ..... https://www.wwj.org.nz/content/wwj18p47.pdf
Or read them all online at.....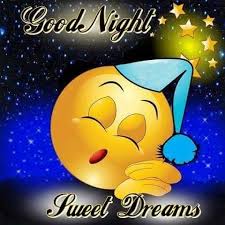 A DAVID MUSING
BEING STUPID!
1,2,3,and 4,
Can't count to any more
5,6,7 and 8,
Time now to hibernate
9, 10,11, 12
In sleep to delve.
GOOD NIGHT!
Until next time.....
MAY GOD BLESS YOU AND YOU BLESS GOD
His servant and yours
David Tait

Visit us here.....
REPRODUCTION OF NEWSLETTER CONTENT
Most weeks we get enquiries about reproducing, in electronic or print form, articles contained in 'PGIM!' We welcome and encourage you to utilize this material. Freely received, freely given. We would ask though, that the source be acknowledged as an encouragement to others to subscribe to this newsletter also.
CHANGING YOUR EMAIL ADDRESS? NEWSLETTER STOPS COMING?
Each week we can lose up to 2% of our readers when they change email addresses without letting us know. Or sometimes, by your server acting strangely and just cutting us off! If you are about to change your address, please advise us of both your old and new addresses here at
enquiries@wwj.org.nz
and we will happily change our records to ensure ongoing delivery. Thanks.
Please also keep our address in your address book, as sometimes servers will automatically delete your address if there is even a one off problem in delivery. If your newsletter doesn't arrive, please let us know and we will reinstate you.
LINKS
If you would like to link your web site to ours, and ours to yours, please advise us on
links@wwj.org.nz
ABOUT US
WALKING WITH JESUS MINISTRIES is a non-profit, non-denominational, Bible based ministry located in Hastings, New Zealand. A ministry dedicated to developing discipleship, fostering unity amongst God's people to achieve the Great Commission, and in doing so, preparing for Christ's return. It is securely based upon the foundational principles of the Apostles Creed while recognising the wide and rich diversity of beliefs amongst Christians in other areas. In accordance with the Lord's direction, materials produced by the ministry are available, free of charge, to genuine enquirers upon request. The ministry is solely funded by donations, as the Lord provides. A list of materials available (plus some fun!) is obtainable and freely downloadable from our website
wwj.org.nz
or by contacting us as follows.
Walking With Jesus Ministries
7 Bull Street
Ahuriri
Napier
New Zealand
Phone: (06) 835 0567 International (+64) 6 835 0567
Email:
enquiries@wwj.org.nz
Web:
wwj.org.nz
Our role is to bless and encourage those in ministry while promoting co-operation and unity of direction amongst the body of Christ, as emphasised 3 times by Jesus in His longest prayer, immediately prior to His arrest and crucifixion. "... so that they may be one as we are one." (John 17:12, 21, 23-4) Our website is currently being developed to encourage your participation one with another, to share resources, and to enable you to promote events and items of interest to the body as a whole - and have a smile while doing it!
For comments upon and contributions to this service, please contact
david@wwj.org.nz
SUBSCRIPTION MANAGEMENT
We would encourage you to share this free service with your friends in ministry. To subscribe yourself please email pgim-on@wwj.org.nz.
If your name has been referred to us by a friend or supporting Ministry or has been obtained from a public Christian Directory or Website, it isn't our wish to burden you with information in which you aren't interested. To remove yourself from this list, please email pgim-off@wwj.org.nz.