A Weekly World Wide Word of Encouragement to those in the Ministry
PRAISE GOD IT'S MONDAY!
A WEEKLY 'WWW (world-wide word) OF ENCOURAGEMENT'
TO THOSE IN MINISTRY
A FREE service, currently connecting with Christian leaders from 3,000 denominations and ministries, in 70 countries.

Issue No: 878 Published: 20 Aug 2018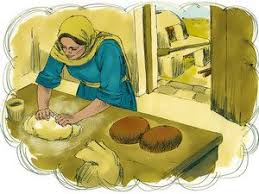 WHOSE CHURCH IS IT ANYWAY? Part 55
THE CHALLENGE OF..... LIVING THE KINGDOM LIFESTYLE
THE PARABLE OF THE YEAST

33 He told them still another parable: "The kingdom of heaven is like yeast that a woman took and mixed into a large amount of flour until it worked all through the dough." 34 Jesus spoke all these things to the crowd in parables; he did not say anything to them without using a parable. 35 So was fulfilled what was spoken through the prophet: "I will open my mouth in parables, I will utter things hidden since the creation of the world." (Matthew 13:33-5)
It is amazing, when you read the commentaries, how much meaning can be taken out of a simple sentence such as that contained in verse 33 above! Enough for a long and very erudite sermon! But I am not sure that Jesus was meaning it to be understood this deeply in such a detailed fashion. The main point that Jesus was making is that the true kingdom of God is infectious, that it will permeate the large amount of flour, which can be viewed today as being either the world, or the church as a whole. The point is, the kingdom is the most, the only, the truly powerful element of change that can affect the world and even reform the church. As we have seen in the earlier parables, the kingdom consists of those believers, those disciples (the two are effectively the same) who are completely sold out to Jesus. Jesus (through John) made this point in His comments on the church at Laodicea, widely recognised as being a picture of today's church.
14 "To the angel of the church in Laodicea write: These are the words of the Amen, the faithful and true witness, the ruler of God's creation. 15 I know your deeds, that you are neither cold nor hot. I wish you were either one or the other! 16 So, because you are lukewarm—neither hot nor cold—I am about to spit you out of my mouth. (Revelation 3:14-16)
Why were they lukewarm? For the same reason, we in the Western world, in particular, are so today.
17 You say, 'I am rich; I have acquired wealth and do not need a thing.' But you do not realize that you are wretched, pitiful, poor, blind and naked. (Revelation 3:17)
We are wealthy (visit the poor in Africa, where we now live, or Asia, if you don't think you are!) which creates self-reliance. In reality, in spite of what we might say, we live lives where the security of possessions and pension plans has become the focus of our actions and behaviour. So what is the answer?
18 I counsel you to buy from me gold refined in the fire, so you can become rich; and white clothes to wear, so you can cover your shameful nakedness; and salve to put on your eyes, so you can see. (Revelation 3:18)
We need to 'buy' the 'gold' of repentance and testing, by submitting our lives fully to Jesus and letting Him refine us in the fire, so producing in us lives of holiness and righteousness.
The area was famous for an eye salve, called 'mounce'. Jesus is using this natural illustration to encourage us to apply a 'spiritual mounce' to our eyes in order to see, so be able to understand what He was saying. This surely is a message to the church today, to look for spiritual rather than material riches. Let us take heed of the inspired message through the author of the book of Hebrews…..
10 Our fathers disciplined us for a little while as they thought best; but God disciplines us for our good, that we may share in his holiness. 11 No discipline seems pleasant at the time, but painful. Later on, however, it produces a harvest of righteousness and peace for those who have been trained by it. 12 Therefore, strengthen your feeble arms and weak knees. 13 "Make level paths for your feet," so that the lame may not be disabled, but rather healed. 14 Make every effort to live in peace with all men and to be holy; without holiness no one will see the Lord. (Hebrews 12:10-14)

To those prepared to make the sacrifice, comes the greatest promise of all. Amen.
21 To him who overcomes, I will give the right to sit with me on my throne, just as I overcame and sat down with my Father on his throne. 22 He who has an ear, let him hear what the Spirit says to the churches." (Revelation 3:21-2)
(Continued next week)
Find out more about us here.....

FROM THE WORD
THE WORDS OF JESUS
May we hear what the Lord is saying to us.....
Parables by the Lake(Matthew 13:1-35, Mark 4:1-34, Luke 8:4-18)
Told from a boat anchored away from the shore, out there because of the size of the crowd.
Lamp on a Stand(Mark 4:21-5)
"Who puts a lamp under a bucket, or beneath a bed?" "No, you put a lamp up on a lampstand. Everything that is hidden will be revealed, and everything that is secret will be brought out into the open. 23If you have ears to hear, listen to what I'm saying! Pay attention to what you're hearing," "for you will be given according to how much you want to receive, measure for measure. More will be given to those who already have understanding, but those who don't want to know will have what little understanding they have taken from them.
Parable of the Growing Seed(Mark 4:26-9)
"God's kingdom is like a man sowing seed in the ground," Jesus said. "He goes to bed and gets up, day after day, but the man has no knowledge of how the seeds sprout and grow. The earth produces a harvest by itself. First a shoot appears, then the heads of grain, and then the heads of grain ripen. When the grain is ripe, the farmer reaps it with a sickle, because the harvest is ready.
Parable of the Weeds (Matthew 13:24-30)
"The kingdom of heaven is like a farmer who sowed good seeds in his field. But while his workers were sleeping, an enemy came and sowed weed seeds on top of the wheat. Then they left. So when the wheat grew and produced ears of grain, the weeds also grew up. The farmer's workers came and asked him, 'Sir, didn't you sow good seeds in your field? Where did the weeds come from?'
"'Some enemy has done this,' he replied. 'Do you want us to go and pull up the weeds?' they asked him.
'No,' he answered, 'as you pull up the weeds, you may uproot the wheat too. Let them both grow until harvest, and then at harvest-time I'll tell the reapers, "First gather the weeds, tie them up into bundles and burn them. Then gather the wheat and store it in my barn."'"
(Continued next week)
You can download the complete 'Words of Jesus' here.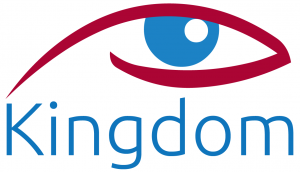 OUR AFRICAN EXPERIENCE
FOR MORE DETAILED AND REGULAR UPDATES, VISIT OUR FACEBOOK PAGE
AN EYE 4 Africa - https://www.facebook.com/aneye4africa/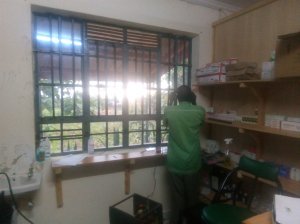 KENYAN VERSION OF ALCATRAZ - IN REVERSE!
Sadly, it is necessary to bar the windows to keep thieves out rather than in, so protecting valuable equipment and drugs!
'Tis the reality of the world in which we live - everywhere.
Showing 'Harrison the Welder' welding bars across the windows in the Pharmacy.
Our Laboratory, home to much valuable equipment, has had the same treatment.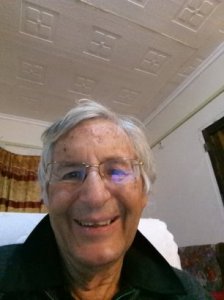 BATTLE SCAR LOST AMONGST THE LINES!
Amazing the difference a fortnight to this tough (young) old guy!
It helps to have a lined and splotches! LOL!
Not sure that the cut let brains out or allowed them in? Perhaps just a thick skull!
On with the battle - and some battle it has been in recent times, in so many ways.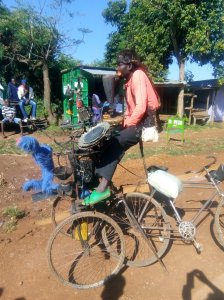 SNIPPETS FROM WEBUYE KENYA
A place where you can always expect the unexpected!
Here's an imaginative way to make a living! A one man band act. Very clever. Kenyan busker! Takes me back to when we were busking with our friend Warren in New Zealand!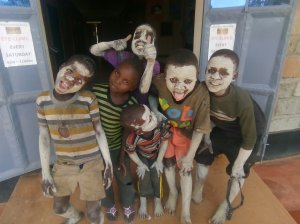 These guys visited us at the hospital, showing off, as they had recently had traditional circumcisions. The mud on the face remains for the period they are not allowed to bathe to allow the wound to heal.Business we missed out on!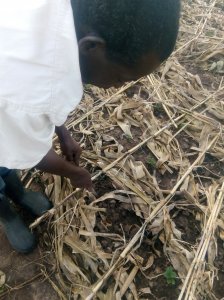 Patrick is weeding our strawberries .That is good, but he is using a stick and his hands to do the job! The plants are mulched with leaves off the maize plants just harvested, as we can't get straw here. Have to be adaptable here!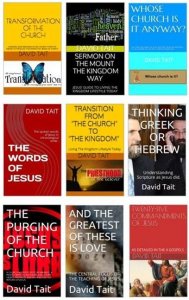 ***NOW***NINE BOOKS ARE AVAILABLE ON AMAZON!!!
9 BOOKS are now available on Amazon (Kindle)!

All are available worldwide for electronic download on Amazon (Kindle) for $US0.99c . Unfortunately there has to be a charge in order to list.

Your support would be appreciated and they could well change your life!

They are all found at this link.....
http://www.amazon.com/s/ref=nb_sb_noss?url=search-alias%3Daps&field-keywords=david+tait+books/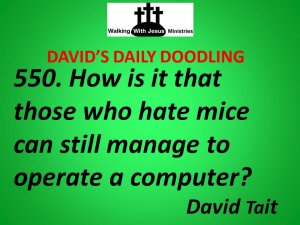 ***DAILY EZINE!*** 'DAVID'S DAILY DOODLINGS' Subscribe Today
Receive one of David's sayings in your mailbox each day to inspire, challenge or maybe, amuse. To register today, go down to the bottom of the page link below, click on the subscribe link dd-on@wwj.org.nz (or paste the address in an email yourself and send) Then it's done! If you have an Irish heritage, you will love the background coloring!
Subscription and back issue link is.....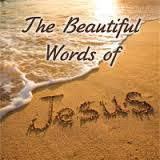 'THE WORDS OF JESUS' REMAIN AVAILABLE FOR PDF DOWNLOAD
Join the many who have downloaded the 'The Words of Jesus'. I am sure you will be blessed by it, as I have been.

One key element here is the setting out in chronological order (as far as it is possible to do so) our Lord's words drawn from all the Gospels, and the elimination of repetition between Gospels.

You may be surprised by the different perspective this presentation gives you both in understanding of His life and ministry, and in achieving a closer relationship with Him.

Download the free PDF here.....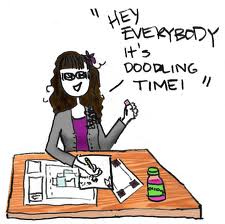 DAVID'S DOODLINGS
556. If you don't think anyone is listening, make a mistake and you will be sure to find out!

557. To be believed pleases the mind, to be believed in, builds up the soul.

558. Hope is of the mind, faith of the heart, but true love is our expression of God's will.

559. Prophecy is powerful when confirmed by the Word.

560. Mankind loves words, God desires action.

810. Grace is God working in us, in order to work through us.

868. Sovereign 'Sonship' is birthed in sacrificial servanthood.

869. God designed 'the Church' to be the means, not the end.

872. The humanist looks inwards, the activist outwards, but truth is found in looking upwards.
Please feel free to quote these quotes. Acknowledgement of David Tait as the author would be appreciated. There are now over 1300 David sayings for you to view at ...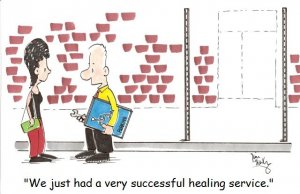 CARTOONS FROM TOON FEVER
Visit the Toon Fever website for more cartoon fun..... http://www.toonfever.com

Check it out at...

TUESDAY TEACHINGS
NEXT WEEK: 'POTTED' HISTORY OF THE CHURCH 2
Completing our look at the establishment, growth, decline, and regrowth of the church over nearly 2,000 years.

Plus a glimpse of the church yet to come!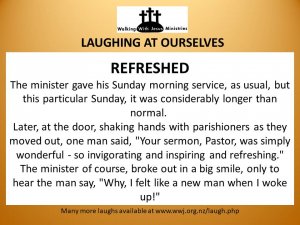 *** ANOTHER DAILY EZINE FROM WWJ!*** 'LAUGHING AT OURSELVES' Subscribe Today
As Christians, if we can't laugh at ourselves, others will! A fun way to start your day. To register today, go down to the bottom of the page link below, click on the subscribe link lao--on@wwj.org.nz (or paste the address in an email yourself and send) Then it's done!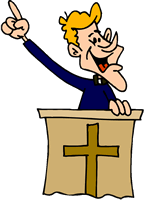 LAUGHING AT OURSELVES
***Blessed are those who can laugh at themselves for they shall never cease to be amused***
*** Those who can't laugh at themselves leave the job to others. ***
173. Oops!
A young preacher was visiting a man in an oxygen tent in a hospital room. Standing by the bed he asked the elderly gentleman how he was feeling, but the patient merely grunted. Undeterred, the minister opened his Bible and began to read.
Soon he noticed a change come over the man. His eyes started bulging and his face began to turn red. Sensing the end was near, the pastor asked if he had any message, or last words. The man nodded weakly, motioning to something beside the bed. Spotting a table, the sympathetic pastor picked up a pad and pencil and passed it to the man under the oxygen tent. The man wrote something, stuffed it in the preacher's hand, then died.
Shaken, the preacher stepped out of the room. Remembering the note, and realising the importance of the man's last words, he uncrumpled the paper and read the hastily scrawled words: "You're standing on my oxygen line."
QWIK QWIP: "Men are from earth. Women are from earth. We have to live with it."
174. Well, You Asked...
A young preacher, fresh out of seminary, was scheduled to deliver the sermon at a pastor's convention. Afterwards he asked an old pastor what he thought of his sermon. Kindly, he replied, "Young man, your sermon was like the peace and mercy of God."
Taking it as a compliment he pressed, "What do you mean?"
"It was like the peace of God in that it passed all understanding," replied the pastor, "And the mercy of God in that I thought it would endure forever."
FREE DOWNLOAD: You can now download the book 'Laughing At Ourselves' in PDF format at LAUGHING AT OURSELVES One of the most comprehensive sources of Christian Humour on the Net with 800 sermon fillers for your entertainment and use at ..... https://www.wwj.org.nz/content/wwj18p47.pdf
Or read them all online at.....
A DAVID MUSING
God takes and tests you to the end of your tether so often, before providing. He is not 'Father Christmas'!
We have had a few difficult months financially, here at the KINGDOM FAITH BASED HOSPITAL, in Webuye, Kenya.
In fact, last month Kathy and I had to borrow on our credit cards in order to pay our staff.
What would we be able to do this month?
Then, having reached our lowest point, God started to provide! And provide he has. We now have sufficient funding to pay back our cards and meet our expenses for the next two months, by which time our financial situation should stabilise.
Then we got a large donation, out of the blue, to cover the cost of receiving a 40' container of surplus medical supplies from Project C.U.R.E. in the US! A huge blessing for us, as it will contain nearly $US500,000 of medical equipment and disposables! That is HUUUUGGGGEEEE!
Thank you Lord. Thank you donors.
Our Lord, after testing us to the limit, has provided in abundance!
Maybe this will encourage you in your hopeless situation too.
Amen.
Until next week.......
MAY GOD BLESS YOU AND YOU BLESS GOD
His servant and yours
David Tait

Visit us here.....
REPRODUCTION OF NEWSLETTER CONTENT
Most weeks we get enquiries about reproducing, in electronic or print form, articles contained in 'PGIM!' We welcome and encourage you to utilize this material. Freely received, freely given. We would ask though, that the source be acknowledged as an encouragement to others to subscribe to this newsletter also.
CHANGING YOUR EMAIL ADDRESS? NEWSLETTER STOPS COMING?
Each week we can lose up to 2% of our readers when they change email addresses without letting us know. Or sometimes, by your server acting strangely and just cutting us off! If you are about to change your address, please advise us of both your old and new addresses here at
enquiries@wwj.org.nz
and we will happily change our records to ensure ongoing delivery. Thanks.
Please also keep our address in your address book, as sometimes servers will automatically delete your address if there is even a one off problem in delivery. If your newsletter doesn't arrive, please let us know and we will reinstate you.
LINKS
If you would like to link your web site to ours, and ours to yours, please advise us on
links@wwj.org.nz
ABOUT US
WALKING WITH JESUS MINISTRIES is a non-profit, non-denominational, Bible based ministry located in Hastings, New Zealand. A ministry dedicated to developing discipleship, fostering unity amongst God's people to achieve the Great Commission, and in doing so, preparing for Christ's return. It is securely based upon the foundational principles of the Apostles Creed while recognising the wide and rich diversity of beliefs amongst Christians in other areas. In accordance with the Lord's direction, materials produced by the ministry are available, free of charge, to genuine enquirers upon request. The ministry is solely funded by donations, as the Lord provides. A list of materials available (plus some fun!) is obtainable and freely downloadable from our website
wwj.org.nz
or by contacting us as follows.
Walking With Jesus Ministries
7 Bull Street
Ahuriri
Napier
New Zealand
Phone: (06) 835 0567 International (+64) 6 835 0567
Email:
enquiries@wwj.org.nz
Web:
wwj.org.nz
Our role is to bless and encourage those in ministry while promoting co-operation and unity of direction amongst the body of Christ, as emphasised 3 times by Jesus in His longest prayer, immediately prior to His arrest and crucifixion. "... so that they may be one as we are one." (John 17:12, 21, 23-4) Our website is currently being developed to encourage your participation one with another, to share resources, and to enable you to promote events and items of interest to the body as a whole - and have a smile while doing it!
For comments upon and contributions to this service, please contact
david@wwj.org.nz
SUBSCRIPTION MANAGEMENT
We would encourage you to share this free service with your friends in ministry. To subscribe yourself please email pgim-on@wwj.org.nz.
If your name has been referred to us by a friend or supporting Ministry or has been obtained from a public Christian Directory or Website, it isn't our wish to burden you with information in which you aren't interested. To remove yourself from this list, please email pgim-off@wwj.org.nz.