A Weekly World Wide Word of Encouragement to those in the Ministry
PRAISE GOD IT'S MONDAY!
A WEEKLY 'WWW (world-wide word) OF ENCOURAGEMENT'
TO THOSE IN MINISTRY
A FREE service, currently connecting with Christian leaders from 3,000 denominations and ministries, in 70 countries.

Issue No: 1024 Published: 31 May 2021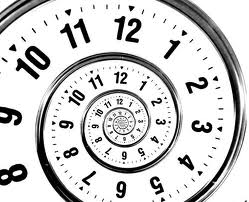 A MATTER OF TIME.....
Please take time to read A DAVID MUSING again today..
It started short but grew!
Well worth the read.
David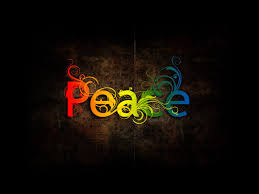 THINKING GREEK OR HEBREW
PEACE

Greek (Western) In Western thought, peace is a state of mind
If all is going well, there is peace. If there is no war, there is peace. If the kids aren't fighting, there is peace in the home. If there is no crime, the neighbourhood is at peace. And so on.
Peace and quietness go together. A monk goes into a monastery to find peace. Mum sends the kids away to have peace and quiet for a time. Yoga is seen as a way to find peace. Nirvana is peace. Peace therefore, is related to a lack of friction, often found in a state of quietness.

Eastern (Hebrew) In Hebrew thought, 'shalom' or peace, is wholeness or completeness.
In Hebrew thought, peace is not quietness or an absence of trouble, but rather, a oneness with God. Peace is found in the submission of body, soul and spirit to the Creator, the Lord of the universe.
Jesus did not come to bring peace in a worldly sense.....
34 "Do not suppose that I have come to bring peace to the earth. I did not come to bring peace, but a sword. 35 For I have come to turn 'a man against his father, a daughter against her mother, a daughter-in-law against her mother-in-law— 36 a man's enemies will be the members of his own household.' (Matthew 10:34-6)
But He did promise peace to us.....
33 "I have told you these things, so that in me you may have peace. In this world you will have trouble. But take heart! I have overcome the world." (John 16:33)
and again.....
27 Peace I leave with you; my peace I give you. I do not give to you as the world gives. Do not let your hearts be troubled and do not be afraid. (John 14:27)
When Jesus sent out the 72 He told them to look for houses where there was peace. He did not mean quietness but rather, a house where there was a oneness with the Lord, knowing that these people would put them up for the time they were in that place.....
5 "When you enter a house, first say, 'Peace to this house.' 6 If a man of peace is there, your peace will rest on him; if not, it will return to you. 7 Stay in that house, eating and drinking whatever they give you, for the worker deserves his wages. Do not move around from house to house. (Luke 10:5-7)
Paul was able to find peace in the torment of prison and encouraged us to do the same.
As a prisoner for the Lord, then, I urge you to live a life worthy of the calling you have received. 2 Be completely humble and gentle; be patient, bearing with one another in love. 3 Make every effort to keep the unity of the Spirit through the bond of peace. 4 There is one body and one Spirit— just as you were called to one hope when you were called— 5 one Lord, one faith, one baptism; 6 one God and Father of all, who is over all and through all and in all. (Ephesians 4:1-6)
We can therefore experience the true peace of Jesus at all times, when we fully submit our lives to Him.....
36 You know the message God sent to the people of Israel, telling the good news of peace through Jesus Christ, who is Lord of all. (Acts 10:36)

SOME SPIRITUAL IMPLICATIONS FOR TODAY
1. True peace is obtained through a submissive relationship to God, not as an emotional experience or state.
2. True peace can be found in the midst of tumult and torment.
3. True peace is a lifestyle, not a feeling.
(Continues next week)
Acknowledgements: http://www.followtherabbi.com and http://hethathasanear.com and http://www.wildbranch.org
See more about us at.....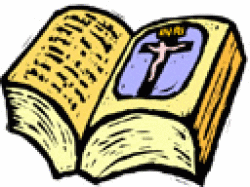 FROM THE WORD
THE WORDS OF JESUS
May we hear what the Lord is saying to us.....
THE RESSURECTION
Jesus Appears to the Two Mary's (Matthew 28:9-10 , Mark 16:9, John 20:14-17)
To Mary Magdalene
"Why are you crying?" he asked her. "Who are you looking for?"
"Mary."
"Don't hold onto me," "for I haven't yet ascended to my Father; but go to my brothers and tell them I am ascending to my Father and your Father, my God and your God."
To the other Mary
"Don't be afraid! Go and tell my brothers to leave for Galilee, and they will see me there."
Jesus Meets Two on the Road to Emmaus (Mark 16:12-13, Luke 24:`13-32)
Talking about the things that had happened. Jesus replied.
"What are you discussing as you walk along?"
"What things?"
"You're so dull! How slow you are to trust in all that the prophets said! 6Didn't the Messiah have to suffer before he could enter into his glory?"
Jesus Appears to the Disciples Excluding Thomas (Luke 24:36-49, John:20:19-24)
"Peace to you!"
"Why are you frightened? Why are you doubting?" "Look at my hands and my feet—you can see it's me. Touch me and you'll be certain, for a spirit doesn't have flesh and bones, as you see I have."
"Do you have anything to eat?"
They gave Him broiled fish.
"This is what I explained to you while I was still with you. Everything written about me in the law of Moses, the prophets, and the psalms, had to be fulfilled."
"It was written like this: the Messiah would suffer and to rise from the dead on the third day, and that in his name repentance for the forgiveness of sins would be preached to all nations, beginning in Jerusalem. You are witnesses of all this. Now I'm going to send you what my Father promised—but wait in the city until you receive power from heaven."
Again Jesus said.
May you have peace!" Jesus told them again. "In the same way the Father sent me, so I'm sending you."
Jesus breathed on them, saying,
"Receive the Holy Spirit. If you forgive anyone's sins, they are forgiven; if you hold them unforgiven, unforgiven they remain."
(Continued next week)
Download the complete 'Words of Jesus' here.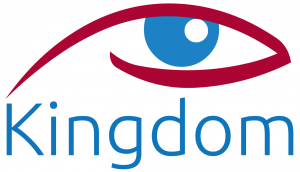 OUR AFRICAN EXPERIENCE
FOR MORE DETAILED AND REGULAR UPDATES, VISIT OUR FACEBOOK PAGE
AN EYE 4 Africa - https://www.facebook.com/aneye4africa/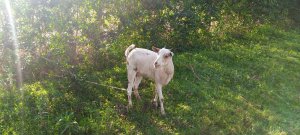 WHAT IS THIS?
A goat, of course!
Goats are found everywhere as they are so hardy, adapting to most climates.
But this is a special goat, enjoying its last day on earth.
For meat doesn't come from a supermarket shelf or freezer, as many Western youth think!
Goat meat is tender.so is in demand for special occasions.
Tomorrow we have one of these.
More next week!
***DAILY EZINE!*** 'DAVID'S DAILY DOODLINGS' Subscribe Today
Receive one of David's sayings in your mailbox each day to inspire, challenge or maybe, amuse. To register today, go down to the bottom of the page link below, click on the subscribe link dd-on@wwj.org.nz (or paste the address in an email yourself and send) Then it's done! If you have an Irish heritage, you will love the background coloring!
Subscription and back issue link is.....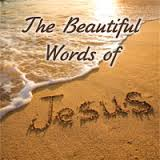 'THE WORDS OF JESUS' REMAIN AVAILABLE FOR PDF DOWNLOAD
Join the many who have downloaded the 'The Words of Jesus'. I am sure you will be blessed by it, as I have been.

One key element here is the setting out in chronological order (as far as it is possible to do so) our Lord's words drawn from all the Gospels, and the elimination of repetition between Gospels.

You may be surprised by the different perspective this presentation gives you both in understanding of His life and ministry, and in achieving a closer relationship with Him.

Download the free PDF here.....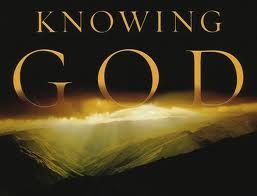 DAVID'S DOODLINGS
KNOWING GOD
351. The more I discover about God the more I realise there is to know.
352. The closer I get to God, the more I realise how big He is and how small I am.
353. While God graciously accepts me as I am, His desire is for me to become more like Him.
354. When God moves, the results are beyond our imagination. Why then do we try and do His work ourselves?
811. Sanctification is 'the means', holiness 'the end'.
Please feel free to quote these quotes. Acknowledgment of David Tait as the author would be appreciated. There are now over 1300 David sayings for you to view at ...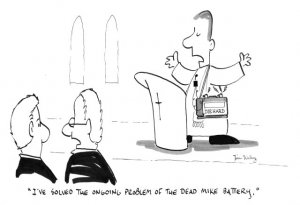 CARTOONS FROM TOON FEVER
Visit the Toon Fever website for more cartoon fun..... http://www.toonfever.com
Check it out at...
TUESDAY TEACHINGS
THIS WEEK:GOD AND MAN continues.....
351. The more I discover about God the more I realise there is to know.

352. The closer I get to God, the more I realise how big He is and how small I am.

353. While God graciously accepts me as I am, His desire is for me to become more like Him.

354. When God moves, the results are beyond our imagination. Why then do we try and do His work ourselves?

811. Sanctification is 'the means', holiness 'the end'.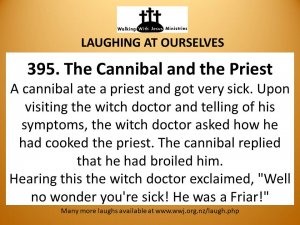 *** ANOTHER DAILY EZINE FROM WWJ!*** 'LAUGHING AT OURSELVES' Subscribe Today
As Christians, if we can't laugh at ourselves, others will! A fun way to start your day. To register today, go down to the bottom of the page link below, click on the subscribe link lao--on@wwj.org.nz (or paste the address in an email yourself and send) Then it's done!
https://www.wwj.org.nz/laughing-at-ourselves-ezine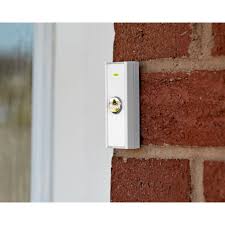 LAUGHING AT OURSELVES
***Blessed are those who can laugh at themselves for they shall never cease to be amused***
*** Those who can't laugh at themselves leave the job to others. ***
54. One Good Turn deserves...
A priest was walking down his street one day when he noticed a very small boy trying to press the doorbell on a house. The boy was very short and the doorbell was too high for him to reach.
After watching the boy's efforts for some time, the priest moved closer to the boy. He crossed the street, walked up behind the little fellow, placed his hand kind heartedly on the child's shoulder leaned over and gave the doorbell a solid ring.
Crouching down to the child's level, the priest smiled benevolently and asked, "And now what, my little man?" To which the boy replied, "Now we run!"
QWIK QWIP: "Our eyes are placed in front because it is more important to look ahead than to look back."
55. Signs Your Church Has Sold Out To Corporate Sponsors
- Nike "swoosh" on the cross
- Communion now sponsored by Welch's Grape Juice
- Taco Bell's talking dog now reading announcements
- In Christmas play, Joseph seen drinking can of Coke.
- Greeters all dressed like Ronald McDonald.
- Personal pew licenses now sold
- Baptismals include dolphin show from Sea World
- Statue of Moses seen holding keys to a Jeep
- The 12 disciples replaced by Disney characters
- Scripture verses brought to you by Windows '98
- Pastor doing subliminal product messages during sermon
- Bulletin has coupon section
- Choir members wear Dockers
- In the restrooms, an attendant hands you a towel
- There is a credit card swiper on the collection plate
- Offering envelopes bearing Visa or Mastercard emblems on them
- Handicap parking sponsored by the Family Medical Group, LLC
- Wednesday night suppers sponsored by KFC
- Sunday morning televised services sponsored by the FOX network
- Church vans traded in for Ford Broncos
- Church bell chimes to the tune of the NBC chimes
- Choir robes with the Lands' End emblem on front
- Sunday bulletins with the CNN logo
- Free Perrier at all baptism
- Church flag football team sponsored by the XFL
Download the book 'Laughing At Ourselves' in PDF format at LAUGHING AT OURSELVES One of the most comprehensive sources of Christian Humour on the Net with 800 sermon fillers for your entertainment and use at ..... https://www.wwj.org.nz/content/wwj18p47.pdf
Or read even more online at.....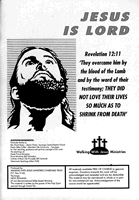 A DAVID MUSING
The biggest lessons we have had to learn here in the African countryside, where we have lived for 4 years next month, are not the ones you would expect. Things such as culture, language, climate (perfect!), being away from family, and many more, have not been the most important.
What we have found is, we have rapidly had to develop the Spiritual Fruit of patience and perseverance! While we thought we had those, Kathy more of the patience, myself perseverance, we have needed far more of them here.
Here if something is not done today, tomorrow is okay, for there is much more time available. It literally is a no hurry culture. And the people generally, are happier than those in the West. Government bureaucracies too are in even less of a hurry!
When they say tomorrow is another day, I remind them that most likely, their tomorrows are greater than mine at 73. LOL!
Most of us, when we take our wedding vows, would not expect to end up in Africa!
When I first became a true Christian, in my early forties, God led me to write a Discipleship Course, Walking With Jesus. In the 3rd part, Jesus is Lord, talking about obedience to the will of God for and in your life, I quoted a popular song of the day with the words "don't send me to Africa", never knowing God would send me, send us, there! God has a sense of humour!
The Course is available here https://www.wwj.org.nz/walking-with-jesus-course
Walking with Jesus, in its fullness, requires patience and persevance. If we are to move deeply into Him, it takes time, time that today in our instant, busy world, few are prepared to give.
Too many things distract us. Work, sport, TV or cellphones, depending on your generation, recreation and more. So much temptingly available, and not nearly enough time to do it all. let alone give time to God.
Hence the Western world has fallen away, and sadly, Africa is following, although at a slower pace. Here the older generation (and Government bureaucracies! LOL!) have plenty of time, but as the young generation gets educated, they too are falling into the same Western trap. So the falling away is starting here too.
All I can suggest, with the experience of living in both worlds, is that our future destiny is more important - even if it doesn't seem so now. Please set aside some time to be with God today. The more you seek, (Rather than asking for gifts from Him) the more you will find about Him, Presence, not presents is what your God desires of you.
Will you seek Him more today?
Amen
David Tait
Walking With Jesus Ministries
wwj.org.nz
Until next time.....
MAY GOD BLESS YOU AND YOU BLESS GOD
His servant and yours
David Tait

Visit us here.....
CHANGING YOUR EMAIL ADDRESS? NEWSLETTER STOPS COMING?
Each week we can lose up to 2% of our readers when they change email addresses without letting us know. Or sometimes, by your server acting strangely and just cutting us off! If you are about to change your address, please advise us of both your old and new addresses here at
enquiries@wwj.org.nz
and we will happily change our records to ensure ongoing delivery. Thanks.
Please also keep our address in your address book, as sometimes servers will automatically delete your address if there is even a one off problem in delivery. If your newsletter doesn't arrive, please let us know and we will reinstate you.
REPRODUCTION OF NEWSLETTER CONTENT
Most weeks we get enquiries about reproducing, in electronic or print form, articles contained in 'PGIM!' We welcome and encourage you to utilize this material. Freely received, freely given. We would ask though, that the source be acknowledged as an encouragement to others to subscribe to this newsletter also.
LINKS
If you would like to link your web site to ours, and ours to yours, please advise us on
links@wwj.org.nz
ABOUT US
WALKING WITH JESUS MINISTRIES is a non-profit, non-denominational, Bible based ministry located in Hastings, New Zealand. A ministry dedicated to developing discipleship, fostering unity amongst God's people to achieve the Great Commission, and in doing so, preparing for Christ's return. It is securely based upon the foundational principles of the Apostles Creed while recognising the wide and rich diversity of beliefs amongst Christians in other areas. In accordance with the Lord's direction, materials produced by the ministry are available, free of charge, to genuine enquirers upon request. The ministry is solely funded by donations, as the Lord provides. A list of materials available (plus some fun!) is obtainable and freely downloadable from our website
wwj.org.nz or by contacting us as follows.

Walking With Jesus Ministries
P O Box 2
Webuye 50205
Kenya

Email: enquiries@wwj.org.nz
Web: wwj.org.nz

Our role is to bless and encourage those in ministry while promoting co-operation and unity of direction amongst the body of Christ, as emphasised 3 times by Jesus in His longest prayer, immediately prior to His arrest and crucifixion. "... so that they may be one as we are one." (John 17:12, 21, 23-4) Our website is currently being developed to encourage your participation one with another, to share resources, and to enable you to promote events and items of interest to the body as a whole - and have a smile while doing it!

For comments upon and contributions to this service, please contact
david@wwj.org.nz
SUBSCRIPTION MANAGEMENT
We would encourage you to share this free service with your friends in ministry. To subscribe yourself please email pgim-on@wwj.org.nz.
If your name has been referred to us by a friend or supporting Ministry or has been obtained from a public Christian Directory or Website, it isn't our wish to burden you with information in which you aren't interested. To remove yourself from this list, please email pgim-off@wwj.org.nz.