A Weekly World Wide Word of Encouragement to those in the Ministry
PRAISE GOD IT'S MONDAY!
A WEEKLY 'WWW (world-wide word) OF ENCOURAGEMENT'
TO THOSE IN MINISTRY
A FREE service, currently connecting with Christian leaders from 3,000 denominations and ministries, in 70 countries.

Issue No: 1034 Published: 09 Aug 2021
AGAIN I KNOW THE ARTICLE IS LONG.....
.....but it should challenge pastors and leaders, if they wish to hear.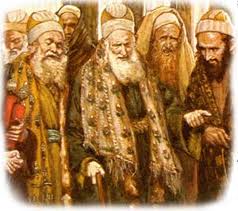 THE CURSE OF TITLES AND MORE, IN THE CHURCH
Did you realize that there are more titles in the church than in the world?
Does this make you think? It certainly does me!
How can this happen? Surely the church is the true place where we should all be one? Yet titles abound! Titles that, however humble you may be as a leader, divide the church into the leaders and people.
As one who shares with many pastors and leaders worldwide, the reality is the same everywhere. Church leaders, unconsciously or not, when they get together generate an 'us and them' attitude which is applied to their church when they return in many ways.
SUPERIORITY
I will never forget when I went to the annual church leaders' conference of the pentecostal denomination in New Zealand, I was a part of at the time. I was shocked, being there listening to them talk amongst each, of the way they looked at the people they were supposedly shepherding. Their air of superiority hit me like an arrow through my heart. Criticism of the people, complaining that they would not acquiesce sufficiently to fulfil the pastor's vision, and much more, were regular topics of conversation.
Funny me, I thought that servant leaders were meant to help people find and enact the individual's God given vision, rather than promote their own, often selfish vision to build and expand THEIR own church (not God's), to the glory of…….. their self. The first question asked was always "how big is your church", meaning the number of adherents. That is the way others were judged and placed in the hierarchy. is a very easy trap to fall into as I well know! Judging with superficiality, rather than the deeper issues of discipleship of the people is the norm. 'Bums on seats' are sadly, their measurement of success!
Some time after this, I met some of these leaders in Uganda, where we shared speaking at a conference. For 2 days, two of the top leaders of the denomination spoke well. On the third day, I spoke, together with a minister of the denomination who was really keen on missions. When I spoke the Holy Spirit came down upon the people. It is not my doing but God's. The people were blessed. That evening we went to an outreach. My friends sat seriously in the front row, looking important, while I went out amongst the people.
These are classic illustrations of the clergy/people divide. It is the same worldwide.
DRESS
Clergy clothing is another way in which the minister separates themselves from the people is to dress differently to his or her congregants. This ranges from elaborate robes, with more similarity to Old Testament priests, whom Jesus, once and for all replaced by dying on the cross. Every person now has a direct line to our God, rather than having to mediate through the priests. Both ministers and congregants forget this!
Others wear 'dog collars' round their necks to identify themselves as ministers. I remember well taking a small conference in Kenya to which two ministers from a traditional church attended. Dressed in a maroon shirt with a reverse white collar, they were typical of huge numbers of ministers round the world.
I invited them to remove their collar, unbutton their shirt and relax in the informal atmosphere. Their reaction was that they couldn't as it would destroy their image of self-worth, which was tied up in their clothing. Finally they did, but were uncomfortable, and did not come back the next day.
In New Zealand, pentecostal pastors don't have a special dress – but they do. Almost all wear their shirts outside their trousers. A uniform when you don't believe in uniforms! LOL!
There is a worldly saying that 'clothes maketh the man'. Jesus, through Isaiah wasn't of this opinion…..
He grew up before him like a tender shoot, and like a root out of dry ground.
He had no beauty or majesty to attract us to him, nothing in his appearance that we should desire him. (Isaiah 53 :2)
Then Jesus himself to the Pharisees…..
5 "Everything they do is done for people to see: They make their phylacteriesa]">[] wide and the tassels on their garments long; 6 they love the place of honor at banquets and the most important seats in the synagogues; (Matthew 23:5-6)
We need to follow Jesus and not appear different i.e. superior to those we minister to.
TITLES
In the world, titles are mostly limited to those who have achieved high success in education, e.g. Professor, Doctor, or politics e.g. President, Prime Minister, or in the highly structured Armed Forces. General, Colonel, Admiral, Captain etc.
In the business world, where there can be people more powerful than any of these, such as Bill Gates, Tim Cook, Jack Ma, and many more who are simply known by their given names. Sportsmen are the same, unless in all categories under the British system they are knighted or titled. Even then most, including my father, knight for service to the community, choose to be known by their given names.
But in the church, all leadership is titled! From Pope to Pastor, and all in-between! Why? When I ask that question, I get 'so people know who I am', 'to get respect', because it has always been', and several more.
Of course, in the Brethren church, they don't believe in titles, so they call their leaders, Elder So-In-So, just another title.
Then we get those who ask what they can call me, so they say Brother, just another title! My name is David, and my role, not title, is a servant of God.
Of course Jesus gave ministry roles, not titles.…..
10 He who descended is the very one who ascended higher than all the heavens, in order to fill the whole universe.) 11 So Christ himself gave the apostles, the prophets, the evangelists, the pastors and teachers, 12 to equip his people for works of service, so that the body of Christ may be built up (Ephesians 4:10-12)
The early church leaders understood this. In their Letters, Peter and Paul were known by their function, not a title. A few examples…..
Peter, an apostle of Jesus Christ, (1 Peter 1:1a)
Paul, an apostle of Christ Jesus by the will of God, (Ephesians 1:1a)
Paul, called to be an apostle of Christ Jesus by the will of God, (1 Corinthian1 1a)
Paul, a servant of Christ Jesus(Romans 1:1a)
In all cases, the name is Peter and Paul, followed by the role. Never do they call themselves anything other than their Christian names.
Jesus himself had no title, did he? There were many people at that time who were called Jesus. Of course he had many roles, King of Kings, Lord of Lords, are but two. But then and now, we simply know him as Jesus. Jesus achieved his reputation by what he did, not what he called himself! Why can't we be the same?
An amusing story makes the point. Many years ago I went to Lagos in Nigeria to minister to pastors and leaders. I had only met my host through the internet. Before I left New Zealand I received a copy of the poster advertising the conference. My name shown as the 'The Right Honourable, Very Reverend Bishop, Doctor, David Tait JPG' It took me a little time to work out my qualification was! Finally, I got it! I had sent him my picture, and .jpg was the file type! It didn't work, as the meetings were not attended as well as they should have been, given my honorific! LOL! Only in Nigeria! The country with the greatest Holy Spirit and worst evil spirits in the world! They always balance.
CONCLUSION
There are many other ways pastors and people are subtly separated. The pastor sits on the stage in special chairs. Height raises status also. Hence the very high pulpits in Cathedrals. Pulpits also divide people from the speaker. Or sitting in the front row, because that is where the anointing is. Many still like sitting at the top table. And more.
There are many humble pastors, but unfortunately, many aren't also.
Two more stories as I finish.
I was in the Nairobi slums, many years ago now, ministering and staying in my host's house. I was having a shower i.e. a bucket of water to wash with when onto the TV came the opening of the new, at that time, TBN TV Channel building. The opulence was extreme. Gold plated bannisters on the magnificent stairway are what I best remember. It was attended by all the leading evangelists and church leaders in America all perfectly groomed, accompanied by their glamorous, usually a lot younger, wives. What a contrast! Which way did Jesus walk?
In the city where I was born and grew up, there was a watersider, or wharfie, as they were known. Jack lived in a humble house. There was nothing that stood about him, except his love of Jesus. He hadn't been to Bible School but had trained himself deeply in the Scriptures, and had a close relationship with God.
He ran a men's meeting once a week, which became really big, with men from many churches and outside of church, attended, to learn about the deeper things of God. For they were hungry for more of God, but were not finding it in their church. Which would Jesus choose?
Statistics show that the Western church is declining, both in membership and influence in the community.
We need to get back to the roots of our faith, to learn more about Jesus, more about the Father, through the Holy Spirit revealing to us personally the depths of the Word. Then we must spend time in prayer, not praying for our selfish desires but worshipping God and seeking Him to reach out and talk to us about His purpose for our lives, individually.
Then our faith will grow and others will be attracted to what we have, and want it for them personally, as they did with Jack.
Amen
David Tait
Walking with Jesus Ministries.
wwj.org.nz
See more about us at.....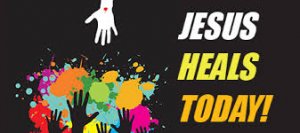 FROM THE WORD
THE WORDS OF JESUS
May we hear what the Lord is saying to us.....
Jesus Rejected at Nazareth (Luke 4:14-30)
His home town. Reading from the scroll of Isaiah.
"The Spirit of the Lord is upon me, for he has anointed me to announce good news to the destitute. He has sent me to proclaim that prisoners will be released, the blind will see, the oppressed will be freed, and to proclaim the time of the Lord's favor."
"This Scripture you've just heard has been fulfilled today!"
"I'm sure you'll repeat this proverb to me, 'Physician, heal yourself!' and ask, "Why don't you do here in your own hometown what we heard you did in Capernaum?" But I tell you the truth, no prophet is accepted in his hometown. I guarantee that there were many widows in Israel during the time of Elijah when there was a drought for three and a half years, causing a great famine throughout the country. Yet Elijah wasn't sent to any of them. He was sent to a widow in Zarephath in the region of Sidon! Even though there were many lepers in Israel in the time of Elisha, the only one who was healed was Naaman the Syrian!"
Jesus Healing an Official's Son(John 4:32-54)
Who was near to death.
"Unless you see signs and wonders you people really won't trust me,"
"Go on home," "Your son will live!"
Jesus Driving Out an Evil Spirit (Mark 1:21-8, Luke 4:31-7)
At the synagogue in Capernaum.
"Be quiet! Come out of him."
(Continues next week)
Download the complete 'Words of Jesus' here.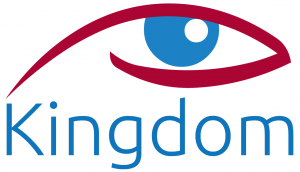 OUR AFRICAN EXPERIENCE
FOR MORE DETAILED AND REGULAR UPDATES, VISIT OUR FACEBOOK PAGE
AN EYE 4 Africa - https://www.facebook.com/aneye4africa/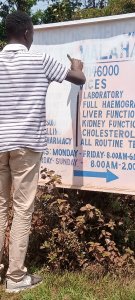 ABOUT (S-I-G-N) TIME!
Our 3+years sign is so out of date!
We compulsorily decided to wait until we got NHIF before updating it to modern services offered, which have increased regularly.
Also there is a small matter C-a-s-h which always has been in short supply. We look forward to that changing shortly. Without positivity here you would give up!
So out with the old, being painted over, changing the pink to light green.
White undercoat going on here.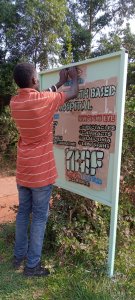 ON THE WAY
The stencil has been produced and now the painting starts with a piece of rag daubing the paint into the holes.
The finished result? Next week!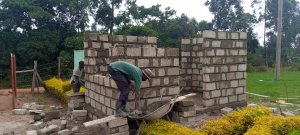 THE GUARD HOUSE
We had some bags of cement going hard, left from our delayed Ward Block construction. We needed to do something with them, and currently surplus other materials, so what better than build a Guard House, another project on the wish list.
So here we go! Walls on the way.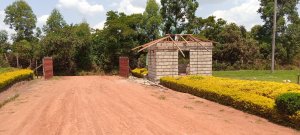 ALL READY FOR THE ROOF
So far, the costs have been minimal.
Now we have to wait for the roof.
To the left you can see the gates, which will be brought back in front of the Guard House, to give people more room from the road,when they enter.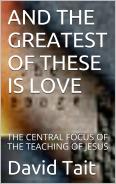 BOOK OF THE WEEK
ANDTHE GREATEST OF THESE IS LOVE
THE CENTRAL FOCUS OF THE TEACHING OF JESUS
Let us begin.....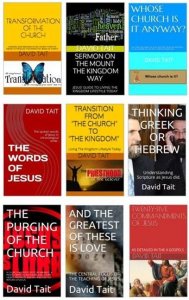 ***NOW***NINE BOOKS ARE AVAILABLE ON AMAZON!!!
9 BOOKS are now available on Amazon (Kindle)!

All are available worldwide for electronic download on Amazon (Kindle) for $US0.99c . Unfortunately there has to be a charge in order to list.

Your support would be appreciated and they could well change your life!

They are all found at this link.....
http://www.amazon.com/s/ref=nb_sb_noss?url=search-alias%3Daps&field-keywords=david+tait+books/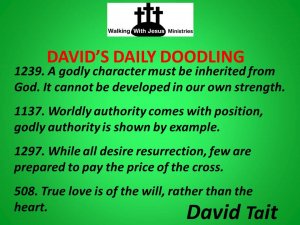 ***DAILY EZINE!*** 'DAVID'S DAILY DOODLINGS' Subscribe Today
Receive one of David's sayings in your mailbox each day to inspire, challenge or maybe, amuse. To register today, go down to the bottom of the page link below, click on the subscribe link dd-on@wwj.org.nz (or paste the address in an email yourself and send) Then it's done! If you have an Irish heritage, you will love the background coloring!
Subscription and back issue link is.....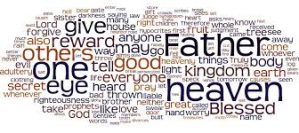 'THE WORDS OF JESUS' REMAIN AVAILABLE FOR PDF DOWNLOAD
Join the many who have downloaded the 'The Words of Jesus'. I am sure you will be blessed by it, as I have been.

One key element here is the setting out in chronological order (as far as it is possible to do so) our Lord's words drawn from all the Gospels, and the elimination of repetition between Gospels.

You may be surprised by the different perspective this presentation gives you both in understanding of His life and ministry, and in achieving a closer relationship with Him.

Download the free PDF here.....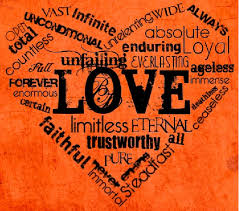 DAVID'S DOODLINGS
LOVE
508. True love is of the will, rather than the heart.

509. True love is truly proven in unlovely situations.

510.'It is better to have loved and lost'' is not true of God's love. For He never fails us.

511. Jesus specialises in loving the unlovely ' fortunately for me!

512. We all need love. What differs, is where we seek to find it!

513. To submit our will to another is the ultimate love commitment.

514. Jesus loved us to death!

515. It is much harder for the worthy to accept God's love than the unworthy. Always has been, always will be.

516. As passion goes, true love grows.

517. Passion stirs, love builds.
Please feel free to quote these quotes. Acknowledgment of David Tait as the author would be appreciated. There are now over 1300 David sayings for you to view at ...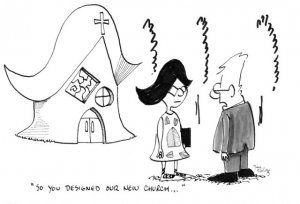 CARTOONS FROM TOON FEVER
Visit the Toon Fever website for more cartoon fun..... http://www.toonfever.com
Check it out at...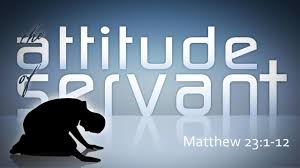 TUESDAY TEACHINGS
NEXT WEEK: A REVELATION OF……. SERVANTHOOD AND LEADERSHIP continues.....
We are going to have a look at the Organisation Structure in the church now and how God wants it to be.

Then take a brief, honest look at the present reality, the problems faced and the solution.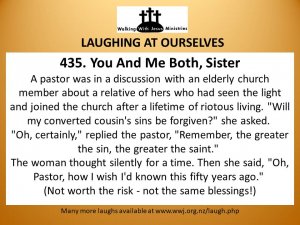 *** ANOTHER DAILY EZINE FROM WWJ!*** 'LAUGHING AT OURSELVES' Subscribe Today
As Christians, if we can't laugh at ourselves, others will! A fun way to start your day. To register today, go down to the bottom of the page link below, click on the subscribe link lao--on@wwj.org.nz (or paste the address in an email yourself and send) Then it's done!
https://www.wwj.org.nz/laughing-at-ourselves-ezine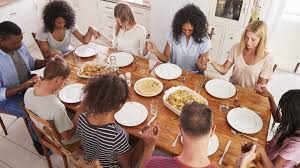 LAUGHING AT OURSELVES
***Blessed are those who can laugh at themselves for they shall never cease to be amused***
*** Those who can't laugh at themselves leave the job to others. ***
85. Modern Idiom
A 6-year-old was overheard reciting the Lord's Prayer at a church service: "And
forgive us our trash passes, as we forgive those who passed trash against us."
86. A Price For Everything
A little girl became restless as the preacher's sermon dragged on and on. Finally,
she leaned over to her mother and whispered, "Mummy, if we give him the money now,
will he let us go?"
87. Our Witness
After the christening of his baby brother in church, little Johnny sobbed all the way
home in the back seat of the car. His father asked him three times what was wrong.
Finally, the boy replied, "That priest said he wanted us brought up in a Christian
home, and I want to stay with you guys!"
88. No Prayer Required
The Sunday School Teacher asks, "Now, Johnny, tell me frankly, do you say prayers before eating?"
"No sir," little Johnny replies, "I don't have to. My Mom is a good cook."
QWIK QWIP: "When it comes time to die...make sure all you got to do is die."
Download the book 'Laughing At Ourselves' in PDF format at LAUGHING AT OURSELVES One of the most comprehensive sources of Christian Humour on the Net with 800 sermon fillers for your entertainment and use at ..... https://www.wwj.org.nz/content/wwj18p47.pdf
Or read even more online at.....
A DAVID MUSING
Please read the first article right through.
Thank you
His servant and yours
David Tait

Visit us here.....
CHANGING YOUR EMAIL ADDRESS? NEWSLETTER STOPS COMING?
Each week we can lose up to 2% of our readers when they change email addresses without letting us know. Or sometimes, by your server acting strangely and just cutting us off! If you are about to change your address, please advise us of both your old and new addresses here at
enquiries@wwj.org.nz
and we will happily change our records to ensure ongoing delivery. Thanks.
Please also keep our address in your address book, as sometimes servers will automatically delete your address if there is even a one off problem in delivery. If your newsletter doesn't arrive, please let us know and we will reinstate you.
REPRODUCTION OF NEWSLETTER CONTENT
Most weeks we get enquiries about reproducing, in electronic or print form, articles contained in 'PGIM!' We welcome and encourage you to utilize this material. Freely received, freely given. We would ask though, that the source be acknowledged as an encouragement to others to subscribe to this newsletter also.
LINKS
If you would like to link your web site to ours, and ours to yours, please advise us on
links@wwj.org.nz
ABOUT US
WALKING WITH JESUS MINISTRIES is a non-profit, non-denominational, Bible based ministry located in Hastings, New Zealand. A ministry dedicated to developing discipleship, fostering unity amongst God's people to achieve the Great Commission, and in doing so, preparing for Christ's return. It is securely based upon the foundational principles of the Apostles Creed while recognising the wide and rich diversity of beliefs amongst Christians in other areas. In accordance with the Lord's direction, materials produced by the ministry are available, free of charge, to genuine enquirers upon request. The ministry is solely funded by donations, as the Lord provides. A list of materials available (plus some fun!) is obtainable and freely downloadable from our website
wwj.org.nz or by contacting us as follows.

Walking With Jesus Ministries
P O Box 2
Webuye 50205
Kenya

Email: enquiries@wwj.org.nz
Web: wwj.org.nz

Our role is to bless and encourage those in ministry while promoting co-operation and unity of direction amongst the body of Christ, as emphasised 3 times by Jesus in His longest prayer, immediately prior to His arrest and crucifixion. "... so that they may be one as we are one." (John 17:12, 21, 23-4) Our website is currently being developed to encourage your participation one with another, to share resources, and to enable you to promote events and items of interest to the body as a whole - and have a smile while doing it!

For comments upon and contributions to this service, please contact
david@wwj.org.nz
SUBSCRIPTION MANAGEMENT
We would encourage you to share this free service with your friends in ministry. To subscribe yourself please email pgim-on@wwj.org.nz.
If your name has been referred to us by a friend or supporting Ministry or has been obtained from a public Christian Directory or Website, it isn't our wish to burden you with information in which you aren't interested. To remove yourself from this list, please email pgim-off@wwj.org.nz.