A Weekly World Wide Word of Encouragement to those in the Ministry
PRAISE GOD IT'S MONDAY!
A WEEKLY 'WWW (world-wide word) OF ENCOURAGEMENT'
TO THOSE IN MINISTRY
A FREE service, currently connecting with Christian leaders from 3,000 denominations and ministries, in 70 countries.

Issue No: 1007 Published: 01 Feb 2021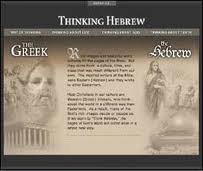 THINKING GREEK OR HEBREW
DIVISION WITHIN UNITY

Greek (Western)
Logically, there can only be one truth, so those who disagree with us are automatically wrong. Divisions within the church result.
In Western, scientific based thought, there can only be one truth. Of course, that is the truth and understanding that we have, built upon the theology in which we believe! Therefore that 'church down the road' that has some different beliefs to us cannot, at best, be as good as ours or, at worst, are regarded as heretics and not part of the kingdom of God. We are intolerant of the views of others for, in our mindset, there can only be one truth - ours!
This is very different to the Eastern way of thinking.

Eastern (Hebrew)
Jewish thinking allows for differences of opinion, without putting aside the greater picture of the good of the nation.
While in Jesus time, and since, there has been plenty of robust discussion and disagreement between groups with differing beliefs about Scripture and life, e.g. the Pharisees and Sadducees, (broadly speaking, conservative and liberal in our terminology), they still regarded each other as being a true part of the kingdom of Israel, for the greater good of the nation was bigger than their differences with each other. Difference was tolerated without causing complete separation.
Paul exhibited this way of thinking when discussing divisions that were arising in the early Roman church.....
One man considers one day more sacred than another; another man considers every day alike. Each one should be fully convinced in his own mind. 6 He who regards one day as special, does so to the Lord. He who eats meat, eats to the Lord, for he gives thanks to God; and he who abstains, does so to the Lord and gives thanks to God. 7 For none of us lives to himself alone and none of us dies to himself alone. 8 If we live, we live to the Lord; and if we die, we die to the Lord. So, whether we live or die, we belong to the Lord. 9 For this very reason, Christ died and returned to life so that he might be the Lord of both the dead and the living. 10 You, then, why do you judge your brother? Or why do you look down on your brother? For we will all stand before God's judgment seat. 11 It is written: "'As surely as I live,' says the Lord, 'every knee will bow before me; every tongue will confess to God.'" (Romans 14:5-11)
There should be even greater unity in the church than in the world! We are not to follow particular men (or theologies), only God. To the Corinthians he said.....
Brothers, I could not address you as spiritual but as worldly—mere infants in Christ. 2 I gave you milk, not solid food, for you were not yet ready for it. Indeed, you are still not ready. 3 You are still worldly. For since there is jealousy and quarreling among you, are you not worldly? Are you not acting like mere men? 4 For when one says, "I follow Paul," and another, "I follow Apollos," are you not mere men? 5 What, after all, is Apollos? And what is Paul? Only servants, through whom you came to believe—as the Lord has assigned to each his task. 6 I planted the seed, Apollos watered it, but God made it grow. 7 So neither he who plants nor he who waters is anything, but only God, who makes things grow. 8 The man who plants and the man who waters have one purpose, and each will be rewarded according to his own labor. 9 For we are God's fellow workers; you are God's field, God's building. (1 Corinthians 3:1-9)
Jesus too, was strong about this.....
8 "But you are not to be called 'Rabbi,' for you have only one Master and you are all brothers. 9 And do not call anyone on earth 'father,' for you have one Father, and he is in heaven. 10 Nor are you to be called 'teacher,' for you have one Teacher, the Christ. 11 The greatest among you will be your servant. 12 For whoever exalts himself will be humbled, and whoever humbles himself will be exalted. (Matthew 23:8-12)
The ministry role is to bring about unity, not division.....
11 It was he who gave some to be apostles, some to be prophets, some to be evangelists, and some to be pastors and teachers, 12 to prepare God's people for works of service, so that the body of Christ may be built up 13 until we all reach unity in the faith and in the knowledge of the Son of God and become mature, attaining to the whole measure of the fullness of Christ. (Ephesians 4:11-13)
May the Lord have mercy upon us as we continue to lift one man above another and pursue policies that divide rather than unite the body of Christ.

SOME SPIRITUAL IMPLICATIONS FOR TODAY
1. We need to learn that only God has all the answers - and that we are not God!
2. We need to understand and accept that others may have different ideas to us in disputable areas of theology.
3. We need to put the overall good of the body of Christ above the self interest of our own denomination, grouping, (or non-grouping!).
4. We need to take active steps to reconcile with those we have rejected.
(Continues next week)
Acknowledgements: http://www.followtherabbi.com and http://hethathasanear.com and http://www.wildbranch.org
See more about us at.....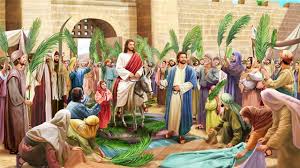 FROM THE WORD
THE WORDS OF JESUS
May we hear what the Lord is saying to us.....
Triumphal Entry Into Jerusalem (Matthew 21:1-11, Mark 11:1-10, Luke 19:28-44, John 12:12-19)
Jesus' request of 2 disciples.
"Go to the village further on. As you enter it you'll find a colt tied up that no one has ever ridden. Untie it and bring it here. If anyone asks you, 'Why are you untying it?' just say, 'The Lord needs it.'"
Pharisees request Jesus to silence His followers.
"I tell you that if they kept quiet then the stones will shout!"
Jesus weeps for Jerusalem.
"I really wish today that you, even you, had known the path that leads to peace!" he said. "But now it's hidden from your eyes. The time is coming upon you when your enemies will besiege you, building ramps to attack you, encircling you and closing you in from every side. They will smash you to the ground, you and your children within you. They won't leave one stone on another within you, for you refused to accept salvation when it came to you."
Cursing the Fig Tree ( Mark 11:12-14)
That had no fruit out of season.
"May no one eat fruit from you ever again."
Second Temple Cleansing (Matthew 21:12-13, Mark 11:15-17, Luke 19:45-6)
Throwing out the merchants.
"Doesn't Scripture say, 'My house will be called a house of prayer for all nations'?
But you have turned it into a den of thieves!"
(Continued next week)
Download the complete 'Words of Jesus' here.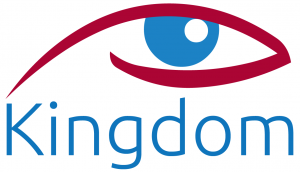 OUR AFRICAN EXPERIENCE
FOR MORE DETAILED AND REGULAR UPDATES, VISIT OUR FACEBOOK PAGE
AN EYE 4 Africa - https://www.facebook.com/aneye4africa/
(Kathy with Selina, our hostess in whose house we have lived for 3 1/2 years now!)
CATARACT OPERATIONS GALORE!
The New Year has seen an amazing increase in Cataract Operations here. Last year we didn't operate in January because people lacked money after Christmas and paying School Fees.
But this month we have had a big demand, doing 27 surgeries over 3 days, with 13 on 1 day being our biggest day yet! PTL!
There is a lot of preparation, and cost, that goes into a surgery Currently, we charge KES5,000 ($US45, $NZ65) We lose KES 1,000 per operation.
Interestingly, in Africa, the cost of a surgery is calculated as being the equivalent of the cost of a goat! Here a goat sells for KES6,500, so we are priced KES1,500 under what we should be charging,
which is pretty spot on!
Our drugs and other items needed bed! Kathy's bag was not used in the operations. Too unhygienic! LOL!
Lily, our Surgeon, and Emmanuel, unpacking the pre-sterilized instruments for use. A cold morning Lily!
This amazing couple were had both lost most of their sight. Now, with Kingdom's help, they can see again. You can imagine how happy they are!
This man was totally blind, but now he can see in one eye, seeing his brother for the first time in many years. They are both so happy.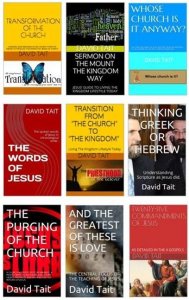 ***NOW***NINE BOOKS ARE AVAILABLE ON AMAZON!!!
9 BOOKS are now available on Amazon (Kindle)!

All are available worldwide for electronic download on Amazon (Kindle) for $US0.99c . Unfortunately there has to be a charge in order to list.

Your support would be appreciated and they could well change your life!

They are all found at this link.....
http://www.amazon.com/s/ref=nb_sb_noss?url=search-alias%3Daps&field-keywords=david+tait+books/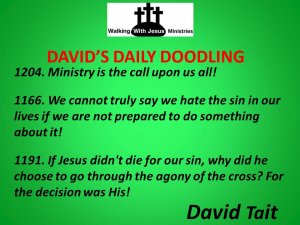 ***DAILY EZINE!*** 'DAVID'S DAILY DOODLINGS' Subscribe Today
Receive one of David's sayings in your mailbox each day to inspire, challenge or maybe, amuse. To register today, go down to the bottom of the page link below, click on the subscribe link dd-on@wwj.org.nz (or paste the address in an email yourself and send) Then it's done! If you have an Irish heritage, you will love the background coloring!
Subscription and back issue link is.....

'THE WORDS OF JESUS' REMAIN AVAILABLE FOR PDF DOWNLOAD
Join the many who have downloaded the 'The Words of Jesus'. I am sure you will be blessed by it, as I have been.

One key element here is the setting out in chronological order (as far as it is possible to do so) our Lord's words drawn from all the Gospels, and the elimination of repetition between Gospels.

You may be surprised by the different perspective this presentation gives you both in understanding of His life and ministry, and in achieving a closer relationship with Him.

Download the free PDF here.....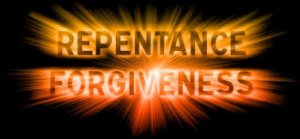 DAVID'S DOODLINGS
ON REPENTANCE AND FORGIVENESS
163. True repentance is - a godly principle applied.

164. Personal repentance is a verb, not an adjective.

165. True repentance is an action that results in a life changing reaction.

166. Show me one who walks in forgiveness and talks with their wallet, and I will show you a true believer.

167. It is amazing how a sprinkling of forgiveness can calm a raging sea of hurts.

168. Sadly, the human mind subtly subverts the holy, 'I Am', into the unholy, 'I am'!

187. Forgiveness is unique. The more you give the more you get.

188. Forgiveness is the one thing you can have more of by giving it away.

189. There are two inexplicable things in life - that the bumblebee can fly and that the more forgiveness I give, the more I get.

190. Forgiveness flies away, a leaf borne by the wind, soon to be returned upon the wings of an angel.

378. Medicine heals the body, while forgiveness heals the soul.

379. Forgiveness is a mind soothing balm.

380. Repentance brings peace with God - forgiveness, peace with ones self.

381. The simplest way to avoid repentance is not to sin. All too often I forget to follow my own advice!

1305. True revival is built upon the foundation of tears.
Please feel free to quote these quotes. Acknowledgment of David Tait as the author would be appreciated. There are now over 1300 David sayings for you to view at ...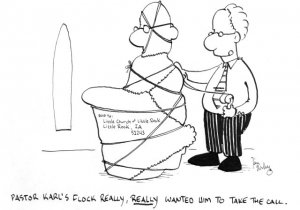 CARTOONS FROM TOON FEVER
Visit the Toon Fever website for more cartoon fun..... http://www.toonfever.com

Check it out at...

TUESDAY TEACHINGS
THIS WEEK:GOD AND MAN continues.....
We complete our look at the sin that prevented Moses from entering the Promised Land by considering its spiritual implications for us today.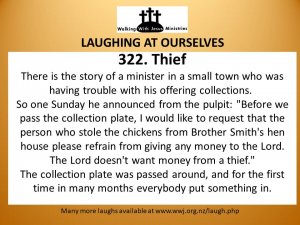 *** ANOTHER DAILY EZINE FROM WWJ!*** 'LAUGHING AT OURSELVES' Subscribe Today
As Christians, if we can't laugh at ourselves, others will! A fun way to start your day. To register today, go down to the bottom of the page link below, click on the subscribe link lao--on@wwj.org.nz (or paste the address in an email yourself and send) Then it's done!
https://www.wwj.org.nz/laughing-at-ourselves-ezine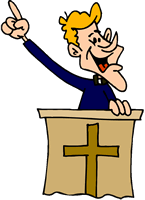 LAUGHING AT OURSELVES
***Blessed are those who can laugh at themselves for they shall never cease to be amused***
*** Those who can't laugh at themselves leave the job to others. ***
5. The Flock
Three priests were having lunch in a restaurant.
One said, "You know, all summer I have been having trouble with bats in the belfry. I've tried everything to get rid of them - noise, spray, cats – but nothing works.
Me too, said the second. I've got hundreds living there too. I even had the place fumigated, but still they stay.
That's simple, said the third. "I baptised all mine – made them members of the church….. Haven't had a single one back since!"
QWIK QWIP: "Give God what's right - not what's left."
6. You Can Bank On It!
A woman went into the bank to cash a cheque before going Christmas shopping.
"What denominations would you like?" asked the Teller.
"Oh, good heavens – has it come to this!" said the woman. "Well give me 50 Baptists and 50 Presbyterians, please."
7. Sermon to Order
After the praise and worship the pastor got up and said, " For today I have prepared 3 sermons. A $10 hell raiser on fire and brimstone that will take an hour and a half to deliver, a $50 exposition on the evils of sin that will take 45 minutes to give, along with a $100, 10 minute gem on love and generosity. We will now take the collection to see which you vote for!"
Download the book 'Laughing At Ourselves' in PDF format at LAUGHING AT OURSELVES One of the most comprehensive sources of Christian Humour on the Net with 800 sermon fillers for your entertainment and use at ..... https://www.wwj.org.nz/content/wwj18p47.pdf
Or read even more online at.....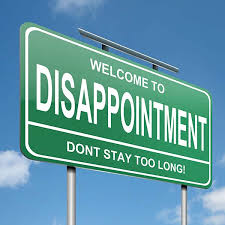 A DAVID MUSING
Disappointment is hard to handle, isn't it?
Of course, disappointment comes in varying degrees. Our football team, of whatever code, might lose - but there's always next week or next season.
However, when it comes to personal disappointments, there may be many that can't be fixed. I wish I had done this, or done that, and my life would be different. I am sure you have thought this, for we all have.
On Friday we had a huge disappointment when an approval we have been waiting for for nearly 3 years was not finalized, as it should have been. Hence why I thought to write this. What did God say to me? Be strong and rejoice in me.
Living in Kenya teaches you to live with disappointment, particularly when dealing with the Government,
The true life question is, "How we deal with them?". Many things cannot be changed, We are where we are. We can choose to blame life, blame God, blame the Government, blame our parents, spouse, family, or many more. Particularly hard is losing a child, for whom you had great hopes and dreams.
We have a choice. We can be miserable and play the blame game for the rest of our life. Who does that benefit? No-one, least of all yourself. Or we can accept the hand we have been dealt, and get on with life. This can be hard, but ultimately it is the best way for you, and those round you.
And remember, if we choose to follow Him, we have Jesus there to support us and lead us on the way to new life.
What will be your choice today?
Until next time.....
MAY GOD BLESS YOU AND YOU BLESS GOD
His servant and yours
David Tait

Visit us here.....
CHANGING YOUR EMAIL ADDRESS? NEWSLETTER STOPS COMING?
Each week we can lose up to 2% of our readers when they change email addresses without letting us know. Or sometimes, by your server acting strangely and just cutting us off! If you are about to change your address, please advise us of both your old and new addresses here at
enquiries@wwj.org.nz
and we will happily change our records to ensure ongoing delivery. Thanks.
Please also keep our address in your address book, as sometimes servers will automatically delete your address if there is even a one off problem in delivery. If your newsletter doesn't arrive, please let us know and we will reinstate you.
REPRODUCTION OF NEWSLETTER CONTENT
Most weeks we get enquiries about reproducing, in electronic or print form, articles contained in 'PGIM!' We welcome and encourage you to utilize this material. Freely received, freely given. We would ask though, that the source be acknowledged as an encouragement to others to subscribe to this newsletter also.
LINKS
If you would like to link your web site to ours, and ours to yours, please advise us on
links@wwj.org.nz
ABOUT US
WALKING WITH JESUS MINISTRIES is a non-profit, non-denominational, Bible based ministry located in Hastings, New Zealand. A ministry dedicated to developing discipleship, fostering unity amongst God's people to achieve the Great Commission, and in doing so, preparing for Christ's return. It is securely based upon the foundational principles of the Apostles Creed while recognising the wide and rich diversity of beliefs amongst Christians in other areas. In accordance with the Lord's direction, materials produced by the ministry are available, free of charge, to genuine enquirers upon request. The ministry is solely funded by donations, as the Lord provides. A list of materials available (plus some fun!) is obtainable and freely downloadable from our website
wwj.org.nz or by contacting us as follows.

Walking With Jesus Ministries
P O Box 2
Webye 50205
Kenya

Email: enquiries@wwj.org.nz
Web: wwj.org.nz

Our role is to bless and encourage those in ministry while promoting co-operation and unity of direction amongst the body of Christ, as emphasised 3 times by Jesus in His longest prayer, immediately prior to His arrest and crucifixion. "... so that they may be one as we are one." (John 17:12, 21, 23-4) Our website is currently being developed to encourage your participation one with another, to share resources, and to enable you to promote events and items of interest to the body as a whole - and have a smile while doing it!

For comments upon and contributions to this service, please contact
david@wwj.org.nz
SUBSCRIPTION MANAGEMENT
We would encourage you to share this free service with your friends in ministry. To subscribe yourself please email pgim-on@wwj.org.nz.
If your name has been referred to us by a friend or supporting Ministry or has been obtained from a public Christian Directory or Website, it isn't our wish to burden you with information in which you aren't interested. To remove yourself from this list, please email pgim-off@wwj.org.nz.