A Weekly World Wide Word of Encouragement to those in the Ministry
PRAISE GOD IT'S MONDAY!
A WEEKLY 'WWW (world-wide word) OF ENCOURAGEMENT'
TO THOSE IN MINISTRY
A FREE service, currently connecting with Christian leaders from 3,000 denominations and ministries, in 70 countries.

Issue No: 1038 Published: 06 Sep 2021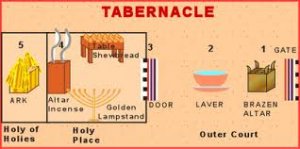 A WALK THROUGH THE TABERNACLE OF MOSES
MOSES TABERNACLE INTRODUCED
A NOTE FROM DAVID…….
The first modern revelation of the importance of Moses Tabernacle as being the pattern of a godly walk, and one of church development and life, came out of the Latter Rain Movement, after World War 2.
In more recent times the teaching has been neglected, but it is still applicable today. And the Lord is today, giving even more revelation about it, as we move still closer to the end of the age.
Yes, an understanding of Moses Tabernacle is vital for every Christian with a heart to know God and His plans in a deeper way.
We will take a look at the Tabernacle from three different perspectives.
First of all, in order to learn about the Tabernacle and its functions we are going to take a walk through it from the perspective of a Jewish farmer, 3,500 years ago, during the time it was in use.
Then we will see how it establishes God's pattern for the church, before finally, looking at its implications for the church of the future. The end-time church, His bride, the one for which Jesus is to return.
This is a key understanding, and one that every serious believer needs to be fully aware of today. Not simply to understand, but to apply to our lives.
I pray that you will find it as illuminating, challenging, yet encouraging, as I have in my life.
His servant and yours,
David Tait
PS: It is the teaching I am best known for. Acting it out in real life is hugely powerful, as you would expect, for it is still as relevant today as when it was constructed. For it still illustrates what the pattern of development of our walk with Jesus should be like.
Brought up in an evangelical Baptist, I have to admit hardly hearing of, and certainly not understanding the amazing truths contained within, and patterns set by, the very first church building, Moses Tabernacle. It was constructed in the Sinai Desert some 3,500 years ago, to very detailed plans and specifications prepared by the ultimate Architect, God himself, supernaturally transmitted to the Construction Manager, Moses, and built by Israelites who were particularly devoted to their God.
Around 30 years ago now, when introduced to the revelations of Pentecost, I was simply 'blown away' (amazed) that God, three and a half millenniums ago, revealed Himself, the pattern of Heaven, and what was to be His unchanging pattern for the Church and us as individuals, both present and future. For the Tabernacle reveals both the nature and purpose of Jesus, and of the New Testament Church that Jesus was to establish through His death and resurrection, which we are part of today. And which sets out our future too!
As the detailed plans and drawings are perfectly preserved in the Bible, we still have an excellent picture of the physical form of the Tabernacle itself. In fact a replica has been built and is open to visit in Israel. One day I will get to see it. We also have God's detailed instructions on the priesthood. These were the clergy who were to be responsible for looking after the Tabernacle in which God's presence was to dwell for some 500 years or so, until Solomon's Temple was built when they transferred there. Some of these exciting revelations will be investigated later
However, before we do, I felt it would be a good idea to get in tune with the times, by paying a visit to the tabernacle for ourselves, from the perspective of an ordinary citizen, such as you or me. As details of this are sketchy, what follows is one man's view of what it may have been like to visit.
But first, let's have a look at the layout of the Tabernacle itself. (See illustration)
The bible gives a comprehensive 16 chapter, detailed description, of Moses Tabernacle in Exodus, through chapters 25 to 40. It describes most aspects of the physical design of the structure and the furniture it contains, in considerable detail, but is much less revealing about the way the Tabernacle functioned. Further information can be gleaned from the first 10 chapters of Leviticus, and snippets elsewhere. But nowhere is there a detailed description of the daily 'happenings' in this worship centre.
There are many writings on the spiritual meanings of the intricate Tabernacle design details that God gave to Moses on Mount Sinai. I would strongly recommend that you consider reading these for the still 'relevant revelations' they contain. What follows however is a story, based as closely as possible on the scriptures, hopefully giving a feeling for and understanding of, some of the amazing truths the Tabernacle contains. However it is only a story, so let's not base our theology on it! It was both fun and a challenge to compile. I hope you find it helpful in bringing Moses Tabernacle to life for you too.
The story starts next week.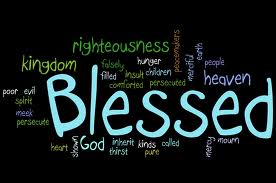 FROM THE WORD
THE WORDS OF JESUS
May we hear what the Lord is saying to us.....
The Lord of the Sabbath(Matthew 12:1-14, Mark 2:23-3:6, Luke 6:1-11)
Jesus criticized for picking grain on the Sabbath.
Haven't you read in the law that on the Sabbath day the priests in the Temple break the Sabbath but are not considered guilty? However I tell you that someone is here who is greater than the temple! 7If you'd known the meaning of this Scripture, 'I want mercy, and not sacrifice,' you wouldn't have condemned an innocent man. For the Son of man is Lord of the Sabbath."
And again for healing a man with a shriveled hand in the synagogue.
"Suppose you have a sheep and it falls into a hole in the ground on the Sabbath. Don't you grab hold of it and pull it out?" "Don't you think a human being is worth much more than a sheep? So yes, you are allowed to do good on the Sabbath."
"Hold out your hand."
Sermon on the Mount(Matthew 5:1-7:29, Luke 6:17-49)
The primary 'life teachings' of Jesus.
The Beatitudes(Matthew 5:1-12, Luke 6:20-23)
"Blessed are those who recognize they are spiritually poor, for the kingdom of heaven is theirs.
Blessed are those who mourn, for they shall be comforted.
Blessed are those who are kind, for they will own the whole world.
Blessed are those whose greatest desire is to do what is right, for they will be satisfied.
Blessed are those who are merciful, for they will be shown mercy.
Blessed are those who have pure hearts, for they will see God.
Blessed are those who work to bring peace, for they will be called children of God.
Blessed are those persecuted for what is right, for the kingdom of heaven belongs to them.
Blessed are you when people insult you and persecute you, and accuse you of all kind of evil things because of me.
Be glad, be really glad, for you will receive a great reward in heaven—for they persecuted the prophets who came before you in just the same way.
(Continues next week)
Download the complete 'Words of Jesus' here.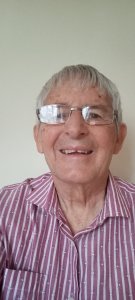 OUR AFRICAN EXPERIENCE
FOR MORE DETAILED AND REGULAR UPDATES, VISIT OUR FACEBOOK PAGE
AN EYE 4 Africa - https://www.facebook.com/aneye4africa/
Have the wireless disc adjusted correctly now. Goes like a bomb!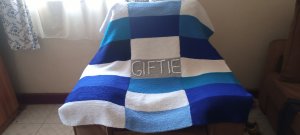 A MOST BEAUTIFUL BED COVER FOR 'GIFTIE'
Kathy has spent months knitting this beautiful bed cover for our Head of Securities son. Giftie. why Giftie? As Sharon was not meant to be ablo to have a baby. So he is God's gift to them.
Kathy spent months Knitting the blanket in her free time. She hates sitting and doing nothing! One of her other productions amongst numerous baby hats for the babies born here.
With the Government sponsored 'Linda Mama' maternity scheme coming back into action after a hiatus of a few months, we expect to deliver many more babies, as the mothers won't have to pay. This scheme is aimed at getting mothers to give birth in Hospitals rather than at home. It certainly has cut the mortality rate at birth greatly..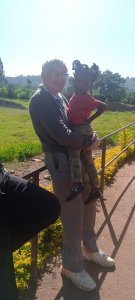 TOOK A SHINE!
This young lady took a real shine to me. She would race over and greet me when her family came to visit a patient in the ward.
This is most unusual, hence the photo, as some will cry when they see me (for I am ugly!) or at best keep next to their mother for protection from this strange white skinned man. For in our area, there are very few whites, so Kathy and I may well be the first people they have seen.
Yes, they cry at Kathy too! LOL!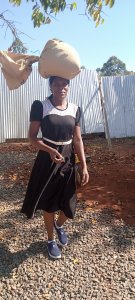 HOW TO DEVELOP YOUR POSTURE LADIES!!!
By carrying your parcels on your head! Actually, it is very efficient, as they can carry more on the head than in their arms!
Men generally, do not do so, carrying in their arms, as Westerners do.
What was in the sack? You shouldn't ask! IT WAS SUGAR!!!!!! Not good for a hospital!.
Generally not used in cooking, but they make up for that by having lots in their tea. Tea is made from Kenya Tea, of course, plus milk and water in equal proportions, plus sugar, then boiled.
I don't drink tea or coffee, never have, but it is not to Kathy's taste, so she makes her own!
It is being carried by Judy, one of our Cooks/Cleaners. Yes she is a tall lady.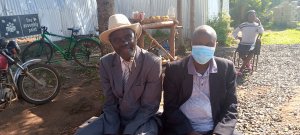 A SATISFIED CLIENT
I just loved seeing this old man, sitting with his son, ready to go home after a successful cataract operation.
These people are so grateful to us for helping then to see/see better, again.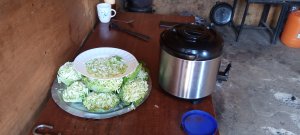 EVER RUN OUT OF BOWLS IN THE KITCHEN?
In the hospital the main green vegetable eaten is cabbage, primarily because of cost. They are cheaper and take less preparation than the local green vegetables.
We don't have sufficient bowls, so what do our staff do?
Logical really! They use the outside leaves for bowls!
A handy hint for you?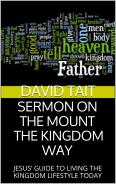 BOOK OF THE WEEK
SERMON ON THE MOUNT THE KINGDOM WAY
JESUS' GUIDE TO LIVING THE KINGDOM LIFESTYLE TODAY
The essence of living the kingdom lifestyle in contained in these 8 statements and the following kindgdom parables.
An important read to be turned into life application.
Let us begin…..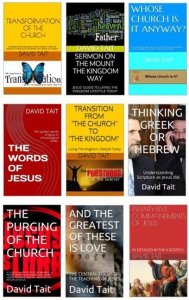 ***NOW***NINE BOOKS ARE AVAILABLE ON AMAZON!!!
9 BOOKS are now available on Amazon (Kindle)!

All are available worldwide for electronic download on Amazon (Kindle) for $US0.99c . Unfortunately there has to be a charge in order to list.

Your support would be appreciated and they could well change your life!

They are all found at this link.....
http://www.amazon.com/s/ref=nb_sb_noss?url=search-alias%3Daps&field-keywords=david+tait+books/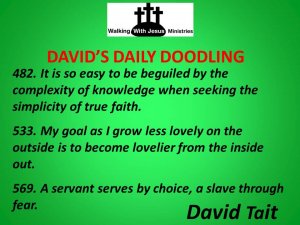 ***DAILY EZINE!*** 'DAVID'S DAILY DOODLINGS' Subscribe Today
Receive one of David's sayings in your mailbox each day to inspire, challenge or maybe, amuse. To register today, go down to the bottom of the page link below, click on the subscribe link dd-on@wwj.org.nz (or paste the address in an email yourself and send) Then it's done! If you have an Irish heritage, you will love the background coloring!
Subscription and back issue link is.....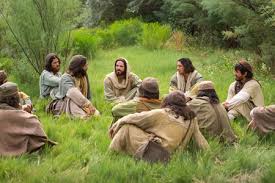 'THE WORDS OF JESUS' REMAIN AVAILABLE FOR PDF DOWNLOAD
Join the many who have downloaded the 'The Words of Jesus'. I am sure you will be blessed by it, as I have been.

One key element here is the setting out in chronological order (as far as it is possible to do so) our Lord's words drawn from all the Gospels, and the elimination of repetition between Gospels.

You may be surprised by the different perspective this presentation gives you both in understanding of His life and ministry, and in achieving a closer relationship with Him.

Download the free PDF here.....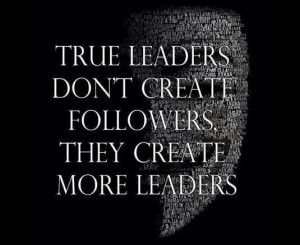 DAVID'S DOODLINGS
LOVE
561. It is better to be 'led' by God than 'bled' by life.
562. In God, to obey is the better way.
563. Our Christian walk in a 't' ' from rust to trust!

564. To serve is to'
' love the unlovely
' help the helpless
' befriend the lonely
' rebuild the brokenhearted
' soothe the sick
' bless the poor
' raise up the downtrodden
' seek the lost
' comfort the dying

565. True servants add their own desires to the end of the queue.
566. Pride demolishes, while servanthood builds.
567. Leaders of character understand the twin character difference between serve and slave.
568. To serve is God initiated, to slave, human imposed.
569. A servant serves by choice, a slave through fear.
570. For down to be up, up must first be down.
Please feel free to quote these quotes. Acknowledgment of David Tait as the author would be appreciated. There are now over 1300 David sayings for you to view at ...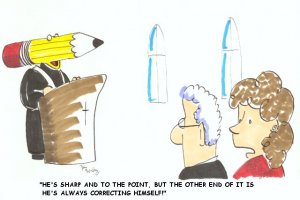 CARTOONS FROM TOON FEVER
Visit the Toon Fever website for more cartoon fun..... http://www.toonfever.com
Check it out at...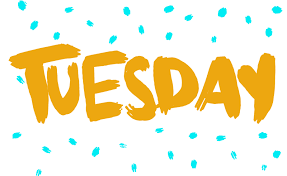 TUESDAY TEACHINGS
NEXT WEEK: A REVELATION OF……. SERVANTHOOD AND LEADERSHIP continues.....
as we radically challenge the principles on which the church is currently based.
Who is meant to be leading the church? Who should be doing the work?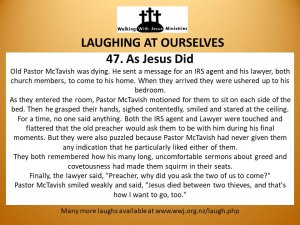 *** ANOTHER DAILY EZINE FROM WWJ!*** 'LAUGHING AT OURSELVES' Subscribe Today
As Christians, if we can't laugh at ourselves, others will! A fun way to start your day. To register today, go down to the bottom of the page link below, click on the subscribe link lao--on@wwj.org.nz (or paste the address in an email yourself and send) Then it's done!
https://www.wwj.org.nz/laughing-at-ourselves-ezine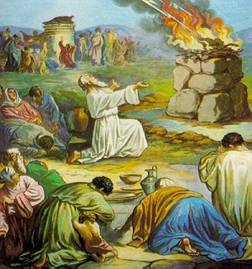 LAUGHING AT OURSELVES
***Blessed are those who can laugh at themselves for they shall never cease to be amused***
*** Those who can't laugh at themselves leave the job to others. ***
98. Condiments Please
The Sunday school teacher was carefully explaining the story of Elijah the Prophet and the false prophets of Baal. She explained how Elijah built the altar, put wood upon it, cut the steer in pieces and laid it upon the altar.
And then Elijah commanded the people of God to fill four barrels of water and pour it over the altar. He had them do this four times.
"Now, said the teacher, "can anyone in the class tell me why the Lord would have Elijah pour water over the steer on the altar?"
A little girl in the back of the room raised her hand with great enthusiasm. "To make the gravy," came her enthusiastic reply.
99. The First Sunday School Lesson
One Sunday after church the mother asked her very young daughter what her lesson had been about. Her daughter answered "Don't be scared, you'll get your quilts."
Needless to say, the mother was perplexed.
Later in the day, when the Pastor stopped by for tea, the mother asked him what that morning's Sunday school lesson had been about. The pastor said, "Be not afraid, thy comforter is coming."
QWIK QWIP: "Real friends are those who, when you feel you've made a fool of yourself, don't feel you've done a permanent job."
100. Skipping Church
John, who loved to play golf, was also pastor of the Community Church. Every Sunday he chafed under the realisation that while he had to go preach at the church, his golfing buddies were having a great time out on the greens. So John devised a plan. On Saturday evening he taped his sermon, and placed the tape player in the pulpit. He then connected it to the church's amplifying equipment, and set it on a timer so that it would start precisely at the time in the service when he would normally begin preaching. The next day, John enjoyed a wonderful day at the golf course. And surprisingly, there were no adverse comments from the church deacons, or from any of the members. So, John decided to follow the same plan the next week. However, after nine holes, John became a little uneasy, and decided to check to see if everything was going okay back at the church. As he approached the church, he could hear his own voice booming out the sermon he had taped the night before. He quietly opened the front door, and walked through the vestibule. But when he peered through the sanctuary doors, he was shocked to see that no one was in church at all. Instead, on every pew there were six small tape recorders, all of them eagerly taking in every word of the sermon. .
Download the book 'Laughing At Ourselves' in PDF format at LAUGHING AT OURSELVES One of the most comprehensive sources of Christian Humour on the Net with 800 sermon fillers for your entertainment and use at ..... https://www.wwj.org.nz/content/wwj18p47.pdf
Or read even more online at.....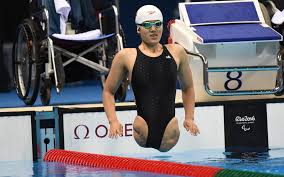 A DAVID MUSING
As the Paralympics come to close, it is interesting to reflect upon the amazing things people who have physical and other challenges, are still able to go out and achieve to the best their challenge will allow. I am sure the satisfaction they will feel will be even greater than able bodied athletes, for them to get there at all is a miracle for each one.
How often do we give up when the going gets hard?
Let us think back to Paralympians at that time and be inspired to push on more and more, until, for us too, the impossible suddenly becomes possible.
Perseverance too, is vital in our walk with Jesus too. Just remember, He will always come through!
His servant and yours
David Tait

Visit us here.....
CHANGING YOUR EMAIL ADDRESS? NEWSLETTER STOPS COMING?
Each week we can lose up to 2% of our readers when they change email addresses without letting us know. Or sometimes, by your server acting strangely and just cutting us off! If you are about to change your address, please advise us of both your old and new addresses here at
enquiries@wwj.org.nz
and we will happily change our records to ensure ongoing delivery. Thanks.
Please also keep our address in your address book, as sometimes servers will automatically delete your address if there is even a one off problem in delivery. If your newsletter doesn't arrive, please let us know and we will reinstate you.
REPRODUCTION OF NEWSLETTER CONTENT
Most weeks we get enquiries about reproducing, in electronic or print form, articles contained in 'PGIM!' We welcome and encourage you to utilize this material. Freely received, freely given. We would ask though, that the source be acknowledged as an encouragement to others to subscribe to this newsletter also.
LINKS
If you would like to link your web site to ours, and ours to yours, please advise us on
links@wwj.org.nz
ABOUT US
WALKING WITH JESUS MINISTRIES is a non-profit, non-denominational, Bible based ministry located in Hastings, New Zealand. A ministry dedicated to developing discipleship, fostering unity amongst God's people to achieve the Great Commission, and in doing so, preparing for Christ's return. It is securely based upon the foundational principles of the Apostles Creed while recognising the wide and rich diversity of beliefs amongst Christians in other areas. In accordance with the Lord's direction, materials produced by the ministry are available, free of charge, to genuine enquirers upon request. The ministry is solely funded by donations, as the Lord provides. A list of materials available (plus some fun!) is obtainable and freely downloadable from our website
wwj.org.nz or by contacting us as follows.

Walking With Jesus Ministries
P O Box 2
Webuye 50205
Kenya

Email: enquiries@wwj.org.nz
Web: wwj.org.nz

Our role is to bless and encourage those in ministry while promoting co-operation and unity of direction amongst the body of Christ, as emphasised 3 times by Jesus in His longest prayer, immediately prior to His arrest and crucifixion. "... so that they may be one as we are one." (John 17:12, 21, 23-4) Our website is currently being developed to encourage your participation one with another, to share resources, and to enable you to promote events and items of interest to the body as a whole - and have a smile while doing it!

For comments upon and contributions to this service, please contact
david@wwj.org.nz
SUBSCRIPTION MANAGEMENT
We would encourage you to share this free service with your friends in ministry. To subscribe yourself please email pgim-on@wwj.org.nz.
If your name has been referred to us by a friend or supporting Ministry or has been obtained from a public Christian Directory or Website, it isn't our wish to burden you with information in which you aren't interested. To remove yourself from this list, please email pgim-off@wwj.org.nz.