A Weekly World Wide Word of Encouragement to those in the Ministry
PRAISE GOD IT'S MONDAY!
A WEEKLY 'WWW (world-wide word) OF ENCOURAGEMENT'
TO THOSE IN MINISTRY
A FREE service, currently connecting with Christian leaders from 3,000 denominations and ministries, in 70 countries.

Issue No: 738 Published: 21 Dec 2015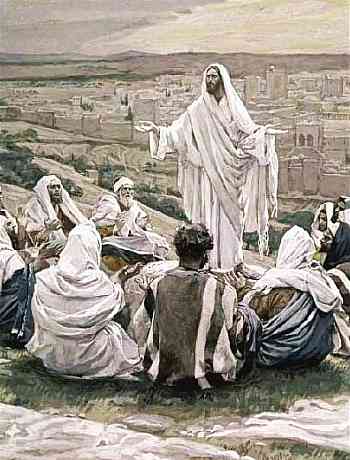 CHRISTIANITY - A CULTURE, ORGANISATION, OR A RELATIONSHIP? (CORRECTED - PHOTOS INCLUDED)
So sorry for leaving out the photos - David.....
Last week we saw that under the New Covenant, we are all priests, not just the clergy, for the clergy are no more or less priests than the congregation. However we persist in 'preaching' from the pulpit to a passive audience, which simply is ineffective. How many sermons have you heard? How many can you remember?
The 2 pictures today illustrate how far we have got from the pattern of Jesus, who was the ultimate teacher, explaining through parables and in other ways the truth of the kingdom, and interacting with His audience. Of the 90 times Jesus was addressed directly in the Gospels, 60 of those He was referred to as 'teacher'.
13 'You call me "Teacher" and "Lord", and rightly so, for that is what I am. (John 13:13
So what can we do to correct the (religious) situation we have developed over the centuries, to come back more to the pattern modeled by Jesus?
The following is drawn from the 'DAVID DOWNLOAD' "PREACH, TEACH - OR 'TREACH'?", that (by chance!) is the next in the series of teachings to be included this week.
I would strongly suggest that you download this teaching for a fuller explanation of this.
Alternatively, click here.....
I quote.....
SUMMING UP
While a case can be made for preaching (proclaiming) the Gospel truths to unbelievers, the ineffectiveness of our current method of 'preaching a non-interactive 20-60 minute sermon' to a passive audience of believers, Sunday after Sunday, is neither effective nor scriptural. But what options are there? I will share some indicators from Scripture of where our 'speaking' should be coming from.
1. HUMILITY
Other than Jesus, the closest man to God in the Bible was Moses. Moses was the Old Testament picture of Jesus. Ironically, he was not good at public speaking! Aaron often spoke on His behalf, at least initially in his dealings with Pharaoh. Others were jealous and thought they could do a better job! But not the Lord!
3 (Now Moses was a very humble man, more humble than anyone else on the face of the earth.) 4 At once the LORD said to Moses, Aaron and Miriam, "Come out to the Tent of Meeting, all three of you." So the three of them came out. 5 Then the LORD came down in a pillar of cloud; he stood at the entrance to the Tent and summoned Aaron and Miriam. When both of them stepped forward, 6 he said, "Listen to my words: "When a prophet of the LORD is among you, I reveal myself to him in visions, I speak to him in dreams. 7 But this is not true of my servant Moses; he is faithful in all my house. 8 With him I speak face to face, clearly and not in riddles; he sees the form of the LORD. Why then were you not afraid to speak against my servant Moses?" 9 The anger of the LORD burned against them, and he left them. (Numbers 12:3-9)
All godly speaking must come from a position of humility.
2. HOLY SPIRIT INSPIRED
Put plainly and simply, if we are not inspired by the Holy Spirit, we should not
speak!
13 This is what we speak, not in words taught us by human wisdom but in words taught by the Spirit, expressing spiritual truths in spiritual words. (1 Corinthians 2:13)
I know a pastor who spent 40 hours a week preparing his Sunday sermon. A workaholic! Yet his finest sermon came the day he lost his notes! His people commented that this was his best sermon ever! He then understood his mistake.
3. KINGDOM AND PRIESTS
Who are the priests? Not just the guy or girl up the front! We ALL are! The preacher, teacher, or treacher, is not set apart, is not elevated, is not the listeners' God substitute. Each and every believer is a 'priest' and needs to be encouraged to seek God's wisdom and guidance for themselves. This requires a huge mind set change on the speakers and listeners alike.
9 And they sang a new song: "You are worthy to take the scroll and to open its seals, because you were slain, and with your blood you purchased men for God from every tribe and language and people and nation. 10 You have made them to be a kingdom and priests to serve our God, and they will reign on the earth." (Revelation 5:9-10)
4. SAINTS TO DO THE WORK
All ministry is to be orientated towards training and motivating the body, the people, to do God's work. Ministry is a function, not a position, lest the ministers become proud and the people abrogate their personal spiritual responsibility to relate to God themselves and to minister to others.
11 It was he who gave some to be apostles, some to be prophets, some to be evangelists, and some to be pastors and teachers, 12 to prepare God's people for works of service, so that the body of Christ may be built up (Ephesians 4:11)
5. ACTION REQUIRED
There is a saying, 'Actions speak louder than words'. Words require actions to be effective. We can't enter the kingdom merely by hearing about it.
17 From that time on Jesus began to preach, "Repent, for the kingdom of heaven is near." (Matthew 4:17)
While a call to action is good, 'active action', people involvement, is better. For we learn, and are convicted, more, when we use all our senses, not just that of hearing. Even Jesus had to participate to receive the fullness of the Holy Spirit!
21 When all the people were being baptized, Jesus was baptized too. And as he was praying, heaven was opened 22 and the Holy Spirit descended on him in bodily form like a dove. And a voice came from heaven: "You are my Son, whom I love; with you I am well pleased." (Luke 3:21-2)
Continues next week.
Find out more about us at.....
SUBSCRIPTION MANAGEMENT
We would encourage you to share this free service with your friends in ministry. To subscribe yourself please email pgim-on@wwj.org.nz.
If your name has been referred to us by a friend or supporting Ministry or has been obtained from a public Christian Directory or Website, it isn't our wish to burden you with information in which you aren't interested. To remove yourself from this list, please email pgim-off@wwj.org.nz.