A Weekly World Wide Word of Encouragement to those in the Ministry
PRAISE GOD IT'S MONDAY!
A WEEKLY 'WWW (world-wide word) OF ENCOURAGEMENT'
TO THOSE IN MINISTRY
A FREE service, currently connecting with Christian leaders from 3,000 denominations and ministries, in 70 countries.

Issue No: 899 Published: 14 Jan 2019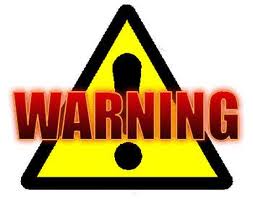 OBSERVATIONS FROM AFRICA
FALSE TEACHINGS A GROWING PROBLEM
Over the best part of 20 years now, that I have been visiting and now living in Africa, I have observed a growth of false teachings in the churches here.
Some is homegrown, coming out of the culture, such as a mix of evil and Holy Spirits.
Most though is imported. Many pastors and churches have picked up the excesses of the faith/prosperity teachings that are rife on TV, the internet and books. When these doctrines spread to Africa, unscrupulous leaders take advantage of the poor to take the little they have to enrich themselves. A Western curse, magnified greatly when it comes here.
The third area, made more available through the internet, is fraudulent requests of people in the West for funding. Westerners generous nature is taken advantage of to enrich the many individuals involved.
The favorite way of doing this is requesting money for orphanages. This is not only an African problem, but is rife and greater, in India and Pakistan as well.
I receive requests virtually every day from people seeking funding for orphans.
One of the worst cases I am aware of is an East African, self styled bishop who had an orphanage and had its full expenses donated round 20 times from different people and churches! A true conman!
So what can be done to counter these problems.
Here in Kenya and in other countries of East Africa, the Governments are now requiring all pastors setting up to new churches to have a theological qualification, so bad has the probem of false teachings become. While this is not neccessarily a good solution from a Biblical perspective of being called to ministry, it is helping reduce the number of charlatans in the 'church industry'!
Registering of NGO's (Non Governmental Organizations) and Church Charities is now extremely dificult, due to bad experiences, from promoting terrorism to other Western agendas that are not welcomed here.
Dealing with internet and other fraud is more difficult.
All I can say is to check out every person asking for money and goods very thoroughly before donating. Ensure that visiting speakers, internet and other forms of approach are vetted thoroughly before donating. Any small doubt - don't!
The world is becoming a smaller and smaller place all the time as communications improve. This is a good thing in many ways, but sadly, also opens more opportunities for conmen to operate.
Let us all be warned.
Find out more about us here.....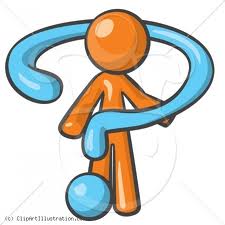 FROM THE WORD
THE WORDS OF JESUS
May we hear what the Lord is saying to us.....
Jesus Teaches Against Greed (Luke 12:13-21)
And to the crowd, including a man who asked about sharing an inheritance.
"My friend," "Who appointed me as your judge to decide how your inheritance should be divided?" "Watch out, and beware of all greedy thoughts and actions, for a person's life isn't summed up by how many possessions they have."
Using the example of the Parable of the Rich Fool.
"Once there was a rich man who owned land that was very productive. The man said to himself, 'What shall I do? I've nowhere to store my crops?' 'I know what I'll do," he decided. "I'll pull down my barns and build bigger ones, and then I'll be able to store all my crops and everything I own. Then I'll tell myself, 'You have enough to live on for many years, so take life easy: eat, drink, and enjoy yourself!' But God said to him, 'You foolish man! Your life will be demanded back this very night, and then who will get everything you've stored up?' This is what happens to people who hoard up wealth for themselves but are not rich as far as God is concerned."
We are Not to Worry (Luke 12:22-34)
Speaking to the disciples.
"That's why I tell you don't worry about life, about what to eat, or about what clothes you should wear. Life is about more than food, and the body is about more than wearing clothes. Look at the ravens. They don't sow or reap, they don't have any storerooms or barns, but God feeds them. And you're far more valuable than birds! Can you add an hour to your life by worrying about it? If you can't do anything about such small things, why worry about the rest? Think of the lilies and how they grow. They don't work, and they don't spin thread for clothes, but I tell you, not even Solomon in all his glory was as beautifully dressed as one of them.
"So if God clothes the fields with such beautiful flowers, which are here today but gone tomorrow when they are burned in a fire to heat an oven, how much more will God clothe you, you who have so little trust!
Don't be concerned about what you're going to eat or drink—don't worry about it. These are all the things that people in the world worry about, but your Father knows you need them. Search for God's kingdom, and you'll be given these things as well. Don't be afraid, little flock, for your Father is happy to give you the kingdom. Sell what you have, and give the money to the poor. Get yourselves purses that don't wear out: treasure in heaven that will never run out, where no thief can steal it and no moth can destroy it. For your heart will be wherever your treasure is.
Be watchful (Luke 12:35-40)
"Be dressed and ready, and keep your lamps lit, like servants waiting for their master when he returns from his wedding feast, prepared to open the door quickly for him when he comes and knocks. How good it will be for those servants that the master finds watching when he returns. I tell you the truth, he will get dressed, have them sit down for a meal, and will come and serve them himself!
"Even if he comes at midnight, or just before dawn—how good for them if he finds them watching and ready! But remember this: if the master knew when a thief was coming, he would keep watch, and not allow his house be broken into. You must also be ready, for the Son of man is coming when you don't expect him."
Peter's Question (Luke 12:41-48)
Is this parable for us or for everyone?
"Who then is the trustworthy and wise manager, the one person in the household that the master puts in charge to share out their food at the right time? It will be good for that servant when his master returns and finds him doing what he should. I tell you the truth, the master will put that servant in charge of everything. But what if the servant were to say to himself, 'My master is taking a long time in coming,' and then starts beating the other servants, both men and women, feasting and getting drunk? That servant's master will return unexpectedly one day at a time he wasn't aware of, and will punish him severely, treating him as totally untrustworthy.
"That servant who knew what his master wanted and yet didn't get ready or follow his instructions, will be beaten severely; but the servant who didn't know and did things deserving punishment will be beaten only lightly. From those who are given much, much will be required, and from those who are entrusted with more, more will be demanded.
Bringing Division, Not Peace (Luke 12:49-53)
I have come to set the earth on fire, and I really wish it was already burning! But I have a baptism to go through, and I'm in agony, wishing it was over! Do you think that I came to bring peace on earth? No, I tell you, I bring division. From now on, if there are five in a family, they will be divided against each other: three against two, and two against three. They will be divided against each other—father against son, son against father, mother against daughter, daughter against mother, mother-in-law against daughter-in-law, and daughter-in-law against mother-in-law."
The Times Interpreted (Luke 12:54-59)
Speaking to the crowd.
"When you see a cloud rising in the west, you immediately say, 'a rainshower's coming,' and it happens. When a south wind blows, you say 'it's going to be hot,' and it is. You hypocrites, how is it that you know how to rightly interpret the weather but you don't know how to interpret the present time? Why don't you think for yourselves and judge what's right? As you go with your accuser to the magistrate, on the way you should be working on a settlement. Otherwise you may be dragged before the judge, and the judge hand you over to the officer, and the officer throw you into prison. I tell you, you won't get out until you've paid the last penny."
(Continued next week)
You can download the complete 'Words of Jesus' here.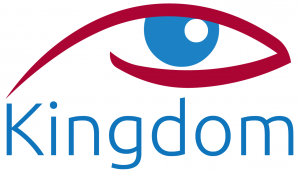 OUR AFRICAN EXPERIENCE
FOR MORE DETAILED AND REGULAR UPDATES, VISIT OUR FACEBOOK PAGE
AN EYE 4 Africa - https://www.facebook.com/aneye4africa/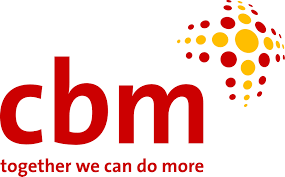 EYE REFERRAL HOSPITAL CONSTRUCTION TO START NEXT WEEK!
I come back from our holiday to get right into it!
Thank you so much to the Christian Blind Mission (CBM) for financing the shell of our new facility.
We look forward to starting construction this week.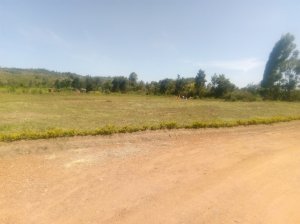 THE BARE LAND
Next week you will see a big difference!
In the background, the men are working on a culvert to enable large trucks to deliver materials to the site.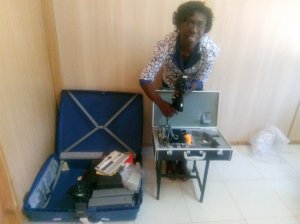 A TREASURE TROVE!
While Kathy and I were in Britain we collected a large amount of equipment form a retired ophthalmologist, who donated it to the hospital.
As the smile of Rosemary our Eye Nurse tells you, much of this equipment is not available in this area, and is hugely appreciated! Rosemary is holding a portable Slit Lamp.
The suitcase was very heavy for me lug round though! However it was well worth the effort and the Lord provided people to help me when necessary.
A particular thanks to the young Nigerian Londoner who accompanied us from Biscester nearly to South East London, a two hour journey on 4 different trains.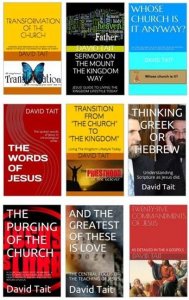 ***NOW***NINE BOOKS ARE AVAILABLE ON AMAZON!!!
9 BOOKS are now available on Amazon (Kindle)!

All are available worldwide for electronic download on Amazon (Kindle) for $US0.99c . Unfortunately there has to be a charge in order to list.

Your support would be appreciated and they could well change your life!

They are all found at this link.....
http://www.amazon.com/s/ref=nb_sb_noss?url=search-alias%3Daps&field-keywords=david+tait+books/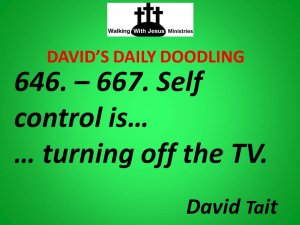 ***DAILY EZINE!*** 'DAVID'S DAILY DOODLINGS' Subscribe Today
Receive one of David's sayings in your mailbox each day to inspire, challenge or maybe, amuse. To register today, go down to the bottom of the page link below, click on the subscribe link dd-on@wwj.org.nz (or paste the address in an email yourself and send) Then it's done! If you have an Irish heritage, you will love the background coloring!
Subscription and back issue link is.....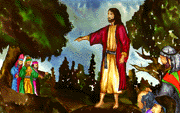 'THE WORDS OF JESUS' REMAIN AVAILABLE FOR PDF DOWNLOAD
Join the many who have downloaded the 'The Words of Jesus'. I am sure you will be blessed by it, as I have been.

One key element here is the setting out in chronological order (as far as it is possible to do so) our Lord's words drawn from all the Gospels, and the elimination of repetition between Gospels.

You may be surprised by the different perspective this presentation gives you both in understanding of His life and ministry, and in achieving a closer relationship with Him.

Download the free PDF here.....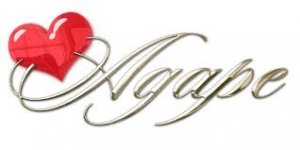 DAVID'S DOODLINGS
LOVE
528. Love forgives. God's love forgives totally.

529. Forgiveness of hurts is a sign of true love.

530. Love heals the heart, God's love, the soul.

531. I can't possibly understand why 'Jesus loves even me' but I'll accept it anyway!

549. Love means acceptance ' by God if not by others.

532. Love is the foundation stone of God's order. Trivialising love devalues both God and society, to our peril.

533. My goal as I grow less lovely on the outside is to become lovelier from the inside out.

534. We become whom, or what we love.

535. It is said that the longer 2 people are happily married, the more like each other they become. This is particularly so with Jesus and us.

536. Love is both the first requirement and the ultimate experience of our walk with Jesus.

537. Our freewill is the ultimate gift we can give to our God.
Please feel free to quote these quotes. Acknowledgement of David Tait as the author would be appreciated. There are now over 1300 David sayings for you to view at ...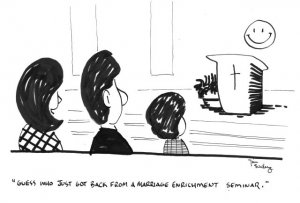 CARTOONS FROM TOON FEVER
Visit the Toon Fever website for more cartoon fun..... http://www.toonfever.com

Check it out at...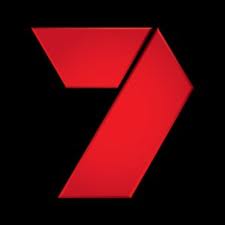 TUESDAY TEACHINGS
THIS WEEK: REVELATION'S REVELATION! (Part 1)
A look at the spiritual promises of the 7 levels of heavenly reward promised to those 'overcomers' who are prepared to fully sacrifice their lives to become 'sold out' disciples of Jesus.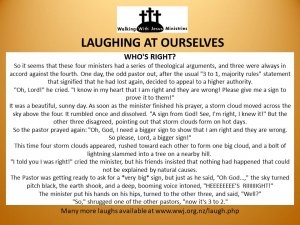 *** ANOTHER DAILY EZINE FROM WWJ!*** 'LAUGHING AT OURSELVES' Subscribe Today
As Christians, if we can't laugh at ourselves, others will! A fun way to start your day. To register today, go down to the bottom of the page link below, click on the subscribe link lao--on@wwj.org.nz (or paste the address in an email yourself and send) Then it's done!

LAUGHING AT OURSELVES
***Blessed are those who can laugh at themselves for they shall never cease to be amused***
*** Those who can't laugh at themselves leave the job to others. ***
224. The Pope's Discovery
The Pope dies and, naturally, goes to heaven. He's met by the reception committee, and after a whirlwind tour is told that he can enjoy any of the myriad recreations available. He decides that he wants to read all of the ancient original text of the Holy scriptures, and spends the next aeon or so learning the languages.
After becoming a linguistic master, he sits down in the library and begins to pour over every version of the Bible, working back from the most recent "Easy reading" to the original script. All of a sudden there is a scream in the library.
The angels come running to him, only to find the Pope huddled in a chair, crying to himself, and muttering, "An 'R'! They left out the 'R'."
God takes him aside, offering comfort and asks him what the problem is. After collecting his wits, the Pope sobs again, "It's the letter 'R' ... the word was supposed to be CELEBRATE!
QWIK QWIP: "God does not wish us to remember what he is willing to forget."
225. The Mummy's Heart Failure
An archaeologist was digging in the Negev Desert in Israel and came upon a casket containing a mummy. After examining it, he called the curator of a prestigious natural-history museum. "I've just discovered a 3,000 year-old mummy of a man who died of heart failure!" the excited scientist exclaimed. To which the curator replied, "Bring him in. We'll check it out."
A week later, the amazed curator called the archaeologist. "You were right about the mummy's age and cause of death. How in the world did you know?"
"Easy. There was a piece of paper in his hand that said, '10,000 Shekels on Goliath'."
FREE DOWNLOAD: You can now download the book 'Laughing At Ourselves' in PDF format at LAUGHING AT OURSELVES One of the most comprehensive sources of Christian Humour on the Net with 800 sermon fillers for your entertainment and use at ..... https://www.wwj.org.nz/content/wwj18p47.pdf
Or read them all online at.....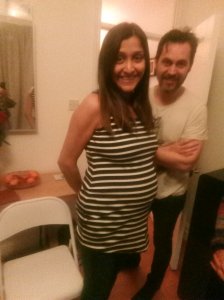 A DAVID MUSING
Kathy and I have had a wonderful time away for 3 weeks at opposite ends of Britain with our 2 sons and their families.
Andrew, Catriona, Eve, Nathan and Charis live in the northernmost town in Britain, in Thurso, Scotland. We had a great catch up and a enjoyed a Scottish Christmas there. Just so different to almost non-Christmas in Kenya last year. Here in Kenya, of course, there is no money, so no presents, no decorations and no special food. So we were spoiled so much and I put on 2-3 kilos of weight!
Then, in early January we went down south to London where Nigel and Savi presented us with a beautiful granddaughter, Maya Grace Tait! As it is 13 years since our last ones, Nathan and Charis, it was a special thrill to welcome a 4th grandchild to our family! Naturally, she is very, very beautiful!
Kathy and I had a very special time together, away from the busyness of building and running of the hospital over the past 18 months. Kathy has stayed in London a couple of weeks longer, to spend 'Grandma time' with Maya and the family.
God's foundation of society is the family. May we do all we can to maintain or restore family relationships, both for our own benefit and for society as a whole.
Unltil next week.....
MAY GOD BLESS YOU AND YOU BLESS GOD
His servant and yours
David Tait

Visit us here.....
REPRODUCTION OF NEWSLETTER CONTENT
Most weeks we get enquiries about reproducing, in electronic or print form, articles contained in 'PGIM!' We welcome and encourage you to utilize this material. Freely received, freely given. We would ask though, that the source be acknowledged as an encouragement to others to subscribe to this newsletter also.
CHANGING YOUR EMAIL ADDRESS? NEWSLETTER STOPS COMING?
Each week we can lose up to 2% of our readers when they change email addresses without letting us know. Or sometimes, by your server acting strangely and just cutting us off! If you are about to change your address, please advise us of both your old and new addresses here at
enquiries@wwj.org.nz
and we will happily change our records to ensure ongoing delivery. Thanks.
Please also keep our address in your address book, as sometimes servers will automatically delete your address if there is even a one off problem in delivery. If your newsletter doesn't arrive, please let us know and we will reinstate you.
LINKS
If you would like to link your web site to ours, and ours to yours, please advise us on
links@wwj.org.nz
ABOUT US
WALKING WITH JESUS MINISTRIES is a non-profit, non-denominational, Bible based ministry located in Hastings, New Zealand. A ministry dedicated to developing discipleship, fostering unity amongst God's people to achieve the Great Commission, and in doing so, preparing for Christ's return. It is securely based upon the foundational principles of the Apostles Creed while recognising the wide and rich diversity of beliefs amongst Christians in other areas. In accordance with the Lord's direction, materials produced by the ministry are available, free of charge, to genuine enquirers upon request. The ministry is solely funded by donations, as the Lord provides. A list of materials available (plus some fun!) is obtainable and freely downloadable from our website
wwj.org.nz
or by contacting us as follows.
Walking With Jesus Ministries
7 Bull Street
Ahuriri
Napier
New Zealand
Phone: (06) 835 0567 International (+64) 6 835 0567
Email:
enquiries@wwj.org.nz
Web:
wwj.org.nz
Our role is to bless and encourage those in ministry while promoting co-operation and unity of direction amongst the body of Christ, as emphasised 3 times by Jesus in His longest prayer, immediately prior to His arrest and crucifixion. "... so that they may be one as we are one." (John 17:12, 21, 23-4) Our website is currently being developed to encourage your participation one with another, to share resources, and to enable you to promote events and items of interest to the body as a whole - and have a smile while doing it!
For comments upon and contributions to this service, please contact
david@wwj.org.nz
SUBSCRIPTION MANAGEMENT
We would encourage you to share this free service with your friends in ministry. To subscribe yourself please email pgim-on@wwj.org.nz.
If your name has been referred to us by a friend or supporting Ministry or has been obtained from a public Christian Directory or Website, it isn't our wish to burden you with information in which you aren't interested. To remove yourself from this list, please email pgim-off@wwj.org.nz.