A Weekly World Wide Word of Encouragement to those in the Ministry
PRAISE GOD IT'S MONDAY!
A WEEKLY 'WWW (world-wide word) OF ENCOURAGEMENT'
TO THOSE IN MINISTRY
A FREE service, currently connecting with Christian leaders from 3,000 denominations and ministries, in 70 countries.

Issue No: 849 Published: 31 Jan 2018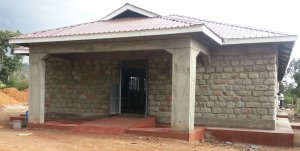 REPORT FROM THE KINGDOM HEALTH FOUNDATION - JANUARY 2018
PHONES: (Viber and Watsap) (D)+254737777252 - (K)+254788664981
New Zealand Bank Account: Westpac, Greerton: 03-1549-0018667-001
KINGDOM EYE AND GENERAL CLINIC
MALAHA VILLAGE, WEBUYE
Report No. 5 - January 2018
Dear PGIM Readers, Supporters and Friends
January has been a month of huge progress taking us much nearer to a finished building. Another 10 days should see completion!
As we approach the finishing touches, reality is appearing before our very eyes, through the generosity of you our friends and supporters. Let us again run through the month in pictures.....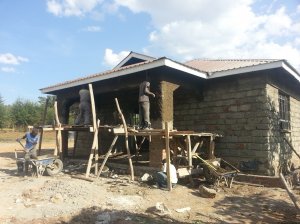 Plastering the front entrance pillars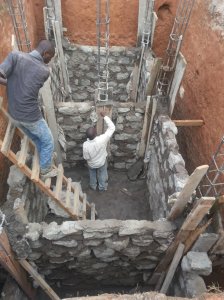 Building the walls of the septic tank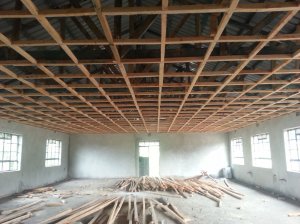 Ceiling runners up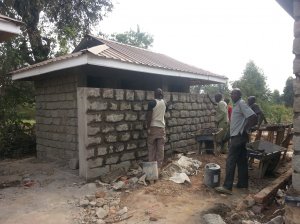 Improvement to the African Latrines. A front wall.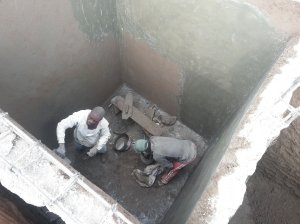 Plastering the 4m deep septic tank walls & bottom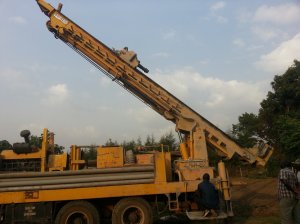 The well drillers arrive. Top quality rig.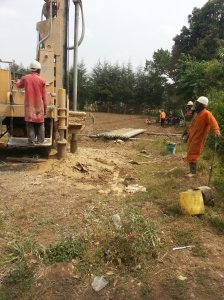 Now ready for one of the big moments of the whole project. Will they find water at the 110m level predicted by the Geologist and what will the flow rate be. Kathy and I watched pipe by pipe for the day it took to drill.
Down, down, down.....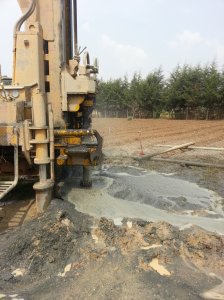 Liquid life, as the bore blows!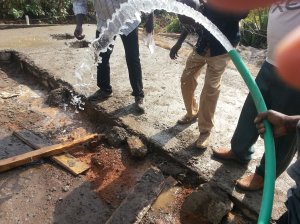 Water found at 95m at an amazing flow rate of 10,000 litres per hour, instead of the 5,000 predicted!
There she flows!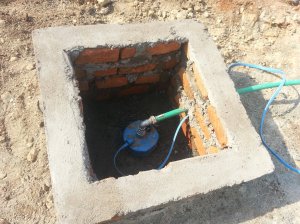 Bore complete with 7,000lph Grundfos pump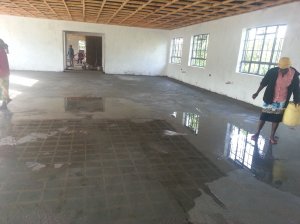 Watering the final plastered floor.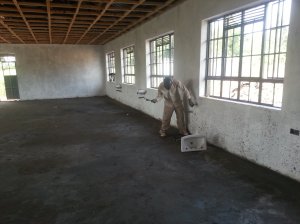 Many hand basins being installed.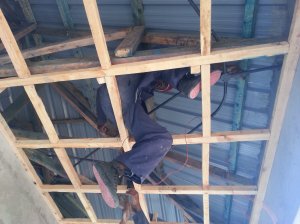 ELECTRICITY
This is a huge challenge for us!
Power here is notoriously unreliable, both through power outages & often, low voltage when it is working.
We have kilometres of wiring.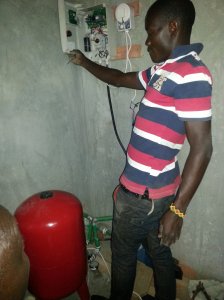 Plus sophisticated control systems on the pumps as shown.
A large generator is also required.

While the apparent changes in this picture may not look great from last month, I can assure you they are huge. The obvious change is the installation of single sided glass, (so that we can look out but no-one see in). The waste plumbing is now encased in concrete in the red shelf at the bottom, the stones pointed and cleaned, so it is now 'looking a million dollars', actually many million in Kenyan shillings!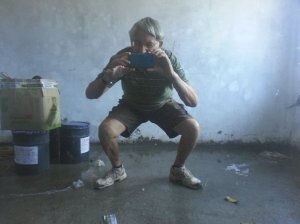 Practicing latrine squats in front of one way window glass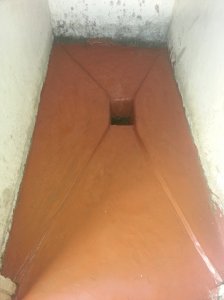 African Latrines. How is your aim?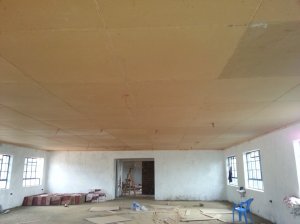 Ceiling up ready for painting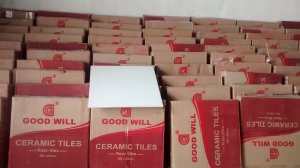 Floor tiles delivered and ready to be laid.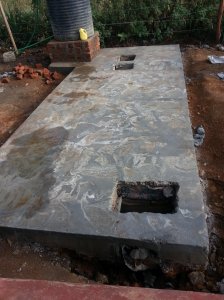 Septic tank finished – apart from inspection covers.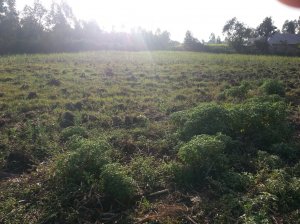 LAND PURCHASE
An additional 1.6 acres of land, to give access to the main road, plus room for future expansion. This was necessary now, for the land was about to be split into small lots.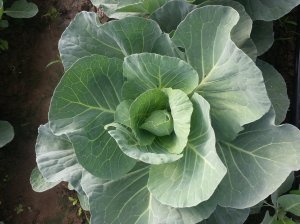 ROUND AND ABOUT…..
It has been a very busy month for us on the building site, as I guess you can understand from the progress photos above. 'All work and no play makes….' pretty much sums up our lot this month. However a few photos of other activities follow.
Undoubtedly the highlight has been the visit of the Tovey kids (actually adults) who stayed overnight a couple of days ago. It was great to be able to be able to speak to people from our home country of New Zealand. They have been our first Kiwi visitors. We had such a fun time together.
King sized cabbages growing in the greenhouse!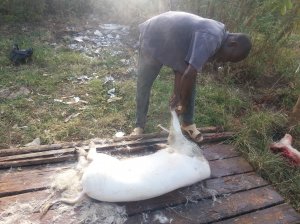 The pig met its maker for a large birthday celebration.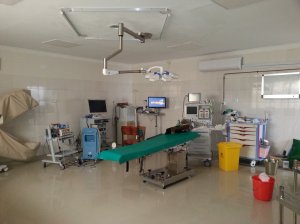 An operating theatre at Real Hospital, Eldoret.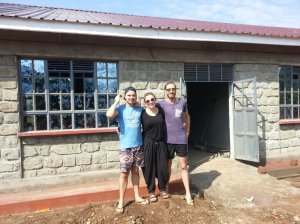 Tim, Rachel & Sam, called in on their Kenyan road trip
CLINIC OPENING
We expect to open the Kingdom Eye & General Clinic, Malaha, mid to later February (African time applies), dependent upon funding, staffing, and regulatory approval.
It is both a challenging and exciting time, walking into the unknown. We are more likely to be overwhelmed rather than underwhelmed with clients, as we have acquired excellent Laboratory equipment at a good price that will attract people to us for good diagnosis.
FINANCIALS
SUSTAINABILITY is the key for meeting ongoing expenses, achieved through patient part charges plus insurance operations. WE THANK SO MUCH OUR VERY GENEROUS DONORS.
'SUSTAINABILITY' IS A KEY DIFFERENCE BETWEEN THIS & OTHER AFRICAN PROJECTS
We hugely appreciate all our donors and supporters. The project has grown to be so much more than anticipated through your generous donations to date of $NZ180,000.
Extra special thanks to K & S, J and K, for all you have done.
REQUIREMENTS
URGENT – PRIOR TO OPENING
INFRASTRUCTURE COMPLETION
3 phase generator for secure power supply (essential here!) $15,000
PARTITIONING
Of the consulting rooms, pharmacy and laboratory $4,000
COMPUTER NETWORK
6 computers, server & programming for a (nearly) paperless system $5,000
------------
SUB TOTAL $24,000
NEXT 3 MONTHS
NEEDS ASSESSMENT TRIP FROM USA
Assess equipment needs for a $600,000 hospital equipping donation $6,000
VEHICLES
For transport & ambulance (2nd hand Japanese- Customs & Tax free) $30,000
FREIGHT CONTRIBUTION
For the $600,000 donation of equipment for the hospital $30,000
OPERATING THEATRE
To complete construction within existing building….. $3,000
WARDS
A 2nd identical building for Wards….. $60,000
LAND PURCHASE
Main road access and extra land obtained. (Balance to pay)….. $9,000
----------------
SUB TOTAL $132,000
----------------
TOTAL FUNDING REQUIRED $156,000
For further information, contact david@wwj.org.nz
BANK DETAILS Walking With Jesus Ministries
Westpac
Greerton
ACCOUNT NO: 03 1549 0018667 001
(Not Tax Deductible in New Zealand as funds received are being sent overseas. Sorry)
A $US Account is also available. Please contact david@wwj.org.nz
A 501(c) Charity should be available in the USA very shortly. Please email for details.
Again, we thank you for all your support. You are a vital part of what we are doing for the deprived people of Western Kenya and beyond.
So it's CHEERS from him and LOVE from her.
Kathy and David Tait
PS: For regular, detailed updates of progress, including videos, visit our Facebook page: AN EYE 4 Africa
SUBSCRIPTION MANAGEMENT
We would encourage you to share this free service with your friends in ministry. To subscribe yourself please email pgim-on@wwj.org.nz.
If your name has been referred to us by a friend or supporting Ministry or has been obtained from a public Christian Directory or Website, it isn't our wish to burden you with information in which you aren't interested. To remove yourself from this list, please email pgim-off@wwj.org.nz.