A Weekly World Wide Word of Encouragement to those in the Ministry
PRAISE GOD IT'S MONDAY!
A WEEKLY 'WWW (world-wide word) OF ENCOURAGEMENT'
TO THOSE IN MINISTRY
A FREE service, currently connecting with Christian leaders from 3,000 denominations and ministries, in 70 countries.

Issue No: 918 Published: 27 May 2019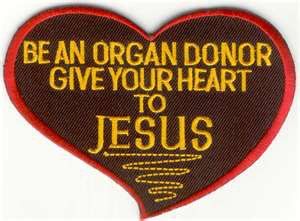 A REVELATION OF……. THE THIRD AND FINAL DWELLING PLACE OF GOD'S GLORY PLUS THE RIVER OF LIFE. Part 4
A PATTERN OF THE RIVER OF GOD IN THE NEW TESTAMENT
Ezekiel's River was not the River of Life of the New Testament, but rather a shadow or pattern of it.
It was a picture that the people of the day could understand, for the Jordan then, as now, can suffer much from reduced flows during drought periods. So to have the huge flows described, would have been seen as a real blessing from God, both in the natural and the spiritual.
THE FUNCTION OF WATER IN THE BIBLE
Water, so critical to natural life, unsurprisingly has deep spiritual meanings too.
1. REPRESENTING SALVATION/ETERNAL LIFE
In the Old Testament…..
With joy you will draw water from the wells of salvation" (Isaiah 12:3)
And in the New where Jesus talks to the Samaritan woman…..
10 Jesus answered her, "If you knew the gift of God and who it is that asks you for a drink, you would have asked him and he would have given you living water." (John 4:10)
Of course baptism too, is the outward confirmation of salvation…..
Whoever believes and is baptized will be saved, but whoever does not believe will be condemned. (Mark 16:16)
2. SYMBLOIC OF GOD'S HOLY SPIRIT TO COME
And which we now are blessed to experience…..
On the last day of the feast, the great day, Jesus stood up and cried out, "If anyone thirsts, let him come to me and drink. Whoever believes in me, as the Scripture has said, 'Out of his heart will flow rivers of living water.'" Now this he said about the Spirit, whom those who believed in him were to receive, for as yet the Spirit had not been given, because Jesus was not yet glorified (John 7:37-392. SPRINGS OF LIVING WATER
In the Old Testament in particular, springs are symbolic as spiritual life. In the natural, springs in the desert country, often understood by us as oases, are salvation for travellers suffering from thirst. Digging cisterns, or shallow wells, was common and the water they provided highly prized and sometimes fought over. But here we are talking of 'living water'…..
I will make rivers flow on barren heights, and springs within the valleys. I will turn the desert into pools of water, and the parched ground into springs. (Isaiah 41:18)
My people have committed two sins: They have forsaken me, the spring of living water, and have dug their own cisterns, broken cisterns that cannot hold water. (Jeremiah 2:13)
This is confirmed in the New…..
For the Lamb at the center of the throne will be their shepherd; 'he will lead them to springs of living water.' 'And God will wipe away every tear from their eyes.'" (Revelation 7:17)
3. BEAUTIFULLY STATED BY JESUS
14 but whoever drinks the water I give them will never thirst. Indeed, the water I give them will become in them a spring of water welling up to eternal life." (John 4:14)
(Continued next week)
Find out more about us at.....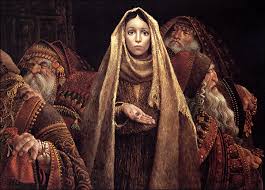 FROM THE WORD
THE WORDS OF JESUS
May we hear what the Lord is saying to us.....
The Widow's Mite (Mark 12:41-4, Luke 21:1-4)
Donated to the Temple.
"I tell you the truth: this poor widow has put in more than all the rest together. All of them gave from their wealth what they had, but she gave from her poverty what she didn't have. She put in all she had to live on."
Disciples Admire the Temple (Matthew 24:1-2, Mark 13:1-2, Luke 21:5-6)
"You see all these buildings? I tell you the truth: there won't be one stone left upon another. Every last one will come crashing down!"
The Four Fishermen Disciples Ask Jesus (Matthew 24:3-35, Mark 13:3-31, Luke 21:7-31)
About the signs of the end of the age.
"Make sure no one misleads you," "Many will come claiming to be me, saying, 'I'm the Messiah,' and they will deceive many people. You'll hear about wars, and rumors about wars, but don't be anxious. These things have to happen, but this isn't the end. Nations will attack other nations, and kingdoms will fight against other kingdoms. There will be famines and earthquakes in various places, 8but all these things are just the beginnings of birth pains.
"Then they will arrest you, they will persecute you, and they will kill you. All people will hate you because of me. At that time many believers will give up believing. They will betray one another and hate one another. Many false prophets will come and deceive many people. The increasing evil will lead the love of many to grow cold, but those who hold out to the end will be saved. The good news of the kingdom will be proclaimed around the whole world so everyone will be able to hear it, and then the end will come. So when you see the 'evil that defiles' standing in the holy place that the prophet Daniel spoke about (those who read this please consider carefully), then the people living in Judea should run away to the mountains. Anyone who is on the housetop must not go down and fetch what's in the house. Anyone who is out in the fields must not go back to get a coat. How awful it will be for those who are pregnant, and those who are nursing babies at that time! Pray that you don't have to run away in winter, or on the Sabbath day. For at that time there will be terrible persecution—more terrible than anything that has happened from the beginning of the world up till now, and won't ever happen again. Unless those days are cut short, nobody will be saved, but for the sake of the chosen those days will be cut short.
"So if anyone tells you, 'Look, here's the Messiah,' or, 'There he is,' don't believe it. For false messiahs will appear, and false prophets too, and they will perform incredible signs and miracles in order to deceive the chosen, if that were possible. Notice that I've told you this before it even happens. So if they tell you, 'Look, he's out in the desert,' don't go looking there; or if they say, 'Look, he's secretly here,' don't believe it. For the coming of the Son of man will be like the lightning that flashes brightly from east to west. Vultures gather where the carcass is.'
"But right after those days of persecution the sun will be darkened, the moon will not shine, the stars will fall from heaven, and the powers of heaven will be shaken. Then the sign of the Son of man will appear in heaven, and all the peoples of the earth will mourn. They will see the Son of man coming on the clouds of heaven with power and in brilliant glory. With a blast from a trumpet he will send his angels to gather his chosen ones from every place, from one end of heaven and earth to the other.
"Learn an illustration from the fig tree. When its shoots become tender and leaves begin to sprout, you know that summer is coming. In the same way when you see all these things happening, you know that his coming is near, in fact it's right at the door! I tell you the truth: this generation won't pass away until all these things have happened. Heaven and earth may pass away, but my words won't pass away.
(Continued next week)
Download the complete 'Words of Jesus' here.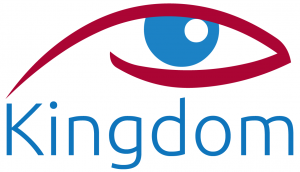 OUR AFRICAN EXPERIENCE
FOR MORE DETAILED AND REGULAR UPDATES, VISIT OUR FACEBOOK PAGE
AN EYE 4 Africa - https://www.facebook.com/aneye4africa/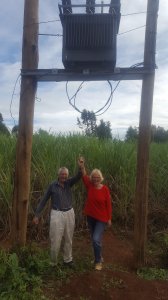 WE HAVE THE POWER - ALMOST!
Yesterday was such a BIGGGGG day for us. Finally, 6 weeks after the poles and lines were built, our transformer has arrived! All going well, it will be commissioned on Sunday.
This is No. 2 on our big 3 wishlist. First came our Residents Visas, now the transformer and hopefully, next week, our NHIF insurance fund provider status. That is the biggest one! Like a good wine, everything in Kenya takes time, more time, and more time again,.Patience is a necessary virtue here. Without it, you won't survive! 'Let not with frustration thy cup runneth over', has to be our mantra!
Now for yesterdays victory.....
1. Celebrating the finished result!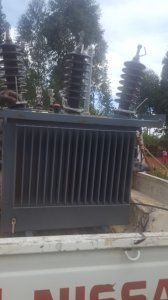 2. What a relief! The transformer arrives!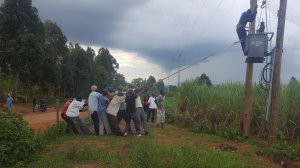 3. Lifted by block and tackle. Steadied by a team of locals to keep it away from damage on the way up.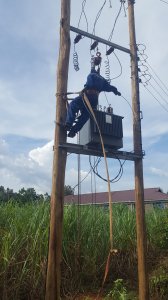 4. Connecting the wires. Just as well it was not live!
Now for Sunday, when both the transformer and we, will be alive!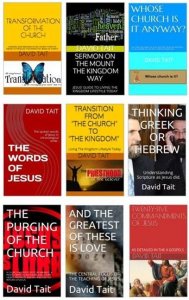 ***NOW***NINE BOOKS ARE AVAILABLE ON AMAZON!!!
9 BOOKS are now available on Amazon (Kindle)!

All are available worldwide for electronic download on Amazon (Kindle) for $US0.99c . Unfortunately there has to be a charge in order to list.

Your support would be appreciated and they could well change your life!

They are all found at this link.....
http://www.amazon.com/s/ref=nb_sb_noss?url=search-alias%3Daps&field-keywords=david+tait+books/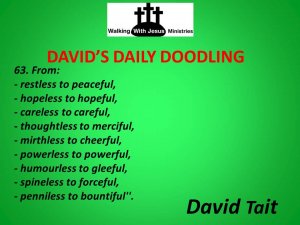 ***DAILY EZINE!*** 'DAVID'S DAILY DOODLINGS' Subscribe Today
Receive one of David's sayings in your mailbox each day to inspire, challenge or maybe, amuse. To register today, go down to the bottom of the page link below, click on the subscribe link dd-on@wwj.org.nz (or paste the address in an email yourself and send) Then it's done! If you have an Irish heritage, you will love the background coloring!
Subscription and back issue link is.....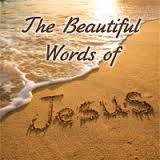 'THE WORDS OF JESUS' REMAIN AVAILABLE FOR PDF DOWNLOAD
Join the many who have downloaded the 'The Words of Jesus'. I am sure you will be blessed by it, as I have been.

One key element here is the setting out in chronological order (as far as it is possible to do so) our Lord's words drawn from all the Gospels, and the elimination of repetition between Gospels.

You may be surprised by the different perspective this presentation gives you both in understanding of His life and ministry, and in achieving a closer relationship with Him.

Download the free PDF here.....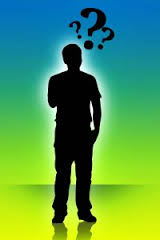 DAVID'S DOODLINGS
THE CROSS AND THE BLOOD
HEAVENLY TRUTHS GOD HAS SHOWN ME
739. - 809. God has shown me that...
... to go down is to go up.
... He can do it better than me.
... to strive is to ensure failure.
... to rest in Him brings success.
... it is better to give in to Him the first time.
... I need to be broken before being restored.
... repentance benefits me even more than the one I have wronged.
... the nearer I get to Him, the further away I find I really am.
... fear of the Lord is positive, not negative.
... the more I fear Him, the more He loves me.
Please feel free to quote these quotes. Acknowledgement of David Tait as the author would be appreciated. There are now over 1300 David sayings for you to view at ...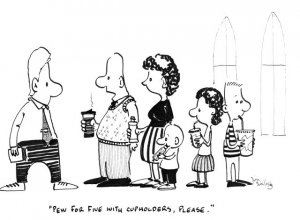 CARTOONS FROM TOON FEVER
Visit the Toon Fever website for more cartoon fun..... http://www.toonfever.com

Check it out at...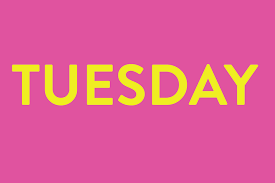 TUESDAY TEACHINGS
THIS WEEK: 12 LESSONS TO BE LEARNED FROM 'DIVIDING THE WATERS' (Continued)
With a look at the diverse, challenging areas of grace, money and miracles in the church today.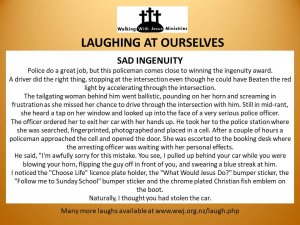 *** ANOTHER DAILY EZINE FROM WWJ!*** 'LAUGHING AT OURSELVES' Subscribe Today
As Christians, if we can't laugh at ourselves, others will! A fun way to start your day. To register today, go down to the bottom of the page link below, click on the subscribe link lao--on@wwj.org.nz (or paste the address in an email yourself and send) Then it's done!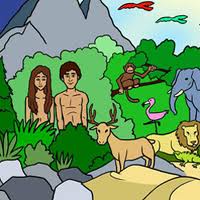 LAUGHING AT OURSELVES
***Blessed are those who can laugh at themselves for they shall never cease to be amused***
*** Those who can't laugh at themselves leave the job to others. ***
267. Size Matters
One Sunday school teacher believed in dramatising Bible morals with stories that could have specific modern applications. So the teacher said to the class of young boys, "Forgiveness is always a virtue. Could you, for example, forgive another boy if he had hit you with his fist?"
The class gave serious thought to so grave a matter, and finally one smallish lad said, "Yes sir, I could if he was bigger than me."
QWIK QWIP: "The best vitamin for making friends: B1."
268. Why God Created Eve
The first 10 reasons why God created Eve.
10. God was worried that Adam would frequently become lost in the Garden.
9. God knew that one day Adam would require someone to locate and hand him the remote.
8. God knew Adam would never go out and buy himself a new fig leaf when his wore out and would therefore need Eve to buy one for him.
7. God knew Adam would never be able to make a doctor's, dentist, or haircut appointment for himself.
6. God knew Adam would never remember which night to put the garbage on the curb.
5. God knew if the world was to be populated, men would never be able to handle the pain and discomfort of childbearing.
4. As the Keeper of the Garden, Adam would never remember where he left his tools.
3. Apparently, Adam needed someone to blame his troubles on when God caught him hiding in the garden.
2. As the Bible says, It is not good for man to be alone!
And finally, the Number 1 reason why God created Eve...
1. When God finished the creation of Adam, He stepped back, scratched his head, and said, "I can do better than that."
QWIK QWIP: "A good way to forget your troubles is to help others out of theirs."
download the book 'Laughing At Ourselves' in PDF format at LAUGHING AT OURSELVES One of the most comprehensive sources of Christian Humour on the Net with 800 sermon fillers for your entertainment and use at ..... https://www.wwj.org.nz/content/wwj18p47.pdf
Or read them all online at.....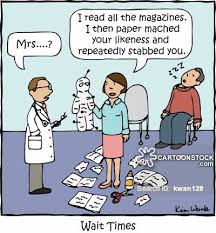 A DAVID MUSING
Patience is an essential spiritual fruit to have in Africa, or else you cannot survive.
However, on Thursday as I communed with the Lord, He said not to get frustrated either.
So what is the difference between the two?
The dictionary tells me.....
PATIENCE
the capacity to accept or tolerate delay, problems, or suffering without becoming annoyed or anxious.
FRUSTRATION
the feeling of being upset or annoyed as a result of being unable to change or achieve something.
Frustration then, is a further step from patience.
Here, patience, as said earlier, is a necessity to survive. Things, in the natural order, take a long time to happen.
Frustration however, is not getting annoyed about the reasons behind the delays. So it takes patience one step further.
It is the same with our walk with God. When we know God has a plan for us, we need to be patient, according to His timing, which naturally, is better than our own.
Additionally, we cannot let the delay frustrate us, simply putting all into His hands.
Resting in Jesus through all our difficulties, is hard to do, but essential for our peace of mind.
May we have both faith and trust in Him.
Until next week.....
MAY GOD BLESS YOU AND YOU BLESS GOD
His servant and yours
David Tait

Visit us here.....
REPRODUCTION OF NEWSLETTER CONTENT
Most weeks we get enquiries about reproducing, in electronic or print form, articles contained in 'PGIM!' We welcome and encourage you to utilize this material. Freely received, freely given. We would ask though, that the source be acknowledged as an encouragement to others to subscribe to this newsletter also.
CHANGING YOUR EMAIL ADDRESS? NEWSLETTER STOPS COMING?
Each week we can lose up to 2% of our readers when they change email addresses without letting us know. Or sometimes, by your server acting strangely and just cutting us off! If you are about to change your address, please advise us of both your old and new addresses here at
enquiries@wwj.org.nz
and we will happily change our records to ensure ongoing delivery. Thanks.
Please also keep our address in your address book, as sometimes servers will automatically delete your address if there is even a one off problem in delivery. If your newsletter doesn't arrive, please let us know and we will reinstate you.
LINKS
If you would like to link your web site to ours, and ours to yours, please advise us on
links@wwj.org.nz
ABOUT US
WALKING WITH JESUS MINISTRIES is a non-profit, non-denominational, Bible based ministry located in Hastings, New Zealand. A ministry dedicated to developing discipleship, fostering unity amongst God's people to achieve the Great Commission, and in doing so, preparing for Christ's return. It is securely based upon the foundational principles of the Apostles Creed while recognising the wide and rich diversity of beliefs amongst Christians in other areas. In accordance with the Lord's direction, materials produced by the ministry are available, free of charge, to genuine enquirers upon request. The ministry is solely funded by donations, as the Lord provides. A list of materials available (plus some fun!) is obtainable and freely downloadable from our website
wwj.org.nz
or by contacting us as follows.
Walking With Jesus Ministries
7 Bull Street
Ahuriri
Napier
New Zealand
Phone: (06) 835 0567 International (+64) 6 835 0567
Email:
enquiries@wwj.org.nz
Web:
wwj.org.nz
Our role is to bless and encourage those in ministry while promoting co-operation and unity of direction amongst the body of Christ, as emphasised 3 times by Jesus in His longest prayer, immediately prior to His arrest and crucifixion. "... so that they may be one as we are one." (John 17:12, 21, 23-4) Our website is currently being developed to encourage your participation one with another, to share resources, and to enable you to promote events and items of interest to the body as a whole - and have a smile while doing it!
For comments upon and contributions to this service, please contact
david@wwj.org.nz
SUBSCRIPTION MANAGEMENT
We would encourage you to share this free service with your friends in ministry. To subscribe yourself please email pgim-on@wwj.org.nz.
If your name has been referred to us by a friend or supporting Ministry or has been obtained from a public Christian Directory or Website, it isn't our wish to burden you with information in which you aren't interested. To remove yourself from this list, please email pgim-off@wwj.org.nz.