A Weekly World Wide Word of Encouragement to those in the Ministry
PRAISE GOD IT'S MONDAY!
A WEEKLY 'WWW (world-wide word) OF ENCOURAGEMENT'
TO THOSE IN MINISTRY
A FREE service, currently connecting with Christian leaders from 3,000 denominations and ministries, in 70 countries.

Issue No: 1035 Published: 16 Aug 2021

A TABLE TO HELP YOU UNDERSTAND GOD"S PLAN FOR YOU AND THE CHURCH - THE POWER OF THREE
The Lord gave me this table 20 odd years ago and nothing has changed except 'Tabernacle' is now known as 'Kingdom' church. Please print, if you can, but anyway, digest this pattern for the church and our lives. It will bring understanding of where you, and your church are at today. Feel free to share, as this belongs to the Lord, not me.
THE POWER OF THREE
PATTERN OF…

JESUS

HOLY SPIRIT

THE FATHER

NOTE

: The patterns or types are split into two sections for clarity, emphasising their main thrust. All can be applied to both the individual and the church however, so should not be looked upon as being mutually exclusive.

THE CHURCH

DEVELOPMENT

TRADITIONAL/

EVANGELICAL

CHARISMATIC/

PENTECOSTAL

END TIME/

TABERNACLE

Matthew 16:18

Colossians 1:18-20

Ephesians 1:22-23

John 14:16

Matthew 26:39

PROGRESSIVE TRUTH/S REVEALED

Salvation by Grace

thru' Faith in Jesus

Holy Spirit Baptism or Release

Obedience to God's Will

John 3:21,8:31-32

1 John5:6-8

Ephesians 2:8-9,

Romans 3:21-26

Acts 2:1-4

Joel 2:23a,28

Hebrews 10:9-10

Joel 2:23b,29-32

FEASTS OF THE LORD

Passover

Pentecost

Tabernacles

Leviticus 23:4-44

Leviticus 23:4-14

Leviticus 23:15-22

Leviticus 23:23-44

MOSES TABERNACLE

Outer Court

Holy Place

Holy of Holies

Exodus 25:1-27:21

Exodus 27:1-19

Exodus 26:1-37

Exodus 26:1-37

THE EXODUS

Red Sea

The Desert

Promised Land

Exodus,Numbers,Deutrny,Joshua

Exodus 12:1-15:21

Exodus14:21-22,15:22 on

Joshua 1:1-24:33

THE OVERCOMERS

Blood of the Lamb

Word of Testimony

Submission to Death

Revelation 12:11

Reelation12:11a

Revelation 12:11b

Revelation 12:11c

THE 3 THAT TESTIFY

Blood

Spirit

Water

1 John 5:6-7

1 John 5:7

1 John 5:7

1 John 5:7

PARABLE OF SOWER

30 Fold

60 Fold

100 Fold

Matthew 13:1-9

Matthew 13:8

Matthew 13:8

Matthew 13:8

JESUS CHRIST SAME

Yesterday

Today

Forever

Hebrews 13:8

Hebrews 13:8

Hebrews 13:8

Hebrews 13:8

I AM THE

Way

Truth

Life

John 14:6

John 14:6

John 14:6

John 14:6
PATTERN OF…

JESUS

HOLY SPIRIT

THE FATHER

THE INDIVIDUAL

DEVELOPMENT

Salvation

Spirit

Submission

Hebrews 6:1

John 10:9

Acts 9:17

Colossians 4:12

THE NEW COVENANT

The Sacrifice

The Seal

The Promise

Jeremiah 31:33

Hebrews 9:13-14, 10:9-10

Acts1:4-5,2:1-4,Eph.1:13-14

Hebrews 8:10

3 PARTS OF MAN

Body

Spirit

Soul

1 Thessalonians 5:23

1 Corinthians 6:18-20

1 Corinthians 7:34

Matthew 10:28,16:26

3 PARTS OF THE SOUL

Mind

Emotions (Heart)

Will

Hebrews 8:10-11

Romans 12:2

Romans 10:9-10

1 Corinthians 7:37

NEW TESTAMENT TRIAD

Hope

Faith

Love

1 Corinthians 13:13

1 Thessalonians 5:8

Romans 1:17

1 Corinthians 16:14

THE 3 BIRDS

Sparrow

Dove

Eagle

Matthew 6:26, Revln. 19:17-21

Psalm 84:3-4

John 1:32-34

Revelation 12:14

THE MAGI'S GIFTS

Myrrh

(Frank)incense

Gold

Matthew 2:1-12

Mark 15:23

Exodus 30:34

Exodus 25:10-22

PARABLE OF TALENTS

One Talent

Two Talents

Five Talents

Matthew 25:14-30

Matthew 25:18

Matthew 25:16

Matthew 25:17

PARABLE OF 10 MINAS

Kept 1 Mina

Earned 5 Minas

Earned 10 Minas

Luke 19:11-27

Luke 19:20-24

Luke 19:18-19

Luke 19:16-17

BUILDING FAITH

Gifts

Service

Working

1 Corinthians 12:4-6

1 Corinthians 12:4

1 Corinthians 12:5

1 Corinthians 12:6

THE POWER OF 3

3x1 = 3

3x3 = 9

3x3x3 = 27

David's Revelation

N/A

N/A

N/A
David Tait
Walking with Jesus Ministries.
wwj.org.nz
See more about us at.....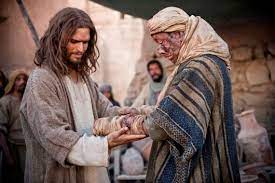 FROM THE WORD
THE WORDS OF JESUS
May we hear what the Lord is saying to us.....
Jesus Praying in a Solitary Place (Mark 1:35-8, Luke 4:38-44)
Is advised that the people are looking for Him.
"We have to go to the other towns around here so that I can tell them the good news as well—for that's why I came,"
Healing From Leprosy (Matthew 8:1-4, Mark 1:40-45, Luke 5:12-16)
At a man's request.
"I am willing," he said. "Be healed!" Immediately he was healed from his leprosy. "Make sure you don't tell anyone," Jesus told him. "Go and show yourself to the priest and give the offering which Moses required as public proof."
Healing the Paralytic (Matthew 9:1-8, Mark 2:1-12, Luke 5:17-26)
As Jesus returned to Nazareth.
"My friend, cheer up! Your sins are forgiven."
When queried about being able to forgive sins.
"Why are you thinking evil thoughts in your hearts? What is easier to say, 'Your sins are forgiven,' or 'Get up and walk'? But to convince you that the Son of man does have the authority to forgive sins…" "Get up, pick up your mat, and go home!"
(Continues next week)
Download the complete 'Words of Jesus' here.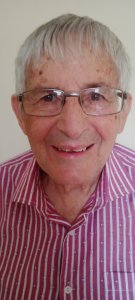 OUR AFRICAN EXPERIENCE
FOR MORE DETAILED AND REGULAR UPDATES, VISIT OUR FACEBOOK PAGE
AN EYE 4 Africa - https://www.facebook.com/aneye4africa/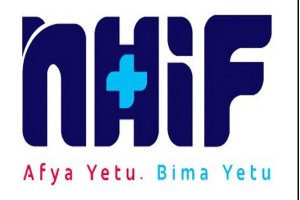 NHIF
Unfortunately I am having issues downloading photos off my phone today.
However, we are expecting our first payment from NHIF on Monday, which is a big deal finance wise, as it opens options to us that weren't there before.
PTL!
Progress is finally being made 3 years late! (Laugh or cry!)!!!!!
More news next week.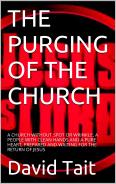 BOOK OF THE WEEK
THE PURGING OF THE CHURCH
The Lord led me to go back to a sermon/prophecy I received in a group mailing, and filed, some time ago. It is by David Wilkerson. David was the Founding Pastor of Times Square Church in New York City. He was called to New York in 1958 to minister to gang members and drug addicts, as told in the best-selling book, The Cross and the Switchblade. After the introduction, he gave 11 bullet points about THE GLORIOUS FUTURE JUST AHEAD. As the Lord leads, I will expand on these challenging but inspiring aspects.
Let us begin…..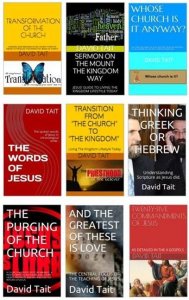 ***NOW***NINE BOOKS ARE AVAILABLE ON AMAZON!!!
9 BOOKS are now available on Amazon (Kindle)!

All are available worldwide for electronic download on Amazon (Kindle) for $US0.99c . Unfortunately there has to be a charge in order to list.

Your support would be appreciated and they could well change your life!

They are all found at this link.....
http://www.amazon.com/s/ref=nb_sb_noss?url=search-alias%3Daps&field-keywords=david+tait+books/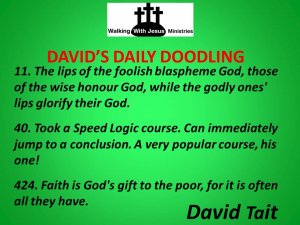 ***DAILY EZINE!*** 'DAVID'S DAILY DOODLINGS' Subscribe Today
Receive one of David's sayings in your mailbox each day to inspire, challenge or maybe, amuse. To register today, go down to the bottom of the page link below, click on the subscribe link dd-on@wwj.org.nz (or paste the address in an email yourself and send) Then it's done! If you have an Irish heritage, you will love the background coloring!
Subscription and back issue link is.....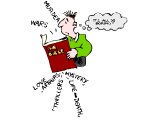 'THE WORDS OF JESUS' REMAIN AVAILABLE FOR PDF DOWNLOAD
Join the many who have downloaded the 'The Words of Jesus'. I am sure you will be blessed by it, as I have been.

One key element here is the setting out in chronological order (as far as it is possible to do so) our Lord's words drawn from all the Gospels, and the elimination of repetition between Gospels.

You may be surprised by the different perspective this presentation gives you both in understanding of His life and ministry, and in achieving a closer relationship with Him.

Download the free PDF here.....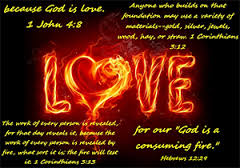 DAVID'S DOODLINGS
LOVE
518. True love takes time.

519. True love is like a good cheese. It takes time to mature.

520. Passion and action combine to build God's kingdom.

521. True love is a verb, rather than a noun.

522. Love becomes just another 4-letter word unless it is worked at.

523. Lust sells newspapers, while love builds relationships.

524. Love and lust both start with the same letter, but there the similarity ends.

525. Lust takes ' love gives.

526. Lust lasts but a moment, but love a lifetime.

527. With lust, the thrills precede the spills.
Please feel free to quote these quotes. Acknowledgment of David Tait as the author would be appreciated. There are now over 1300 David sayings for you to view at ...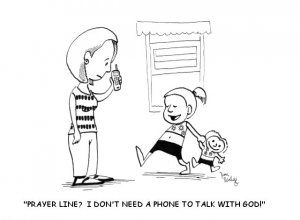 CARTOONS FROM TOON FEVER
Visit the Toon Fever website for more cartoon fun..... http://www.toonfever.com
Check it out at...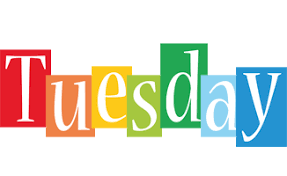 TUESDAY TEACHINGS
NEXT WEEK: A REVELATION OF……. SERVANTHOOD AND LEADERSHIP continues.....
This teaching looks at the future 'Bride' church, based on a mirror image of the world's management structure principles. A church putting God's people first.

Then we ask the challenging question, "Who should be leading this radical, God based, organisation?" The answer might surprise you!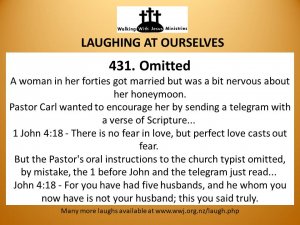 *** ANOTHER DAILY EZINE FROM WWJ!*** 'LAUGHING AT OURSELVES' Subscribe Today
As Christians, if we can't laugh at ourselves, others will! A fun way to start your day. To register today, go down to the bottom of the page link below, click on the subscribe link lao--on@wwj.org.nz (or paste the address in an email yourself and send) Then it's done!
https://www.wwj.org.nz/laughing-at-ourselves-ezine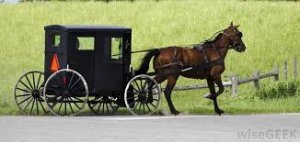 LAUGHING AT OURSELVES
***Blessed are those who can laugh at themselves for they shall never cease to be amused***
*** Those who can't laugh at themselves leave the job to others. ***
89. Practice Makes Perfect
A little girl was sitting on her grandfather's lap as he read her a bedtime story.
From time to time, she would take her eyes off the book and reach up to touch his
wrinkled cheek. She was alternately stroking her own cheek, then his again.
Finally she spoke up, "Grandpa, did God make you?"
"Yes, sweetheart," he answered, "God made me a long time ago."
"Oh," she paused, "Grandpa, did God make me too?"
"Yes, indeed, honey," he said, "God made you just a little while ago."
Feeling their respective faces again, she observed, "God's getting better at it, isn't he?"
90. Fundraising
There is the story of a pastor who got up one Sunday and announced to his congregation: "I have good news and bad news. The good news is, we have enough money to pay for our new building program. The bad news is, it's still out there in your pockets."
91. Wise Advice
While driving in Pennsylvania, a family caught up to an Amish carriage. The owner of the carriage obviously had a sense of humour, because attached to the back of the carriage was a hand printed sign... "Energy efficient vehicle. Runs on oats and grass - Caution: Do not step in exhaust."
Download the book 'Laughing At Ourselves' in PDF format at LAUGHING AT OURSELVES One of the most comprehensive sources of Christian Humour on the Net with 800 sermon fillers for your entertainment and use at ..... https://www.wwj.org.nz/content/wwj18p47.pdf
Or read even more online at.....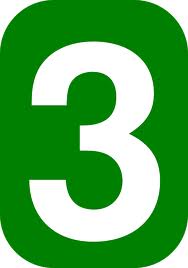 A DAVID MUSING
Early on in my walk with Jesus, I had revealed to me that as God is three in one, so God almost always, works in threes.
I compiled the table above and found, to my surprise, that the threes line up with our spiritual development and that of the church.
It was a real revelation to me, and hopefully to you!
Will write more later.
His servant and yours
David Tait

Visit us here.....
CHANGING YOUR EMAIL ADDRESS? NEWSLETTER STOPS COMING?
Each week we can lose up to 2% of our readers when they change email addresses without letting us know. Or sometimes, by your server acting strangely and just cutting us off! If you are about to change your address, please advise us of both your old and new addresses here at
enquiries@wwj.org.nz
and we will happily change our records to ensure ongoing delivery. Thanks.
Please also keep our address in your address book, as sometimes servers will automatically delete your address if there is even a one off problem in delivery. If your newsletter doesn't arrive, please let us know and we will reinstate you.
REPRODUCTION OF NEWSLETTER CONTENT
Most weeks we get enquiries about reproducing, in electronic or print form, articles contained in 'PGIM!' We welcome and encourage you to utilize this material. Freely received, freely given. We would ask though, that the source be acknowledged as an encouragement to others to subscribe to this newsletter also.
LINKS
If you would like to link your web site to ours, and ours to yours, please advise us on
links@wwj.org.nz
ABOUT US
WALKING WITH JESUS MINISTRIES is a non-profit, non-denominational, Bible based ministry located in Hastings, New Zealand. A ministry dedicated to developing discipleship, fostering unity amongst God's people to achieve the Great Commission, and in doing so, preparing for Christ's return. It is securely based upon the foundational principles of the Apostles Creed while recognising the wide and rich diversity of beliefs amongst Christians in other areas. In accordance with the Lord's direction, materials produced by the ministry are available, free of charge, to genuine enquirers upon request. The ministry is solely funded by donations, as the Lord provides. A list of materials available (plus some fun!) is obtainable and freely downloadable from our website
wwj.org.nz or by contacting us as follows.

Walking With Jesus Ministries
P O Box 2
Webuye 50205
Kenya

Email: enquiries@wwj.org.nz
Web: wwj.org.nz

Our role is to bless and encourage those in ministry while promoting co-operation and unity of direction amongst the body of Christ, as emphasised 3 times by Jesus in His longest prayer, immediately prior to His arrest and crucifixion. "... so that they may be one as we are one." (John 17:12, 21, 23-4) Our website is currently being developed to encourage your participation one with another, to share resources, and to enable you to promote events and items of interest to the body as a whole - and have a smile while doing it!

For comments upon and contributions to this service, please contact
david@wwj.org.nz
SUBSCRIPTION MANAGEMENT
We would encourage you to share this free service with your friends in ministry. To subscribe yourself please email pgim-on@wwj.org.nz.
If your name has been referred to us by a friend or supporting Ministry or has been obtained from a public Christian Directory or Website, it isn't our wish to burden you with information in which you aren't interested. To remove yourself from this list, please email pgim-off@wwj.org.nz.