A Weekly World Wide Word of Encouragement to those in the Ministry
PRAISE GOD IT'S MONDAY!
A WEEKLY 'WWW (world-wide word) OF ENCOURAGEMENT'
TO THOSE IN MINISTRY
A FREE service, currently connecting with Christian leaders from 3,000 denominations and ministries, in 70 countries.

Issue No: 1142 Published: 04 Sep 2023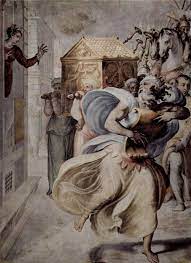 A REVELATION OF..... THE TABERNACLE OF DAVID
REJECTED - AS JESUS WAS!
(Part 1 of 3)
20 When David returned home to bless his household, Michal daughter of Saul came out to meet him and said, "How the king of Israel has distinguished himself today, disrobing in the sight of the slave girls of his servants as any vulgar fellow would!" 21 David said to Michal, "It was before the LORD, who chose me rather than your father or anyone from his house when he appointed me ruler over the LORD's people Israel—I will celebrate before the LORD. 22 I will become even more undignified than this, and I will be humiliated in my own eyes. But by these slave girls you spoke of, I will be held in honor." 23 And Michal daughter of Saul had no children to the day of her death. (1 Samuel 6:20-23)
David came home full of the joy of the Lord, ready to bless his family as he had the families of those who had brought the Ark with him. And he received a totally unexpected reception!
At this time he had at least 3 wives, Michal, Ahinoam and Abigail. We don't know the reactions of the other two, as the Biblical account centers upon the response of Michal, the daughter of King Saul. For Michal is a type of the religious church, an inheritance from her father.
Imagine the letdown for David when his wife confronted him! He had blessed God and God had blessed him in return. Now it was his family's turn. But when he received the unexpected reaction, he still placed God first. He understood the religious spirit in now found in his wife, for he had experienced its effects for 10 long years during the time King Saul sought to kill him. He didn't let her attitude deter him and Michal suffered the consequence of the ultimate shame for a Jewish woman of the time, barrenness.
THE PROBLEM
God anointed King Saul through the prophet Samuel, as king. Under the Jewish culture of the time, this encompassed all areas of life, including God's 'religious' inheritance.
Then Samuel took a flask of oil and poured it on Saul's head and kissed him, saying, "Has not the LORD anointed you leader over his inheritance? (1 Samuel 10:1)
In a time of stress, under battle conditions, Saul disobeyed God greatly, by making the sacrifices himself instead of waiting for Samuel to come.
11 "What have you done?" asked Samuel. Saul replied, "When I saw that the men were scattering, and that you did not come at the set time, and that the Philistines were assembling at Micmash, 12 I thought, 'Now the Philistines will come down against me at Gilgal, and I have not sought the LORD's favor.' So I felt compelled to offer the burnt offering." (1 Samuel 13:11-12)
And he paid the price!
13 "You acted foolishly," Samuel said. "You have not kept the command the LORD your God gave you; if you had, he would have established your kingdom over Israel for all time. 14 But now your kingdom will not endure; the LORD has sought out a man after his own heart and appointed him leader of his people, because you have not kept the LORD's command." (1 Samuel 13:13-14)
Nothing has changed. As Michal inherited the trait of her father, many in the church today following their own ideas, doing what they think will be best for God. They inevitably fail to see, or accept, when God truly moves.
THE LESSON
Will be split into 3 parts as it is long. But it is most important that we have a full understanding of what the Bible says will happen, and already is happening in some places, not the escapist theories many churches promote today.
(Continued next week)
Find more about us here.....

FROM THE WORD
THE WORDS OF JESUS
The Good Shepherd (John 10:1-18)
Jesus continued as the Pharisees would not accept what He was saying.
"I tell you the truth, anyone who doesn't come in through the gate of the sheepfold but climbs in some other way is a thief and a robber. The one who comes in through the gate is the shepherd of the sheep. The gatekeeper opens it for him, and the sheep respond to his voice. He calls his own sheep by name, and leads them out. After bringing them out, he walks ahead of them, and the sheep follow him because they recognize his voice. They won't follow strangers. In fact they run away from a stranger because they don't recognize the voice of strangers."
"I tell you the truth: I am the gate of the sheepfold. All those who came before me were thieves and robbers, but the sheep didn't listen to them. I am the gate. Anyone who comes in through me will be healed. They will be able to come and go, and find the food they need. The thief comes only to steal, kill, and destroy. I've come to bring you life, life full to overflowing. I am the good shepherd. The good shepherd lays down his life for the sheep. The man paid to look after the sheep is not the shepherd and he runs away when he sees the wolf coming. He abandons the sheep because they're not his, and the wolf attacks and scatters the flock for the man is only working for pay and doesn't care about the sheep. I am the good shepherd. I know who are mine, and they know me, just as the Father knows me and I know him. I lay down my life for the sheep. I have other sheep that are not in this sheepfold. I must bring them too. They will listen to my voice and there will be one flock with one shepherd.
"This is why the Father loves me, because I lay down my life so I may take it up again. No one takes it from me; I choose to lay it down. I have the right to give it up, and I have the right to take it back. This is the command my Father gave me."
Seventy (or 72) Sent Out (Luke 10:1-16)
Ahead of Jesus.
"The harvest is large, but the number of workers is small," "Pray to the Lord of the harvest to send workers to his harvest fields. So get on your way: I'm sending you like sheep among wolves. Don't take any money or a bag or extra sandals, and don't spend time chatting with people you meet. Whatever house you enter, first of all say, 'May this house have peace.' If there's a peaceful person living there, then your peace will rest on them; of not, it will return to you. Stay in that house, eating and drinking whatever they give you, for a worker deserves to be paid. Don't go from house to house. If you enter a town and the people there welcome you, then eat what's set before you 9and heal those who are sick. Tell them, 'God's kingdom has come to you.' But if you enter a town and the people there don't welcome you, go through their streets telling them, 'We are wiping off even the dust from your town that clings to our feet to show you our disapproval. But you should recognize this: God's kingdom has come.'
"I tell you, in the Day of Judgment it will be better for Sodom than for such a town. Shame on you Korazin! Shame on you Bethsaida! For if the miracles you saw happen had happened in Tyre and Sidon they would have repented a long time ago, and they would be sitting in sackcloth and ashes. That's why in the judgment it will be better for Tyre and Sidon than for you. And you, Capernaum, you won't be exalted to heaven; you will go down to Hades.
"Anyone who hears you hears me, and anyone who rejects you rejects me. But anyone who rejects me rejects the one who sent me."
(Continued next week)
Find out more about us at.....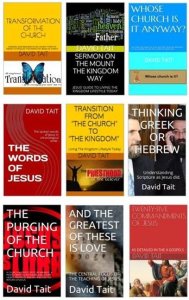 ***NOW***NINE BOOKS ARE AVAILABLE ON AMAZON!!!
9 BOOKS are now available on Amazon (Kindle)!

All are available worldwide for electronic download on Amazon (Kindle) for $US0.99c . Unfortunately there has to be a charge in order to list.

Your support would be appreciated and they could well change your life!
These and many more are availble for free online at https://www.wwj.org.nz/more-free-downloads

They Amazon books are all found at this link.....
http://www.amazon.com/s/ref=nb_sb_noss?url=search-alias%3Daps&field-keywords=david+tait+books/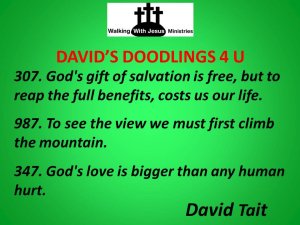 *DAVID"S DOODLINGS
Enjoy some of David's sayings here, plus 1300 more on the website at.....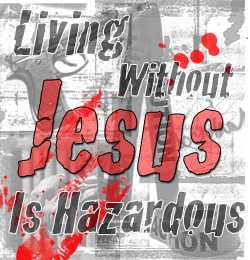 'THE WORDS OF JESUS' REMAIN AVAILABLE FOR PDF DOWNLOAD
Join the many who have downloaded the 'The Words of Jesus'. I am sure you will be blessed by it, as I have been.
One key element here is the setting out in chronological order (as far as it is possible to do so) our Lord's words drawn from all the Gospels, and the elimination of repetition between Gospels.
You may be surprised by the different perspective this presentation gives you both in understanding of His life and ministry, and in achieving a closer relationship with Him.

Download the free PDF here.....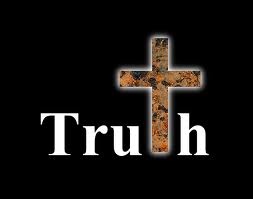 DAVID'S DOODLINGS
TRUTH AND KNOWLEDGE
434. Knowledge is subject to change, while truth stands firm.

435. Man seeks truth. God is truth. Shouldn't then, man seek truth through God?

436. The one who claims to have all the answers cannot have been asked all the questions.

437. Truth is perceived through our 'life filters.' Unfortunately no two filters are the same!

438. The greater the truth revealed, the more room for human error to be concealed.

439. Since God is the sole source of absolute truth, shouldn't we seek the mind of God?

440. The more of God in us, the greater our potential to reveal His truth.

441. Knowledge is too often confused with truth.

442. Yesterday the world was flat, today it is round, but God's truth is the same forever.

443. Knowledge is fleeting, truth eternal.
Many more at.....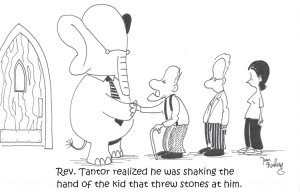 CARTOONS FROM TOON FEVER
Visit the Toon Fever website for more cartoon fun..... http://www.toonfever.com
Check it out at...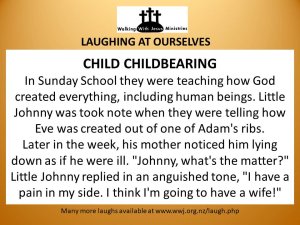 'LAUGHING AT OURSELVES
Another laugh or three for you today
Many more on our website below. Also many, may, many more under these categories on our website, wwj,org,nz Look under the heading MAINLY LAUGHS. Choose from.....

THIS WEEKS TUESDAY TEACHING.....
A REVELATION OF....... 3 KINGDOM AGES: NEW TESTAMENT REVELATION
Each of the New Testament triad of hope, faith and love actually represents the particular focus of a kingdom age.

It's amazing how God works!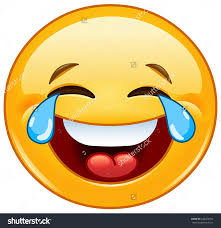 LAUGHING AT OURSELVES
***Blessed are those who can laugh at themselves for they shall never cease to be amused***
394. Lil Johnny
One Sunday morning the Pastor noticed little Johnny was standing staring up at the large plaque that hung in the foyer of the church. The young man of seven had been staring at the plaque for some time, so the pastor walked up and stood beside him and gazing up at the plaque he said quietly, "Good morning son."
"Good morning Pastor" replied the young man not taking his eyes off the plaque. "Sir, what is this?" Johnny asked.
"Well son, these are all the people who have died in the service," replied the pastor. Soberly, they stood together staring up at the large plaque
Little Johnny's voice barely broke the silence when he asked quietly, "Which one Sir, the 8:30 or the 10:30?"
QWIK QWIP: "He who boasts of being a self-made man or woman relieves the Lord of a lot of responsibility."
395. Jesus Wept!
Jesus took his disciples up the mountain and gathered them around Him and taught them saying:
"Blessed are the poor in spirit for theirs is the Kingdom of Heaven."
"Blessed are the meek,
Blessed are they that mourn,
Blessed are the merciful,
Blessed are they that thirst after righteousness.
Blessed are you when persecuted, Blessed are you when you suffer, Be glad and rejoice for your reward is great in Heaven."
Then Simon Peter said, "Are we supposed to know all this?"
And Andrew said, "So we have to write all this down?"
And James said, "Will we have a test on this?"
And Phillip said, "I don't have any paper."
And Judas said, " How much credit does this give me?"
And Matthew said, "May I go to the bathroom?"
And Bathelomew said, "Do we have to turn this in?"
And Simon said, "May I borrow a pencil?"
And Judas Iscariot said, "What does this have to do with real life?"
And James the Lesser said, "Now what was that again?"
Then one of the Pharisees, who was present, asked to see Jesus' lesson plan and inquired of Jesus, "Where are your anticipatory set and objectives in the cognitive domain?"
AND JESUS WEPT !!!!
QWIK QWIP: "It sometimes looks foolish for folks to be spending so much time loving their enemies when they should be treating their friends a little better."
396. Speed Reading
The parson had been disturbed by a person who was a fast reader. "We shall now read the Twenty-third Psalm in unison," he announced. "Will the lady who is always by 'the still waters' while the rest of us are in 'green pastures,' please wait a minute until we catch up?"
Download the book 'Laughing At Ourselves' in PDF format at LAUGHING AT OURSELVES One of the most comprehensive sources of Christian Humour on the Net with 800 sermon fillers for your entertainment and use at ..... https://www.wwj.org.nz/content/wwj18p47.pdf
Or read even more online at.....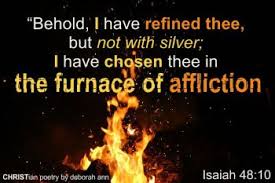 A DAVID MUSING
1,2,3,4.5.7,8,9,10.
Many people will quickly read this as being 1-10. Maybe you did.
But, of course, there is a number missing.
Much of our walk with Jesus is like that!
We see the 1 of salvation and the 10 of eternal life, but we miss the steps in between.
Discipleship is the commitment of walking through all the steps, the good and the hard. We can't miss any out!
We have had a long year here in New Zealand waiting for visas to go back to Kenya. So many issues. Yet the end result is going shortly to be better than we could have ever expected!
Challenges, if we face them and not give up, will be overcome in God's time.
Until next time
His servant and yours
David Tait

Visit us here.....
CHANGING YOUR EMAIL ADDRESS? NEWSLETTER STOPS COMING?
Each week we can lose up to 2% of our readers when they change email addresses without letting us know. Or sometimes, by your server acting strangely and just cutting us off! If you are about to change your address, please advise us of both your old and new addresses here at
enquiries@wwj.org.nz and we will happily change our records to ensure ongoing delivery. Thanks.

Please also keep our address in your address book, as sometimes servers will automatically delete your address if there is even a one off problem in delivery. If your newsletter doesn't arrive, please let us know and we will reinstate you.
REPRODUCTION OF NEWSLETTER CONTENT
Most weeks we get enquiries about reproducing, in electronic or print form, articles contained in 'PGIM!' We welcome and encourage you to utilize this material. Freely received, freely given. We would ask though, that the source be acknowledged as an encouragement to others to subscribe to this newsletter also.
LINKS
If you would like to link your web site to ours, and ours to yours, please advise us on
links@wwj.org.nz
ABOUT US
WALKING WITH JESUS MINISTRIES is a non-profit, non-denominational, Bible based ministry located in Hastings, New Zealand. A ministry dedicated to developing discipleship, fostering unity amongst God's people to achieve the Great Commission, and in doing so, preparing for Christ's return. It is securely based upon the foundational principles of the Apostles Creed while recognising the wide and rich diversity of beliefs amongst Christians in other areas. In accordance with the Lord's direction, materials produced by the ministry are available, free of charge, to genuine enquirers upon request. The ministry is solely funded by donations, as the Lord provides. A list of materials available (plus some fun!) is obtainable and freely downloadable from our website
wwj.org.nz or by contacting us as follows.

Walking With Jesus Ministries
P O Box 2
Webuye 50205
Kenya

Email: enquiries@wwj.org.nz
Web: wwj.org.nz

Our role is to bless and encourage those in ministry while promoting co-operation and unity of direction amongst the body of Christ, as emphasised 3 times by Jesus in His longest prayer, immediately prior to His arrest and crucifixion. "... so that they may be one as we are one." (John 17:12, 21, 23-4) Our website is currently being developed to encourage your participation one with another, to share resources, and to enable you to promote events and items of interest to the body as a whole - and have a smile while doing it!

For comments upon and contributions to this service, please contact
david@wwj.org.nz
SUBSCRIPTION MANAGEMENT
We would encourage you to share this free service with your friends in ministry. To subscribe yourself please email pgim-on@wwj.org.nz.
If your name has been referred to us by a friend or supporting Ministry or has been obtained from a public Christian Directory or Website, it isn't our wish to burden you with information in which you aren't interested. To remove yourself from this list, please email pgim-off@wwj.org.nz.