A Weekly World Wide Word of Encouragement to those in the Ministry
PRAISE GOD IT'S MONDAY!
A WEEKLY 'WWW (world-wide word) OF ENCOURAGEMENT'
TO THOSE IN MINISTRY
A FREE service, currently connecting with Christian leaders from 3,000 denominations and ministries, in 70 countries.

Issue No: 994 Published: 02 Nov 2020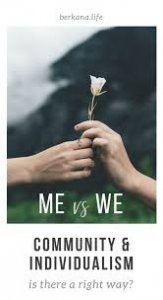 THINKING GREEK OR HEBREW
COMMUNITY v INDIVIDUAL

Greek (Western)
The Greek focus is on the individual.
Let's face it, in our society, 'I' is the most important letter in the alphabet! 'What's in it for me?'
In the church too, our focus is on what Jesus will do for us...... Jesus loves you. (true) 'Jesus saves' you. (true) Jesus will make you happy. (not true) Onward to the ultimate 'I'..... Jesus will make you rich! (not true) For our natural mind is focused on 'taking', not giving.

Eastern (Hebrew)
The Hebrew focus, on the other hand, is on the community in relationship with God.
This is the pattern of the Old Testament, with God choosing to work firstly through the families of the Patriarchs (Abraham, Isaac, Jacob, etc).....
8 The child grew and was weaned, and on the day Isaac was weaned Abraham held a great feast. 9 But Sarah saw that the son whom Hagar the Egyptian had borne to Abraham was mocking, 10 and she said to Abraham, "Get rid of that slave woman and her son, for that slave woman's son will never share in the inheritance with my son Isaac." 11 The matter distressed Abraham greatly because it concerned his son. 12 But God said to him, "Do not be so distressed about the boy and your maidservant. Listen to whatever Sarah tells you, because it is through Isaac that your offspring will be reckoned. 13 I will make the son of the maidservant into a nation also, because he is your offspring." (Genesis 21:8-13)
We find this difficult to understand and accept, but the interests of the community, of the continuation of the godly line, was put ahead of the interests of the individual. Ironically, the rejected Esau then became the spiritual root of today's Muslim faith!
This sense of community continued through the chequered history of the nation of Israel, where effectively, the King represented the people before God, either for good or for evil.....
Amon was twenty-two years old when he became king, and he reigned in Jerusalem two years. His mother's name was Meshullemeth daughter of Haruz; she was from Jotbah. 20 He did evil in the eyes of the LORD, as his father Manasseh had done. 21 He walked in all the ways of his father; he worshiped the idols his father had worshiped, and bowed down to them. 22 He forsook the LORD, the God of his fathers, and did not walk in the way of the LORD..... 26 He was buried in his grave in the garden of Uzza. And Josiah his son succeeded him as king. 1 Josiah was eight years old when he became king, and he reigned in Jerusalem thirty-one years. His mother's name was Jedidah daughter of Adaiah; she was from Bozkath. 2 He did what was right in the eyes of the LORD and walked in all the ways of his father David, not turning aside to the right or to the left. (2 Kings 21:19-22, 26-22:2)
Moving on to New Testament times, it is easy now to understand the confusion of Nicodemus, a celebrated elder, who naturally thought the spiritual state of the nation was in the ruling council's hands. Then Jesus turned this world on its head by proclaiming that salvation was now a personal choice.....
Now there was a man of the Pharisees named Nicodemus, a member of the Jewish ruling council. 2 He came to Jesus at night and said, "Rabbi, we know you are a teacher who has come from God. For no one could perform the miraculous signs you are doing if God were not with him." 3 In reply Jesus declared, "I tell you the truth, no one can see the kingdom of God unless he is born again." 4 "How can a man be born when he is old?" Nicodemus asked. "Surely he cannot enter a second time into his mother's womb to be born!" 5 Jesus answered, "I tell you the truth, no one can enter the kingdom of God unless he is born of water and the Spirit. 6 Flesh gives birth to flesh, but the Spirit gives birth to spirit. 7 You should not be surprised at my saying, 'You must be born again.' 8 The wind blows wherever it pleases. You hear its sound, but you cannot tell where it comes from or where it is going. So it is with everyone born of the Spirit." 9 "How can this be?" Nicodemus asked. 10 "You are Israel's teacher," said Jesus, "and do you not understand these things? 11 I tell you the truth, we speak of what we know, and we testify to what we have seen, but still you people do not accept our testimony. 12 I have spoken to you of earthly things and you do not believe; how then will you believe if I speak of heavenly things? 13 No one has ever gone into heaven except the one who came from heaven—the Son of Man. 14 Just as Moses lifted up the snake in the desert, so the Son of Man must be lifted up, 15 that everyone who believes in him may have eternal life. 16 "For God so loved the world that he gave his one and only Son, that whoever believes in him shall not perish but have eternal life. 17 For God did not send his Son into the world to condemn the world, but to save the world through him. 18 Whoever believes in him is not condemned, but whoever does not believe stands condemned already because he has not believed in the name of God's one and only Son. (John 3:1-18)
However, the sense of community was not lost in the early church, where the good of the group as a whole was put ahead of the interests of the individual.....
The Believers Share Their Possessions
32 All the believers were one in heart and mind. No one claimed that any of his possessions was his own, but they shared everything they had. 33 With great power the apostles continued to testify to the resurrection of the Lord Jesus, and much grace was upon them all. 34 There were no needy persons among them. For from time to time those who owned lands or houses sold them, brought the money from the sales 35 and put it at the apostles' feet, and it was distributed to anyone as he had need. (Acts 4:32-5)
Jesus would have approved.

SOME SPIRITUAL IMPLICATIONS FOR TODAY
While salvation is now a personal decision, our ongoing community response is to be one of giving rather than taking.....
3 To love him with all your heart, with all your understanding and with all your strength, and to love your neighbor as yourself is more important than all burnt offerings and sacrifices." (Mark 12:33)
2. 'Community' is focused on caring and sharing, of putting other's needs ahead of our own.
3. Religious form is superfluous. It is how we live in our community that truly reflects the genuineness of our salvation.
(C0ontinues next week)
Acknowledgements: http://www.followtherabbi.com and http://hethathasanear.com and http://www.wildbranch.org
See more about us at.....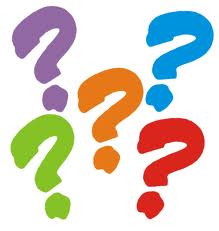 FROM THE WORD
THE WORDS OF JESUS
May we hear what the Lord is saying to us.....
The Jews Confront Jesus' Claim to be The Christ (John 10:24-39)
In the Temple at the Feast of Dedication.
"I already told you and you refuse to believe it. The miracles I do in my Father's name prove who I am. You don't believe me because you are not my sheep. 27My sheep recognize my voice; I know them, and they follow me. I give them eternal life; they shall never be lost, and no one can snatch them from me. My Father who gave them to me is greater than anyone else; no one can snatch them from him. I and the Father are one."
"You've seen many good deeds that I've done from the Father. Which one are you stoning me for?"
"Isn't it written in your law, 'I said, you are gods'?" He called those people 'gods,' the people to whom the word of God came—and Scripture can't be altered. So why are you saying the one whom the Father set apart and sent into the world is blaspheming because I said 'I am the Son of God'? If I'm not doing what my Father does, then don't believe me. But if that is what I'm doing, even though you don't believe me, you should believe because of the evidence of what I've done. That way you can know and understand that the Father is in me, and I am in the Father.
How Many Will be Saved? (Luke 13:22-30)
A question put to Jesus.
"Try very hard to enter the narrow doorway, because I tell you that many will try to go in, and won't succeed. Once the house owner gets up and closes the door, you'll be standing outside knocking on the door, saying, 'Master, please open the door for us.' But he'll reply, 'I don't know you or where you're from.'
Then you'll say, 'But we ate and drank with you, and you taught in our streets!' He'll reply, 'I tell you, I don't know you or where you're from. Get away from me, all of you who don't do what's right!' There will be crying and gnashing of teeth when you see Abraham, Isaac, Jacob and all the prophets in the kingdom of God but you are thrown out. People will come from the east and the west, the north and the south, and they will sit down to eat in the kingdom of God. For the last shall be first, and the first shall be last."
Pharisees Warn Jesus About Herod (Luke 13:31-5)
And his intention to kill Jesus.
"Go tell that fox that I will go on driving out demons and healing people for today and tomorrow, and on the third day I'll achieve what I came to do. Well anyway I must continue on my way for today and tomorrow, and the day after. For it wouldn't be right for a prophet to die outside of Jerusalem!
"Oh Jerusalem, Jerusalem, you kill prophets and stone those who are sent to you! How often I have wanted to gather all your children together just like a hen does with her chicks under her wings, but you refused! Look, your house is left desolate, and I tell you that you won't see me again until you say, 'Blessed is he who comes in the name of the Lord.'"
(Continued next week)
Download the complete 'Words of Jesus' here.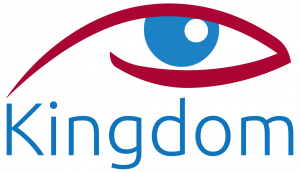 OUR AFRICAN EXPERIENCE
FOR MORE DETAILED AND REGULAR UPDATES, VISIT OUR FACEBOOK PAGE
AN EYE 4 Africa - https://www.facebook.com/aneye4africa/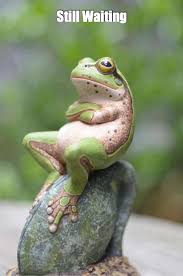 ANOTHER DAY,,ANOTHER WEEK - AGAIN!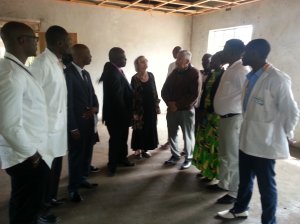 WE HAVE GROWN A LITTLE!
It is interesting to look back to where we were and where we are now!
MARCH 2018 - Staff prayer as we opened the Outpatients Clinic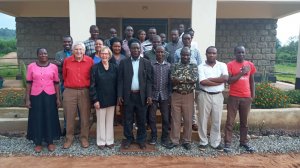 OCTOBER 2020 - Staff and CBM on s visit to the Hospital this week! Now we have added Inpatients and Eye services.
Once we receive NHIF Insurance Provider Accreditation, our staff will double again and it will be impossible to get them all together at the one time.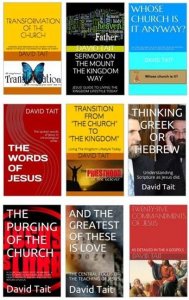 ***NOW***NINE BOOKS ARE AVAILABLE ON AMAZON!!!
9 BOOKS are now available on Amazon (Kindle)!

All are available worldwide for electronic download on Amazon (Kindle) for $US0.99c . Unfortunately there has to be a charge in order to list.

Your support would be appreciated and they could well change your life!

They are all found at this link.....
http://www.amazon.com/s/ref=nb_sb_noss?url=search-alias%3Daps&field-keywords=david+tait+books/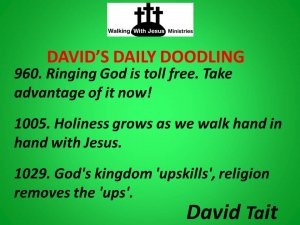 ***DAILY EZINE!*** 'DAVID'S DAILY DOODLINGS' Subscribe Today
Receive one of David's sayings in your mailbox each day to inspire, challenge or maybe, amuse. To register today, go down to the bottom of the page link below, click on the subscribe link dd-on@wwj.org.nz (or paste the address in an email yourself and send) Then it's done! If you have an Irish heritage, you will love the background coloring!
Subscription and back issue link is.....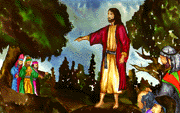 'THE WORDS OF JESUS' REMAIN AVAILABLE FOR PDF DOWNLOAD
Join the many who have downloaded the 'The Words of Jesus'. I am sure you will be blessed by it, as I have been.

One key element here is the setting out in chronological order (as far as it is possible to do so) our Lord's words drawn from all the Gospels, and the elimination of repetition between Gospels.

You may be surprised by the different perspective this presentation gives you both in understanding of His life and ministry, and in achieving a closer relationship with Him.

Download the free PDF here.....

DAVID'S DOODLINGS
MARRIAGE AND FAMILY
142. Absence makes the heart grow fonder, but too long an absence leads the heart to wander.

368. The most satisfying thing in parenthood is when children become friends.

369. When the family founders, society sinks.

370. A successful society is built upon the foundation of fully functional families.

371. Society is simply a gathering together of families. Therefore it is simply impossible for society to be better than the family foundation it is built upon.

548. A nation's true wealth is best measured by its families' health.

1274. It would be miserable being married to the perfect spouse. They would always show you up and you would have nothing to grizzle about - except their perfection!
Please feel free to quote these quotes. Acknowledgment of David Tait as the author would be appreciated. There are now over 1300 David sayings for you to view at ...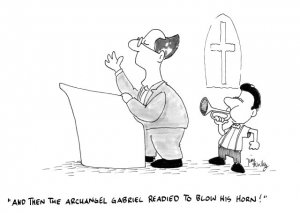 CARTOONS FROM TOON FEVER
Visit the Toon Fever website for more cartoon fun..... http://www.toonfever.com

Check it out at...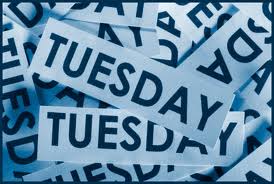 TUESDAY TEACHINGS
THIS WEEK:GOD AND MAN continues.....
as we look at the remaining 18 specific commands of Jesus in the 4 Gospels.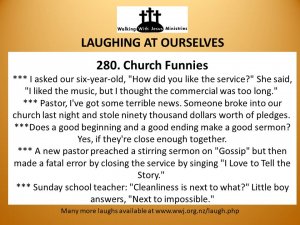 *** ANOTHER DAILY EZINE FROM WWJ!*** 'LAUGHING AT OURSELVES' Subscribe Today
As Christians, if we can't laugh at ourselves, others will! A fun way to start your day. To register today, go down to the bottom of the page link below, click on the subscribe link lao--on@wwj.org.nz (or paste the address in an email yourself and send) Then it's done!
https://www.wwj.org.nz/laughing-at-ourselves-ezine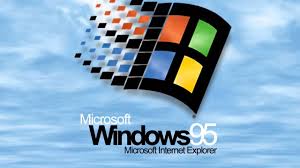 LAUGHING AT OURSELVES
***Blessed are those who can laugh at themselves for they shall never cease to be amused***
*** Those who can't laugh at themselves leave the job to others. ***
470. Omitted
A woman in her forties got married but was a bit nervous about her honeymoon.
Pastor Carl wanted to encourage her by sending a telegram with a verse of Scripture... 1 John 4:18 - There is no fear in love, but perfect love casts out fear.
But the Pastor's oral instructions to the church typist omitted, by mistake, the 1 before John and the telegram just read...
John 4:18 - For you have had five husbands, and he whom you now have is not your husband; this you said truly.
QWIK QWIP: "The mind is like the stomach. It's not how much you put in it that counts, but how much it digests."
471. A Drier Climate
Pastor Bob shocked the congregation when he announced that he was resigning from the church and moving to a drier climate.
After the service, a very distraught lady came to the pastor with tears in her eyes. "Oh, Pastor Bob, we are going to miss you so much. We don't want you to leave!"
Pastor Bob patted her hand and said, "Now, now, Carolyn, don't carry on. The pastor who takes my place might be even better than me".
"Yeah," Carolyn said, with a tone of disappointment in her voice, "That's what they said the last time too."
QWIK QWIP: "When God says "no", it's because He has something better in store for you."
472. Tech Support VERSUS Exodus 20.4-5
Tech Support: All right...now double-click on the File Manager icon.
Customer: That's why I hate this Windows -- because of the icons. I'm a good Christian, and I don't believe in icons.
Tech Support: Well that's just an industry term sir. I don't believe it was meant to...
Customer: I don't care about any "Industry Terms" -- I do NOT believe in icons!
Tech Support: Okay, then... why don't you just click on the little picture of a file cabinet -- is "little picture" OK?
Customer: [click]
Download the book 'Laughing At Ourselves' in PDF format at LAUGHING AT OURSELVES One of the most comprehensive sources of Christian Humour on the Net with 800 sermon fillers for your entertainment and use at ..... https://www.wwj.org.nz/content/wwj18p47.pdf
Or read even more online at.....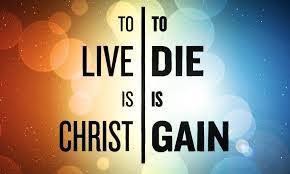 A DAVID MUSING
Getting sick is no fun! I know this as I have had a stomach bug yesterday! Thankfully, I am back to normal today.
But what is worse, is the fear of getting sick.
With Covid, the world has panicked! It is a a terrible virus, particularly for those who get it severely.
We all need to take all the public and personal steps to prevent its spread.
Kathy and I are in our 70's so are prime targets for getting the virus. Fortunately, we have no pre-existing health conditions. so that is helpful.
But worse than the virus itself, is the fear that it has generated, worldwide.
As a follower of Jesus, my life is in His hands. While I take the necessary, sensible precautions, ultimately, whether I live or die is in the Lord's hands, I love life, but also know, once my time here is up, I will go to be with my Lord.
My prayer is that this will be the same for you.
Until next time.....
MAY GOD BLESS YOU AND YOU BLESS GOD
His servant and yours
David Tait

Visit us here.....
CHANGING YOUR EMAIL ADDRESS? NEWSLETTER STOPS COMING?
Each week we can lose up to 2% of our readers when they change email addresses without letting us know. Or sometimes, by your server acting strangely and just cutting us off! If you are about to change your address, please advise us of both your old and new addresses here at
enquiries@wwj.org.nz
and we will happily change our records to ensure ongoing delivery. Thanks.
Please also keep our address in your address book, as sometimes servers will automatically delete your address if there is even a one off problem in delivery. If your newsletter doesn't arrive, please let us know and we will reinstate you.
REPRODUCTION OF NEWSLETTER CONTENT
Most weeks we get enquiries about reproducing, in electronic or print form, articles contained in 'PGIM!' We welcome and encourage you to utilize this material. Freely received, freely given. We would ask though, that the source be acknowledged as an encouragement to others to subscribe to this newsletter also.
LINKS
If you would like to link your web site to ours, and ours to yours, please advise us on
links@wwj.org.nz
ABOUT US
WALKING WITH JESUS MINISTRIES is a non-profit, non-denominational, Bible based ministry located in Hastings, New Zealand. A ministry dedicated to developing discipleship, fostering unity amongst God's people to achieve the Great Commission, and in doing so, preparing for Christ's return. It is securely based upon the foundational principles of the Apostles Creed while recognising the wide and rich diversity of beliefs amongst Christians in other areas. In accordance with the Lord's direction, materials produced by the ministry are available, free of charge, to genuine enquirers upon request. The ministry is solely funded by donations, as the Lord provides. A list of materials available (plus some fun!) is obtainable and freely downloadable from our website
wwj.org.nz
or by contacting us as follows.
Walking With Jesus Ministries
7 Bull Street
Ahuriri
Napier
New Zealand
Phone: (06) 835 0567 International (+64) 6 835 0567
Email:
enquiries@wwj.org.nz
Web:
wwj.org.nz
Our role is to bless and encourage those in ministry while promoting co-operation and unity of direction amongst the body of Christ, as emphasised 3 times by Jesus in His longest prayer, immediately prior to His arrest and crucifixion. "... so that they may be one as we are one." (John 17:12, 21, 23-4) Our website is currently being developed to encourage your participation one with another, to share resources, and to enable you to promote events and items of interest to the body as a whole - and have a smile while doing it!
For comments upon and contributions to this service, please contact
david@wwj.org.nz
SUBSCRIPTION MANAGEMENT
We would encourage you to share this free service with your friends in ministry. To subscribe yourself please email pgim-on@wwj.org.nz.
If your name has been referred to us by a friend or supporting Ministry or has been obtained from a public Christian Directory or Website, it isn't our wish to burden you with information in which you aren't interested. To remove yourself from this list, please email pgim-off@wwj.org.nz.