A Weekly World Wide Word of Encouragement to those in the Ministry
PRAISE GOD IT'S MONDAY!
A WEEKLY 'WWW (world-wide word) OF ENCOURAGEMENT'
TO THOSE IN MINISTRY
A FREE service, currently connecting with Christian leaders from 3,000 denominations and ministries, in 70 countries.

Issue No: 1075 Published: 23 May 2022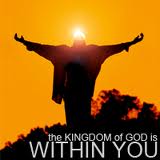 TRANSITION FROM 'THE CHURCH' TO 'THE KINGOM'
FROM "ORGANIZED" TO "ORGANIC" Part 3
3. THE KINGDOM IS FOUND WITHIN US
As salvation is now a personal experience, so it is logical that God resides in those who have made this individual decision to follow Him.
This was, and remains, a huge change from the original 'family salvation' of the Patriarchs, followed by the 'national salvation' of Israel from Moses until Jesus. The Pharisees and religious leaders of the time could not grasp this concept of the kingdom being inherited on the basis of an individual's decision.....
Now there was a man of the Pharisees named Nicodemus, a member of the Jewish ruling council. 2 He came to Jesus at night and said, "Rabbi, we know you are a teacher who has come from God. For no one could perform the miraculous signs you are doing if God were not with him." 3 In reply Jesus declared, "I tell you the truth, no one can see the kingdom of God unless he is born again." 4 "How can a man be born when he is old?" Nicodemus asked. "Surely he cannot enter a second time into his mother's womb to be born!" 5 Jesus answered, "I tell you the truth, no one can enter the kingdom of God unless he is born of water and the Spirit. (John 3:1-5)
And the teaching of the 'New Covenant' taken one step further, when the Pharisees were looking the kingdom to come to the nation state of Israel, to set them free from Roman domination....
The Coming of the Kingdom of God
20 Once, having been asked by the Pharisees when the kingdom of God would come, Jesus replied, "The kingdom of God does not come with your careful observation, 21 nor will people say, 'Here it is,' or 'There it is,' because the kingdom of God is within you." (Luke 17:20-21)
What an amazing truth! For it sets us free! No longer do we have to have the right relatives or belong to a specific race of people! For all can come enter the kingdom by being born again! Hallelujah!
Jesus was, and remains, a revolutionary! He turned the world upside down! Religious thinking, then and now, is turned on its head! No longer do we need to belong to a group to inherit God's kingdom. Not a family. Not a nation. Not a denomination. Not a church. For our salvation is a personal gift from God (not bestowed by a minister, pastor or priest) for belief in Jesus.....
22 But now that you have been set free from sin and have become slaves to God, the benefit you reap leads to holiness, and the result is eternal life. 23 For the wages of sin is death, but the gift of God is eternal life in Christ Jesus our Lord. (Romans 6:22-3)
Money will not buy you the kingdom.....
20 Peter answered: "May your money perish with you, because you thought you could buy the gift of God with money! (Acts 8:20)
Nor will religious behaviour, of following the rules, regulations or practices of your church grouping.....
39 Then the Lord said to him, "Now then, you Pharisees clean the outside of the cup and dish, but inside you are full of greed and wickedness. 40 You foolish people! Did not the one who made the outside make the inside also? 41 But give what is inside the dish to the poor, and everything will be clean for you. 42 "Woe to you Pharisees, because you give God a tenth of your mint, rue and all other kinds of garden herbs, but you neglect justice and the love of God. You should have practiced the latter without leaving the former undone. (Luke 11:39-42)
As the kingdom is within, we no longer need the services of any intermediary other than the Holy Spirit.....
We do not know what we ought to pray for, but the Spirit himself intercedes for us with groans that words cannot express. 27 And he who searches our hearts knows the mind of the Spirit, because the Spirit intercedes for the saints in accordance with God's will. (Romans 8:26b-27)
.....through Jesus.....
34 Who is he that condemns? Christ Jesus, who died—more than that, who was raised to life—is at the right hand of God and is also interceding for us. (Romans 8:34)

(Continued next week.)
Find out more about us at.....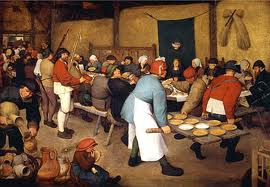 FROM THE WORD
THE WORDS OF JESUS
May we hear what the Lord is saying to us.....
Invitation Advice (Luke 14:12-14)
Given to the host.
"When you give a lunch or a dinner, don't invite your friends, or your brothers, or your relatives, or your rich neighbors, for they may invite you back, and then you'd be repaid. Instead, when you give a banquet, invite the poor, the crippled, the lame, the blind, and you will be blessed, for they have nothing to repay you with, and you'll be rewarded at the resurrection of the righteous."
Parable of the Banquet (Luke 14:15-24)
Given to the host.
"Once there was a man who prepared a great banquet, and invited many guests," Jesus replied. "When it was time to eat he sent his servant out to tell everyone who had been invited, 'Come, because the banquet's ready.' But they all started to make excuses. The first said, 'I've just bought a field and I have to go and see it. Please excuse me.' Another said, 'I've just bought five pairs of oxen and have to go and try them out. Please excuse me.' Still another said, 'I've just got married, so I can't come.' The servant returned and told his master what they'd said. The home-owner became angry and told his servant, Quickly, go out into the streets and alleys of the town, and bring in the poor and crippled and blind and lame.'
"Then the servant said, 'Master, I did what you told me, but there are still empty places.' "So the master told the servant, 'Go out on the country roads and lanes, and make people come—I want my house to be full. I tell you, not a single one of those people I invited will get a taste of my banquet.'"
The Cost of Discipleship (Luke 14:25-35)
Addressed to a large crowd.
"If you want to follow me but you don't hate your father and mother, and wife and children, and brothers and sisters—even your own life—you can't be my disciple. If you don't carry your cross and follow me, you can't be my disciple. If you planned to build a tower, wouldn't you first work out how much it would cost, and see if you had enough money to complete it? Otherwise, if after laying the foundation you weren't able to finish it, everyone who saw it would laugh at you, saying, 'Look at him: he started building but he couldn't finish it.'
"What king goes to war with another king without first sitting down with his advisors to work out whether he and his ten thousand can defeat the one marching against him with twenty thousand? If he can't, he'll send representatives to ask for peace while the other king is still a long way off. In the same way every one of you who doesn't give up everything can't be my disciple. Salt is good, but if it loses its taste, how can you make it salty again? It's no good for the soil or for fertilizer—you just toss it out. Whoever has ears, then listen!"
Download the complete 'Words of Jesus' here.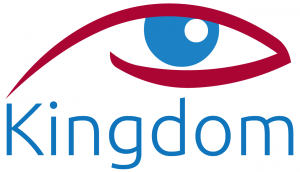 OUR AFRICAN EXPERIENCE
FOR MORE DETAILED AND REGULAR UPDATES, VISIT OUR FACEBOOK PAGE
AN EYE 4 Africa - https://www.facebook.com/aneye4africa/
Your prayers would still be appreciated.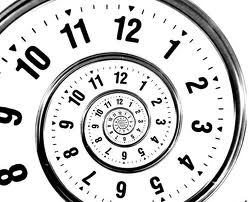 TODAY, W CAN SEE THE THEATRE ROOM AS IT IS..... BUT STILL WAITING
Patience is a virtue, but particularly so,here in the countryside of Kenya where we now live, which is not so based on time as in the West.
Both societies have their advantages.
I remember one night, many years ago now, the Lord gave me a dream about 4 things He wanted to change in my life.
Three have gone from memory now, but the fourth, where my watch caught on fire, I cannot ever forget! I had a fixation about time, as many do in the Western world. It is not 100% good.
But, of course, He knew I would be coming to Africa, for many years, ministering, and finally to live.
The Lord always knows best!
Yes it can get frustrating at times, but like it or not, we have to live with it!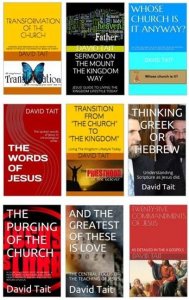 ***NOW***NINE BOOKS ARE AVAILABLE ON AMAZON!!!
9 BOOKS are now available on Amazon (Kindle)!

All are available worldwide for electronic download on Amazon (Kindle) for $US0.99c . Unfortunately there has to be a charge in order to list.

Your support would be appreciated and they could well change your life!
Many more online at https://www.wwj.org.nz/more-free-downloads

They are all found at this link.....
http://www.amazon.com/s/ref=nb_sb_noss?url=search-alias%3Daps&field-keywords=david+tait+books/
***DAILY EZINE!*** 'DAVID'S DAILY DOODLINGS' Subscribe Today
Receive one or more of David's sayings in your mailbox each day to inspire, challenge or maybe, amuse. To register today, go down to the bottom of the page link below, click on the subscribe link dd-on@wwj.org.nz (or paste the address in an email yourself and send) Then it's done! If you have an Irish heritage, you will love the background coloring!
Subscription and back issue link is.....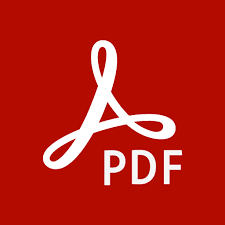 'THE WORDS OF JESUS' REMAIN AVAILABLE FOR PDF DOWNLOAD
Join the many who have downloaded the 'The Words of Jesus'. I am sure you will be blessed by it, as I have been.

One key element here is the setting out in chronological order (as far as it is possible to do so) our Lord's words drawn from all the Gospels, and the elimination of repetition between Gospels.

You may be surprised by the different perspective this presentation gives you both in understanding of His life and ministry, and in achieving a closer relationship with Him.

Download the free PDF here.....

DAVID'S DOODLINGS
PRAYER
951. Pray every day to keep the devil at bay!

952. Meaningful prayer originates from the heart, not the mouth.

953. Effective prayer is not how much you say but how you say it!

954. My 'Personal PrayerLine' is open 24/7. Love, God.

955. Prayer proves faith. Answered prayer improves faith.

956. Prayer builds relationship with God.

957. Prayer is to be an ongoing process, not an occasional experience.

958. Little and often is better than lots occasionally when it comes to effective prayer.

959. Prayer is like having an internal, open telephone line to heaven. Only trouble is, we too often forget to use it.

960. Ringing God is toll free. Take advantage of it now!
Please feel free to quote these quotes. Acknowledgment of David Tait as the author would be appreciated. There are now over 1300 David sayings for you to view at ...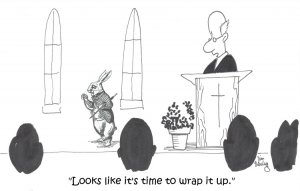 CARTOONS FROM TOON FEVER
Visit the Toon Fever website for more cartoon fun..... http://www.toonfever.com
Check it out at...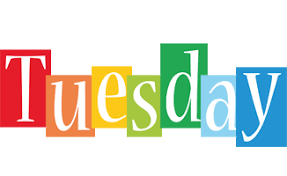 TUESDAY TEACHINGS
A REVELATION OF... THE 3 RIVERS OF GOD
Looking at the first part of two about the river that flowed from Ezekiel's Temple.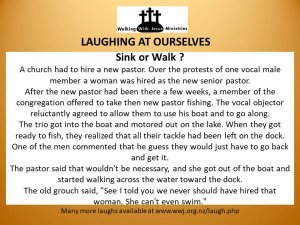 *** ANOTHER DAILY EZINE FROM WWJ!*** 'LAUGHING AT OURSELVES' Subscribe Today
As Christians, if we can't laugh at ourselves, others will! A fun way to start your day. To register today, go down to the bottom of the page link below, click on the subscribe link lao--on@wwj.org.nz (or paste the address in an email yourself and send) Then it's done!

LAUGHING AT OURSELVES
***Blessed are those who can laugh at themselves for they shall never cease to be amused***
*** Those who can't laugh at themselves leave the job to others. ***
196. Do You Have a BC?
The story is told of a lady who was rather old fashioned, always quite delicate and elegant, especially in her language. She and her husband were planning a weeks vacation to Florida, so she wrote to a particular campground asking for a reservation. She wanted to make sure the campground was fully equipped, but didn't quite know how to ask about the toilet facilities. She just couldn't bring herself to write the word "toilet" in her letter. After much deliberation, she finally came up with the old fashioned term BATHROOM COMMODE, but when she wrote that down, she thought she was being too forward. So she started all over again, rewrote the entire letter and referred to the bathroom commode merely as the "BC". "Does the campground have its own BC?" is what she actually wrote.
Well, the campground owner wasn't old-fashioned at all and when he got the letter he just couldn't figure out what the woman was talking about. That "BC" business really stumped him. After worrying about it for awhile he showed the letter to several campers, but they couldn't figure out what the lady meant either. So the campground owner finally coming to the conclusion that the lady must be asking about the local Baptist Church, sat down and wrote the lady. Upon reading his letter, and with great shock, the lady quickly decided not to got to that campground. The letter is as follows...
"Dear Madam, I regret very much the delay in answering your letter, but I now take great pleasure in informing you that a BC is located nine miles north of the campground and is capable of seating 250 people at one time. I admit it is quite a distance away, if you are in the habit of going regularly, but no doubt you will be pleased to know that a great number of people take their lunches along and make a day of it. They usually arrive early and stay late. It is such a beautiful facility and the acoustics are marvellous; even the normal delivery sounds can be heard. The last time my wife and I went was six years ago, and it was so crowded we had to stand up the whole time we were there. It may interest you to know that right now there is a supper planned to raise money to buy more seats. They are going to hold it in the basement of the BC. I would like to say it pains me very much not being able to go more regularly, but it is surely no lack of desire on my part. As we grow older it seems to be more of an effort, particularly in cold weather. If you decide to come down to our campground, perhaps I could go with you the first time you go, sit with you, and introduce you to all the other folks (remember, this is a friendly community)."
QWIK QWIP: "Becoming aware of my character defects leads me to the next step - blaming my parents."
197. Recipe for Revival?
The Sunday school teacher was carefully explaining the story of Elijah the Prophet and the false prophets of Baal. She explained how Elijah built the altar, put wood upon it, cut the steer in pieces and laid it upon the altar.
And then Elijah commanded the people of God to fill four barrels of water and pour it over the altar. He had them do this four times.
"Now, said the teacher, "can anyone in the class tell me why the Lord would have Elijah pour water over the steer on the altar?"
A little girl in the back of the room raised her hand with great confidence. "To make the gravy," came her enthusiastic reply.
Download the book 'Laughing At Ourselves' in PDF format at LAUGHING AT OURSELVES One of the most comprehensive sources of Christian Humour on the Net with 800 sermon fillers for your entertainment and use at ..... https://www.wwj.org.nz/content/wwj18p47.pdf
Or read even more online at.....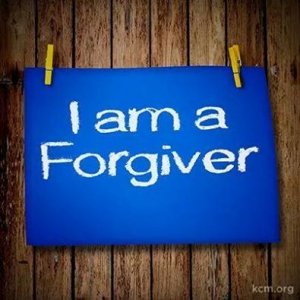 A DAVID MUSING
FORGIVENESS AND CONSEQUENCES
Once upon a time, not really so many years ago, but when we were in New Zealand, I got beaten with a sharp instrument on the head, within a fraction of my life, and Kathy got beaten on her back by the same gentleman, a disgruntled PD worker we were trying to help get back into society.
On the way to the hospital in the ambulance, Kathy said that we must forgive the man. We did and suffered no pain or emotional hurt.
Here in Kenya, a group of 3 have been stealing from us. Again we forgive them.
BUT..... AND A BIG BUT, is that in both cases, the people involved have had to, or will have to, face the consequences of their actions.
Yes, we forgive, but if people act outside of the Law, they must face the consequences.
Yes, we must forgive, but for our own peace. That is an additional benefit of forgiveness most don't understand.
Amen.
Until next time.
His servant and yours
David Tait

Visit us here.....
CHANGING YOUR EMAIL ADDRESS? NEWSLETTER STOPS COMING?
Each week we can lose up to 2% of our readers when they change email addresses without letting us know. Or sometimes, by your server acting strangely and just cutting us off! If you are about to change your address, please advise us of both your old and new addresses here at
enquiries@wwj.org.nz
and we will happily change our records to ensure ongoing delivery. Thanks.
Please also keep our address in your address book, as sometimes servers will automatically delete your address if there is even a one off problem in delivery. If your newsletter doesn't arrive, please let us know and we will reinstate you.
REPRODUCTION OF NEWSLETTER CONTENT
Most weeks we get enquiries about reproducing, in electronic or print form, articles contained in 'PGIM!' We welcome and encourage you to utilize this material. Freely received, freely given. We would ask though, that the source be acknowledged as an encouragement to others to subscribe to this newsletter also.
LINKS
If you would like to link your web site to ours, and ours to yours, please advise us on
links@wwj.org.nz
ABOUT US
WALKING WITH JESUS MINISTRIES is a non-profit, non-denominational, Bible based ministry located in Hastings, New Zealand. A ministry dedicated to developing discipleship, fostering unity amongst God's people to achieve the Great Commission, and in doing so, preparing for Christ's return. It is securely based upon the foundational principles of the Apostles Creed while recognising the wide and rich diversity of beliefs amongst Christians in other areas. In accordance with the Lord's direction, materials produced by the ministry are available, free of charge, to genuine enquirers upon request. The ministry is solely funded by donations, as the Lord provides. A list of materials available (plus some fun!) is obtainable and freely downloadable from our website
wwj.org.nz or by contacting us as follows.

Walking With Jesus Ministries
P O Box 2
Webuye 50205
Kenya

Email: enquiries@wwj.org.nz
Web: wwj.org.nz

Our role is to bless and encourage those in ministry while promoting co-operation and unity of direction amongst the body of Christ, as emphasised 3 times by Jesus in His longest prayer, immediately prior to His arrest and crucifixion. "... so that they may be one as we are one." (John 17:12, 21, 23-4) Our website is currently being developed to encourage your participation one with another, to share resources, and to enable you to promote events and items of interest to the body as a whole - and have a smile while doing it!

For comments upon and contributions to this service, please contact
david@wwj.org.nz
SUBSCRIPTION MANAGEMENT
We would encourage you to share this free service with your friends in ministry. To subscribe yourself please email pgim-on@wwj.org.nz.
If your name has been referred to us by a friend or supporting Ministry or has been obtained from a public Christian Directory or Website, it isn't our wish to burden you with information in which you aren't interested. To remove yourself from this list, please email pgim-off@wwj.org.nz.