A Weekly World Wide Word of Encouragement to those in the Ministry
PRAISE GOD IT'S MONDAY!
A WEEKLY 'WWW (world-wide word) OF ENCOURAGEMENT'
TO THOSE IN MINISTRY
A FREE service, currently connecting with Christian leaders from 3,000 denominations and ministries, in 70 countries.

Issue No: 852 Published: 19 Feb 2018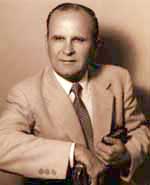 WHOSE CHURCH IS IT ANYWAY? Part 30
20th CENTURY DEVELOPMENTS
WILLIAM BRANHAM (1909-1965) Branham is the widely recognised person God used to initiate the post-World War 2 Healing Revival.

A controversial figure, particularly in his later life, Branham was brought up in difficult circumstances in a nominal Roman Catholic family. His father was a both a logger and an alcoholic.

The call of God was on him from an early age. He said that in his early childhood, while walking home from getting water from the creek, he heard the voice of the Angel of the Lord who told him.....

'never to drink, smoke or defile his body, for there would be a work for him when he got older'.

Leaving home at 19, he worked on a ranch in Arizona and had a short career as a boxer. After his conversion he became a Baptist pastor. He was a humble man with a simple faith in the God of the Bible. On May 7 1946, after a time of prayer, he recorded an angel appearing and saying to him.....

Fear not. I am sent from the presence of Almighty God to tell you that your peculiar life and your misunderstood ways have been to indicate that God has sent you to take a gift of divine healing to the people of the world. If you will be sincere, and can get the people to believe you, nothing shall stand before your prayer, not even cancer.

Branham immediately launched into successful evangelistic and healing ministry, but with limited exposure. This changed when he was introduced to Gordon Lindsay, who was well known in Pentecostal circles. He agreed to become his campaign manager, soon thrusting Branham into international prominence.

Branham worked powerfully in the word of knowledge, being able to reveal minute details of the person's life to whom he was ministering. Through the gift of healing, he was able to detect and diagnose diseases through pulsations in his left hand occurring when he held the sick persons left hand.

Walter Hollenweger, is a Swiss theologian and author, and recognized as an expert on worldwide Pentecostalism, interpreted for Branham on several occasions, saying in his famous book, 'The Pentecostals' .....

The author, who knew Branham personally and interpreted for him in Zurich, is not aware of any case in which he was mistaken in the often detailed statements he made. It was characteristic of Branham's kind-heartedness that he gave certain personal revelations to those who were seeking healing in a whisper, so that they could not be picked up by the microphone and revealed to the spectators.

Sadly, as time went by Branham got more involved in theology, where his radical views embroiled him in controversy, and his popularity waned. (This serves as a warning to us all!) A number of his views are now becoming more commonly accepted. e.g. immersion baptism in the name of the Lord Jesus Christ, as well as the abolition of organized religion.

He retained a large number of followers who regarded him as the prophet of the 'Bride of Christ'. They bestowed on him godlike attributes, and I suspect, misinterpreted his words in ways they were not intended. However Branham did little to correct them and this led to him and his followers being rejected by the general Christian community.

He died in a car accident on 24 December 1965, at the age of 56.

His legacy though, survives to this day.
(Continued next week)
Find out more about us here.....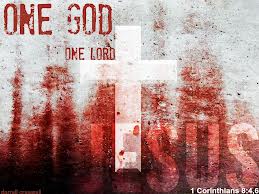 FROM THE WORD
THE WORDS OF JESUS
Jesus Before Pilate (Matthew 27:11-14, Mark 15:1-15, Luke 23:1-7, John 18:29-38)
Asking if Jesus is the 'King of the Jews'.
"Did you think of this question yourself, or did others talk to you about me?"
"My kingdom is not of this world. If it was of this world, my subjects would fight to keep me from being handed over to the Jews. But my kingdom is not from here."
"You say that I'm a king," "The reason why I was born and I came to the world was to give evidence for the truth. All those who accept the truth pay attention to what I say."
Pilate Questions Jesus Again (John 19:8-11)
Trying to release Him.
"You would have no power over me unless it had been given to you from above," "Therefore the one who handed me over to you is guilty of the greater sin."
Before the Crucifixion (Luke 23:27-32)
Jesus speaking to weeping women.
"Daughters of Jerusalem, don't weep for me. Weep for yourselves and your children. For the time is coming when they'll say, 'Happy are those who are childless, and those who never had babies, and those who never nursed them.' They'll say to the mountains, 'Fall down on us,' and to the hills, 'Cover us.' For if they do this to wood that is new, what will happen when it's dried out?"
The Crucifixion (Matthew27:32-55, Mark 15:21-41, Luke 23:33-49, John 9:18-37)
To the Romans and Jews.
"Father, please forgive them, for they don't know what they're doing."
To the thief who repented.
"I promise you today you will be with me in paradise."
To Mary and John
"Mother, this is your son." "This is your mother."
Approaching death.
"Eli, Eli, lama sabachthani?" (which means, "My God, my God, why have you abandoned me?")
"I'm thirsty." "It's finished!"
"Father, I place my spirit in your hands."
(Continued next week)
You can download the complete 'Words of Jesus' here.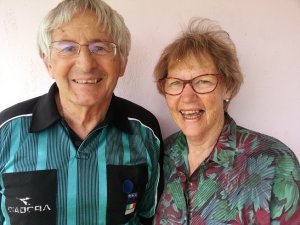 OUR AFRICAN EXPERIENCE
Moving ever closer to completion.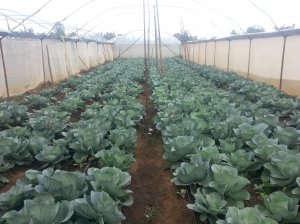 THERE SHE BLOWS - AWAY!
Lost our remaining greenhouse cover to a gust of wind! Had reached its use by date of 5 years, in any case, but still agreeat disappointment.
The cabbages will survive and are hearting up nicely.
The challenges of horticulture in Africa!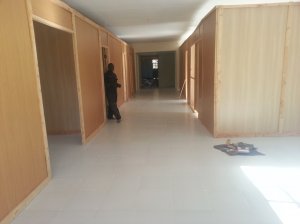 EVER NEARER!
All the floors were swept and washed today. Almost looks like a hospital!
Partitions have been straightened. Now looking very tidy.
Nurses triage room to the left followed by the consulting rooms.
To the right is the pharmacy, then the laboratory.
Front right is a little of the reception area.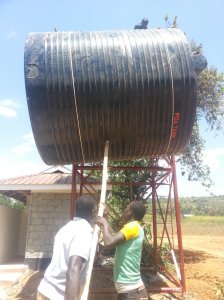 WATER - DAY AND NIGHT!
Africa never ceases to surprise! We wait much of the day before the team arrives several hours late, to raise the water tank. It is big - kolds 10,ooo litres! The boys get the tank up OK then it is wait for the boss.....and wait.....and wait. He arrives in the dark, at 7:15pm. Normally you would expect them to to say their favourite word - tomorrow! But not this time! They attached the pipes by the light of cellphones! Remember this is up to 5 metres high, 7m with the tank! By 9 the job was done and the tank partly filled by generator. (still have no power). The rest of the tank will be filled - you guessed it - tomorrow!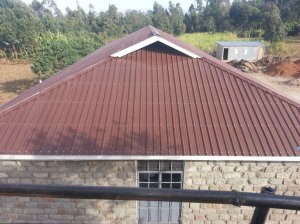 FROM THE TANKSTAND
This morning I climbed up the 5 metre ladder to the platform of the tank stand, much to the surprise of watching Africans! LOL!
Here is a view of the roof, to prove I was there!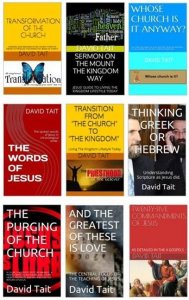 ***NOW***NINE BOOKS ARE AVAILABLE ON AMAZON!!!
9 BOOKS are now available on Amazon (Kindle)!

All are available worldwide for electronic download on Amazon (Kindle) for $US0.99c . Unfortunately there has to be a charge in order to list.

Your support would be appreciated and they could well change your life!

They are all found at this link.....
http://www.amazon.com/s/ref=nb_sb_noss?url=search-alias%3Daps&field-keywords=david+tait+books/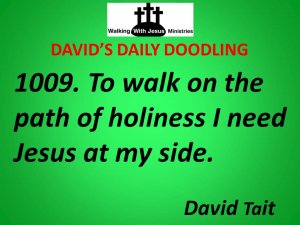 ***DAILY EZINE!*** 'DAVID'S DAILY DOODLINGS' Subscribe Today
Receive one of David's sayings in your mailbox each day to inspire, challenge or maybe, amuse. To register today, go down to the bottom of the page link below, click on the subscribe link dd-on@wwj.org.nz (or paste the address in an email yourself and send) Then it's done! If you have an Irish heritage, you will love the background coloring!
Subscription and back issue link is.....

'THE WORDS OF JESUS' REMAIN AVAILABLE FOR PDF DOWNLOAD
Join the many who have downloaded the 'The Words of Jesus'. I am sure you will be blessed by it, as I have been.

One key element here is the setting out in chronological order (as far as it is possible to do so) our Lord's words drawn from all the Gospels, and the elimination of repetition between Gospels.

You may be surprised by the different perspective this presentation gives you both in understanding of His life and ministry, and in achieving a closer relationship with Him.

Download the free PDF here.....

DAVID'S DOODLINGS
405. The world's greatest motivator has always been, and remains, the 'last minute.'!

406. The curse of time came into being as the result of the sin of Adam. It remains with us today.

407. Man has conquered space but never, the curse of time.

431. We may plan for the future, but can only live in the present.

432. It is amazing how quickly our tomorrows become yesterdays.

433. The one event we can't control in our lives, is the moment the first becomes the last!
Please feel free to quote these quotes. Acknowledgement of David Tait as the author would be appreciated. There are now over 1300 David sayings for you to view at ...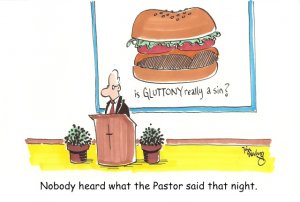 CARTOONS FROM TOON FEVER
Visit the Toon Fever website for more cartoon fun..... http://www.toonfever.com

Check it out at...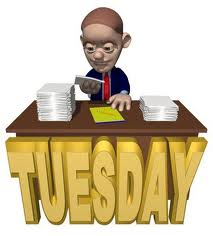 TUESDAY TEACHINGS
NEXT WEEK: A REVELATION OF....... 3 KINGDOM AGES - THE 'OTHER' SIDE
For us to have freewill there must be alternatives to choose between. For there is no choice without choice!

So we need to have both good and evil available to us.

This study looks at the different ways satan has persued his influence through the kingdom ages.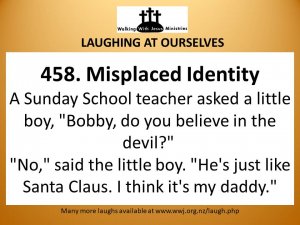 *** ANOTHER DAILY EZINE FROM WWJ!*** 'LAUGHING AT OURSELVES' Subscribe Today
As Christians, if we can't laugh at ourselves, others will! A fun way to start your day. To register today, go down to the bottom of the page link below, click on the subscribe link lao--on@wwj.org.nz (or paste the address in an email yourself and send) Then it's done!

LAUGHING AT OURSELVES
***Blessed are those who can laugh at themselves for they shall never cease to be amused***
*** Those who can't laugh at themselves leave the job to others. ***
QWIK QWIP: "When you get to your wit's end, you'll find God lives there."
110. The Power of Prayer
The minister's little six-year-old girl had been so naughty during the week, that her mother decided to give her the worst kind of punishment. She told her she couldn't go to the Sunday School Picnic on Saturday.
Then, when the day came, her mother felt she had been too harsh and changed her mind. When she told the little girl she could go to the picnic, the child's reaction was one of gloom and unhappiness.
"What's the matter? I thought you'd be glad to go to the picnic." her mother said.
"It's too late!" the little girl said. "I've already prayed for rain!"
111. An Encouragement
Don't give up. Moses was once a basket case!
112. Some Things Never Change?
Thanksgiving Day was approaching and the family had received a Thanksgiving card with a painting of a pilgrim family on their way to church.
Grandma showed the card to her small grandchildren, observing, "The Pilgrim children liked to go to church with their mothers and fathers."
"Oh yeah?" her young grandson replied, "so why is their dad carrying that rifle?"
FREE DOWNLOAD: You can now download the book 'Laughing At Ourselves' in PDF format at LAUGHING AT OURSELVES One of the most comprehensive sources of Christian Humour on the Net with 800 sermon fillers for your entertainment and use at ..... https://www.wwj.org.nz/content/wwj18p47.pdf
Or read them all online at.....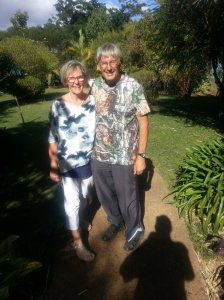 A DAVID MUSING
What a birthday!
A beautiful resort called Poa Place, in Eldoret, about 2 hours on public van from where we live in Webuye, Kenya. One of the best resorts we have ever been to, right here in suburban Kenya! Beautiful gardens, immaculately kept, a large swimming pool, zoo, cultural village and more. And the staff were so friendly. We were spoiled!
And, of course, Kathy was double spoiled! Birthday cake, singers from a local youth group, complimentary drinks at here birthday dinner, and of course, an adoring husband trying to make her weekend special for her.
She deserves it as he took her away into village Africa, away from family and friends, and the comforts of Western life. A very special lady.
Thank you Kathy. Thnak you Lord for bringing us together.
Until next week.......

MAY GOD BLESS YOU AND YOU BLESS GOD.

His servant and yours

David Tait

Visit us here.....
REPRODUCTION OF NEWSLETTER CONTENT
Most weeks we get enquiries about reproducing, in electronic or print form, articles contained in 'PGIM!' We welcome and encourage you to utilize this material. Freely received, freely given. We would ask though, that the source be acknowledged as an encouragement to others to subscribe to this newsletter also.
CHANGING YOUR EMAIL ADDRESS? NEWSLETTER STOPS COMING?
Each week we can lose up to 2% of our readers when they change email addresses without letting us know. Or sometimes, by your server acting strangely and just cutting us off! If you are about to change your address, please advise us of both your old and new addresses here at
enquiries@wwj.org.nz
and we will happily change our records to ensure ongoing delivery. Thanks.
Please also keep our address in your address book, as sometimes servers will automatically delete your address if there is even a one off problem in delivery. If your newsletter doesn't arrive, please let us know and we will reinstate you.
LINKS
If you would like to link your web site to ours, and ours to yours, please advise us on
links@wwj.org.nz
ABOUT US
WALKING WITH JESUS MINISTRIES is a non-profit, non-denominational, Bible based ministry located in Hastings, New Zealand. A ministry dedicated to developing discipleship, fostering unity amongst God's people to achieve the Great Commission, and in doing so, preparing for Christ's return. It is securely based upon the foundational principles of the Apostles Creed while recognising the wide and rich diversity of beliefs amongst Christians in other areas. In accordance with the Lord's direction, materials produced by the ministry are available, free of charge, to genuine enquirers upon request. The ministry is solely funded by donations, as the Lord provides. A list of materials available (plus some fun!) is obtainable and freely downloadable from our website
wwj.org.nz
or by contacting us as follows.
Walking With Jesus Ministries
7 Bull Street
Ahuriri
Napier
New Zealand
Phone: (06) 835 0567 International (+64) 6 835 0567
Email:
enquiries@wwj.org.nz
Web:
wwj.org.nz
Our role is to bless and encourage those in ministry while promoting co-operation and unity of direction amongst the body of Christ, as emphasised 3 times by Jesus in His longest prayer, immediately prior to His arrest and crucifixion. "... so that they may be one as we are one." (John 17:12, 21, 23-4) Our website is currently being developed to encourage your participation one with another, to share resources, and to enable you to promote events and items of interest to the body as a whole - and have a smile while doing it!
For comments upon and contributions to this service, please contact
david@wwj.org.nz
SUBSCRIPTION MANAGEMENT
We would encourage you to share this free service with your friends in ministry. To subscribe yourself please email pgim-on@wwj.org.nz.
If your name has been referred to us by a friend or supporting Ministry or has been obtained from a public Christian Directory or Website, it isn't our wish to burden you with information in which you aren't interested. To remove yourself from this list, please email pgim-off@wwj.org.nz.