A Weekly World Wide Word of Encouragement to those in the Ministry
PRAISE GOD IT'S MONDAY!
A WEEKLY 'WWW (world-wide word) OF ENCOURAGEMENT'
TO THOSE IN MINISTRY
A FREE service, currently connecting with Christian leaders from 3,000 denominations and ministries, in 70 countries.

Issue No: 1070 Published: 18 Apr 2022
TRANSITION FROM 'THE CHURCH' TO 'THE KINGOM'
FROM "REVIVAL" TO "HABITATION"

Over the past century+ now, since the Azusa Street and Welsh Revivals which saw the birth of the Pentecostal streams of churches, there has been a desire for revival in the church. And not only in Spirit filled churches.
I knew a conservative Baptist Church pastor, who was a missionary/Bible teacher in Bangladesh for many years. A godly man, extremely well versed in the Bible. He, and others there, desired and prayed for revival. Revival came. He didn't like it! He continued to minister, but no longer prayed for revival! And the Spirit died in him.
History is littered with revivals that have come and gone. The world's longest revival started in Monrovia in Eastern Europe on August 13th, 1727, bringing with it a continuous 24/7 prayer meeting that lasted 110 years! Many amazing things happened, including the birth of John Wesley's ministry in a storm battered ship in the Atlantic Ocean, when the Monrovian's faith showed this diligent but disappointed Anglican minister that he needed more. A couple of months later, Wesley was 'born again' and the Methodist movement began. The Monrovians had a huge effect on history in so many ways.
Throughout history, the reality is that revivals come and revivals go. In the past century, this has been particularly evident. But why is this? I would suggest that the primary reason is people working out how the Holy Spirit is works and mimicking Him. Man takes over. The Spirit, saddened, departs.
This process is not new! We can go right back to the Jews wandering in the desert, and view the experience of Moses, regarded as the Old Testament picture of Jesus. But Moses was very human, and his humanness cost him the chance to lead the Jews into the Promised Land. Because he pre-empted God. On two occasions, God told Moses to hit a rock with his staff and water poured out to slake the thirsts of the people. On the third occasion however, God gave a different instruction.....
7 The LORD said to Moses, 8 "Take the staff, and you and your brother Aaron gather the assembly together. Speak to that rock before their eyes and it will pour out its water. You will bring water out of the rock for the community so they and their livestock can drink." (Numbers 20:7-8)
But Moses, in a fit of anger with his rebellious people, became a rebel himself....
9 So Moses took the staff from the LORD's presence, just as he commanded him. 10 He and Aaron gathered the assembly together in front of the rock and Moses said to them, "Listen, you rebels, must we bring you water out of this rock?" 11 Then Moses raised his arm and struck the rock twice with his staff. Water gushed out, and the community and their livestock drank. (Numbers 20:9-11)
And suffered the consequences.....
12 But the LORD said to Moses and Aaron, "Because you did not trust in me enough to honor me as holy in the sight of the Israelites, you will not bring this community into the land I give them." (Numbers 20:9-11)
Can you imagine how devastated Moses would have been? The culmination of 40 years work and hardship was denied to him and granted to Joshua instead. While revival is great and exciting, it is not the final aim of God. For God wants something more of us. His ultimate desire is to inhabit you, and inhabit me, with His presence, each and every day of our lives.
The Spirit is not simply to shine from the outside in, as is the case in revival, but is to shine from the inside out - out of us, that is!
Jesus told us this.....
14 "You are the light of the world. A city on a hill cannot be hidden. 15 Neither do people light a lamp and put it under a bowl. Instead they put it on its stand, and it gives light to everyone in the house. 16 In the same way, let your light shine before men, that they may see your good deeds and praise your Father in heaven. (Matthew 5:14-16)
Paul put it this way.....
19 Do you not know that your body is a temple of the Holy Spirit, who is in you, whom you have received from God? You are not your own; 20 you were bought at a price. Therefore honor God with your body. (1 Corinthians 6:19-20)
Ever the pragmatist, James, the brother of Jesus, said the same thing differently. While speaking about the 'word' it applies equally to the 'Spirit' for the Word and the Spirit are one.....
22 Do not merely listen to the word, and so deceive yourselves. Do what it says. 23 Anyone who listens to the word but does not do what it says is like a man who looks at his face in a mirror 24 and, after looking at himself, goes away and immediately forgets what he looks like. 25 But the man who looks intently into the perfect law that gives freedom, and continues to do this, not forgetting what he has heard, but doing it—he will be blessed in what he does. (James 1:22-5)
I knew another minister, who went all the way from New Zealand to Toronto in Canada, a distance of 13,000km (8,200 miles) to experience the revival there. While he was there, the Lord clearly spoke to him about his behaviour towards his wife. He came back and told the church. We were amazed, for we knew he treated his wife badly. Sadly, he didn't change, and his ministry declined. He experienced revival, but didn't let the Lord's instruction in it and through it, change his life.
If we desire to become overcomers and rule and reign with Christ in His millennial kingdom of 100 years, we have to submit 100% to the Lord's will for our life and reflect His glory in all our actions, to allow Him to inhabit our lives.....
4 I saw thrones on which were seated those who had been given authority to judge. And I saw the souls of those who had been beheaded because of their testimony for Jesus and because of the word of God. They had not worshiped the beast or his image and had not received his mark on their foreheads or their hands. They came to life and reigned with Christ a thousand years. 5 (The rest of the dead did not come to life until the thousand years were ended.) This is the first resurrection. 6 Blessed and holy are those who have part in the first resurrection. The second death has no power over them, but they will be priests of God and of Christ and will reign with him for a thousand years. (Revelation 20:4-6)
The choice is ours.
Find out more about us at.....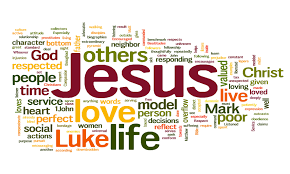 FROM THE WORD
THE WORDS OF JESUS
May we hear what the Lord is saying to us.....
Peter's Question (Luke 12:41-48)
Is this parable for us or for everyone?
"Who then is the trustworthy and wise manager, the one person in the household that the master puts in charge to share out their food at the right time? It will be good for that servant when his master returns and finds him doing what he should. I tell you the truth, the master will put that servant in charge of everything. But what if the servant were to say to himself, 'My master is taking a long time in coming,' and then starts beating the other servants, both men and women, feasting and getting drunk? That servant's master will return unexpectedly one day at a time he wasn't aware of, and will punish him severely, treating him as totally untrustworthy.
"That servant who knew what his master wanted and yet didn't get ready or follow his instructions, will be beaten severely; but the servant who didn't know and did things deserving punishment will be beaten only lightly. From those who are given much, much will be required, and from those who are entrusted with more, more will be demanded.
Bringing Division, Not Peace (Luke 12:49-53)
I have come to set the earth on fire, and I really wish it was already burning! But I have a baptism to go through, and I'm in agony, wishing it was over! Do you think that I came to bring peace on earth? No, I tell you, I bring division. From now on, if there are five in a family, they will be divided against each other: three against two, and two against three. They will be divided against each other—father against son, son against father, mother against daughter, daughter against mother, mother-in-law against daughter-in-law, and daughter-in-law against mother-in-law."
The Times Interpreted (Luke 12:54-59)
Now speaking to the crowd.
"When you see a cloud rising in the west, you immediately say, 'a rainshower's coming,' and it happens. When a south wind blows, you say 'it's going to be hot,' and it is. You hypocrites, how is it that you know how to rightly interpret the weather but you don't know how to interpret the present time? Why don't you think for yourselves and judge what's right? As you go with your accuser to the magistrate, on the way you should be working on a settlement. Otherwise you may be dragged before the judge, and the judge hand you over to the officer, and the officer throw you into prison. I tell you, you won't get out until you've paid the last penny."
Download the complete 'Words of Jesus' here.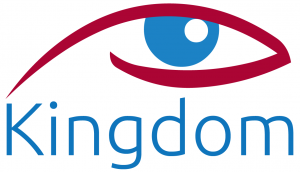 OUR AFRICAN EXPERIENCE
FOR MORE DETAILED AND REGULAR UPDATES, VISIT OUR FACEBOOK PAGE
AN EYE 4 Africa - https://www.facebook.com/aneye4africa/
So sorry there are no stories and pictures this week. It has been qnother difficult one for us. Next week hopefully.
Please pray the Hospital and for Kathy and myself so that the many challenges may be overcome. A little progress this week but still a long way to go.
Thank you.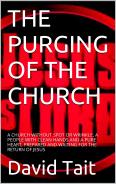 BOOK OF THE WEEK
THE PURGING OF THE CHURCH
INTRODUCTION
The Lord has led me to go back to a sermon/prophecy I received in a group mailing, and filed, some time ago. It is by David Wilkerson. David was the Founding Pastor of Times Square Church in New York City. He was called to New York in 1958 to minister to gang members and drug addicts, as told in the best-selling book, The Cross and the Switchblade. After the introduction, he gave 11 bullet points about THE GLORIOUS FUTURE JUST AHEAD. As the Lord leads, I will expand on these challenging but inspiring aspects.
Let us begin…..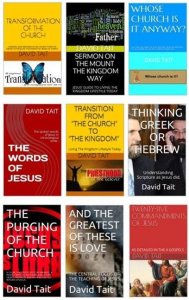 ***NOW***NINE BOOKS ARE AVAILABLE ON AMAZON!!!
9 BOOKS are now available on Amazon (Kindle)!

All are available worldwide for electronic download on Amazon (Kindle) for $US0.99c . Unfortunately there has to be a charge in order to list.

Your support would be appreciated and they could well change your life!
Many more online at https://www.wwj.org.nz/more-free-downloads

They are all found at this link.....
http://www.amazon.com/s/ref=nb_sb_noss?url=search-alias%3Daps&field-keywords=david+tait+books/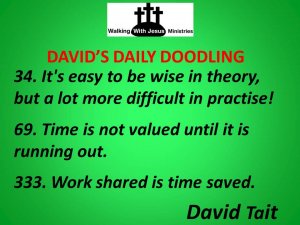 ***DAILY EZINE!*** 'DAVID'S DAILY DOODLINGS' Subscribe Today
Receive one or more of David's sayings in your mailbox each day to inspire, challenge or maybe, amuse. To register today, go down to the bottom of the page link below, click on the subscribe link dd-on@wwj.org.nz (or paste the address in an email yourself and send) Then it's done! If you have an Irish heritage, you will love the background coloring!
Subscription and back issue link is.....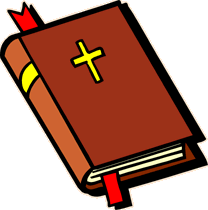 'THE WORDS OF JESUS' REMAIN AVAILABLE FOR PDF DOWNLOAD
Join the many who have downloaded the 'The Words of Jesus'. I am sure you will be blessed by it, as I have been.

One key element here is the setting out in chronological order (as far as it is possible to do so) our Lord's words drawn from all the Gospels, and the elimination of repetition between Gospels.

You may be surprised by the different perspective this presentation gives you both in understanding of His life and ministry, and in achieving a closer relationship with Him.

Download the free PDF here.....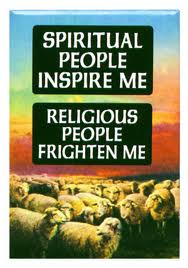 DAVID'S DOODLINGS
REVELATION AND RELIGION

909. Religion is based upon doctrine, revelation, relationship.

910. Religionists hate revelation, for it is outside their control.

911. The 21st century will be notable for the decline of religion but the growth of revelation.

912. Religion promotes obedience to priesthood, revelation, submission to the will of God.

913. Religion replicates Old Testament priesthood, revelation, the sole priesthood of Jesus.

914. In religion, the leadership claims to hear from God, while revelation is direct from God.

1326. Religion replaces revelation with rules, regulations and repetition.
Please feel free to quote these quotes. Acknowledgment of David Tait as the author would be appreciated. There are now over 1300 David sayings for you to view at ...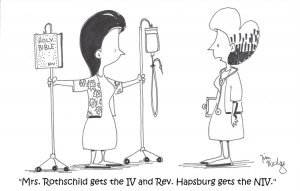 CARTOONS FROM TOON FEVER
Visit the Toon Fever website for more cartoon fun..... http://www.toonfever.com
Check it out at...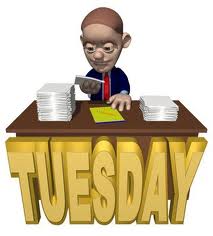 TUESDAY TEACHINGS
THE FIRST MIRACLE OF JESUS Turning the Water into Wine PLUS THE LORD'S SUPPER Part 2
Foretelling what the next, turbulent 42 months would bring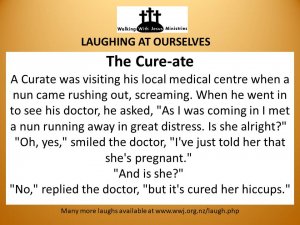 *** ANOTHER DAILY EZINE FROM WWJ!*** 'LAUGHING AT OURSELVES' Subscribe Today
As Christians, if we can't laugh at ourselves, others will! A fun way to start your day. To register today, go down to the bottom of the page link below, click on the subscribe link lao--on@wwj.org.nz (or paste the address in an email yourself and send) Then it's done!

LAUGHING AT OURSELVES
***Blessed are those who can laugh at themselves for they shall never cease to be amused***
*** Those who can't laugh at themselves leave the job to others. ***
182. Best Paid?
Three boys are in the schoolyard bragging about their fathers.
The first boy says, "My Dad scribbles a few words on a piece of paper, he calls it a poem, they give him $50."
The second boy says, "That's nothing. My Dad scribbles a few words on a piece of paper, he calls it a song, they give him $100."
The third boy says, "I got you both beat. My Dad scribbles a few words on a piece of paper, he calls it a sermon. And it takes eight people to collect all the money!"
QWIK QWIP: "I don't have to attend every argument I'm invited to."
183. Ten Signs Your Pastor Needs A Vacation
10. When he announces VBS he yells the word "VACATION" with special emphasis.
9. He has replaced the framed Ten Commandments in the foyer with a travel poster.
8. The bulletin cover has had pictures of Hawaii on it for the past 5 weeks.
7. His first words to the congregation on Sunday morning are "all right, listen up you heathens..."
6. He falls asleep during his own sermon.
5. He shows up for Sunday service wearing Bermuda Shorts and a Tank Top.
4. Every time his pager goes off, he exhibits a facial tic and shouts, "Why can't they just leave me alone?!"
3. He wears scuba flippers, mask and snorkel to the baptism service.
2. You go to his office for counselling and pour your heart out to him and he says, "Sounds like a personal problem to me."
AND THE NUMBER ONE SIGN YOUR PASTOR NEEDS A VACATION
1. For the past two months he has preached the same sermon every Sunday: "Come Ye Apart and Rest A Little While."
184. Movin' On Up...
A lady whose husband's climb up the ladder to success led her to a more showy way of life changed to a better car, finer home, more expensive furs and a more socially-upscale church. After another major advance which landed her at the Mercedes-Benz stage, she paid a visit to her latest minister.
"I've had the feeling for some time that I should fit in better with my friends at another church," she sniffed, swinging her furs around her back and flashing her diamond rings. "What would be your opinion, sir?"
"My dear lady," the clergyman replied, "it matters little what kind of label you put on an empty bottle!"
Download the book 'Laughing At Ourselves' in PDF format at LAUGHING AT OURSELVES One of the most comprehensive sources of Christian Humour on the Net with 800 sermon fillers for your entertainment and use at ..... https://www.wwj.org.nz/content/wwj18p47.pdf
Or read even more online at.....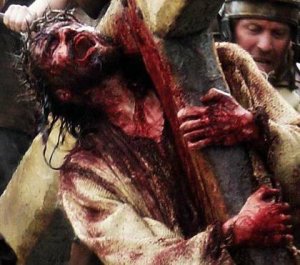 A DAVID MUSING
Easter has come and gone for another year.
We give thanks to God for dying on that terrible cross and rising on the third day so that we may spend eternity with Him.
Do we than forget His sacrifice and triumph for another year, or does it help us to change our lives in gratitude for what He has done for us?
Worth considering? Sure is for me!
Until next time.
His servant and yours
David Tait

Visit us here.....
CHANGING YOUR EMAIL ADDRESS? NEWSLETTER STOPS COMING?
Each week we can lose up to 2% of our readers when they change email addresses without letting us know. Or sometimes, by your server acting strangely and just cutting us off! If you are about to change your address, please advise us of both your old and new addresses here at
enquiries@wwj.org.nz
and we will happily change our records to ensure ongoing delivery. Thanks.
Please also keep our address in your address book, as sometimes servers will automatically delete your address if there is even a one off problem in delivery. If your newsletter doesn't arrive, please let us know and we will reinstate you.
REPRODUCTION OF NEWSLETTER CONTENT
Most weeks we get enquiries about reproducing, in electronic or print form, articles contained in 'PGIM!' We welcome and encourage you to utilize this material. Freely received, freely given. We would ask though, that the source be acknowledged as an encouragement to others to subscribe to this newsletter also.
LINKS
If you would like to link your web site to ours, and ours to yours, please advise us on
links@wwj.org.nz
ABOUT US
WALKING WITH JESUS MINISTRIES is a non-profit, non-denominational, Bible based ministry located in Hastings, New Zealand. A ministry dedicated to developing discipleship, fostering unity amongst God's people to achieve the Great Commission, and in doing so, preparing for Christ's return. It is securely based upon the foundational principles of the Apostles Creed while recognising the wide and rich diversity of beliefs amongst Christians in other areas. In accordance with the Lord's direction, materials produced by the ministry are available, free of charge, to genuine enquirers upon request. The ministry is solely funded by donations, as the Lord provides. A list of materials available (plus some fun!) is obtainable and freely downloadable from our website
wwj.org.nz or by contacting us as follows.

Walking With Jesus Ministries
P O Box 2
Webuye 50205
Kenya

Email: enquiries@wwj.org.nz
Web: wwj.org.nz

Our role is to bless and encourage those in ministry while promoting co-operation and unity of direction amongst the body of Christ, as emphasised 3 times by Jesus in His longest prayer, immediately prior to His arrest and crucifixion. "... so that they may be one as we are one." (John 17:12, 21, 23-4) Our website is currently being developed to encourage your participation one with another, to share resources, and to enable you to promote events and items of interest to the body as a whole - and have a smile while doing it!

For comments upon and contributions to this service, please contact
david@wwj.org.nz
SUBSCRIPTION MANAGEMENT
We would encourage you to share this free service with your friends in ministry. To subscribe yourself please email pgim-on@wwj.org.nz.
If your name has been referred to us by a friend or supporting Ministry or has been obtained from a public Christian Directory or Website, it isn't our wish to burden you with information in which you aren't interested. To remove yourself from this list, please email pgim-off@wwj.org.nz.