A Weekly World Wide Word of Encouragement to those in the Ministry
PRAISE GOD IT'S MONDAY!
A WEEKLY 'WWW (world-wide word) OF ENCOURAGEMENT'
TO THOSE IN MINISTRY
A FREE service, currently connecting with Christian leaders from 3,000 denominations and ministries, in 70 countries.

Issue No: 938 Published: 14 Oct 2019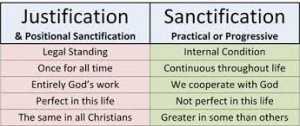 THINKING GREEK OR HEBREW?
JUSTIFICATION/SANCTIFICATION
Greek (Western)
Justification (Just as if I never sinned) is seen as the key element of Christianity.
Interestingly, most of the references to justification are directed towards Gentiles. For example, it is found in the Old Testament, as prophesied by Isaiah.....
11 After the suffering of his soul, he will see the light of life and be satisfied; by his knowledge my righteous servant will justify many, and he will bear their iniquities. (Isaiah 53:11)
…..and then in the New.....
8 The Scripture foresaw that God would justify the Gentiles by faith, and announced the gospel in advance to Abraham: "All nations will be blessed through you."
(Galatians 3:8)
We are justified through faith in Jesus.....
24 So the law was put in charge to lead us to Christ that we might be justified by faith. 25 Now that faith has come, we are no longer under the supervision of the law. (Galatians 3:24)
As we have seen previously, this concept of a 'mind decision' appeals greatly to our Greek-trained, ascendancy of thought, patterns. However, justification is to be only the first step in our 'walk with Jesus'.

Eastern (Hebrew)
Sanctification (Put simply, living a holy and righteous life) is regarded as the most important. In the Jewish culture, actions speak louder than words. Hence, living a godly life is their focus.
3 It is God's will that you should be sanctified: that you should avoid sexual immorality; 4 that each of you should learn to control his own body in a way that is holy and honorable, 5 not in passionate lust like the heathen, who do not know God; (1 Thessalonians 4:3-5)
Sanctification is to go hand in hand with justification.....
9 Do you not know that the wicked will not inherit the kingdom of God? Do not be deceived: Neither the sexually immoral nor idolaters nor adulterers nor male prostitutes nor homosexual offenders 10 nor thieves nor the greedy nor drunkards nor slanderers nor swindlers will inherit the kingdom of God. 11 And that is what some of you were. But you were washed, you were sanctified, you were justified in the name of the Lord Jesus Christ and by the Spirit of our God. (1 Corinthians 6:9-11)
Jesus was holy and righteous.....
14 You disowned the Holy and Righteous One and asked that a murderer be released to you. (Acts 3:14)
and we are called to the same walk, as seen in the example of Paul, Silas and Timothy.....
10 You are witnesses, and so is God, of how holy, righteous and blameless we were among you who believed. (1 Thessalonians 2:10)
Again, recognising the holiness and righteousness of Jesus in the final days.....
2 And I saw what looked like a sea of glass mixed with fire and, standing beside the sea, those who had been victorious over the beast and his image and over the number of his name. They held harps given them by God 3 and sang the song of Moses the servant of God and the song of the Lamb: "Great and marvelous are your deeds, Lord God Almighty. Just and true are your ways, King of the ages. 4 Who will not fear you, O Lord, and bring glory to your name? For you alone are holy. All nations will come and worship before you, for your righteous acts have been revealed." (Revelation 15:2-4)
For the Lord is returning for a sanctified, holy and righteous church.....
6 Then I heard what sounded like a great multitude, like the roar of rushing waters and like loud peals of thunder, shouting: "Hallelujah! For our Lord God Almighty reigns.
7 Let us rejoice and be glad and give him glory! For the wedding of the Lamb has come, and his bride has made herself ready. 8 Fine linen, bright and clean, was given her to wear." (Fine linen stands for the righteous acts of the saints.)
(Revelation 19:6-8)
Amen.

SOME SPIRITUAL IMPLICATIONS FOR TODAY
1. Discipleship, following 'conversion', is essential in order to bring a believer into the fullness of faith Jesus requires of us all.
2. Conversion of those of an Eastern persuasion (Jews and Muslims) is dependent upon our actions rather than our words.
3. Jesus is to return for a pure white, sanctified, holy and righteous bride. We can become that church, or else, God will wait for another generation. The choice is yours, the choice is mine. What will our choice be?
Find out more about us at.....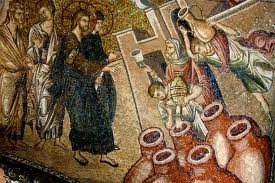 FROM THE WORD
THE WORDS OF JESUS
May we hear what the Lord is saying to us.....
Calling the First Disciples(Matthew 4:18-22, Mark 1:16-20, Luke 5:1-11, John 1:35-42)
James and John.
"Go out into deeper water, and let down your nets for a catch."
"Don't be afraid," "From now on you'll be fishing for people!"
Then Simon Peter.
"What are you looking for?"
"Come and see," he told them.
"You are Simon, son of John. But now you will be called Cephas.
Calling Philip and Nathanael (John 1:43-50)
The next day. Calling Philip first.
"Follow me."
Then Nathanael.
"Look, here's a true Israelite! There's nothing false about him."
"I saw you there under the fig tree, before Philip called you,"
"You believe this just because I told you I saw you under the fig tree?" "You'll get to see much more than that!" "I tell you the truth, you will all see heaven open, and the angels of God going up and down on the Son of man."
Changing Water into Wine (John 2:1-11)
As requested by His mother at the wedding.
"Mother, why should you involve me? My time hasn't come yet,"
"Fill the jars with water,"
"Pour some out, and take it to the master of ceremonies."
(Continued next week)
Download the complete 'Words of Jesus' here.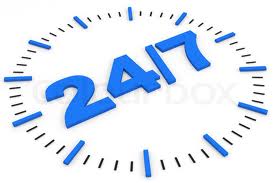 A MUZUNGU'S (White Man's) THOUGHT - Issue 12
A MUZUNGU'S (White Man's) THOUGHT – Issue 14
A 24/7 GOD
Time comes, time goes, busy here, busy there. God comes, God goes.
That is the story of most of our lives. We remember God in the Sunday service, maybe if we are very religious, all day Sunday. We may do a quick reading and prayer in the morning or evening. We may say grace with our meals. But the rest of the time God is far away from our thoughts and actions.
Yet the phone line to God is open 24/7. The issue is that we simply don't avail ourselves of it.
Can't you just imagine God waiting for your call? Waiting with eager anticipation, as a lover waiting to hear from his or her beau?
God wants to share in our lives throughout the day and the night. He desires to comfort us in the hard times and share in the good.
In today's society, just about worldwide, time seems to be speeding up. There is so much to do and so little time to do it. Something has to give!
Reality is, for most of us, what gives is God.
This is reflected in our self-serving actions, running faster to stand still.
Coming to live in Africa, we found the pace of life in the village where we live to be slow. But even in the last 2 + years you can see acceleration occurring here too.
Deliberately or not, I observe people's priorities slowly changing. Money more and more, is becoming king.
All I can say is that the more I give my life to God and rely upon Him, the more He helps and blesses me. He tests me to the limit – and I feel sometimes beyond – but I now have so much experience of Him coming through that I am becoming more and more confident of putting myself in His hands.
Of course, I have some way to but as I start move from minutes to hours putting myself under God's care, life in fact gets better, not worse, as we would expect in our humanness.
God's mobile is always open to us. The question remains, "How much will we use it?" And it's toll free too!
Shukrani
(Thank You)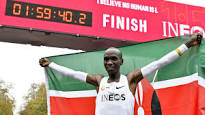 ELIUD KIPCHOGE - KENYAN AND WORLD ATHLETICS SUPERSTAR- HUMBLE MAN - OUR NEIGHBOUR
Breaking the magical 2 hour barrier, is long distance running's equivalent of the 4 minute mile.
From the age of 14 he was a businessman, biking round the Eldoret ('Runners City') outskirts (our nearest city, 70km away and 1000ft higher at 6,000ft, than Webuye, where we live)
One day his bike broke down when he had 150 litres of milk on the back. Not wanting to waste it, he ran flat out to a friends place to borrow his bike. On the way, his immense talent for running was observed, and he was introduced to the sport.
He never looked back as can be seen by yesterday's outstanding feat.
His humility too, is world renowned. A gracious Kenyan with the world at, and in, his feet.
My marathon objective was 3 hours, which is not too bad, but Kipchoge knocked an hour off that! An amazing feat, that can only be truly appreciated by other marathoners. I salute you!
OUR AFRICAN EXPERIENCE
FOR MORE DETAILED AND REGULAR UPDATES, VISIT OUR FACEBOOK PAGE
AN EYE 4 Africa - https://www.facebook.com/aneye4africa/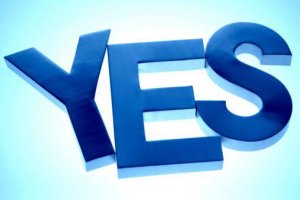 BREAKING NEWS!!!
ON SATURDAY 19 NOVEMBER WE WILL DOING OUR 1ST 3 CATARACT OPERATIONS AS A TRIAL RUN TO GET OUR SYSTEMS WORKING WELL. A HUGELY EXCITING EVENT FOR US! IT WILL BE VIDEOED SO YOU CAN ALL SHARE IN IT WITH US. AFTER THAT WE ARE PLANNING 30 IN A DAY EACH FORTNIGHT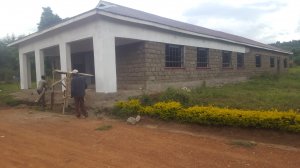 Painting has started on the outside of the building with the undercoat.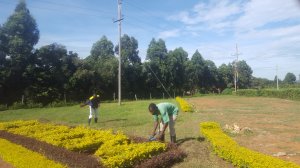 GARDENING KENYAN STYLE!
Patrick is trimming our special KINGDOM display, Ronnie , in the background, is 'mowing' the lawn! It takes 3 days to do what could be done in half an hour with a lawnmower! One day, as the Lord provides! We are doing this as our NZ friend John Fickling is coming at the end of next week to video the story of Kingdom, which will be wonderful!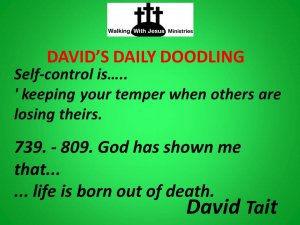 ***DAILY EZINE!*** 'DAVID'S DAILY DOODLINGS' Subscribe Today
Receive one of David's sayings in your mailbox each day to inspire, challenge or maybe, amuse. To register today, go down to the bottom of the page link below, click on the subscribe link dd-on@wwj.org.nz (or paste the address in an email yourself and send) Then it's done! If you have an Irish heritage, you will love the background coloring!
Subscription and back issue link is.....

'THE WORDS OF JESUS' REMAIN AVAILABLE FOR PDF DOWNLOAD
Join the many who have downloaded the 'The Words of Jesus'. I am sure you will be blessed by it, as I have been.

One key element here is the setting out in chronological order (as far as it is possible to do so) our Lord's words drawn from all the Gospels, and the elimination of repetition between Gospels.

You may be surprised by the different perspective this presentation gives you both in understanding of His life and ministry, and in achieving a closer relationship with Him.

Download the free PDF here.....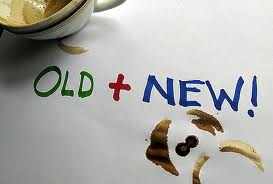 DAVID'S DOODLINGS
OLD AND NEW TESTAMENTS
941. Give me the history of the Old Testament to better understand the revelation of the New.

942. The New Testament is the reality of the Old Testament dream. Our task is to be this 'living truth' to the Jews.

943. God's plan begins in the Old and climaxes in the New. We need to understand both Testaments to fully appreciate it.

944. To understand an adult, it is helpful to know of their childhood. The same principle applies to the two Testaments.

945. When quoting from the Old Testament, we need to ensure it hasn't been superseded by the revelation of the New.

946. The measurement of Old Testament success is 'prosperity', in the New, 'sacrifice'. We often get the two confused!

947. The Old Testament signposts the path, the New is the path.

948. Jesus is sealed into the Old Testament, revealed in the New.

949. To better understand a country, you need an appreciation of its history. To better understand the New Testament you need an appreciation of the Old.

950. An illustration of the difference between the Old and New Testaments is that 'The Lamb' of the New had but 2 legs, less hair and a greater vocabulary!
Please feel free to quote these quotes. Acknowledgement of David Tait as the author would be appreciated. There are now over 1300 David sayings for you to view at ...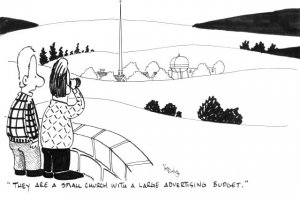 CARTOONS FROM TOON FEVER
Visit the Toon Fever website for more cartoon fun..... http://www.toonfever.com

Check it out at...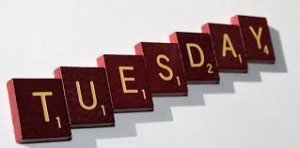 TUESDAY TEACHINGS
THIS WEEK: BEYOND THE VEIL – 1 REVELATION FROM THE DAY OF ATONEMENT continued.....
A. ATONEMENT PRINCIPLES TOTALLY FULFILLED BY JESUS
(Fulfilled both Positionally and Experientially.)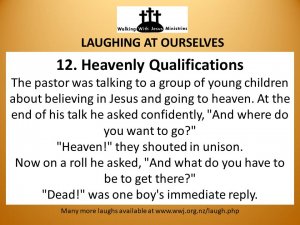 *** ANOTHER DAILY EZINE FROM WWJ!*** 'LAUGHING AT OURSELVES' Subscribe Today
As Christians, if we can't laugh at ourselves, others will! A fun way to start your day. To register today, go down to the bottom of the page link below, click on the subscribe link lao--on@wwj.org.nz (or paste the address in an email yourself and send) Then it's done!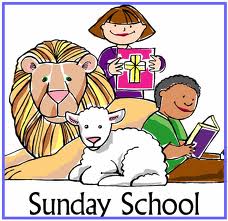 LAUGHING AT OURSELVES
***Blessed are those who can laugh at themselves for they shall never cease to be amused***
*** Those who can't laugh at themselves leave the job to others. ***
325. Dear God:
Why is Sunday school on Sunday? I thought it was supposed to be our day of rest. Tom
Please send me a pony. I never asked for anything before. You can look it up. Bruce.
I didn't think orange went with purple until I saw the sunset you made on Tuesday. That was cool. Eugene
326. The Microschlock Bible
(A parody. Adapted by Bellgamin)
Customer: Oh salesclerk, could you help me please?
Clerk: Hi, my name is Velma and I'll be your Support. What's your problem?
Customer: The book of Psalms is missing from this Bible I bought here yesterday.
Clerk: Try looking again. Maybe Psalms will be there this time.
Customer: No, it's still missing.
Clerk: Maybe it's the way you're using the Bible. Try opening it from the back instead of the front.
Customer: Even when I open it from the back, Psalms is still missing.
Clerk: Maybe the Bible is incompatible with your eyeglasses. Did you wear READING glasses while you used this Bible?
Customer: I don't need glasses. My eyesight is perfect.
Clerk: Hmmm... if you say so. Well, it might be a configuration problem. How was the Bible set up?
Customer: They just handed itto me in a cardboard box. What has that got to do with the fact that Psalms is missing?
Clerk: Can you remember everything you did before you noticed the book of Psalms was missing?
Customer: I took it out of the box, of course!
Clerk: Oh, oh! That could be the cause of your problem. Anyway, that Bible is rather out-dated technology. Have you considered upgrading to our most recent version?
Customer: You folks have updated the Bible?
Clerk: Certainly. We just issued Bible-98, version 2.1. It comes with 100 free hours on the internet, plus one full year of Tech Support.
Customer: Okay, bring me Bible-98. I'm running late now.
Clerk: Here you are sir. Bible-98, the latest thing.
Clerk starts to leave.
Customer: (Examines Bible) Hey, wait a minute! What are all these extra pages glued in between the Bible pages? I didn't ask for those.
Clerk: No problem sir. They can be removed for a slight extra cost. Of course, doing so will void the warranty and your Bible might not function properly without them.
(And so it goes. Er..... did anybody say McWindoze?)
QWIK QWIP: "Worry takes as much time as work and pays less."
Download the book 'Laughing At Ourselves' in PDF format at LAUGHING AT OURSELVES One of the most comprehensive sources of Christian Humour on the Net with 800 sermon fillers for your entertainment and use at ..... https://www.wwj.org.nz/content/wwj18p47.pdf
Or read them all online at.....

A DAVID MUSING
I do not know, I csnnot tell, what life will bring next.
We may think we know, we may plan, but life has a habit of turning all the plans of men upside down.
Whether is be sickness, or death, or simply some chance event, that ends up bringing our plans to naught.
Kathy and I have been through many ups and downs throughout our 49 years of marriage.
But since I joined her in accepting Jesus fully into my life, we have learned that, no matter the circumstances, our Lord is always there for us. Whenever we need a shoulder to cry on, or someone to celebrate with, God is there, sharing our lives with us.
Coming to Kenya from New Zealand has been a huge challenge! A new culture to adapt to, a new life to lead. At times of frustration, we have cried out as to whether God truly is here.
And we have found out that He always is, to comfort us as we go through hard times and with us to celebrate the good.
We have learned to rely on Him more.
May we all learn to trust Him more, through thick and thin. It works!
Until next week.....
MAY GOD BLESS YOU AND YOU BLESS GOD
His servant and yours
David Tait

Visit us here.....
REPRODUCTION OF NEWSLETTER CONTENT
Most weeks we get enquiries about reproducing, in electronic or print form, articles contained in 'PGIM!' We welcome and encourage you to utilize this material. Freely received, freely given. We would ask though, that the source be acknowledged as an encouragement to others to subscribe to this newsletter also.
CHANGING YOUR EMAIL ADDRESS? NEWSLETTER STOPS COMING?
Each week we can lose up to 2% of our readers when they change email addresses without letting us know. Or sometimes, by your server acting strangely and just cutting us off! If you are about to change your address, please advise us of both your old and new addresses here at
enquiries@wwj.org.nz
and we will happily change our records to ensure ongoing delivery. Thanks.
Please also keep our address in your address book, as sometimes servers will automatically delete your address if there is even a one off problem in delivery. If your newsletter doesn't arrive, please let us know and we will reinstate you.
LINKS
If you would like to link your web site to ours, and ours to yours, please advise us on
links@wwj.org.nz
ABOUT US
WALKING WITH JESUS MINISTRIES is a non-profit, non-denominational, Bible based ministry located in Hastings, New Zealand. A ministry dedicated to developing discipleship, fostering unity amongst God's people to achieve the Great Commission, and in doing so, preparing for Christ's return. It is securely based upon the foundational principles of the Apostles Creed while recognising the wide and rich diversity of beliefs amongst Christians in other areas. In accordance with the Lord's direction, materials produced by the ministry are available, free of charge, to genuine enquirers upon request. The ministry is solely funded by donations, as the Lord provides. A list of materials available (plus some fun!) is obtainable and freely downloadable from our website
wwj.org.nz
or by contacting us as follows.
Walking With Jesus Ministries
7 Bull Street
Ahuriri
Napier
New Zealand
Phone: (06) 835 0567 International (+64) 6 835 0567
Email:
enquiries@wwj.org.nz
Web:
wwj.org.nz
Our role is to bless and encourage those in ministry while promoting co-operation and unity of direction amongst the body of Christ, as emphasised 3 times by Jesus in His longest prayer, immediately prior to His arrest and crucifixion. "... so that they may be one as we are one." (John 17:12, 21, 23-4) Our website is currently being developed to encourage your participation one with another, to share resources, and to enable you to promote events and items of interest to the body as a whole - and have a smile while doing it!
For comments upon and contributions to this service, please contact
david@wwj.org.nz
SUBSCRIPTION MANAGEMENT
We would encourage you to share this free service with your friends in ministry. To subscribe yourself please email pgim-on@wwj.org.nz.
If your name has been referred to us by a friend or supporting Ministry or has been obtained from a public Christian Directory or Website, it isn't our wish to burden you with information in which you aren't interested. To remove yourself from this list, please email pgim-off@wwj.org.nz.