A Weekly World Wide Word of Encouragement to those in the Ministry
PRAISE GOD IT'S MONDAY!
A WEEKLY 'WWW (world-wide word) OF ENCOURAGEMENT'
TO THOSE IN MINISTRY
A FREE service, currently connecting with Christian leaders from 3,000 denominations and ministries, in 70 countries.

Issue No: 1125 Published: 08 May 2023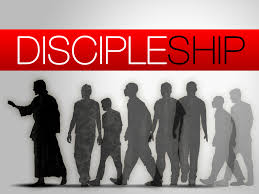 THINKING GREEK OR HEBREW
SUMMARY Part 1

1. AN EXPANATION AND TESTIMONY
We have looked at 33 different ways in which Greek (our Western inheritance) and Hebrew ways of looking at life and faith differ.
'What does it matter?' you may say.
I have come to understand that it matters a lot! For the Lord has poked and prodded me (I have the bruises!) that, if I wish to understand Him more, I need to know more about the culture in which He lived, in order to understand the nuances of what He is saying to me through the Jewish writers of His Word.
The best way I can explain this is from the point of view of learning another language. I speak English as my first language. At school, I studied French. I could learn the words and the grammar, but no matter how much I learned, I could still not speak like a Frenchman. My accent, my lack of understanding of the idioms, the culture, the slang and the nuances of the language, would always hinder me. The only real way to overcome this would be to interact with born French speakers, in order to learn their ways, as well as how to communicate with them verbally. In New Zealand, here at the far end of the earth, this is not possible, without travelling thousands of kilometres to Europe or another French speaking country, so my, already very poor French, died.
This process is seen too, in immigrants to our country, whose first language is not English. No matter how well they speak the language, their culture is different, and mix-ups and misunderstandings inevitably occur. However, the immigrants' children, who attend our schools and grow up in our society and culture, rapidly become 'kiwis'! For they largely think, and speak, like those of us whose families have been here for generations.
When it comes to 'Christianity' and 'church', we have taken an 'Eastern religion' and adapted it to our cultural values, norms, and language. We justify this by saying that the Jews failed God and have been replaced by the 'gentile church'. Hence the term - 'Replacement Theology'. These writings have not been about the truth, or otherwise, of this way of thinking. You need to read the teachings on our website (www.wwj.org.nz) to gain my understanding of this.
What I have been trying to achieve here is to form a bridge, albeit a tenuous and rickety one, between the Eastern and Western cultural understanding. I have never been to Israel, although I would love to go. Personally I know only a few Jews, and even fewer who have accepted Jesus as Saviour and Lord.
The essential truth the Lord has lain upon my heart and life though, is that a 'whole of life' commitment is necessary in order to become a true follower of Jesus. Over the years, I have become disillusioned with the form of 'easy Christianity', of self-centeredness, of happiness and prosperity that is taught in much of the church today.
When I studied the Bible, even from my Western perspective, I could see that this is not what it says! Jesus made 'disciples' who, all but John, were martyred for their faith! And John was boiled in oil and banished to Patmos, not a pleasant place!
The closest I have come to walking in the steps of the disciples was visiting Goa, where the now convinced Doubting Thomas landed in India. There is a Roman Catholic Church on the site and a real presence of the Holy Spirit over the area. Thomas was martyred on the other side of India, in Chennai. I believe you can visit his grave in a cave there.
In my reading of Scripture we are called to self-sacrifice, to putting Jesus and others above ourselves. Not the theology that has developed in our Western, Greek based, self-centred culture.
Once I started delving into the Hebraic roots of our faith, the lights of understanding that were dim have started to brighten. I hope they have here for you too.
I will try and summarize what we have been learning and sharing together. May the Lord help me, help us, better understand and apply His Word, His Life, to our own.
2. WHOLE OF LIFE - THE CALL TO DISCIPLESHIP
The first and foremost principle that I have learned through this study is the need for a 'whole of life' approach to my walk with Jesus.
Jesus meant it when He said.....
34 "Do not suppose that I have come to bring peace to the earth. I did not come to bring peace, but a sword. 35 For I have come to turn "a man against his father, a daughter against her mother, a daughter-in-law against her mother-in-law— 36 a man's enemies will be the members of his own household.' 37 "Anyone who loves his father or mother more than me is not worthy of me; anyone who loves his son or daughter more than me is not worthy of me; 38 and anyone who does not take his cross and follow me is not worthy of me. (Matthew 10:34-8)
Summarised in the next verse.....39 Whoever finds his life will lose it, and whoever loses his life for my sake will find it. (Matthew 10:39)
My friend Asher, in India, was rejected and separated from his Hindu family for many years, when he gave his life to Jesus.
Over the years, since committing to Jesus, I have endeavoured to take discipleship seriously, having tried, not always successfully, to 'walk the walk', not just 'talk the talk'.
Laying down our life is not easy, as Peter discovered.....
37 Peter asked, "Lord, why can't I follow you now? I will lay down my life for you." 38 Then Jesus answered, "Will you really lay down your life for me? I tell you the truth, before the rooster crows, you will disown me three times! (John 13:37-8)
But eventually he did, both spiritually and literally, finally choosing crucifixion, at the Lord's request.....
IX. Peter
Among many other saints, the blessed apostle Peter was condemned to death, and crucified, as some do write, at Rome; albeit some others, and not without cause, do doubt thereof. Hegesippus saith that Nero sought matter against Peter to put him to death; which, when the people perceived, they entreated Peter with much ado that he would fly the city. Peter, through their importunity at length persuaded, prepared himself to avoid. But, coming to the gate, he saw the Lord Christ come to meet him, to whom he, worshipping, said, "Lord, whither dost Thou go?" To whom He answered and said, "I am come again to be crucified." By this, Peter, perceiving his suffering to be understood, returned into the city. Jerome saith that he was crucified, his head being down and his feet upward, himself so requiring, because he was (he said) unworthy to be crucified after the same form and manner as the Lord was. (Foxe's Book of Martyrs, by John Foxe, [1848] Chapter 1)
We too are called to walk in the example of Jesus, at least spiritually, if not literally.....
14 "I am the good shepherd; I know my sheep and my sheep know me— 15 just as the Father knows me and I know the Father—and I lay down my life for the sheep. (John 10:24)
Each and every one of us is called to a life of discipleship, of giving Jesus our all. If we are ever going to impress the Jews (or the Muslims) of the Saviour-ship of Jesus, we will have to witness with our lives, not just our words.
Muslims, for example, see the Western world as 'Christian', with our church, government, moral behaviour, etc., viewed as all being parts of the one whole-of-life entity. Naturally, they are not impressed with what they see!
Western society takes an opposite viewpoint, with the separation of the various elements of life. This has infiltrated our church thinking, so we promote the mental assent of the 'Sinners Prayer' as being sufficient to obtain salvation.
Looking at Jesus' life and culture, this is patently wrong. Unless our life reflects our verbal commitment, we are not truly Jesus followers. Believing may or may not get us into heaven by the 'skin of our teeth', but it certainly is not the 100% sold out commitment that Jesus requires.
Sets one thinking, doesn't it?
(Continued next week)
Find out more about us at.....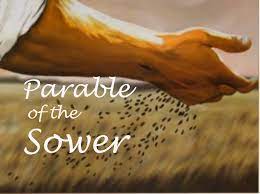 FROM THE WORD
THE WORDS OF JESUS "
The Sign of Jonah (Matthew 12:38-45)
As Jesus returned to Nazarath.
"Evil people who don't trust in God are the ones who look for a miraculous sign. The only sign they will be given is the sign of the prophet Jonah," "In the same way Jonah was in the belly of a huge fish for three days and three nights, the Son of man will be in the heart of the earth for three days and three nights.
The people of Nineveh will rise in the judgment together with this generation and they will condemn it because they repented in response to Jonah's message—and as you see, there's someone greater than Jonah here! The Queen of the South will be raised in the judgment together with this generation and will condemn it because she came from the ends of the earth to hear the wisdom of Solomon—and as you see, there's someone greater than Solomon here! When an evil spirit leaves someone, it wanders through deserted places looking for rest, and finds nowhere to stay. So it says, 'I'll go back to the place I left,' and when it returns it finds the place empty, all clean and tidy. Then it goes and brings back seven other spirits even more evil than it is, and it enters and lives there. So the person ends up worse than they were at the beginning. That's the way it will be with this evil generation."
The Family of Jesus Come to Visit Him(Matthew 12:46-50, Mark 3:31-35, Luke 8:19-21)
When told of their presence, Jesus replies.
"Who is my mother? Who are my brothers?"
"Here is my mother! Here are my brothers! Whoever does what God wants, they are my brother, and sister, and mother."
Parables by the Lake(Matthew 13:1-35, Mark 4:1-34, Luke 8:4-18)
Told from a boat anchored away from the shore, out there because of the size of the crowd.
Parable of the Sower(Matthew 13:1-23, Mark 4:1-29)
"As he was sowing, some of the seeds fell on the path. The birds came and ate them up. Other seeds fell on stony ground where there wasn't much earth where they sprouted quickly. The sun rose and scorched them and they withered because they had no roots. Other seeds fell among thorns that grew up and choked them. Still other seeds fell on good soil. They produced a harvest—some one hundred, some sixty, and some thirty times what had been planted. Anybody who has ears should be listening!
The disciples asked why he spoke in parables.
"You're privileged to have revealed to you the mysteries of the kingdom of heaven, but they're not given such insights," "Those who already have will have more given to them, more than enough. But those who don't have, whatever they have will be taken away from them. That's why I speak to them in illustrations. For even though they see, they do not see; and even though they hear, they do not hear; nor do they understand.
"The prophecy of Isaiah is fulfilled in them: 'Even though you hear, you won't understand, and even though you see, you won't perceive. They have a hard-hearted attitude, they don't want to listen, and they've closed their eyes. If they didn't they might be able to see with their eyes, hear with their ears, and understand in their minds. Then they could return to me and I would heal them.'
"Your eyes are blessed, for they see. Your ears are blessed too, for they hear. I'm telling you, many prophets and good people longed to see what you're seeing, but didn't see it. They longed to hear what you're hearing, but didn't hear it.
"So listen to the story of the sower. When people hear the message about the kingdom, and don't understand it, the evil one comes along and rips out what was sown in their heart. This is what happens to the seeds sown on the path. The seeds sown on stony ground are people who hear the message and happily accept it straight away. They last for a while, but because they don't have roots, when problems and troubles come, they quickly fall away. The seeds sown among thorns are people who hear the message, but then life's worries and the temptation of money choke the message so that they become fruitless. The seeds sown on good soil are people who hear the message, and understand it, and who produce a good harvest—some one hundred, some sixty, and some thirty times what was sown."
(Continued next week)
Find out more about us at.....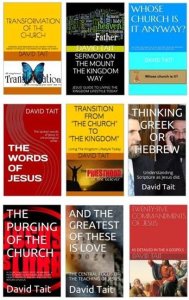 ***NOW***NINE BOOKS ARE AVAILABLE ON AMAZON!!!
9 BOOKS are now available on Amazon (Kindle)!

All are available worldwide for electronic download on Amazon (Kindle) for $US0.99c . Unfortunately there has to be a charge in order to list.

Your support would be appreciated and they could well change your life!
Many more online at https://www.wwj.org.nz/more-free-downloads

They are all found at this link.....
http://www.amazon.com/s/ref=nb_sb_noss?url=search-alias%3Daps&field-keywords=david+tait+books/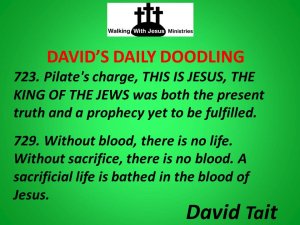 *DAVID"S DOODLINGS
Enjoy some of David's sayings here, plus 1300 more on the website at.....

'THE WORDS OF JESUS' REMAIN AVAILABLE FOR PDF DOWNLOAD
Join the many who have downloaded the 'The Words of Jesus'. I am sure you will be blessed by it, as I have been.
One key element here is the setting out in chronological order (as far as it is possible to do so) our Lord's words drawn from all the Gospels, and the elimination of repetition between Gospels.
You may be surprised by the different perspective this presentation gives you both in understanding of His life and ministry, and in achieving a closer relationship with Him.

Download the free PDF here.....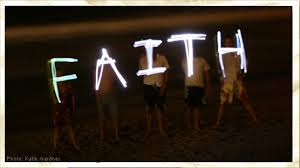 DAVID'S DOODLINGS
FAITH
272. True faith is exercised to attain God's desires, not our own.
273. Building faith in God builds faith in oneself - in God.
275. We must exercise faith to accept God's grace. But once done, God returns the compliment in unlimited measure.
276. God creates a mountain of faith out of a molehill of obedience.
277. Grace and faith make God's world go round.
278. Hope is expressed through faith. Faith is expressed through love.
279. For God so loved the world that He gave... us grace and faith.
280. Faith and doubt are constant companions. For it is only in accomplished faith that we see the devil's defeat.
281. If there is no room for doubt in faith, there was no need for faith in the first place.
Many more at.....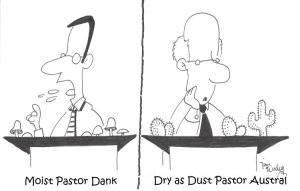 CARTOONS FROM TOON FEVER
Visit the Toon Fever website for more cartoon fun..... http://www.toonfever.com
Check it out at...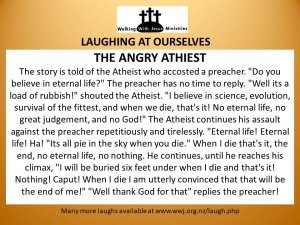 'LAUGHING AT OURSELVES
Another laugh or three for you today
Many more on our website below. Also many, may, many more under these categories on our website, wwj,org,nz Look under the heading MAINLY LAUGHS. Choose from.....
THIS WEEKS TUESDAY TEACHING.....
THIS WEEK: A REVELATION OF...THE SEVEN REVELATIONS OF THE LAMB Part 4
This week we are looking at God's first church, the Tabernacle of Moses. As could be expected, every facet of it revealed Jesus.
Let's see how.
LAUGHING AT OURSELVES
***Blessed are those who can laugh at themselves for they shall never cease to be amused***
347. God's Answering Machine
I have learned to live with the answering machine as a necessary part of modernisation. But I have often wondered - What if God decided to install an automated answering machine?
Imagine praying and hearing this - "Thank you for calling My Father's House. Please select one of the following four options: Press 1 for requests. Press 2 for a thanksgiving. Press 3 for complaints. For all other inquiries, press 4.
What if God used the familiar excuse: "All the Angels are helping other customers right now. Please stay on the line. Your call will be answered in the order it was received."
Can you imagine getting these kinds of responses as you call on God in prayer? "If you'd like to speak with Gabriel, press 1. For Michael, press 2. For any other Angel, press 3." "If you'd like King David to sing a psalm for you, press 6." To find out if your relative is here, enter his/her date of death and listen for the list that follows." For answers to nagging questions about dinosaurs, the age of the earth, and where Noah's ark is, wait 'till you get here!" "Our computers show that you have called once today already. Please hang up immediately." "This office is closed for the weekend. Please call again Monday."
THANK GOD YOU CAN'T CALL HIM TOO OFTEN! YOU ONLY NEED TO RING ONCE, AND GOD HEARS YOU. BECAUSE OF JESUS, YOU NEVER GET A BUSY SIGNAL. GOD TAKES EACH CALL AND KNOW EACH CALLER PERSONALLY.
"Then you will call and the Lord will answer; you will cry for help, and He will say: Here am I." Isaiah 58:9 NTV
QWIK QWIP: "Funny how everyone wants to go to heaven, provided they
don't have to believe, or to think, or to say, or to do anything."
348. A Little Bible Study Prophets Everyone
The following are some insights young Sunday school students turned in to their teachers:
Adam and Eve were created from an apple tree.
Lot's wife was a pillar of salt by day and a ball of fire by night
Noah's wife was Joan of Ark.
Samson slew the Philistines with the axe of the apostles.
Moses went to the top of Mt. Cyanide to get the 10 Commandments.
The Seventh Commandment is "Thou shalt not admit adultery."
Joshua led the Hebrews in the battle of Geritol.
Solomon had 300 wives and 700 porcupines.
Jesus was born because Mary had an immaculate contraption.
The people who followed Jesus were called the 12 decibels.
The Epistles were the wives of the Apostles.
Paul preached holy acrimony, which is another name for marriage.
A Christian should have only one wife. This is called monotony.
Parables mean there is more than one bull.
QWIK QWIP: "If God gives the vision He will also provide the provision."
Download the book 'Laughing At Ourselves' in PDF format at LAUGHING AT OURSELVES One of the most comprehensive sources of Christian Humour on the Net with 800 sermon fillers for your entertainment and use at ..... https://www.wwj.org.nz/content/wwj18p47.pdf
Or read even more online at.....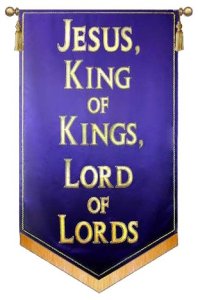 A DAVID MUSING
Am writing this on Saturday morning, here in New Zealand. Very organized! LOL!
The big news of the weekend here, is the coronation of King Charles III, 70 years after that of his mother, queen Elizabeth II. As London is 11 years hours behind u,s we will view it tonight, through the miracle of television, which wasn't available in his mother's time.
On Friday night's TV, there were several programmes portraying him as a man of the people. For that is the way of the world these days.
Sadly however, this is often the way we tend to look at Jesus! Yes, He came to earth and lived as a man. But we need to remember that through the agony of the Cross, His promised Resurrection, and His glorious Ascension, He is now our High Priest, mediating on our behalf with the Father. Yes, He is our KING OF HINGS AND LORD OF LORDS, whom we must worship with all our being, while living our lives in accordance with His example.
May we never forget!
Until next time
His servant and yours
David Tait

Visit us here.....
CHANGING YOUR EMAIL ADDRESS? NEWSLETTER STOPS COMING?
Each week we can lose up to 2% of our readers when they change email addresses without letting us know. Or sometimes, by your server acting strangely and just cutting us off! If you are about to change your address, please advise us of both your old and new addresses here at
enquiries@wwj.org.nz and we will happily change our records to ensure ongoing delivery. Thanks.

Please also keep our address in your address book, as sometimes servers will automatically delete your address if there is even a one off problem in delivery. If your newsletter doesn't arrive, please let us know and we will reinstate you.
REPRODUCTION OF NEWSLETTER CONTENT
Most weeks we get enquiries about reproducing, in electronic or print form, articles contained in 'PGIM!' We welcome and encourage you to utilize this material. Freely received, freely given. We would ask though, that the source be acknowledged as an encouragement to others to subscribe to this newsletter also.
LINKS
If you would like to link your web site to ours, and ours to yours, please advise us on
links@wwj.org.nz
ABOUT US
WALKING WITH JESUS MINISTRIES is a non-profit, non-denominational, Bible based ministry located in Hastings, New Zealand. A ministry dedicated to developing discipleship, fostering unity amongst God's people to achieve the Great Commission, and in doing so, preparing for Christ's return. It is securely based upon the foundational principles of the Apostles Creed while recognising the wide and rich diversity of beliefs amongst Christians in other areas. In accordance with the Lord's direction, materials produced by the ministry are available, free of charge, to genuine enquirers upon request. The ministry is solely funded by donations, as the Lord provides. A list of materials available (plus some fun!) is obtainable and freely downloadable from our website
wwj.org.nz or by contacting us as follows.

Walking With Jesus Ministries
P O Box 2
Webuye 50205
Kenya

Email: enquiries@wwj.org.nz
Web: wwj.org.nz

Our role is to bless and encourage those in ministry while promoting co-operation and unity of direction amongst the body of Christ, as emphasised 3 times by Jesus in His longest prayer, immediately prior to His arrest and crucifixion. "... so that they may be one as we are one." (John 17:12, 21, 23-4) Our website is currently being developed to encourage your participation one with another, to share resources, and to enable you to promote events and items of interest to the body as a whole - and have a smile while doing it!

For comments upon and contributions to this service, please contact
david@wwj.org.nz
SUBSCRIPTION MANAGEMENT
We would encourage you to share this free service with your friends in ministry. To subscribe yourself please email pgim-on@wwj.org.nz.
If your name has been referred to us by a friend or supporting Ministry or has been obtained from a public Christian Directory or Website, it isn't our wish to burden you with information in which you aren't interested. To remove yourself from this list, please email pgim-off@wwj.org.nz.