A Weekly World Wide Word of Encouragement to those in the Ministry
PRAISE GOD IT'S MONDAY!
A WEEKLY 'WWW (world-wide word) OF ENCOURAGEMENT'
TO THOSE IN MINISTRY
A FREE service, currently connecting with Christian leaders from 3,000 denominations and ministries, in 70 countries.

Issue No: 976 Published: 06 Jul 2020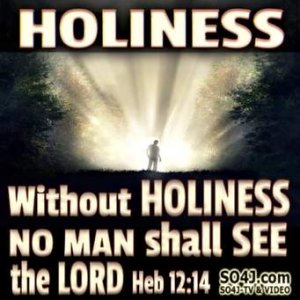 THINKING GREEK OR HEBREW?
SUMMARY Pt. 5
5. ACTIONS SPEAK LOUDER THAN WORDS - THE CALL TO HOLINESS
Again, I have learned that a huge deterrent to both Jews and Muslims coming to Jesus is us! What an indictment!
Why is this?
For we talk about Jesus but we don't live like Him. It is worth repeating again and again that, if we wish to see Jews and Moslems come to Christ, they first need to see the Christ in us. For, in their cultures, actions speak louder than words.
The Bible primarily refers to godly living as attaining holiness. While there are other words used, such as righteousness and sanctification, enacting the principles of holiness puts us on the right track.
We are commanded to holy living.....
Be Holy
13 Therefore, prepare your minds for action; be self-controlled; set your hope fully on the grace to be given you when Jesus Christ is revealed. 14 As obedient children, do not conform to the evil desires you had when you lived in ignorance. 15 But just as he who called you is holy, so be holy in all you do; 16 for it is written: "Be holy, because I am holy." (1 Peter 1:13-16)
The following extract is headed 'Rules For Holy Living' and basically sums up the New testament, indeed the whole Bible.....

12 Therefore, as God's chosen people, holy and dearly loved, clothe yourselves with compassion, kindness, humility, gentleness and patience. 13 Bear with each other and forgive whatever grievances you may have against one another. Forgive as the Lord forgave you. 14 And over all these virtues put on love, which binds them all together in perfect unity. 15 Let the peace of Christ rule in your hearts, since as members of one body you were called to peace. And be thankful. 16 Let the word of Christ dwell in you richly as you teach and admonish one another with all wisdom, and as you sing psalms, hymns and spiritual songs with gratitude in your hearts to God. 17 And whatever you do, whether in word or deed, do it all in the name of the Lord Jesus, giving thanks to God the Father through him. (Colossians 1:13-17)
The reality is, the Bible is a handbook on Holy Living, setting out its principles and detailing the experiences of people, great and small, as they sought to apply the principles to their daily lives. The Bible is a guide to living our lives, day by day, of walking with Jesus. We can share in the trials, tribulations and victories of the men and women whose real life stories are included.....
The Stoning of Stephen
54 When they heard this, they were furious and gnashed their teeth at him. 55 But Stephen, full of the Holy Spirit, looked up to heaven and saw the glory of God, and Jesus standing at the right hand of God. 56 "Look," he said, "I see heaven open and the Son of Man standing at the right hand of God." 57 At this they covered their ears and, yelling at the top of their voices, they all rushed at him, 58 dragged him out of the city and began to stone him. Meanwhile, the witnesses laid their clothes at the feet of a young man named Saul. 59 While they were stoning him, Stephen prayed, "Lord Jesus, receive my spirit." 60 Then he fell on his knees and cried out, "Lord, do not hold this sin against them." When he had said this, he fell asleep. (Acts 7:54-60)
And we can learn principles to live by given through revelation to the writers by the inspiration of the Holy Spirit.....
10 Our fathers disciplined us for a little while as they thought best; but God disciplines us for our good, that we may share in his holiness. (Hebrews 12:10)
Indeed the Bible is known as the Holy Scriptures......
2 the gospel he promised beforehand through his prophets in the Holy Scriptures 3 regarding his Son, who as to his human nature was a descendant of David, 4 and who through the Spirit of holiness was declared with power to be the Son of God by his resurrection from the dead: Jesus Christ our Lord. (Romans 1:2-4)
If we disobey the manual we won't see the Lord!.....
14 Make every effort to live in peace with all men and to be holy; without holiness no one will see the Lord. (Hebrews 12:14)
Sadly, we have taken this 'manual of life experience and instruction' and turned it into worthless theoretical theologies upon which no two people can agree, which split and divide, devoid of the power necessary to change lives.
May we get back to basics today.
See more about us at.....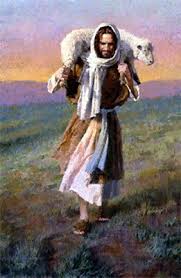 FROM THE WORD
THE WORDS OF JESUS
May we hear what the Lord is saying to us.....
Parable of the Lost Sheep (Matthew 18:10-14)
Make sure you don't look down on these little ones. I tell you that in heaven their angels are always with my heavenly Father. What do you think about this? If a man has a hundred sheep, and one of them gets lost, won't he leave the ninety-nine on the hills and go in search of the one that's lost? And if he finds it, I tell you he really rejoices over that sheep more than the ninety-nine that didn't get lost. In the same way my heavenly Father does not want any of these little ones to be lost.
Discipline within the Church (Matthew 18:15-20)
"If a brother sins against you, go and point out the wrong to him, just between the two of you. If he listens to you, you've won your brother over. But if he doesn't listen, then take one or two more people with you, so that by two or three witnesses the truth can be confirmed. If however he refuses to listen to them, then tell the church. If he refuses to listen to the church as well, then treat him as a foreigner and a tax-collector. I tell you the truth, whatever you ban on earth will be banned in heaven, and whatever you allow on earth will be allowed in heaven.
"I also tell you that if two of you agree here on earth about something you're praying for, then my heavenly Father will do it for you. For where two or three gather together in my name, I'm there with them."
A Question About Forgiveness (Matthew 18:21-35)
Peter asks Jesus how often sin is to be forgiven.
"No, not seven times. I would say seventy times seven!"
Jesus then tells a parable.
"This is why the kingdom of heaven is like a king who wanted to settle accounts with those servants who owed him money. As he began to settle accounts, one servant was brought to him who owed him ten thousand talents. Since he didn't have the money to pay, his master ordered him to be sold, along with his wife and children and all his possessions, so that the debt could be paid back. The servant fell down on his knees and said to his master, 'Please be patient with me! I will pay everything back!' The master took pity on the servant, released him, and cancelled the debt. But when that same servant went out he found one of his fellow-servants who owed him just a hundred denarii. He grabbed him by the neck and choked him, saying, 'Pay me back what you owe me!' His fellow-servant threw himself down at the man's feet and begged him, 'Please be patient with me! I will pay you back!' But the man refused, and went and threw his fellow-servant into prison until he paid back what he owed.
"When the other servants saw what took place they were shocked and upset. They went and told their master everything that had happened. Then the master called the man back in and told him, 'You evil servant! I forgave you all your debt because you begged me to. Shouldn't you have been merciful to your fellow-servant as well, just as I was merciful to you?' His master became angry and handed him over to the jailors until he had repaid all the debt. This is what my heavenly Father will do to every one of you unless you sincerely forgive your brothers."
(Continued next week)
Download the complete 'Words of Jesus' here.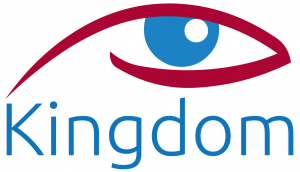 OUR AFRICAN EXPERIENCE
FOR MORE DETAILED AND REGULAR UPDATES, VISIT OUR FACEBOOK PAGE
AN EYE 4 Africa - https://www.facebook.com/aneye4africa/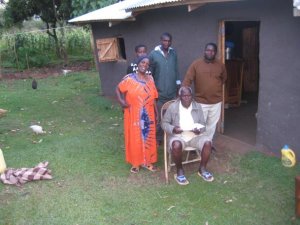 HERE IS ZAKAYO'S (OUR CATARACT PATIENT'S) STORY…..
Zakayo is a very healthy 94, and until approaching a year ago was still able to provide for his family through farming, poultry and animal rearing. He was also a preacher in his local church.
Suddenly, his eyesight quickly deteriorated and, as in many cases here, others tried to take over his land. He was so sad about the rapid decline in his ability to look after his family. No longer being able to read his Bible was a huge loss to him too.
PHOTO: Reading his Bible with the family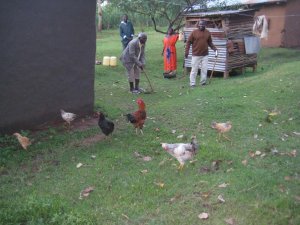 The operation was very successful and the next day, after taking off his eye patch, his sight was much improved. It has continued to improve as the days have gone on. He is so happy! In his own words, he felt "that God had brought heaven on earth for him." This is what 'kingdom' is all about, both naturally and spiritually. You could see the joy on his face as he greeted our staff yesterday with a big smile, thanking us so much for the good work done.
He has promised to be an ambassador for Kingdom Hospital, to spread the great news to the people, so that we can eliminate blindness in the community.
We would really love to be as healthy as he is at 94!
PHOTO: Demonstrating his 'jembe', the all purpose garden tool here in Africa.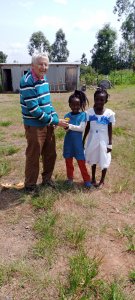 A LOVELY GIFT
I was thrilled, during the week, to be given a little bunch of daisy flowers, that the daughter of one of our inpatients had picked for me from 'garden of weeds'!
We used to be flower growers early on in our married life, plus that there are no cut flowers grown in our area, so this gift was very special!
Thank you sweetheart!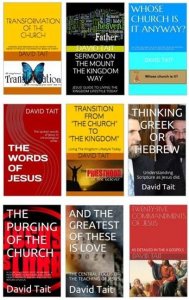 ***NOW***NINE BOOKS ARE AVAILABLE ON AMAZON!!!
9 BOOKS are now available on Amazon (Kindle)!

All are available worldwide for electronic download on Amazon (Kindle) for $US0.99c . Unfortunately there has to be a charge in order to list.

Your support would be appreciated and they could well change your life!

They are all found at this link.....
http://www.amazon.com/s/ref=nb_sb_noss?url=search-alias%3Daps&field-keywords=david+tait+books/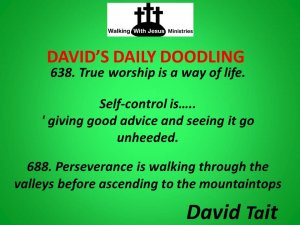 ***DAILY EZINE!*** 'DAVID'S DAILY DOODLINGS' Subscribe Today
Receive one of David's sayings in your mailbox each day to inspire, challenge or maybe, amuse. To register today, go down to the bottom of the page link below, click on the subscribe link dd-on@wwj.org.nz (or paste the address in an email yourself and send) Then it's done! If you have an Irish heritage, you will love the background coloring!
Subscription and back issue link is.....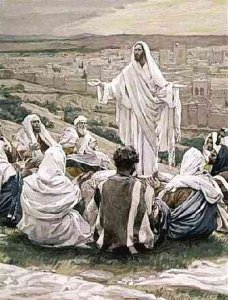 'THE WORDS OF JESUS' REMAIN AVAILABLE FOR PDF DOWNLOAD
Join the many who have downloaded the 'The Words of Jesus'. I am sure you will be blessed by it, as I have been.

One key element here is the setting out in chronological order (as far as it is possible to do so) our Lord's words drawn from all the Gospels, and the elimination of repetition between Gospels.

You may be surprised by the different perspective this presentation gives you both in understanding of His life and ministry, and in achieving a closer relationship with Him.

Download the free PDF here.....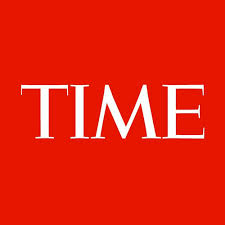 DAVID'S DOODLINGS
A MATTER OF TIME
72. Let's not think, 'if only I had time,' but rather how best to use, 'the only time I have.'

73. The most precious gift we can give is often the least appreciated ' our time.

74. 'If only I had time' is more often an excuse than a reason.

75. Life is like a one-foot rule. We inch our way along it until inevitably falling off the far end.

76. Life and time are inversely proportional. The older and slower we get, the faster time goes.

77. What is the one thing that cannot be stored for future use? Time.

78. There is nothing on earth as perishable as time.

79. The difficult takes time, the impossible a little longer.

80. Time is a fine servant but a harsh master.

81. Love and time walk hand in hand.
Please feel free to quote these quotes. Acknowledgment of David Tait as the author would be appreciated. There are now over 1300 David sayings for you to view at ...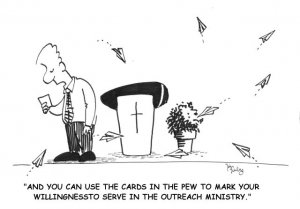 CARTOONS FROM TOON FEVER
Visit the Toon Fever website for more cartoon fun..... http://www.toonfever.com

Check it out at...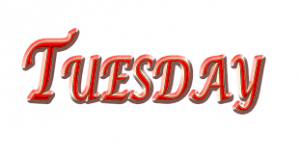 TUESDAY TEACHINGS
THIS WEEK: TRANSFORMATION OF THE CHURCH: 4. CHARACTERISTICS OF KINGDOM PEOPLE
Looking at the fifth and sixth characteristics of kingdom people.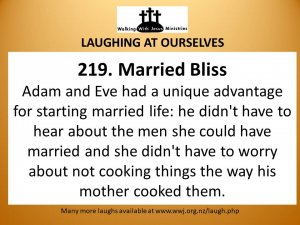 *** ANOTHER DAILY EZINE FROM WWJ!*** 'LAUGHING AT OURSELVES' Subscribe Today
As Christians, if we can't laugh at ourselves, others will! A fun way to start your day. To register today, go down to the bottom of the page link below, click on the subscribe link lao--on@wwj.org.nz (or paste the address in an email yourself and send) Then it's done!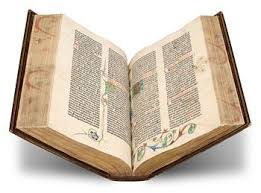 LAUGHING AT OURSELVES
***Blessed are those who can laugh at themselves for they shall never cease to be amused***
*** Those who can't laugh at themselves leave the job to others. ***
QWIK QWIP: "Funny how we believe what newspapers say, but question what the Bible says."
434. Mature Pastoral Wisdom
The Old Preacher was out fishing one afternoon when he heard a noise beside him. He looked down and saw a frog sitting next to him. The frog said, "Buddy, I've had a spell cast on me. If you'll kiss me, I'll turn into a beautiful princess and I'll make you happy for the rest of your life."
The Old Preacher smiled, picked up the frog and put it in his pocket. A little later, he looked into his pocket to see how the frog was doing. The frog said to him again, this time with exasperation, "Buddy, I've had a spell cast on me. If you'll kiss me, I'll turn into a beautiful princess and I'll make you happy for the rest of your life."
The Old Preacher just smiled and kept on fishing. A little later he checked on the frog again. This time it said, "What's wrong with you, fella. I said I've been bewitched. Just kiss me and I'll turn back into a beautiful princess and make you the happiest man on earth for the rest of your life."
The Old Preacher just smiled and said, "Frog, I hate to tell you this, but at my age, I'd rather have a talking frog than a beautiful princess!"
435. Voice from Above
Because our former small-town parish was not a wealthy one, our pastor was dependent on parishioners for upkeep and maintenance of the church. Once he asked my husband, Sam, to rewire the confessionals. The only way to reach the wiring was to enter the attic above the altar and crawl over the ceiling by balancing on the rafters.
Concerned for my husband's safety, I waited in a pew. Unbeknownst to me, some parishioners were congregating in the vestibule. They paid little attention to me, probably assuming I was praying. Worried about my husband, I looked up toward the ceiling and yelled, "Sam, Sam -- are you up there? Did you make it okay?"
436. Ignorance results in..... Poverty!
A collector of rare books ran into an acquaintance who told him he had just thrown away an old Bible that he found in a dusty, old box. He happened to mention that Guten-somebody-or-other had printed it.
"Not Gutenberg?" gasped the collector.
"Yes, that was it!"
"You fool! You've thrown away one of the first books ever printed. A copy recently sold at auction for half a million dollars!"
"Oh, I don't think this book would have been worth anything close to that much," replied the man.
"It was scribbled all over in the margins by some clown named Martin Luther."
Download the book 'Laughing At Ourselves' in PDF format at LAUGHING AT OURSELVES One of the most comprehensive sources of Christian Humour on the Net with 800 sermon fillers for your entertainment and use at ..... https://www.wwj.org.nz/content/wwj18p47.pdf
Or read them all online at.....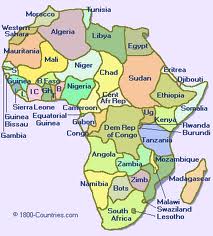 A DAVID MUSING
Corona, here in Kenya, although now found in many Counties, but not ours, has been largely restricted to the Nairobi and Mombasa areas, which have been cordoned off from the rest of the country. The virus has crept through, mainly by truck drivers delivering goods, not only to Kenya but to Uganda and Rwanda also, neither of which have a sea port.
This was the way HIV/Aids was spread throughout Africa too.
There is a balance, as others have found, between not spreading the visrus and killing the economy. Unlike Western countries, here there is very little room to move, as the economies generally head towards subsistence. No benefits here! You work or starve!
In all likelyhood, the Government here will be forced to lift the quarantine in order to recue the economy. Covid will then simply become another challenge to be faced, along with all the other diseases eg Malaria, typhoid, TB and more, and disasters such as floods, locusts and starvation.
If all these challenges hit the West at once, it would collapse. Yet Kenya and Africa, in spite of it all, continue on their way unabated. And the people are happier than their Western counterparts as well.
We all need to learn out of this!
Until next time.....
MAY GOD BLESS YOU AND YOU BLESS GOD
His servant and yours
David Tait

Visit us here.....
REPRODUCTION OF NEWSLETTER CONTENT
Most weeks we get enquiries about reproducing, in electronic or print form, articles contained in 'PGIM!' We welcome and encourage you to utilize this material. Freely received, freely given. We would ask though, that the source be acknowledged as an encouragement to others to subscribe to this newsletter also.
CHANGING YOUR EMAIL ADDRESS? NEWSLETTER STOPS COMING?
Each week we can lose up to 2% of our readers when they change email addresses without letting us know. Or sometimes, by your server acting strangely and just cutting us off! If you are about to change your address, please advise us of both your old and new addresses here at
enquiries@wwj.org.nz
and we will happily change our records to ensure ongoing delivery. Thanks.
Please also keep our address in your address book, as sometimes servers will automatically delete your address if there is even a one off problem in delivery. If your newsletter doesn't arrive, please let us know and we will reinstate you.
LINKS
If you would like to link your web site to ours, and ours to yours, please advise us on
links@wwj.org.nz
ABOUT US
WALKING WITH JESUS MINISTRIES is a non-profit, non-denominational, Bible based ministry located in Hastings, New Zealand. A ministry dedicated to developing discipleship, fostering unity amongst God's people to achieve the Great Commission, and in doing so, preparing for Christ's return. It is securely based upon the foundational principles of the Apostles Creed while recognising the wide and rich diversity of beliefs amongst Christians in other areas. In accordance with the Lord's direction, materials produced by the ministry are available, free of charge, to genuine enquirers upon request. The ministry is solely funded by donations, as the Lord provides. A list of materials available (plus some fun!) is obtainable and freely downloadable from our website
wwj.org.nz
or by contacting us as follows.
Walking With Jesus Ministries
7 Bull Street
Ahuriri
Napier
New Zealand
Phone: (06) 835 0567 International (+64) 6 835 0567
Email:
enquiries@wwj.org.nz
Web:
wwj.org.nz
Our role is to bless and encourage those in ministry while promoting co-operation and unity of direction amongst the body of Christ, as emphasised 3 times by Jesus in His longest prayer, immediately prior to His arrest and crucifixion. "... so that they may be one as we are one." (John 17:12, 21, 23-4) Our website is currently being developed to encourage your participation one with another, to share resources, and to enable you to promote events and items of interest to the body as a whole - and have a smile while doing it!
For comments upon and contributions to this service, please contact
david@wwj.org.nz
SUBSCRIPTION MANAGEMENT
We would encourage you to share this free service with your friends in ministry. To subscribe yourself please email pgim-on@wwj.org.nz.
If your name has been referred to us by a friend or supporting Ministry or has been obtained from a public Christian Directory or Website, it isn't our wish to burden you with information in which you aren't interested. To remove yourself from this list, please email pgim-off@wwj.org.nz.