A Weekly World Wide Word of Encouragement to those in the Ministry
PRAISE GOD IT'S MONDAY!
A WEEKLY 'WWW (world-wide word) OF ENCOURAGEMENT'
TO THOSE IN MINISTRY
A FREE service, currently connecting with Christian leaders from 3,000 denominations and ministries, in 70 countries.

Issue No: 1001 Published: 21 Dec 2020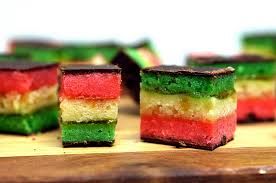 THINKING GREEK OR HEBREW
TRUTH OVER TIME
Greek (Western)
Greek thinkers see truth as static and unchanging. With our scientific approach, we believe that, although we may not fully understand all truth, it is out there, just waiting to be discovered.

Eastern (Hebrew)
Hebrew thinkers see truth as unfolding. Truth is revealed layer upon layer, over time.
3 Send forth your light and your truth, let them guide me; let them bring me to your holy mountain, to the place where you dwell. (Psalm 43:3) 11 Teach me your way, O LORD, and I will walk in your truth; give me an undivided heart, that I may fear your name. (Psalm 86:11)
A classic example of this difference in thinking is found in the different cultures attitudes towards prophecy. We look at prophecy as having a single fulfilment while in Jewish culture prophecy has ongoing applications through the ages.
The most important failure of Greek, or Western, thought in the area of unfolding truth is in our understanding of the kingdom of God.
Similarly, we view the kingdom as being in one place, which is found in heaven, up in the sky, once we die. What we fail to understand is that this is only one aspect of the truth. For the kingdom of God is multi-dimensional. If it were not so, how could we pray in the 'Lord's Prayer'.....
10 your kingdom come, your will be done on earth as it is in heaven. (Matthew 6:10b)
The truth that the Lord is revealing today is that His kingdom is indeed here, on earth, as well as there, in heaven! As Greek thinkers, we have great difficulty in getting our heads around this concept. Also, it is 'inconvenient', for the excuse for living a less than holy life here on the 'devil's earth', suddenly disappears!
The reality is, as disciples, we are in the kingdom, and are to live a kingdom lifestyle from the moment in time we commit ourselves to Jesus.
Therefore, I urge you, brothers, in view of God's mercy, to offer your bodies as living sacrifices, holy and pleasing to God—this is your spiritual act of worship. 2 Do not conform any longer to the pattern of this world, but be transformed by the renewing of your mind. Then you will be able to test and approve what God's will is—his good, pleasing and perfect will. (Romans 12:1-2)
We need to understand that this reality of the kingdom is for us in the here and now.
The Coming of the Kingdom of God
20 Once, having been asked by the Pharisees when the kingdom of God would come, Jesus replied, "The kingdom of God does not come with your careful observation, 21 nor will people say, 'Here it is,' or 'There it is,' because the kingdom of God is within you." (Luke 17:20-21)
It is firstly spiritual.....
17 For the kingdom of God is not a matter of eating and drinking, but of righteousness, peace and joy in the Holy Spirit, (Romans 14:17)
but is to become physical in the way we live our lives.....
Be imitators of God, therefore, as dearly loved children 2 and live a life of love, just as Christ loved us and gave himself up for us as a fragrant offering and sacrifice to God. 3 But among you there must not be even a hint of sexual immorality, or of any kind of impurity, or of greed, because these are improper for God's holy people. 4 Nor should there be obscenity, foolish talk or coarse joking, which are out of place, but rather thanksgiving. 5 For of this you can be sure: No immoral, impure or greedy person—such a man is an idolater—has any inheritance in the kingdom of Christ and of God. (Ephesians 5:1-5)
We are to be the light of the kingdom in the world.....
14 "You are the light of the world. A city on a hill cannot be hidden. 15 Neither do people light a lamp and put it under a bowl. Instead they put it on its stand, and it gives light to everyone in the house. 16 In the same way, let your light shine before men, that they may see your good deeds and praise your Father in heaven. (Matthew 5:14-17)
SOME SPIRITUAL IMPLICATIONS FOR TODAY
1. We are God's kingdom in the world.
2. Is His kingdom light shining out of us?
3. A kingdom lifestyle is required of all true followers of Jesus.
(Continues next week)
Acknowledgements: http://www.followtherabbi.com and http://hethathasanear.com and http://www.wildbranch.org
See more about us at.....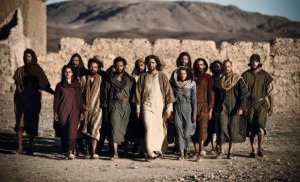 FROM THE WORD
THE WORDS OF JESUS
May we hear what the Lord is saying to us.....
Instructions to the Disciples (Luke 17:1-10)
Jesus taught them.
"Temptations are unavoidable, but it will be a disaster for those through whom they come! For such people it would be better to have a millstone hung around the neck and thrown into the sea than to cause these little ones to sin. So take care what you do. If your brother sins, warn him; and if he repents, forgive him. Even if he sins against you seven times a day, and seven times comes back and tells you, 'I'm really sorry,' forgive him."
The disciples asked for more trust.
"Even if your trust was as small as a mustard seed, you could say to this mulberry tree, 'Uproot yourself, and plant yourself in the sea,' and it would obey you.
"Say you have a servant who does plowing or shepherding. When he comes in from work, do you say to him, 'Come in and sit down now for a meal'? No. You say to him, 'Prepare a meal for me, get yourself dressed, and serve me until I've finished my meal. After that you can have your meal'? And do you thank the servant for doing what you told him? No. Likewise once you've done everything you were told, you should simply say, 'We are undeserving servants. We just did our duty.'"
Sickness and Death of Lazarus of Bethany (John 11:1-16)
Jesus delays, then returns to Judea, to the dismay of the disciples.
"Lord, your close friend is sick." When Jesus heard the news he said, "The end result of this sickness will not be death. Through this God's glory will be revealed so that the Son of God may be glorified."
"Aren't there twelve hours in a day?" "If you walk during the day you don't stumble because you can see where you're going by the light of this world. But if you walk during the night you stumble because you have no light." After telling them this, he said, "Our friend Lazarus has fallen asleep, but I'm going to go there and wake him up!"
"Lazarus is dead. For your sake I'm glad I wasn't there, because now you will be able to trust in me. Let's go and see him."
Jesus Comforts Mary and Martha (John 11:17-37)
The sisters of Lazarus, after Lazarus had been in the tomb for four days.
"Your brother will rise again."
'In the resurrection', they replied.
"I am the resurrection and the life. Those who trust in me will live, even though they die. All who live in me and trust in me will never die. Do you believe this?"
Upon arriving in the village.
"Where have you laid him?"
(Continued next week)
Download the complete 'Words of Jesus' here.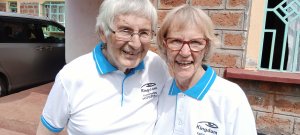 OUR AFRICAN EXPERIENCE
FOR MORE DETAILED AND REGULAR UPDATES, VISIT OUR FACEBOOK PAGE
AN EYE 4 Africa - https://www.facebook.com/aneye4africa/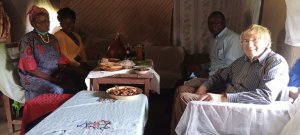 A MEAL WITH GRANDMA
A while a go Tatwa, our Administrator, and I went to have have lunch with our Receptionist Marion's, parents and siblings. Very nice it was too! On the way home we called at Marion's Grandmother's place. Interestingly she said that people always miss the old people out.
So today, we went and had lunch with Grandma! If you enlarge the photo, it is a typical high lunch, for when you are having visitors. It consists of fried chicken Not too tough with a great flavour), japate, rice, and a green vegetable of the nettle family, boiled and mixed with milk. And a homemade liquid sauce. In the gourd was milk, and the stopper a piece of corn cob. Sour milk and Kenyan tea was also served made of half milk, half water and generally, a lot on sugar. Plus of course, sodas, for Coke has penetrated the world.
Most interesting though, was Grandmas life story. ....
83 years old ,she was born to a subtribe some distance from her home now, one that had split into parts, She was a beautiful 'brown lady' Some Kenyans have lighter skins, which are prized. One of the village ladies was jealous and afraid of her, so she broke her hip bone so she has always had a limp.
One day a village man, who had spent many years in Uganda, came to her school at age 15, and convinced her to run away with him! She dropped her books and went! Her parents were furious!
When they found them some time later they came and took 18 cows away for dowry! Never spoke a word to her for many years, before they were reconciled.
Grandma hag 11 children, 8 girls and 3 boys, 2 of whom died in infancy. Six girls and 2 boy now remain. Her husband learned masonry (carpentry) and went to Kitale to build homes for the white people. They bought 12 acres of land where she now lives. After Kitale, he went to Mombasa building for 10 years, leaving the family for Grandma to bring up. While there he married another wife, but one from the same sub tribe.
After the 10 years, he brought the other wife home with him, who now lives next door, and Grandma gave her some land to live on. He died in 2008.
Grandma has grown sugar cane on her land all these years, but now has some of her grandchildren working parts of it. Sugar cane is the best crop to grow here, both in ease of growing and return.
Grandma has around 100 grandchildren and 50 great grandchildren.
She says she has had a very happy life, for her offspring can now help look after her financially.
Living in a series of very well constructed mud huts with roofs, and a floor made of dried cow dung (to stop the dust off a dirt floor) she is a very happy lady.
Puts things into perspective for us Westerners, doesn't it!
1. Grandma, her granddaughter Helen, Tatwa and I , ready for lunch.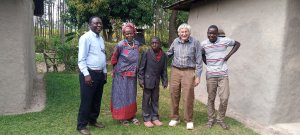 2. Outside with family, The young boy, round 15, is blind, as his mum's stomach was not properly protected when she had an x-ray before he was born. Very quiet, but then came alive when he prayed for us! Amazing!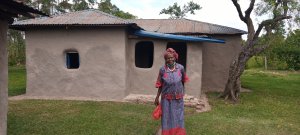 3. Grandma outside the main, well constructed, main house.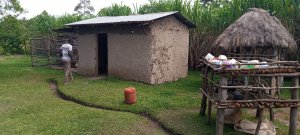 4. Looking over to the sugar cane. The trenches are drains for the rainy season, which we have just come out of.
Thank you Grandma for hosting us and sharing your story.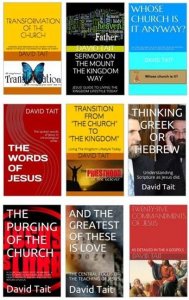 ***NOW***NINE BOOKS ARE AVAILABLE ON AMAZON!!!
9 BOOKS are now available on Amazon (Kindle)!

All are available worldwide for electronic download on Amazon (Kindle) for $US0.99c . Unfortunately there has to be a charge in order to list.

Your support would be appreciated and they could well change your life!

They are all found at this link.....
http://www.amazon.com/s/ref=nb_sb_noss?url=search-alias%3Daps&field-keywords=david+tait+books/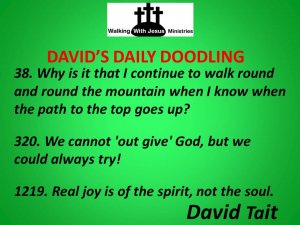 ***DAILY EZINE!*** 'DAVID'S DAILY DOODLINGS' Subscribe Today
Receive one of David's sayings in your mailbox each day to inspire, challenge or maybe, amuse. To register today, go down to the bottom of the page link below, click on the subscribe link dd-on@wwj.org.nz (or paste the address in an email yourself and send) Then it's done! If you have an Irish heritage, you will love the background coloring!
Subscription and back issue link is.....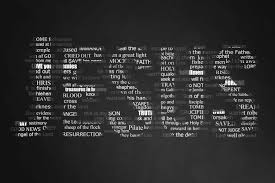 'THE WORDS OF JESUS' REMAIN AVAILABLE FOR PDF DOWNLOAD
Join the many who have downloaded the 'The Words of Jesus'. I am sure you will be blessed by it, as I have been.

One key element here is the setting out in chronological order (as far as it is possible to do so) our Lord's words drawn from all the Gospels, and the elimination of repetition between Gospels.

You may be surprised by the different perspective this presentation gives you both in understanding of His life and ministry, and in achieving a closer relationship with Him.

Download the free PDF here.....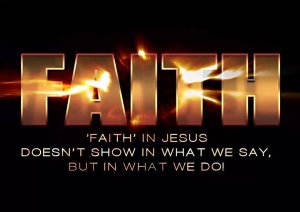 DAVID'S DOODLINGS
FAITH
284. Faith involves seeing the goal before it is achieved. Therefore, 'blind faith', by definition, must be a contradiction in terms.

285. A Christian without faith is like a newly beheaded chicken. Running round aimlessly flapping its wings, before collapsing in a heap - 100% dead.

288. Faith brings life. Without faith, we die in the Spirit.

289. We can have the faith of the sparrow, the dove or the eagle. Our choice determines the height to which we can soar.

290. Exercising faith releases further faith. (These sayings - good or bad - are an example of it!)

291. Dreams are centred in hope, accomplishments in faith.

292. Without dreams there is no hope, but without faith, no reality.
Please feel free to quote these quotes. Acknowledgment of David Tait as the author would be appreciated. There are now over 1300 David sayings for you to view at ...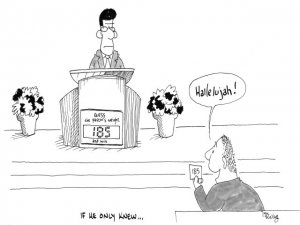 CARTOONS FROM TOON FEVER
Visit the Toon Fever website for more cartoon fun..... http://www.toonfever.com

Check it out at...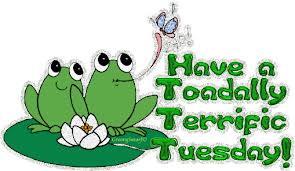 TUESDAY TEACHINGS
THIS WEEK:GOD AND MAN continues.....
.....as we conclude our study on the Holy Spirit with a look at the 'Gifts of the Spirit'.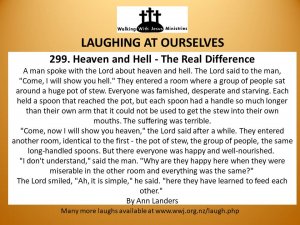 *** ANOTHER DAILY EZINE FROM WWJ!*** 'LAUGHING AT OURSELVES' Subscribe Today
As Christians, if we can't laugh at ourselves, others will! A fun way to start your day. To register today, go down to the bottom of the page link below, click on the subscribe link lao--on@wwj.org.nz (or paste the address in an email yourself and send) Then it's done!
https://www.wwj.org.nz/laughing-at-ourselves-ezine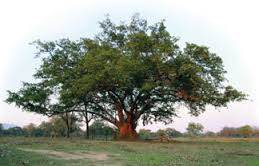 LAUGHING AT OURSELVES
***Blessed are those who can laugh at themselves for they shall never cease to be amused***
*** Those who can't laugh at themselves leave the job to others. ***
485. Cussing Deacon
A Preacher was made aware that he had a Deacon in his church who was from time to time known to cuss.
In his attempt to help the Deacon overcome this terrible habit, the Preacher decided he should spend some personal time with the Deacon so they could have a long talk about the problem. The Preacher decided to ask the Deacon to go fishin' thinking that might provide an opportunity to talk.
They were out in a boat and had their lines in the water when the Preacher hooked a big one. It put up a mighty fight, but finally he reeled the fish up to the edge of the boat. It was the biggest fish the preacher had ever caught. But, just as the minister started to pull his catch into the boat, the fish slipped off the hook and got away.
Thoroughly disgusted, the Preacher looked over and said, "Deacon, somethin' needs to be said here!"
486. Good.....
Somebody has well said that there are only two kinds of people in world,
there are those who wake up in the morning and say ................
"Good morning, Lord," and there are those who wake up in the morning and say, "Good Lord, it's morning."
487. The Fig Tree
Mark took his elderly maiden-Aunt Lucy for a drive, and pointed out a fig tree as one of the sights.
"Fig tree?" exclaimed Aunt Lucy. "That cannot be a fig tree for goodness sakes!"
"Of course it is," Mark insisted. "What makes you think it's not?"
Blushing so red she nearly glowed, Aunt Lucy said, "Well... I just thought... surely the leaves must be bigger than that!"
488. Lateral Thinking
Question: "Who is most unhappy in the Parable of the Prodigal Son?"
Answer: "The fatted calf."
QWIK QWIP: "The task ahead of us is never as great as the Power behind us."
Download the book 'Laughing At Ourselves' in PDF format at LAUGHING AT OURSELVES One of the most comprehensive sources of Christian Humour on the Net with 800 sermon fillers for your entertainment and use at ..... https://www.wwj.org.nz/content/wwj18p47.pdf
Or read even more online at.....

A DAVID MUSING
CHRISTMAS GREETINGS
Kathy and I bring Christmas greetings for you all.
For most of us it is a time of rejoicing, but some, it is a time of sadness.
Whatever it is to you, let us remember that Christmas is really about the birth of Jesus, for which we, as His followers, need to give thanks for.
Obviously it is not really the day Jesus was born, but it is the day we remember His birth.
So whether glad or sad, let us give thanks that He came into the world, to live, to die, to overcome death, to enable us to have eternal life with Him.
.Let us remember Him today.
Until next time.....
MAY GOD BLESS YOU AND YOU BLESS GOD
His servant and yours
David Tait

Visit us here.....
CHANGING YOUR EMAIL ADDRESS? NEWSLETTER STOPS COMING?
Each week we can lose up to 2% of our readers when they change email addresses without letting us know. Or sometimes, by your server acting strangely and just cutting us off! If you are about to change your address, please advise us of both your old and new addresses here at
enquiries@wwj.org.nz
and we will happily change our records to ensure ongoing delivery. Thanks.
Please also keep our address in your address book, as sometimes servers will automatically delete your address if there is even a one off problem in delivery. If your newsletter doesn't arrive, please let us know and we will reinstate you.
REPRODUCTION OF NEWSLETTER CONTENT
Most weeks we get enquiries about reproducing, in electronic or print form, articles contained in 'PGIM!' We welcome and encourage you to utilize this material. Freely received, freely given. We would ask though, that the source be acknowledged as an encouragement to others to subscribe to this newsletter also.
LINKS
If you would like to link your web site to ours, and ours to yours, please advise us on
links@wwj.org.nz
ABOUT US
WALKING WITH JESUS MINISTRIES is a non-profit, non-denominational, Bible based ministry located in Hastings, New Zealand. A ministry dedicated to developing discipleship, fostering unity amongst God's people to achieve the Great Commission, and in doing so, preparing for Christ's return. It is securely based upon the foundational principles of the Apostles Creed while recognising the wide and rich diversity of beliefs amongst Christians in other areas. In accordance with the Lord's direction, materials produced by the ministry are available, free of charge, to genuine enquirers upon request. The ministry is solely funded by donations, as the Lord provides. A list of materials available (plus some fun!) is obtainable and freely downloadable from our website
wwj.org.nz or by contacting us as follows.

Walking With Jesus Ministries
P O Box 2
Webye 50205
Kenya

Email: enquiries@wwj.org.nz
Web: wwj.org.nz

Our role is to bless and encourage those in ministry while promoting co-operation and unity of direction amongst the body of Christ, as emphasised 3 times by Jesus in His longest prayer, immediately prior to His arrest and crucifixion. "... so that they may be one as we are one." (John 17:12, 21, 23-4) Our website is currently being developed to encourage your participation one with another, to share resources, and to enable you to promote events and items of interest to the body as a whole - and have a smile while doing it!

For comments upon and contributions to this service, please contact
david@wwj.org.nz
SUBSCRIPTION MANAGEMENT
We would encourage you to share this free service with your friends in ministry. To subscribe yourself please email pgim-on@wwj.org.nz.
If your name has been referred to us by a friend or supporting Ministry or has been obtained from a public Christian Directory or Website, it isn't our wish to burden you with information in which you aren't interested. To remove yourself from this list, please email pgim-off@wwj.org.nz.