A Weekly World Wide Word of Encouragement to those in the Ministry
PRAISE GOD IT'S MONDAY!
A WEEKLY 'WWW (world-wide word) OF ENCOURAGEMENT'
TO THOSE IN MINISTRY
A FREE service, currently connecting with Christian leaders from 3,000 denominations and ministries, in 70 countries.

Issue No: 1128 Published: 29 May 2023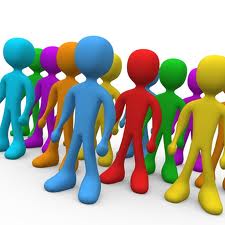 THINKING GREEK OR HEBREW
SUMMARY Part 3
5. IMPORTANCE OF COMMUNITY - THE CALL TO UNITY
As we have learned together about the cultural differences between East and West, a key difference has been the emphasis upon the individual in the Western world, while in Eastern culture, the greater good of the group, the family, the nation, took precedence over the individual.
Put succinctly, we promote the 'rights' (of the individual), whereas Eastern cultures emphasize 'obligations' (to the community).
It is true that, under the New Covenant, salvation has become a decision of the individual.....
15 He said to them, "Go into all the world and preach the good news to all creation. 16 Whoever believes and is baptized will be saved, but whoever does not believe will be condemned. (Mark 16:15-16)
.....but it also says that all Israel will be finally also be saved.....
All Israel Will Be Saved
25 I do not want you to be ignorant of this mystery, brothers, so that you may not be conceited: Israel has experienced a hardening in part until the full number of the Gentiles has come in. 26 And so all Israel will be saved, as it is written: "The deliverer will come from Zion; he will turn godlessness away from Jacob. 27 And this is my covenant with them when I take away their sins." (Romans 11:25-7)
This indeed, as it says, is a mystery to us, with our Western mindset. But it will make sense to the Jews, for it is the way God has dealt with them in the past, as prophesied through Isaiah.....
15 Truly you are a God who hides himself, O God and Savior of Israel. 16 All the makers of idols will be put to shame and disgraced; they will go off into disgrace together. 17 But Israel will be saved by the LORD with an everlasting salvation; you will never be put to shame or disgraced, to ages everlasting. (Isaiah 45:15-17)
Unity is a concept that we, in the West, do not truly understand. For us, unity involves full agreement on every aspect of the area of unity we are considering. For example, take the supporters of a team at a football match. They are united in the support of their team. As are, of course, the supporters of the opposing team!
Unfortunately however, this unity does not exist in the ultimate winning team of all - the 'Jesus Joy Jumpers'! See, we can't even agree on the name - for we don't jump for joy in our church! How unseemly! How sad, actually! For if we put two Christian theologians together, we will likely end up with 3 opinions! Opinions that have divided the church into over 30,000 denominations and groupings! Perhaps a lot more! Sadly, what divides is greater than that which unites.
Jews too, have many differing opinions. Paul knew how to exploit this.....
6 Then Paul, knowing that some of them were Sadducees and the others Pharisees, called out in the Sanhedrin, "My brothers, I am a Pharisee, the son of a Pharisee. I stand on trial because of my hope in the resurrection of the dead." 7 When he said this, a dispute broke out between the Pharisees and the Sadducees, and the assembly was divided. 8 (The Sadducees say that there is no resurrection, and that there are neither angels nor spirits, but the Pharisees acknowledge them all.) (Acts 23:6-8)
However, when it comes to the crunch, as is well illustrated in Israel today, if the nation is threatened, the people come together as one.
In the Old Testament, when the people agreed and operated as one, the Lord was with them.....
10 The couriers went from town to town in Ephraim and Manasseh, as far as Zebulun, but the people scorned and ridiculed them. 11 Nevertheless, some men of Asher, Manasseh and Zebulun humbled themselves and went to Jerusalem. 12 Also in Judah the hand of God was on the people to give them unity of mind to carry out what the king and his officials had ordered, following the word of the LORD. 13 A very large crowd of people assembled in Jerusalem to celebrate the Feast of Unleavened Bread in the second month. 14 They removed the altars in Jerusalem and cleared away the incense altars and threw them into the Kidron Valley.......... 26 There was great joy in Jerusalem, for since the days of Solomon son of David king of Israel there had been nothing like this in Jerusalem. 27 The priests and the Levites stood to bless the people, and God heard them, for their prayer reached heaven, his holy dwelling place. (2 Chronicles 30:10-14, 26-27)
We too are called to unity in Jesus.....
Jesus Prays for All Believers
20 "My prayer is not for them alone. I pray also for those who will believe in me through their message, 21 that all of them may be one, Father, just as you are in me and I am in you. May they also be in us so that the world may believe that you have sent me. 22 I have given them the glory that you gave me, that they may be one as we are one: 23 I in them and you in me. May they be brought to complete unity to let the world know that you sent me and have loved them even as you have loved me. (John 17:20-23)
I am certain, that next to lost souls, the thing that upsets the Lord most are the divisions amongst His people. His appointed leaders' prime function is to bring unity of faith to His people.....
11 It was he who gave some to be apostles, some to be prophets, some to be evangelists, and some to be pastors and teachers, 12 to prepare God's people for works of service, so that the body of Christ may be built up 13 until we all reach unity in the faith and in the knowledge of the Son of God and become mature, attaining to the whole measure of the fullness of Christ. (Ephesians 4:11-13)
May we put aside our differences and learn to love and support each other as we are instructed to do.....
12 Therefore, as God's chosen people, holy and dearly loved, clothe yourselves with compassion, kindness, humility, gentleness and patience. 13 Bear with each other and forgive whatever grievances you may have against one another. Forgive as the Lord forgave you. 14 And over all these virtues put on love, which binds them all together in perfect unity. (Colossians 3:12-14)
Amen.
(Continued next week)
Find out more about us at.....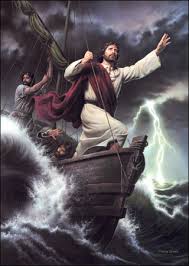 FROM THE WORD
THE WORDS OF JESUS "
Parable of the Net(Matthew 13:47-52)
Once more, the kingdom of heaven is like a fishing net thrown into the sea that caught all kinds of fish. When it was full it was dragged ashore. The good fish were put into baskets while the bad ones were thrown away.
"That's the way it will be when the end of the world comes. The angels will go out and separate the evil people from the good, and throw them into the blazing furnace where there will be weeping and grinding of teeth.
"Now do you understood everything?"
"Every religious teacher who's learned about the kingdom of heaven is like a house-owner who brings out from his storeroom both new and old treasures,"
Jesus Calms the Storm (Matthew 8:23-7, Mark 4:35-41, Luke 8:22-5)
When travelling to the other side of the lake.
"Let's go across to the other side of the Sea."
When the storm came and the disciples woke Jesus.
"Be quiet! Be still."
"Why are you so frightened? Haven't you learned to trust me?"
There Heals a Demon-possessed Man (Matthew 8:28-34, Mark 5:1-20, Luke 8:26-39)
Jesus talking to the evil spirits.
"What is your name?"
Legion, meaning many. The man begs to go with Jesus.
"Go home to your own people, and tell them everything the Lord has done for you and how he has been merciful to you."
(Continued next week)
Find out more about us at.....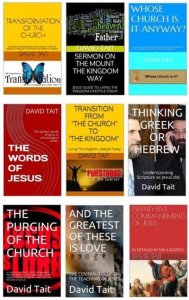 ***NOW***NINE BOOKS ARE AVAILABLE ON AMAZON!!!
9 BOOKS are now available on Amazon (Kindle)!

All are available worldwide for electronic download on Amazon (Kindle) for $US0.99c . Unfortunately there has to be a charge in order to list.

Your support would be appreciated and they could well change your life!
Many more online at https://www.wwj.org.nz/more-free-downloads

They are all found at this link.....
http://www.amazon.com/s/ref=nb_sb_noss?url=search-alias%3Daps&field-keywords=david+tait+books/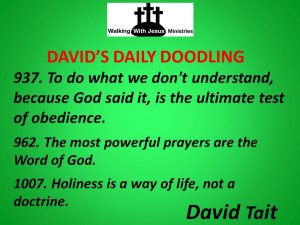 *DAVID"S DOODLINGS
Enjoy some of David's sayings here, plus 1300 more on the website at.....
'THE WORDS OF JESUS' REMAIN AVAILABLE FOR PDF DOWNLOAD
Join the many who have downloaded the 'The Words of Jesus'. I am sure you will be blessed by it, as I have been.
One key element here is the setting out in chronological order (as far as it is possible to do so) our Lord's words drawn from all the Gospels, and the elimination of repetition between Gospels.
You may be surprised by the different perspective this presentation gives you both in understanding of His life and ministry, and in achieving a closer relationship with Him.

Download the free PDF here.....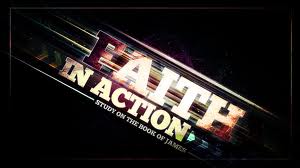 DAVID'S DOODLINGS
FAITH
302. Faith builds, doubt destroys.
303. An ounce of faith in God's hand is worth a tonne of mans self-belief
304. Ten men of faith will defeat ten thousand without.
418. Faith and risk are constant companions.
419. Our bucket of faith is filled one drop at a time.
420. Faith is like walking up a hill. You get to the top one step at a time.
421. When you reach the top of the mountain of faith, you look round at the view and see an even bigger mountain to climb.
422. Faith moves mountains - shovel by shovel!
423. Faith comes through experience, not learning. Ask the bumblebee!
424. Faith is god's gift to the poor, for it is often all they have.
Many more at.....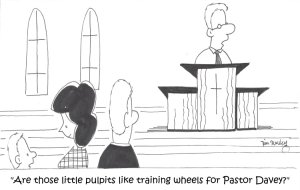 CARTOONS FROM TOON FEVER
Visit the Toon Fever website for more cartoon fun..... http://www.toonfever.com
Check it out at...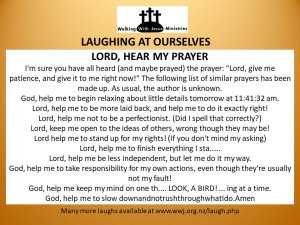 'LAUGHING AT OURSELVES
Another laugh or three for you today
Many more on our website below. Also many, may, many more under these categories on our website, wwj,org,nz Look under the heading MAINLY LAUGHS. Choose from.....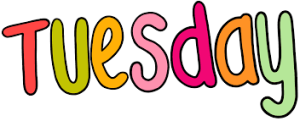 THIS WEEKS TUESDAY TEACHING.....
THIS WEEK: A REVELATION OF...THE SEVEN REVELATIONS OF THE LAMB Part 7
LAMB OF VICTORY
Over Satan (2nd of 2)
Our response to what Jesus did for us on the cross is crucial.
Contrary to what many think, it is far more than the 'sinners prayer'.
We will investigate.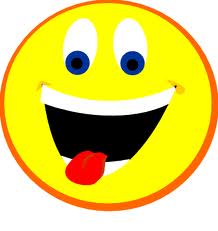 LAUGHING AT OURSELVES
***Blessed are those who can laugh at themselves for they shall never cease to be amused***
354. The Consultant
There once was a consultant who lived her whole life without ever taking advantage of any of the people she worked for. In fact, she made sure that every job she did resulted in a win-win situation. One day, while walking down the street, she was tragically hit by a bus and she died.
Her soul arrived up in heaven where she was met at the Pearly Gates by St. Peter himself. "Welcome to Heaven," said St. Peter. "Before you get settled in though it seems we have a problem. You see, strangely enough, we've never once had a consultant make it this far and we're not really sure what to do with you."
"No problem, just let me in," said the consultant.
"Well, I'd like to, but I have higher orders. What we're going to do is let you have a day in Hell and a day in Heaven and then you can choose whichever one you want to spend an eternity in." "Actually, I think I've made up my mind...I prefer to stay in Heaven" "Sorry, we have rules..." And with that St. Peter put the consultant in an elevator and it went down-down-down to hell.
The doors opened and the consultant found herself stepping out onto the putting green of a beautiful golf course. In the distance was a country club and standing in front of her were all her friends - fellow consultants that she had worked with and they were all dressed in evening gowns and cheering for her. They ran up and kissed her on both cheeks and they talked about old times. They played an excellent round of golf and at night went to the country club where she enjoyed an excellent steak and lobster dinner. She met the Devil who was actually a really nice guy (kinda cute) and she had a great time telling jokes and dancing. The consultant was having such a good time that before she knew it, it was time to leave. Everybody shook her hand and waved good-bye as she got on the elevator.
The elevator went up-up-up and opened back up at the Pearly Gates and found St. Peter waiting for her. "Now it's time to spend a day in heaven." So the consultant spent the next 24 hours lounging around on clouds and playing the harp and singing. She had a great time and before she knew it her 24 hours were up and St. Peter came and got her. "So, you've spent a day in hell and you've spent a day in heaven. Now you must choose your eternity." The consultant paused for a second and then replied, "Well, I never thought I'd say this, I mean, Heaven has been really great and all, but I think I had a better time in Hell." So St. Peter escorted her to the elevator and again the consultant went down-down-down back to Hell.
When the doors of the elevator opened she found herself standing in a desolate wasteland covered in garbage and filth. She saw her friends were dressed in rags and were picking up the garbage and putting it in sacks. The Devil came up to her and put his arm around her. "I don't understand," stammered the consultant, "yesterday I was here and there was a golf course and a country club and we ate lobster and we danced and had a great time. Now all there is a wasteland of garbage and all my friends look miserable."
The Devil looked at her and smiled, "That's because yesterday we were recruiting you, but today you're staff."
QWIK QWIP: "Isn't it funny how big an hour serving God looks and how small 60 minutes are when spent playing golf, fishing or playing bridge."
355. Hang On
A mountain climber, who was also a Christian, began to slip as he climbed a dangerous section of the mountain. In a flash he had fallen over the edge of a cliff and began to plunge downward when he thrust out his hand and grabbed a small tree that had grown out from between two rocks. As he hung there fearing the worse, but trying to figure out what to do, he suddenly heard a voice calling him from above, "Just trust me, let go of the branch, and I will save you." Pausing a moment while he glanced down, the climber called out, "Hey, is there anyone else up there?"
Download the book 'Laughing At Ourselves' in PDF format at LAUGHING AT OURSELVES One of the most comprehensive sources of Christian Humour on the Net with 800 sermon fillers for your entertainment and use at ..... https://www.wwj.org.nz/content/wwj18p47.pdf
Or read even more online at.....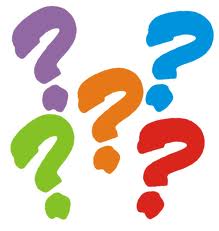 A DAVID MUSING
From a Biblical viewpoint, the world is in a mess! Economically, socially, morally and physically.
Wherever you look there are problems!
What can we, as Jesus followers, do about it?
Entering politics is not the answer, For the problems are too great to fix by any one man or group of people.
The only solution is for us, as believers in the way of Jesus, is to bring others to the knowledge and commitment to Jesus and then to disciple them, one person at a time.
God has given each one of us this responsibility.
Are we prepared to believe and act upon what he has asked us to do to make the world a better place in Jesus?
Until next time
His servant and yours
David Tait

Visit us here.....
CHANGING YOUR EMAIL ADDRESS? NEWSLETTER STOPS COMING?
Each week we can lose up to 2% of our readers when they change email addresses without letting us know. Or sometimes, by your server acting strangely and just cutting us off! If you are about to change your address, please advise us of both your old and new addresses here at
enquiries@wwj.org.nz and we will happily change our records to ensure ongoing delivery. Thanks.

Please also keep our address in your address book, as sometimes servers will automatically delete your address if there is even a one off problem in delivery. If your newsletter doesn't arrive, please let us know and we will reinstate you.
REPRODUCTION OF NEWSLETTER CONTENT
Most weeks we get enquiries about reproducing, in electronic or print form, articles contained in 'PGIM!' We welcome and encourage you to utilize this material. Freely received, freely given. We would ask though, that the source be acknowledged as an encouragement to others to subscribe to this newsletter also.
LINKS
If you would like to link your web site to ours, and ours to yours, please advise us on
links@wwj.org.nz
ABOUT US
WALKING WITH JESUS MINISTRIES is a non-profit, non-denominational, Bible based ministry located in Hastings, New Zealand. A ministry dedicated to developing discipleship, fostering unity amongst God's people to achieve the Great Commission, and in doing so, preparing for Christ's return. It is securely based upon the foundational principles of the Apostles Creed while recognising the wide and rich diversity of beliefs amongst Christians in other areas. In accordance with the Lord's direction, materials produced by the ministry are available, free of charge, to genuine enquirers upon request. The ministry is solely funded by donations, as the Lord provides. A list of materials available (plus some fun!) is obtainable and freely downloadable from our website
wwj.org.nz or by contacting us as follows.

Walking With Jesus Ministries
P O Box 2
Webuye 50205
Kenya

Email: enquiries@wwj.org.nz
Web: wwj.org.nz

Our role is to bless and encourage those in ministry while promoting co-operation and unity of direction amongst the body of Christ, as emphasised 3 times by Jesus in His longest prayer, immediately prior to His arrest and crucifixion. "... so that they may be one as we are one." (John 17:12, 21, 23-4) Our website is currently being developed to encourage your participation one with another, to share resources, and to enable you to promote events and items of interest to the body as a whole - and have a smile while doing it!

For comments upon and contributions to this service, please contact
david@wwj.org.nz
SUBSCRIPTION MANAGEMENT
We would encourage you to share this free service with your friends in ministry. To subscribe yourself please email pgim-on@wwj.org.nz.
If your name has been referred to us by a friend or supporting Ministry or has been obtained from a public Christian Directory or Website, it isn't our wish to burden you with information in which you aren't interested. To remove yourself from this list, please email pgim-off@wwj.org.nz.