A Weekly World Wide Word of Encouragement to those in the Ministry
PRAISE GOD IT'S MONDAY!
A WEEKLY 'WWW (world-wide word) OF ENCOURAGEMENT'
TO THOSE IN MINISTRY
A FREE service, currently connecting with Christian leaders from 3,000 denominations and ministries, in 70 countries.

Issue No: 1138 Published: 07 Aug 2023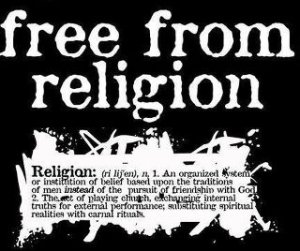 A REVELATION OF..... THE TABERNACLE OF DAVID
RELIGIOUS REJECTION!
16 As the ark of the LORD was entering the City of David, Michal daughter of Saul watched from a window. And when she saw King David leaping and dancing before the LORD, she despised him in her heart. (2 Samuel 6:16)
The reaction to the end time church from the religious establishment is one of rejection. Michal represents the lineage of King Saul, whose 'religion' was focused on him, not God. In a human sense, all was going for him - height, strength, and good looks. The people's choice! But not God's.
THE PROBLEM
Today too, the religious establishment is primarily self-focused. How can we grow the biggest church? Become the biggest denomination! We are the true repositories of God's truth! Let's build a larger church! More people! Become more professional! Water down the Word to be more acceptable, to appeal to a wider group! Create a multi-layered clergy/laity hierarchy with titles and uniforms! Happy to stick with the revelation on which the movement was founded, for they have it all, or at least, don't want any more! With a clergy promoted, often by implication, as an intermediary between man and God!
Summarized simply, the church/movement is worshipped more than God Himself is!
THE LESSON
Therefore, because of this different focus, the establishment sees as being extreme, impractical, misguided, off the edge, disrespectful of authority, those who are 100% sold out to God and His will, rather than blindly following the dictates of the religious system.
While numbers of people are simply rebellious, just wanting to do 'their own thing', truly sold out Jesus believers seek out and enact the will of the Lord for their lives.
This is misunderstood by the church, (a type of Martha), as not being prepared to pull their weight and do the work! The Mary's (a type of the end time church) who want to sit at the feet of Jesus are criticized and rejected.
38 As Jesus and his disciples were on their way, he came to a village where a woman named Martha opened her home to him. 39 She had a sister called Mary, who sat at the Lord's feet listening to what he said. 40 But Martha was distracted by all the preparations that had to be made. She came to him and asked, "Lord, don't you care that my sister has left me to do the work by myself? Tell her to help me!" 41 "Martha, Martha," the Lord
answered, "you are worried and upset about many things, 42 but only one thing is needed. Mary has chosen what is better, and it will not be taken away from her." (Luke 10:38-42)
Mary went down the unconventional path, choosing "what is better" and, what is more, "it will not be taken away from her."
We have already quoted the 'Greatest Commandment' but it bears repeating here. We are to love the Lord with everything we have! No room for competition!
29 "The most important one," answered Jesus, "is this: 'Hear, O Israel, the Lord our God, the Lord is one. 30 Love the Lord your God with all your heart and with all your soul and with all your mind and with all your strength.' 31 The second is this: 'Love your neighbor as yourself.' There is no commandment greater than these." (Mark 12:29-31)
Jesus himself suffered rejection.
28 All the people in the synagogue were furious when they heard this. 29 They got up, drove him out of the town, and took him to the brow of the hill on which the town was built, in order to throw him down the cliff. 30 But he walked right through the crowd and went on his way. (Luke 4:28-30)
This was prophesied by Isaiah:
Who has believed our message and to whom has the arm of the LORD been revealed? 2 He grew up before him like a tender shoot, and like a root out of dry ground. He had no beauty or majesty to attract us to him, nothing in his appearance that we should desire him. 3 He was despised and rejected by men, a man of sorrows, and familiar with suffering. Like one from whom men hide their faces he was despised, and we esteemed him not. (Isaiah 53:1-3)
Confirmed by Jesus:
22 And he said, "The Son of Man must suffer many things and be rejected by the elders, chief priests and teachers of the law, and he must be killed and on the third day be raised to life." (Luke 9:22)
And to be experienced by us.
4 As you come to him, the living Stone—rejected by men but chosen by God and precious to him— 5 you also, like living stones, are being built into a spiritual house to be a holy priesthood, offering spiritual sacrifices acceptable to God through Jesus Christ. (1 Peter 2:4)
I realize you may well say that these scriptures were referring to rejection by non-believers. But the biggest enemy of Jesus was the established religious hierarchy. Sadly, we too have created a church system with laws of theology, many unbiblical, taught as truth by highly qualified teachers. A system where pastors and ministers, elders and bishops act as priests, inserting themselves, either deliberately, or inadvertently by implication, between God and their people. A system where the needs of the church are put before God's true will in a given situation.
Personally, over the years, Walking With Jesus Ministries has been rejected, not by the people, but by many in the church hierarchy. For years I blamed myself beating up God and myself, as to where I was going wrong. I sought counsel but received no explanation. Spirits would rise up in others in situations where the Holy Spirit was present. But never once, would a rational argument be presented. I was at a loss.
However, in more recent times the Lord has brought to me brothers with similar experiences, ones who have been able to better explain what is happening. They have shown me that these reactions are not personal but spiritual. What a relief and release!
For religious spirits can rise up in us all - and I don't exclude myself! But it is apparent that there is spirit of control, particularly over the Holy Spirit, as well as of people, in many of our churches today. Sadly, particularly so within those of the Pentecostal persuasion.
No, I am now neither bemused nor bitter. Indeed, our main ministry is to pastors and leaders, encouraging them and their people to search out the will of God for themselves. To give their whole life and beings to Jesus, to 'leap and dance before the Lord', spiritually, and physically where possible, as King David did, while accepting that the Michals of the religious world will not be impressed.
END TIME CHURCH TRAIT 8: A people who reject religious control in order to seek God for themselves.
(Continued net week)
Find more about us here.....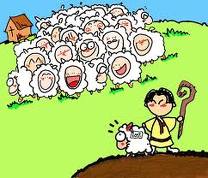 FROM THE WORD
THE WORDS OF JESUS
Parable of the Lost Sheep (Matthew 18:10-14)
Make sure you don't look down on these little ones. I tell you that in heaven their angels are always withb my heavenly Father. What do you think about this? If a man has a hundred sheep, and one of them gets lost, won't he leave the ninety-nine on the hills and go in search of the one that's lost? And if he finds it, I tell you he really rejoices over that sheep more than the ninety-nine that didn't get lost. In the same way my heavenly Father does not want any of these little ones to be lost.
Discipline within the Church (Matthew 18:15-20)
"If a brother sins against you, go and point out the wrong to him, just between the two of you. If he listens to you, you've won your brother over. But if he doesn't listen, then take one or two more people with you, so that by two or three witnesses the truth can be confirmed. If however he refuses to listen to them, then tell the church. If he refuses to listen to the church as well, then treat him as a foreigner and a tax-collector. I tell you the truth, whatever you ban on earth will be banned in heaven, and whatever you allow on earth will be allowed in heaven.
"I also tell you that if two of you agree here on earth about something you're praying for, then my heavenly Father will do it for you. For where two or three gather together in my name, I'm there with them."
A Question About Forgiveness (Matthew 18:21-35)
Peter asks Jesus how often sin is to be forgiven.
"No, not seven times. I would say seventy times seven!"
Jesus then tells a parable.
"This is why the kingdom of heaven is like a king who wanted to settle accounts with those servants who owed him money. As he began to settle accounts, one servant was brought to him who owed him ten thousand talents. Since he didn't have the money to pay, his master ordered him to be sold, along with his wife and children and all his possessions, so that the debt could be paid back. The servant fell down on his knees and said to his master, 'Please be patient with me! I will pay everything back!' The master took pity on the servant, released him, and cancelled the debt. But when that same servant went out he found one of his fellow-servants who owed him just a hundred denarii. He grabbed him by the neck and choked him, saying, 'Pay me back what you owe me!' His fellow-servant threw himself down at the man's feet and begged him, 'Please be patient with me! I will pay you back!' But the man refused, and went and threw his fellow-servant into prison until he paid back what he owed.
"When the other servants saw what took place they were shocked and upset. They went and told their master everything that had happened. Then the master called the man back in and told him, 'You evil servant! I forgave you all your debt because you begged me to. Shouldn't you have been merciful to your fellow-servant as well, just as I was merciful to you?' His master became angry and handed him over to the jailors until he had repaid all the debt. This is what my heavenly Father will do to every one of you unless you sincerely forgive your brothers."
(Continued next week)
Find out more about us at.....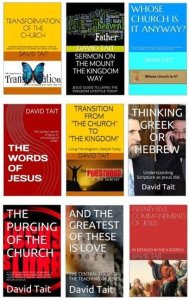 ***NOW***NINE BOOKS ARE AVAILABLE ON AMAZON!!!
9 BOOKS are now available on Amazon (Kindle)!

All are available worldwide for electronic download on Amazon (Kindle) for $US0.99c . Unfortunately there has to be a charge in order to list.

Your support would be appreciated and they could well change your life!
These and many more are availble for free online at https://www.wwj.org.nz/more-free-downloads

They Amazon books are all found at this link.....
http://www.amazon.com/s/ref=nb_sb_noss?url=search-alias%3Daps&field-keywords=david+tait+books/
*DAVID"S DOODLINGS
Enjoy some of David's sayings here, plus 1300 more on the website at.....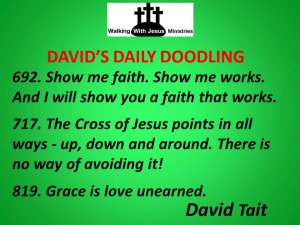 'THE WORDS OF JESUS' REMAIN AVAILABLE FOR PDF DOWNLOAD
Join the many who have downloaded the 'The Words of Jesus'. I am sure you will be blessed by it, as I have been.
One key element here is the setting out in chronological order (as far as it is possible to do so) our Lord's words drawn from all the Gospels, and the elimination of repetition between Gospels.
You may be surprised by the different perspective this presentation gives you both in understanding of His life and ministry, and in achieving a closer relationship with Him.

Download the free PDF here.....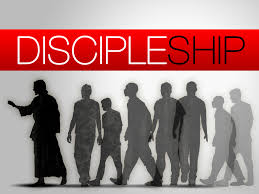 DAVID'S DOODLINGS
236. A believer praises the Lord in good times, the disciple at all times.
237. The Holy Spirit resides in the believer but shines through the disciple.

238. A believer loves God with heart and mind while a disciple commits the will.

239. A believer loves God and others, but they are the disciple's life.

240. A believer lives in hope, but for the disciple, God's hope is certain.

241. A believer seeks forgiveness for sin but the disciple also determines not to walk that path again.

242. A believer has faith in God but the disciple's faith is tempered in the fire of testing.

243. A believer loves the Lord, but the disciple's love is unconditional.

244. The believer serves the Lord in strength, but the disciple is made perfect through weakness.

245. God is part of the believer's life, but the central focus of the disciple.

246. A believer forgives, but the disciple also forgets.

247. A believer communicates with God at their own convenience, but the disciple's heart is open to the Lord at all times.

430. A believer knows, but the disciple does.

1077. Believing is free, discipleship costs your life.

Many more at.....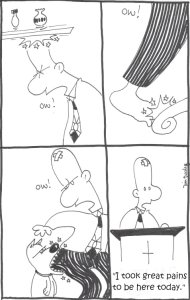 CARTOONS FROM TOON FEVER
Visit the Toon Fever website for more cartoon fun..... http://www.toonfever.com
Check it out at...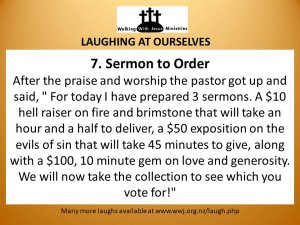 'LAUGHING AT OURSELVES
Another laugh or three for you today
Many more on our website below. Also many, may, many more under these categories on our website, wwj,org,nz Look under the heading MAINLY LAUGHS. Choose from.....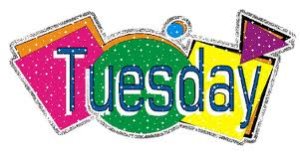 THIS WEEKS TUESDAY TEACHING.....
A REVELATION OF....... 3 KINGDOM AGES: MEASUREMENT OF SUCCESS
One of the greatest misunderstandings in the church today relates to the definition of success in our walk with Jesus.

Time has changed with each kingdom age. The major problem is that we forget which kingdom age we now live in!

LAUGHING AT OURSELVES
***Blessed are those who can laugh at themselves for they shall never cease to be amused***
382. Windows 95
Abraham is trying to load Windows 95 on his computer. His son, Isaac, walks in and says,
"Dad, what are you doing? You can't load Windows 95 on to your computer! You need at least a 486 with 14 megs of memory; you only have a 386 with no available memory."
And Abraham said, "Don't worry, son, God will provide the Ram."
QWIK QWIP: "Character is like a fence - it cannot be strengthened by whitewash."
383. Wake Up Call
A certain pastor was upset with a man in his congregation who was frequently going to sleep during the sermon, so the pastor decided to teach the man a lesson. Near the end of the sermon, the pastor, in a normal voice said, "If there's anyone here this morning who wants to go to hell . . .", he began - then raising his voice to a near shout, continued, "PLEASE STAND UP."
The sleeping gentleman, startled from his slumber, sprang to his feet. Then he slowly looked around and then said, "Well, Pastor, I'm not sure why it is that I'm standing, but it looks like it's you and I are in the same boat."
384. God's Field
A pastor drove out into the country to visit one of his parishioners, a farmer. As he approached the farm, he noticed the man along side of the road, leaning over the fence gazing out at his expansive field of corn, nearly ready for harvest. As the pastor approached, the farmer exclaimed, "Look at this, isn't it beautiful?" "Well I think you should be careful not to be too boastful," the Pastor noted. "After all, it is God who created this field." "Maybe so," the farmer replied. "But you should have seen this field when God had it all to Himself."
Download the book 'Laughing At Ourselves' in PDF format at LAUGHING AT OURSELVES One of the most comprehensive sources of Christian Humour on the Net with 800 sermon fillers for your entertainment and use at ..... https://www.wwj.org.nz/content/wwj18p47.pdf
Or read even more online at.....

A DAVID MUSING
Jesus, Jesus, Jesus,
Sweetest name I know..........
Can you honestly say that in your life?
For we need to love Him, honour Him, and Obey Him above all else.
Can you truly say that is the case in your life today?
Until next time
His servant and yours
David Tait

Visit us here.....
CHANGING YOUR EMAIL ADDRESS? NEWSLETTER STOPS COMING?
Each week we can lose up to 2% of our readers when they change email addresses without letting us know. Or sometimes, by your server acting strangely and just cutting us off! If you are about to change your address, please advise us of both your old and new addresses here at
enquiries@wwj.org.nz and we will happily change our records to ensure ongoing delivery. Thanks.

Please also keep our address in your address book, as sometimes servers will automatically delete your address if there is even a one off problem in delivery. If your newsletter doesn't arrive, please let us know and we will reinstate you.
REPRODUCTION OF NEWSLETTER CONTENT
Most weeks we get enquiries about reproducing, in electronic or print form, articles contained in 'PGIM!' We welcome and encourage you to utilize this material. Freely received, freely given. We would ask though, that the source be acknowledged as an encouragement to others to subscribe to this newsletter also.
LINKS
If you would like to link your web site to ours, and ours to yours, please advise us on
links@wwj.org.nz
ABOUT US
WALKING WITH JESUS MINISTRIES is a non-profit, non-denominational, Bible based ministry located in Hastings, New Zealand. A ministry dedicated to developing discipleship, fostering unity amongst God's people to achieve the Great Commission, and in doing so, preparing for Christ's return. It is securely based upon the foundational principles of the Apostles Creed while recognising the wide and rich diversity of beliefs amongst Christians in other areas. In accordance with the Lord's direction, materials produced by the ministry are available, free of charge, to genuine enquirers upon request. The ministry is solely funded by donations, as the Lord provides. A list of materials available (plus some fun!) is obtainable and freely downloadable from our website
wwj.org.nz or by contacting us as follows.

Walking With Jesus Ministries
P O Box 2
Webuye 50205
Kenya

Email: enquiries@wwj.org.nz
Web: wwj.org.nz

Our role is to bless and encourage those in ministry while promoting co-operation and unity of direction amongst the body of Christ, as emphasised 3 times by Jesus in His longest prayer, immediately prior to His arrest and crucifixion. "... so that they may be one as we are one." (John 17:12, 21, 23-4) Our website is currently being developed to encourage your participation one with another, to share resources, and to enable you to promote events and items of interest to the body as a whole - and have a smile while doing it!

For comments upon and contributions to this service, please contact
david@wwj.org.nz
SUBSCRIPTION MANAGEMENT
We would encourage you to share this free service with your friends in ministry. To subscribe yourself please email pgim-on@wwj.org.nz.
If your name has been referred to us by a friend or supporting Ministry or has been obtained from a public Christian Directory or Website, it isn't our wish to burden you with information in which you aren't interested. To remove yourself from this list, please email pgim-off@wwj.org.nz.