A Weekly World Wide Word of Encouragement to those in the Ministry
PRAISE GOD IT'S MONDAY!
A WEEKLY 'WWW (world-wide word) OF ENCOURAGEMENT'
TO THOSE IN MINISTRY
A FREE service, currently connecting with Christian leaders from 3,000 denominations and ministries, in 70 countries.

Issue No: 907 Published: 11 Mar 2019
OBSERVATIONS FROM AFRICA
TIME ISN'T OF THE ESSENCE
In the developed world people are slaves to time. Efficiency and time are viewed as one.
In Africa, there is always 'tomorrow' (which of course never comes when you think in an African way). One tomorrow stretches into another, day after day.
Urgency is simply not an African trait.
This, when combined with generally inefficient bureaucratic systems, means that doing business, or simply getting things done, is in most instances, a long drawn out process.
The amount of time simply spent waiting and waiting and waiting, is immeasurable, but a part of the people's psyche, and so people wait patiently.
Queueing is another accepted party of life here, People are just patient here. No arguments or queue jumping, just patiently waiting to be served.
Currently we have a shipment of equipment in Mombasa port. We have had 2 guys there for 4 weeks going through the release process. Admittedly we, along with thousands of others, did not have correct documentation, which cost us dearly. The importation laws have been changed recently, catching us all out.
But the people here just take it in their stride, and wait. Waiting is an accepted part of life.
Of course, from a productivity point of view, this is unacceptable but this is the culture.
Why?
Until recent times, people had no accurate way of telling the time. You simply went by the sun, which allows a wide variance, particularly on a cloudy day! But now, all adults have a cell phone so there is no longer any excuse. Of course that is not really correct, for the habits of thousands of years take a long time to break.
But it is happening, and people are gradually changing.
A timely observation from Africa!
Find out more about us at.....

FROM THE WORD
THE WORDS OF JESUS
May we hear what the Lord is saying to us.....
The Coming of the Kingdom (Luke 17:20-37)
Answering the Pharisees.
"God's kingdom doesn't come with visible signs that you can observe. People won't be saying, 'Look, it's here' or 'Look, it's there,' for God's kingdom is within you.
Teaching the disciples.
"The time is coming when you'll long to see the day when the Son of man comes, but you won't see it. They'll be telling you, "Look, there he is,' or 'look, here he is,' but don't go running off after them. The day when the Son of man comes will be just like lightning that flashes, lighting up the sky from one side to the other. But first he will have to suffer many things, and be rejected by this generation. The time when the Son of man comes will be like it was in Noah's day. People went on eating and drinking, marrying and giving in marriage until the day Noah went into the ark. Then the flood came and destroyed them all. It will be like it was in Lot's day. People went on eating and drinking, buying and selling, planting and building. But on the day Lot left Sodom, fire and brimstone rained down from heaven and destroyed them all.
"The day the Son of man appears will be just like that. If you're up on the roof that day don't go down and get your things; and if you're out in the fields don't go back home either. Remember Lot's wife! If you try to hold on to your life you'll lose it; but if you lose your life you'll save it. I tell you, at that time two will be in bed at night; one will be taken and the other left. Two women will be grinding grain, one will be taken; and the other left."
"Where, Lord?"
"Where the carcass is, that's where the vultures gather,"
Parable of the Persistent Widow (Luke 18:1-8)
Explaining persistent prayer to the disciples.
"Once there was a judge in this particular town who didn't respect God or care about anyone," "In the same town lived a widow who time and again went to the judge, saying, 'Give me justice in the case against my enemy!' For a while he didn't want to do anything about it, but eventually he said to himself, 'Even though I don't respect God or care about anyone, this widow is so annoying I'll make sure she receives justice. Then she won't wear me out by her coming to see me so often.'
"Listen to what even an unjust judge decided," said the Lord. "Don't you think that God will make sure his chosen people receive justice, those who cry out to him day and night? Do you think he will make them wait? No, I tell you, he will give them justice quickly. However, when the Son of man comes, will he find people on earth who trust in him?"
Parable of the Pharisee and the Tax Collector. (Luke 18:9-14)
Spoken to some self righteous Pharisees.
"Two men went to the Temple to pray. One was a Pharisee, and the other a tax collector. The Pharisee stood up and prayed to himself, 'God, I thank you that I am not like other people—cheats, criminals, adulterers— or even like this tax collector. I fast twice a week, and I pay tithe on my income.'
"But the tax collector stood at a distance. He wouldn't even look up to heaven. Instead he beat his chest and prayed, 'God, please be merciful to me. I am a sinner.'
"I tell you, it was this man who went home right in God's sight and not the other. For those who exalt themselves will be humbled, while those who humble themselves will be exalted."
(Continued next week)
You can download the complete 'Words of Jesus' here.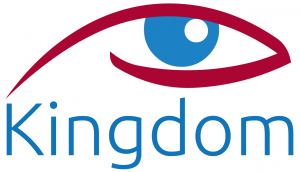 OUR AFRICAN EXPERIENCE
FOR MORE DETAILED AND REGULAR UPDATES, VISIT OUR FACEBOOK PAGE
AN EYE 4 Africa - https://www.facebook.com/aneye4africa/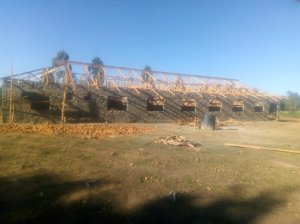 TRUSS TIME
95% finished
And here is the result.....
(Next week the roof goes on)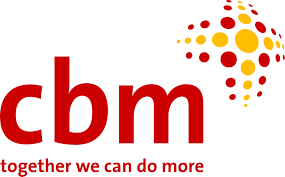 All through the support of CBM.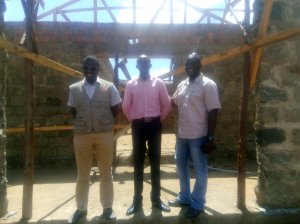 CBM STAFF VISIT OT SEE THE WORK
Kevin and Wycliffe fom CBM visited, after the strike at Nairobi Airport was called, to check up on the work. Seen here with our Accountant Zak in the middle. Zac is the one to be put in prison should there be any fraud!
With a couple of small changes, they were very happy with the speed, quality and efficiency of the project.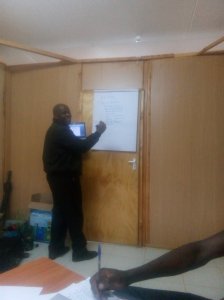 aLSO A VISIT FROM ERIC
Eric is a Consultant who is pereparing Policies and Procedures for us.
These are required by institutional donors. Another step in our growth.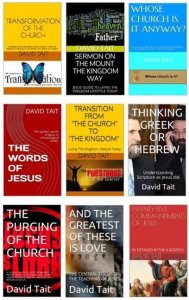 ***NOW***NINE BOOKS ARE AVAILABLE ON AMAZON!!!
9 BOOKS are now available on Amazon (Kindle)!

All are available worldwide for electronic download on Amazon (Kindle) for $US0.99c . Unfortunately there has to be a charge in order to list.

Your support would be appreciated and they could well change your life!

They are all found at this link.....
http://www.amazon.com/s/ref=nb_sb_noss?url=search-alias%3Daps&field-keywords=david+tait+books/
***DAILY EZINE!*** 'DAVID'S DAILY DOODLINGS' Subscribe Today
Receive one of David's sayings in your mailbox each day to inspire, challenge or maybe, amuse. To register today, go down to the bottom of the page link below, click on the subscribe link dd-on@wwj.org.nz (or paste the address in an email yourself and send) Then it's done! If you have an Irish heritage, you will love the background coloring!
Subscription and back issue link is.....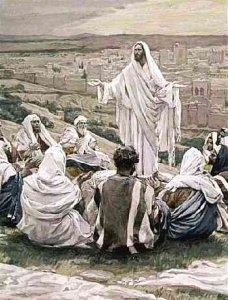 'THE WORDS OF JESUS' REMAIN AVAILABLE FOR PDF DOWNLOAD
Join the many who have downloaded the 'The Words of Jesus'. I am sure you will be blessed by it, as I have been.

One key element here is the setting out in chronological order (as far as it is possible to do so) our Lord's words drawn from all the Gospels, and the elimination of repetition between Gospels.

You may be surprised by the different perspective this presentation gives you both in understanding of His life and ministry, and in achieving a closer relationship with Him.

Download the free PDF here.....
DAVID'S DOODLINGS
JOY
624. Laughter expresses emotion, joy character.

625. Remaining joyful in adverse circumstances reflects God in you.

626. Joy is not an emotion, but a way of life.

627. Joy is the outward expression of peace within.

628. Laughter comes, laughter goes, but joy goes on forever.

1217. True joy is God given, not human driven.

1218. The source of true joy is righteousness rather then happiness.

1219. Real joy is of the spirit, not the soul.
Please feel free to quote these quotes. Acknowledgement of David Tait as the author would be appreciated. There are now over 1300 David sayings for you to view at ...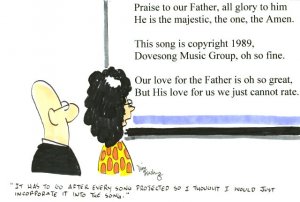 CARTOONS FROM TOON FEVER
Visit the Toon Fever website for more cartoon fun..... http://www.toonfever.com

Check it out at...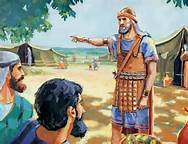 TUESDAY TEACHINGS
THIS WEEK: A REVELATION OF..... DIVIDING THE WATERS (Part 5) FROM MOSES TO JOSHUA
The transition in leadership from Moses to Joshua symbolizes a number of different things, but in this context we are looking at Moses, the type of Jesus, passing the inheritance on to Joshua, a type of us – that's you and me.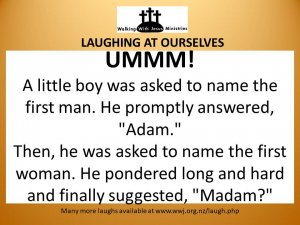 *** ANOTHER DAILY EZINE FROM WWJ!*** 'LAUGHING AT OURSELVES' Subscribe Today
As Christians, if we can't laugh at ourselves, others will! A fun way to start your day. To register today, go down to the bottom of the page link below, click on the subscribe link lao--on@wwj.org.nz (or paste the address in an email yourself and send) Then it's done!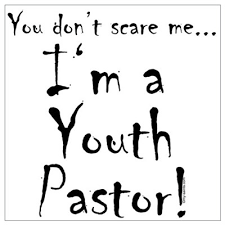 LAUGHING AT OURSELVES
***Blessed are those who can laugh at themselves for they shall never cease to be amused***
*** Those who can't laugh at themselves leave the job to others. ***
242. All Knowledge

Minister: Do you know what's in the Bible?

Little Girl: Yes. I think I know everything that's in it.

Minister: You do? Tell me.

Little Girl: OK. There's a picture of my brother's girlfriend, a ticket from the dry cleaners, one of my curls, and a Pizza Hut coupon.

243. Send the Bill

A man was brought to Mercy Hospital and taken in for coronary surgery. The operation went well and, as the groggy man regained consciousness, he was reassured by a Sister of Mercy, who was waiting by his bed. "Mr. Smith, you're going to be just fine," said the nun, gently patting his hand. "We do need to know, however, how you intend to pay for your stay here. Are you covered by insurance?" "No, I'm not," the man whispered hoarsely. "Can you pay in cash?" persisted the nun. "I'm afraid I cannot, Sister." "Well, do you have any close relatives?" the nun essayed. "Just my sister in New Mexico," he volunteered. "But she's a humble spinster nun." "Oh, I must correct you, Mr. Smith. Nuns are not 'spinsters.' They are married to God." "Wonderful," said Smith. "In that case, please send the bill to my brother-in-law!!"

QWIK QWIP: "Somebody once figured out that we have 35 million laws trying to enforce 10 commandments."

244. Top 10 Ways to Lose Your Job in Youth Ministry

If you're going to lose your job . . . lose it in one of the top 10 ways!

10. Play Peanut Butter Chubby Bunnies to see if kids really do choke.

9. Leave your Pastor's kid at an orphanage in Mexico on your annual mission trip.

8. Replace the grape juice with actual wine during communion (this would only really affect Baptists)

7. Teach girls how to smoke cigars and gamble their babysitting money in a game of poker at the girls junior high Bible Study (teaching them to tithe their winnings of course!)

6. Cut up the church's choir robes to make flags for a capture the flag game.

5. Give your Sr. Pastor a free subscription to the Victoria Secret Catalogue, sent to the church address!

4. Start a food fight at the annual church spaghetti feed!

3. Start a food fight during communion!

2. Finance the down payment of your new Mustang convertible through your youth petty cash fund.

1. Bring Dennis Rodman to speak at your True Love Waits rally.
FREE DOWNLOAD: You can now download the book 'Laughing At Ourselves' in PDF format at LAUGHING AT OURSELVES One of the most comprehensive sources of Christian Humour on the Net with 800 sermon fillers for your entertainment and use at ..... https://www.wwj.org.nz/content/wwj18p47.pdf
Or read them all online at.....

A DAVID MUSING
You can't do everything! Nor can you be best at everything.
Once you realize that in life, you can be more content.
Here at the hospital in Kenya, we have carpenters making the roof trusses. Before that we had stone masons building the walls.
Prior to that, concrete workers laying the slab. And so on.
Amongst our medical staff we have doctors, nurses, lab techs and a pharmacist. No one person can do everything.
When it comes to spiritual things it is the same also. The Bible tells us we each have a unique combination of spiritual gifts. Some are called to the ministry gifts, positions not titles. Others have have administrative gifts, others serving, others healing and many more.
We are all to complement each other, in life and the church (not the building but the people)
When we try and do everything, all we achieve is wearing ourselves out.
May the Lord give us wisdom and discernment today.
Unltil next week.....
MAY GOD BLESS YOU AND YOU BLESS GOD
His servant and yours
David Tait

Visit us here.....
REPRODUCTION OF NEWSLETTER CONTENT
Most weeks we get enquiries about reproducing, in electronic or print form, articles contained in 'PGIM!' We welcome and encourage you to utilize this material. Freely received, freely given. We would ask though, that the source be acknowledged as an encouragement to others to subscribe to this newsletter also.
CHANGING YOUR EMAIL ADDRESS? NEWSLETTER STOPS COMING?
Each week we can lose up to 2% of our readers when they change email addresses without letting us know. Or sometimes, by your server acting strangely and just cutting us off! If you are about to change your address, please advise us of both your old and new addresses here at
enquiries@wwj.org.nz
and we will happily change our records to ensure ongoing delivery. Thanks.
Please also keep our address in your address book, as sometimes servers will automatically delete your address if there is even a one off problem in delivery. If your newsletter doesn't arrive, please let us know and we will reinstate you.
LINKS
If you would like to link your web site to ours, and ours to yours, please advise us on
links@wwj.org.nz
ABOUT US
WALKING WITH JESUS MINISTRIES is a non-profit, non-denominational, Bible based ministry located in Hastings, New Zealand. A ministry dedicated to developing discipleship, fostering unity amongst God's people to achieve the Great Commission, and in doing so, preparing for Christ's return. It is securely based upon the foundational principles of the Apostles Creed while recognising the wide and rich diversity of beliefs amongst Christians in other areas. In accordance with the Lord's direction, materials produced by the ministry are available, free of charge, to genuine enquirers upon request. The ministry is solely funded by donations, as the Lord provides. A list of materials available (plus some fun!) is obtainable and freely downloadable from our website
wwj.org.nz
or by contacting us as follows.
Walking With Jesus Ministries
7 Bull Street
Ahuriri
Napier
New Zealand
Phone: (06) 835 0567 International (+64) 6 835 0567
Email:
enquiries@wwj.org.nz
Web:
wwj.org.nz
Our role is to bless and encourage those in ministry while promoting co-operation and unity of direction amongst the body of Christ, as emphasised 3 times by Jesus in His longest prayer, immediately prior to His arrest and crucifixion. "... so that they may be one as we are one." (John 17:12, 21, 23-4) Our website is currently being developed to encourage your participation one with another, to share resources, and to enable you to promote events and items of interest to the body as a whole - and have a smile while doing it!
For comments upon and contributions to this service, please contact
david@wwj.org.nz
SUBSCRIPTION MANAGEMENT
We would encourage you to share this free service with your friends in ministry. To subscribe yourself please email pgim-on@wwj.org.nz.
If your name has been referred to us by a friend or supporting Ministry or has been obtained from a public Christian Directory or Website, it isn't our wish to burden you with information in which you aren't interested. To remove yourself from this list, please email pgim-off@wwj.org.nz.