A Weekly World Wide Word of Encouragement to those in the Ministry
PRAISE GOD IT'S MONDAY!
A WEEKLY 'WWW (world-wide word) OF ENCOURAGEMENT'
TO THOSE IN MINISTRY
A FREE service, currently connecting with Christian leaders from 3,000 denominations and ministries, in 70 countries.

Issue No: 1150 Published: 30 Oct 2023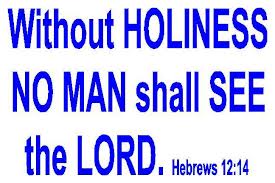 A REVELATION OF....... HOLINESS
A NOTE FROM DAVID…….
The pursuit of holiness is at the centre of the Christian faith, yet it is also one of its least understood principles.
Over the years I have struggled with its meaning, and more importantly, its life application! Like us all!
The interesting thing is that it can't be laid out simply in points 1 through 10, as many people make the mistake of trying to do. Rather, holiness is a life learning and development process during which the individual grows more into the image of Jesus.
This is not a theological presentation of 'the principles of holiness', for I am not a theologian, and would not attempt it. Nor would it likely do much good! For the real problem is in living it!
Rather, this is a revelation of some of the principles the Lord has shown me and which I am doing my best to apply to my own life. I am not presenting them as the super secret of, "do this and you will be holy!" The purpose is that you will take the principles and apply the lessons they contain, to help you deepen your 'walk with Jesus'.
The Lord has given me a large number of sayings, which I call 'David's Doodlings'. As you can see, I like alliteration! One doodling, in particular, seems to sum up the mystery, the dichotomy, and the experience of our pursuit of this ultimate goal.
"The closer I get to God, the further away I find I really am."
Yes, the pursuit of holiness is a lifetime walk, a journey that our Lord so much desires each pilgrim to take. I trust that this may help you a little as you walk with Jesus.
His servant and yours,
David Tait
KNOWING GOD
As we mature in our relationship with our heavenly Father we get to know Him more deeply. Gradually we start to appreciate in a deep way what a tremendous Father we have. Also how unlike Him we truly are, for His magnificence surpasses all our understanding.

The more I discover about God the more I realise there is to know.
oooOooo
The closer I get to God, the more I realise how big He is and how small I am.
oooOooo
While God graciously accepts me as I am, His desire is for me to become more like Him.
oooOooo
When God moves, the results are beyond our imagination. Why then do we try and do His work ourselves?
oooOooo
Sanctification is 'the means', holiness 'the end'.
(Continued next week)
Find out more about us at.....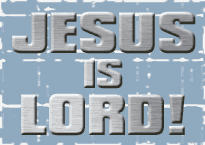 FROM THE WORD
THE WORDS OF JESUS
The Jews Confront Jesus' Claim to be The Christ (John 10:24-39)
In the Temple at the Feast of Dedication.
"I already told you and you refuse to believe it. The miracles I do in my Father's name prove who I am. You don't believe me because you are not my sheep. 27My sheep recognize my voice; I know them, and they follow me. I give them eternal life; they shall never be lost, and no one can snatch them from me. My Father who gave them to me is greater than anyone else; no one can snatch them from him. I and the Father are one."
"You've seen many good deeds that I've done from the Father. Which one are you stoning me for?"
"Isn't it written in your law, 'I said, you are gods'?" He called those people 'gods,' the people to whom the word of God came—and Scripture can't be altered. So why are you saying the one whom the Father set apart and sent into the world is blaspheming because I said 'I am the Son of God'? If I'm not doing what my Father does, then don't believe me. But if that is what I'm doing, even though you don't believe me, you should believe because of the evidence of what I've done. That way you can know and understand that the Father is in me, and I am in the Father.
How Many Will be Saved? (Luke 13:22-30)
A question put to Jesus.
"Try very hard to enter the narrow doorway, because I tell you that many will try to go in, and won't succeed. Once the house owner gets up and closes the door, you'll be standing outside knocking on the door, saying, 'Master, please open the door for us.' But he'll reply, 'I don't know you or where you're from.'
Then you'll say, 'But we ate and drank with you, and you taught in our streets!' He'll reply, 'I tell you, I don't know you or where you're from. Get away from me, all of you who don't do what's right!' There will be crying and gnashing of teeth when you see Abraham, Isaac, Jacob and all the prophets in the kingdom of God but you are thrown out. People will come from the east and the west, the north and the south, and they will sit down to eat in the kingdom of God. For the last shall be first, and the first shall be last."
Pharisees Warn Jesus About Herod (Luke 13:31-5)
And his intention to kill Jesus.
"Go tell that fox that I will go on driving out demons and healing people for today and tomorrow, and on the third day I'll achieve what I came to do. Well anyway I must continue on my way for today and tomorrow, and the day after. For it wouldn't be right for a prophet to die outside of Jerusalem!
"Oh Jerusalem, Jerusalem, you kill prophets and stone those who are sent to you! How often I have wanted to gather all your children together just like a hen does with her chicks under her wings, but you refused! Look, your house is left desolate, and I tell you that you won't see me again until you say, 'Blessed is he who comes in the name of the Lord.'"
(Continued next week)
Find out more about us at.....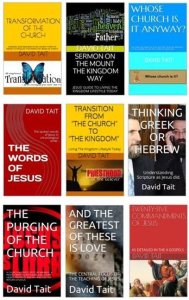 ***NOW***NINE BOOKS ARE AVAILABLE ON AMAZON!!!
9 BOOKS are now available on Amazon (Kindle)!

All are available worldwide for electronic download on Amazon (Kindle) for $US0.99c . Unfortunately there has to be a charge in order to list.

Your support would be appreciated and they could well change your life!
These and many more are availble for free online at https://www.wwj.org.nz/more-free-downloads

They Amazon books are all found at this link.....
http://www.amazon.com/s/ref=nb_sb_noss?url=search-alias%3Daps&field-keywords=david+tait+books/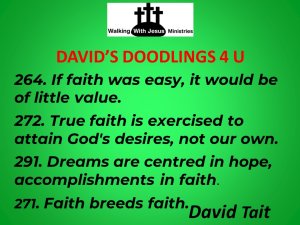 *DAVID"S DOODLINGS
Enjoy some of David's sayings here, plus 1300 more on the website at.....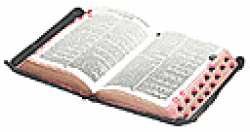 'THE WORDS OF JESUS' REMAIN AVAILABLE FOR PDF DOWNLOAD
Join the many who have downloaded the 'The Words of Jesus'. I am sure you will be blessed by it, as I have been.
One key element here is the setting out in chronological order (as far as it is possible to do so) our Lord's words drawn from all the Gospels, and the elimination of repetition between Gospels.
You may be surprised by the different perspective this presentation gives you both in understanding of His life and ministry, and in achieving a closer relationship with Him.

Download the free PDF here.....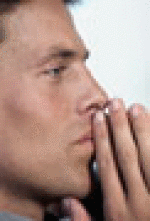 DAVID'S DOODLINGS
THOUGHTS AND FEELINGS
606. To think about God is stupendous. To believe we are Him, disastrous!

607. To think is good, to feel fantastic, but it is what we do that is most important in God's sight.

608. Thoughts and feelings lead one astray, but God's word is an anchor to the soul.

609. We may think, we may feel, but all is wasted unless we act.

610. Men think, women feel, God acts.

611. Result of the game of life. God's Word 100 v Thoughts and Feelings 0.

612. Satan corrupts thoughts and feelings, but never God's Word.

613. To 'be' is what it is all about.

614. People's feelings ebb and flow with the breeze, but God's Word is rock solid.
Many more at.....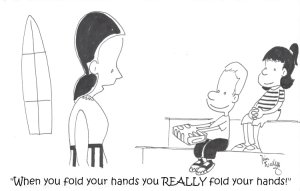 CARTOONS FROM TOON FEVER
Visit the Toon Fever website for more cartoon fun..... http://www.toonfever.com
Check it out at...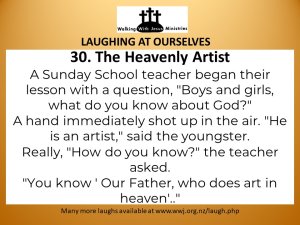 'LAUGHING AT OURSELVES
Another laugh or three for you today
Many more on our website below. Also many, may, many more under these categories on our website, wwj,org,nz Look under the heading MAINLY LAUGHS. Choose from.....

THIS WEEKS TUESDAY TEACHING.....
THIS WEEK: REVELATIONS REVELATION!
Around 2-3 years ago (when this was written) the Lord drew my attention to the endings of the letters to the 7 churches in Revelation, chapters 2 & 3. Each letter ends in a similar way, "to him who overcomes," with a promise following.
Upon first discovering these, I shared them with the "Home Group" we have attended for many years. It was an interesting study, but no more. It Wasn't until late this afternoon (8 October 1999), just in time to get into trouble with the wife for not setting the table in time for tea, that the Lord showed me what they really meant!
But it shows His empathy too, in that He had Started preparing me, several years ago, for this day. And what did He show me? That the promises He made to these 7 churches were to be fulfilled by the overcoming people of His Tabernacle Church.
These promises make just so much more sense, now that the blinkers have been removed from my eyes.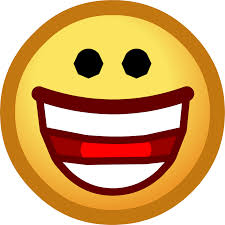 LAUGHING AT OURSELVES
***Blessed are those who can laugh at themselves for they shall never cease to be amused***
QWIK QWIP: "Blessed are the flexible, for they can tie themselves into knots."
417. AWOL
Pastor Bob was a great preacher, and much loved by his congregation. He visited the sick, preached a great sermon, and had a loving wife, who could play the organ and type sermons...and had 3 perfect children.
However, Pastor Bob always left town at 2 in the afternoon and was gone for one hour. LIke clockwork. Soon the parishioners became uneasy with Pastor Bob's curious schedule and began to ask questions. They went to the PPR Committee with their concerns. "Could Pastor Bob have a girlfriend in the neighboring town?" Unsure of what to do, and not wanting to confront him on their own, they went to the D.S. The D.S. didn't want to touch it, so he went to the Bishop. Finally after prayer and deliberation the Bishop went to Pastor Bob, and asked him about his curious goings and comings; so he invited the Bishop to join him at 2:00 that afternoon. They drove to a high hill over looking the small town and the railroad track that ran through the valley. After sitting there quietly for some time, a beautiful silver train streaked through the valley at very high speed. He turned to the Bishop and said,"Isn't that a beautiful sight?"
"Yes," the Bishop agreed, "that is a beautiful sight. And is this where you come every afternoon?" "Yes," said Pastor Bob. "I come here to be inspired. It is the only thing moving that I don't have to push!"
418. Not Necessary
Actual ad in the Drogheda Independant! FOR SALE BY Pastor. Complete set of Encyclopedia Britannica. 45 volumes. Excellent condition. £1,000.00 or best offer. No longer needed. Got married last weekend. Wife knows everything.
419. What To Be Called
One pastor asked another pastor, "If you were a monkey what would you want to be called?" "I don't know", one pastor said. "The other one said "monk."
Download the book 'Laughing At Ourselves' in PDF format at LAUGHING AT OURSELVES One of the most comprehensive sources of Christian Humour on the Net with 800 sermon fillers for your entertainment and use at ..... https://www.wwj.org.nz/content/wwj18p47.pdf
Or read even more online at.....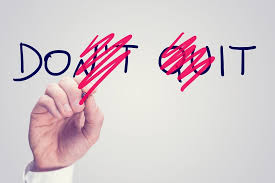 A DAVID MUSING
Persevere! Persevere! PERSEVERE!
When all is against you, persevere!
Freiends, Family everyone who thinks you are mad, persevere!
May the Lord direct your hearts into God's love and Christ's perseverance. 2 Thessalonians 3:5
His servant and yours
David Tait

Visit us here.....
CHANGING YOUR EMAIL ADDRESS? NEWSLETTER STOPS COMING?
Each week we can lose up to 2% of our readers when they change email addresses without letting us know. Or sometimes, by your server acting strangely and just cutting us off! If you are about to change your address, please advise us of both your old and new addresses here at
enquiries@wwj.org.nz and we will happily change our records to ensure ongoing delivery. Thanks.

Please also keep our address in your address book, as sometimes servers will automatically delete your address if there is even a one off problem in delivery. If your newsletter doesn't arrive, please let us know and we will reinstate you.
REPRODUCTION OF NEWSLETTER CONTENT
Most weeks we get enquiries about reproducing, in electronic or print form, articles contained in 'PGIM!' We welcome and encourage you to utilize this material. Freely received, freely given. We would ask though, that the source be acknowledged as an encouragement to others to subscribe to this newsletter also.
LINKS
If you would like to link your web site to ours, and ours to yours, please advise us on
links@wwj.org.nz
ABOUT US
WALKING WITH JESUS MINISTRIES is a non-profit, non-denominational, Bible based ministry located in Hastings, New Zealand. A ministry dedicated to developing discipleship, fostering unity amongst God's people to achieve the Great Commission, and in doing so, preparing for Christ's return. It is securely based upon the foundational principles of the Apostles Creed while recognising the wide and rich diversity of beliefs amongst Christians in other areas. In accordance with the Lord's direction, materials produced by the ministry are available, free of charge, to genuine enquirers upon request. The ministry is solely funded by donations, as the Lord provides. A list of materials available (plus some fun!) is obtainable and freely downloadable from our website
wwj.org.nz or by contacting us as follows.

Walking With Jesus Ministries
P O Box 2
Webuye 50205
Kenya

Email: enquiries@wwj.org.nz
Web: wwj.org.nz

Our role is to bless and encourage those in ministry while promoting co-operation and unity of direction amongst the body of Christ, as emphasised 3 times by Jesus in His longest prayer, immediately prior to His arrest and crucifixion. "... so that they may be one as we are one." (John 17:12, 21, 23-4) Our website is currently being developed to encourage your participation one with another, to share resources, and to enable you to promote events and items of interest to the body as a whole - and have a smile while doing it!

For comments upon and contributions to this service, please contact
david@wwj.org.nz
SUBSCRIPTION MANAGEMENT
We would encourage you to share this free service with your friends in ministry. To subscribe yourself please email pgim-on@wwj.org.nz.
If your name has been referred to us by a friend or supporting Ministry or has been obtained from a public Christian Directory or Website, it isn't our wish to burden you with information in which you aren't interested. To remove yourself from this list, please email pgim-off@wwj.org.nz.