A Weekly World Wide Word of Encouragement to those in the Ministry
PRAISE GOD IT'S MONDAY!
A WEEKLY 'WWW (world-wide word) OF ENCOURAGEMENT'
TO THOSE IN MINISTRY
A FREE service, currently connecting with Christian leaders from 3,000 denominations and ministries, in 70 countries.

Issue No: 972 Published: 08 Jun 2020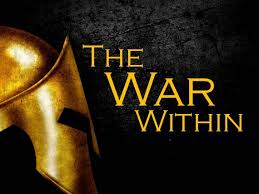 THINKING GREEK OR HEBREW?
DOCTRINE v EXPERIENTIAL TRUTH

Greek (Western) In Western thought spiritual advancement is understood to be found in theological qualifications.
Becoming the leader (pastor, minister etc.) of a church today generally requires a theological qualification from an institution approved by the church grouping one is involved with. Correct doctrine, learned through theological study, is seen as the way to get closer to God. Unfortunately though, while knowledge about God can be learned, relationship with God has to be experienced and, in reality, is often hindered through the pride that so often accompanies intellectual achievement.
This Greek inspired development is a major challenge to the church today.

Eastern (Hebrew) In Hebrew thought, God has to be experienced through relationship, which then must be reflected in one's life.
Spiritual maturity and growth comes from intimacy with God which results in doing His will in your life, even in seemingly impossible situations. For example, take Elisha and his servant. Elisha had boldness when facing the armies of the king of Aram, while his servant, without Elisha's relationship, was scared stiff! Elisha prayed.....
16 "Don't be afraid," the prophet answered. "Those who are with us are more than those who are with them." 17 And Elisha prayed, "Open his eyes, LORD, so that he may see." Then the LORD opened the servant's eyes, and he looked and saw the hills full of horses and chariots of fire all around Elisha. (2 Kings 6:16-17)
In the New Testament the same principle applies.....
13 But when he, the Spirit of truth, comes, he will guide you into all the truth. He will not speak on his own; he will speak only what he hears, and he will tell you what is yet to come. 14He will glorify me because it is from me that he will receive what he will make known to you. 15All that belongs to the Father is mine. That is why I said the Spirit will receive from me what he will make known to you." (John 16:13-15)
We must experience and reflect God's love.....
16 I pray that out of his glorious riches he may strengthen you with power through his Spirit in your inner being, 17 so that Christ may dwell in your hearts through faith. And I pray that you, being rooted and established in love, 18may have power, together with all the Lord's holy people, to grasp how wide and long and high and deep is the love of Christ, 19and to know this love that surpasses knowledge—that you may be filled to the measure of all the fullness of God. (Ephesians 3:16-19)
We must experience and reflect God's faith.....
22 But now he has reconciled you by Christ's physical body through death to present you holy in his sight, without blemish and free from accusation— 23if you continue in your faith, established and firm, and do not move from the hope held out in the gospel. This is the gospel that you heard and that has been proclaimed to every creature under heaven, and of which I, Paul, have become a servant. (Colossians 1:22-3)
We must experience and reflect God's truth as found in the Scriptures.....
14 But as for you, continue in what you have learned and have become convinced of, because you know those from whom you learned it, 15 and how from infancy you have known the Holy Scriptures, which are able to make you wise for salvation through faith in Christ Jesus. (2 Timothy 3:14-15)
Through being obedient to the will of the Father as related to us by the Holy Spirit we will become sons (genderless) of God.....
13 For if you live according to the sinful nature, you will die; but if by the Spirit you put to death the misdeeds of the body, you will live, 14 because those who are led by the Spirit of God are sons of God. 15 For you did not receive a spirit that makes you a slave again to fear, but you received the Spirit of sonship. And by him we cry, ""Abba," Father." (Romans 8:13-15)
Amen.

SOME SPIRITUAL IMPLICATIONS FOR TODAY
1. We must change emphasis from theological qualifications to personal relationship with Jesus as the way to spiritual maturity.
2. Discipleship must take precedent over sermons.
3. Leadership must be determined by proven spiritual maturity rather than theological, doctrinal knowledge.
4. We must 'walk the walk', not just 'talk the talk'.
See more about us at.....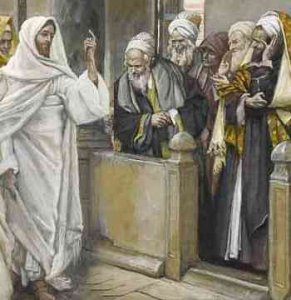 FROM THE WORD
THE WORDS OF JESUS
May we hear what the Lord is saying to us.....
Pharisees and Sadducees Seek a Sign (Matthew 16:1-4, Mark 8:11-13)
To prove His divinity.
"In the evening you say, 'It'll be a fine day tomorrow, because the sky is red,' while in the morning you say, 'It'll be bad weather today, because the sky is red and overcast.' You know how to predict the weather by what the sky looks like, but you can't recognize the signs of the times! Evil people who don't trust in God are the one who look for a miraculous sign, and no sign will be given to them except the sign of Jonah."
Leaven of the Religious Leaders (Matthew 16:5-12, Mark 8:14-21)
Jesus criticized the religious leaders with metaphor. but the disciples took him literally.
"Watch out for the yeast of the Pharisees and Sadducees,"
But the disciples took him literally.
"You have so little trust in me! Why are you arguing among yourselves about not having any bread? Haven't you worked it out yet? Don't you remember the five loaves that fed five thousand? How many baskets of leftovers did you collect? And what about the seven loaves that fed the four thousand? How many baskets of leftovers did you collect? Haven't you worked it out yet that I wasn't talking to you about bread? Watch out for the yeast of the Pharisees and Sadducees!"
Blind Man Healed at Bethsaida ( Mark 8:22-6)
Jesus spat on his eyes
"Can you see anything?"
And told him to go home.
"Don't go back through the village."
(Continued next week)
Download the complete 'Words of Jesus' here.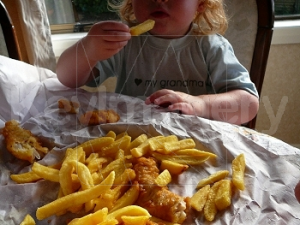 A MUZUNGU'S (White Man's) THOUGHT – Issue 38
WE ARE ALL RACSISTS!
I, David, was born in New Zealand, where I lived for 70 years. I am a proud European 'Kiwi' (our national bird)
In New Zealand, racism is primarily regarded as treatment, or mistreatment, of our pre-European settlers, the Maori people, who make up 15% of our population. As our country has become more multicultural with immigration waves of Pacific Islanders and more recently Asians, racism is starting to take on a broader meaning.
For the past 3 years my wife Kathy and I have lived in Kenya where, because of our European heritage, we are a tiny minority group. Where we live, we can go many weeks, if not months, without seeing another white face. Because of Kenya's colonial history, and the image of Westerners being wealthy, people think we are rich. Not true in our cases as we live by faith!
Here also, Indians and Chinese, are discriminated against, as they are again a small minority and successful in business.
Most interestingly to me however, is the racialism between the 42 different tribal groups here! Most people's identity is to their tribe, before their country. Gradually this is breaking down though, as more become educated and there is greater mobility within the country and to overseas.
The personal practical question we face, is how Kenyan can we become in terms of cultural understanding. The reality, as both blacks, and whites who have been here for a long time tell us is, not a lot.
We can learn the superficialities of the culture, but will never understand its complexities. That is just how it is, and we have to accept it.
I hope you can now start to understand my heading. In the end racism is not what against black, although particularly in the US, this for 400 years, has been a huge problem, but more of a cultural one, of people being brought up with differing value sets, customs etc., clashing.
This is beautifully expressed through food. Where we live Ugali is the staple food, a mixture of maize flour and water which is boiled until it becomes firm. Rice, beans and local greens are other common foods. Kathy quite likes these in moderation, but not me! I am never going to be a Kenyan!
Many foods around the world I like. Most, of all the large variety of Asian foods. Foods from Europe, particularly Italian.
But in the end though, nothing is as good as our New Zealand favourite takeaway, Fish and Chips!
While Kathy and I see ourselves as International Citizens, when it comes to food, I will always be Kiwi! Lol!
Change is very difficult for us all. We need to learn to accept others just as they are, differences of skin colour and culture included. While by my definition, we are all racists, for we can never all be the same, we need to learn tolerance and acceptance of those who are different to us, in whatever way.
Then we will have made the world a better place for all of us to live in.
Shurakini
(Thank You)
Xxx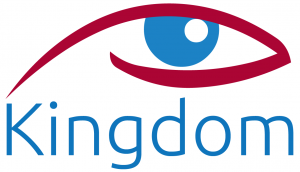 OUR AFRICAN EXPERIENCE
FOR MORE DETAILED AND REGULAR UPDATES, VISIT OUR FACEBOOK PAGE
AN EYE 4 Africa - https://www.facebook.com/aneye4africa/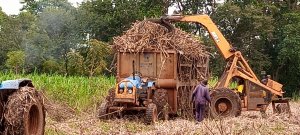 AROUND AND ABOUT!
Here are a few of the going ons.
1. SUGAR CANE
The cane takes 18 months to grow and can be harvested 3 times over 4 1/2 years from a single planting. Being loaded to take to the factory for processing.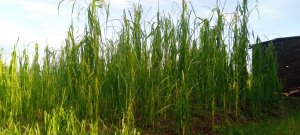 2. TROPICAL HAILSTORM
We have had a huge downpour full of hail. This unfortunate neighbour planted late and lost their whole crop. At the Bible School next door, and the little on our place survived as it was nearly ready for picking. 3 years ago we had a similar storm.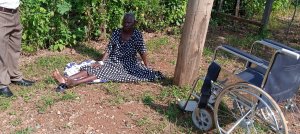 3. HOW DO YOU LIKE YOUR BED?
This elderly lady, prefers the ground to our soft mattresses! Too hard for me!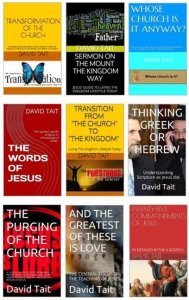 ***NOW***NINE BOOKS ARE AVAILABLE ON AMAZON!!!
9 BOOKS are now available on Amazon (Kindle)!

All are available worldwide for electronic download on Amazon (Kindle) for $US0.99c . Unfortunately there has to be a charge in order to list.

Your support would be appreciated and they could well change your life!

They are all found at this link.....
http://www.amazon.com/s/ref=nb_sb_noss?url=search-alias%3Daps&field-keywords=david+tait+books/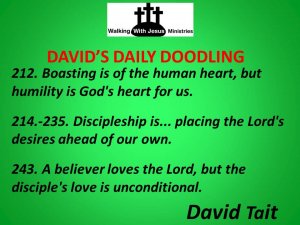 ***DAILY EZINE!*** 'DAVID'S DAILY DOODLINGS' Subscribe Today
Receive one of David's sayings in your mailbox each day to inspire, challenge or maybe, amuse. To register today, go down to the bottom of the page link below, click on the subscribe link dd-on@wwj.org.nz (or paste the address in an email yourself and send) Then it's done! If you have an Irish heritage, you will love the background coloring!
Subscription and back issue link is.....

'THE WORDS OF JESUS' REMAIN AVAILABLE FOR PDF DOWNLOAD
Join the many who have downloaded the 'The Words of Jesus'. I am sure you will be blessed by it, as I have been.

One key element here is the setting out in chronological order (as far as it is possible to do so) our Lord's words drawn from all the Gospels, and the elimination of repetition between Gospels.

You may be surprised by the different perspective this presentation gives you both in understanding of His life and ministry, and in achieving a closer relationship with Him.

Download the free PDF here.....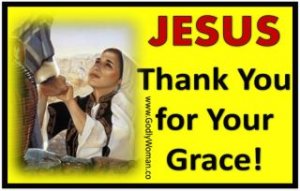 DAVID'S DOODLINGS
THE AGE OF GRACE
35. The biggest impediment for many in delaying a decision for Christ is the mistaken belief that the present 'Age of Grace' will never end.

36. God's nature is finely balanced between love and judgement. As His love has predominated for the past 2000 years, how fearsome then must be the single Day of Judgement that is to come.

37. We know in life, that all good things come to an end. How is it then, that we continue to believe that the current age of God's grace and mercy will go on forever?

38. Why is it that I continue to walk round and round the mountain when I know when the path to the top goes up?

178. God's gracious gift of grace is the reason to walk in truth, not an excuse to continue in sin.

317. God's graciously given grace gift gallantly galvanises garrulous, grateful gentiles!
Please feel free to quote these quotes. Acknowledgment of David Tait as the author would be appreciated. There are now over 1300 David sayings for you to view at ...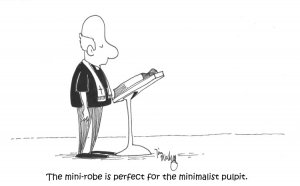 CARTOONS FROM TOON FEVER
Visit the Toon Fever website for more cartoon fun..... http://www.toonfever.com

Check it out at...
TUESDAY TEACHINGS
NEXT WEEK: TRANSFORMATION OF THE CHURCH: 3. FROM KINGS TO KINGDOM continues..... .
We will consider the 3rd remaining relational aspect, relationship with the world, tomorrow.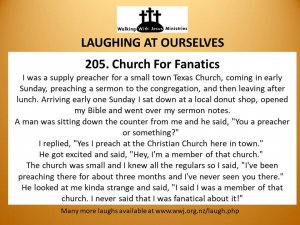 *** ANOTHER DAILY EZINE FROM WWJ!*** 'LAUGHING AT OURSELVES' Subscribe Today
As Christians, if we can't laugh at ourselves, others will! A fun way to start your day. To register today, go down to the bottom of the page link below, click on the subscribe link lao--on@wwj.org.nz (or paste the address in an email yourself and send) Then it's done!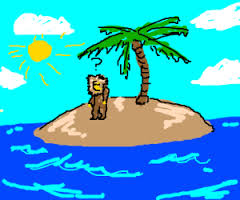 LAUGHING AT OURSELVES
***Blessed are those who can laugh at themselves for they shall never cease to be amused***
*** Those who can't laugh at themselves leave the job to others. ***
420. Not Lost For Long
Two men were marooned on an Island. One man passed back and forth worried and scared while the other man sat back and was sunning himself. The first man said to the second man, "aren't you afraid we are about to die." "No," said the second man, "for you see I make $100,000 per week and I tithe faithfully to my church ever week. My Pastor will find me."
QWIK QUIP: "The Will of God will never take you to where the Grace of God will not protect you."
421. The Three Envelopes
The new preacher moves his things into his new office and comes across the former pastor, taking his items out. The former pastor says, "I left three envelopes in your desk. If you have any trouble, open them." Well, of course the new preacher thinks he will never have to use them, but in his youthful enthusiasm, he tries to change the order the kids march in during Vacation Bible School. Well, this makes the workers absolutely furious and there is a lot of ugly talk about the new pastor. He remembers the envelopes and opens the first one. It says, "You haven't been here long, but you decided to make a change in the Vacation Bible School; now everyone is mad. Tell everyone that the former preacher had told you this was how you preferred to do it." So the young preacher did that and it worked well.
He had been there about a year and a half when he tried to change the deacon position from being a life-long job to a position that rotated annually. Well, this made the deacons really mad, and they were the ones who made his salary recommendation. So he went back to the drawer and got the second envelope: "You did something to make the deacons mad and there's talk of replacing you. Tell them this is the official denominational policy; that you thought they wanted to comply, but it doesn't make you any difference what they do." He tried this, and again it worked great.
You guessed it. After three years, he finally told the women's organisation that they were going to have to open the kitchen so that it could be used without a representative from the women's group being present. This put the women's organisation in open revolt. So he went back to that third and final envelope: "You've been here about three years and you finally got the women's organisation mad. The only thing to do is prepare three envelopes ... "
QUIK QUIP: "We set the sail; God makes the wind."
422. Why Daddy?
A preacher's young daughter noticed that her father always bowed his head and closed his eyes for a few seconds before he went to the pulpit to preach. When she asks him why he did that, he explained, "I'm asking God to help me preach a good sermon.
His daughter thought about it for a minute and said, "Well daddy, Why doesn't he do it?"
Download the book 'Laughing At Ourselves' in PDF format at LAUGHING AT OURSELVES One of the most comprehensive sources of Christian Humour on the Net with 800 sermon fillers for your entertainment and use at ..... https://www.wwj.org.nz/content/wwj18p47.pdf
Or read them all online at.....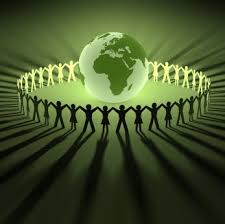 A DAVID MUSING
The world is 'communicated together' today. We live in Kenya but we are not like the early missionaries who brought their possessions in their coffin, for they knew they would never go home again. What a sacrifice that was!
Now we complain if the power goes off and the internet is down for an hour, or day or two!
In normal circumstance we can catch an airplane and get to the other end of the world, where New Zealand is, in just over a day.
It is the new norm, which we take for granted now.
As I am writing to this I am listening live to my son Andrew, who lives in the north of Scotland speaking at their online church, 2 hours behind our time.
If you have the opportunity, I suggest you listen to Andrew and Catriona for excellent, down to earth teachings. They can be found on YouTube at 'Highland Christian Church Thurso'.
We were meant to celebrate our Golden Wedding Anniversary with them and others of our family, in early May, but Covid has put an end to that! So we know a little bit about being stuck in Kenya, there being no way out now.
Sadly we take all these modern methods of travel and communication for granted today.
May we learn to appreciate the day we live in, more and more.
Until next time.....
MAY GOD BLESS YOU AND YOU BLESS GOD
His servant and yours
David Tait

Visit us here.....
REPRODUCTION OF NEWSLETTER CONTENT
Most weeks we get enquiries about reproducing, in electronic or print form, articles contained in 'PGIM!' We welcome and encourage you to utilize this material. Freely received, freely given. We would ask though, that the source be acknowledged as an encouragement to others to subscribe to this newsletter also.
CHANGING YOUR EMAIL ADDRESS? NEWSLETTER STOPS COMING?
Each week we can lose up to 2% of our readers when they change email addresses without letting us know. Or sometimes, by your server acting strangely and just cutting us off! If you are about to change your address, please advise us of both your old and new addresses here at
enquiries@wwj.org.nz
and we will happily change our records to ensure ongoing delivery. Thanks.
Please also keep our address in your address book, as sometimes servers will automatically delete your address if there is even a one off problem in delivery. If your newsletter doesn't arrive, please let us know and we will reinstate you.
LINKS
If you would like to link your web site to ours, and ours to yours, please advise us on
links@wwj.org.nz
ABOUT US
WALKING WITH JESUS MINISTRIES is a non-profit, non-denominational, Bible based ministry located in Hastings, New Zealand. A ministry dedicated to developing discipleship, fostering unity amongst God's people to achieve the Great Commission, and in doing so, preparing for Christ's return. It is securely based upon the foundational principles of the Apostles Creed while recognising the wide and rich diversity of beliefs amongst Christians in other areas. In accordance with the Lord's direction, materials produced by the ministry are available, free of charge, to genuine enquirers upon request. The ministry is solely funded by donations, as the Lord provides. A list of materials available (plus some fun!) is obtainable and freely downloadable from our website
wwj.org.nz
or by contacting us as follows.
Walking With Jesus Ministries
7 Bull Street
Ahuriri
Napier
New Zealand
Phone: (06) 835 0567 International (+64) 6 835 0567
Email:
enquiries@wwj.org.nz
Web:
wwj.org.nz
Our role is to bless and encourage those in ministry while promoting co-operation and unity of direction amongst the body of Christ, as emphasised 3 times by Jesus in His longest prayer, immediately prior to His arrest and crucifixion. "... so that they may be one as we are one." (John 17:12, 21, 23-4) Our website is currently being developed to encourage your participation one with another, to share resources, and to enable you to promote events and items of interest to the body as a whole - and have a smile while doing it!
For comments upon and contributions to this service, please contact
david@wwj.org.nz
SUBSCRIPTION MANAGEMENT
We would encourage you to share this free service with your friends in ministry. To subscribe yourself please email pgim-on@wwj.org.nz.
If your name has been referred to us by a friend or supporting Ministry or has been obtained from a public Christian Directory or Website, it isn't our wish to burden you with information in which you aren't interested. To remove yourself from this list, please email pgim-off@wwj.org.nz.