A Weekly World Wide Word of Encouragement to those in the Ministry
PRAISE GOD IT'S MONDAY!
A WEEKLY 'WWW (world-wide word) OF ENCOURAGEMENT'
TO THOSE IN MINISTRY
A FREE service, currently connecting with Christian leaders from 3,000 denominations and ministries, in 70 countries.

Issue No: 1076 Published: 30 May 2022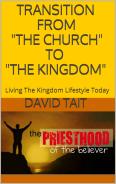 TRANSITION FROM 'THE CHURCH' TO 'THE KINGOM'
FROM "ORGANIZED" TO "ORGANIC" Part 4
4. IMPLICATIONS OF THE KINGDOM WITHIN
The question to be asked is, 'who represents the kingdom of God now?'
Is it the Pope as the head of the Roman Catholic Church?
Is it the head of any other denomination or grouping?
Is it the pastor, or elders, of your church?
Is it a cathedral, or any church building?
Is it an evangelist or television ministry?
These would be some of the answers of the Pharisees of Jesus' time, if they were being asked this question today, for they were looking for physical manifestations of the kingdom. Jesus replied.....
The Coming of the Kingdom of God
20 Once, having been asked by the Pharisees when the kingdom of God would come, Jesus replied, "The kingdom of God does not come with your careful observation, 21 nor will people say, 'Here it is,' or 'There it is,' because the kingdom of God is within you." (Luke 17:20-21)
The kingdom is spiritual and it resides in you and in me, when we are genuine followers of Jesus!
This is a radical change from the past where the kingdom was centred upon the Tabernacle, then the Temple, and in the Pharisees eyes, to be finally fulfilled in the nation state of Israel.
It is easy to understand the Pharisees confusion, but the terrible part is, we have not learned, and are still of the same way of thinking today! We continue to look to some physical object, or person, to represent God and His kingdom!
But we are not alone. It has always been the way since early New Testament days. Listen to Paul.....
12 What I mean is this: One of you says, "I follow Paul"; another, "I follow Apollos"; another, "I follow Cephas"; still another, "I follow Christ." 13 Is Christ divided? Was Paul crucified for you? Were you baptized into the name of Paul? 14 I am thankful that I did not baptize any of you except Crispus and Gaius, 15 so no one can say that you were baptized into my name. 16 (Yes, I also baptized the household of Stephanas; beyond that, I don't remember if I baptized anyone else.) 17 For Christ did not send me to baptize, but to preach the gospel—not with words of human wisdom, lest the cross of Christ be emptied of its power. (1 Corinthians 1:12-15)
Following an object or a person leads to division in the church, both then and now.....
5 May the God who gives endurance and encouragement give you a spirit of unity among yourselves as you follow Christ Jesus, 6 so that with one heart and mouth you may glorify the God and Father of our Lord Jesus Christ. (Romans 15:5)
I CAN UNEQUIVICALLY SAY THAT THE GREATEST CHALLENGE TO THE GROWTH OF GOD'S KINGDOM UPON THE EARTH IS MANKIND'S CONTINUED 'OLD COVENANT-LIKE' ATTEMPTS TO 'HUMANIZE' IT.
Jesus came with a radical new approach of a spiritual kingdom, one sadly, we fail to understand - or live.....
36 Jesus said, "My kingdom is not of this world. If it were, my servants would fight to prevent my arrest by the Jews. But now my kingdom is from another place." (John 18:36)
We cannot look to a building…..
24 If a kingdom is divided against itself, that kingdom cannot stand. 25 If a house is divided against itself, that house cannot stand. (Mark 3:24-5)
.....or a man.....
23 At that time if anyone says to you, 'Look, here is the Christ!' or, 'There he is!' do not believe it. 24 For false Christs and false prophets will appear and perform great signs and miracles to deceive even the elect—if that were possible. 25 See, I have told you ahead of time. (Matthew 24:23-5)
We have now moved from the physical to the spiritual.....
13 But when he, the Spirit of truth, comes, he will guide you into all truth. He will not speak on his own; he will speak only what he hears, and he will tell you what is yet to come. 14 He will bring glory to me by taking from what is mine and making it known to you. 15 All that belongs to the Father is mine. That is why I said the Spirit will take from what is mine and make it known to you. (John 16:13-15)
The manifestation of the Holy Spirit is to be reflected in our behaviour.....
The Beatitudes
Now when he saw the crowds, he went up on a mountainside and sat down. His disciples came to him, 2 and he began to teach them, saying: 3 "Blessed are the poor in spirit, for theirs is the kingdom of heaven. 4 Blessed are those who mourn, for they will be comforted. 5 Blessed are the meek, for they will inherit the earth. 6 Blessed are those who hunger and thirst for righteousness, for they will be filled. 7 Blessed are the merciful, for they will be shown mercy. 8 Blessed are the pure in heart, for they will see God. 9 Blessed are the peacemakers, for they will be called sons of God. 10 Blessed are those who are persecuted because of righteousness, for theirs is the kingdom of heaven. 11 "Blessed are you when people insult you, persecute you and falsely say all kinds of evil against you because of me. 12 Rejoice and be glad, because great is your reward in heaven, for in the same way they persecuted the prophets who were before you. (Matthew 5:1-12)
It is a kingdom based on personal holiness and righteousness.....
For I tell you that unless your righteousness surpasses that of the Pharisees and the teachers of the law, you will certainly not enter the kingdom of heaven. (Matthew 5:20)
Unless we display spiritual fruit in our lives eg. Galatians 5 (love, joy, peace, patience, kindness, goodness, faithfulness, 23 gentleness and self-control.) we will not be a part of the kingdom!
43 "Therefore I tell you that the kingdom of God will be taken away from you and given to a people who will produce its fruit. (Matthew 21:43)
I constantly get requests to join WWJ Ministries organisation. You can't! For there is not one! I relate to people on a personal and spiritual kingdom basis, for we are all individual members of the kingdom. I can learn something from what God is doing in your life, just as well as you can hopefully learn from what God has revealed to me. As sold out disciples of Christ, the kingdom resides in the both of us.
Kingdom membership is determined by our willingness to obey God's will for our lives.....
21 "Not everyone who says to me, 'Lord, Lord,' will enter the kingdom of heaven, but only he who does the will of my Father who is in heaven. 22 Many will say to me on that day, 'Lord, Lord, did we not prophesy in your name, and in your name drive out demons and perform many miracles?' 23 Then I will tell them plainly, 'I never knew you. Away from me, you evildoers!' (Matthew 7:21-3)
.....not by following a man or attending a church. It is inherited by those willing to walk a godly lifestyle....
32 "Do not be afraid, little flock, for your Father has been pleased to give you the kingdom. 33 Sell your possessions and give to the poor. Provide purses for yourselves that will not wear out, a treasure in heaven that will not be exhausted, where no thief comes near and no moth destroys. 34 For where your treasure is, there your heart will be also. (Luke 12:32-4)
The presence of the kingdom within is to be reflected in our personal day to day actions and reactions. Is the kingdom truly found within you - and me? A sobering question isn't it!
(Continued next week.)
Find out more about us at.....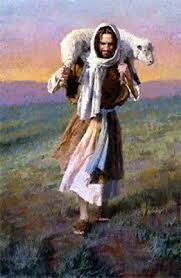 FROM THE WORD
THE WORDS OF JESUS
May we hear what the Lord is saying to us.....
Parable of the Sheep (Luke 15:1-7)
Three parables addressed to the Pharisees who were criticizing Jesus for mixing with tax collectors and 'sinners'.
"Imagine a man who had a hundred sheep lost one of them. Wouldn't he leave the ninety-nine in the open pasture, and search for the one that's lost until he finds it? When he finds it, he joyfully puts it on his shoulders. Once he gets home, he calls his friends and neighbors together, saying, 'Come and celebrate with me! I've found my lost sheep!' I tell you that there's more joy in heaven over a sinner that repents than over ninety-nine good people who don't need to repent.
Parable of the Coin (Luke 15:1-7)
"Imagine a woman who has ten silver coins, and loses one of them. Wouldn't she light a lamp and sweep the house, carefully searching until she finds it? When she finds it, she calls her friends and neighbors together, saying, 'Come and celebrate with me! I've found the silver coin that I lost.' I tell you there is joy in the presence of God's angels over one sinner that repents.
Parable of the Son (Luke 15:11.32)
"Once there was a man who had two sons," "The younger one told his father, 'Father, give me my inheritance now.' So the man divided his property between them. A few days later the younger son packed up what he had and left for a distant country. Here he wasted all his money living a reckless life. "After he'd spent everything, the country was hit by a severe famine and he was starving. So he went and took a job with one of the farmers there who sent him to his fields to feed pigs. He was so hungry that he would have eaten even the pig food, but no one gave him anything. When he came to his senses, he said to himself, 'All of my father's workers have more than enough to eat—why am I dying from hunger here? I'm going home to my father! I'll tell him, "Father, I've sinned against heaven and against you. I'm no longer worthy to be called your son. Please treat me as one of your hired workers."' So he left and went home to his father.
"Even though he was still far away in the distance, his father saw him coming, and his heart went out to his son. The father ran to his son, hugging and kissing him. The son said to him, 'Father, I've sinned against heaven and against you. I'm no longer worthy to be called your son.'
"But the father told his servants, 'Quick—bring the best robe and put it on him. Put a ring on his finger and sandals on his feet. Bring the calf we've been fattening and kill it. Let's have a feast to celebrate because this is my son who was dead, but who has returned alive; he was lost but now he's found.' So they started celebrating.
"Now the older son was working out in the fields. As he walked towards the house, he heard music and dancing. So he called one of the servants and asked what was going on.
"Your brother is back," he replied, "and your father has killed the fattened calf, because he's come home safe and sound."
"The brother became angry. He refused to go in. So his father came out to plead with him.
"He told his father, 'Look, all these years I've served you, and never disobeyed you, but you never once gave me even a young goat so I could have a party with my friends. Now this son of yours comes back, having spent your money on prostitutes, and you kill the fattened calf for him!'
"'Son,' the father replied, 'you are always here with me. Everything I have is yours. But we should be happy and celebrate! This is your brother who was dead, but who has returned alive; he was lost but now he's found!'"
Download the complete 'Words of Jesus' here.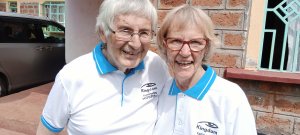 OUR AFRICAN EXPERIENCE
FOR MORE DETAILED AND REGULAR UPDATES, VISIT OUR FACEBOOK PAGE
AN EYE 4 Africa - https://www.facebook.com/aneye4africa/
Your prayers would still be appreciated.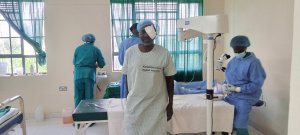 THEATRE IS STILL WAITING.....
...so we did Cataract operations!
Our last lot of 11 operations in the Theatre as it is, were successfully done last Thursday.
It was a joy to have our Ophthalmology Student Leah, with us for the day. Leah has nearly finished her 3 year degree. We hope she may be able to come back here to do her 1 year internship, before becoming fully qualified. That is up to the Government to decide.
Leah joined us as a Clinical Officer, shortly after we opened, and it is very satisfying seeing her now near qualifying in this specialty.
Our sincere thanks to Niall, our New Zealand donor who has sponsored her training.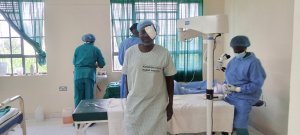 JUST HOPPED OFF THE BED!
The operations are done under local anaesthetic. So people are fully awake during the operation.
This gentleman has just hopped off the operating table and is walking out of the theatre.
No problem! He had a half smile on his face!
In the west a different method is used and people are normally 'knocked out' for the operation!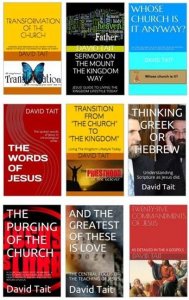 ***NOW***NINE BOOKS ARE AVAILABLE ON AMAZON!!!
9 BOOKS are now available on Amazon (Kindle)!

All are available worldwide for electronic download on Amazon (Kindle) for $US0.99c . Unfortunately there has to be a charge in order to list.

Your support would be appreciated and they could well change your life!
Many more online at https://www.wwj.org.nz/more-free-downloads

They are all found at this link.....
http://www.amazon.com/s/ref=nb_sb_noss?url=search-alias%3Daps&field-keywords=david+tait+books/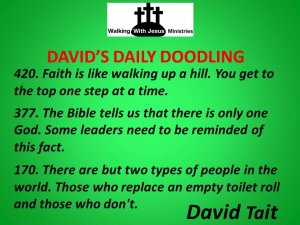 ***DAILY EZINE!*** 'DAVID'S DAILY DOODLINGS' Subscribe Today
Receive one or more of David's sayings in your mailbox each day to inspire, challenge or maybe, amuse. To register today, go down to the bottom of the page link below, click on the subscribe link dd-on@wwj.org.nz (or paste the address in an email yourself and send) Then it's done! If you have an Irish heritage, you will love the background coloring!
Subscription and back issue link is.....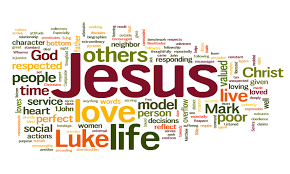 'THE WORDS OF JESUS' REMAIN AVAILABLE FOR PDF DOWNLOAD
Join the many who have downloaded the 'The Words of Jesus'. I am sure you will be blessed by it, as I have been.

One key element here is the setting out in chronological order (as far as it is possible to do so) our Lord's words drawn from all the Gospels, and the elimination of repetition between Gospels.

You may be surprised by the different perspective this presentation gives you both in understanding of His life and ministry, and in achieving a closer relationship with Him.

Download the free PDF here.....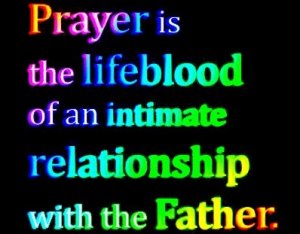 DAVID'S DOODLINGS
PRAYER
961. Share God's heart. Pray for others!
962. The most powerful prayers are the Word of God.

963. The least liked people are those who talk about no-one but themselves. Why do we do this with God?

964. Prayer is a two way communication process. we must listen to God too!

965. Listening in silence is the best way to hear from God.

966. In prayer, silence often speaks louder than words.

967. We expect friends to take an interest in us. Shouldn't we too, be interested in hearing from God when we pray?

968. God is with it! He too has moved on from King James English!

969. In prayer, ten words from the heart are worth more than a thousand parroted from a page.

970. Prayer is not about 'I' but about 'hIm'.

971. 'A prayer a day' - is not enough!
Please feel free to quote these quotes. Acknowledgment of David Tait as the author would be appreciated. There are now over 1300 David sayings for you to view at ...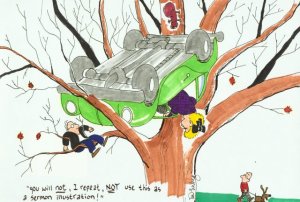 CARTOONS FROM TOON FEVER
Visit the Toon Fever website for more cartoon fun..... http://www.toonfever.com
Check it out at...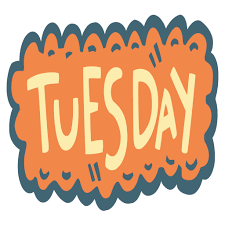 TUESDAY TEACHINGS
A REVELATION OF... THE 3 RIVERS OF GOD
We revisit Ezekiel's Temple river, comparing it with the pattern of the Tabernacle of Moses. See you again then!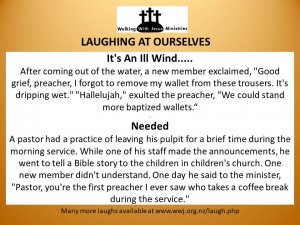 *** ANOTHER DAILY EZINE FROM WWJ!*** 'LAUGHING AT OURSELVES' Subscribe Today
As Christians, if we can't laugh at ourselves, others will! A fun way to start your day. To register today, go down to the bottom of the page link below, click on the subscribe link lao--on@wwj.org.nz (or paste the address in an email yourself and send) Then it's done!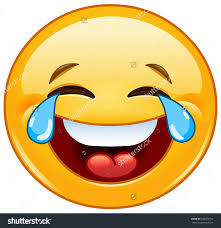 LAUGHING AT OURSELVES
***Blessed are those who can laugh at themselves for they shall never cease to be amused***
*** Those who can't laugh at themselves leave the job to others. ***
198. Touche!
Old Pete, the town tippler, made it a habit to sleep off his drunks in the church cemetery every Saturday night. On Sunday mornings the pastor of the church would have to go out before services and rouse him, and escort him home before the services began.
Finally he grew tired of the routine, and on Halloween, which fell on a Saturday night that year, he decided to do something about Old Pete. Borrowing his son's skull mask, and donning a choir robe, he settled down in the dark cemetery to await Old Pete's approach. He planned on scaring the devil out of the fellow, and teaching him a lesson.
Finally Old Pete staggered through the graveyard about midnight, unsteadily picking his way through the headstones in the light of the full harvest moon. Rising up from behind a large tombstone, the pastor, calling upon his seminary theatrical training, moaned and swayed in the dimness. Old Pete froze, quaking in his tracks.
"Lord, have mercy!" he cried, much to the satisfaction of the disguised pastor. "It's Death, come for me!"
"Pete..." intoned the preacher in his deepest pulpit tones. "It is time for you to come with me!"
"Don't take me Mr. Death," begged the inebriated fellow. "I'm not ready to go!"
The minister saw his chance. "Then repent, and change your ways." He raised a ghostly arm and pointed to the church. "Seek out the man of God yonder and he will guide you into the paths of life."
Old Pete slumped down next to a headstone. "That won't do any good," he groaned.
The pastor was taken aback. "Why not?" he asked, forgetting his spectral voice.
"Because," explained the downcast Pete, "the pastor of that church is as dead as any of the stiffs out here in the cemetery!"
QWIK QWIP: "Laughter is the shortest distance between two people."
199. No Brain
A college student was in a philosophy class, where there was a class discussion about whether or not God exists, The professor had the following logic:
"Has anyone in this class heard God?" Nobody spoke.
"Has anyone in this class touched God?" Again, nobody spoke.
"Has anyone in this class seen God?" When nobody spoke for the third time, he simply stated, "Then there is no God."
The student did not like the sound of this at all, and asked for permission to speak. The professor granted it, and the student stood up and asked the following questions of his classmates:
"Has anyone in this class heard our professor's brain?" Silence.
"Has anyone in this class touched our professor's brain?" Absolute silence.
"Has anyone in this class seen our professor's brain?" When nobody in the class dared to speak, the student concluded, "Then, according to our professor's logic, it must be true that our professor has no brain!"
Download the book 'Laughing At Ourselves' in PDF format at LAUGHING AT OURSELVES One of the most comprehensive sources of Christian Humour on the Net with 800 sermon fillers for your entertainment and use at ..... https://www.wwj.org.nz/content/wwj18p47.pdf
Or read even more online at.....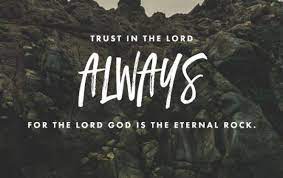 A DAVID MUSING
Life is good, Life is glad,
Life is bad, Life is sad!
So many of us in these uncertain times are experiencing the ups and downs of life.
Many of us are questioning where Jesus is in all of this.
But Jesus says, "..... And surely I am with you always, to the very end of the age." (Matthew 28:30)
My life experience has been that I learn more about God, and get closer to Him, during the tough times than the good. For He is all I have.
Let us trust Him to be with us in our circumstances today. For really, we have no alternative!!
Amen.
Until next time.
His servant and yours
David Tait

Visit us here.....
CHANGING YOUR EMAIL ADDRESS? NEWSLETTER STOPS COMING?
Each week we can lose up to 2% of our readers when they change email addresses without letting us know. Or sometimes, by your server acting strangely and just cutting us off! If you are about to change your address, please advise us of both your old and new addresses here at
enquiries@wwj.org.nz
and we will happily change our records to ensure ongoing delivery. Thanks.
Please also keep our address in your address book, as sometimes servers will automatically delete your address if there is even a one off problem in delivery. If your newsletter doesn't arrive, please let us know and we will reinstate you.
REPRODUCTION OF NEWSLETTER CONTENT
Most weeks we get enquiries about reproducing, in electronic or print form, articles contained in 'PGIM!' We welcome and encourage you to utilize this material. Freely received, freely given. We would ask though, that the source be acknowledged as an encouragement to others to subscribe to this newsletter also.
LINKS
If you would like to link your web site to ours, and ours to yours, please advise us on
links@wwj.org.nz
ABOUT US
WALKING WITH JESUS MINISTRIES is a non-profit, non-denominational, Bible based ministry located in Hastings, New Zealand. A ministry dedicated to developing discipleship, fostering unity amongst God's people to achieve the Great Commission, and in doing so, preparing for Christ's return. It is securely based upon the foundational principles of the Apostles Creed while recognising the wide and rich diversity of beliefs amongst Christians in other areas. In accordance with the Lord's direction, materials produced by the ministry are available, free of charge, to genuine enquirers upon request. The ministry is solely funded by donations, as the Lord provides. A list of materials available (plus some fun!) is obtainable and freely downloadable from our website
wwj.org.nz or by contacting us as follows.

Walking With Jesus Ministries
P O Box 2
Webuye 50205
Kenya

Email: enquiries@wwj.org.nz
Web: wwj.org.nz

Our role is to bless and encourage those in ministry while promoting co-operation and unity of direction amongst the body of Christ, as emphasised 3 times by Jesus in His longest prayer, immediately prior to His arrest and crucifixion. "... so that they may be one as we are one." (John 17:12, 21, 23-4) Our website is currently being developed to encourage your participation one with another, to share resources, and to enable you to promote events and items of interest to the body as a whole - and have a smile while doing it!

For comments upon and contributions to this service, please contact
david@wwj.org.nz
SUBSCRIPTION MANAGEMENT
We would encourage you to share this free service with your friends in ministry. To subscribe yourself please email pgim-on@wwj.org.nz.
If your name has been referred to us by a friend or supporting Ministry or has been obtained from a public Christian Directory or Website, it isn't our wish to burden you with information in which you aren't interested. To remove yourself from this list, please email pgim-off@wwj.org.nz.