A Weekly World Wide Word of Encouragement to those in the Ministry
PRAISE GOD IT'S MONDAY!
A WEEKLY 'WWW (world-wide word) OF ENCOURAGEMENT'
TO THOSE IN MINISTRY
A FREE service, currently connecting with Christian leaders from 3,000 denominations and ministries, in 70 countries.

Issue No: 979 Published: 27 Jul 2020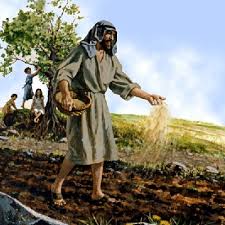 A REVELATION OF……. THE PARABLE OF THE SOWER - The Call of the Kingdom
A NOTE FROM DAVID…….
Many times the words of Jesus seem difficult to understand. We look at things from a limited, earthly perspective while He comes from the heavens. Intellectually and spiritually, His knowledge and understanding of the natural world and the heavenly realms, was, is, and forever will be, perfect, while ours remains only partial.
At times too, He explained things seemingly in superficial, general terms, to the level of understanding of His listeners. Often though, deeper levels of meaning are included, waiting to be revealed by the Holy Spirit to those who earnestly seek the greater truth. So we have layers of revelation and understanding of 'The Word.' Jesus, both the living word and the Bible!
The real beauty of the Bible as 'His Word' is that every time – if we are open –we read it, we learn something new about Jesus and His spiritual kingdom. How boring it would be if it was set out in the simplistic way of that great series of simplified of computer manuals - 'XXXX For Dummies', perhaps as 'Salvation for Dummies'! For me, they need an even simpler computer series for 'dumb dummies' – but we wont go there!
I have heard and read the Parable of the Sower many times, absorbed the explanation Jesus gave His Disciples, and listened to many sermons explaining the explanation. But one day, as I was again reading this parable, the Holy Spirit gave me a further revelation. It changed the emphasis of, and transformed my understanding about, what was, and is for these days, the underlying and key meaning of this 'story'. My wife tells me that I had been taught it a long time ago, but I had forgotten! So it was brought back to mind! Of course, being a male, my memory is far shorter than hers!
It's now my pleasure to share it with you. I trust you will find it as inspiring and motivating in living your life, as it has been in mine.
His servant and yours
David Tait
FROM THE WORD
The Parable of the Sower
13 That same day Jesus went out of the house and sat by the lake. 2 Such large crowds gathered around him that he got into a boat and sat in it, while all the people stood on the shore. 3 Then he told them many things in parables, saying: "A farmer went out to sow his seed. 4 As he was scattering the seed, some fell along the path, and the birds came and ate it up. 5 Some fell on rocky places, where it did not have much soil. It sprang up quickly, because the soil was shallow. 6 But when the sun came up, the plants were scorched, and they withered because they had no root. 7 Other seed fell among thorns, which grew up and choked the plants. 8 Still other seed fell on good soil, where it produced a crop—a hundred, sixty or thirty times what was sown. 9 He who has ears, let him hear." (Matthew 13:1-10)

THE EXPLANATION OF JESUS
"Listen then to what the parable of the sower means: 19 When anyone hears the message about the kingdom and does not understand it, the evil one comes and snatches away what was sown in his heart. This is the seed sown along the path. 20 The one who received the seed that fell on rocky places is the man who hears the word and at once receives it with joy. 21 But since he has no root, he lasts only a short time. When trouble or persecution comes because of the word, he quickly falls away. 22 The one who received the seed that fell among the thorns is the man who hears the word, but the worries of this life and the deceitfulness of wealth choke it, making it unfruitful. 23 But the one who received the seed that fell on good soil is the man who hears the word and understands it. He produces a crop, yielding a hundred, sixty or thirty times what was sown." (Matthew 13:18-23)
The most interesting thing about this explanation is not what was said, but what wasn't! For Jesus clearly explains who enters the Kingdom of God as He describes the people illustrated by each soil type. Of course, all but the final group didn't make it.
While this explanation shows how people enter the Kingdom, Jesus did not explain the key last sentence, which is about the Kingdom working in us. This 'punch line', potentially the deepest and most important part of the parable to the Christian, that of the seed grown in the good soil, is unexplained, but left for each of us to discover and apply to our own life. He explains all about the soil, but ignores the seed! Amazing! He and His Word (which of course is Him!) are just so full of surprises, of revelation, of unexplained depths of meaning, deliberately left waiting for the Holy Spirit to reveal to us.
(Continues next week)
See more about us at.....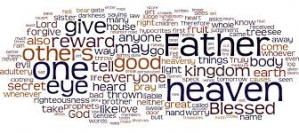 FROM THE WORD
THE WORDS OF JESUS
May we hear what the Lord is saying to us.....
Children of Abraham (John 8:31-59)
The debate continued with the Pharisees claim to be Abraham's children.
"If you follow my teaching then you really are my disciples. You will know the truth, and the truth will set you free."
"I tell you the truth, everyone who sins is a slave of sin. A slave doesn't have permanent place in the family, but the son is part of the family forever. If the Son sets you free, then you're truly free. I know you're Abraham's descendants. yet you're trying to kill me because you refuse to accept my words. I'm telling you what the Father has revealed to me, while you do what your father told you."
"If you really were children of Abraham, you'd do what Abraham did," "But you are trying to kill me now, because I told you the truth that I heard from God. Abraham would never have done that. You're doing what your father does."
"If God really was your father, you would love me. I came from God and now I am here. The decision to come wasn't mine, but the One who sent me. Why can't you understand what I'm saying? It's because you refuse to hear my message! Your father is the Devil, and you love to follow your father's evil desires. He was a murderer from the beginning. He never stood for the truth, because there is no truth in him. When he lies he reveals his true character, for he's a liar and the father of lies. 45So because I tell you the truth, you don't believe me! Can any one of you prove that I'm guilty of sin? If I'm telling you the truth, why don't you believe me? Anyone who belongs to God listens to what God says. The reason you don't listen is because you don't belong to God."
"No, I don't have a demon," "I honor my Father, but you dishonor me. I'm not here looking to glorify myself. But there is One who does this for me and who judges in my favor. I tell you the truth, anyone who follows my teaching will never die."
"If I glorify myself, my glory means nothing. But it is God himself who glorifies me, the one you claim, 'He is our God.' You don't know him, but I know him. If I were to say, 'I don't know him,' I'd be a liar, just like you. But I do know him, and I do what he says. Your father Abraham was delighted as he looked forward to see my coming, and was so happy when he saw it."
"I tell you the truth, before Abraham was born, I am,"
Jesus Heals a Man Blind Since Birth (John 9:1-12)
The disciples asked why he was blind.
"It wasn't because the man or his parents sinned, but so that what God can do may be shown in his life. We have to keep on doing the work of the One who sent me as long as it is still daytime. The night is coming when no one can work. 5While I'm here in the world I am the light of the world."
"Go and wash yourself in the Pool of Siloam"
Jesus Finds the Excommunicated Blind Man (John 9:9:13-41)
He speaks to the man and then the Pharisees.
"Do you trust in the Son of man?"
"You've already seen him. He's the one speaking with you now!"
"I've come into the world to bring judgment so that those who are blind may see, and those who see will become blind.
And then the Pharisees.
"If you were blind, you wouldn't be guilty. But now that you say you see, your guilt remains."
(Continued next week)
Download the complete 'Words of Jesus' here.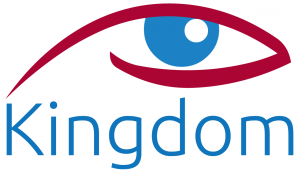 OUR AFRICAN EXPERIENCE
FOR MORE DETAILED AND REGULAR UPDATES, VISIT OUR FACEBOOK PAGE
AN EYE 4 Africa - https://www.facebook.com/aneye4africa/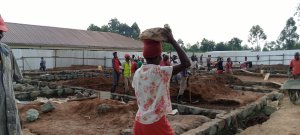 CARRYING STONES - KENYAN LADY STYLE
Kenyan ladies have very straight backs and carry loads on their heads, light or heavy. They make a circle like a tyre, made out of material, both to balance and keep the stone or other item off the head itself.
Kenyan men carry stones on their shoulders.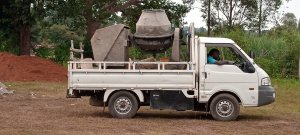 CONCRETE MIXER GOING BACK HOME
A large mixer that could make concrete faster than 10 men on wheelbarrows could cart the concrete to the site.
Much improved of our previous system of hand mixing.
The machine is on its way hame, a job well done!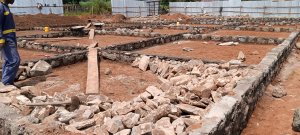 By Tuesday it should be ready to pour the slab.
Unfortunately, our funds have run out, so we will have to wait until more are available to continue.
This is common here, where people build to the amount of money they have available, then continue once they have some more, and so on. Very few mortgages here.
The Ward is quite large at around 5,000sq. ft.
A big thank you to CBMNZ and their donors for funding this.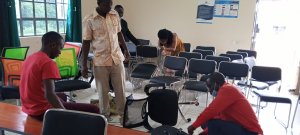 CHAIRS TO REPLACE BENCHES
Finally we have comfortable chairs for our patients, plus some office chaire, to make all our lives more comfortable!
Again thanks to CBMNZ and their supporters.
***DAILY EZINE!*** 'DAVID'S DAILY DOODLINGS' Subscribe Today
Receive one of David's sayings in your mailbox each day to inspire, challenge or maybe, amuse. To register today, go down to the bottom of the page link below, click on the subscribe link dd-on@wwj.org.nz (or paste the address in an email yourself and send) Then it's done! If you have an Irish heritage, you will love the background coloring!
Subscription and back issue link is.....

'THE WORDS OF JESUS' REMAIN AVAILABLE FOR PDF DOWNLOAD
Join the many who have downloaded the 'The Words of Jesus'. I am sure you will be blessed by it, as I have been.

One key element here is the setting out in chronological order (as far as it is possible to do so) our Lord's words drawn from all the Gospels, and the elimination of repetition between Gospels.

You may be surprised by the different perspective this presentation gives you both in understanding of His life and ministry, and in achieving a closer relationship with Him.

Download the free PDF here.....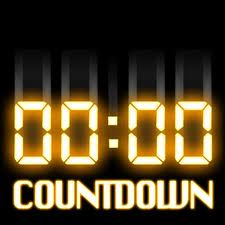 DAVID'S DOODLINGS
A MATTER OF TIME
334. The greatest time saver in the world is the 'Off' button on the TV set.
335. Modern appliances save us time so that we may work the longer hours required to afford them!
336. Labour saving devices are amazing. The more labour we save, the busier we get!

337. Isn't it time we took control of time?
338. Mankind is more productive than at any previous time in history, yet somehow, we have even less time than ever to enjoy it!

339. Unfortunately, it takes time to gain the experience to save time. This is a compelling reason to learn more from the experience of others.
340. True love is magnified by the passage of time.

405. The world's greatest motivator has always been, and remains, the 'last minute.'!
406. The curse of time came into being as the result of the sin of Adam. It remains with us today.
407. Man has conquered space but never, the curse of time.

431. We may plan for the future, but can only live in the present.
432. It is amazing how quickly our tomorrows become yesterdays.
433. The one event we can't control in our lives, is the moment the first becomes the last!
Please feel free to quote these quotes. Acknowledgment of David Tait as the author would be appreciated. There are now over 1300 David sayings for you to view at ...
CARTOONS FROM TOON FEVER
Visit the Toon Fever website for more cartoon fun..... http://www.toonfever.com

Check it out at...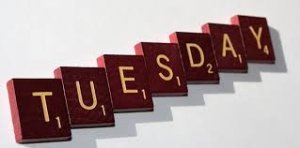 TUESDAY TEACHINGS
THIS WEEK: TRANSFORMATION OF THE CHURCH: 4. CHARACTERISTICS OF KINGDOM PEOPLE continues,,,,,
...... with a look at life change and humility.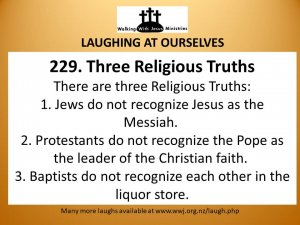 *** ANOTHER DAILY EZINE FROM WWJ!*** 'LAUGHING AT OURSELVES' Subscribe Today
As Christians, if we can't laugh at ourselves, others will! A fun way to start your day. To register today, go down to the bottom of the page link below, click on the subscribe link lao--on@wwj.org.nz (or paste the address in an email yourself and send) Then it's done!

LAUGHING AT OURSELVES
***Blessed are those who can laugh at themselves for they shall never cease to be amused***
*** Those who can't laugh at themselves leave the job to others. ***
444. Too Busy
So few people know the Bible nowadays!
I was standing downtown waiting on a bus. It was raining cats and dogs. A lady was standing next to me so I tried to be friendly and make conversation. 'If it keeps it up, we'll all have to buy an ark," I said.
"What's an ark?" she asked.
'You mean you haven't heard about Noah and the great flood and all those animals?" I asked incredulously.
"Look, mister," she replied, "I've only been in town for four days. I've scarcely had time to read a paper."
QWIK QWIP: "In order to keep a true perspective of one's importance, everyone should have a dog that will worship him and a cat that will ignore him" - Derek Bruce
445. Every Word.
One Sunday morning, after attending church services in Hartford, Connecticut, Mark Twain said to Dr. Doane, the minister: "I enjoyed your services this morning, doctor. I welcomed it like an old friend.
I have, you know, a book at home containing every word of it."
"You have not," said the indignant Dr. Doane. "I have so,"
countered Twain. "Then send it to me. I'd very much like to see it."
"I'll send it," promised Mark and the following day he sent the Reverend Dr. Doane an unabridged dictionary.
446. Who Was Jesus?
There were 3 equally good arguments that Jesus was Black:
1. He called everyone "brother"
2. He liked Gospel
3. He couldn't get a fair trial
But then there were 3 equally good arguments that Jesus was Jewish:
1. He went into his father's business
2. He lived at home until he was 33
3. He was sure his mother was a virgin and his mother was sure he was God.
But then there were three equally good arguments that Jesus was Italian:
1. He talked with his hands
2. He had wine with every meal
3. He used olive oil
But then there were three equally good arguments that Jesus was a Californian:
1. He never cut his hair
2. He walked around bare foot all of the time
3. He started a new religion
But then there were three equally good arguments that Jesus was Irish:
1. He never got married
2. He was always telling stories
3. He loved green pastures
But the most compelling evidence of all - 3 proofs that Jesus was a woman:
1. He had to feed a crowd at a moment's notice when there was no food
2. He kept trying to get a message across to a bunch of men who just didn't get it
3. Even when he was dead, he had to get up because there was more work for him to do.
Download the book 'Laughing At Ourselves' in PDF format at LAUGHING AT OURSELVES One of the most comprehensive sources of Christian Humour on the Net with 800 sermon fillers for your entertainment and use at ..... https://www.wwj.org.nz/content/wwj18p47.pdf
Or read them all online at.....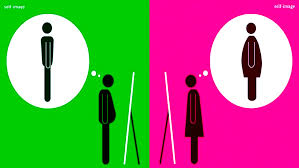 A DAVID MUSING
We all know that women and men are very different, not just physicaly, but emaotionally, in their thought processes, stickability, and in many other ways.
Here in Kenya, ladies carry loads on their heads, men on their shoulders. Western ladies, a good thing to try if you want a ramrod straight back!
My wife, after 50 years of marriage, can still surprise me on ocasions, with what she says. "Keeps her interesting", is her response!.
But when it comes to God, we are all one. While male terminology is used, we must remember that God is a Spirit, without form or sexuality.
The bible also teaches us that we will be like the angels in heaven, without gender or marriage.
Ladies form around 2/3 of nearly all churches I have visited. And they are many.
Without ladies, the church as it is organized today would cease to function..I won't get into the leadership arguments here, for that is not the purpose here.
I simply ask men and women, particularly in the church and family situations, to accept each other with our strengths and weaknesses, to promote Jesus, remembering that in the world to come, we will all be one.
Until next time.....
MAY GOD BLESS YOU AND YOU BLESS GOD
His servant and yours
David Tait

Visit us here.....
REPRODUCTION OF NEWSLETTER CONTENT
Most weeks we get enquiries about reproducing, in electronic or print form, articles contained in 'PGIM!' We welcome and encourage you to utilize this material. Freely received, freely given. We would ask though, that the source be acknowledged as an encouragement to others to subscribe to this newsletter also.
CHANGING YOUR EMAIL ADDRESS? NEWSLETTER STOPS COMING?
Each week we can lose up to 2% of our readers when they change email addresses without letting us know. Or sometimes, by your server acting strangely and just cutting us off! If you are about to change your address, please advise us of both your old and new addresses here at
enquiries@wwj.org.nz
and we will happily change our records to ensure ongoing delivery. Thanks.
Please also keep our address in your address book, as sometimes servers will automatically delete your address if there is even a one off problem in delivery. If your newsletter doesn't arrive, please let us know and we will reinstate you.
LINKS
If you would like to link your web site to ours, and ours to yours, please advise us on
links@wwj.org.nz
ABOUT US
WALKING WITH JESUS MINISTRIES is a non-profit, non-denominational, Bible based ministry located in Hastings, New Zealand. A ministry dedicated to developing discipleship, fostering unity amongst God's people to achieve the Great Commission, and in doing so, preparing for Christ's return. It is securely based upon the foundational principles of the Apostles Creed while recognising the wide and rich diversity of beliefs amongst Christians in other areas. In accordance with the Lord's direction, materials produced by the ministry are available, free of charge, to genuine enquirers upon request. The ministry is solely funded by donations, as the Lord provides. A list of materials available (plus some fun!) is obtainable and freely downloadable from our website
wwj.org.nz
or by contacting us as follows.
Walking With Jesus Ministries
7 Bull Street
Ahuriri
Napier
New Zealand
Phone: (06) 835 0567 International (+64) 6 835 0567
Email:
enquiries@wwj.org.nz
Web:
wwj.org.nz
Our role is to bless and encourage those in ministry while promoting co-operation and unity of direction amongst the body of Christ, as emphasised 3 times by Jesus in His longest prayer, immediately prior to His arrest and crucifixion. "... so that they may be one as we are one." (John 17:12, 21, 23-4) Our website is currently being developed to encourage your participation one with another, to share resources, and to enable you to promote events and items of interest to the body as a whole - and have a smile while doing it!
For comments upon and contributions to this service, please contact
david@wwj.org.nz
SUBSCRIPTION MANAGEMENT
We would encourage you to share this free service with your friends in ministry. To subscribe yourself please email pgim-on@wwj.org.nz.
If your name has been referred to us by a friend or supporting Ministry or has been obtained from a public Christian Directory or Website, it isn't our wish to burden you with information in which you aren't interested. To remove yourself from this list, please email pgim-off@wwj.org.nz.