A Weekly World Wide Word of Encouragement to those in the Ministry
PRAISE GOD IT'S MONDAY!
A WEEKLY 'WWW (world-wide word) OF ENCOURAGEMENT'
TO THOSE IN MINISTRY
A FREE service, currently connecting with Christian leaders from 3,000 denominations and ministries, in 70 countries.

Issue No: 1146 Published: 02 Oct 2023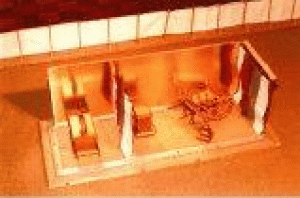 A REVELATION OF..... THE TABERNACLE OF DAVID
FROM THE HOLY PLACE TO THE ARK
The Holy Place contained three natural items of Furniture. The Ark itself, also contained three items, but these were supernatural. Remarkably, by matching like items from each place, we can build a picture of the differences between the church today and the church to come.
In the Holy Place of Moses Tabernacle, the 3 man made items of furniture were:
Table of Showbread: On this Table the priests placed 12 loaves of bread which were replaced weekly to keep them fresh. The bread represents the revelatory Word of God, revealed by the Holy Spirit to us. We need to keep reading the Word to receive the revelation and to prevent our lives becoming 'spiritually stale.
The Lampstand: The lamps of the candlestick needed to be trimmed and filled with oil twice daily. Spiritually, this represents the oil of anointing; the spiritual gifts that God gives us. Again, these need to 'trimmed' through repentance and 'topped up' with the Holy Spirit daily.
Altar of Incense: Incense was regularly burned on coals to make a heavenly smelling cloud of smoke. This represents the ways we reach out to God, primarily through praise, worship and prayer. Once again, it must be done on a regular basis.
The 3 items in the Ark however, were of supernatural origin, befitting the presence of God.
Gold Jar of Manna: God provided manna from heaven to feed His people during the 40 years they wandered the desert. Six days a week a new supply was given, one which would go moldy after 24 hours, except for the 'double portion' before the sabbath, which lasted 2 days.
Aaron's Budded Staff: When placed in God's presence, the Almond rod miraculously produced buds, blossoms and almonds, symbolizing the authority of the priesthood, of which Aaron was the first representative.
2 Stone Tablets of the Covenant: The original stones were carved by God and written on by Him also. Being entirely perfect God, they couldn't exist in the presence of sin. So Moses had no option but to throw the tablets down, breaking them in the presence of the golden calf Aaron had had made during his absence. The second set of stones however, were prepared by Moses and inscribed by the finger of God.
(Continued next week)
Find more about us here.....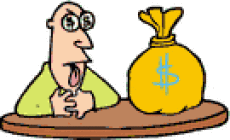 FROM THE WORD
THE WORDS OF JESUS
Jesus Teaches His Disciples and a Great Crowd (Luke 12;1-12)
To the disciples
In the meantime the crowd had grown to several thousand and they were trampling each another. Jesus spoke first to his disciples. "Beware the yeast of the Pharisees—hypocrisy. For there's nothing hidden that won't be revealed, nothing secret that won't be made known. Whatever you have said in the dark will be heard in the light, and whatever you whispered in private will be announced from the rooftops. I tell you, my friends, don't be afraid of those who kill the body, for once they've done that there's no more they can do. Let me make it clear whom you should be afraid of. You should be afraid of the one who after he has killed has the power to dispose of them in Gehenna. That's the one you should be afraid of. 6Aren't five sparrows sold for two pennies? But God doesn't forget a single one of them. Even the hairs on your head have been counted. Don't be afraid—you're worth more than many sparrows!
"I tell you the truth, those who declare they belong to me, the Son of man will also declare they belong to him before God's angels, but those who deny me will be denied before God's angels. Everyone who speaks in opposition the Son of man will be forgiven, but anyone who blasphemes against the Holy Spirit will not be forgiven.
"When you're brought to trial before synagogues, rulers, and authorities, don't worry about how to defend yourself, or what you should say. The Holy Spirit will teach you at that time what's important to say."
Jesus Teaches Against Greed (Luke 12:13-21)
And to the crowd, including a man who asked about sharing an inheritance.
"My friend," "Who appointed me as your judge to decide how your inheritance should be divided?" "Watch out, and beware of all greedy thoughts and actions, for a person's life isn't summed up by how many possessions they have."
Using the example of the Parable of the Rich Fool.
"Once there was a rich man who owned land that was very productive. The man said to himself, 'What shall I do? I've nowhere to store my crops?' 'I know what I'll do," he decided. "I'll pull down my barns and build bigger ones, and then I'll be able to store all my crops and everything I own. Then I'll tell myself, 'You have enough to live on for many years, so take life easy: eat, drink, and enjoy yourself!' But God said to him, 'You foolish man! Your life will be demanded back this very night, and then who will get everything you've stored up?' This is what happens to people who hoard up wealth for themselves but are not rich as far as God is concerned."
(Continued next week)
Find out more about us at.....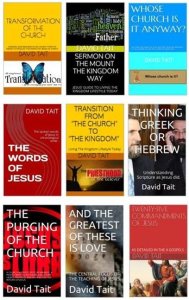 ***NOW***NINE BOOKS ARE AVAILABLE ON AMAZON!!!
9 BOOKS are now available on Amazon (Kindle)!

All are available worldwide for electronic download on Amazon (Kindle) for $US0.99c . Unfortunately there has to be a charge in order to list.

Your support would be appreciated and they could well change your life!
These and many more are availble for free online at https://www.wwj.org.nz/more-free-downloads

They Amazon books are all found at this link.....
http://www.amazon.com/s/ref=nb_sb_noss?url=search-alias%3Daps&field-keywords=david+tait+books/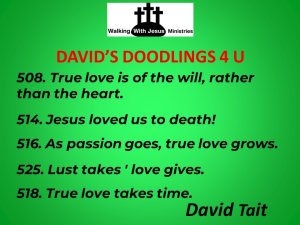 *DAVID"S DOODLINGS
Enjoy some of David's sayings here, plus 1300 more on the website at.....

'THE WORDS OF JESUS' REMAIN AVAILABLE FOR PDF DOWNLOAD
Join the many who have downloaded the 'The Words of Jesus'. I am sure you will be blessed by it, as I have been.
One key element here is the setting out in chronological order (as far as it is possible to do so) our Lord's words drawn from all the Gospels, and the elimination of repetition between Gospels.
You may be surprised by the different perspective this presentation gives you both in understanding of His life and ministry, and in achieving a closer relationship with Him.

Download the free PDF here.....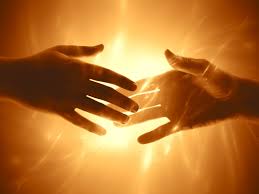 DAVID'S DOODLINGS
92. Time heals slowly, love faster, while forgiveness increases the speed.
93. Forgiveness lubricates the healing that both time and love bring.

94. Time heals, love heals better, but only forgiveness heals totally.

95. He who has suffered the greatest rejection, most appreciates the comfort of God's acceptance.

347. God's love is bigger than any human hurt.

348. The secret of inner healing is to draw nearer to God, not run away like most of us do.

349. The bigger the problem, the bigger we can discover our God is.
Many more at.....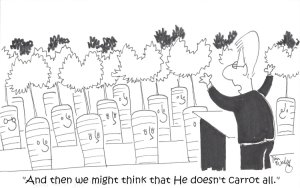 CARTOONS FROM TOON FEVER
Visit the Toon Fever website for more cartoon fun..... http://www.toonfever.com
Check it out at...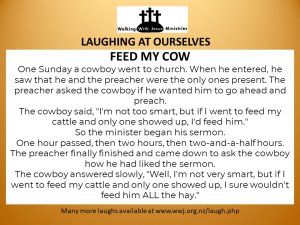 'LAUGHING AT OURSELVES
Another laugh or three for you today
Many more on our website below. Also many, may, many more under these categories on our website, wwj,org,nz Look under the heading MAINLY LAUGHS. Choose from.....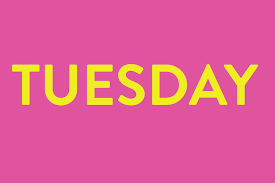 THIS WEEKS TUESDAY TEACHING.....
A REVELATION OF....... THE 3 GARDENS OF GOD: THE KINGDOM FULFILLED

Now is the time to look at the final fulfillment of the kingdom that all fully committed believers are looking forward to.

Let's seek it out!

LAUGHING AT OURSELVES
***Blessed are those who can laugh at themselves for they shall never cease to be amused***
QWIK QWIP: "A good exercise for the heart is to bend down and help another up."
405. Bible Study
A Bible study group was discussing the unforeseen possibility of sudden death. "We will all die some day," the leader of the discussion said, "and none of us really knows when, but if we did we would all do a better job of preparing ourselves for that inevitable event."
Everybody nodded their heads in agreement with this comment.
"What would you do if you knew you only had 4 weeks of life remaining before your death, before your Great Judgment Day?" the leader asked the group.
"For those 4 weeks, I would go out into my community and minister the Gospel to those that have not yet accepted Jesus into their lives." one gentleman said.
"A very admirable thing to do," said the group leader. And all the group members agreed that would be a very good thing to do.
"For those 4 weeks, I would dedicate all of my remaining time to serving my family, my church, and my fellow man with a greater conviction," one lady said enthusiastically.
"That's wonderful!" the group leader commented, and all the group members agreed that would be a very good thing to do.
One gentleman in the back finally spoke up loudly. "For those 4 weeks, I would travel throughout the United States with my mother-in-law in a Ford Escort, and stay in a Motel 6 every night." Everyone was puzzled by his answer. "Why would you do that?" the group leader asked.
"Because," the man smiled, "it would be the longest 4 weeks of my life."
406. Slamming the Door
Two church members were going door to door, and knocked on the door of a woman who was not happy to see them. She told them in no uncertain terms that she did not want to hear their message and slammed the door in their faces.
To her surprise, however, the door did not close and, in fact, bounced back open. She tried again, really put her back into it, and slammed the door again with the same result the door bounced back open.
Convinced these rude young people were sticking their foot in the door, she reared back to give it a slam that would teach them a lesson, when one of them said, "Ma'am, before you do that again you need to move your cat."
407. The Evils of TV
a pastor was preaching an impassioned sermon on the evils of television.
"It steals away precious time that could be better spent on other things," he said.
He advised the congregation to do what he and his family had done.
"We put our TV away in the closet."
"That's right," his wife mumbled, "and it gets awfully crowded in there."
Download the book 'Laughing At Ourselves' in PDF format at LAUGHING AT OURSELVES One of the most comprehensive sources of Christian Humour on the Net with 800 sermon fillers for your entertainment and use at ..... https://www.wwj.org.nz/content/wwj18p47.pdf
Or read even more online at.....

A DAVID MUSING
What to believe?
We are faced by much conflicting information in this world! And confusion between it too!
Our mind goes round and round! What should we do! What can we believe.
EOOOOW!!!!!!
Particularly in this internet and social media age, the sources are just overwhelming!
But there is one thing that doesn't change! The saving power of Jesus! Or the Bible! Although some may try and change the Bible, and say or teach things that aren't actually in it. So bad and sad.
There is no alternative it to reading a good Bible for yourself and praying to God, through the Holy Spirit, to interpret it to you and show you how to apply it to your life.
People in general these days, want everything immediately, instant gratification, and aren't prepared to take time to seek and apply eternal truth. All the videos and teachings in the world can help, but there is no substitute for reading the word. Then you can confirm whether what you see, or are bring taught, is correct!
Until next time
His servant and yours
David Tait

Visit us here.....
CHANGING YOUR EMAIL ADDRESS? NEWSLETTER STOPS COMING?
Each week we can lose up to 2% of our readers when they change email addresses without letting us know. Or sometimes, by your server acting strangely and just cutting us off! If you are about to change your address, please advise us of both your old and new addresses here at
enquiries@wwj.org.nz and we will happily change our records to ensure ongoing delivery. Thanks.

Please also keep our address in your address book, as sometimes servers will automatically delete your address if there is even a one off problem in delivery. If your newsletter doesn't arrive, please let us know and we will reinstate you.
REPRODUCTION OF NEWSLETTER CONTENT
Most weeks we get enquiries about reproducing, in electronic or print form, articles contained in 'PGIM!' We welcome and encourage you to utilize this material. Freely received, freely given. We would ask though, that the source be acknowledged as an encouragement to others to subscribe to this newsletter also.
LINKS
If you would like to link your web site to ours, and ours to yours, please advise us on
links@wwj.org.nz
ABOUT US
WALKING WITH JESUS MINISTRIES is a non-profit, non-denominational, Bible based ministry located in Hastings, New Zealand. A ministry dedicated to developing discipleship, fostering unity amongst God's people to achieve the Great Commission, and in doing so, preparing for Christ's return. It is securely based upon the foundational principles of the Apostles Creed while recognising the wide and rich diversity of beliefs amongst Christians in other areas. In accordance with the Lord's direction, materials produced by the ministry are available, free of charge, to genuine enquirers upon request. The ministry is solely funded by donations, as the Lord provides. A list of materials available (plus some fun!) is obtainable and freely downloadable from our website
wwj.org.nz or by contacting us as follows.

Walking With Jesus Ministries
P O Box 2
Webuye 50205
Kenya

Email: enquiries@wwj.org.nz
Web: wwj.org.nz

Our role is to bless and encourage those in ministry while promoting co-operation and unity of direction amongst the body of Christ, as emphasised 3 times by Jesus in His longest prayer, immediately prior to His arrest and crucifixion. "... so that they may be one as we are one." (John 17:12, 21, 23-4) Our website is currently being developed to encourage your participation one with another, to share resources, and to enable you to promote events and items of interest to the body as a whole - and have a smile while doing it!

For comments upon and contributions to this service, please contact
david@wwj.org.nz
SUBSCRIPTION MANAGEMENT
We would encourage you to share this free service with your friends in ministry. To subscribe yourself please email pgim-on@wwj.org.nz.
If your name has been referred to us by a friend or supporting Ministry or has been obtained from a public Christian Directory or Website, it isn't our wish to burden you with information in which you aren't interested. To remove yourself from this list, please email pgim-off@wwj.org.nz.