A Weekly World Wide Word of Encouragement to those in the Ministry
PRAISE GOD IT'S MONDAY!
A WEEKLY 'WWW (world-wide word) OF ENCOURAGEMENT'
TO THOSE IN MINISTRY
A FREE service, currently connecting with Christian leaders from 3,000 denominations and ministries, in 70 countries.

Issue No: 945 Published: 02 Dec 2019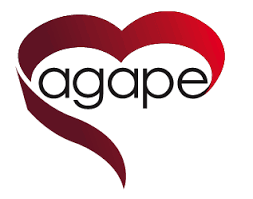 THINKING GREEK OR HEBREW?
LOVE AND HATE
Greek (Western) In Greek thought, love and hate are primarily based on emotion.
Generally, love is initiated by feelings or emotion before a commitment is made. Thus we 'fall in love' before making the commitment to get married. (In societies where marriages are arranged, the reverse is the case.) If we then have a negative experience, love can so easily turn into hate, another emotional reaction. In a Christian setting, the evangelist will elicit an emotional response from people before calling them to a commitment to the Lord. Emotional response comes before commitment.

Eastern (Hebrew) In Hebrew thought, ahav is based on a conscious preference or choice.
Love and hate are not emotional concepts in scriptural thought. With this understanding of love being choice, the Scripture about God loving Jacob and hating Esau can be viewed completely differently.
An oracle: The word of the LORD to Israel through Malachi.
Jacob Loved, Esau Hated
2 "I have loved you," says the LORD. "But you ask, 'How have you loved us?' "Was not Esau Jacob's brother?" the LORD says. "Yet I have loved Jacob, 3 but Esau I have hated, and I have turned his mountains into a wasteland and left his inheritance to the desert jackals." (Malachi 1:1-3)
The Lord did not 'hate' Esau in an emotional fashion, but rather, he 'chose' Jacob over him.
Similarly, when Jesus said.....
15 "If you love me, you will obey what I command. (John 14:15)
If you make a conscious choice to follow me, then you will choose to obey my instructions to you.
Again, when Jesus spoke about mankind loving darkness, He really meant that we make a conscious choice of evil over good.
19 This is the verdict: Light has come into the world, but men loved darkness instead of light because their deeds were evil. (John 3:19)
The concept of Jesus coming for His bride is now even more interesting. In a traditional Hebrew situation, the father chooses the son's bride. When the vows are made, the bride and groom choose each other. What an amazing analogy! God chooses us for His son Jesus, which we confirm by then choosing to follow Jesus. Take the analogy for the beautiful picture it is, and do not get all confused by arguments of predestination versus freewill. As you can, see both apply here!
So we, the bride then, have chosen to make ourselves ready to receive our groom, Jesus, by living holy and righteous lives.
7 Let us rejoice and be glad and give him glory! For the wedding of the Lamb has come, and his bride has made herself ready. 8 Fine linen, bright and clean, was given her to wear." (Fine linen stands for the righteous acts of the saints.) (Revelation 19:7-8)
Come Jesus, come.

SOME SPIRITUAL IMPLICATIONS FOR TODAY
1. Jesus requires disciples who have chosen to be fully sold out to Him, not those who have simply made an emotional or mind decision without also living the life of what they supposedly believe.
2. True followers of Jesus are more likely to arise through the example of our actions rather than our words.
3. To reach the Jewish and other Mid-Eastern people particularly, love reflected through action, is essential..
Find out more about us at.....
FROM THE WORD
THE WORDS OF JESUS
May we hear what the Lord is saying to us.....
Sermon on the Mount(Matthew 5:1-7:29, Luke 6:17-49)
The primary 'life teachings' of Jesus.
The Beatitudes(Matthew 5:1-12, Luke 6:20-23)
"Blessed are those who recognize they are spiritually poor, for the kingdom of heaven is theirs.
Blessed are those who mourn, for they shall be comforted.
Blessed are those who are kind, for they will own the whole world.
Blessed are those whose greatest desire is to do what is right, for they will be satisfied.
Blessed are those who are merciful, for they will be shown mercy.
Blessed are those who have pure hearts, for they will see God.
Blessed are those who work to bring peace, for they will be called children of God.
Blessed are those persecuted for what is right, for the kingdom of heaven belongs to them.
Blessed are you when people insult you and persecute you, and accuse you of all kind of evil things because of me.
Be glad, be really glad, for you will receive a great reward in heaven—for they persecuted the prophets who came before you in just the same way.
Salt and Light (Matthew 5:13-16)
"You are the salt of the earth, but if the salt becomes tasteless, how can you make it salty again? It's good for nothing, so it's thrown out and trodden on. You are the light of the world. A city built on a hill can't be hidden. No one lights a lamp and then puts it under a bucket. No, it's placed on a lamp-stand and it provides light to everyone in the house. 16In the same way you should let your light shine before everyone so they can see the good things you do and praise your heavenly Father
Fulfillment of the Law (Matthew 5:17-20)
"Don't think I came to abolish the law or the writings of the prophets. I didn't come to abolish them, but tofulfill them. I assure you, until heaven and earth come to an end, not a single letter, not a single dot of the law will come to an end before everything is fulfilled. So whoever disregards the least important commandment, and teaches people to do so, will be called the least in the kingdom of heaven; but whoever practices and teaches the commandments will be called great in the kingdom of heaven. I tell you, unless your righteousness is more than that of the religious teachers and the Pharisees, you can never enter the kingdom of heaven.
(Continued next week)
Download the complete 'Words of Jesus' here.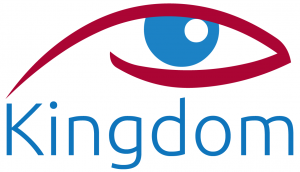 OUR AFRICAN EXPERIENCE
FOR MORE DETAILED AND REGULAR UPDATES, VISIT OUR FACEBOOK PAGE
AN EYE 4 Africa - https://www.facebook.com/aneye4africa/
In New Zealand for 3 weeks. Back soon.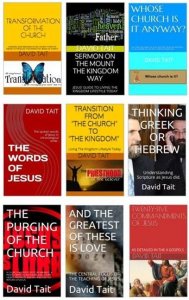 ***NOW***NINE BOOKS ARE AVAILABLE ON AMAZON!!!
9 BOOKS are now available on Amazon (Kindle)!

All are available worldwide for electronic download on Amazon (Kindle) for $US0.99c . Unfortunately there has to be a charge in order to list.

Your support would be appreciated and they could well change your life!

They are all found at this link.....
http://www.amazon.com/s/ref=nb_sb_noss?url=search-alias%3Daps&field-keywords=david+tait+books/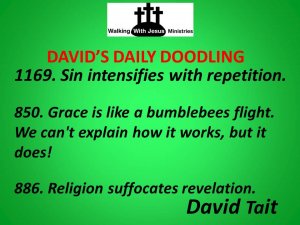 ***DAILY EZINE!*** 'DAVID'S DAILY DOODLINGS' Subscribe Today
Receive one of David's sayings in your mailbox each day to inspire, challenge or maybe, amuse. To register today, go down to the bottom of the page link below, click on the subscribe link dd-on@wwj.org.nz (or paste the address in an email yourself and send) Then it's done! If you have an Irish heritage, you will love the background coloring!
Subscription and back issue link is.....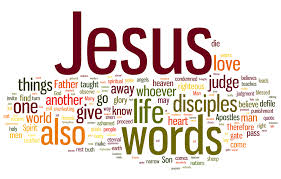 'THE WORDS OF JESUS' REMAIN AVAILABLE FOR PDF DOWNLOAD
Join the many who have downloaded the 'The Words of Jesus'. I am sure you will be blessed by it, as I have been.

One key element here is the setting out in chronological order (as far as it is possible to do so) our Lord's words drawn from all the Gospels, and the elimination of repetition between Gospels.

You may be surprised by the different perspective this presentation gives you both in understanding of His life and ministry, and in achieving a closer relationship with Him.

Download the free PDF here.....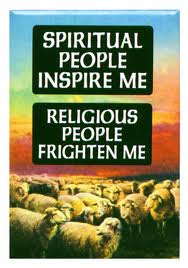 DAVID'S DOODLINGS
RELIGION, REVELATION AND GOD'S KINGDOM
1052. Today's revelation becomes tomorrow's religion.
1053. One dose of God is worth more than a billion of religion!
1054. When mankind cannot accept God's revelation, they adapt it to become religion.
1055. The cost of God's kingdom is obedience, religion's, money. Most of us take the easy option!
1056. Religion goes as God's kingdom grows.
1057. Revelation tells us God's kingdom is available now, while religion places itself in the now, with the kingdom to be found in the future.
1058. Religion may well be the opiate of the masses, but God's kingdom is possessed by the godly, right now!
1059. Religion comes and religion goes, but God's kingdom goes on forever.
1060. God's kingdom now isn't freely given, but possessed through godly obedience.
1061. God reveals, while religion conceals.
Please feel free to quote these quotes. Acknowledgement of David Tait as the author would be appreciated. There are now over 1300 David sayings for you to view at ...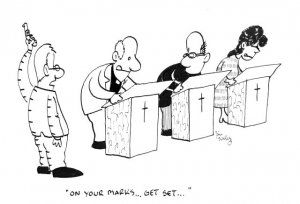 CARTOONS FROM TOON FEVER
Visit the Toon Fever website for more cartoon fun..... http://www.toonfever.com

Check it out at...
TUESDAY TEACHINGS
NEXT WEEK: POS' FULFILLED BY JESUS (To be Experientially fulfilled, that is Embraced, by the Church)
Continuing our study with the last 3 exciting, but challenging, truths we are to embrace as the church before Jesus returns.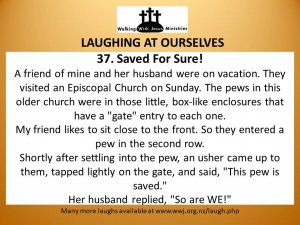 *** ANOTHER DAILY EZINE FROM WWJ!*** 'LAUGHING AT OURSELVES' Subscribe Today
As Christians, if we can't laugh at ourselves, others will! A fun way to start your day. To register today, go down to the bottom of the page link below, click on the subscribe link lao--on@wwj.org.nz (or paste the address in an email yourself and send) Then it's done!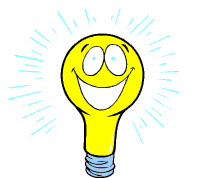 LAUGHING AT OURSELVES
***Blessed are those who can laugh at themselves for they shall never cease to be amused***
*** Those who can't laugh at themselves leave the job to others. ***
346. Lightbulbs
How many Psychiatrists does it take to change a lightbulb?
?? Just one - But the bulb has to want to change!
How many Policeman does it take to change a Lightbulb?
?? 4 - One to change, one for "backup" and 2 to buy the donuts!
How many Norwegians does it take?
?? 3 - One to hold the bulb and 2 to spin the ladder!
How many Ecologists?
?? 25 - 1 to change the bulb and 24 to do the environmental impact study! How many theologians?
?? Who can say? - Each has a different interpretation of what "Light" really is!!
QWIK QWIP: "He who always speaks the truth doesn't need a long memory."
347. God's Answering Machine
I have learned to live with the answering machine as a necessary part of modernisation. But I have often wondered - What if God decided to install an automated answering machine?
Imagine praying and hearing this - "Thank you for calling My Father's House. Please select one of the following four options: Press 1 for requests. Press 2 for a thanksgiving. Press 3 for complaints. For all other inquiries, press 4.
What if God used the familiar excuse: "All the Angels are helping other customers right now. Please stay on the line. Your call will be answered in the order it was received."
Can you imagine getting these kinds of responses as you call on God in prayer? "If you'd like to speak with Gabriel, press 1. For Michael, press 2. For any other Angel, press 3." "If you'd like King David to sing a psalm for you, press 6." To find out if your relative is here, enter his/her date of death and listen for the list that follows." For answers to nagging questions about dinosaurs, the age of the earth, and where Noah's ark is, wait 'till you get here!" "Our computers show that you have called once today already. Please hang up immediately." "This office is closed for the weekend. Please call again Monday."
THANK GOD YOU CAN'T CALL HIM TOO OFTEN! YOU ONLY NEED TO RING ONCE, AND GOD HEARS YOU. BECAUSE OF JESUS, YOU NEVER GET A BUSY SIGNAL. GOD TAKES EACH CALL AND KNOWS EACH CALLER PERSONALLY.
"Then you will call and the Lord will answer; you will cry for help, and He will say: Here am I." Isaiah 58:9 NTV
QWIK QWIP: "Funny how everyone wants to go to heaven, provided they don't have to believe, or to think, or to say, or to do anything."
348. A Little Bible Study Prophets Everyone
The following are some insights young Sunday school students turned in to their teachers:
Adam and Eve were created from an apple tree.
Lot's wife was a pillar of salt by day and a ball of fire by night.
Noah's wife was Joan of Ark.
Samson slew the Philistines with the axe of the apostles.
Moses went to the top of Mt. Cyanide to get the 10 Commandments.
The Seventh Commandment is "Thou shalt not admit adultery."
Joshua led the Hebrews in the battle of Geritol.
Solomon had 300 wives and 700 porcupines.
Jesus was born because Mary had an immaculate contraption.
The people who followed Jesus were called the 12 decibels.
The Epistles were the wives of the Apostles.
Paul preached holy acrimony, which is another name for marriage.
A Christian should have only one wife. This is called monotony.
Parables mean there is more than one bull.
Download the book 'Laughing At Ourselves' in PDF format at LAUGHING AT OURSELVES One of the most comprehensive sources of Christian Humour on the Net with 800 sermon fillers for your entertainment and use at ..... https://www.wwj.org.nz/content/wwj18p47.pdf
Or read them all online at.....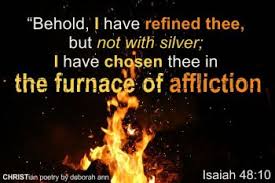 A DAVID MUSING
God takes you to the very limit - and beyond, it seems to us sometimes.
But God knows best. We need to remind ourselves of that when going through tough times.
"O God, where are you?" is our cry. Silence. Things get harder. Still, silence. And harder still. "God you have deserted me! I can't take any more! Are you really there Lord?" Still, silence. "I can't go on, Lord" Still, silence. You persevere a little more in despearation.
Then, when you least expect it, God turns up!
"Here I am, my son, my daughter. I have not forgottenyou. You have been in the palm of my hand all through your troubles. I never left you."
"Leave your old ways behind and experience the blessing of my Spirit upon you. For I am your Lord and your God."
God knows us better than we know ourselves. He knows how much we can stand. Not out of sadistic pleasure but in order to teach us to fully trust in Him, and to mould us more into the likeness of Jesus.
The greater the things God has for you, the greater the trials and tribulations He will put you through.
If you are going through a tough time at the moment, and cannot see an end to it, remember there is an end, in His time.
Thank you Lord.
Until next week.....
MAY GOD BLESS YOU AND YOU BLESS GOD
His servant and yours
David Tait

Visit us here.....
REPRODUCTION OF NEWSLETTER CONTENT
Most weeks we get enquiries about reproducing, in electronic or print form, articles contained in 'PGIM!' We welcome and encourage you to utilize this material. Freely received, freely given. We would ask though, that the source be acknowledged as an encouragement to others to subscribe to this newsletter also.
CHANGING YOUR EMAIL ADDRESS? NEWSLETTER STOPS COMING?
Each week we can lose up to 2% of our readers when they change email addresses without letting us know. Or sometimes, by your server acting strangely and just cutting us off! If you are about to change your address, please advise us of both your old and new addresses here at
enquiries@wwj.org.nz
and we will happily change our records to ensure ongoing delivery. Thanks.
Please also keep our address in your address book, as sometimes servers will automatically delete your address if there is even a one off problem in delivery. If your newsletter doesn't arrive, please let us know and we will reinstate you.
LINKS
If you would like to link your web site to ours, and ours to yours, please advise us on
links@wwj.org.nz
ABOUT US
WALKING WITH JESUS MINISTRIES is a non-profit, non-denominational, Bible based ministry located in Hastings, New Zealand. A ministry dedicated to developing discipleship, fostering unity amongst God's people to achieve the Great Commission, and in doing so, preparing for Christ's return. It is securely based upon the foundational principles of the Apostles Creed while recognising the wide and rich diversity of beliefs amongst Christians in other areas. In accordance with the Lord's direction, materials produced by the ministry are available, free of charge, to genuine enquirers upon request. The ministry is solely funded by donations, as the Lord provides. A list of materials available (plus some fun!) is obtainable and freely downloadable from our website
wwj.org.nz
or by contacting us as follows.
Walking With Jesus Ministries
7 Bull Street
Ahuriri
Napier
New Zealand
Phone: (06) 835 0567 International (+64) 6 835 0567
Email:
enquiries@wwj.org.nz
Web:
wwj.org.nz
Our role is to bless and encourage those in ministry while promoting co-operation and unity of direction amongst the body of Christ, as emphasised 3 times by Jesus in His longest prayer, immediately prior to His arrest and crucifixion. "... so that they may be one as we are one." (John 17:12, 21, 23-4) Our website is currently being developed to encourage your participation one with another, to share resources, and to enable you to promote events and items of interest to the body as a whole - and have a smile while doing it!
For comments upon and contributions to this service, please contact
david@wwj.org.nz
SUBSCRIPTION MANAGEMENT
We would encourage you to share this free service with your friends in ministry. To subscribe yourself please email pgim-on@wwj.org.nz.
If your name has been referred to us by a friend or supporting Ministry or has been obtained from a public Christian Directory or Website, it isn't our wish to burden you with information in which you aren't interested. To remove yourself from this list, please email pgim-off@wwj.org.nz.