A Weekly World Wide Word of Encouragement to those in the Ministry
PRAISE GOD IT'S MONDAY!
A WEEKLY 'WWW (world-wide word) OF ENCOURAGEMENT'
TO THOSE IN MINISTRY
A FREE service, currently connecting with Christian leaders from 3,000 denominations and ministries, in 70 countries.

Issue No: 1011 Published: 01 Mar 2021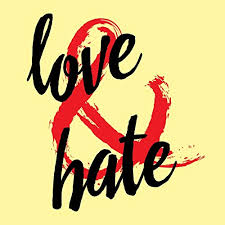 THINKING GREEK OR HEBREW
LOVE AND HATE

Greek (Western) In Greek thought, love and hate are primarily based on emotion.
Generally, love is initiated by feelings or emotion before a commitment is made. Thus we 'fall in love' before making the commitment to get married. (In societies where marriages are arranged, the reverse is the case.) If we then have a negative experience, love can so easily turn into hate, another emotional reaction. In a Christian setting, the evangelist will elicit an emotional response from people before calling them to a commitment to the Lord. Emotional response comes before commitment.

Eastern (Hebrew) In Hebrew thought, ahav is based on a conscious preference or choice
Love and hate are not emotional concepts in scriptural thought. With this understanding of love being choice, the Scripture about God loving Jacob and hating Esau can be viewed completely differently.
An oracle: The word of the LORD to Israel through Malachi.
Jacob Loved, Esau Hated
2 "I have loved you," says the LORD. "But you ask, 'How have you loved us?' "Was not Esau Jacob's brother?" the LORD says. "Yet I have loved Jacob, 3 but Esau I have hated, and I have turned his mountains into a wasteland and left his inheritance to the desert jackals." (Malachi 1:1-3)
The Lord did not 'hate' Esau in an emotional fashion, but rather, he 'chose' Jacob over him.
Similarly, when Jesus said.....
15 "If you love me, you will obey what I command. (John 14:15)
If you make a conscious choice to follow me, then you will choose to obey my instructions to you.
Again, when Jesus spoke about mankind loving darkness, He really meant that we make a conscious choice of evil over good.
19 This is the verdict: Light has come into the world, but men loved darkness instead of light because their deeds were evil. (John 3:19)
The concept of Jesus coming for His bride is now even more interesting. In a traditional Hebrew situation, the father chooses the son's bride. When the vows are made, the bride and groom choose each other. What an amazing analogy! God chooses us for His son Jesus, which we confirm by then choosing to follow Jesus. Take the analogy for the beautiful picture it is, and do not get all confused by arguments of predestination versus freewill. As you can, see both apply here!
So we, the bride then, have chosen to make ourselves ready to receive our groom, Jesus, by living holy and righteous lives.
7 Let us rejoice and be glad and give him glory! For the wedding of the Lamb has come, and his bride has made herself ready. 8 Fine linen, bright and clean, was given her to wear." (Fine linen stands for the righteous acts of the saints.) (Revelation 19:7-8)
Come Jesus, come.

SOME SPIRITUAL IMPLICATIONS FOR TODAY
1. Jesus requires disciples who have chosen to be fully sold out to Him, not those who have simply made an emotional or mind decision without also living the life of what they supposedly believe.
2. True followers of Jesus are more likely to arise through the example of our actions rather than our words.
3. To reach the Jewish and other Mid-Eastern people particularly, love reflected through action, is essential.
(Continues next week)
Acknowledgements: http://www.followtherabbi.com and http://hethathasanear.com and http://www.wildbranch.org
See more about us at.....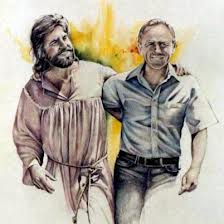 FROM THE WORD
THE WORDS OF JESUS
May we hear what the Lord is saying to us.....
Jesus Asks Whose Son The Christ is (Matthew 22:41-46, Mark 12:35-7, Luke 20:41-4)
Of the Pharisees.
"What do you think about the Messiah?" he asked. "Whose son is he?"
The 'Son of David' is their reply.
"But how can David under inspiration call him 'Lord'?" "He says, 'The Lord said to my Lord, sit down at my right hand until I defeat all your enemies.' If David called him Lord, how can he be his son?"
Warnings About the Scribes and Pharisees (Matthew 23:1-39, Mark 12:38-40, Luke 20:45-7)
The Seven Woes.
"The religious teachers and the Pharisees are responsible as interpreters of the law of Moses, so obey them and do everything they tell you. But don't follow what they do, because they don't practice what they preach. They tie up heavy burdens, and place them on people's shoulders, but they themselves don't lift a finger to help them. Everything they do is to make sure they get noticed. They make themselves large prayer boxes to wear and long tassels on their clothes. They love to have the places of honor at banquets and the best seats in the synagogues. They love to be greeted with respect in the market places, and for people to call them 'Rabbi.
"Don't let people call you 'Rabbi.' Only one is your Master Teacher, and you are all brothers. Don't call
anyone by the title 'Father' here on earth. Only one is your Father, who is in heaven. Don't let people call you 'Teacher.' Only one is your Teacher, the Messiah. The greatest among you will be your servant. Anyone who makes themselves great will be humbled, and anyone who humbles themselves will be made great.
"But what a disaster is coming on you, religious teachers and Pharisees, you hypocrites! You slam shut the door of the kingdom of heaven in people's faces. You yourselves don't go in, yet you don't let anyone in who is trying to enter. What a disaster is coming on you, religious teachers and Pharisees, you hypocrites! For you travel over land and sea to make a single convert, and when you do, you make him twice a son of darkness as you are yourselves. What a disaster is coming on those of you who say, 'If you swear by the Temple that doesn't count, but if you swear by the gold of the Temple, then you have to keep your oath.' How foolish and blind you are! What is greater—the gold, or the Temple that makes the gold holy? You say, 'If you swear on the altar that doesn't count, but if you swear on the sacrifice that's on the altar, then you have to keep your oath.' How blind you are! What is greater—the sacrifice, or the altar that makes the sacrifice holy? If you swear by the altar, you swear by it and by everything that's on it. If you swear by the Temple you swear by it and by the One who lives there. If you swear by heaven you swear by the throne of God and the One who sits there.
"What a disaster is coming on you, religious teachers and Pharisees, you hypocrites! You pay a tithe of mint, aniseed, and cumin, but you neglect the vital aspects of the law—doing right, showing mercy, exercising trust. Yes, you should pay your tithe, but don't forget these other things. You blind guides—you strain what you drink to keep out a fly but then you swallow a camel!
"What a disaster is coming on you, religious teachers and Pharisees, you hypocrites! You clean the outside of the cup and the plate, but inside you're full of greed and self-indulgence. You blind Pharisees! First clean the inside of the cup and the plate, so that the outside will also be clean.
"What a disaster is coming on you, religious teachers and Pharisees, you hypocrites! You are like whitewashed tombs, looking good on the outside, but on the inside full of skeletons and all kinds of rottenness. You're just the same. On the outside you look like good people to others, but on the inside you're full of hypocrisy and wickedness.
"What a disaster is coming on you, religious teachers and Pharisees, you hypocrites! You build tombs as memorials to the prophets, and decorate the tombs of the good, and you say, 'If we had lived in the times of our ancestors we would not have joined them in shedding the blood of the prophets.' But by saying this you testify against yourselves, proving that you belong to those who murdered the prophets! So get on with it—finish it all off using your forefathers' methods! You snakes, you brood of vipers, how will you escape the judgment of condemnation?
"That's why I'm sending you prophets, wise men, and teachers. Some of them you will kill, some of them you will crucify, and some of them you will flog in your synagogues, hunting them from town to town. As a result, you will be held accountable for the blood of all the good people that has been poured out on the land— from the blood of Abel, who did what was right, to the blood of Zachariah son of Barachiah, whom you killed between the Temple and the altar.
"I'm telling you, the consequences of all this will fall on this generation. O Jerusalem, Jerusalem, you who kill the prophets and stone those who are sent to you! So often I wanted to gather your children as a mother hen gathers her chicks under her wings—but you wouldn't let me. 38Now look—your house is left abandoned, totally empty. I tell you this: you won't see me again until you say, 'Blessed is the one who comes in the name of the Lord.'"
(Continued next week)
Download the complete 'Words of Jesus' here.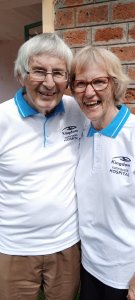 OUR AFRICAN EXPERIENCE
FOR MORE DETAILED AND REGULAR UPDATES, VISIT OUR FACEBOOK PAGE
AN EYE 4 Africa - https://www.facebook.com/aneye4africa/
(Kathy with Selina, our hostess in whose house we have lived for 3 1/2 years now!)
SIGHT, THE MOST IMPORTANT OF OUR 5 SENSES!
Which of your 5 senses, sight, smell, touch, taste and hearing, would like least to lose? To me, and nearly all of us I would suggest, sight is the most vital of all our senses.
For without sight, the world is locked away and others can take advantage of us.
Here in Kenya 350,000 people are defined as blind and another 1,250,000 suffer from visual impairment! Of the blind, 43%, or 150,000 people's sight can be corrected through the wonder of Cataract Surgery. Plus many of those suffering visual impairment also.
It is a huge problem that the Government simply hasn't the resources to deal with the high prevalence of other viruses, diseases and conditions in the population.
Eye treatment is primarily a function of the mission sector. While the problem is huge, indeed seemingly insurmountable, it is being tackled, one eye at a time, by those with a heart to see people 'brought back to life' through Cataract Surgery"
Here at Kingdom Eye we started operations slowly in September 2018, with a large break in 2020 due to Covid, when all surgeries were put on hold by the Government.
This year, as we gat better known for quality outcomes our surgeries have increased to 10 a week. By the end of the year with new branches, we expect to be doing 30-50 surgeries per week.
Of course we don't just do Cataracts, but treat many eye conditions, and offer spectacles through our Optical Department. We are looking at being able to provide quality spectacles to the poor at under KES3,000 (USD30, NZD38) in the near future.
General out and In Patient services are also offered.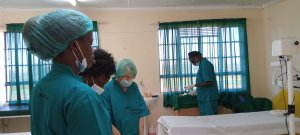 2. Prayers before operating. From left: Leah, our Ophthalmic Trainee, Lily, our Surgeon, Kathy, the Runner and Emmanuel, the Scrub Nurse, who assists Lily in the operations.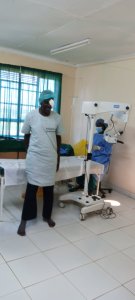 3. Our patient jumps off the bed laughing, at the conclusion of the surgery. The eyes are blocked with an anesthetic but the client is fully conscious during the operation.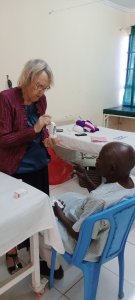 4. Kathy giving the lady her drugs and instructions on when to take them.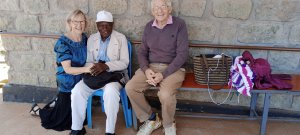 5. One very happy 75 year old patient. The surgery changes his life.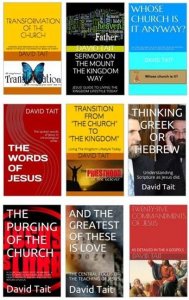 ***NOW***NINE BOOKS ARE AVAILABLE ON AMAZON!!!
9 BOOKS are now available on Amazon (Kindle)!

All are available worldwide for electronic download on Amazon (Kindle) for $US0.99c . Unfortunately there has to be a charge in order to list.

Your support would be appreciated and they could well change your life!

They are all found at this link.....
http://www.amazon.com/s/ref=nb_sb_noss?url=search-alias%3Daps&field-keywords=david+tait+books/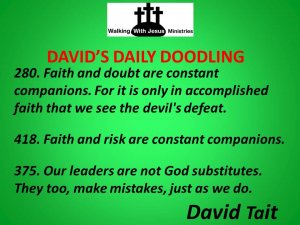 ***DAILY EZINE!*** 'DAVID'S DAILY DOODLINGS' Subscribe Today
Receive one of David's sayings in your mailbox each day to inspire, challenge or maybe, amuse. To register today, go down to the bottom of the page link below, click on the subscribe link dd-on@wwj.org.nz (or paste the address in an email yourself and send) Then it's done! If you have an Irish heritage, you will love the background coloring!
Subscription and back issue link is.....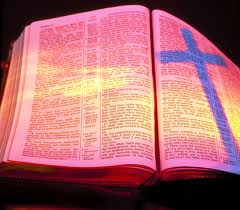 'THE WORDS OF JESUS' REMAIN AVAILABLE FOR PDF DOWNLOAD
Join the many who have downloaded the 'The Words of Jesus'. I am sure you will be blessed by it, as I have been.

One key element here is the setting out in chronological order (as far as it is possible to do so) our Lord's words drawn from all the Gospels, and the elimination of repetition between Gospels.

You may be surprised by the different perspective this presentation gives you both in understanding of His life and ministry, and in achieving a closer relationship with Him.

Download the free PDF here.....

DAVID'S DOODLINGS
GENERAL
249. Enthusiasm wins the sprint, perseverance the marathon, while enthusiastic perseverance maximises performance in the race of life.

250. Life experience has taught me that 'much fuss' hinders results while 'little fuss' reaps great rewards.

251. People find it much easier to find solutions to the problems of others than to face up to their own.

252. Strength is not a matter of opinions, but of purpose.

253. Many mean to 'find the way', but few seek 'The Way' to find life's answers.

274. An Olympic Gold Medal will soon tarnish, but God's reward is eternal.

286. An inspiration lasts for but a moment. An inspiration written down can bless others for generations.

287. If all those godly inspirations lost to memory had been recorded, we would now be much greater in wisdom. Also in filing cabinets!

293. Without challenges there can be no accomplishments.

367. FOR SALE - Free mansions in the sky. Over 1.5 billion sold but still a few left. All enquiries to Jesus.
Please feel free to quote these quotes. Acknowledgment of David Tait as the author would be appreciated. There are now over 1300 David sayings for you to view at ...
CARTOONS FROM TOON FEVER
Visit the Toon Fever website for more cartoon fun..... http://www.toonfever.com

Check it out at...

TUESDAY TEACHINGS
THIS WEEK:GOD AND MAN continues.....
We look at the result of our response and the inheritance that is available to us when we obey God's will.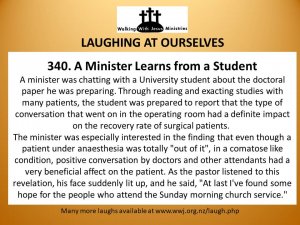 *** ANOTHER DAILY EZINE FROM WWJ!*** 'LAUGHING AT OURSELVES' Subscribe Today
As Christians, if we can't laugh at ourselves, others will! A fun way to start your day. To register today, go down to the bottom of the page link below, click on the subscribe link lao--on@wwj.org.nz (or paste the address in an email yourself and send) Then it's done!
https://www.wwj.org.nz/laughing-at-ourselves-ezine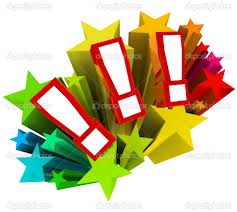 LAUGHING AT OURSELVES
***Blessed are those who can laugh at themselves for they shall never cease to be amused***
*** Those who can't laugh at themselves leave the job to others. ***
17. Ralph
"I hope you didn't take it personally Pastor," the embarrassed women said after a church service, "when my husband walked out during your sermon."
"I must admit, I did find it rather disconcerting," he replied.
"Its not a reflection on you," said the now red faced lady in a confidential tone, "Ralph's been walking in his sleep ever since he was a child."
18. Count Your Blessings
A visitor once asked, "Does it ever rain in Arizona?"
The rancher thought about it a minute and then replied, "Yes it does. You remember in the Bible how it rained for 40 days and 40 nights during Noah's flood. Well, we got 2 inches of that."
QWIK QWIP: "When God ordains, He sustains."
19. Its Funny How….
….hard it is to read a chapter in the Bible,
but how easy it is to read 100 pages of a best selling novel.
….people want to get a front seat at a game or concert,
but scramble for a back seat at church services.
….we need 2-3 weeks notice to fit a church event into our busy schedule,
but can adjust our schedule at a moments notice for other events.
….how hard it is to for people to tell others a simple gospel message,
but how simple it is to repeat gossip.
….we automatically believe what the newspaper says,
but always question the Bible.
Download the book 'Laughing At Ourselves' in PDF format at LAUGHING AT OURSELVES One of the most comprehensive sources of Christian Humour on the Net with 800 sermon fillers for your entertainment and use at ..... https://www.wwj.org.nz/content/wwj18p47.pdf
Or read even more online at.....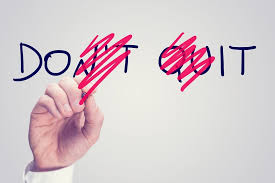 A DAVID MUSING
This week we had a week of promise that ended up not being fulfilled.
Does that happen to you too?
Discouragement is something we all face in our lives. Family, jobs, people. Whatever it is we all know it.
The question is, 'How do we handle disappointment?'
I guess we have a choice. Do we give into it and become miserable, or do we persevere, even though all may seem lost.
For us here in Kenya at Kingdom Hospital, we have been waiting for approaching 3 years for approval as a Provider for Kenya's National Health Insurance Fund (NHIF). So many promises! So near...... yet so far.
What do we do? Close down and go back to New Zealand defeated, or leave it in God's hands to give it to us when He is ready. It would be huge! Multiply our revenue 15 times and increase our patient numbers greatly! Wow!
But again, this past week, disappointment. Patience and perseverance is required once again!
When we can't cope with our disappointments we need to rely upon God. One time, one day, He will see both you and me through.
Thank you Lord.
Until next time.....
MAY GOD BLESS YOU AND YOU BLESS GOD
His servant and yours
David Tait

Visit us here.....
CHANGING YOUR EMAIL ADDRESS? NEWSLETTER STOPS COMING?
Each week we can lose up to 2% of our readers when they change email addresses without letting us know. Or sometimes, by your server acting strangely and just cutting us off! If you are about to change your address, please advise us of both your old and new addresses here at
enquiries@wwj.org.nz
and we will happily change our records to ensure ongoing delivery. Thanks.
Please also keep our address in your address book, as sometimes servers will automatically delete your address if there is even a one off problem in delivery. If your newsletter doesn't arrive, please let us know and we will reinstate you.
REPRODUCTION OF NEWSLETTER CONTENT
Most weeks we get enquiries about reproducing, in electronic or print form, articles contained in 'PGIM!' We welcome and encourage you to utilize this material. Freely received, freely given. We would ask though, that the source be acknowledged as an encouragement to others to subscribe to this newsletter also.
LINKS
If you would like to link your web site to ours, and ours to yours, please advise us on
links@wwj.org.nz
ABOUT US
WALKING WITH JESUS MINISTRIES is a non-profit, non-denominational, Bible based ministry located in Hastings, New Zealand. A ministry dedicated to developing discipleship, fostering unity amongst God's people to achieve the Great Commission, and in doing so, preparing for Christ's return. It is securely based upon the foundational principles of the Apostles Creed while recognising the wide and rich diversity of beliefs amongst Christians in other areas. In accordance with the Lord's direction, materials produced by the ministry are available, free of charge, to genuine enquirers upon request. The ministry is solely funded by donations, as the Lord provides. A list of materials available (plus some fun!) is obtainable and freely downloadable from our website
wwj.org.nz or by contacting us as follows.

Walking With Jesus Ministries
P O Box 2
Webye 50205
Kenya

Email: enquiries@wwj.org.nz
Web: wwj.org.nz

Our role is to bless and encourage those in ministry while promoting co-operation and unity of direction amongst the body of Christ, as emphasised 3 times by Jesus in His longest prayer, immediately prior to His arrest and crucifixion. "... so that they may be one as we are one." (John 17:12, 21, 23-4) Our website is currently being developed to encourage your participation one with another, to share resources, and to enable you to promote events and items of interest to the body as a whole - and have a smile while doing it!

For comments upon and contributions to this service, please contact
david@wwj.org.nz
SUBSCRIPTION MANAGEMENT
We would encourage you to share this free service with your friends in ministry. To subscribe yourself please email pgim-on@wwj.org.nz.
If your name has been referred to us by a friend or supporting Ministry or has been obtained from a public Christian Directory or Website, it isn't our wish to burden you with information in which you aren't interested. To remove yourself from this list, please email pgim-off@wwj.org.nz.