A Weekly World Wide Word of Encouragement to those in the Ministry
PRAISE GOD IT'S MONDAY!
A WEEKLY 'WWW (world-wide word) OF ENCOURAGEMENT'
TO THOSE IN MINISTRY
A FREE service, currently connecting with Christian leaders from 3,000 denominations and ministries, in 70 countries.

Issue No: 910 Published: 01 Apr 2019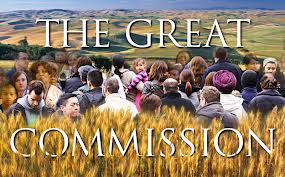 A REVELATION OF……. THE THIRD AND FINAL DWELLING PLACE OF GOD'S GLORY PLUS THE RIVER OF LIFE.
Of course, we all know that God's principle dwelling place is inside believers, in the form of the Holy Spirit.
15 "If you love me, keep my commands. 16 And I will ask the Father, and he will give you another advocate to help you and be with you forever—17 the Spirit of truth. The world cannot accept him, because it neither sees him nor knows him. But you know him, for he lives with you and will be[c] in you. (John 14:15-17)
And.....
26 But the Advocate, the Holy Spirit, whom the Father will send in my name, will teach you all things and will remind you of everything I have said to you. (John 14:26)
While this is accepted by Christians, in one form or another, it is anathema to the Jews who seek a specific, physical dwelling place for God. However the glorious, powerful presence of God has only been seen twice in the Bible with the promise of a third, final fulfilment to come.
THREES IN GOD
Those familiar with my writings will know of the importance of '3's' in God
Everything God is and does is in threes. From Father Son and Holy Spirit to the 3 Feasts of God, Passover, Pentecost and Tabernacles, to the New Testament triumvirate of faith, hope and love (the greatest of the 3), the Bible is full of the power of three. For a detailed explanation see A REVELATION OF……. THE POWER OF THREE IN GOD AND THE CHURCH freely downloadable at….. https://www.wwj.org.nz/content/wwj31p55.pdf
As we will see here the full presence of almighty God has dwelled on earth above the Ark of the Covenant twice. Firstly, found in the Tabernacle of Moses, guiding the people of Israel in the desert and through the reign of King David. See A REVELATION OF……. THE AMAZING TABERNACLE OF MOSES at https://www.wwj.org.nz/content/wwj36p11.pdf Then in the glorious Temple of Solomon, which was which was at the epicentre of Israel during its greatest time of peace and prosperity during King Solomon's reign from c.970-931BC.
RESTORATION AND DESTRUCTION AGAIN OF THE TEMPLE
The desire of religious Jews is to restore the temple, usually that of Solomon. The last Jewish temple on the Temple Mount of Mount Moriah was that of Zerubbabel, rebuilt in 538BC after the Babylonian exile and restored by Herod. Here Jesus famously turned over the tables of the traders within the temple courts.
14 In the temple courts he found people selling cattle, sheep and doves, and others sitting at tables exchanging money. 15 So he made a whip out of cords, and drove all from the temple courts, both sheep and cattle; he scattered the coins of the money changers and overturned their tables.16 To those who sold doves he said, "Get these out of here! Stop turning my Father's house into a market!" (John 2:14-16)
However the essential, central item, the Ark of the Covenant, above the 'Mercy Seat/ of which the presence of God dwelled, was missing, either destroyed or hidden in the Babylonian invasion if 587BC, when Jerusalem was flattened and most of the Israelites taken into captivity. Without the presence of the Ark, it could not genuinely qualify as a true 'Temple' of God's presence.
This Temple was destroyed by the Romans in 70AD when they razed Jerusalem, forcing the Jews and Christians, including most of the original disciples, to flee and so take the Gospel to the world as Jesus commanded.....
The Great Commission
16 Then the eleven disciples went to Galilee, to the mountain where Jesus had told them to go. 17 When they saw him, they worshiped him; but some doubted. 18 Then Jesus came to them and said, "All authority in heaven and on earth has been given to me. 19 Therefore go and make disciples of all nations, baptizing them in the name of the Father and of the Son and of the Holy Spirit, 20 and teaching them to obey everything I have commanded you. And surely I am with you always, to the very end of the age."
(Continued next week)
Find out more about us at.....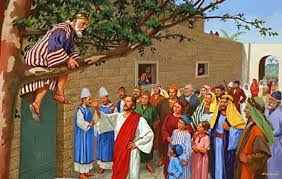 FROM THE WORD
THE WORDS OF JESUS
May we hear what the Lord is saying to us.....
Blind Men Receive Their Sight (Matthew 20:20-24, Mark10:46-52, Luke 18:35-43)
Including Bartimaeus.
"Tell him to come here."
"What do you want me to do for you?"
"You can go. Your trust in me has healed you."
Zacchaeus the Tax Collector ( Luke 19:1-10)
Climbed a tree to see Jesus.
"Zacchaeus, come down quickly! I need to stay at your house today."
Zacchaeus repents.
"Today salvation has come to this house, because this man has shown he is a son of Abraham too. For The Son of man came to search for and save those who are lost."
Parable of the Wicked Servant ( Luke 19:11-27)
Given to people expecting the immediate appearance of the kingdom.
"Once there was a nobleman who left home to go to a distant country to be crowned king there, and then to return. He called ten of his servants, divided money equally among them, and told them, 'Invest this money until I return.' But his people hated him, and sent a delegation after him to say, 'We won't have this man as king over us." After he had been crowned king he returned. He ordered his servants brought to him. He wanted to know what profit they had made by investing the money he had given them. The first servant came in and said, 'Lord, your money has earned ten times as much.'
"'Well done! You're a good servant,' said the king. 'Since you proved yourself trustworthy in a very small matter, I'm placing you in charge of ten cities.'
"The second servant came in and said, 'Lord, your money has earned five times as much.'
"'I'm placing you in charge of five cities,' said the king.
"Another servant came in and said, 'Lord, look, here's your money back. I kept it safe, wrapped up in a cloth. I was afraid of you because you're a hard man. You take what doesn't belong to you, and you harvest what you didn't plant.'
"'I'll judge you by your own words,' the king replied. 'You know I'm a hard man, "who takes what doesn't belong to me, and I harvest what I didn't plant." Why then didn't you deposit my money in the bank, so that when I returned I could have had my money with interest?'
"The king told those who were standing beside him, 'Take the money away from him, and give it to the one who made ten times as much.'
"'But master, he already has ten times as much,' they replied.
"The king replied, 'I tell you, to those who have, more will be given; but those who do not have, even what they have will be taken away from them. And as for my enemies who didn't want me to be king over them, bring them here and kill them in front of me.'"
You can download the complete 'Words of Jesus' here.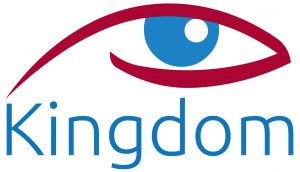 OUR AFRICAN EXPERIENCE
FOR MORE DETAILED AND REGULAR UPDATES, VISIT OUR FACEBOOK PAGE
AN EYE 4 Africa - https://www.facebook.com/aneye4africa/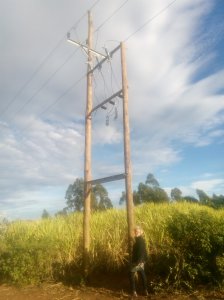 MAY THE POWER BE WITH YOU (ALMOST!)
A huge day in the life of the hospital, as at last, after 18 months in the making, and being 'pole minders' for 2 weeks, the workers have arrived to set up our transformer. The generator will be very machine happy to have a rest!

A double blessing! The finished work of yesterday, now waiting for the transformer, being inspected this morning by another arrival, MY DARLING KATHLEENA, who returned from New Zealand last night! So happy to see both! LOL!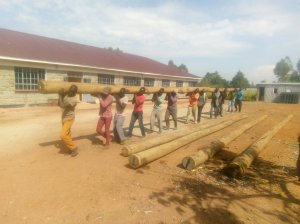 People power! 'Hi ho, hi ho, its off to work we go'!
Up she goes. This is an extra long, extra thick and heavy pole that took 12 people to raise!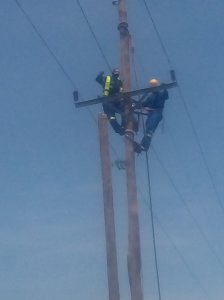 The electrical workers doing their work - with the power turned off over the whole area for several hours while they did it. A justifiable Kenyan power cut - to us at least!
This is the second of our 'big 3' requirements under way. We already have our Residents Visas and now power is underway. Still waiting for NHIF Government insurance provider status, which we are told is on the way -soon. Everything comes to those who wait, and wait, and wait! Patience is a must have virtue here in Kenya!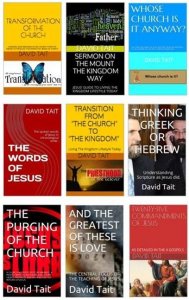 ***NOW***NINE BOOKS ARE AVAILABLE ON AMAZON!!!
9 BOOKS are now available on Amazon (Kindle)!

All are available worldwide for electronic download on Amazon (Kindle) for $US0.99c . Unfortunately there has to be a charge in order to list.

Your support would be appreciated and they could well change your life!

They are all found at this link.....
http://www.amazon.com/s/ref=nb_sb_noss?url=search-alias%3Daps&field-keywords=david+tait+books/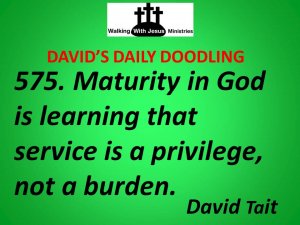 ***DAILY EZINE!*** 'DAVID'S DAILY DOODLINGS' Subscribe Today
Receive one of David's sayings in your mailbox each day to inspire, challenge or maybe, amuse. To register today, go down to the bottom of the page link below, click on the subscribe link dd-on@wwj.org.nz (or paste the address in an email yourself and send) Then it's done! If you have an Irish heritage, you will love the background coloring!
Subscription and back issue link is.....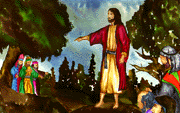 'THE WORDS OF JESUS' REMAIN AVAILABLE FOR PDF DOWNLOAD
Join the many who have downloaded the 'The Words of Jesus'. I am sure you will be blessed by it, as I have been.

One key element here is the setting out in chronological order (as far as it is possible to do so) our Lord's words drawn from all the Gospels, and the elimination of repetition between Gospels.

You may be surprised by the different perspective this presentation gives you both in understanding of His life and ministry, and in achieving a closer relationship with Him.

Download the free PDF here.....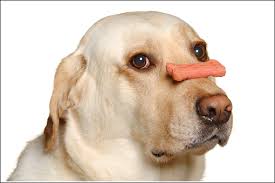 DAVID'S DOODLINGS
SELF CONTROL
646. ' 667. Self control is'
' turning the other cheek ' again!
' watching your kids make the same mistakes, just like you had to do.
' not striking back when struck.
' waiting patiently in a queue when the one next to you is moving faster than yours.
' not reacting to something you once used to.
' resisting the urge to scratch the itch when standing at attention.
' keeping your cool when others are running hot.
' not commenting on your kid's cool clothes.
' giving good advice and seeing it go unheeded.
' Having a quiet time with the Lord when you are really busy.
Please feel free to quote these quotes. Acknowledgement of David Tait as the author would be appreciated. There are now over 1300 David sayings for you to view at ...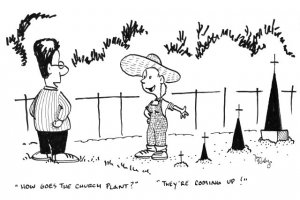 CARTOONS FROM TOON FEVER
Visit the Toon Fever website for more cartoon fun..... http://www.toonfever.com

Check it out at...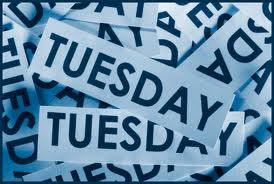 TUESDAY TEACHINGS
THIS WEEK: A REVELATION OF..... DIVIDING THE WATERS (Part 8) THE 12 FEATURES OF CROSSING THE JORDAN - A Summary
We summarise the 12 features already looked at and find out the principal message to us today from them.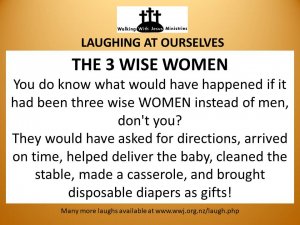 *** ANOTHER DAILY EZINE FROM WWJ!*** 'LAUGHING AT OURSELVES' Subscribe Today
As Christians, if we can't laugh at ourselves, others will! A fun way to start your day. To register today, go down to the bottom of the page link below, click on the subscribe link lao--on@wwj.org.nz (or paste the address in an email yourself and send) Then it's done!

LAUGHING AT OURSELVES
***Blessed are those who can laugh at themselves for they shall never cease to be amused***
*** Those who can't laugh at themselves leave the job to others. ***
249. Letter From God
One day God sent one of His angels to earth to see how things were going. The angel came back and reported to God that things were very bad and very few people seemed to even want to live a godly life. God decided he had better send another angel for a second opinion. After a short time that angel came back with the same report.
So God decided that he would send a letter to each of the people that he felt were truly willing to serve Him and encourage them to keep the faith and continue to strive in the midst of evil.
Do you know what was in that letter?
No? Oh sorry, I guess you didn't get one.
250. One Student's Prayer
"Now I lay me down to rest,
And hope to pass tomorrow's test.
If I should die before I wake,
That's one less test I have to take."
251. Sleeping
A Sunday school teacher asked her little children, as they were on the Way to church service, "And why is it necessary to be quiet in church?"
One bright little girl replied, "Because people are sleeping."
252. Alike?
My grandson was visiting one day when he asked, "Grandma, do you know How you and God are alike?" I mentally polished my halo while I asked, "No, how are we alike?" "You're both old," he replied.
253. Which Virgin?
A ten-year old, under the tutelage of her grandmother, was becoming quite knowledgeable about the Bible. Then one day she floored her grandmother by asking, "Which Virgin was the mother of Jesus? The virgin Mary or the King James Virgin?"
QWIK QWIP: "Compassion is difficult to give away because it keeps coming back."
FREE DOWNLOAD: You can now download the book 'Laughing At Ourselves' in PDF format at LAUGHING AT OURSELVES One of the most comprehensive sources of Christian Humour on the Net with 800 sermon fillers for your entertainment and use at ..... https://www.wwj.org.nz/content/wwj18p47.pdf
Or read them all online at.....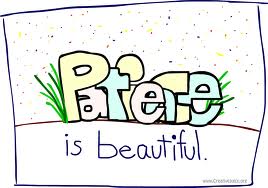 A DAVID MUSING
It is brilliant when things you have been waiting for for a long time, start to happen.
This week, along with my wife Kathy returning from a 2 month visit with our sick son in New Zealand, after 18 months we ae getting somewhere in the power front. We are not there yet, but finally have had the poles and equipment installed for the transformer. It is a huge relief!
We expect to have power connected next week -with the disclaimer of African time! LOL!
When you have to wait a long time for something in life, you usually appreciate it more than if it came really fast.
It is the same in our spiritual life too. God so often keeps us waiting, and waiting, and waiting, for the purpose He has for us.
Once we get over the frustration of delay, we can look back and see that God's timing is best, both in the circumstances, and in our own character and spiritual growth.
May we learn to wait on His perfect timing with patience and understanding.
Until next week.....
MAY GOD BLESS YOU AND YOU BLESS GOD
His servant and yours
David Tait

Visit us here.....
REPRODUCTION OF NEWSLETTER CONTENT
Most weeks we get enquiries about reproducing, in electronic or print form, articles contained in 'PGIM!' We welcome and encourage you to utilize this material. Freely received, freely given. We would ask though, that the source be acknowledged as an encouragement to others to subscribe to this newsletter also.
CHANGING YOUR EMAIL ADDRESS? NEWSLETTER STOPS COMING?
Each week we can lose up to 2% of our readers when they change email addresses without letting us know. Or sometimes, by your server acting strangely and just cutting us off! If you are about to change your address, please advise us of both your old and new addresses here at
enquiries@wwj.org.nz
and we will happily change our records to ensure ongoing delivery. Thanks.
Please also keep our address in your address book, as sometimes servers will automatically delete your address if there is even a one off problem in delivery. If your newsletter doesn't arrive, please let us know and we will reinstate you.
LINKS
If you would like to link your web site to ours, and ours to yours, please advise us on
links@wwj.org.nz
ABOUT US
WALKING WITH JESUS MINISTRIES is a non-profit, non-denominational, Bible based ministry located in Hastings, New Zealand. A ministry dedicated to developing discipleship, fostering unity amongst God's people to achieve the Great Commission, and in doing so, preparing for Christ's return. It is securely based upon the foundational principles of the Apostles Creed while recognising the wide and rich diversity of beliefs amongst Christians in other areas. In accordance with the Lord's direction, materials produced by the ministry are available, free of charge, to genuine enquirers upon request. The ministry is solely funded by donations, as the Lord provides. A list of materials available (plus some fun!) is obtainable and freely downloadable from our website
wwj.org.nz
or by contacting us as follows.
Walking With Jesus Ministries
7 Bull Street
Ahuriri
Napier
New Zealand
Phone: (06) 835 0567 International (+64) 6 835 0567
Email:
enquiries@wwj.org.nz
Web:
wwj.org.nz
Our role is to bless and encourage those in ministry while promoting co-operation and unity of direction amongst the body of Christ, as emphasised 3 times by Jesus in His longest prayer, immediately prior to His arrest and crucifixion. "... so that they may be one as we are one." (John 17:12, 21, 23-4) Our website is currently being developed to encourage your participation one with another, to share resources, and to enable you to promote events and items of interest to the body as a whole - and have a smile while doing it!
For comments upon and contributions to this service, please contact
david@wwj.org.nz
SUBSCRIPTION MANAGEMENT
We would encourage you to share this free service with your friends in ministry. To subscribe yourself please email pgim-on@wwj.org.nz.
If your name has been referred to us by a friend or supporting Ministry or has been obtained from a public Christian Directory or Website, it isn't our wish to burden you with information in which you aren't interested. To remove yourself from this list, please email pgim-off@wwj.org.nz.